Toyota Prius C 2018 Review
Toyota Prius C 2018 Review
In May 2012 I reviewed the Toyota Prius C hybrid. It was a great little city runabout. What's changed since then? Very little. It's still Australia's cheapest hybrid car, but it feels anachronistic in a world where plug-in hybrids are becoming common. Toyota's compact five-door hatchback is affordable and although basic, the hybrid technology is effective at times. This top-spec Toyota Prius C i-Tech costs $26,540 (plus ORCs).
I really enjoy driving hybrids and EVs. It's strangely gratifying to employ hyper-miling techniques to get fuel economy as low as possible. Unless you're driving the Toyota Prius C…
This is an underwhelming car on so many levels, that it becomes challenging to recommend. Even to muesli-munching hippies and born-again solar panel acolytes.
As far as engine refinement and advancement of technology goes, the Toyota Prius C is a laggard.
The engine is very noisy and there's with vibration and harshness at levels not usually associated with a Japanese brand. This is especially noticeable when the car switches out of the complete silence of EV mode. The coarse rattle of the feeble 54kW 1.5-litre petrol engine is not pleasant, as the car's stunted brain decides it's time to charge the battery.
Combined, the petrol engine and electric motor conspire to develop 74kW.
The Prius C's interior looks and feels cheap, there's no Apple CarPlay, no Android Auto and no five-year warranty to fall back on should things start to rattle themselves apart, either.
Fuel economy was pretty good, seeing as low as 4.5L/100km on some daily commutes but even when you hit the 'EV Mode' button the car barely covers one kilometre one a full battery charge.
Yep, even in EV mode you have to treat the accelerator pedal with caution. The indignant beep telling the driver «excessive acceleration» has reinstated the fossil-fuelled engine is perhaps the most insulting experience one can encounter behind the wheel of a car.
Underwhelming interior
After being launched in Australia in March 2012, the Toyota Prius C was updated in August 2017 with an updated exterior design, new colours (Hornet Yellow Aquamarine), and improved standard features, such as a 6.1-inch touchscreen infotainment system.
Toyota call the Prius C Australia's most affordable hybrid, priced from $24,040 for the base model. This 'i-Tech' version is the top-spec model and it gets a few more features that the boggo model, such as LED headlights, satellite navigation and 15-inch alloy wheels.
Despite the upgrade there's no getting away from the fact that this is a seven-year-old car.
If you engage the 'brake' gearing mode, where extra engine braking supposedly recoups energy for the battery, you'll find it is about as affective as a bucket of water in a fire storm, the car is so smart it won't even work with the cruise control.
The temperature control dial felt cheap when rotated and although the digital temperature display and the triangular motif around the controls adds a touch of modernity, there is a sense of cost-cutting in this car.
The 'i-Tech' designation of this Prius C is an oxymoron, given that the car has very little in the way of anything resembling modern technology. It's sorely lacking in semi-automated driving tech, such as adaptive cruise control or lane keep assistance. It can't park itself and adding insult to injury there's no parking sensors.
It was a surprise to find a rear-facing camera.
The centrally-mounted instrument display may have been novel seven years ago but it in practice it is distracting, taking your eyes slightly away from straight ahead, where you should be looking. A head-up display would remedy this.
Bluetooth phone conversations are challenging in the Prius C. The microphones must have been sourced back in 2012 because the audio quality for receivers of calls from the car (via iPhone 8 in this review) is below average. Boot space is also pretty tight at 260 litres.
Rubberised buttons on the steering wheel add splash-proofing and I enjoyed the gamification elements available in the trip computer that add a neat visual element to driving efficiently. But the speedometer looks like it was hand-crafted in the '80s and the refresh rate is appalling, which poses risks to your wallet and license.
This particular model has fake leather seats which actually feel very cushy in a Lexus kind of way. Given that seats are one of the most important elements of a car's interior, it helps the otherwise dated interior claw back some credibility.
More Research
2017 Toyota Prius C Pricing & Specs
Read what Toyota Prius C owners think
Read more Toyota Prius C news & reviews
Driving Australia's dumbest hybrid
Up and running, the Toyota Prius C gets the job done. There's no charm and no character to this vehicle, just a diligent attitude. The CVT has the pulse of a zombie and combines with the raspy engine to create a dull experience.
But when the engine switches off and the electric motor takes over it's quite a treat, the car's gentler side coming to the fore.
Being a Toyota it's likely to be very reliable which is a good thing, especially considering the three-year warranty is now border-line unacceptable in today's cut-throat new car market.
In terms of fuel economy I ended my week long test with the ageing hybrid at 4.8L/100km.
During my time in the car I got it as low as 4.5L/100km and during the daily commute across the Westgate Bridge in Melbourne. I found outward vision to be pretty good front and side, which is handy when you're surrounded by massive SUVs and trucks.
However, when you perform a head check, really big C-pillars obscure your vision. Again, technology to add extra 'eyes' in the car would have been handy.
One of the best things about the car is ride comfort. It's very smooth on rough roads, over speed bumps and on dirt roads. A tight turning circle makes it very handy in built-up areas and it's a doddle to park.
Just don't throw it through roundabout too quickly because it rolls and pitches like a small boat in a large storm.
The hybrid system in the Prius C is unimpressive. The 12-volt Nickel Nickel-Metal Hydride battery that lives under the rear seat takes a long time to charge, chiefly from the engine revving noisily (you cannot plug it in). It also discharges very quickly, unable to go for more than a kilometre or so by our measure.
Acceleration is pretty good for a car of this size, when electric and petrol combine, but when pushed the 1.5-litre petrol is like a drunken sailor – loud and course. Words like raw and unrefined spring to mind.
Given the Prius nameplate is one of Toyota's – and indeed the world's – most recognisable hybrid brands, the company has dropped the ball with this car.
The hybrid system is fundamentally the same as the original Prius that launched in 1997 – more than 20 years ago. Toyota used to be a leader in the hybrid field but now it's lagging, at least in its offerings to the Australian car-buying public given that it still doesn't offer a plug-in hybrid version of the Prius like in other countries.
I really enjoyed what this car brought to the table in 2012 but automotive technology accelerates at an incredible a pace and the Prius C has been left behind.
2018 Toyota Prius C i-Tech pricing and specifications:
Price: $26,540 (plus on-road costs)
Engine: 1.5-litre four-cylinder petrol/electric hybrid
Output: 74kW/111Nm
Transmission: Continuously variable
Fuel: 4.8L/100km (as tested)
CO2: 90g/km (ADR Combined)
Safety Rating: Five-star ANCAP (2014)
2018 Toyota Prius C
The Prius C student.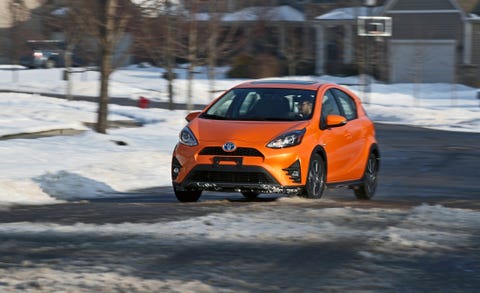 Back in 2012, when a gallon of 87 octane topped $3.60, the Toyota Prius C was a sensible addition to the Japanese automaker's lineup. Building on the fuel-efficient principles of the Prius gasoline/electric hybrid model line, the Yaris-based Prius C advertised a combined 50 mpg EPA estimate in a sub-$20,000 package—that was 17 mpg greater than the most efficient Yaris at the time, albeit at a price almost $5000 dearer than that of Toyota's entry-level model.
A half-dozen years later, though, the Prius C comes across as a less compelling choice. With the national average for a gallon of gas at well under $2.60, the littlest Prius lacks the cost-conscious appeal it once had. Adding insult to injury, Toyota's smallest hybrid vehicle is no longer as inexpensive and can no longer tout that 50-mpg figure—mostly because the EPA implemented tougher fuel-economy testing guidelines. With a starting price of $21,525, the Prius C now bears an EPA-estimated combined fuel-economy figure of 46 mpg.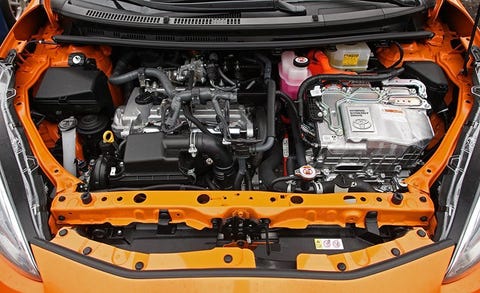 The Prius C relies on the same powertrain as it did in 2012. Consisting of a 1.5-liter inline-four and a pair of AC motor/generators, the Prius C's hybrid system musters a combined 99 horsepower and drives the front wheels by way of an electronically controlled continuously variable automatic transmission (CVT). As in Toyota's other hybrid vehicles, the smaller of its two electric motors sets the drive ratio to convey the combustion engine's grunt to the ground. Meanwhile, the larger second motor is geared directly to the final-drive differential and provides propulsion, as well as electricity regenerated during deceleration.
Electricity is supplied to the two motors courtesy of a 0.9-kWh nickel-metal-hydride battery pack mounted under the rear seat, and an EV mode allows the Prius C to travel on electricity alone for up to a mile at low speeds, provided the operator has an exceedingly light right foot.
Lean Not Mean
In spite of its slim 2644-pound curb weight, the Prius C is downright slow. The one we tested needed a glacial 11.4 seconds to amble from zero to 60 mph and 18.2 seconds to cross the quarter-mile mark at 75 mph. Its lethargy is exacerbated by the CVT, which causes the engine to drone in making the most of the meager 73 horses the inline-four produces at 4800 rpm. A small bit of solace comes from the immediacy of the electric motors' 125 lb-ft of torque, with the Prius C going from zero to 30 mph in a reasonable enough 3.3 seconds.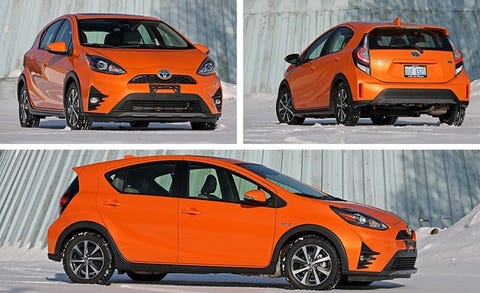 Boot the accelerator pedal at speed, though, and the Prius C moves with the alacrity of a three-toed sloth. Getting from 50 to 70 mph takes 8.3 seconds, or 0.4 second longer than a CVT-equipped, three-cylinder Mitsubishi Mirage hatchback. The $15,490 Mitsubishi also manages to match the hybrid Toyota's 43-mpg highway EPA estimate, a figure this Prius C test car equaled on our 75-mph highway fuel-economy test.
We averaged a mere 36 mpg overall from the Prius C over more than 550 miles of mixed use—that's 10 mpg worse than the EPA's combined rating and 3 mpg worse than we got in a 2012 test of a Prius C that weighed 47 pounds less (and was 0.5 second quicker to 60 mph). Our observed fuel economy was also no better than what we recorded for an automatic-equipped Toyota Yaris iA (née Scion iA). Additionally, the iA was both quicker and more enjoyable to drive than the Prius C thanks to the Mazda-based sedan's engaging dynamics, feelsome steering, and clairvoyant six-speed automatic transmission.
The Prius C earns kudos for its brake pedal's feel and modulation, which nicely blends regenerative and mechanical braking functions. In collaboration with its 15-inch Goodyear Assurance all-season tires, this Prius C stopped from 70 mph in 173 feet, 12 feet shorter than both a Yaris hatchback and the Yaris iA sedan. Weather conditions precluded our usual 300-foot skidpad test, but the last Prius C we puttered around it recorded a modest 0.79 g of grip.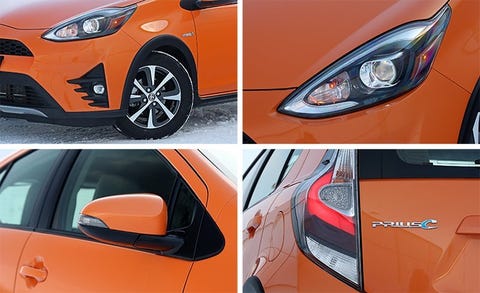 Crossing Over
Unlike its mechanical bits, the exterior of the Prius C changed significantly for 2018, trading its old wares for fresh and handsome crossover-SUV-inspired looks. Black wheel arches surround new eight-spoke wheels, while roof rails and new front- and rear-end treatments with faux skid plates give the Prius C a more rough-and-tumble mien. Redesigned LED head- and taillights add a hint of modernity to the aging hatchback.
Inside, the Prius C welcomes additional piano-black plastic pieces on the dashboard and the steering wheel. The smudge-friendly surfaces complement standard features such as automatic climate control, a 6.1-inch touchscreen infotainment system, and a steering wheel with integrated audio and Bluetooth controls. The ergonomically troubling center-mounted instrument cluster carries over, though, and the dashboard and door panels continue to be crafted from hard, low-rent plastic pieces.
The interior is surprisingly roomy given the Prius C's small footprint, and the rear legroom even tops that of the larger Prius. The Prius C also provides a Honda Fit–matching 17 cubic feet of cargo space with all seats in place. A folding rear seat is standard.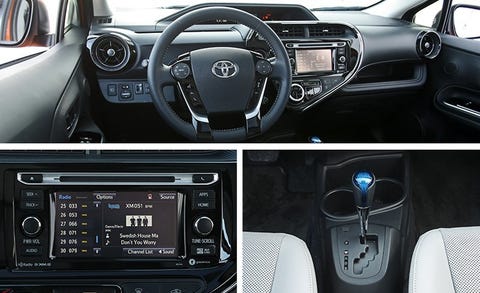 Other Prius C merits include standard safety items such as automated emergency braking, lane-departure warning, and automatic high-beam headlamps. Getting convenience items such as cruise control, a 60/40 split-folding rear seat, and a cargo cover requires spending $22,325 on the pricier Prius C Two trim (the $21,525 Prius C One serves as the entry-level model).
A proximity key with push-button start and a navigation system are grouped into the $23,750 Prius C Three, while the top-of-the-line $25,860 Prius C Four includes LED fog lights, a sunroof, faux-leather trimmed seats, and heated exterior mirrors with integrated turn signals. Our Prius C Four test car also featured a $395 coat of Tangerine Splash Pearl paint and $224 worth of carpeted floor mats to bring its as-tested price up to $26,479—that's $419 more than a well-equipped non-C Toyota Prius Two Eco, a model that is rated by the EPA at 58 mpg in the city and 53 mpg on the highway. The bigger and quicker senior Prius offers eight cubic feet of extra cargo space, too.
There was a brief time when the Prius C had a purpose in Toyota's lineup. However, its larger Prius stablemate has since undergone extensive improvements and seems to represent a better value. This junior edition is less interesting to drive than conventional subcompact models and offers insufficient fuel economy to offset that deficit. It's not your best choice whether you're scoring it as a hybrid or as a subcompact hatchback.
Specifications
VEHICLE TYPE: front-engine, front-wheel-drive, 5-passenger, 4-door hatchback
PRICE AS TESTED: $26,479 (base price: $21,525)
ENGINE TYPE: DOHC 16-valve Atkinson-cycle 1.5-liter inline-4, 73 hp, 82 lb-ft; permanent magnet synchronous AC electric motor, 60 hp, 125 lb-ft; combined power rating, 99 hp; 0.9-kWh nickel-metal-hydride battery pack
TRANSMISSION: continuously variable automatic
DIMENSIONS:
Wheelbase: 100.4 in
Length: 159.8 in
Width: 67.5 in Height: 58.7 in
Passenger volume: 86 cu ft
Cargo volume: 17 cu ft
Curb weight: 2644 lb
C/D TEST RESULTS:
Zero to 60 mph: 11.2 sec
Zero to 100 mph: 45.3 sec
Rolling start, 5-60 mph: 11.4 sec
Top gear, 30-50 mph: 5.4 sec
Top gear, 50-70 mph: 8.3 sec
Standing ¼-mile: 18.2 sec @ 75 mph
Top speed (drag limited, C/D est): 105 mph
Braking, 70-0 mph: 173 ft
C/D FUEL ECONOMY:
Observed: 36 mpg
75-mph highway driving: 43 mpg
Highway range: 400 mi
EPA FUEL ECONOMY:
Combined/city/highway: 46/48/43 mpg
Rating applies to 2015-19 models built after May 2015
Tested vehicle: 2015 Toyota Prius c Two 4-door
The Toyota Prius c was introduced in the 2012 model year and is derived from the Toyota Yaris. Beginning with 2015 Prius c models built after May 2015, the front-end and occupant compartment structure was modified and the side curtain airbags were lengthened to improve occupant protection in small overlap frontal crashes. (Information about when a specific vehicle was manufactured is on the certification label typically affixed to the car on the driver door or adjacent B-pillar.)
Action shot taken during the small overlap frontal crash test.
The dummy's position in relation to the door frame, steering wheel, and instrument panel after the crash test indicates that the driver's survival space was maintained reasonably well.
During the crash, the dummy's head barely contacted the airbag before sliding off to the left. The seat belt allowed the dummy to move too far forward, and the head hit the instrument panel.
Intrusion of the door hinge pillar and instrument panel contributed to a moderate risk of injury to the left lower leg.
Measures of occupant compartment intrusion on driver side
Test ID
CEN1524
Lower occupant compartment
Lower hinge pillar max (cm)
22
Footrest (cm)
15
Left toepan (cm)
9
Brake pedal (cm)
7
Parking brake (cm)
Rocker panel lateral average (cm)
5
Upper occupant compartment
Steering column
1
Upper hinge pillar max (cm)
12
Upper dash (cm)
13
Lower instrument panel (cm)
9
Driver injury measures
Test ID
CEN1524
Head
HIC-15
349
Peak gs at hard contact
67
Neck
Tension (kN)
1.9
Extension bending moment (Nm)
20
Maximum Nij
0.42
Chest maximum compression (mm)
23
Femur (kN)
Left
0.5
Right
0.6
Knee displacement (mm)
Left
2
Right
1
Knee-thigh-hip injury risk (%)
Left
Right
Maximum tibia index
Left
0.89
Right
0.54
Tibia axial force (kN)
Left
2.4
Right
1.3
Foot acceleration (g)
Left
115
Right
93
You may also like
The newly added 6.1-inch infotainment system with satellite navigation and SUNA live traffic updates, is a huge step up from the old system, though it pales in comparison to the best systems you can get around this price point.
It lacks the latest smartphone app mirroring technology, but does have Toyota Link apps, and the requisite Bluetooth phone and audio streaming with voice control tech. That system is simple enough to use, but doesn't let you pair phones, choose contacts or input numbers on the move, a common bugbear with Toyotas.
Further, there's a new 4.2-inch driver information screen with digital speedometer, and while the trims and finishes throughout the interior have been redone to make it feel a little less drab – the piano black finishes add a shiny aspect here and there – it still isn't overly loveable inside, with hard plastics abounding.
There are some thoughtful points, like huge cupholders under the centre stack area, bottle holders in the front doors, and a small covered armrest between the front seats. But, in the back seat there is only one map pocket, and a flip-down cupholder that extends from the back of the armrest up front. No vents, no door pocket storage, no flip-down centre armrest integrated into the rear seat. However, the amount of space back there is pretty excellent for the class, with a six-footer easily able to slot behind someone of the same size.
But, if you're paying this much for a car this small, you'd probably expect things like automatic wipers and headlights, both of which are absent here. You don't even get daytime running lights.
And if you were thinking of spending this much money in order to save money on fuel, you'd be a bit of a fool. Not that the Prius C isn't ultra-efficient – because its petrol-electric hybrid system (combining a 1.5-litre four-cylinder petrol engine producing 54kW with a 45kW electric motor, for a maximum combined power output of 74kW) is super-duper efficient in the real world.
The claimed consumption remains at 3.9L/100km on the combined cycle, and in reality you will be able to achieve that in urban driving. We did, on numerous occasions.
Where the Prius C doesn't make as much sense is for long-distance, open-road commuters. Fuel use tends to rise when you hit the open road, as the battery pack and regenerative brakes work less to lower the consumption of petrol.
For context, we saw 4.4L/100km on the open road – still respectable – but urban driving is where this thing does its thing.
Its performance is more suited to urban running, too – the little hatchback gets away from a standstill pretty quick, but once you hit 50km/h it starts to lose momentum. The continuously variable transmission is adept at dealing with getting to that sort of speed, and holding it up hills and down, but it's a really noisy drivetrain.
The engine/CVT drone is accompanied by all manner of grunts, groans and buzzes from the car's complicated electrical hardware, and the noise intrusion just gets worse the faster the car is moving. At 100km/h there's an inordinate amount of noise in the cabin, be it from tyre roar, wind or drivetrain whinge. And when a storm hits, the rain noise is akin to being under a tin roof – one that just happens to be a few centimetres from your head.
Whether you're going fast or slow, you can feel the road surface beneath you. In fact, it's almost as though you can pick out every little rock in the hot-mix, such is the level of vibration that can be felt in the cabin. Some people – like me – may find this kind of comforting: it makes you feel connected to the road. Others may hate it.
Most, though, will likely take issue with the brake pedal feel, which is hard to judge at times, and the fact the Prius C can get blown around in crosswinds.
But there are some plusses to the way the Prius C drives. The steering is accurate and decently responsive, particularly when parking, and the ride is well sorted for a car that weighs in at just 1140 kilograms despite its hybrid hardware. There's some body roll in tighter bends at higher speeds, and the stability control system is a bit over-active, but in all likelihood that's not the sort of driving this car will encounter.
We've established that, for city-dwellers, it'll run on the smell of an oily rag – and maintaining the Prius C is anything but costly.
Services are due every six months/10,000km, which may be something of an inconvenience, but with a capped cost of $140 per visit for the first three years/60,000km worth of maintenance, it's an affordable ownership prospect. It is covered by a three-year/100,000km warranty, but the battery is covered by an eight-year/160,000km plan.
Look, it serves a very niche purpose in the market, one that will appeal only to a very niche buyer. And for that buyer, the Prius C is a likeable and honest little car.
But for the rest of us, there's the Corolla Hybrid, or the regular Prius… and that's if you need a hybrid. If you consider just how far petrol engine efficiency has come in recent years, it's hard to find a truly compelling reason to buy a Prius C over a similarly sized city car like the Volkswagen Polo.
Click the Gallery tab above for more images by Sam Venn.
What's New for the 2018 Toyota Prius c Design?
Affordable and ultra-efficient, the Toyota Prius c provides elite value at every turn when you get behind the wheel. Armed with a refreshed design, updated features and a fresh style, the 2018 Toyota Prius c promises to turn heads. Drivers who are drawn to the compact Toyota hybrid may want to know – what's new for the 2018 Toyota Prius c design? Learn more about the updates and changes to the Toyota Prius c at Downeast Toyota.
Official 2018 Toyota Prius c Design Specs, Fuel-Economy Ratings and Price
The smallest and most affordable hybrid available in the Toyota lineup, the Toyota Prius c will not break the bank at the dealership or at the pump. New 2018 Toyota Prius c models will start at just $20,630 and will be available in four well-equipped trim levels – Prius c One, Two, Three and Four. Toyota Prius c models come standard with a 6.1-inch Toyota Entune infotainment system, a rearview camera, Toyota Safety Sense™ with Automatic Emergency Braking, 35 inches of rear legroom and an impressive 17.1 cubic feet of cargo space.
Perfect for your day-to-day errands, the compact Toyota Prius c hybrid features an all-new crossover-inspired design. An updated design and style employs a standard black roof rail, silver-accented front and rear body panels, a body-color rear spoiler and black exterior accents. New 15-inch machined alloy wheels with dark gray accents complement two new exterior color – Sandstorm and Tide Pool Pearl.
When you get behind the wheel of the 2018 Toyota Prius c, you can expect a spirited, fun-to-drive character that is paired with impressive fuel-economy ratings. Under the hood of the Prius c, you will find an innovative Hybrid Synergy Drive system that employs a 1.5-liter Atkinson cycle four-cylinder engine and a high-torque electric motor. Paired with a Continuously Variable Transmission, the Toyota Prius c will manufacture 99 horsepower and will achieve 48 mpg in the city and 43 mpg on the highway.
If you are looking for a value-packed compact hatchback that is affordable and ultra-efficient, the refreshed 2018 Toyota Prius c will fit the bill. Drivers who are drawn to the compact Toyota hybrid may have asked – what's new for the 2018 Toyota Prius c design? Find the answers you are looking for at Downeast Toyota. Keep an eye on the Downeast Toyota inventory for the arrival of the 2018 Toyota Prius c this winter!
Заключение
При детальном знакомстве с моделью компактного гибрида эксперты сделали серьезные выводы, выделив не только положительные, но и отрицательные стороны японского хэтчбека.
К плюсам отнесены критерии:
топливной экономии;
особо выделяется проезд в городской зоне;
удобства салона;
отличная управляемость.
Отрицательными сторонами компакта названы:
грубый ход (не везде);
дешевый отделочный материал (пластик);
шум мотора.
В общем и целом, Prius C весьма привлекателен, что вызывает к модели внимание соотечественников.
Hatchback Utility & Cargo Capacity
Prius c serves up cargo space aplenty. With 484 L of cargo capacity — that's enough for four golf bags or snowboards. For added flexibility, the Prius c Upgrade Package and Prius c Technology feature 60/40 split-fold rear seats.
AVAILABLE FEATURES: Display Audio System w/available Navigation | Multi-Information Display w/ECO Monitor | Available Touch Tracer Display | Backup Camera | Push Button Start/Smart Key System | Available Heated Front Seats w/SofTex® Trim | 60/40 Split Rear Seats | Available Power Moonroof | Power Adjustable Heated Mirrors
AVAILABLE MOONROOF
The available moonroof on the Prius Technology package sports both «tilt» and «slide» functionality with one-touch convenience.
Watch the Moonroof Video
Both of these vehicles have enough getup to take you around Los Angeles with confidence.
Toyota Prius Engine Specs:
1.8L 4-Cylinder with 2 electric motors
Horsepower: 121 hp
Toyota Prius c Engine Specs:
1.5L 4-Cylinder with electric motor
Horsepower: 99 hp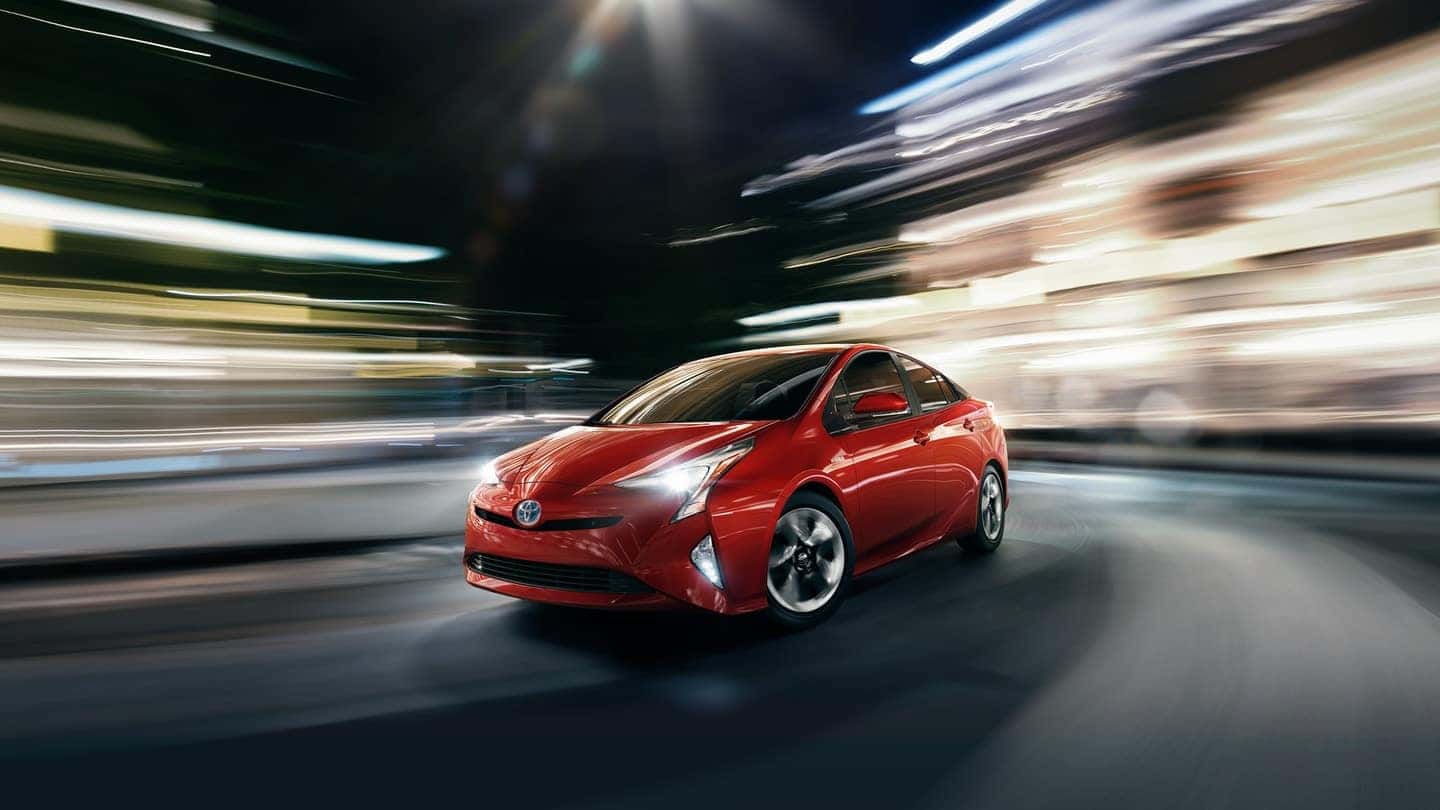 What's it like on the road?
The Prius c petrol-electric hybrid powertrain offers a maximum of 74kW at 4800rpm and 111Nm of torque at 4000rpm, this is a combination of a 1.5-litre four-cylinder petrol engine and an electric motor. It's mated to a CVT and claimed combined fuel consumption is 3.9L/100km but I could only manage 4.5L/100km in my time with the Prius c.
As the numbers suggest, the Prius c isn't a rocket ship. Peak power and torque arrives high in the rev range and the CVT isn't one of the best examples of its breed. To be fair, I live up at the top of the Blue Mountains which required the Prius c to do a lot of hill climbing. Because fuel economy is the name of the game, the Prius c really needs to be poked and prodded to keep up with traffic on the highway or on hills; it needs to be revved hard and when it is, the small motor ends up becoming thrashy and the CVT really slurs.
Ask the Prius c to work in its comfort zone, meaning at a maximum of 80km/h and it's a little more refined if not overly enthusiastic. The transmission and powertrain, in general, are more comfortable between 0-80km/h. The aim with the Prius c is for the petrol motor to switch itself off when the car is stationary, coasting, braking or when it's reversing and you can watch that happening via the display on the dashboard which shows when you're using the battery, the battery and motor or when the battery is being replenished.
Now, the aim with the Prius c is that you can use the electric motor to save on fuel and emissions when you're creeping in traffic or when you're starting off. And that is indeed what happens in the Prius c, but for me the experience was less than convincing. See, I live on a hill and, even with the battery at full capacity the petrol engine would cut in moments after moving away from the kerb and, if you're driving at more than a creep then generally the petrol engine will be working.
Indeed, even once I'd pressed the EV Mode button to try and force the car to use the battery, and the battery was full, a display came up saying that EV Mode was "currently unavailable". I can only put this down to the fact that I was driving up a hill and that there was just too much load on the battery…at another time, a little beep told me the petrol engine had taken back over of proceedings when I was creeping in traffic
What about the handling? Well, again, around town the Prius c feels fine. But away from town its suspension feels underdone, banging and thumping as it struggles to cope with anything but the smallest of bumps in the road. There's a lot of body roll in corners and while the body is stiffer than it was, thanks to additional spot welds, it still feels flimsy when the surface of the road breaks down or you roll across a speed hump…and you still get a ripple through the car on harder hits. The steering feels quite slow and there's no feel through the wheel at all. The brake pedal too feels quite spongey and the brake energy recuperation feels non-existent compared to something like the BMW i3 (yes, I know one's a pure EV) which is virtually a one pedal car.
The Prius c isn't the eco warrior it could be. It's battery set-up is inefficient; I couldn't even get a few hundred metres out of it before the petrol engine was needed. And the ride and handling is behind almost every other car in the segment.