Renault Kangoo 2014 Maxi Crew Van
Renault Kangoo 2014 Maxi Crew Van
Автомобиль марки Renault Kangoo Maxi был разработан, с целью предложения покупателям машины со свойствами «два в одном». Ван, используемый для работы, и Универсал — для удовлетворения обыденных ежедневных потребностей водителя и его семьи.
Теперь немного уточнения, есть 3 типа нового Кангу Макси 2014:
New Kangoo Van
New Kangoo Van Maxi
New Kangoo Maxi Crew Van
Второй и третий кузов отличается от первого удлиненной базой, а третий от второго отличается наличием задних пассажирских сидений и окон. Мы будем делать обзор третьей модели авто. Но и она имеет две версии (dCi 90 и dCi 110), мы описываем технических характеристики dCi 110. Отличие этих версий машины только в двигателе — у dCi 90 он более слабее, а также механика имеет только 5 передач, когда в 110 их шесть.
Учитывая основу длинной колесной базы Maxi-фургона, в модели Kangoo Maxi Crew Van 2014 года добавлены задние окна и второй ряд сидений, в результате чего образуется дополнительный уровень практичности автомобиля в эксплуатации.
Изменен передний вид модели. Новый «Рено Кангу Макси Крю Ван» 2014 имеет большой пластиковый бампер, который дополнен интегрированными противотуманными фарами, в результате чего придается более агрессивный вид автомобиля, этот нюанс добавляет Kangoo элемент стиля, который вполне может заинтересовать прагматичных покупателей.
Renault Kangoo van review

Low fuel consumption, good to drive
Two body options, ZE still a niche choice
The Renault Kangoo is a no-nonsense van that is one of Europe's best sellers. It's been popular ever since the introduction of the first-generation model in 1997, and while Renault no longer offers a multi-seat MPV version, it still holds plenty of appeal for buyers looking to keep their costs down. The second-generation model was introduced in 2008 and was upgraded in 2016 so that the diesel engine met Euro 6 emissions standards. Of course, you can really cut the cost of tax by choosing the all-electric Kangoo ZE over the standard diesel.
In the UK, Kangoo buyers can choose from Business and Business+ specs, while the Formula Edition is a tie-in with Renault's Formula One program. The Kangoo comes in two body lengths — standard and Maxi. The super-short Compact model sold in Europe isn't available in the UK due to low sales volumes — if you want it, you'l have to go for the short-wheelbase Mercedes Citan instead. There are three dCi diesels on offer — 75, 90 and 110 — although the 75 is only offered with the standard body length, while the 90 and 110 engines can be had with an auto gearbox. Both body styles are available in ZE electric guise.
More reviews for Kangoo Van
Car group tests
Renault Kangoo vs Citroen Berlingo
In-depth reviews
Renault Kangoo (1999-2008) review
Road tests
Renault Formula Edition Trafic, Kangoo and Master vans
New Renault Kangoo Z.E. 2017 review
Renault Frendzy
Renault Kangoo Z.E.
Kangoo 1.5 dCi 86
Renault Kangoo Compact
The Kangoo ZE is available in standard and Maxi length and both feature a 60bhp electric motor that has 226Nm of instant torque, so it feels brisk away from the lights. The 22kWh lithium ion battery pack can be fully charged in less than eight hours from a conventional three-point plug, while other fast-charge points can replenish the battery in as little as half an hour. Currently, Renault claims a range of 106 miles, which means in real-world conditions you can expect a range of around 75 miles on a full charge.
Buyers choosing the Maxi chassis have the option of a crew van, with a folding second row of seats boosting versatility. In addition, standard and Maxi models can be specified with fold-flat front passenger seats, incorporating a folding bulkhead, to extend load-carrying areas beside the driver and make the most of the internal dimensions.
Renault builds the latest Kangoo alongside the Mercedes Citan, although the two vans have unique looks and drive very differently. The Mercedes is more expensive, but is better equipped. However Electronic Stability Control with Hill Start Assist and Grip Xtend are now standard on all Kangoo models.
MPG, CO2 and Running Costs
Renault offers its Euro 6 compliant 1.5 dCi diesel engine in three states of tune in the Kangoo. The 75bhp and 90bhp versions are fitted with a five-speed manual transmission, while the 110bhp model gets a six-speed box. Both the 90 and 110 engines can be had with Renault's EDC auto.
The Kangoo ZE is the full-electric version. It has a 60bhp electric motor and is fully automatic, while energy is stored in a 22kWh lithium-ion battery — although Renault will soon upgrade the Kangoo ZE to the same battery as the ZOE electric supermini. It has a plug socket in the nose behind the blue-tinted Renault badge, and Renault offers the standard multi-pin charge lead, or you can use a three-pin household socket if you're in need of some extra energy, although this is a slower method of charging the Kangoo ZE.
The diesels are very efficient, promising 64-65mpg fuel consumption and emitting between 112g/km and 119g/km of CO2. These figures are on a par with the Peugeot Partner and Citroen Berlingo, and are better than the Volkswagen Caddy and Ford Connect can manage. It helps that all versions of the Kangoo are now available with stop-start technology, and all models, even the ZE, get an Eco button that reduces engine torque to boost energy use by up to 10 per cent.
The Kangoo ZE has a claimed range of 106 miles, although when we tested one, the battery was only good for a maximum range of 75 miles or so. This will vary depending on cold weather, but at least Renault offers the option to pre-heat the cabin at a set time, so you can do that while the van is still plugged in, rather than using the battery to heat the cabin up.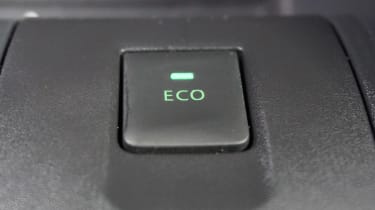 Service intervals are set at an impressive 24,000 miles or two years on all diesel models. Renault has taken the lead in the electric compact LCV market: it offers the standard Kangoo, the Maxi and the crew van in battery-powered ZE form, with zero emissions powertrains. Customers can lease or buy the battery, depending on preference. Service intervals for the ZE are 12,500 miles in the first year, then every 25,000 miles or two years.
Load Space and Practicality
The standard Kangoo van has a load volume of 3.0 cubic metres, which is enough space for a single Europallet, while the Maxi can squeeze two pallets in its 4.0 cubic metre cargo space. But a set of fold-flat front passenger seats can be specified to increase these volumes to 3.5 and 4.6 cubic metres respectively. The Maxi crew van offers a 2.4 cubic metre load volume when fitted with a multi-position bulkhead. This grows to 3.6 cubic metres with the rear seats folded.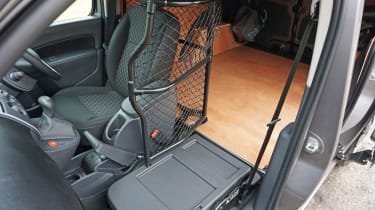 The shorter van can carry up to 650kg, although a £150 optional increased payload pack can be specified to take this up to 800kg. The Kangoo Maxi carries 800kg as standard, and the crew van has a 740kg capacity. But while these figures put the Kangoo in line with competitors like the Peugeot Partner and Citroen Berlingo, the Ford Transit Connect offers a 905kg payload, plus you get a full one-tonne payload in the Fiat Doblo Cargo and Vauxhall Combo.
Further holding the Kangoo back is the fact that there's no high-roof option – short and long-wheelbase versions of the Doblo Cargo offer two roof heights, which take load volumes up to 5.0 cubic metres. Tubular bulkheads are standard on both Kangoo vans, while there's the option of full-steel bulkheads and a swivelling bulkhead for the folding front seat. The Kangoo crew van is available with fixed-steel bulkheads and a multi-position bulkhead.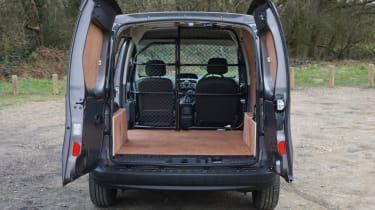 The braked trailer towing capacity stands at 1,050kg for standard Kangoo and Kangoo Maxi vans, plus both body lengths are offered with a range of roof bars and roof racks, capable of carrying up to 100kg. Buyers can also specify load area ply-lining kits, supplied and fitted by Renault, for £141 on the standard van, £151 on the Maxi. Renault also offers complete racking packages under its Ready 4 Work scheme, from £958-£1,333 depending on model and specification.
The Kangoo EV also has a payload of 650kg, although obviously carrying that much weight will have a bigger negative impact on its range.
Other options include rear window protection grilles and rear parking sensors (for Business trim), which can be added for £100 and £230 respectively.
What's hot?
The new front end looks stylish, purposeful and modern.
The cabin is well appointed and very comfortable. It's bright and airy and the large windscreen ensures good visibility. Storage is well up to par.
Kangoo Van has a load volume of 3cu m with asymmetrically split rear doors and a sliding side door. Six tie-down rings are provided.
There's the option of a combination of a swivelling bulkhead and folding passenger seat to allow longer items to be carried, as well as a nifty optional roof flap to make life easier when carrying oversized items, such as ladders or pipes.
Side door access too
In the five-seat Maxi LL21 Crew Van the additional row of three seats split-fold 60:40, providing a versatile balance between passenger accommodation and load space. Rear legroom is impressive. Access to the seating is via unglazed sliding doors on both sides.
With all seats in place, load volume is 1.1cu m (up to seat height) and load length 1.3m; load length increases to 2.2m with the rear bench folded.
The Crew Van's maximum payload is 740kg and, in common with the standard Kangoo Van, it has space to carry a Euro pallet.
Kangoo's controls are well formulated and simple to use. The sat nav especially is a doddle to operate.
The instrumentation's also good – the dials are especially well designed.
Both the dCi 90 and dCi 110 units are lively engines with decent power outputs and smooth torque delivery.
The dCi 90 is equipped with a five-speed box and generates 200Nm of torque. The dCi 110 engine, mated with a six-speed manual transmission, has 240Nm of torque.
Sport models also have an Eco Mode function that's activated by a dash-mounted button. According to Renault this gives a 10% reduction fuel consumption by steadying acceleration and lowering engine torque. In Eco Mode the gearshift indicator is activated earlier.
The Sport's R-Link system for remote control of the infotainment system – radio, iPods, USBs, Bluetooth and satnav.
Options on Core and Sport models include ESC stability control package, incorporating Hill Start Assist and Grip Xtend – an intelligent traction control system that delivers improved grip on loose and slippery surfaces, rear parking sensors and cruise control.
An engine speed limiter, which can be programmed for 56 mph, 62 mph or 68 mph, is available as an option.
All new Kangoo vans are offered with a four-year/100,000-mile warranty, four years' roadside cover and the option of four years' scheduled servicing.
Renault Kangoo exterior dimensions
If viewing on a smartphone you may need to turn the screen sideways to see the whole table.
| | | |
| --- | --- | --- |
| Renault Kangoo | Van (SWB) | Maxi Van (LWD) |
| Length (mm) | 4,282 | 4,666 |
| Height (mm) | 1,805-1,844 | 1,810-1,826 |
| Width including door mirrors (mm) | 2,138 | 2,138 |
| Width excluding door mirrors (mm) | 1,829 | 1,829 |
| Wheelbase (mm) | 2,697 | 3,081 |
Note that Renault sometimes refers to the regular van as the ML model, and the Maxi as the LL.
Stay updated about Renault Kangoo maxi crew van for sale
Related searches
Renault Kangoo for sale in Stirling and Falkirk
Renault Kangoo for sale in Stockport
Renault Kangoo for sale in Stretton On Fosse
Renault Kangoo for sale in Sutton in Ashfield
Renault Kangoo for sale in Swansea
Renault Kangoo for sale in Thornton-cleveleys
Renault Kangoo for sale in Thurrock
Renault Kangoo for sale in Tipton
New Renault Kangoo maxi van
Renault Kangoo Vans & Minibuses for sale in Angmering
Renault Kangoo Vans & Minibuses for sale in Berkshire
Renault Kangoo Vans & Minibuses for sale in Birmingham
Receive the latest listings for
Renault Kangoo maxi crew van for sale
Enter your email address to receive alerts when we have new listings available for Renault Kangoo maxi crew van for sale .
By proceeding, you consent to our Legal Notice and acknowledge how we process your personal data and set cookies as described in our Privacy Policy
© Copyright 1997-2020 NewsNow Publishing Limited. All rights reserved. ∙ Privacy Policy ∙ Legal Notice
By clicking "OK" or continuing to use this site, you agree that we may collect and use your personal data and set cookies to improve your experience and customise advertising. To see how, and to learn how to control cookies, please read our Privacy Policy and Cookie Policy.
Price is more than 30% below the estimated market price for similarly classed vehicles.
Price is between 10% and 30% below the estimated market price for similarly classed vehicles.
Price is within 10% of the estimated market price for similarly classed vehicles.
Price is between 10% and 20% above the estimated market price for similarly classed vehicles.
Price is more than 20% above the estimated market price for similarly classed vehicles.
Our unique pricing algorithm classifies vehicles according to a wide variety of factors, estimates the market price for this specification of vehicle and displays this pricing tag when sufficient data is available (but can't take into account the seller's reason for sale, vehicle modifications or condition).
Our unique algorithm classifies jobs according to a wide variety of factors, estimates the market rate for this specification of job and displays the estimated rate of pay when sufficient data is available (but can't take into account differences in the level of experience required, responsibilities or working hours)
You may also like
The interior feels very light and there is plenty of headroom – the Crew even features a storage bin above the windscreen (which we are sure would quickly fill up with parking receipts and loose change).
Ergonomics are a mixture of European excellence and French quirkiness. The heater/air-con controls in the center of the dash are clear to understand and have been improved from the rotary dial on the 2013 model to simple press buttons and a digital display. However, the remote radio volume and Bluetooth controls are on a steering column-mounted stalk hidden by the steering wheel, making it somewhat of a blind fumble to hit the correct option while in motion.
The cabin can be further spruced by a premium pack for $1390 that includes a touchscreen media system with satellite navigation as well as rear parking sensors. The navigation unit can be had on its own for $950.
Seating in the back is spacious, with passengers afforded plenty of legroom and the aforementioned hat-space. The seats are comfortable enough for around town trips, but can be a bit saggy and spongy on the sides so aren't really up to long journeys. There are two ISOFIX mounting points on the rear seats, but at the time of our test there were no ADR child-seat anchor points in the back.
Folding the seats is a smooth and simple process and gives you a full flat-floor. There are eight D-ring cargo tie downs in the rear and a handy plastic lip on the tailgate to allow easy sliding of loads. A neat optional feature ($1490) is an integrated cargo barrier that can separate the load bay from the rear seats, but also slide forward when the seats are stowed, protecting occupants from loads that may shift while driving.
On the road, the Kangoo feels more car-like than its van body suggests — indeed, the Kangoo shares its underpinnings with the European-market Scenic MPV, and it feels more like a boxy small runabout than a purpose-built stuff-shifter to drive.
Our test loop took in a mixture of urban, industrial, highway and country roads. The open space of the Kangoo's load bay meant more road noise than in a comparable 'car'. Renault says it has enhanced the sound-proofing of the new model, with noise-absorbing foam in the roof, a new 'acoustic' windscreen, and reshaped door mirror housings — and in general it is quiet for a commercial vehicle.
The Kangoo Crew is offered only with a 1.5-litre four-cylinder turbo-diesel producing 81kW of power and 240Nm of torque, which is mated to a standard six-speed manual transmission. No Kangoo models can be had with an automatic 'box worldwide, but a self-shifter is on Renault's global radar, and according to Renault Australia it could gain a dual-clutch transmission at some point.
Renault claims an impressive 4.7L/100km consumption figure for the diesel, down from 5.5L in the pre-facelift model. The Kangoo Maxi features an Eco mode that adjusts engine power mapping depending on throttle input. This is combined with a shift-light indicator on the dash to aid drivers in maximising their economy — but there's no start-stop function offered.
There is noticeable diesel rattle at low revs and up hills, and you need to drop down a few gears for steep inclines. But at low speeds it's quiet and the gearbox is light and easy to use. We noticed a slight notchiness from first to second gear, and that the engine responded best between 2000-3000rpm.
Vans are typically hard to see out of but the Kangoo's big wing mirrors offer plenty of visibility, and despite its size it has a respectable 11.9m turning circle. While it is front-wheel-drive, the Kangoo is fitted with Renault's 'Extended Grip' traction control and stability function for added piece of mind when you've got a precious load on-board.
On the topic of safety, the Kangoo has not been tested by ANCAP — but the seven-seat 'Grand Kangoo' passenger variant (not available in Australia) received four stars in Euro NCAP, and that model — unlike any version sold locally — has front-side airbags as standard. These can be optioned on the Maxi Crew for $490, which comes standard with dual head airbags for front seat occupants only. Another safety consideration is the lack of a reverse-view camera on any model, and buyers can't even option one.
Business buyers with an ABN are eligible for a 12 per cent price saving off retail and as it is listed as a commercial van, and the purchase is 100 per cent tax deductible when used for business purposes. And being targeted at small business owners who tend to use their work vehicles as a branding and advertising tools as well as actual tools of the trade, the updated model is available in eight colours (metallic paint is an additional $800).
The Kangoo range is sold with a three-year/200,000km warranty and a capped-price service program with intervals of 12 months or 15,000km, with pricing set at $349 per year.
The Renault Kangoo range has seen 60 per cent sales growth year-on-year, and the local arm is aiming for a total of 3000 LCV sales in 2014 (up from 2200 last year and 1100 in 2013). The refreshed Kangoo — with the addition of the flexible Maxi Crew van and more aggressive pricing — is expected to spearhead this growth.
Renault KANGOO
The versatile Renault Kangoo is one of Europe's best-selling utility vehicles.
With up to 3.5 cubic metres of loading volume, it's easy to see why. Ideal for transporting both goods and people, the Kangoo has the practicality to fulfil all your business needs.

Interior and Exterior
The Kangoo is designed with usability in mind, where a bulky frame and rigid body shell creates a modern, functional look. Produced with hard-wearing materials, the Kangoo also incorporates Renault's distinctively curvaceous styling. Solid, strong and durable, the Kangoo has become a common sight in working environments. You can also update to the Sport trim to add 15-inch alloy wheels.
A well-built and functional cabin creates a comfortable workspace, while electric windows and an on-board computer make journeying even more convenient. The van-like proportions create a wealth of space, and a rear roof flap allows you to carry even the most awkward loads.
Fold the rear seats down and you create a huge storage capacity of up to 3.5 cubic metres, and you can upgrade to the Maxi to gain an incredible 4.6 cubic metres. A carry load of up to 740kg means that you can transport heavy-duty goods with ease. Meanwhile, roof racks, bulkheads, and a towing capacity of nearly 1,050kg increase the Kangoo's usability further.
Performance

If your job involves long distance travelling, the diesel unit uses a six-speed gearbox to ensure a smoother ride quality while cruising.
The 90bhp 1.5-litre dCi diesel also offers a powerful driving experience, with a satisfying blend of performance and economy. The Renault Kangoo uses a high performance, versatile diesel engine that's capable of reaching up to 65.7mpg*.


Technology
Bluetooth® connectivity is available, along with an axillary point for your MP3 player. The Sport trim includes a premium-style touchscreen which can be used for a variety of business needs. Alongside a host of airbags, safety features include the optional ESP, hill hold, and the Xtend control to maximise grip.
Kangoo vans also come with the option of Cruise Control and a speed limiter. This allows you to take your foot off of the pedals and drive smoothy as at a controlled pace of your choosing.
Another optional addition with the Business+ model is the light and rain sensors. These sensors automatically activate your headlights once light starts to fade, the wipers will also trigger once the sensors detect rain.
Handling
The Kangoo has an enduring suspension that's designed to withstand long journeys with heavy payloads. You'll be able to take on all terrain and rest assured that your loaded goods remain intact while driving, so need to worry about taking the van off-road!
This higher-powered diesel van will be a pleasure for drivers who regularly cover long distances on their work routes, this is because the van has a six-speed manual gearbox that makes for a more subtle, quiet and relaxing time behind the wheel while driving at cruising speeds.