Lexus NX300h F Sport 2015
Lexus NX300h F Sport 2015
Новый кроссовер (но уже не компактный) Lexus NX300h — это гибридный автомобиль, что является превосходным приёмником предыдущего поколения NX200t, но ездит не лучше…
Lexus NX300h F Sport является первым гибридным автомобилем в линейки Лексусов «NX». Данный бензиново-электрический кроссовер будет уже доступен в октябре 2014 года для англичан, а на Российский и Украинский рынки он попадет уже в начале 2015 года. Как всегда — для наших дорог и погодных условий машину необходимо настраивать на наш лад.
Гибридная трансмиссия была позаимствована из моделей линейки Lexus GS300h и IS300h. Компания по своим расчетам ожидает годовой объем продаж в 2015 году от автомобилей «Лексус Н Икс» 300h с гибридной силовой установкой до 90% по сравнению с только бензиновыми агрегатами NX. Ведь в этом будущее, а также каждый желает сэкономить на бензине, да и страны многие заботятся об окружающей среде… вот бы у нас подумывали об экологии — как-то мотивировав население пересаживаться на электрокары.
Бензиновый, 4-х цилиндровый двигатель (Цикл Аткинсона) автомобиля Lexus NX300h 2014?2015 годов производства будет иметь объём 2,5 литра. Работать будет в сочетании с электродвигателем, который будет приводить в действие только передние колеса. Совокупная мощность данной системы — 145 кВт (194 л.с.).
Но, если у Вас будет желание раскошелится на комплектацию автомобиля с обозначением SE, Luxury, F Sport или Premier версию, то новое поколение «Лексусов» NX300h будет комплектоваться электродвигателем и для задней оси. Итак, Вы получите кроссовер с электромотором на 4 колеса!
В итоге только базовая модель с обозначением «S» будет комплектоваться приводом на передние колеса.
Lexus NX300h F-Sport by ProDrive on ADV.1 Wheels (ADV6MV2SL) 2015 года (фото 1 из 18)
Галерея автомобиля Lexus NX300h F-Sport by ProDrive on ADV.1 Wheels (ADV6MV2SL) 2015 года включает в себя 18 оригинальных изображений высокого качества.
По этим изображениям вы можете ознакомиться с внешним видом автомобиля, узнать его особенности и отличительные черты, которые выделяют этот автомобиль Lexus от других автомобилей.
А также вы можете скачать фотографии абсолютно бесплатно и использовать их как обои для рабочего стола с изображением автомобиля Lexus NX300h F-Sport by ProDrive on ADV.1 Wheels (ADV6MV2SL) 2015 года, нажав на иконку в правой нижней части изображения.
Изображенный на фотографиях автомобиль был выпущен в 2015 году.
Другие галереи Lexus NX
Другие галереи Lexus 2015 года
2010 C&C U400 6×4 Mixer
2012 Mazda3 MPS by MR Car Design
2004 Nissan Armada
2010 Audi A7 Sportback 3.0 TDI Quattro
1936 Plymouth DeLuxe Phaeton
2016 Chevrolet Camaro by MetroWrapz
Страна: Япония
Годы работы: 1983 — н.в.
Компания «Lexus» является отделением японской фирмы «Toyota», созданным для.
Модели Lexus
CT
ES
GS
GS F
GX
HS
IS
IS F
LC
LF-A
LM
LS
LX
NX
RC
RC F
RX
SC
UX
Популурные галереи
Bajaj RE60 2012 года
Brilliance BS4 2010 года
Agrale 10000 LX 2015 года
FAW NS2 Concept 2012 года
Packard Twin Six Model 3-35 Brougham 1918 года
Kia Mohave Gravity 2020 года
Toyota Noah Si 2014 года
Samsung QM3 2013 года
Lexus LX470 2005 года
Audi A4 2.5 TDI Quattro Sedan 2000 года
Acura TLX GT Race Car 2014 года
О проекте
Условия оказания услуг
Политика конфиденциальности
Вакансии
Реклама
Партнеры
Контакты
При использовании информации в электронном виде (интернет-сайт, электронный файл и т. п.) в каждом случае необходимо размещение активной гиперссылки на главную страницу Сайта или на страницу размещения соответствующего материала.
Все замечания и вопросы по сотрудничеству направляйте по электронной почте: auto@vercity.ru.
Обращаем ваше внимание на то, что изображения являются чьей-либо собственностью и добавлены посетителями сайта.
Администрация сайта не располагает информацией о правомерности публикования этих материалов.
Все изображения размещены в ознакомительных целях.
from the Cars.com expert editorial team
As compact luxury SUVs go, the 2015 Lexus NX combines enough driving fun and occupant comfort to deserve a look, but anyone with serious cargo needs should look elsewhere, or stick to the brand's popular RX.
As badge engineering goes, Toyota's luxury division has more hits than misses. The ES midsize sedan feels considerably nicer than a Toyota Camry; the GX bears little resemblance inside or out to its Toyota 4Runner sibling. And so it goes for the NX, a car Lexus calls "loosely related to the RAV4," Toyota's popular small SUV. Still, Lexus insists the NX has 90 percent different parts and a structure that's 20 percent more rigid.
Indeed, the two seem like distant cousins, at most. The NX hits U.S. showrooms in December and pricing is still to come, but at a media preview in Seattle, I drove preproduction versions of the gasoline-powered NX 200t and the gas-electric NX 300h hybrid. My early take is that the NX holds promise.
Exterior & Styling
When the NX broke press last April, we thought it would compete with the latest crowd of subcompact luxury SUVs — namely the BMW X1, Audi Q3 and Mercedes-Benz GLA-Class. Lexus, however, insists the NX stacks up against those competitors' larger X3/Q5/GLK siblings, a group that's still a few inches shorter than the RX. The brand's spindle grille draws similarities to the rest of the Lexus lineup, but the standard four-bar design combines with the NX's thin lights and pinche. Show full review
As compact luxury SUVs go, the 2015 Lexus NX combines enough driving fun and occupant comfort to deserve a look, but anyone with serious cargo needs should look elsewhere, or stick to the brand's popular RX.
As badge engineering goes, Toyota's luxury division has more hits than misses. The ES midsize sedan feels considerably nicer than a Toyota Camry; the GX bears little resemblance inside or out to its Toyota 4Runner sibling. And so it goes for the NX, a car Lexus calls "loosely related to the RAV4," Toyota's popular small SUV. Still, Lexus insists the NX has 90 percent different parts and a structure that's 20 percent more rigid.
Indeed, the two seem like distant cousins, at most. The NX hits U.S. showrooms in December and pricing is still to come, but at a media preview in Seattle, I drove preproduction versions of the gasoline-powered NX 200t and the gas-electric NX 300h hybrid. My early take is that the NX holds promise.
Exterior & Styling
When the NX broke press last April, we thought it would compete with the latest crowd of subcompact luxury SUVs — namely the BMW X1, Audi Q3 and Mercedes-Benz GLA-Class. Lexus, however, insists the NX stacks up against those competitors' larger X3/Q5/GLK siblings, a group that's still a few inches shorter than the RX. The brand's spindle grille draws similarities to the rest of the Lexus lineup, but the standard four-bar design combines with the NX's thin lights and pinched nose to evoke an angry, rat-like expression. F Sport versions extend the grille lower, swap in a crisscrossing insert and finish out the bottom with a deeper, layered air dam. It's unique — sinister, really — and you should get used to it. It's what most F Sport models look like now, and I'll take Vader over varmints any day.
Seventeen-inch alloy wheels are standard; 18s are optional. F Sport versions have 18s and P225/60R18 all-season tires or optional (and wider) 235/55R18 summer high-performance tires.
How It Drives
Roughly the size of a Q5 or X3, the NX is still longer and wider than the original 1999 RX 300. In two generations since then, Lexus' mainstay has grown; today's RX 350 is 5.5 inches longer than the NX. It's also more than 230 pounds heavier than Lexus' new smallest SUV, whose lighter weight benefits drivability and efficiency. The NX 200t's 235-horsepower, turbo four-cylinder speeds ahead with sufficient punch, and its six-speed automatic performs better than the RX's clumsy transmission, holding lower gears and kicking down adeptly. Using Lexus' familiar Drive Mode Select, the Eco and Normal modes introduce occasional gear-hunting in passing maneuvers, but Sport mode imbues the transmission with satisfying decisiveness.
All told, Lexus says the NX 200t hits 60 mph in the low 7-second range. That's a hair slower than the competition's base gasoline engines, but the expected fuel efficiency justifies it: Lexus pegs gas mileage at 22/28/24 mpg city/highway/combined in the front-drive NX 200t and 21/28/24 mpg with all-wheel drive. Final EPA figures are still pending, but if those figures pan out, the NX will impress in this class. One pesky detail: The NX 200t requires premium gas, something many competitors merely recommend.
The NX's ride quality is busy at times, but it still feels more composed than the sometimes-choppy RX. I couldn't detect a huge difference between the normal and F Sport suspensions; the latter have performance shocks and retuned springs, but most of our brief seat time in an NX 200t F Sport was over smooth pavement in moderate traffic.
We'll have to put an F Sport through our handling loop around Cars.com's Chicago headquarters to get a better sense of the ride/handling differences. In all trims, the steering feels a bit numb at low speeds; feedback improves as you speed up. Still, a non-F Sport 200t pitched hard into corners — a quick reminder that this is no sport sedan. The 200t's all-wheel-drive system biases power up front, though it can split power 50/50 (front/rear) if needed. You can enforce the split with an all-wheel-drive lock switch on the dash. The 300h, meanwhile, gets a unique all-wheel-drive setup with separate motors for the front and rear axles.
The 194-hp NX 300h (which doesn't come in an F Sport version) cedes more of the fun factor. There's plenty of droning, rubber-band responsiveness from its continuously variable automatic transmission, along with a slow climb up the revs when you floor it; even at full bore, power feels adequate but never energetic, and the regenerative brakes have a degree of pedal vagueness that evokes earlier hybrids.
Indeed, Lexus says zero to 60 mph takes a modest 9.1 seconds in the hybrid. It feels like that, but the payoff comes in impressive efficiency. Lexus estimates the NX 300h will get 32 to 33 mpg combined, depending on driveline — figures that trounce any immediate competitors, hybrid or diesel. What's more, premium gas is only recommended, not required.
Interior
The NX's interior packs a lot of eye candy, mostly thanks to stitched, leatherlike synthetic materials that cover portions of the dashboard, center console and doors. Less convincing is the molded stitching that adorns upper sections — similar to the dash materials in the Camry and ES — as well as the big chunks of faux-metal plastic trim that flank the center controls. The layered approach does, however, look sharp overall.
Lexus' standard NuLuxe upholstery helps, too. It's fake leather, but it's damn convincing. Real cowhide is optional, but you'd be hard-pressed to tell the difference. Seat packaging is good: The reclining rear seats offer good legroom and a higher seating position than the backseat in the RX, which is too low to the floor. Still, taller adults may want more headroom; sitting upright, my 6-foot-tall frame brushed the ceiling. The optional power-folding rear seats work with one touch, and if something is in the way — say, a mischievous child trying to pancake his sibling — they stop and retract. You can work them from the backseat or cargo area, too; in the backseat, the hip-level buttons double as power recliners.
Cargo & Storage
Lexus says four golf bags fit behind the rear seats. If that's the case, certain competitors must be able to fit the bags plus a caddy. The 2011-2014 X3, plus the Q5 and Acura RDX both have 25-plus cubic feet behind their rear seats, but the NX 200t has just 17.7 — a little more than the GLK's undersized cargo area, but small for the class and less than half the cargo space of the RX. Fold the seats down, and the NX's 54.6 cubic feet makes up some of the lost ground, falling near most competitors. (The NX 300h's battery pack sits beneath the rear seat, cutting about 1 cubic foot of volume in either configuration.)
Ergonomics & Electronics
I'm less enthralled about the brand's next-gen Remote Touch interface, which comes on navigation-equipped NX models. The latest setup abandons a stubby joystick for a square surface that's similar to a laptop touchpad. It's straightforward and retains haptic feedback, but it suffers clunky map interactions and menu items that are too easy to miss. Pinch-to-zoom map functions operate with halting lag, and scrolling the map still takes too much hold-and-swipe dexterity. Sans navigation, the NX gets a simpler directional joystick knob.
The standard CD stereo has HD and AM/FM/satellite radio, Bluetooth audio streaming, Siri Eyes Free compatibility, USB/iPod connectivity and DVR-like real-time audio recording (AM/FM only, unfortunately). An optional wireless smartphone charger works through Qi, a wireless charging standard (much like Bluetooth is a wireless data-streaming standard). Navigation-equipped models add extra stereo speakers, including a subwoofer. They also add Lexus' Enform system, which can stream apps ranging from Yelp to iHeartRadio off a compatible smartphone once you download the Enform app.
Safety
The NX had not been crash-tested as of publication, but standard safety features include eight airbags, a backup camera and the required antilock brakes and electronic stability system. Front parking sensors and blind spot, lane departure and forward collision warning systems are optional. The lane departure warning includes automatic steering correction, and the forward collision warning — packaged with all-speed adaptive cruise control — can automatically apply brakes if the driver misses its warnings.
What is it?
The NX300h petrol-electric hybrid is the first Lexus NX you'll be able to get your hands on in the UK when it reaches these shores in October.
Expected to account for 90 per cent of total NX sales, the NX300h uses the hybrid drivetrain adapted from the IS300h and GS300h.
That means a 2.5-litre four-cylinder Atkinson cycle petrol engine combined with an electric motor to drive the front wheels.
A new addition to the drivetrain in the NX is an electric motor for the rear axle, making the NX300h four-wheel drive, in all versions from SE up – so SE, Luxury, F Sport and Premier variants.
Only the base S model is offered in front-wheel drive configuration.
You may also like
You really have to admire Lexus' bold and different approach, whether it floats your boat or not.
For now the range is limited to three specification levels of the NX300h, powered by a petrol-electric hybrid drivetrain used in existing Lexus models such as the ES.
A sprightly 175kW/350Nm 2.0-litre turbo-petrol — another brand-first the NX brings — is due about February 2015, so that review will have to wait. There will be no diesel option full stop, which is certainly a bold gambit in a segment rife with them.
So to the obvious question: does the NX300h provide a viable alternative to the Europeans in the same way the IS stacks up against its own very different contenders? Priced between $55K and $75K, it's a few grand cheaper at some spec levels, while being better-equipped.
The cabin is certainly more than competitive too. In typical Lexus style, it's almost peerless in the quality of its surfaces, shutlines and tactility at the price point. It's a lovely place to be, with stylish design to match the execution, and extremely cushy seats.
Small touches like the silent way the various cubby holes shut, the way the cup-holders grip the bottle and allow you to open it with one hand, the electric parking brake (not a feature on some Lexus cars even still) and the hefty doors that shut with a thud are nice touches. It makes tiny touches such as the Toyota Corolla cruise control dial stand out all the more, though.
It's rather car-like for the class, with a protruding fascia with demarcated tiers and topped with a Germanic screen. F Sport models get a great chunky wheel and there's a lovely colour display with driving information (though the lack of a digital speedo rankles).
The central Remote Touch touchpad marks an evolution from the mouse-like unit on the IS and GS. Instead, it is a vibrating pad that reacts to finger prodding in a vaguely touchscreen-like fashion. It takes some getting used to, but we suspect time behind the wheel might give you that. It sure syncs the Bluetooth quickly.
Unarguable is the list of standard equipment (see full specifications here). Lexus claims the additional gear for the money represents between 14 and 34 per cent extra value over the Germans and it shows.
The mid-range F Sport is our pick, with features including satellite navigation, front and rear cameras, Remote Touch, 10-speaker sound system, digital radio, adaptive suspension, an around-view monitor, blind-spot monitoring, LED headlights, cooled/heated electric seats and various sporty styling touches for $66K. Round it out to $70,000 and you can option a 14-speaker surround-sound system by Mark Levinson and a panoramic sunroof.
The Australian-first wireless inductive phone charger (you need to get your own case) in the console is also a nice modern touch.
Outward visibility is compromised by the raked window-line and fat C-pillar, though the sensors, camera and (optional on base cars) bird's-eye view monitor alleviates this somewhat despite the large-ish 12.1m turning circle. The driving position is commanding in the way a typical SUV buyer seeks.
It also has smaller hidey-holes and door pockets than some rivals. Rear seat space is acceptable for both heads and legs in the outboard seats and moderate in the middle. The pews themselves are soft, cushy and long in the cushion. The rear windows might make kids claustrophobic.
The rear occupants get air vents. The back row folds down 60:40, but annoyingly cannot be flipped down from the cargo area — either by levers in the back or mounted on the top of the seats. That said, the Sports Luxury gets electrically-adjusting rear seats, a properly luxury touch.
The 475-litre cargo space is a little smaller than its rivals — the petrol will get 25L more space — but even the hybrid gets a space-saver spare wheel that beats a repair kit. The loading space is shallow but quite wide and flat.
On the road, the NX300h feels decidedly different to a punchy German or Swedish turbocharged petrol or diesel SUV. The hybrid system is in its element in urban surrounds, with a hushed demeanour, decent low-down punch by way of the electric motor and excellent urban economy.
Head out to the country, a highway or a twisty road and it's less convincing. The e-CVT drones in the way the superior modern units don't, and revs the engine out at a level seemingly out of proportion to the throttle input.
The 2.5-litre engine needs to rev to 4200rpm to reach a peak torque output of 210Nm — the system output is 147kW, and the motor has 270Nm of its own for lower-down punch — but the throttle response is somewhat sluggish and the car feels its weight (between 1740 and 1895 kilograms, depending on spec). Sometimes the gap between planting the right foot and lurching forwards takes the best part of a second, even if the CVT drops back immediately. It feels a bit detached and a 0-100km/h time of 9.2 seconds is far from quick.
At least the gearbox and throttle response can be sharpened by selecting the Sport mode in the Drive Mode Select (Eco and Normal are the other options).
As such, we imagine it would be much easier to attain the claimed sub-6.0L/100km urban fuel consumption than the similar extra-urban claim. We pushed our cars hard and managed to push it up above 10L/100km.
On a side note, the 1000kg braked towing capacity (the 2WD doesn't tow at all) is sub-par compared to an average diesel unit.
We suspect if you like dynamic driving, the NX200t with its 175kW/350Nm 2.0-litre turbo-petrol may get the better pick. Read our review from the international launch here.
As well as the NX300h's uninspiring soundtrack on more challenging roads, there is some wind noise from the mirrors and moderate drone from the 18-inch wheels which are coated in 225mm, 60-aspect tyres, or 235/55s on the F Sport.
The ride, particularly in urban surrounds, is too firm to be plush but is rarely busy or overly choppy in the way a RAV4 is, though at higher speeds it can pick out the odd rut or divot.
Throw the NX300h into a corner and is doesn't sit flat like an X3, the body has some lurch and top-heaviness, but the behaviour is predictable and the surprisingly meaty albeit feel-free steering does well. The very grabby stability control keeps the car in check with all the force of a high-school principal.
The regenerative brakes also have a more linear travel than is typical, without the woodenness and late-travel grabbiness inherent to many hybrids. Lexus' lengthy experience with hybrid shows here.
We'll step back here though and make it clear: if you drive around town more often than not, with the odd freeway stint, the NX300h will be fine. We'd be inclined to wait and see how the NX200t goes before committing, ourselves.
That said, we found many things to like about the NX300h. The cabin is lavish and well-equipped, the looks are brave and distinctive, and it's smooth and quiet around town. The Lexus Encore Privilege aftersales program also gives you four-years/100,000km of warranty, free loan cars or pick ups/drop-off come service time and a comprehensive roadside assist program.
The hybrid powertrain grates at times and the cargo capacity is smaller than some, but o n first impressions the Lexus NX300h clearly has merits of its own that make it a worthy entrant to the compact SUV fraternity that will no doubt give those on the fence pause for thought.
2015 Lexus NX300h Review 2015
the verdict
The best looking of the bunch
Comfortable, spacious interior
Sorted and taut chassis
Cc rating
7.5 / 10
Hybrid drivetrain doesn't inspire
Options are expensive
Safety technology lacking on lower models
The Lexus NX300h is late to the small, premium SUV segment — but this is a crossover that looks great, is generously appointed, and well-priced to compete strongly with the Germans.
They've had plenty of time to study the competition, like the Audi Q5, BMW X3, and Volvo XC60 (watch our Volvo XC60 review). So, it's no surprise that Lexus's debut into the segment is thoroughly convincing. The NX is the size of an Audi Q5 or a BMW X3, but it competes on price with the smaller siblings to those cars: the Q3, and X1.
The NX employs the traditional Lexus formula: undercut the Germans on price while bundling most German options as standard features. Couple the favourable pricing to youthful, fresh looks, and to a reasonable driving experience, and from the outset, the NX looks like an attractive proposition.
ChasingCars.com.au borrowed this vehicle for our Lexus NX300h review:
2015 Lexus NX300h F Sport (middle trim), with the 2.5-litre aspirated four-cylinder and Atkinson-cydle electric hybrid motor and conventionally-variable automatic, in Flame Blue with black leather, priced at $66,000 before on-road costs.
DRIVE

From the outset, it's clear that Lexus has designed a beautiful chassis for the NX. This is a taut and stable SUV. The limited ride height generates a low centre of gravity—while there are no pretensions of actual off-roading to be found, the admission that small SUVs are road-dwellers is a sensible one. Toyota and Lexus's company-wide commitment to enhancing the fun factor of their ranges is totally evident in the way the NX corners. It's surprisingly direct and satisfying to throw through bends, although feedback and feel are still a little numb, particularly compared to the BMW.
Lexus have built a convincingly sporty SUV in the NX. You know it from the way it corners, from the low-slung driving position, and from the firmer-than-average suspension. But you don't know it from the engine—at least not yet.
The NX's biggest problem right now, is that until 2015 it is available exclusively with Lexus's four-cylinder petrol-electric hybrid motor. The power figure—147kW—looks fine, but 210Nm of torque is anaemic, and insufficient to shift the 1.8-tonne weight with vigour. The diesels of the German competition, while gruff, are at least satisfyingly torquey. The NX300h is slow to accelerate, and paired to a conventionally-variable automatic that drones, it doesn't reward the driver that pushes hard. It promises, and delivers, exceptional fuel economy; not exceptional fun in a straight line.
Thankfully, the fix is imminent. The second engine to debut—at a price premium—will be the first turbocharged unit ever deployed by Lexus. We're confident that the two-litre turbo petrol will deliver the punch and power that the NX's athletic lines suggest. We'd hold out until that motor debuts.
COMFORT
Great seats shouldn't be underestimated, and the NX's front buckets are pulled straight out of the IS F Sport sedan. That car is notorious in our office for its focussed driving position—so, a good start. The NX does feel focussed behind the wheel, with adequate bolstering and soft leather in the pews, and a small, perforated steering wheel with paddles.
The NX is a size larger than the cars it is priced against, and you benefit from that extra capacity. Five people are accommodated quite easily; four will be very comfortable in the NX on long trips. The outboard seats in the back are sculpted and they recline, plus there's length-defying legroom and decent headroom for your passengers, too.
Lexus's recent dashboard design started as minimal (in the LS and GS sedans). As the company has developed the style for newer models, it's run into the industry wind by adding to the button count. The NX's dash is busy, and to the non-enthusiast, initially intimidating. A crisp seven-inch screen sits atop audio, climate and drive mode controls, plus the new touchpad controller for the navigation. Still, within a week, most functions become clearer. But things in here aren't as easy to learn as on the BMW X1.
At least it's easy to pair your phone. Bluetooth streaming is clear and defined over the standard stereo (an impeccable Levinson unit is standard on the expensive Sports Luxury). You get your song names, and navigation previews, between the tachometer and speedo. Voice control, in theory a brilliant idea, still struggles to be usable to any degree beyond making phone calls, in the Lexus.
One cool feature inside that deserves a special note is the NX's standard wireless charging function for phones. Some Android phones can do it out-of-the-box; iPhones need a special case. But if you're willing to buy that, then you can place your device on the centre console pad—no wires involved—and watch it charge as you drive. Great.
PRACTICALITY
The NX isn't intimidatingly large. The spacious cabin, then, is a pleasant surprise. It's large and comfortable inside, and airy too, if you opt for the sunroof. If not, then the all-black tones inside the F Sport can be just a little oppressive. The NX conforms to Lexus's traditional space efficiency: there's not a lot of dead space. There's plenty of room in the back for your passengers, but up front, space is dominated by driving controls, or cubby spaces for your everyday clutter.
Futuristic designs outside usually limit practicality inside. Lexus has managed to, mostly, defy this rule. The boot is capacious (475L), and all cars feature an electric tailgate as standard. The back seats are easy and light to fold, tripling the normal boot space if your demands exceed it. There's also very reasonable storage space throughout the cabins. The central bin, underneath the wireless charger, is deep. The door bins are wide.
RELIABILITY & RUNNING COSTS
As with all Lexus models, you are essentially banking on proven Toyota reliability, and it's true that little goes wrong with them. The servicing experience is also premium. They'll pick up the car for its services, and leave you a loaner Lexus in your driveway. Not bad—but it should be, as there's no capped-price servicing to limit your maintenance costs from the outset.
You can make reasonable assumptions about the other side of running costs—fuel economy. We are critical of the hybrid's dull response, but we give it credit for delivering efficiency very close to the official figure. We observed figures in the low 7L/100km range in average driving conditions. The NX is happy to drink regular fuel, too; most German petrols exclusively take premium.
While the safety agencies haven't yet purposefully crashed the NX, its eight airbags and variety of active systems give us confidence. It's a shame, though, that more advanced safety technology – like full automatic emergency braking, active cruise control, and lane keeping assist – isn't standard across the range. After all, the NX is a premium model, and Lexus had an opportunity here to lead the pack on safety. Those features are standard only on the $83,000 flagship, or a very expensive option on the lower models. However, both the F Sport and the Sports Luxury benefit from a standard, very safe around-view camera, that projects a top-down view of the car while parking, allowing you an incredible view of the obstacles around the car.
VALUE FOR MONEY
Three trims determine the Lexus NX300h price in Australia. The entry-level car, called the Luxury, is great value in $60,000 all-wheel-drive form (although a price-leading $55,000 front-wheel-drive version is available). The F Sport, technically mid-range, looks the most convincing of the bunch, and some will choose it for that factor alone. The Sports Luxury is conservatively dressed, and pricey at $83,000, but you'll struggle to identify a missing standard feature.
You can't even option up the flagship car; everything's included. But those wishing to have all the features with the F Sport body can tick the $8,000 'Enhancement Pack 2' on that car, which bundles a sunroof, great stereo and lots of safety features. Opting for the $4,000 'Enhancement Pack 1' on either of the lesser trims nets the sunroof and stereo only.
COMPETITORS
Mercedes-Benz GLA250 4MATIC ($58,600 list | on road not disclosed): Close to the NX in price, but relatively dwarfed by it in presence and interior space. The GLA250 is a turbo petrol, and the drivetrain is pretty sweet; the cabin, inspired by the A-Class, is also more refined to look at. The options list, though, is long.
Audi Q5 TDI quattro ($62,600 list | $69,990 on road): Clearly more expensive, and actually quite old, now. The Q5 has been on our roads for six years. The cabin is still clean, simple and comfortable, but everything seems a generation behind. They're everywhere, though, and that says something about how convincing the Audi is.
BMW X3 xDrive20d ($64,400 list | $71,718 on road): The X3 is pretty much designed for the American market, but it has been fairly successful in finding Australian homes, too. Like the Audi, it's a class more expensive, but polished diesel and petrol motors, a good cabin, and the sporting cache of the badge increase this option's attraction.
Vehicle Information
Overview
The Lexus NX300H is a fantastic looking car aiming to attract a more stylish customer group. But not only is it super stylish with the hybrid engine only producing 121 g/CO2 and offering upto 54MPG its efficient too making it cheaper to run. Why not book a test drive today? or speak to a member of our team who can send a detailed video to your email.
Electric driver`s seat,Electric passenger`s seat,Headlight washers,Heated seats,Leather seat trim,Lumbar support,3×3 point rear seat belts,ABS,Alarm,Alloy wheels,Audio remote,Body coloured bumpers,Driver`s airbag,Electric mirrors,Folding rear seats,Front electric windows,Heated mirrors,Height adjustable drivers seat,Isofix child seat anchor points,Parking sensors,PAS,Passenger`s airbag,Rear electric windows,Remote locking,Service indicator,Side airbags,Space saver spare wheel,Steering wheel rake adjustment,Steering wheel reach adjustment,Traction control
Key features
Built-In Sat Nav
1 Previous Owner
Full Service History
Technical specifications
LEXUS NX 300h 2.5 F-Sport 5dr CVT
Vehicle Tax (per year)
EC Extra Urban (mpg)
EC Combined (mpg)
0 to 62 mph (secs)
Gross Vehicle Weight
Engine Power — BHP
Fuel Tank Capacity (Litres)
Max. Towing Weight — Braked
Max. Towing Weight — Unbraked
Width (including mirrors)
Engine Torque — NM
Tyre Size Spare
Insurance Group 1 — 50 Effective January 07
NCAP Overall Rating — Effective February 09
Interested in this vehicle?
Contact us for more information, book a test drive or get a personalised finance quote.
Lloyd dealer information
Location
Opening hours
Monday To Friday
Saturday
Sunday
Sales
8.30am to 6pm
8.30am to 5pm
11am to 4pm
Service
8am to 6pm
8.30am to 12.30pm
Closed
Parts
8am to 5pm
8.30am to 12.30pm
Closed
Bodyshop
8am to 5pm
Closed
Closed
Customer Feedback
Best customer service i have had for years from Parts Department and Service Manager today
Wayne Alton — Lloyd Carlisle Volvo
We can bring any vehicle to your nearest Lloyd location
With locations across the North of England and South of Scotland, we can bring the vehicle of your choice to your nearest Lloyd dealership. Alternatively, we can prepare a personalised video tour of the vehicle, providing detailed information for any of your queries.
Please contact the location where the vehicle is currently, and they will arrange this for you.
2015 (65) LEXUS NX 300h 2.5 F-Sport 5dr CVT
Simply fill in your details below and we'll get back to you within 24 hours. Alternatively, you can call the branch on 01228 658838
Finance Terms & Conditions
Finance example is for a used vehicle agreement for the used vehicle model shown and optional equipment specified, with a contract mileage and excess mileage charge as detailed above if applicable (subject to availability). Retail customers only. Finance available subject to credit acceptance to UK residents aged 18 or over. Guarantees and indemnities may be required. Terms and conditions apply. Offer may be varied, withdrawn or extended at any time. The dealership at which this vehicle is located is part of Lloyd Motors Ltd, who is a credit broker and not a lender, and is authorised and regulated by the Financial Conduct Authority (number 308524). We work with carefully selected credit providers who may be able to offer finance for your purchase, we only offer finance products from these providers. Our finance partners may pay us a commission for introducing you to them. This introduction does not amount to independent financial advice. Excess mileage charges apply when funding via a Personal Contract Purchase (PCP) agreement. Optional final payment and option to purchase fee not payable if you opt to return the vehicle at the end of the agreement (vehicle condition, excess mileage and other charges may be payable).
Lexus Nx 300h
| Название | Объем | Двигатель | КПП | Мощность | Цена без скидки |
| --- | --- | --- | --- | --- | --- |
| Lexus Nx 300h 2017 — . 300h Executive+ | 2494 см 3 | Гиб. | Вар. | 155 лс | 1 572 380 грн |
| Lexus Nx 300h 2017 — . 300h Comfort | 2494 см 3 | Гиб. | Вар. | 197 лс | Уточняйте у мененджера |
| Lexus Nx 300h 2017 — . 300h Business | 2494 см 3 | Гиб. | Вар. | 197 лс | Уточняйте у мененджера |
| Lexus Nx 300h 2017 — . 300h Executive | 2494 см 3 | Гиб. | Вар. | 197 лс | Уточняйте у мененджера |
| Lexus Nx 300h 2017 — . 300h F Sport | 2494 см 3 | Гиб. | Вар. | 197 лс | Уточняйте у мененджера |
| Lexus Nx 300h 2017 — . 300h Luxury | 2494 см 3 | Гиб. | Вар. | 197 лс | Уточняйте у мененджера |
| Lexus Nx 300h 2017 — . 200t Executive 2.0 (238 л.с.) 4WD 6AT | 1998 см 3 | Бен. | Вар. | 238 лс | Уточняйте у мененджера |
| Lexus Nx 300h 2017 — . 200t Luxury | 1998 см 3 | Бен. | Вар. | 238 лс | Снято с производства |
Lexus Nx 300h – кроссовер, поступивший в продажу в 2014 году. В линейке Лексус является самым маленьким автомобилем подобного плана. Модель собрана на базе Toyota RAV4, однако по уверениям японских инженеров имеет от нее ряд отличий. Модель Nx 300h оснащена гибридным двигателем.
Лексус NX является весьма своеобразной машиной. Превосходный внешний вид и шикарный салон сочетаются с довольно жесткой ездой, которая однако не прибавляет машине спортивных качеств.
В классе маленьких кроссоверов шикарный Лексус неизбежно столкнулся в конкурентной борьбе с самыми сильными и желанными для покупателя автомобилями, такими как Mercedes GLC, BMX X3, Audi Q5 и Range Rover Evoque. NX имеет превосходный внешний вид, роскошный интерьер и отличное качество сборки, все эти качества делают его привлекательным предложением.
Lexus Nx 300h практически не за что критиковать, разве что подвеска чрезмерно жесткая, естественно, такая подвеска несколько нарушает комфортность езды, но обычно это сопровождается ростом спортивных качеств автомобиля. Обычно сопровождается, но не в этом случае, В этом отношении Лексус Nx сильно отстает от BMW X3.
Автомобиль также страдает от довольно инертного, расплывчатой рулевого управления, которое предлагает слишком маленькую обратную связь, не позволяющую уверенно вводить машину в вираж на высокой скорости. Жесткая подвеска, конечно, отлично стабилизирует кузов при прохождении поворотов, крен и занос практически отсутствуют, но рулевое управление не позволяет зачислить машину в разряд спортивных. Лучше всего использовать машину для спокойной езды по автострадам и городам, а не юля сумасшедших гонок по извилистым сельским проселкам.
Покупатели Lexus Nx имеют выбор между гибридным мотором и бензиновой версией. Nx 300h оснащен бензиновым двигателем 2,5 литра, связанным с электрическим двигателем, в то время как Nx 200t использует турбированный четырехцилиндровый бензиновый двигатель.
Нашей рекомендация является 300h, поскольку это дешевле и в эксплуатации и в покупке для запуска и дешевле купить, чем 200т. Это происходит главным образом потому, что 200t доступен только в высокой спортивной комплектации.
Комплектация всех Лексусов оборудованием обычно очень высокая в средней комплектации есть практически все, что нужно, за исключением спутниковой навигации, которая является стандартом только в самой высокой комплектации.
Купить Lexus Nx 300h можно с единственным мотором, четырехцилиндровым бензиновым агрегатом объемом 2,5 литра, мотор соединен с электрическим двигателем и их суммарная мощность равна 197 лошадиных сил. Другие технические характеристики Lexus Nx 300h посмотрите в сводных таблицах.
Цена Lexus Nx 300h в Украине от 48 409 $.
Эффективная гибридная версия;
Яркий экстерьер;
Отличный интерьер.
Жесткая подвеска;
Недостаток спортивных качеств.
Опыт вождения Lexus NX является чем-то разнородным. В то время как поездка комфортна на автостраде, подвеска чувствует себя жесткой по городу и легкий руль дает Вам очень мало обратной связи, да и сцепление с дорогой хуже, чем у конкурентов.
Несмотря на системе полного привода во всех модификациях, кроме модели начального уровня Lexus NX имеет ограниченные внедорожные способности. Отсутствует и возможность ручного переключения настроек под различные дорожные условия.
Обратная связь с дорогой через рулевое управление существует, но она ниже, чем у конкурентов. Хотя крен и занос при прохождении поворотов минимальны, машину нельзя назвать спортивной, одновременно она не является столь комфортной как, например, Volvo XC60.
Lexus Nx 300h оснащен гибридным мотором это 2,5-литровый бензиновый двигатель, связанный с электрическим двигателем, в сумме они развивают 197 лошадиных сил, но мотор все равно слабоват. Он использует роботизированную автоматическую коробку передач, которая сильно гудит, но никогда не дает того быстрого ускорения, которое Вы бы хотели получить.
На этой машине нужно учиться ездить заново. Сочетание гибридного двигателя и автоматической коробкой передач CVT может быть расслабляющим, но иногда оно просто бесит. Например, если вы нежны с педалью газа, то Lexus будет скользить по городу в почти бесшумном электрическом режиме, правда объем батареи очень мал. На трассе все существенно хуже, и остается только радоваться тому, что салон тих и прекрасно оформлен.
Бензиновый Lexus NX 200t в этом плане веселее. Он имеет 238 лошадиных сил, которых все равно мало, но машина лишена тяжелых аккумуляторных батарей и куда резвее. К тому же она снабжена обычной шестиступенчатой коробкой передач, которая работает быстрее и тише. Однако расход топлива в этом случае существенно выше.
Кузов автомобиля очень ярок и привлекает массу взглядов, дизайнеры Лексус потрудились от души. Описать его достаточно сложно, лучше посмотрите фото Lexus Nx 300h.
Салон автомобиля поразительно шикарен и имеет дизайн почти культовый. Все материалы самого высочайшего качества. Угловатые темы дизайна экстерьера в интерьере заметны только в приподнятой панели климат-контроля.
О внимании к мельчайшим деталям, наверное, лучше всего расскажет зеркало которое прикреплено к нижней поверхности крышки центрального подлокотника. Кстати, машина получила, наконец, сенсорный экран управления мультимедиа. В сравнении с мышью, почти как на компьютере, используемой ранее это гигантский шаг вперед.
Все Лексусы очень хорошо оборудованы и зачастую простое сравнение цен базовых моделей вам ничего не пояснит. Многие конкуренты Лексуса осмысленно делают базовую модель совершенно «пустой» ради снижения этого параметра. По этой причине при выборе авто обязательно сличайте списки оборудования.
Стандартное оборудование Lexus Nx 300h начального уровня включает: 17-дюймовые легкосплавные диски, DAB цифровое радио, два цветных сенсорных экрана, двухзонный климат-контроль, круиз-контроль, складывающиеся по частям задние сиденья, Bluetooth подключения, светодиодные фары дневного света.
Lexus Nx 300h –шикарный кроссовер высшего класса, модель оснащена очень экономичным мотором и имеет отличное оборудование, не говоря уже о потрясающем качестве отделки машины. Если вы ищите престижный автомобиль, обязательно посмотрите эту машину.
Приобрести новенький Lexus Nx 300h по самой выгодной цене в Украине, вы можете обратившись к нам. Благодаря партнёрским отношениям с производителями и автосалонами, наши клиенты получают максимальные скидки и лучшие условия страхования. При этом автомобиль вы получите у официальных дилеров, что обеспечит все преимущества официального (а не «серого» или «черного») авто с полноценной гарантией и сервисным обслуживаниям.
All-new for 2015, the Lexus NX is the Japanese luxury manufacturer's foray into the burgeoning subcompact-luxury-crossover SUV class of cars. Loosely based on the Toyota RAV4, the new Lexus NX 200t and NX 300h hybrid are sharp-looking, fun-driving and surprisingly roomy considering their tidy external dimensions. An interior punching well above its weight in design, materials and technology lends an air of sophistication that belies the price, which starts in the mid- $30,000 range. That's higher than rivals Audi Q3, BMW X1 and Mercedes GLA-Class. The new Lexus NX 300h hybrid includes a kick-down for better throttle response, and uses an electric motor to power the rear wheels in all-wheel-drive models. Meanwhile, the NX 200t showcases the first-ever turbocharged engine for Lexus.
Lexus has certainly taken the fun-to-drive factor implied by the aggressive styling on the new NX 200t and NX 300h hybrid seriously. Of the two engines, it's no surprise that the 200t, with its powerful turbocharged 2.0-liter 4-cylinder, is the more entertaining of the two. The little engine pours out power smoothly and evenly, resulting in brisk acceleration despite the nearly 4,000 pounds it has to haul around. The hybrid NX 300h doesn't feel quite as snappy, thanks to less power and more weight, but neither does it feel like a rolling roadblock, and we appreciated the quick response when you floor the throttle and engage the «kick-down» switch for maximum power. Fuel economy from the hybrid was good, but don't expect Prius-levels of fuel sipping.
2.0-LITER TURBOCHARGED 4-CYLINDER ENGINE
The first-ever turbocharged 4-cylinder from Lexus in the new NX 200t is brimming with modern technology. For example, the turbocharger is built into the exhaust manifold, reducing turbo lag – the pause between when you put your foot down and when you get power – to almost unnoticeable levels.
DESIGN
What we love about the design of the new Lexus NX is that it's so far outside the usual safe-design comfort zone we associate with Lexus. The dramatic lines and plentiful details – check out those taillights! – are never dull, regardless of your opinion.
Like the exterior, there's a lot going on inside the new Lexus NX. The dash is covered in a stitched material, and nearly every other surface is either soft or padded, lending an air of higher class than you're paying for. But it's also busy, with multiple levels, cutlines, materials and finishes that can be distracting. Beyond appearances though, it's comfortable and quiet enough to be called a Lexus. The new touch-pad interface for the Remote Touch works well, and retains the haptic «thump» you get when putting the cursor over one of the on-screen buttons.
Know how Lexus vehicles are understated to the point of being boring? Part of the mission of the 2015 Lexus NX is to make you forget that ever happened. From the dramatically gaping grille, to the intricately detailed LED headlights, to the 3-dimensional sculpting of the taillights that you have to touch to really understand, the new Lexus NX is almost the anti-Lexus when it comes to dramatic styling. It doesn't always work – the nose, for example, protrudes Durante-like in profile – but overall it's a nicely executed and welcome break from Lexus vehicles that came before it.
As befitting a premium luxury brand, the 2015 Lexus NX comes very nicely equipped. In addition to power seats, dual-zone automatic climate control, and leather-wrapped steering wheel and shift knob, the new Lexus NX comes standard with Lexus Display Audio, with a 7-inch screen, voice recognition and the ability to divide the screen into three sections. Other cool touches include LED lighting inside, LED low-beam headlights outside and LED taillights. A standard Drive Mode Select knob optimizes throttle response among Normal, Eco and Sport modes, and advanced stability control and plenty of airbags are all part of the deal as well.
There are plenty of high-tech options for the new Lexus NX. Chief among them are all-wheel drive, available in either the NX 200t or NX 300h hybrid. A Navigation Package also includes the Lexus Enform app system, which adds Bing, Yelp, iHeartRadio and other apps to your Lexus, plus the new Remote Touch Interface touch-pad controller. A leather package adds leather-trimmed seats, and includes the Comfort and Premium packages, which feature driver's-seat memory, and heated and ventilated front seats. The F Sport package adds aluminum pedals, a sport-tuned suspension, special badges and trim, contrast-stitched seats and more.
You can have your 2015 Lexus NX with one of two drivetrains, in either front-wheel drive (FWD) or all-wheel drive (AWD). Standard on the new Lexus NX 200t is an all-new turbocharged 2.0-liter 4-cylinder engine. With 235 horsepower and 258 lb-ft of torque, it's plenty adequate to get this small crossover SUV moving. Whether you choose FWD or AWD, power's routed through a 6-speed automatic transmission on the NX 200t. Alternatively, there's the Lexus NX 300h hybrid, with its combination of 2.5-liter 4-cylinder and electric motor putting out a total of 194 horsepower in FWD or AWD. This runs through a continuously variable automatic transmission (CVT), but with a twist: floor the throttle, and it activates a «kick-down» switch, immediately giving you full power.
2.0-liter turbocharged inline-4
235 horsepower @ 5,700 rpm
258 lb-ft of torque @ 1,650-4,000 rpm
EPA city/highway fuel economy: 22/28 mpg, 22/27 (F Sport)
2.5-liter inline-4 engine + electric motor
Engine:
154 horsepower @ 5,700 rpm
152 lb-ft of torque @ 4,400 rpm
Front Electric Motor:
141 horsepower
Rear Electric Motor (AWD only):
67 horsepower
Net output: 194 horsepower
EPA city/highway fuel economy: 35/31 mpg (FWD), 33/30 mpg (AWD)
Lexus NX 300h F-Sport – im Test
Friendly Alien
Der neue NX ist das auffälligste SUV, das Lexus je gezeichnet hat. Für Vernunft soll beim 300h der Hybridantrieb sorgen. Wir testen, ob es gelingt.
Mit dem neuen NX 300h möchte Lexus auch auf dem florierenden Markt der Sports Utility Vehicles (SUV) Gas geben und gegenüber der in Europa vorherrschenden Diesel-Übermacht mit seinen Benziner-Hybrid-Lösungen punkten.
Optisch wirkt das komplett neu entwickelte Modell extrem dynamisch, der trapezförmige Wabengrill wirkt aggressiv-sportlich, die gesamte Linienführung vermittelt Dominanz, das markante NX-Gesicht des neuen Lexus im Rückspiegel weckt bei vielen wohl den Reflex, zur Seite zu fahren.
Das 4,63 Meter lange Gerade-noch-kompakt-SUV fällt ganz sicher auf — und wirkt dennoch nicht unsympathisch. Dass man hier den richtigen Nerv getroffen hat, zeigt das große Interesse am jüngsten Lexus-Baby.
Motorisch stammt die Antriebseinheit des Lexus NX 300h aus dem IS 300h, allerdings wurde die Systemleistung auf 197 PS reduziert. Der 2,5 Liter-Vierzylinder-Benzinmotor mit variabler Ventilsteuerung (VVT-i) sorgt dabei für 115 PS bei 5.700 U/min und liefert ein maximales Drehmoment von 210 Nm.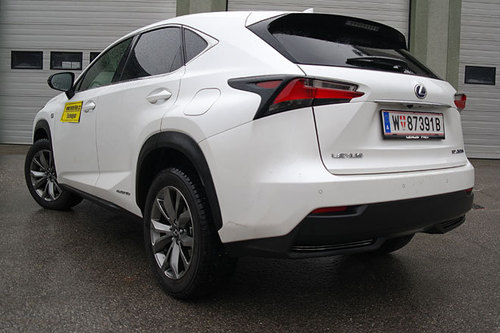 In der von uns getesteten F-Sport E-Four-Variante arbeiten gleich zwei Drehstrom-Synchronmotoren mit dem Verbrennungsaggregat – einer mit 24 Kilowatt und 270 Newtonmeter treibt wie der Benziner die Vorderachse an, dazu kommt ein 50 Kilowatt-Elektromotor an der Hinterachse, der bei kräftigem Einsatz des Gaspedals für Allrad-Traktion sorgt.
Auch beim Interieur hat Lexus großen Wert auf eine eigene Handschrift gelegt. Eine breite Mittelkonsole mit Aluminiumelementen erinnert ein wenig an ein Flugzeugcockpit, die Verarbeitung von Leder, Alu und sogar Carbon ist exzellent, die Cockpitgestaltung übersichtlich – auch die Bedienbarkeit ist grundsätzlich in Ordnung.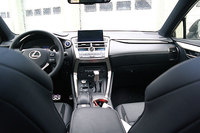 Lediglich das Touchpad in der Mittelkonsole reagiert zu sensibel, was die "Trefferquote" deutlich nach unten drückt. Hier wünscht man sich den Joystick aus dem artverwandten GS 300h. Grandios dafür auch in diesem Lexus-Modell die Rückfahrkamera, die sogar bei Regen und bei Nacht beste Bildqualität liefert.
Ansonsten sind in der von uns getesteten Variante F-Sport zahlreiche nützliche Dinge mit an Bord: Abstandsregel-Tempomat, viertuelle Gangstufen mit Schaltwippen, Berganfahrhilfe, Pre-Crash-Sicherheitssystem, 2-Zonen-Klimaautomatik, Alu-Pedale und Carbon-Applikationen.
Weiters elektrisch verstellbare und beheizbare Ledersitze vorne, Audiosystem mit DVD-Player und acht im Fahrzeug gut verteilten Lautsprechern, ein 4,2 Zoll-Multiinformationsdisplay und ein Headup-Display mit Mirror Link Funktion, 18-Zoll-Leichtmetallfelgen und vieles mehr.
Für die Passagiere gibt es sowohl vorne als auch im Fond ausreichend Platz und nützliche Ablagen, womit auch längere Reisen zu einem Vergnügen werden. Die elektrisch gesteuerte Heckklappe macht den Weg frei für magische 555 Liter an Ladevolumen, das durch Umklappen der Rückbank auf 1.600 Liter erweitert werden kann.