Hyundai i30 N Line 2019: дерзкий внешне, спокойный внутри
Hyundai i30 N Line 2019: дерзкий внешне, спокойный внутри
Обзор Hyundai i30 N Line 2019: внешний вид авто, внутреннее оснащение, техническая составляющая, опции безопасности, цены и комплектации. В конце статьи — видео-панорама Хендай i30 N Line 2019 года!
Содержание обзора:
Внешний вид
Салон
Характеристики Hyundai i30 N Line 2019
Системы безопасности
Стоимость и комплектации Хендай i30 N Line 2019 года
Видео
Весной 2016-го во Франкфурте состоялась презентация третьей генерации Hyundai i30, а спустя короткий промежуток времени автомобиль официально дебютировал на международной Парижской выставке.
Сразу стоит отметить, что несмотря на ряд внешних и внутренних доработок, придавших машине более спортивный и агрессивный внешний облик, Hyundai i30 N Line не превратился в настоящий спорткар, о чем свидетельствуют стандартные для обычного Hyundai i30 силовые агрегаты. Тем не менее, уже сейчас можно говорить о том, что модификация «N Line» придётся по душе поклонникам марки, которые хотели бы обладать заряженной версией i30 N, но которые не готовы потратить на авто свыше 30 тыс. евро.
Экстерьер Hyundai i30 Fastback N Line
Новинка обладает стильной, хорошо сбалансированной и динамичной внешностью.
«Морда» купеобразного i30 демонстрирует хищный взгляд головной оптики, фирменную 6-угольную фальшрадиаторную решётку и сложносочинённый передний бампер, представленный тремя секциями воздухозаборников и парой светодиодных противотуманок.
Динамичный профиль щеголяет длинным капотом, куполообразной крышей, дутыми колёсными арками, окрашенными в чёрный цвет внешними зеркалами, рельефными боковинами и колёсными дисками особого дизайна.
В сравнении с хэтчбеком Fastback обладает полностью перекроенной кормой: иной формой крышки багажника с надписью «Fastback» по центру, иначе оформленными габаритными огнями и видоизменённым задним бампером с крупным соплом выпускной системы. Для сравнения, i30 Fastback N оснащён двумя патрубками системы выпуска, что обусловлено наличием более мощной силовой установки под капотом.
Внешние габариты новинки в точности соответствуют стандартному i30 Fastback:
| | |
| --- | --- |
| Длина, мм | 4455 |
| Ширина, мм | 1795 |
| Высота, мм | 1425 |
| Колесная база, мм | 2650 |
| Клиренс, мм | 145 |
То же самое касается переднего и заднего свеса, которые составляют 905 и 900 мм соответственно, а вот точная высота дорожного просвета не сообщается. Правда, если верить инсайдерской информации, клиренс не превышает 145 мм.
Потенциальные покупатели новинки смогут выбрать одну из 10 расцветок кузова, а также один из нескольких вариантов оформления колёсных дисков.
На очереди – обновление «заряженных» моделей суббренда Hyundai N:
Поделиться на Facebook
Поделиться во Вконтакте
Поделиться в Twitter
Поделиться в LinkedIn
Поделиться в WhatsApp
Отправить по email
Поделиться в Одноклассниках
NEW HYUNDAI i30: SLEEKER, SAFER, AND MORE EFFICIENT
With advanced safety and connectivity technology, a variety of efficient powertrains and a new sleek design, the new i30 is even more attractive
An electrified 48-volt mild hybrid option enhances fuel efficiency
All three body types – the i30 Hatchback, Fastback, and Wagon – have a new design and new features following the most recent product update
The new i30 will be revealed at the Geneva Motor Show in March 2020
High Wycombe, 25 February 2020 – Hyundai Motor has released new details of the new i30 before its debut at the Geneva Motor Show. The new i30 will feature a new design, advanced connectivity features and offer an electrified 48-volt mild hybrid option, resulting in increased fuel efficiency.
Hyundai is also updating its i30 N Line range. The i30 N-inspired design features will continue to be available on the i30 hatchback and fastback models.
"By listening to our customers, we've determined there is a need for a safe, reliable car in the C-segment that also offers modern features such as state-of-the-art connectivity and efficient powertrains – and that looks good," says Andreas-Christoph Hofmann, Vice President Marketing and Product at Hyundai Motor Europe. "The new i30 covers our customers' needs while still being available at an attractive price point. It really has a universal appeal."
A modern exterior design
The new i30's exterior design is both bold and sleek, giving it more emotional appeal. The front is characterised by a wider-looking, more modern stance. The wider grille features an accentuated 3D pattern that emphasises the agile look of the car.
New, slimmer headlamps with optional multifaceted reflector MFR LED technology and new V-shaped signature LED daytime running lights (DRLs) complete the renewed, modern front end design.
At the rear, the new i30 5-door is enhanced with a new bumper design, which was developed to improve aerodynamic performance. The LED rear combination lamps create a V-shape for a symmetrical effect between the front and the back.
The new i30 is now available with new, redesigned diamond-cut 16-inch or 17-inch alloy wheels that round off the side view of the new i30.
Refreshed N Line trim
The dynamic, motorsport-inspired trim N Line trim has undergone a comprehensive design update for i30 Hatchback and Fastback also.
The new i30 N Line features bold new design with an even sportier look. At the front, the new i30 N Line has a wider central grille and new headlamps. Taking inspiration from the design of aeronautic jets, the lower central grille has increased in size and dominates the bumper area, expressing its strong stance and performance. The side openings feature floating wings which improve aerodynamic performance.
The completely new design of the rear bumper underlines the dynamic N Line character. The wide diffuser makes a sporty statement and a gives the rear an impressive stance, while the repositioned fog lights focus the visual centre of gravity closer to the ground.
The new i30 N Line comes with a new, 17-inch or 18-inch wheel design that adds to the excitement, expressing speed even when standing still. This contributes to a modern profile which is full of motion.
In addition, the new i30 N Line Hatchback and Fastback features tuning updates for suspension and steering in combination with the 1.5 T-GDi 160 PS engine for a more dynamic ride.
Three new exterior colours
The new i30 comes in three new exterior colours: Dark Night, Silky Bronze and Sunset Red. In addition, six existing colours will continue to be available: Polar White, Phantom Black, Engine Red, Stellar Blue, Platinum Silver, and Olivine Grey.
Available exterior colours:
[New] Dark Knight
[New] Silky Bronze
[New] Sunset Red
Polar White
Phantom Black
Engine Red
Stellar Blue
Platinum Silver
Olivine Grey
An updated, modern interior design
The interior design of the new i30 also features updates such as more refined and modern air vents.
One new interior garnish colour has been added: Pewter Grey. This is in addition to the existing Black. The seats can be covered in cloth, or a combination of both cloth & leather for a total of four possible options.
Connectivity features
The new i30 features state-of-the-art connectivity. A new 7-inch digital cluster and a new 10.25-inch navigation touchscreen enable a more modern and individual driving experience. It also offers full compatibility with Android Auto and Apple Car Play. Starting in summer 2020, wireless phone mirroring will be introduced, meaning customers do not require a cable to connect their phone. Similarly, the new i30 offers wireless phone charging.
Bluelink Connected Car Services
For the first time, the new i30 will be available with Hyundai's full-featured Bluelink technology. Through Bluelink, Hyundai offers a wide range of Connected Car Services that provide live information and the control of the car via an app.
Customers who choose navigation receive a 5 year free subscription to Bluelink and the Hyundai LIVE Services.
Bluelink and Hyundai LIVE Service features:
LIVE Services: real-time traffic powered by TomTom, fuel stations/parking spaces (with prices), speed cameras & weather
Online Voice recognition: powerful online (cloud-based) voice recognition with natural language understanding
Bluelink app services:

Find My Car: drivers can locate their vehicle easily in an unfamiliar setting
Remote services: driver can remotely lock his car
Send to car (POI): search for local POIs and send results to car's navigation system
Security: Vehicle alarm notification
Maintenance: Receiving vehicle report (e.g. tyre pressure), driving information
Safety features you can trust
The new i30's value is further enhanced by an improved Hyundai SmartSense advanced safety package, making it safer and more convenient than ever before. Lane Following Assist (LFA) automatically adjusts steering to help keep the vehicle centred in its lane. The Rear Collision-avoidance Assist (RCA) system can activate the brakes to avoid a collision when the car is in reverse. And also new to the i30 is LVDA (Leading Vehicle Departure Alert), a system which warns the driver when the vehicle ahead of them starts moving forward and they don't react quickly enough – for example, at traffic lights.
The i30 also features the rear Blind Spot Detection (BSD) system which warns the driver if there's another vehicle in their blind spot –
As with previous versions of the i30, FCA with pedestrian detection, Driver Attention Warning (DAW), High Beam Assist (HBA), Intelligent Speed Limit Warning (ISLW), and Lane Keeping Assist (LKA) are also standard.
SmartSense safety features:
[New] Lane Following Assist (LFA)
[New] Rear Collision-avoidance Assist (RCA)
[New] Leading vehicle Departure Alert (LVDA)
Front Collision-Avoidance Assist (FCA) with pedestrian detection
Driver Attention Warning (DAW)
High Beam Assist (HBA)
Intelligent Speed Limit Warning (ISLW)
Lane Keeping Assist (LKA)
Also new to the i30, the eCall feature automatically contacts emergency services in the event that the airbag sensors are triggered.
Each of these new features is designed to make Hyundai cars safer to drive and to increase customer trust. For even greater peace of mind, the new i30 comes with a five-year unlimited warranty.
Performance and progress: the new i30's powertrain line-up
The new i30 comes with an enhanced powertrain line-up to offer customers even more freedom of choice.
The 1.0-litre T-GDI petrol engine with 120 PS will be available with a new 7-speed dual clutch transmission, in addition to the previously-available 6-speed manual transmission.
Also new: the 1.0-litre T-GDI engine with 120 PS is now available with 48-volt Mild Hybrid technology for better fuel efficiency and for the first time with a 6-speed Intelligent Manual Transmission (iMT).
iMT decouples the engine from the transmission after the driver releases the accelerator. This allows the car to enter into two possible levels of coasting depending on the conditions. With the first level, the engine is idling. With the second level, the engine is additionally temporarily turned off to save even more fuel. . For those who prefer to drive automatic, the 48-volt Mild Hybrid option is also available with a 7-speed dual clutch transmission.
The 1.6-litre Diesel engine with136 PS now comes standard with a 48V mild hybrid system. It is available with either a 6-speed Intelligent Manual Transmission or a 7-speed dual clutch transmission.
And at the top of the range is the new 1.5-litre T-GDI engine with 160 PS, which comes standard with 48-volt mild hybrid technology (available only on N Line in the UK). It is also available with a 6-speed Intelligent Manual Transmission or a 7-speed dual clutch transmission.
Hyundai i30 N Line Premium (PD) 2019 года (AU) (фото 1 из 16) ? Австралия и Океания
Галерея автомобиля Hyundai i30 N Line Premium 2019 года включает в себя 16 оригинальных изображений высокого качества.
По этим изображениям вы можете ознакомиться с внешним видом автомобиля, узнать его особенности и отличительные черты, которые выделяют этот автомобиль Hyundai от других автомобилей.
А также вы можете скачать фотографии абсолютно бесплатно и использовать их как обои для рабочего стола с изображением автомобиля Hyundai i30 N Line Premium 2019 года, нажав на иконку в правой нижней части изображения.
Изображенный на фотографиях автомобиль был выпущен в 2019 году, в кузове PD. Автомобиль предназначен для рынка Австралии и Океании.
Другие галереи Hyundai i30 N
Другие галереи Hyundai 2019 года
2019 Mercedes-AMG GT C Roadster
2013 Toyota Tundra BBQ
2004 Wingamm Micros
1968 Plymouth GTX 426 Hemi Convertible
1974 Ford Mustang II Ghia Coupe
1987 BMW M3 Coupe
Страна: Южная Корея
Годы работы: 1967 — н.в.
В 1967 году была основана южнокорейская автомобильная компания «Hyundai», которая первые.
Модели Hyundai
Accent
Aslan
Atos
Avante
Azera
Centennial
Coupe
Creta
Dynasty
Elantra
Encino
Entourage
Equus
Excel
Galloper
Genesis
Genesis Coupe
Getz
Grandeur
H-1
HB20
i10
i10 N
i20
i30
i30 N
i40
i800
iLoad
iMax
IONIQ
ix20
ix35
ix55
Kona
Lafesta
Lantra
Lavita
Marcia
Matrix
Maxcruz
Mistra
NEXO
Palisade
Pony
Reina
Santa Fe
Santamo
Santro
Solaris
Sonata
Starex
Stellar
Terracan
Tiburon
Trajet
Tucson
Tucson N
Tuscani
Veloster
Venue
Veracruz
Verna
Xcent
XG
Популурные галереи
Hummer H1 Alpha Wagon 2005 года
Volvo S80 D3 2009 года
Toyota Supra Rendering 2011 года
Unicat Amerigo International 7400 AM205s 4×4 2007 года
Jaguar XKSS Continuation 2016 года
BMW 7-Series Black Bison by Wald 2017 года
Buick Electra Park Avenue 1976 года
BMW M4 Coupe by AC Schnitzer 2014 года
Doble Model F34 Sedan 1931 года
Audi Coupe Quattro 1984 года
Chevrolet S-10 Crew Cab 2005 года
О проекте
Условия оказания услуг
Политика конфиденциальности
Вакансии
Реклама
Партнеры
Контакты
При использовании информации в электронном виде (интернет-сайт, электронный файл и т. п.) в каждом случае необходимо размещение активной гиперссылки на главную страницу Сайта или на страницу размещения соответствующего материала.
Все замечания и вопросы по сотрудничеству направляйте по электронной почте: auto@vercity.ru.
Обращаем ваше внимание на то, что изображения являются чьей-либо собственностью и добавлены посетителями сайта.
Администрация сайта не располагает информацией о правомерности публикования этих материалов.
Все изображения размещены в ознакомительных целях.
What's the performance like?
The 1.6 turbo may be small, but it's feisty enough for the job at hand, adding some much welcome spice without the fieriness of the 2.0 in the full blown N. A hint of lag is quickly whisked away with a thoroughly usable low-rev surge that builds enthusiasm as revs surpass 6000rpm. Even below 2000rpm it pulls quite strongly, holding that momentum throughout the rev range.
It's brisk without being daunting, a thoroughly worth step up from the garden variety engine in basic i30s while leaving enough room for the proper N higher in the lineup. The six-speed manual has nicely spaced ratios but is good rather than great in its shift action.
It's occasionally notchy, for example, and we had a few (otherwise) slick first-second shits interrupted as it caught the gate on the way through.
Previous experience with the seven-speed DCT auto suggests it's a slick operator that's ultimately quicker in acceleration, albeit with the occasional slow-speed hesitation when modulating the throttle in traffic.
COMPARE CAR FINANCE
It's rude to tease.
Sorry. Yes, Hyundai is embarking on a mission to illuminate the slower members of its family with the i30N hot hatchback's radiant halo. But no, the new Hyundai i30 N Line is not a detuned version of the Nürburgring-honed Megane RS and Seat Leon Cupra rival.
Most cars with a jumble of letters and the word 'line' bolted to their name constitute a body kit and badging job to pep up the standard car's kerb appeal. Audi's S-line, Mercedes' AMG-line, Ford's ST-line, Peugeot's GT-line, Volkswagen's R-line… it's fair to say this isn't Hyundai's original bright idea.
But if this was just an i30 dressed up with spoilers, you wouldn't be telling me about it…
True. Hyundai has potentially tried a bit harder with its N Line than most of the other alphabet soup sporty get-up applied to other hatchbacks. The blurb says, tantalisingly, "In addition to performance styling, the i30 N Line models have also received changes to the mechanical set up of suspension, brakes and engine response in order to enhance the driving experience over the standard i30."
This approach is more in the vein of the new Toyota Yaris GRMN Sport and the Vauxhall Corsa GSi. Namely, apply the sticky tyres and focused suspension of a pucka performance car to a tax-friendly engine that teenagers won't have to harvest minor organs in order to insure.
You had my curiosity, now you have my attention.
Good. Here's what you get.
Serious rubber, for a kick-off: Michelin Pilot Sport 4s wrapped around a fresh design of 18-inch alloy. But, after some digging, Hyundai admits there aren't actually any hardware changes on the i30 N Line. No bigger brakes or lower ride height. It's all the same hardware as a standard i30, simply with choice tweaks to the ECU and handling calibration.
Hmm. Has it made the i30 N Line a dark-horse handling god?
It's fallen into a no-man's land, that's what it's done. It's been a while since I drove a standard i30 – forgive me for not remembering the experience vividly – but I'd agree with Hyundai, this one does indeed turn in with more zeal, grip more tenaciously and roll over onto its doorhandles less. Well done, chaps. I'm mainly congratulating Michelin there – the PS4 is a top-notch tyre. Keen observers of more-mouth-than-trousers hatchbacks will remember the grippy PS4 is the best thing about the Corsa GSi too. It's optional there, but standard on the Hyundai.
What N-ing the i30 up hasn't done is elevate it to the same level of chuckability as a Ford Focus or Mazda 3. It's too firm to breathe with the road like those cars. Its heavy-footed alloys clatter across dodgy surfaces where the Ford in particular makes light work of it. What you end up with is a mildly sharper-cornering version of a hatchback that was never much of a driver's car to begin with, missing the ride comfort and dexterity of rivals that prioritise the driver out of the box.
What about the engine?
Any N enhancements are lost on the one I spent 160 miles in: the 1.4-litre four-cylinder turbo delivering 138bhp and 178lb ft to the twin-clutch gearbox. The engine's willing enough but seems smothered by the slurring transmission. Grabbing it by the scruff of the slim, wheel-mounted paddles – surely another BMW M Division bit cribbed by Hyundai fast car boss Albert Biermann – only marginally improves the shift timing.
We're used to DCT boxes carving time off 0-62mph times – which is why they've become the de jure transmission for super saloons and hypercars. But Hyundai's takes a whole extra 0.4sec versus the manual.
Hyundai i30 N-Line und Facelift (2018)
Nach dem Erfolg des Hyundai i30 N bringen die Koreaner den Look des Sportmodells als N-Line-Paket auch für den i30 Steilheck und Fastback an den Start. Außerdem gibt es ein kleines Facelift zum Modelljahr 2019.
Motoren, Preise und Ausstattungen
i30 Facelift Modelljahr 2019
Der Hyundai i30N war die Überraschung des Jahres im Segment der sportlichen Kompakten: Im Vergleichstest schlägt er den Golf GTI, das schärft das sportliche Profil der Marke schon mal ungemein. Gut für's Geschäft, vor allem wenn auch Käufer ziviler motorisierter i30 vom sportlichen Image profitieren wollen und ein N-Paket kaufen wollen. Das sportliche Optikpaket bietet Hyundai ab Ende 2018 auch für das F astback an.
Sportoptik mit i30N-Genen
Die neue N-Line von Hyundai für die i30 übernimmt die optischen Gene des Hochleistungsfahrzeugs i30N. Zusätzlich zu den sportlichen Designelementen wurden dafür Fahrwerksanpassungen vorgenommen.
Zu erkennen sind die N-Line Modelle an einem Dynamikpaket, das vom Hyundai i30 N stammt. Dazu gehören die vom i30 N übernommenen Stoßfänger vorn und hinten, dessen untere Kanten in Silber abgesetzt sind, sowie LED-Tagfahrlicht, schwarz eingefasste Scheinwerfer und Rücklichter und ein spezieller N-Line Kaskaden-Kühlergrill. An den vorderen Kotflügeln verraten N-Line Embleme die dynamischen i30 Modelle, am Heck der Diffusor und eine Doppelrohrabgasanlage. Für ein noch besseres Handling sorgen 18-Zoll-Leichtmetallräder, größere Bremsscheiben vorne sowie ein optimiertes Fahrwerk.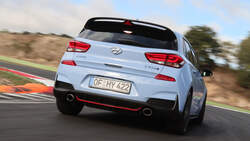 Motoren, Preise und Ausstattungen
Das N-Line-Paket findet aber auch im Innenraum seinen Niederschlag. Auch hier finden sich viele Merkmale des Kompaktsportlers i30 N wieder. Dazu gehören der schwarze Dachhimmel, die Sportsitze mit für den N-Line exklusiven weiß/grauen Nähten, dem typischen N-Lenkrad inklusive Multifunktionstasten für die Soundanlage, Telefonie, die Geschwindigkeitsregelanlage, sowie Sportpedale mit Metallauflagen.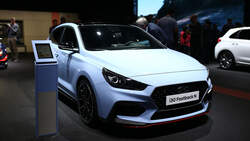 Bei der Ausstattung N-Line hat der Kunde die Wahl zwischen dem 140 PS starken Benziner 1,4 T-GDI sowie dem 1,6 CRDi mit 136 PS. Mit 24.550 Euro beziehungsweise 27.160 Euro liegen der Hyundai i30 1,4 T-GDI N-Line und der Hyundai i30 1,6 CRDi N-Line noch unterhalb der beiden höher ausgestatteten Varianten Style und Premium. Dei Preise für den fastback stehen noch nicht fest.
Zusätzlich können die i30 N-Line-Fahrzeuge mit diversen Extras und Ausstattungspaketen individualisiert werden. Dazu gehören Metallic- und Mineraleffekt-Lackierungen (590 Euro), Panorama-Glas-Schiebedach (1.100 Euro), das 7DCT-Getriebe (1.900 Euro), das Navigations-(1.300 Euro) und das Sicherheitspaket (ab 620 Euro).
Facelift für Modelljahr 2019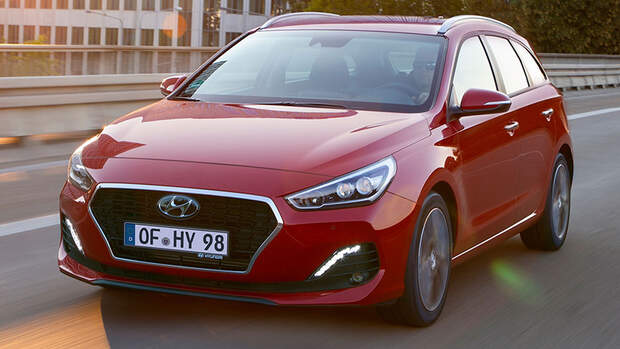 Hinter dem neu gestalteten Kühlergrill für das Modelljahr 2019 arbeiten im i30 neue Motoren. Der Kühlergrill ist flacher, die Tagfahrlichter sind diagonal angeordnet – damit ähneln Steilheck und Kombi von vorn dem Fastback. Benziner und Diesel erfüllen die Abgasnorm Euro 6d Temp. Die Benziner nutzen dafür einen Otto-Partikelfilter (OPF). Die Diesel sind komplett neu, sie stammen aus der sogenannten Smart-Stream-Motorengeneration und verfügen über einen SCR-Katalysator. Den 1,6-Liter-Vierzylinder-Turbodiesel gibt es mit 95, 115 und 136 PS. Alternativ zum serienmäßigen Sechsgang-Schaltgetriebe können die beiden stärkeren Varianten gegen Aufpreis mit einem Siebengang-Doppelkupplungsgetriebe bestellt werden.
Das Multimediasystem bekomtm ab Ausstattung Style einen acht statt fünf Zoll großen Bildschirm. Über das Touchdisplay können per Apple Carplay und Android Auto auch Apps gesteuert werden, ohne das Smartphone in die Hand zu nehmen. Das lädt derweil kabellos in einer Ablage. Zur Ausstattung gehören auch das Digitalradio DAB und eine Rückfahrkamera. Die Preise für das Hyundai i30 Facelift beginnen bei 17.450 Euro.
Fetzig, agil, preiswert – kurz: Hyundai i30 N. Mit ihm gewinnt der Kompaktsport einen Volkshelden, der den bisherigen ganz schön verhaut. Zumindest auf den ersten Blick. Test des i30-N-Basismodells mit 250 PS und des VW Golf GTI mit 230 PS.
Fetzig, agil, preiswert – kurz: Hyundai i30 N. Mit ihm gewinnt der Kompaktsport einen Volkshelden, der den bisherigen ganz schön verhaut. Zumindest auf den ersten Blick. Test des i30-N-Basismodells mit 250 PS und des VW Golf GTI mit 230 PS.
Den kompakten Koreaner gibt es ab Dezember 2017 auch mit schwungvollem Heck-Design. Der Fastback ist die viertürige Coupé-Variante des Hyundai i30, und wir haben ihn über einen Gebirgspass getrieben. Fahrbericht.
Den kompakten Koreaner gibt es ab Dezember 2017 auch mit schwungvollem Heck-Design. Der Fastback ist die viertürige Coupé-Variante des Hyundai i30, und wir haben ihn über einen Gebirgspass getrieben. Fahrbericht.
Den kompakten Koreaner gibt es ab Dezember 2017 auch mit schwungvollem Heck-Design. Der Fastback ist die viertürige Coupé-Variante des Hyundai i30, und wir haben ihn über einen Gebirgspass getrieben. Fahrbericht.
Fetzig, agil, preiswert – kurz: Hyundai i30 N. Mit ihm gewinnt der.
Den kompakten Koreaner gibt es ab Dezember 2017 auch mit schwungvollem.
2019 Mazda3 G25 GT vs Hyundai i30 N Line – THE SPECS
2019 Mazda3 G25 GT
Hyundai i30 N Line
Engine
2.5-litre four-cylinder
1.6-litre turbo four-cylinder
Output
139kW@6000rpm / 252Nm@4000rpm
150kW@6000rpm / 265Nm@1500-4500rpm
Transmission
Six-speed auto
Seven-speed dual-clutch auto
Drive type
Front-wheel drive
Front-wheel drive
Wheels
F & R: 18×7.0, 215/45
F & R: 18×7.5, 225/40
ANCAP
Five stars
Five stars
Tare weight
1340kg
1424kg
Power-to-weight
9.64:1 (kg:kW)
9.49:1 (kg:kW)
Official fuel economy
6.6L/100km
7.1L/100km
Economy during test
7.0L/100km
7.6L/100km
Fuel capacity/type
51L/91 RON
50L/91 RON
Power efficiency
21.06kW:L/100km
21.12kW:L/100km
0-60km/h
3.98 seconds*
3.73 seconds*
0-100km/h
8.28 seconds*
7.12 seconds*
60-110km/h
5.79 seconds*
4.66 seconds*
1/8 mile
10.55 seconds at 115.0km/h*
10.18 seconds at 123.1km/h*
1/4 mile
16.09 seconds at 144.8km/h*
15.41 seconds at 151.9km/h*
Max acceleration
0.784g
0.742g
100-0km/h braking
2.93 seconds at 38.27 metres*
3.01 seconds at 37.92 metres*
Max deceleration
-1.159g
-1.253g
Decibel at idle
42*
38*
Peak decibel at 60-100km/h
78*
77*
Priced from
$34,490
$29,490
* Figures as tested by PerformanceDrive on the day. Factory claims may be different
Hyundai i30 N Line Full Review
Our Rating
The i30 N Line is a much needed improvement to the i30 SR (which was powered by the same engine). It looks a heck load sportier than the SR, handles incredibly well and is a breeze to maintain.
Engine
The i30 N Line is powered by Hyundai's popular 1.6-litre turbocharged 4-cylinder engine that puts out 150kW of power and 265Nm of torque.
This same engine is shared with the Elantra Sport, Elantra SR Turbo, Veloster SR Turbo, i30 SR and the new Kia Cerato GT.
Performance
Thanks to its dual-clutch gearbox, expect the N Line to do 0-100 in roughly the low 7 second mark.
More importantly, it handles incredibly well – better than any other competitor in the 'warm hatch' market I would say thanks to its incredible Michelin Pilot Sport 4 S tires.
The engine revs well and manual mode keeps the car exciting, but (and this is the 3rd time I have said this), the exhaust note really needs to be more enticing to the naked ear.
Fuel Economy
Hyundai claims fuel consumption at 7.1L/100km on the combined cycle.
Our real world tests returned remarkably similar figures, averaging about 7.6L/100km on the combined cycle. Except that figure to drop to 5-6L/100km on the motorway, and upwards of 9.0L/100km of pure start/stop city driving.
Interior & Technology
The N Line has comfortable leather seats with sporty red stitching, but only the N Line Premium gets the electric seat position adjustment.
There is keyless entry, push button start, an 8.0-inch colour touch screen with CarPlay/Android Auto and analogue dials with a central LCD display for speed/settings.
Boot capacity is measured at 395L, which can be expanded to 1301L with the second row folded down. There is a decent amount of room space in the back row for a hatch but if you are a lanky lad like me, it may get tight with someone behind the driver.
Safety
The i30 was given a 5-Star ANCAP safety rating in 2017.
The Premium has six airbags, ABS, stability and traction controls, AEB with pedestrian detection, adaptive cruise control, lane keep assist and driver attention alert.
The previous SR's blind-spot monitoring and rear cross-traffic alert functions are missing from the N-Line, which is a bit unfair, particularly given the $500 price rise.
Ride & Comfort
This car handles incredibly well thanks to those insane PS4S tires – these are hyper hatch type tires that come stock on this car so we are incredibly impressed with it.
It can make the ride a touch firm every now and then, but honestly it's meant to be a sporty-ish car. The tire profile isn't alarmingly low, so bumps aren't easily felt and the comfortable seats inside make it a pleasant ride.
Warranty & Servicing
Hyundai offers a 5-Year/unlimited kilometre warranty with 12 months roadsides assist and a lifetime capped-price servicing regime.
Servicing is every 12 months or 10,000km.
Most services are $269 with the occasional breach of the $300 mark and as the car heads into its 7th year of life, the prices start to climb.
Pricing
Below is the pricing of the N Line as well as the full blown N as a frame of reference.
N LINE 1.6LULP7 SP AUTO $29,490
N LINE 1.6LULP6 SP MAN $26,490
N LINE (SUNROOF) 1.6LULP7 SP AUTO $31,490
N LINE (SUNROOF) 1.6LULP6 SP MAN $28,490
N LINE PREMIUM 1.6LULP7 SP AUTO $34,990
N PERFORMANCE 2.0LPULP6 SP MAN $40,490
N PERFORMANCE LUX 2.0LPULP6 SP MAN $43,490
N PERFORMANCE LUX S.ROOF 2.0LPULP6 SP MAN $45,490
Overall
The i30 N Line provides a great compromise between the standard i30 and the N Performance. It is sporty, filled with features, comfortable and plays the role well to impress as a warm hatch.
It handles well, is cheap to run and gives drivers that extra bit of excitement that the standard models just can't provide.
ALL our videos of the i30 N Line:
Full Exterior & Interior Tour:

Exhaust Sound:

Tech Review:

Engine Tour:

POV Test Drive:

Related Posts