2018 Ford Mustang GT: еще драйвовый, но уже приевшийся
2018 Ford Mustang GT: еще драйвовый, но уже приевшийся
Поделиться на Facebook
Поделиться во Вконтакте
Поделиться в Twitter
Поделиться в LinkedIn
Поделиться в WhatsApp
Отправить по email
Поделиться в Одноклассниках
Внешний облик Ford Mustang GT
Обновлённый Mustang GT обладает привлекательной, агрессивной и динамичной внешностью, в которой по-прежнему угадываются фирменные черты первобытной модели.
Передняя часть авто представлена массивной шестиугольной радиаторной решёткой с фамильной эмблемой жеребца по центру, хищным взглядом головной оптики со светодиодным наполнением, новым капотом и мускулистым передним бампером с эффектными воздуховодами, сплиттером и горизонтальными полосками противотуманок.
Профиль новинки обладает классическими пропорциями маслкара: длинный капот, куполообразная крыша, массивные колёсные арки и крупные легкосплавные диски. Отдельно стоит отметить наличие элегантных выштамповок на боковинах и шильдик «5.0», лишний раз информирующий, что перед нами находится самая мощная версия авто.
Строгая корма щеголяет эффектными габаритными LED-огнями, спойлером на крышке багажника и монументальным задним бампером с предустановленным спортивным диффузором и парой двойных патрубков выпускной системы. Тут же располагается шильдик «GT».
Внешние габариты модели имеют следующие характеристики:
| | |
| --- | --- |
| Длина, мм | 4784 |
| Ширина, мм | 1916 |
| Высота, мм | 1381 |
| Колёсная база, мм | 2720 |
Колея передних и задних колёс составляет 1,574 и 1,651 м соответственно. Точная высота клиренса не озвучивается, но вряд ли она сильно отличается от предшественника.
Потенциальным покупателям авто доступна широкая палитра расцветок кузова, среди которых три новых цвета, а также 12 вариаций колёсных дисков, обутых в низкопрофильные покрышки от Michelin.
ФОРД МУСТАНГ 2018 РЕСТАЙЛИНГ
Mustang GT шестого поколения получил плановое обновление. Экстерьер претерпел фейслифтинг , интерьер получил усовершенствованное убранство, а силовые агрегаты были полностью пересмотрены и некоторые из них заменены . Но главной новинкой стал 10 ступенчатый автомат — 10R80, отвечающий за мгновенное переключение скоростей. Но перед концерном Ford стоял вопрос: А стоит ли вообще выпускать Mustang GT Convertible? Но уже через 3 дня после выхода в свет купе-версии , компания опубликовала снимки и кабриолета, который не отличается своими габаритными данными. В Америке Мустанг является одним из самых продаваемых автомобилей, да и в Европе получил награду «самый продаваемый спортивный автомобиль», отобрав эту нишу у Audi TT.
ВНЕШНОСТЬ
Изменения произошли как в передней, так и в задней части автомобиля. Модификации коснулись решетки радиатора, капота и бампера. Головная оптика теперь полностью светодиодная, а LED-противотуманки доступны в качестве опции. Фонари так же стали светодиодными, задний спойлер видоизменился, но устанавливается он не во всех комплектациях, обновилась и форма «впадины» для номерных знаков. Интересное решение состоит в том, что купе с 2.3-литровым EcoBoost оснащается сдвоенными круглыми патрубками, двухдверка с 5.0 V8 – четырьмя патрубками, разнесенными попарно по краям. Дизайнеры добавили в гамму цветов еще три расцветки: Royal Crimson (малиновый), Kona Blue (голубой) и Orange Fury (оранжевый), что в сумме с предыдущими составляет 11 вариантов! Их можно комбинировать с 11 видами лесосплавных дисков. Хм, интересно, легко ли покупателю будет понять, что это именно та конфигурация, которую он хочет?
ИНТЕРЬЕР
Большое количество нововведений заказчик заметит в интерьере новинки. И снова цифра 12, на этот раз это 12-ти дюймовая приборная панель, которая предлагается в качестве опции за дополнительную плату, вместо классического аналогового циферблата, она предлагает три вида работы: Normal, Sport и Track. На экран можно вывести всю необходимую информацию о работе систем автомобиля. Мультимедийный комплекс представлен 8-ми дюймовым экраном со множеством новых функций. Так например, FordPass позволит управлять автомобилем через смартфон на расстоянии: запуск двигателя, информация о заряде аккумулятора, состояние топливного бака и местоположение машины. Система MyMode запомнит текущие настройки и сможет их воспроизвести при следующей поездке. Так как Mustang ориентирован на спорт, он вобрал в себя множество ассистентов безопасности, например, предупреждение о столкновении, обнаружение пешеходов и предупреждение о выходе с полосы движения. Благодаря дорогим материалам обивки, ручной прострочки на центральной консоли и алюминиевым вставкам, салон новинки стал еще более стильным и премиальным.
МОТОРЫ
Новое поколение Mustang получило изменения и в технической части. Например, 3.7-литровый V6 вовсе был исключен как на кабриолете, так и на купе версиях. Остались только 2.3-литровая турбочетверка , которая увеличила крутящий момент, и 5.0-литровый V8, который стал мощнее, но одновременно экономичнее. Двигатель будет включать в себя как непосредственный, так и «портовый» впрыск, что увеличит производительность и эффективность использования топлива.
С предыдущего поколения перешла и 6-ти ступ. механика , но достаточно проработанная под увеличенный крутящий момент и снижение расхода топлива. Главной изюминкой стал 10-ступенчатый автомат, перешедший с моделей Chevrolet Camaro ZL1 и Ford F-150 Raptor.
ПРОДАЖИ ФОРД МУСТАНГ 2018
Продажи продажи обеих версий новинки в США стартуют осенью 2017 года, чуть позже – в начале 2018, Мустанг появится и в других странах, в число которых, вероятно, войдет и Россия. Стоимость базовой версии автомобиля с 2,3-литровым мотором составит 30 тысяч долларов. Модификация GT с 5-литровым мотором обойдется покупателю в 39 тысяч долларов.
Ford Mustang (Форд Мустанг) — 2-дверное купе класса Pony Car. Официально был представлен в Детройте в 2014 году, в юбилейный для модели год, которой исполнилось 50 лет.
По сравнению с предыдущими генерациями Форд Мустанг шестого поколения красивый стильный дизайн и современную «начинку». Новая головная оптика с симметричными косыми полосами дневных ходовых огней, новая шестиугольная решетка радиатора, другой рисунок воздухозаборников, более рельефные боковые панели — это и многое другое придает новому Mustang стиль и шик. Задняя часть приобрела диффузор с интегрированными патрубками выхлопной системы, новые фонари, которые также, как и передние, выполнены в виде трех наклонных «штрихов».
Автомобиль при той же длине колесной базы прибавил в ширину 38 мм и стал ниже на 36 мм. Тормозная система включает в себя вентилируемые диски (размерность передних механизмов в зависимости от версии варьируется от 320 до 380 мм) с ABS, EBD и прочими современными «помощниками». В базовой комплектации для любой версии Ford Mustang установлен самоблокирующийся задний дифференциал.
Интерьер выполнен в спортивном стиле с элегантным трехспицевым рулем, анатомическими креслами и симметричной передней панелью. В оснащение салона входит мультимедийная система Ford Sync с 8-дюймовым дисплеем и с поддержкой голосовых команд, 12 динамиков. В большинстве своем салон оформлен материалами высокого качества, но и пластик также присутствует.
Линейка двигателей включает три агрегата — V6 объемом 3,7 литра (300 л.с.), V8 объемом 5 литров (418 л.с.) и новинка для данной модели 2,3-литровый двигатель EcoBoost (314 л.с.) с прямым впрыском, изменяемыми фазами газораспределения и турбонаддувом. Дополнением служат два вида коробки передач — шестиступенчатая механическая и 6-ступенчатая роботизированная с двумя сцеплениями.
ОБНОВЛЕННЫЙ ФОРД МУСТАНГ ВИДЕО
Ford Mustang GT 2018 Review
The highly anticipate midlife facelift of Ford's fabled muscle car is here. The new Ford Mustang range boasts a raft of updates that include more power, better safety and a range of dynamic and technical improvements that well and truly shove this Pony car into the 21st Century. But it comes at a cost… Depending on variant, the Ford Mustang now asks between $4000 and $9000 more than the outgoing model. The V8-powered, 10-speed automatic-equipped Ford Mustang GT range tested here starts from $66,259 (plus on-road costs). But as we find out, it's not without its flaws.
No one-trick Pony
Muscle cars like the Ford Mustang GT are often thought of as pretty one-dimensional. A one-trick pony, if you'll pardon the quip.
Mention Mustang to the old-school set and they'll likely recall tales of 'drags' down a secluded back-road, the big V8 administering a brume of tyre smoke and noise as it fought to keep its lively rear-end in check. Good times… but hardly relevant in 2018.
Fact is the Ford Mustang has come a long way in the 54 years since the first example went on sale. A hell of a long way.
The modern Mustang – Ford's first global pony car – is a properly accomplished car, and it has to be if it's to survive a world in which faster infotainment processing is the new cubic-inches and climate control is more highly valued than a Detroit Locker.
The key is rightly blending the new with the old. Giving the Mustang the street smarts it needs to survive while retaining its look, sound and feel.
Get too high-tech and you lose the guy that "always wanted a new one". Don't adapt and the younger crowd won't look twice. It's an art form.
It's also an engineering and marketing balancing act you get one chance to nail; and for what it's worth, we reckon the 2018 Ford Mustang has nailed it pretty damn well.
Dirty deets
Details of the new Mustang have been available for a while. Rather than bore you with the shopping list again, we'll run through the quick and dirty of Ford's 2018 Mustang upgrades.
For the Mustang GT variants on test the biggest news is an uptick in power. Larger cylinder bores up capacity to 5038cc (from 4951cc), and join port and direct fuel-injection and a four-mode active exhaust system.
This bring the outputs of the naturally-aspirated 5.0-litre Coyote V8 to 339kW at 7000rpm (+33kW) and 556Nm at 4600rpm (+26Nm). Beyond 4500rpm, the Mustang hauls ass; and sounds bloody good doing it.
Combined fuel use actually jumps 0.1L/100km (to 12.7L/100km ADR Combined) when compared to the old six-speed auto. We hung around the 14-litre mark on test, which isn't too bad.
But really, if you want to save fuel, buy the four-cylinder EcoBoost variant or wait for the Hybrid in 2020, assuming it comes Down Under.
The optional 10-speed automatic transmission (+$3000) puts power to the rear wheels which are now braced by a new cross-axis independent set-up that Ford says improves lateral stiffness and therefore handling.
Revised damper valving features on models not equipped with Ford's optional MagneRide magnetorheological adaptive dampers (+$2750), the system borrowed from the Mustang GT350 to independently adjust each corner up to 1000 times per second.
A tri-mode 12.0-inch screen takes-on instrument cluster duties for 2018, and joins an 8.0-inch SYNC3 infotainment array with Apple CarPlay and Android Auto, Bluetooth, digital radio, sat-nav and a reversing camera.
Safety tech now includes autonomous emergency braking with pedestrian detection, adaptive cruise control, lane keep and lane departure. The 'Stang now scores a three-star ANCAP rating – one more star than its predecessor.
More bling, more ca-ching
Bigger cylinders, more safety tech, extra gear ratios and increased bling. The new Mustang certain offers a lot more equipment, but none of it comes cheap.
The range is now priced at between $4000 and $9000 more than the outgoing model. For the GT variants tested here, that's a sticker price of $66,259 and $74,709 (plus on-road costs) for the Coupe and Convertible respectively.
Ford recently announced a move to a five-year/unlimited-kilometre warranty which replaces its long-running three-year/100,000km deal. The program includes free map updates, loan cars and roadside coverage.
Service intervals are 12 months or 15,000km (whichever comes first), and tally $2385 for the first five years.
Redbook says a three-year-old Mustang GT retains 78 per cent of its new price when sold privately, or 70 per cent when traded in.
However, the material quality, especially inside, is still a bit tom tit. Acres of cheap black plastic and hard-touch surfaces fill the cockpit, in which the relationship between the driver and primary controls is less than a perfect fit, mostly because of Ford's high-set seating position.
Get settled in, however, and it does reward. Select the right mode (this is crucial – more in a moment) and the Mustang complies willingly to instructions issued by the right foot, steering on throttle to billhook its way through corners with a level of dexterity closer to the Track Pack sampled at this year's Australia's Best Driver's Car.
The Ford Mustang coupe is a more agile accomplice here; the twist and scuttle shake of the convertible is a less than ideal formula with which to accurately dice up a complex series of corners.
The Torsen LSD puts power down effectively, and really helps curtail the Mustang's tail-happy attitude. Be warned, though: if you're dialled into Sport+ or Race mode it's still pretty easy to side-step the tail, or turn those sticky Michelin Pilot Sport 4S tyres into clouds of blue smoke.
More Research
2018 Ford Mustang Pricing & Specs
Read what Ford Mustang owners think
Read more Ford Mustang news & reviews
The thrill of the hunt
It's the Mustang's newest – and perhaps most crucial – element that proved its Achilles heel on test: the 10-speed automatic transmission.
From a cold start and at walking pace in Drive and Normal modes the shift from first to second gear (approximately 15-20m from setting off) produced a moment of free-spin following by a tremendous thud into gear.
It happened every morning with both Mustangs we drove, each with approximately 5000km on the clock, doing little to fill us with confidence.
We also found the transmission extremely busy at commuter speeds, constantly hunting for the right ratio. In Drive and Normal modes the tranny is far too eager to downshift, and determined to run back to top gear (10th) at speeds over 80km/h as soon as pressure on the throttle is reduced.
Driveline shunt and a little fuel surge was also noticeable during suburban and freeway driving, the transmission seemingly indecisive in matching the correct ratio with the availability of torque.
Work through the various drive modes (from Normal to Sport, Sport+ and Race) and there is an improvement. Holding gears longer in its more aggressive drive modes, and again with the shifter set to Sport, and the Mustang is a more decisive beast, but only when you're really pressing on.
Here, the transmission better responds to the throttle, holding gears longer and shifting in step with the driver's intentions, steering wheel inputs and road speed to choose the right cog for the job.
In-gear acceleration is impressively strong, and in Race mode brings a bold, brassy exhaust note fitting of a muscle-car.
Unless you've got a runway at your disposal, however – or a damn good lawyer – it's best to use the steering wheel paddles and run it out in second or third gear. Anything more is pushing loss-of-licence territory.
My tip: use Rain mode for commuter driving. It softens throttle response and slows gear selection down, allowing the engine – not the gearbox – to manage proceedings.
A broader audience
It's going to be interesting to see how the Mustang's 10-speed transmission stands the test of time. We'll be curious to hear from customers and to read other reviews to see if the issues we experienced are commonplace or simply a quirk of the hard life both press cars were subjected to.
That (important) issue aside and it's obvious the Mustang has what it takes to hold its own in a narrow market segment – at least until HSV's Chevrolet Camaro arrives.
It's sharper than before, and the 2018 Ford Mustang GT also has the performance and presence to attract an audience far broader than the traditional muscle-car enthusiast.
That the Ford Mustang can continue to do that more than half a century since its original launch is testament to its enduring appeal.
How much does the 2018 Ford Mustang GT Coupe cost?
Price: $66,259 (plus on-road costs)
Engine: 5.0-litre eight-cylinder petrol
Output: 339kW/556Nm
Transmission: 10-speed automatic
Fuel: 12.7L/100km (ADR Combined); 14.0L/100km (as tested)
CO2: 290g/km (ADR Combined)
Safety rating: Three-star (ANCAP 2017)
How much does the 2018 Ford Mustang GT Convertible cost?
Price: $74,709 (plus on-road costs)
Engine: 5.0-litre eight-cylinder petrol
Output: 339kW/556Nm
Transmission: 10-speed automatic
Fuel: 12.7L/100km (ADR Combined); 13.9L/100km (as tested)
CO2: 290g/km (ADR Combined)
Safety rating: Three-star (ANCAP 2017)
Rich with features and tech
The 2018 Mustang is a car that's easy to live with every day. From its comfortable seats and various luxury amenities to its wealth of onboard tech, there's a lot to like here. Sure, a few swaths of crummy plastic still line the doors and transmission tunnel, and I still hate that the toggles on the center stack only move in one direction (and the wrong direction, at that), but overall, the Mustang's interior is really nice. Comfortable, supportive seats are trimmed in leather, and are heated, as is the steering wheel. The center stack is kind of button-heavy, but all the car's controls are easy to find.
Front passengers enjoy a respectable amount of headroom, and while there are technically two seats in the rear, I wouldn't ask adults to sit there for more than a few minutes. Forward and side visibility is pretty good — certainly better than a Chevy Camaro, at any rate — though the thick, sloping roofline creates some hearty blind spots.
This GT Premium model comes standard with an 8-inch touchscreen infotainment system, running Ford's latest Sync 3 software. It's not the prettiest system, with a limited color palette and fonts that sort of read like a large-print greeting card, but what Sync 3 lacks in visual flair it more than makes up for in functionality. It's an intuitive interface, with quick response times to inputs and a menu structure that's super-simple to master. Factory navigation is optional, either as part of the $2,200 Premium Plus pack or as a $795 standalone option, though if you'd rather save your money, Sync 3 comes standard with Apple CarPlay and Android Auto.
The Premium Plus pack also gets you Ford's new 12-inch digital gauge cluster, with crisp, bright, high-resolution graphics. It's a reconfigurable display, too, with different layouts depending on driving mode. It's not quite as slick as Audi's Virtual Cockpit, but considering a lot of other lower-priced sport coupes don't even offer something like this, it's a nice upgrade.
The Mustang gets a bit of driver-aid tech, too, largely by way of Ford's Safe & Smart package, which can only be had on the Premium trim. For $1,495, you get adaptive cruise control, automatic high-beam assist, blind-spot monitoring with cross-traffic alert, lane-keeping assist, rain-sensing wipers and more. Best of all, it doesn't require the addition of the automatic transmission. Win-win.
The Mustang looked so much better before its 2018 model year facelift. This schnoz is hard to love.
What does it have that others don't?
There isn't a muscle car on-sale today as accessible as the Ford Mustang, nor is there a machine with such an old-school vibe thanks to its naturally-aspirated 5.0-litre V8, six-speed manual gearbox and rear-drive configuration.
Having said that, it also feels thoroughly modern with elements like the digital instrument cluster which looks cool, especially in the Sport+ mode that twists the rev counter from a dial at low engine speeds to a horizontal plane above 3000rpm.
You may also like
The remodeling in the rear is subtler: techier-looking LED taillights, a diffuser-effect lower fascia, quad exhaust tips and, optionally, an ugly tacked-on wing. Less muscle car, more motorsport effect, then, but from the rear this is a tougher looking beast. The new halo Orange Fury paintwork looks good rather than stunning, and the optional forged wheel design fitted to our test cars are polite and unassuming.
The Mustang's interiors have been a whipping post for many critics weaned on premium Euro slickness. But to chastise the interior fit out of a four-cylinder Fastback manual — a $46k tip-in point in the outgoing range – against that of a circa-$66k Benz C200 or $70k BMW 420i is a poorly aimed salvo. Mustang has been materialistically modest and built-to-cost inside since the 1960s and has never aspired to high-street opulence.
But beside the upgraded soft touch points, added stitching, satin-chrome detailing and whiz-bang new 12.4-inch digital driver's screen, it's still a plasticky cabin struggling to hide the low-rent elements. Thankfully, it hasn't been 'Euro dipped' and retains a nice level of Americana-tinged kitsch — a slice of 'California' even when you're stuck in southern Aussie winter gloom.
One big lunge forward with revised Mustang package is the all-digital 12-inch instrumentation. It offers three core modes – Normal, Sport and Track – and dizzying array of geeky personalisation options. The basic display apes Audi's twin-barrel Virtual Cockpit format, although it swaps the detailed slickness (such as in-screen sat-nav map display) for a suitably-retro software design well suited to the muscle car theme.
Some optional display formats, such as the 'tacho bar' that sweeps left-to-right in tandem with engine rpm, are a bit naff. And the numeric rev-counter – a continually scrolling jumble of numbers – effect is utterly pointless and needlessly distracting.
The new optional Recaro seats – more racerisms – are form fitting and offer reasonable comfort, but the standard units are a bit of a letdown, both in shape and quality of finish. The retro-homage steering wheel does suffer from terrible button-itis, though the upgraded leather rim is quite a treat. Elsewhere, the modest 8.0-inch touchscreen infotainment system has been upgraded to Sync3 software with Apple CarPlay and Android Auto, while a reversing camera and sat-nav are both standard.
Using MyMode settings, you can configure preferred settings for powertrain, suspension, steering and exhaust, the latter featuring four modes – Quiet, Normal, Sport and Track – for its active valve-actuated hardware that's standard fitment on V8 versions.
Which brings us neatly down to proper business: the revamped Coyote V8. An increase in displacement (4951cc to 5038cc), higher compression (11.1 to 12.1), freer flowing heads, dual fuel injection (port and direct) and a peak rpm lift (7500rpm) conspire to deliver an extra 33kW and 26Nm, for outputs of 339kW and 556Nm.
By the seat of the pants, it's a more substantial feeling engine: more low-end swing, more top-end feistiness, and that four-voice exhaust, even in Normal, returns a rich, bold and stirring exhaust note. This new GT absolutely roars because, according to Ford, direct customer feedback made it clear the outgoing V8 was way too quiet.
But quiet can be cool. The adaptive exhaust's Good Neighbour mode allows you to electronically preselect time-of-day parameters for the Mustang so it starts up in Quiet mode rather than the already-bellowing Normal setting.
With everything set to Normal, the GT auto remains a toey, firm-riding, characterful experience around town or on the open road. What's immediately clear is the new, optional MagneRide continuously adaptive damping doesn't filter out much of the low-speed ride fidgetiness, yet introduces a nice sheen of compliance once you get some road speed on. As a default drive mode, there's certainly purpose in its vibe: clarity in the chassis, newfound crispness in the steering, a bold fatness to the soundtrack. It doesn't become overly limp and flaccid.
The new 10-speed automatic is an absolute gem on road. It doesn't sequentially shuffle ratios needlessly – it can lunge from tenth to third, say – nor is it overly hyperactive. Its self-shifting calibration is superb, and it's not 'moon shot' with widely stretched ratios you'll never use. In fact, in tenth and with 2000rpm on board, the Mustang's road speed is only 120km/h.
There numerous detail changes underneath: from the strengthened six-speed manual with a dual-plate clutch and dual-mass flywheel, to Shelby-spec half shafts, rear under-bracing, a revised tune to the passive suspension we didn't get to sample at launch and the brand-spanking continuously adaptive MagneRide set-up we did, which has been calibrated to suit the new made-for-Mustang Michelin Pilot Sport 4 rubber.
The outgoing's GT chassis and 306kW poke is a fun if frisky marriage, a dynamically adept combination if one with a certain sting in its tail. It can be playfully fun-filled in some (warm and dry) conditions, more tail-snappy and hair-raising in others. And if our brief punt around the tighter section of slippery The Bend circuit are any indication, this Michelin-shod update lifts Mustang's agility and driving purpose without ruining the steer-on-the-throttle character many have praised the modern pony car for.
There's an extra dose of clarity in the steering, a heightened edge in the dynamics, that injects added confidence from behind the wheel. While you can dig into Mustang harder than before in the curves, it also remains a beast you can be ham-fisted and -footed with. It's not as 'loose' any more, but the rear will unhinge itself with urgency if requested. Despite the more track-centric stylings, it's still very much a true and proper muscle car under the surface.
As reported previously, autonomous emergency braking with pedestrian detection is standard, as is the lane-departure warning and lane-keep assist systems. While this has lifted Mustang's safety credentials above its well-publicised two-star ANCAP woes, it's been a one-point boost (now three-star) anchored by low scoring in the area of second-row safety.
With prices up across the Mustang range – from around four grand in entry EcoBoost Fastback manual to well over eight grand for GT Convertible auto – the question is where exactly the value lies in the myriad changes or which only some are bona-fide improvements.
In the $5500 hike applied to the V8 coupes we tested, Ford could've made Mustang a nicer, more pleasant, more European-like experience targeted to broader buyers tastes. And it would've been a backwards step and one not in rhythm with the car's rich heritage. Instead, we have a ballsier, more muscular, louder and characterful pony car aimed squarely at the enthusiast set which – mostly in intention and partly in execution – makes the update impressive and worthy. For the added charisma and soul, it's five-odd-grand well spent.
However, a good raft of the updates still cost extra. Like the OTT stripes? That's $650. The questionable rear wing treatment? A further $750. The unnecessary Recaros add $3000, the forged alloys (for GT only) another $2500. Even the adaptive suspension smarts command an extra $2750 to the bottom line. Our 10-speed test car wants for lofty $74,490 before on road and that's large coin for what is, in spirit, an everyman device.
If anything, the updated Mustang makes much more sense with options boxes left unchecked. It's certainly still the stirring and honest to goodness muscle car served without the unnecessary and costly excesses.
Awarded to the models with the highest owner ratings for design and performance after the first 90 days of ownership.
Prices shown are the prices people paid including dealer discounts for a used 2018 Ford Mustang GT Fastback with standard options and in good condition with an average of 12,000 miles per year. Taxes and fees (title, registration, license, document and transportation fees) are not included.
Average price paid
Info & Definitions
J.D. Power captures actual vehicle prices paid every day by people like you. From this data, J.D. Power tracks the average price paid and the price range paid by the majority of people.
New car prices paid include dealer discounts for the same typically equipped vehicle (year, make, model, trim) and do not include taxes, fees (title, registration, license, document and transportation fees), manufacturer incentives and rebates. Check the manufacturer's website for current incentive and rebate offers that might apply to you, and subtract from the prices shown for the price range most relevant to you.
Used car prices paid include dealer discounts for the same typically equipped vehicle (year, make, model, trim) in good condition with an average of 12,000 miles per year. Taxes and fees (title, registration, license, document and transportation fees) are not included.
The pricing data is an estimate, but not a guarantee, based on J.D. Power's detailed analysis of transactions from the last 30 days for new cars and from the last 4-8 weeks (depending on the model) for used cars.
MSRP: The Manufacturer's Suggested Retail Price or MSRP is the price the manufacturer recommends the dealer charge for its new vehicles.
Invoice Price: The price on the vehicle manufacturer's bill to the dealer. It may not reflect the dealer's actual cost of the vehicle and may vary across dealers.
Arts & Culture
News • Arts & Culture / October 19, 2018
Casey Williams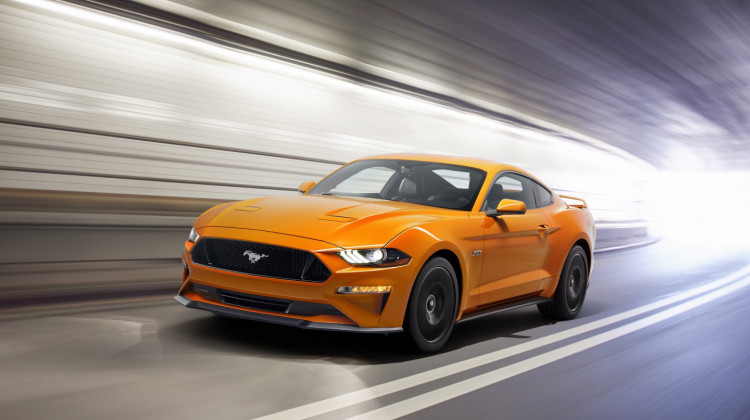 So, I was sitting in my office a few days ago, with my back to the window, when I received a call that my car was waiting outside. That's when I looked up and noticed an eerie orange glow on my wall. When I turned towards the window, it grew ever more brilliant, nearly blinding me, until I was facing the 2018 Ford Mustang GT in full glory. Whoa, that's bright!
Brilliant Design
Beyond the Orange Fury Metallic Tri-Coat paint, the rest of the car is pretty brilliant too. This generation Mustang wears my favorite sheetmetal of any generation, perfectly balancing classic design cues with modern elements. Viewed in rearview mirrors, the car looks like it will eat you. Check the two-tiered lower splitter and "snake teeth" jaw lines that run from below the bumper, through the grille, and into the hood. Hood vents connect to the past. Edgy gray ground affects, deep side sculpting, dark 19-inch alloys, and sloping rear roofline pay homage to the past, present, and future. Its sexiest view may be the wide rump that's equal parts Porsche and classic Mustang with sequenced triple barrel taillamps. Big points for style!
As with the exterior, the interior references the past without living in it. The twin-cowl dash design and large analog gauges carry through, but are accented by faux machine turned aluminum between. The console is dominated by a large touchscreen with intuitive icons for audio, climate, navigation, and settings. There are also proper volume and tuning knobs below, as well as redundant buttons for the dual-zone automatic climate control. Even lower are toggles to adjust the steering feel (Normal, Sport, Comfort) and driving modes (Normal, Sport, Track, Dragstrip, Snow). Configure the steering, throttle, and suspension from all-day comfortable to track-ready aggressive. Settle into the supportive Recaro sport seats, adjust the ambient lighting color, and get at it.
Brilliant Performance
Base Mustangs run with a 2.3-liter turbocharged four-cylinder engine delivering 310 horsepower, but 5.0 badges on the fenders and a quick blip of the throttle tell you this is no base Mustang. Our GT gallops forth with a 5.0-liter V8 bellowing out 460 horsepower and 420 lb.-ft. of torque through a six-speed manual transmission. Every day will be leg day with the stiff clutch, but the shifter feels precisely mechanical. Fuel economy of 15/25-MPG city/highway seems frugal for a fully-stoked pony car.
Mustangs have always had powerful V8 engines, but the chassis was rarely up to the challenge of channeling all of the power to pavement without untoward drama. Ford made excuses for years about why it couldn't (or wouldn't) trash the solid rear axle and install a modern independent suspension. Now, it seems the engineers are saying, "You want a world-class suspension? Fine, take this!" And, they delivered.
This generation's independent suspension already challenged Audi for ride smoothness and handling, but adding Magne-Ride Damping, similar to systems used by Corvette/Cadillac that adjusts firmness electronically and continuously, creates a near-magical experience. Fly over rough pavement and the chassis just deals with it. Add in the drive and steering modes, and you have a car that can change character with the flip of switches. For Mustang aficionados, it's revolution.
Brilliant Summary
It's not all happy pony town, but the gripes are minor. Hard plastic door panels on any car above $20,000 is a bit chintzy, and there are a lot of ugly vibrations with the stereo even moderately cranked. Above a certain price point, heated seats and steering wheels should also come standard. I'm also not sure I'd want to work that clutch during daily commuting for years on-end, but it's perfect for long weekend trips and quick dragstrip rips. One must remember it is a Mustang GT, not an Explorer.
Ford gave us several generations of Mustangs that were powerful and stylish, but should have embarrassed large teams of people for allowing abysmal quality and refinement. That's now all in the past. Designers and powertrain engineers delivered an expected virtuoso performances, but this is finally a car that makes no apologies for ride or handling. Crack the sinister exhaust and your brain will levitate.
You can buy a base Mustang for $26,120, and you'd like it, but go ahead and spend $45,885 to get our brilliant 5.0 GT. Competitors include the Chevy Camaro SS, Dodge Challenger SRT, and Audi S5.