Ford GT 2017: высокотехнологичная эксклюзивность
Ford GT 2017: высокотехнологичная эксклюзивность
Обзор Ford GT 2017: внешний вид модели, интерьер, технические характеристики, системы безопасности, цены и комплектации. В конце статьи — тест-драйв Форд GT 2017 года!
Содержание обзора:
Внешний вид
Салон
Характеристики Ford GT 2017
Системы безопасности
Стоимость и комплектации Форд GT 2017 года
Видео
Ford GT – один из наиболее легендарных и ярких автомобилей в истории компании «Ford Motor Company», история которого началась в далёких 60-х годах прошлого столетия. Спорткар создавался в роли прямого конкурента автомобилям Ferrari и даже смог превзойти их в одной из гонок «24 часа Ле-Ман». Однако триумф автомобиля был недолгим, уже в конце 60-х годов машина была снята с серийного производства.
В 2003 году руководство компании Ford принимает волевое решение о возобновлении производства модели, а спустя 12 лет выкатывает на рынок второе поколение «перерождённого» суперкара, получившего более стильный и современный дизайн, а также самую передовую начинку. В результате Ford GT 2017 года стал не только самым быстрым и технологичным автомобилем бренда, но ещё и самым эксклюзивным – в планах компании выпустить не более 1000 экземпляров модели, по 250 шт./год. Обратной стороной эксклюзивности стала Ford GT 2017 цена, превосходящая в несколько раз стоимость автомобиля прошлого поколения, купить которое можно было за 140-150 тыс. долларов.
Также заметим, что в отличие от предшественника, производством нового «Форд ДжиТи» будет заниматься не сам Ford, а канадская компания Multimatic, специализирующаяся на изготовлении карбоновых автомобильных деталей. Причина такого решения кроется в структуре автомобиля, где большая часть кузовных деталей, интерьера и внешних элементов изготовлены из углеволокна.
Серийное изготовление модели стартовало в конце 2016 г, при этом основные параметры и характеристики Ford GT 2017 были раскрыты в начале 2017 г.
Внешний вид Форд Джи Ти 2017
Дизайн у Ford GT узнаваем, так как он основан на классической модели. Кузов сделан со спортивным уклоном и двумя своеобразными канавками. Это создает эксклюзивный и незабываемый внешний вид. Задняя часть машины сделана более современной. Пространство вокруг задних фонарей напоминает современные суперкары от Феррари. Для дополнительной прижимной силы у модели есть специальные крылья. Канонические выхлопные трубы установлены достаточно высоко. А на нижней части кузова наблюдается агрессивный задний диффузор.
Судя по фото и видео, по сравнению со старым автомобилем, новинка является более гладкой и выглядит более агрессивно. Передняя его часть немного шире. Это влияет на аэродинамику. Но, к верху кузов сужается.
Ветровое стекло сделано из специального трехслойного материала. Он не пропускает солнечные блики, а также делает так, чтобы экраны любых гаджетов не оттенялись, и не слепили водителя. Эта гибридная технология делается из термопластика и закаленного стекла. Оно тоньше, чем ламинированное окно. Но, в то же время, оно прочно и долговечно к царапинам.
Двери открываются вверх, как крылья. Так водителю и пассажирам намного проще сесть в салон. Конечно, тут есть еще множество деталей, которые невооруженным взглядом обнаружить практически невозможно. Например, углеродное волокно в кузове, которое уменьшает общий вес. Также, наклон ветрового стекла и более широкий задний спойлер.
2017 Ford GT Competition Series
Engine
Trans
Color
Interior
Highlights
270 miles
Serial no. 67
Owned by famed driver Sebastien Bourdais, GTE class winner of the 24 Hours of Le Mans in 2016
One of three remaining Ford GT Competition Series
Plaque made by Chip Ganassi Racing in commemoration of the GTE class win at Le Mans on dash featuring engraved signatures of winning drivers Sebastien Bourdais, Dirk Muller and Joey Hand
Mid-Mounted Twin-Turbo 3.5L DOHC 24-valve Ecoboost V-6 engine
Rated at 647 HP and 550 ft/lbs of torque with a top speed of 216 MPH
Titanium exhaust
7-speed dual clutch transmission with paddle shifters
Front and rear independent suspension with electronic adjustable damping and pushbutton front lift system
5 drive modes with 2 variable ride height settings
Brembo vented disc brake system
Finished in Liquid Gray with carbon fiber racing stripe
Carbon fiber a-pillars and side mirrors
Exposed carbon fiber lower sill trim with gloss finish
Unique Perspex acrylic engine hatch cover with manual latch and carbon fiber prop rod
Lightweight bulkhead Gorilla Glass
Carbon fiber console and door sills
FIA-certified steel roll cage
Alcantara upholstery with Red accents
F1 styled steering wheel with functional controls
Air conditioning, stereo and speakers, storage bins and cup holders removed for weight reduction
Carbon fiber 10-spoke wheels with titanium nuts
Michelin Pilot Sport Cup 2 tires
270 miles
Serial no. 67
Owned by famed driver Sebastien Bourdais, GTE class winner of the 24 Hours of Le Mans in 2016
One of three remaining Ford GT Competition Series
Plaque made by Chip Ganassi Racing in commemoration of the GTE class win at Le Mans on dash featuring engraved signatures of winning drivers Sebastien Bourdais, Dirk Muller and Joey Hand
Mid-Mounted Twin-Turbo 3.5L DOHC 24-valve Ecoboost V-6 engine
Rated at 647 HP and 550 ft/lbs of torque with a top speed of 216 MPH
Titanium exhaust
7-speed dual clutch transmission with paddle shifters
Front and rear independent suspension with electronic adjustable damping and pushbutton front lift system
5 drive modes with 2 variable ride height settings
Brembo vented disc brake system
Finished in Liquid Gray with carbon fiber racing stripe
Carbon fiber a-pillars and side mirrors
Exposed carbon fiber lower sill trim with gloss finish
Unique Perspex acrylic engine hatch cover with manual latch and carbon fiber prop rod
Lightweight bulkhead Gorilla Glass
Carbon fiber console and door sills
FIA-certified steel roll cage
Alcantara upholstery with Red accents
F1 styled steering wheel with functional controls
Air conditioning, stereo and speakers, storage bins and cup holders removed for weight reduction
Carbon fiber 10-spoke wheels with titanium nuts
Michelin Pilot Sport Cup 2 tires
Ford's historic assault on the 24 Hours of Le Mans commenced in 1964, the first salvo in a war declared by Henry Ford II on Enzo Ferrari after the imperious Italian rejected Ford's offer to purchase his company. The battle raged on for two years until Ford Motor Company finally prevailed at Le Mans on June 18-19, 1966, its monstrous 427-powered GT40 MkII racers finishing 1-2-3 and putting a seemingly permanent end to Ferrari's domination of the 24 Hours.
As the 50 th anniversary of that legendary victory approached, in January 2015, Ford shocked the motoring world by introducing the new, third-generation Ford GT at the North American International Auto Show in Detroit and announcing another run at the Le Mans classic. Just 17 months later and exactly 50 years to the day after the Ford armada steamrolled the competition there, on Sunday, June 19, 2016, French ace Sebastien Bourdais and teammates Joey Hand (U.S.) and Dirk Müller (Germany) took the No. 68 Ford Chip Ganassi Team USA Ford GT to the GTE-Pro class win at the 24 Hours. It was an especially rewarding win for Bourdais, who was born and raised in Le Mans and, inspired by his father Patrick (who started at Le Mans nine times), grew up dreaming of winning the 24 Hours. He had started in the race 10 times previously, beginning in 1999 and scoring three overall runner-up results in 2007, 2009 and 2011, the last time finishing a heartbreaking 13 seconds behind the overall winner. Resuming his commitment to the Verizon IndyCar Series precluded a return to the Sarthe until 2016, when an opening in the schedule and an invitation from Ford Chip Ganassi Racing provided the opportunity he sought to score his first win there.
For Sebastien Bourdais, among the many accolades and perks that came with the achievement of that career milestone was this strikingly beautiful 2017 Ford GT Competition Series, one of just six built and one of only three that remain in pure Competition Series specification. When asked how he came to own GT No. 67, Bourdais explained that it was "a bit of a late call."
"I joined the (Ford GT racing) program in late 2015," he said. "In one of the meetings in Detroit, when Raj (Raj Nair, Ford executive VP, global product development, chief technical officer and the man most responsible for the Ford GT) and all the others were with us, and we kind of all inquired whether we were eligible to get a GT or not by being in the race program, and they said yes. So that was settled pretty quickly and most of the drivers got one. It so happened that a few months later we ended up winning the (2016 Le Mans) race with Dirk and Joey, and we all own one."
As if to put an exclamation point on the whole affair, Ford delivered the freshly completed—and very exclusive—GT Competition Series to Bourdais just in time for Christmas of 2017. It arrived exactly as Sebastien had specified it, although he points out that the factory had already determined most of the car's features and specifications. "The guidelines were pretty specific, so you really couldn't separate each car too much. There were a few different colors, then the Competition Series added more specifics, so you didn't have much room to decide exactly what you wanted—ultimately, colors and specs within the spec sheet. For me the deciding factor was the interior. The interior in the Competition Series is the only one that is full Alcantara; that's the one I really wanted, and that's ultimately why I chose the Competition Series." Read More
Of course, a single full-length stripe exposing the GT's carbon fiber bodywork and plusher accommodations are but two elements of what is, in fact, a comprehensive package aimed mostly at reducing weight and lowering the center of gravity, albeit with some distinguishing cosmetic details added to the mix.
Available from the outset of GT production, the Competition Series option was not initially publicly acknowledged by Ford, but cryptic mention of it was hidden away in the GT owner's manual in the form of special instructions for a Competition Series rear hatch.
This discovery, made first by an early GT customer in February 2017 and then reported by Autoblog, prompted Ford to first add the option to its online GT configurator, followed soon thereafter by an official press release describing the Competition Series package in detail.
In stock form already the most exciting, beautiful and capable machine in Ford history, the GT features gorgeous carbon fiber bodywork over a carbon fiber tub with aluminum reinforcements and an integrated FIA-certified steel roll cage. Snugly packaged midship within the car's teardrop-shaped center monocoque is the 3.5L DOHC 24-valve EcoBoost twin-turbocharged V-6 engine capable of producing 647 HP and 550 lb-ft of torque and mated to a paddle-shifted 7-speed dual clutch transmission. All-independent suspension with electronic adjustable damping and a pushbutton front lift system, Brembo vented disc brakes, five drive modes with two variable height ride systems, and active aerodynamics combine for searing performance under any road conditions.
The Competition Series option chosen by Sebastien Bourdais tailors this Liquid Grey GT for the ultimate on-track performance with specific lightweight features and unique livery. Air conditioning, stereo and speakers, storage bins and cup holders were removed; the race-inspired lightweight engine cover uses a lighter Perspex cover, an AeroCatch manual latch and a two-piece carbon fiber prop rod, and the rear bulkhead Gorilla Glass is half the thickness of the "standard" GT. Other weight-shaving options such as carbon fiber 10-spoke wheels (running Michelin Pilot Sport Cup 2 tires), titanium lug nuts and exhaust are also standard Competition Series features. Visually distinguished by unique gloss carbon fiber center stripe, mirror caps and A-pillars, and exposed carbon fiber lower body trim in matching gloss finish, the Competition Series incorporates the GT's lightweight interior and driver-focused elements such as the F1-style steering wheel with key functional controls, with the added attraction of Ebony Alcantara upholstery on the seats, instrument panel and headliner. In addition to red anodized paddle shifters and a matching dash-mounted serial number plate, Bourdais' Competition Series GT features a unique plaque in place of the A/C controls. Made by Chip Ganassi Racing in commemoration of the GTE class win at Le Mans, it features a circuit map and the engraved signatures of Sebastien Bourdais and fellow winners Dirk Müller and Joey Hand.
Offered with just 265 miles and described by Bourdais himself as "precious and beautiful, a street legal race car," this one-of-three 2017 Ford GT Competition Series' direct connection through its original owner to Ford's historic 50 th anniversary win at the 2016 24 Hours of Le Mans places it in a category all its own. Hide
The New Ford GT Is a Phenomenal Phoenix Rising
Robert Ross
Robert Ross's Most Recent Stories
Review: Why the Beoplay H95 Are Our Favorite Wireless Noise-Canceling Headphones
From Headphones to Turntables: The 16 Best Gifts for Serious Audiophiles
First Drive: How the 2020 Land Rover Defender Fared on a SoCal Desert Offensive
Share This Article
Pin It
Reddit
WhatsApp
Tumblr
Print
Talk
Original Ford GT40s are the most legendary competition cars in the marque's history. Today, they are coveted treasures whose value and significance are reflected not just in their beauty and performance but also in the pivotal role they played in the company's domination of motorsports during what is arguably racing's most exciting period. After a failed Le Mans effort in 1964, Henry Ford II had Carroll Shelby work out the kinks in the newfangled mid-engine GT40 and turn it into a Ferrari-beater—which it did, taking 1-2-3 victories at Daytona, Sebring, and ultimately Le Mans in 1966. Despite the split-second politics that deprived Ken Miles (who would die shortly afterward during development testing on the track) of his rightful first-place finish among the three cars, the en masse domination over its Italian competitor proved the mettle of Ford's GT40.
The GT40 (the number is the car's height in inches; measure it out and imagine driving something that low) became the Blue Oval's halo for decades to follow. Between 2004 and 2006, the company briefly resuscitated its icon as the Ford GT, building 4,038 examples. The rather self-conscious and deliberately retro design was larger than the original and was Ford's first true supercar in the modern sense, though its lifespan was short and—unlike with its forebear—the factory had no intention of racing it. A 10-year dry spell followed with no worthy heir to rub shoulders with fancy foreign rolling stock, on the track or on the street. Now, with the 2017 Ford GT, they can rub shoulders—or just stomp to death.
The hydraulic suspension system allows the supercar to drop 2 inches from street to track mode. Photo: Wes Duenkel
That happened in 2016 at Le Mans, when Ford's new GT took the victory podium as overall winner in the GTE Class, exactly 50 years after the GT40's hat trick in 1966. The winner was No. 68, the Floyd Chip Ganassi Racing Ford GT driven by Sébastien Bourdais, Joey Hand, and Dirk Müller. Ford's No. 69 scored third place, with Nos. 66 and 67 finishing fourth and ninth, respectively. What's remarkable is that Ford's return to Le Mans happened with a car that had turned a wheel in competition for the first time only a little more than a year prior. The development program that began in 2013, code-named Project Phoenix, had a broader aim—creating not just a world-class race car but one that would be a laboratory for new technologies and advanced materials, innovations that would eventually trickle down to everyday Ford production vehicles. With the GT, engineers focused on the engine and aerodynamics, underpinned with new applications of lightweight carbon fiber, to prove the endurance and efficiency of the design—for both the 24-hour race and use on the highway.
Development work on the GT was done by Ford Performance, an amalgamation of formerly independent divisions within the company—Ford SVT, Team RS, Ford Racing, and performance vehicle parts—brought together to enhance collaboration and efficiency. The GT's manufacturing takes place in Toronto at Multimatic, Ford's build partner specializing in complex systems for road and race applications.
The hydraulic suspension system allows the supercar to drop 2 inches from street to track mode. Photo: Wes Duenkel
That the core of the GT is a carbon-fiber monocoque is no surprise. Incorporating a built-in roll cage, the lightweight tub is the core around which the entire car is "hung." Impressive machined-aluminum castings are bonded to each corner of the tub, with suspension and steering subsystems attached. The chassis features a keel design that positions inboard suspension attachment points near the centerline of the car to exploit the benefits of the F/1-style pushrod design. This hydraulic suspension system changes the ride height with a turn of a knob, adjusting drive modes that change spring rates and lower the car from 4.7 inches on the street to a ground-​skimming 2.7 inches in track mode. At the rear, a patented wing automatically deploys at speed. Like other supercars whose real-world use is compromised by speed bumps and driveways, a front-lift system raises the GT when activated by the driver and lowers it when the car reaches a speed of 25 mph.
Reduced weight, lots of power, and aerodynamic efficiency compose the trifecta that makes the GT such a successful design. Weighing just 3,054 pounds, the GT has a slippery shape—the work of Ford design director Christopher Svensson—that is radical for a road car and is clearly aimed at achieving one task: winning races. Each body panel is fabricated from carbon fiber, necessary to achieve complex forms like the aerodynamic flying buttresses at the rear—shapes impossible to realize in aluminum. Indeed, every surface is optimized to make the GT as aerodynamic as possible, including movable flaps around and under the body that reduce drag and increase downforce to enhance road-holding capabilities, braking, and, of course, acceleration, which the GT does very quickly.
Ford GT on the road Photo: Wes Duenkel
Its mid-mounted engine is a radical departure from the expected, and it shines a light on Ford's EcoBoost technology in a compact 3.5-liter aluminum V-6. Developed in tandem with the F-150 Raptor—Ford's high-performance off-road pickup truck—the engine makes 647 hp at 6,250 rpm in street trim, with 550 ft lbs of torque at 5,900 rpm. The "truck engine that won Le Mans" achieves horsepower and torque on par with higher displacement, normally aspirated engines by combining anti-lag turbocharging with direct fuel injection. The 30 percent improvement in fuel efficiency and 15 percent lower greenhouse-​gas emissions are collateral benefits. Paddle shifts or automatic gear changes happen through a Getrag 7-speed dual-clutch transaxle to achieve a top speed of 216 mph. The estimated time from standstill to 60 mph is under 3 seconds. Importantly, transmission ratios are so flexible that most of our hard-charging track session was accomplished in third gear—all the better for this middling driver to concentrate on negotiating the circuit without the added distraction of shifting.
That track session was held last year at the Utah Motorsports Campus in Tooele, about 30 miles from Salt Lake City. Home to the Ford Performance Racing School, the circuit was chosen as the venue for the international launch, where a row of gleaming GTs were prepared for takeoff like fighter jets on a carrier deck.
Instead of a canopy, the GT's large doors open out and up. Complex in design (the hinges are engineering art), they reveal an interior with wide sills and narrow, nonadjustable bucket seats
that one rolls into backside first. Seats are separated by a very narrow center console. The digital instrument panel, flat-bottomed steering wheel (its hub is home to myriad functions), and pedal cluster all adjust together—up and down, in and out—keeping the dash at more than arm's length. Stab the console-​mounted start button, and the V-6 barks like a kennel of foaming, rabid hellhounds.
The Backstory: Journalist Matt DeBord was with us during the GT launch in Utah, and we talked about his new book, Return to Glory: The Story of Ford's Revival and Victory at the Toughest Race in the World. Consider this engaging book a palliative, perhaps, for those not able to acquire the car itself. Photo: Courtesy Shutterstock/Picsfive
Leaving the pits, the GT accelerates brutally and reaches third gear by the time the car is into the first turn. The car is wide, low, and unfazed by camber changes or bump strips. Hydraulic—not electric—steering is lightning quick and communicates every nuance of the road's surface. Brakes allow the best drivers to wait until the last nanosecond before entering a turn yet confer a sense of well-being on the rest of us, for whom the Ford GT is designed to be a long-suffering supercar. However, it is one that responds best to an authoritative and accomplished hand.
While Ford hopes to see many GTs piloted on the track by new owners, the car acquits itself just fine on public roads—and the more curves, the better. We took a 3-hour drive through Utah's beautiful countryside and up into the mountains, savoring manual paddle shifts and the crescendo toward the V-6's 7,000 rpm redline. The turbo's exhilarating whoosh adds character to the ripping exhaust, but for longer drives—especially on the highway—the GT's soundtrack and spartan interior can become a bit tedious.
The 3.5-liter V-6 has 647 hp at 6,250 rpm, enough power to best foreign models at Le Mans in 2016. Photo: Wes Duenkel
Inevitable comparisons will be drawn to mid-engine Audis and Ferraris as well as Lamborghinis, McLarens, and the most powerful Porsche 911s—all of which are, apart from Lamborghini's Aventador, priced south of the Ford's $453,750 MSRP. The GT is not just costlier and rarer; it is also a decidedly more single-purpose machine. There is no luxury here. It makes no concession to fad or fashion and doesn't care what you think about its paucity of pistons, lack of all-wheel drive, hoarse engine timbre, or parsimonious luggage capacity. While "racecar for the street" is frequently misapplied, it's a particularly apposite descriptor for this remarkable car.
All the more remarkable is the fact that those desiring to acquire one probably won't have the chance. With Ford's commitment to build just 1,000 examples over 4 years, GT ownership will remain a largely theoretical proposition for most. And there's nothing democratic about the process of allocation. After Ford executives and VIPs get theirs, the video résumés, racing accomplishments, and even social-​media standing of other applicants will be reviewed, with only a fortunate few likely to be pronounced worthy. With demand far outstripping supply, the Ford GT is a competition car in more ways than one.
2017 Ford GT
RM | Sotheby's — ARIZONA 16 — 17 JANUARY 2020 — Offered on Friday
Powered by 647 hp, 3.5-liter twin-turbocharged V-6 engine
Believed to be the only 2017 example finished in gloss Riviera Blue
Desirable serial number H040 in homage to its GT40 heritage
Includes spare key, owner's manuals, battery tender, air compressor, and car cover
Believed to be the only road model released by the factory without the rear NVH panel
Unusual example with exposed carbon-fiber tub
Addendum
Please note that the title is in transit.
With Ferrari in its sights after a failed takeover bid, the Ford Motor Company, under Henry Ford II, assembled the world's best drivers and car builders in an effort to dominate global long-distance sports car racing in the mid-1960s. The GT40 that bowed in May 1964 at the Nürburgring 1,000 KM was the culmination of Ford's project. Based on the mid-engined Lola Mk 6, the GT40 had a thumping American Ford V-8 heart and would go on to win the 24 Hours of Le Mans an incredible four consecutive years between 1966 and 1969.
Over 30 years later, Ford found itself gearing up to celebrate its 100th anniversary, and it turned to designer Camilo Pardo to re-create the magic of the GT40. The concept car that debuted at the 2002 North American International Auto Show in Detroit whet the consumer appetite for a full road-going revival developed with Carroll Shelby's insight. Just over 4,000 examples of the supercharged V-8–powered car that largely kept to the original 1960s concept were built during a two-year production run. After the last reborn Ford GT rolled out of the Wixom, Michigan, assembly plant, it seemed as if Ford was done with mid-engined supercars.
At the 2015 Detroit show, however, Ford stunned gathered media and enthusiasts across the world with the new Ford GT. This rakish sports car stuck to the mid-engined formula but now featured a 647-horsepower version of the automaker's twin-turbocharged 3.5-liter Ecoboost V-6 engine, which came paired this time with a seven-speed dual-clutch transmission supplied by Getrag. The powertrain is capable of catapulting the car to 60 mph in less than three seconds and a top speed of 216 mph. Not just anyone could saunter into a Ford dealer and place an order, however. The automaker required those interested to apply for ownership and mandated that they keep their cars for an extended period. Ford plans to produce roughly 1,350 of these supercars through 2022.
This 2017 Ford GT was special-ordered through Pat Milliken Ford of Redwood Township, Michigan. The GT offers the uniquely desirable serial number H040 in homage to its GT40 heritage. In its short life, the car has covered less than 2,900 miles. This example is finished in Ford's Extended Color Palette 2, a $30,000 option. Finished in brilliant gloss Riviera Blue, it is believed to be the only 2017 GT finished as such and is accented beautifully by the exterior gloss carbon-fiber package, a $15,000 option. The GT rides on 20-inch gloss exposed carbon-fiber wheels wrapped with Michelin Pilot Sport Cup 2 tires. They are held on by titanium lug nuts and brought to a stop by Silver brake calipers, all optional equipment which added another $15,000, $1,000, and $1,000, respectively, to the car's price tag. This Ford GT is believed to be the only road car released from the factory without the NVH panel affixed to the rear bulkhead, exposing the carbon-fiber finish. This was a competition-grade tweak to which Ford's subsequent revised manufacturing processes spelled an end.
The GT's interior is completed in Dark Energy and features an F1-inspired steering wheel, fixed carbon-fiber Sparco seats, and a 6.5-inch infotainment system powered by Sync 3. Factory-installed six-point harness anchors are the sole interior option, a $500 add-on. The car is accompanied by a spare key, owner's manuals, GT battery tender, air compressor, front license plate bracket, and optional serialized Ford GT black fitted indoor car cover.
Documentation includes the car's purchase information from Pat Milliken Ford, the car's window sticker, production photos from Multimatic Niche Vehicles (MNV), and shipment documentation proving it was delivered as a single unit direct from MNV.
With its breathtaking performance, stunning good looks, and racing pedigree, the new Ford GT is a must-have for any Blue Oval collector or supercar enthusiast.
First, a Chunk of History
If you still don't know what the Ford GT is, then you've probably been living under a rock on the moon or something. For those unaware, allow me to put you up to speed: the Ford GT is a supercar that pays homage to the Ford GT40 race car from the 1960s, a track beast that was built specifically to conquer the grueling 24 hours of Le Mans race event, at Circuit de la Sarthe, in France. While we honour the GT40 for its four consecutive wins between 1966 and 1969, what truly makes it so legendary is the story behind its existence.
The car was born out of a failed transaction between Henri Ford II and Enzo Ferrari. Yes, the American giant once tried to gobble up the tiny Modenese company after an interest from Enzo himself. However, Ferrari backed out from the deal at the last minute, which didn't please Ford t all. Feeling like he had been played by his Italian rival, Henri Ford II ordered his team of engineers to build a car that would humiliate Ferrari in its natural habitat: the racetrack. And that's precisely what the GT40 did, spanking the red Ferraris four years in a row.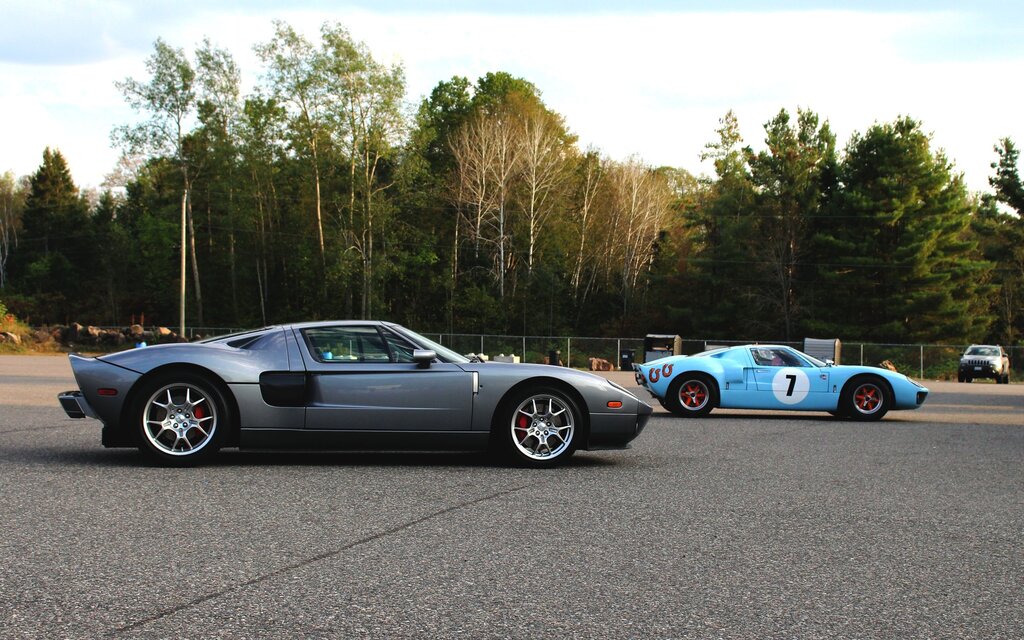 Начитался постов о том как подлые родственники обещают а потом кидают, и вспомнил свою историю. Так сказать немного разбавить негатив.
У отца брат, старше меня всего на 14 лет, так что отношения всегда у нас были крепкие, я бы даже сказал что ближе чем с отцом. Занимался он авторемонтом, и машинки менял свои по мере возможности и желаний(сейчас это вроде как перекуп называют)) так вот однажды мне было 16, сидели мы с ним играли а МК3 на эмуле сени, он пил пиво, я чай, и зашла речь о тачках. И он обещал подарить мне одну из. Почему так, потому что сказал что пока права не получу, машину не увижу, а когда принесу права, он и решит что мне отдать. Разговор забылся и через два года, по исполнению мне 18, я получил права(отучился в 17 а экзамен сдал и забрал из только после полного совершеннолетия). И приехал у ним в гости, сказал об этом и тут дядя вспомнил о машине. И отдал мне ключи. Реально было приятно и неожиданно. Так у меня появилась моя первая машина! Ваз 2108(реэкспортная версия, на 16ти клапанном моторе и дисковыми тормозами вкург). Да гнилая, да нужно руки приложить, но зато валит и главное что моя.
Даже специально залез в недры диска, чтобы найти фотки. И таки нашел!))
Так что далеко не все дяди редиски))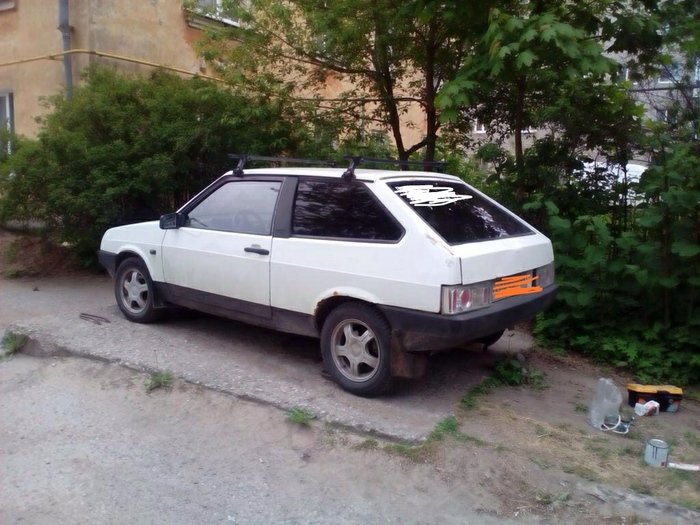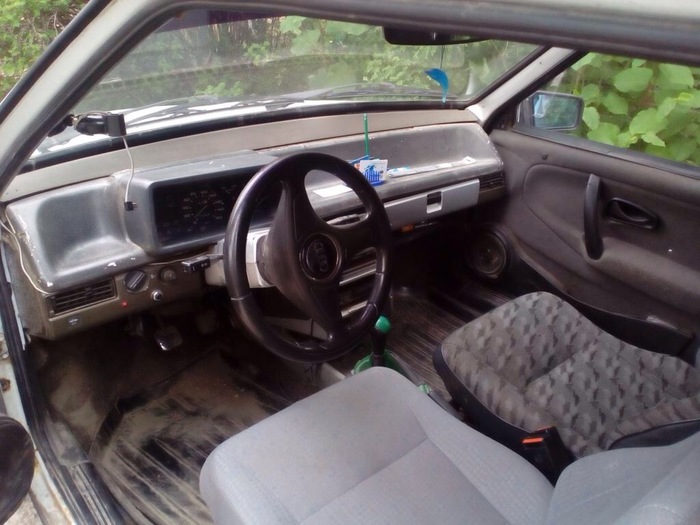 Ford GT: tappeto volante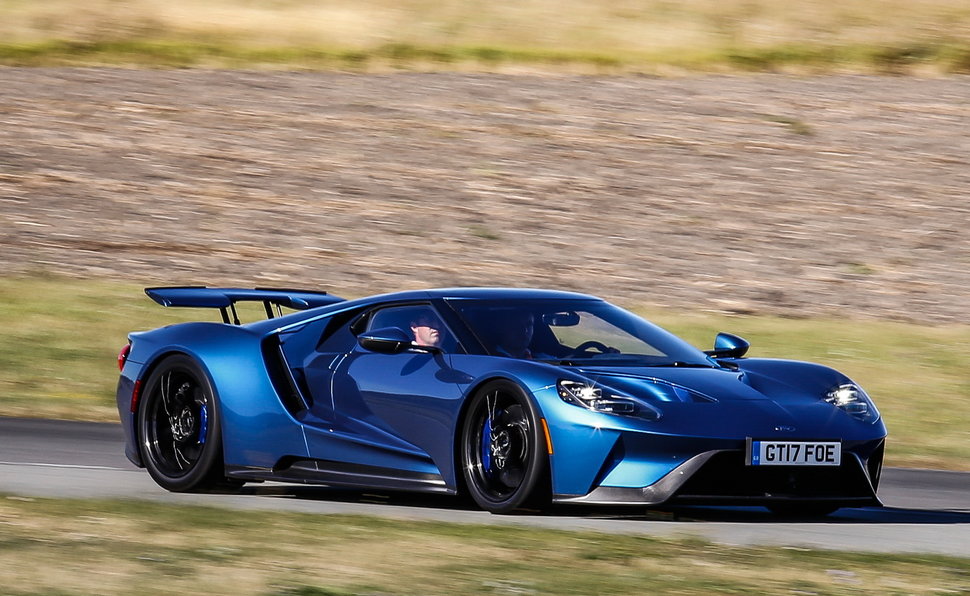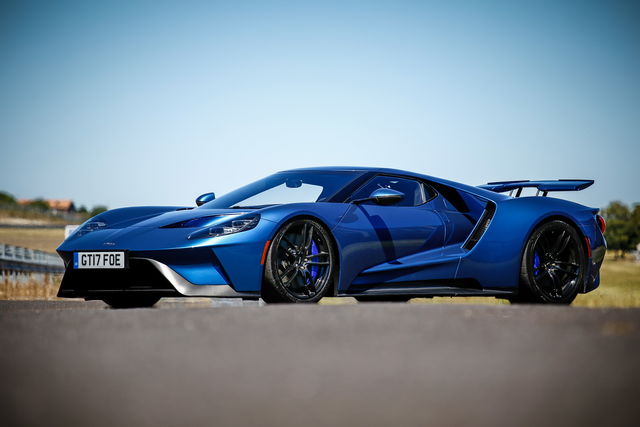 Già immaginiamo le facce di quelli che avranno l'occasione (rara, vista la tiratura limitata) di incrociarla in autostrada: larga e bassa, con le gomme inghiottite dai parafanghi, sembrerà quasi un'astronave che scivola rasoterra come un tappeto volante. La Ford GT è quanto di più racing possa capitare oggi di veder circolare su strada, con un design che sembra più il prodotto della fantasia di un programmatore di videogame che del centro stile di una casa automobilistica. Sorella quasi gemella della vettura che ha vinto la categoria GTE Pro nella 24 Ore di Le Mans del 2016, è pure l'erede elettiva della gloriosa GT40 (anche lei bassissima, definita così perché era alta 40 pollici, cioè 102 centimetri), protagonista delle gare di Endurance negli anni 60, dove si scontrava con mostri sacri come Ferrari 330 P4 e Porsche 917.
Insomma, un'auto da corsa abilitata a circolare su strada, capace di regalare sensazioni di guida solitamente riservate ai piloti professionisti: tali, infatti, ci siamo sentiti dopo esserci incastonati (con fatica, date le esigue dimensioni del posto guida) al volante della Ford GT, che abbiamo provato nell'impianto privato Michelin di Ladoux, vicino a Clermont Ferrand, in Francia. Che si tratti di un'auto da sogno lo conferma il prezzo, pari a ben 550.000 euro (optional esclusi): una cifra che non ha impedito che l'intera produzione 2017 e 2018 (limitata a 250 esemplari l'anno), in prevendita l'anno scorso, sia già andata esaurita, tanto da spingere la Ford a realizzarne altre nel 2019, che saranno prenotabili dall'inizio del prossimo anno.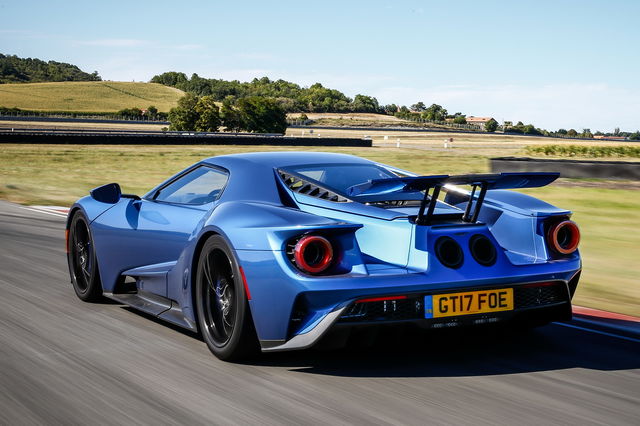 Alternativa esclusiva (in tutti i sensi) alle "solite" Ferrari 488 GTB, Lamborghini Huracán e McLaren 720S, la ipercar della casa americana offre un colpo d'occhio impressionante: lunga quasi 480 cm e larga più di 200, la Ford GT ha il tetto che corre ad appena 111 cm da terra quand'è impostata la modalità di guida Normal. Passando, invece, alla Track (quella dedicata alla pista), l'altezza si riduce a 106 cm, perché le sospensioni idrauliche a controllo elettronico abbassano la vettura: in questo modo il baricentro si avvicina ancor di più al suolo migliorando precisione, guidabilità e aerodinamica della vettura. Le sospensioni ad altezza variabile hanno anche la funzione "front-lift", utile nell'uso quotidiano: si comanda da un tasto sul tunnel (vi si trova anche quello per escludere l'Esp/Esc) e permette di rialzare di qualche centimetro la scocca in presenza di rampe o dossi rallentatori (l'operazione è possibile fino a 40 km/h, velocità oltre la quale l'auto recupera automaticamente l'assetto standard).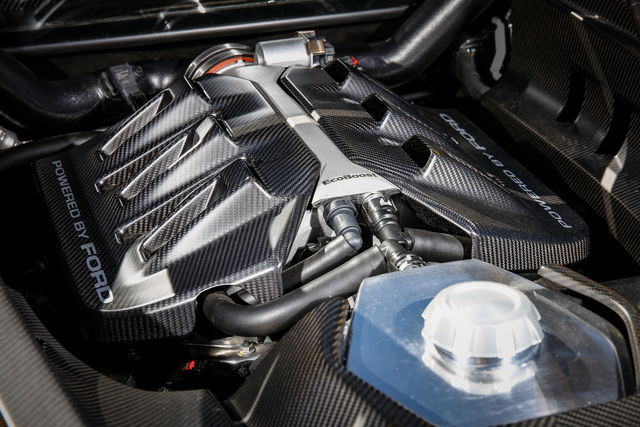 A essere precisi, una Ford GT dell'era moderna s'era già vista: prodotta dal 2004 al 2006 in 4000 esemplari, aveva forme molto più ispirate a quelle dell'antenata GT40, un telaio in alluminio e 550 CV generati da un 5.4 V8 con compressore volumetrico. L'edizione odierna, invece, è tutta nuova proprio a cominciare dal cuore, che cede un paio di cilindri e quasi altrettanti litri di cubatura in cambio di maggiori efficienza e leggerezza: ora, a ruggire alle spalle dell'abitacolo biposto c'è un raffinato 3.5 V6 EcoBoost biturbo, realizzato totalmente in alluminio (con i pistoni ottenuti per stampaggio) e alimentato a iniezione diretta di benzina in due stadi. Provvisto di distribuzione bialbero a 24 valvole (con doppia fasatura variabile) e di lubrificazione a carter secco (soluzione tipicamente corsaiola), eroga 656 CV a 6250 giri e 745 Nm di coppia a 5900 giri (col 90% già disponibile dai 3500 giri), trasmessi alle ruote posteriori attraverso un cambio robotizzato Getrag a doppia frizione e a 7 marce.
L'eccellente rapporto peso/potenza della Ford GT (che, stando ai dati ufficiali, pesa appena 1385 kg a secco, cioè come una Focus ST) è il principale protagonista del formidabile tempo dichiarato (meno di 3 secondi) nello "0-100". Sfiora, invece, i 350 orari la velocità massima "ufficiale", grazie anche alla raffinata aerodinamica attiva che consente di privilegiare, in base alle condizioni di guida, il coefficiente di penetrazione oppure la deportanza. Come ci ha spiegato Jamal Hameedi, capo dell'engineering e responsabile del progetto GT, è stato studiato un sofisticato sistema che sfrutta l'interazione fra elementi mobili: in accelerazione, percorrenza di curva e staccata (sì, lavora anche come aerofreno…), l'ala posteriore (brevettata, con forma, altezza e incidenza variabili) è sollevata e i condotti anteriori si chiudono per favorire lo "schiacciamento" della vettura al suolo migliorando l'aderenza; altrimenti, le prese frontali restano aperte per ridurre la resistenza all'avanzamento, mentre l'ala rimane bassa, a filo della carrozzeria. In quest'ultimo caso si integra con i passaggi d'aria che, partendo dalle porte, corrono alla base dell'abitacolo e finiscono negli ampi sfoghi ai lati del doppio terminale di scarico (collocato al centro della coda). In aggiunta, il fondo della vettura è perfettamente piatto, e ci sono addirittura canalizzazioni di raffreddamento che fuoriescono dal centro dei fanali (rotondi) posteriori! In modalità Normal la deportanza incide per il 30% sull'avantreno, valore che viene comunque mantenuto al 29% in assetto Track, quello da pista, quando la vettura è abbassata di 5 cm.
Da segnalare che la nuova Ford GT è anche un vero e proprio laboratorio di elettronica. La gestione della vettura avviene infatti attraverso ben 50 sensori (che monitorano costantemente le prestazioni della vettura e del motore in tempo reale, il comportamento del pilota, di sterzo, freni, posizione dei pedali e dell'ala posteriore, condizioni meteo e chi più ne ha più ne metta), capaci di generare un traffico dati di ben 100 GB per ora (equivalenti al download di circa 25.000 canzoni…), che vengono poi processati da ben 25 computer in grado di gestire 300 MB di dati/secondo. Secondo le dichiarazioni della Ford, si tratta di un sistema di elaborazione addirittura superiore a quello di un jet da caccia come il Lockheed Martin F-35 Lightning II: tutto questo, sempre secondo la casa americana, "rende la vettura stabile e sicura a 300 km/h come se si spostasse a 30".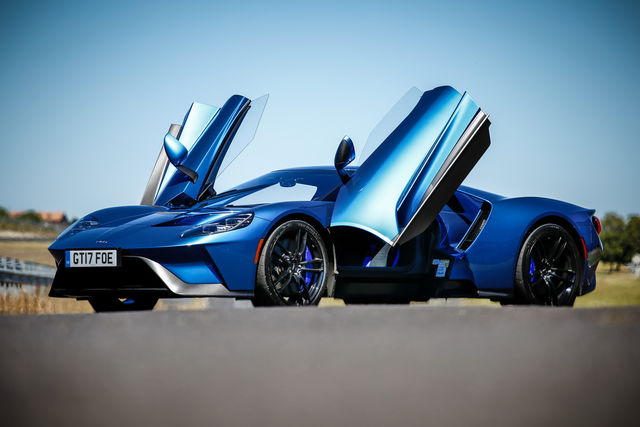 Realizzata nello stabilimento Multimatic di Markham, nell'Ontario, che rappresenta (come la AMG per la Mercedes) l'atelier sportivo del marchio americano, nella costruzione del telaio è stato fatto largo ricorso alla leggera e resistente fibra di carbonio. Lo stesso materiale è impiegato per la struttura principale: un guscio monoscocca che integra un roll-bar a gabbia in acciaio ed è abbinato a una sottostruttura in alluminio. Corsaiolo anche lo schema delle sospensioni della Ford GT, di tipo push-rod con bracci superiori e inferiori di lunghezza differenziata. All'interno dei cerchi di 20" (in lega o, a richiesta, anch'essi realizzati in fibra di carbonio), gommati Michelin Pilot Sport Cup 2, si scorgono possenti dischi carboceramici: quelli anteriori, flottanti, misurano 394 mm di diametro e sono abbinati a pinze a sei pistoncini, mentre quelli posteriori, anch'essi forati e ventilati, hanno un diametro di 360 mm e impiegano pinze a 4 pompanti. Secondo la Ford, l'impianto consente di arrestare la vettura da 97 km/h (60 miglia orarie) in appena 27,7 metri.
Le porte che si aprono come gli "involucri" delle ali dei coleotteri (incernierate davanti, ruotano verso l'alto) non agevolano più di tanto l'accesso a bordo, ma il "panorama" all'interno è godimento puro: volante con una miriade di comandi integrati in stile F1, lunghi paddle per la selezione manuale delle marce, cruscotto digitale con grafica (che cambia a seconda della modalità di guida prescelta) configurabile e, soprattutto, generose superfici in fibra di carbonio lasciate a vista pressoché ovunque. Pregevoli le avvolgenti poltrone con poggiatesta integrato, che proprio come nelle vetture da competizione sono ricavate direttamente nella scocca: di conseguenza le regolazioni del posto guida sono affidate alla registrazione del volante e della pedaliera (o, a richiesta del cliente, in fabbrica). Nonostante l'impostazione "estrema", la Ford GT non rinuncia al sistema multimediale Sync 3 e a un doppio portabibita estraibile (irrinunciabile in un'auto americana…), ma il "bagagliaio" è solo virtuale: un vano di appena 11,3 litri…
Non è facile entrare nella Ford GT. A causa delle larghissime soglie a "davanzale" dovute alla conformazione della scocca, per chi è alto 185 cm c'è solo un modo: infilare con calma la gamba destra, appoggiarsi sul citato davanzale, spostarsi verso il centro e sprofondare nel bassissimo e aderente posto guida, per poi tirare a bordo la seconda gamba e finalmente "legarsi" con la complessa cintura di sicurezza a sei vincoli. Per giunta, col casco e il collare Hans da Formula Uno, ci siamo trovati con la testa quasi bloccata contro il soffitto, e i piedi a strettissimo contatto su freno e acceleratore. Il curioso volante, smussato sopra e sotto (quindi curvo solo nell'impugnatura), è davvero largo, e anche regolandolo nella posizione più alta arriva spesso a contatto con le gambe quando si manovra. La buona notizia è che la GT non ha bisogno di forti angoli di sterzo per inserirsi in curva, persino in quelle di raggio ridotto.
Nei pochi giri concessi per il nostro test, più che familiarizzare con la pletora di comandi nel volante abbiamo avuto il nostro bel daffare nel coordinare mani e piedi in spazi così limitati, e soprattutto nell'abituarci alla differente visuale concessa da una posizione di guida così bassa, che ha l'effetto collaterale di cambiare la prospettiva di valutazione delle traiettorie in un circuito nel quale, peraltro, avevamo girato in precedenza solo pochi minuti con una Focus RS. Nei primi chilometri alla guida della Ford GT tutto sembra avvenire al rallentatore. Un filo di gas, un filo di volante, un filo di freni, con tutti i sensi all'erta pronti a percepire reazioni anomale della vettura. Che, perlomeno al nostro ritmo iniziale, sono risultate totalmente assenti. L'ipercar americana non sembra mai impegnata. Oscillazioni e serpeggiamenti in staccata le sono sconosciuti così come "non pervenuti" sono rollio e beccheggio: la GT curva bella piatta e sfodera una tenuta laterale quasi infinita. Basta davvero un lieve cenno del volante per farle cambiare direzione e sentirla inserire in traiettoria con fluida prontezza anche in piena accelerazione, supportata da una pulizia e da una sicurezza veramente affascinanti.
Tali prerogative possono persino portare a sopravvalutare le proprie capacità di guida, inducendo a osare più del dovuto col conforto delle straordinarie decelerazioni garantite dall'azione combinata dei quattro dischi carboceramici e dell'ala posteriore a incidenza variabile: tali da far salire il cuore in gola. Ma con la Ford GT non c'è spazio per la confidenza: la sua formidabile trazione e l'accelerazione in uscita di curva sono in grado di accorciare tutti i rettilinei, costringendo immancabilmente ad "attaccarsi ai freni" quando ci si rende conto di arrivare alla svolta successiva a velocità parecchio superiore a quella immaginata. Affiancato da un cambio che spara le sette marce come una mitragliatrice (non facendo quasi sentire il passaggio fra un rapporto e l'altro), in fase aspirata ai bassi regimi il 3.5 V6 è dolcissimo e sembra pressoché privo di ritardo di risposta delle turbine. Davvero ben smussato il passaggio alla fase sovralimentata, in grado di schiacciare letteralmente contro lo schienale da 4000 a 6300 giri.
PERCHÉ SÌ
> Prestazioni. Oltre agli eccellenti valori di potenza e coppia, qui contano leggerezza e aerodinamica: se scatto e ripresa sono impressionanti, la velocità di punta è da capogiro.
> Qualità degli interni. Oltre che con le molte superfici in fibra di carbonio a vista, l'abitacolo seduce con finiture sobrie ma di altissima qualità artigianale.
> Reattività. Lo sterzo fa "sentire" bene il lavoro delle ruote anteriori. Con la modalità Track attivata la vettura viaggia rasoterra e cambia traiettoria in un soffio.
> Tenuta di strada. Col contributo delle Michelin Sport Cup 2 sembra quasi "infinita": se non si è veramente esperti è davvero difficile trovare il limite.
PERCHÉ NO
> Accessibilità. La ridottissima altezza della vettura e il posto guida stretto non agevolano l'accesso a bordo, soprattutto per chi ha gambe lunghe.
> Prezzo. D'accordo, è quasi ozioso parlarne per una vettura così, ma staccare un assegno da 550.000 euro (optional, per giunta, esclusi) è cosa riservata a pochissimi…
> Uso su strada. La vettura sfiora i 480 cm di lunghezza (e con i retrovisori aperti supera abbondantemente i due metri di larghezza): nel normale traffico è un bel problema.
> Visibilità. Praticamente nulla dietro, tanto che risulta difficile percepire gli ingombri della coda. Ma anche di tre quarti anteriore le cose non vanno tanto meglio…
Ford GT 2017 review: near-perfect racer is an expensive yet enthralling toy
WIRED takes the all-new Ford GT carbon-fibre supercar for a damn good thrashing in Utah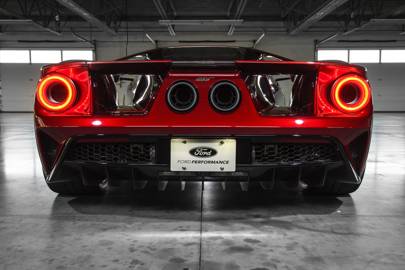 Back in 2015, WIRED was given exclusive access to the top-secret bunker where Ford conceived the new GT. The car that wowed the Detroit Auto Show that January went on to win its class at Le Mans in 2016, 50 years after the iconic GT40 won Le Mans outright. Now, at a race circuit near Salt Lake City in Utah, WIRED has been invited to drive the road car.
Sitting in the pit lane of the Utah Motorsports Campus is only the third 'GT' in Ford's history. The second, built in 2005 was a pastiche of the 1960's original and never raced in Ford colours. This is different. The shark-like nose and headlights pay homage to the past, but this GT also looks to the future.
In order to see this embed, you must give consent to Social Media cookies. Open my cookie preferences.
Advertisement
Crafted entirely from carbon fibre, the bodywork is a slave to the God of aerodynamics. Ford's designer's shrink wrapped everything around a tiny cockpit, minimising the frontal area of the car in the interests of reducing aerodynamic drag. On the Mulsanne Straight at Le Mans, the racer hit 190mph. Freed of motorsport regulations, the road car has recorded 216mph in a special V-Max mode.
Everything is functional. Even the 'flying buttresses' behind the doors are used to carry compressed air from the turbochargers to the 3.5-litre twin turbo V6. The rear wing is active, rising and pivoting to produce downforce or to serve as an airbrake. Given its remit, it's a tribute to Ford's designers that the shape also looks so clean and elegant. By comparison, McLaren's 720S looks unnecessarily fussy.
Read next
From Juul to Vype, the best vape pens and e-cigerettes tested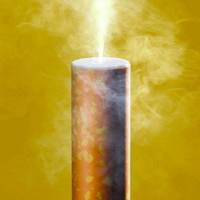 From Juul to Vype, the best vape pens and e-cigerettes tested
By Emily Reynolds and Daryl Baxter
The no-nonsense vibe continues inside. The scissor doors reveal a tiny carbon fibre cocoon with an integrated, tubular steel rollcage. It's unadorned by the trappings of luxury you'd find in a Ferrari. According to the car's chief engineer, Jamal Hameedi, only the carbon fibre door casings are purely decorative. There's no carpet and the only nod to real-world usability is a cupholder – a sop to Ford's domestic market where even a supercar must handle a Big Gulp soda.
Gallery: Ford's latest road-racer on the track in Utah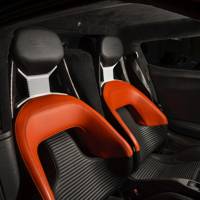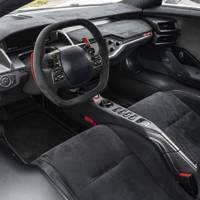 Advertisement
To help minimise the size of the cabin – aerodynamics again – the seats are fixed. If you're lanky of leg, you pull an industrial cord and kick the pedals until they slide away. Then you grab another lever and pull the steering wheel closer. The driving position's good, but the passenger seat's so close you'll be intimate, whether they like it or not. You sit low, inboard and peer out through a visor of a windscreen. Hameedi says he wanted everyone who sits in the car to feel like "they're on the start line at Le Mans", and he's succeeded.
The cabin's not for the claustrophobic and the boot's definitely not for luggage. The official cargo capacity is a laughable 11.3 litres – making this car all-but useless as a long-distance tool. Nestling just behind the engine, it also gets uncomfortably hot. If you fancy a weekend in Monaco, you'll need to courier your luggage or endure the smell of whiffy clothing.
Read next
Honor View 20 review: a mid-range phone masquerading as a flagship
Honor View 20 review: a mid-range phone masquerading as a flagship
By Robert Leedham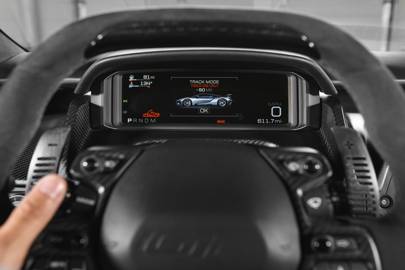 Advertisement
There's a basic infotainment system pinched from the Ford parts bin and a bespoke digital dashboard.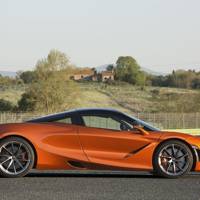 McLaren 720S review: 0-60 in 2.8 seconds with more theatre than a Ferrari
This cycles through five different displays according to which drive mode you've selected – Wet, Normal, Sport, Track and V-Max. All the primary controls have been deposited haphazardly on the steering wheel, while two giant flappy paddles control the seven-speed gearbox.
A sliver of carbon between the seats houses the red started button. Give it a prod and there's a cacophony of noise from behind your shoulder. The engine, a 3,497cc V6, can also be found in a Ford SUV and even a pick-up truck, but a couple of turbochargers give it a twist. Cynics will ask how you can charge £450,000 (plus options) for a car with an engine from a truck, but as with all things GT, it does the job. "If this engine had existed in the 1960s, they'd have used it then too," says Hameedi. His argument is simple – we beat Ferrari at Le Mans, so get over it.
Read next
Microsoft Surface Headphones review: superb, but not stylish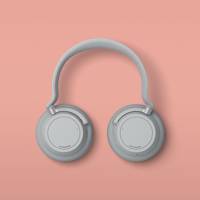 Microsoft Surface Headphones review: superb, but not stylish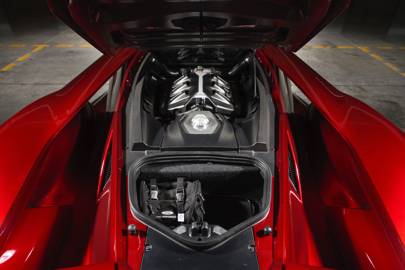 The raw figures support his argument. It produces 647bhp at 6,250rpm and 550lb ft of torque at 5,900rpm and drives the rear wheels. There's no denying it lacks the melodic howl of an American or Italian V8, but the angry snarl suits the road-racer aesthetic. It's simple, brutal and effective.
Ford hasn't released official acceleration figures for the GT, saying only that it will hit 60mph from rest in "around three seconds". Hameedi claims straight-line thrust was never a key focus of the GT's development, but it doesn't exactly want for performance. Third and fourth gear are mighty. Keep the turbos spinning – helped by an anti-lag system in Sport and Track mode – and the GT just goes on pulling. On the road, like so many modern supercars, it almost feels too fast.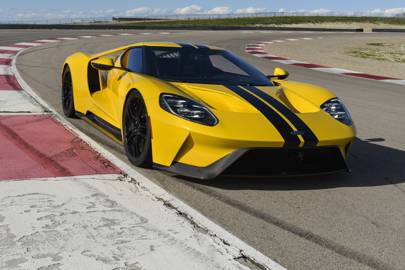 It's not intimidating, though. Leave it in the 'Wet' or the ironically named 'Normal' modes and it'll chug along at 70mph in seventh gear with a minimum of fuss. It's never less than noisy – the engine competes with the road surface and suspension for attention – but ride's composed, even if the 'Comfort' damping mode is stretching the truth a bit.
Read next
Kindle Paperwhite review: Finally a cheap(ish) ereader that does it all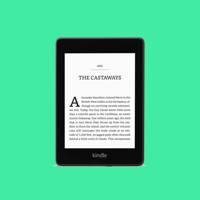 Kindle Paperwhite review: Finally a cheap(ish) ereader that does it all
By Matt Reynolds
So much for the road. If you're fortunate enough to have a GT on order, you really need to book some circuit time. Select 'Track' and use the suspension's hydraulics to lower the car by 50mm. In this mode, the throttle and gearbox are also made more hyperactive and the stability control system will allow some slip before it intervenes (you can also turn it off completely).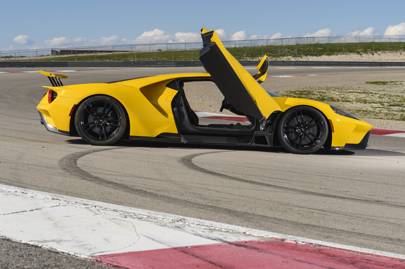 While the McLaren 720S always feels like a road car tuned to work on a track, the Ford is a racer tuned for the road. That's a nuance, but an important one. It's only as the speed approaches three figures on a circuit that the benefits of aerodynamic downforce becomes relevant. The traction and stability out of medium and high speed corners is extraordinary. You can brake deep into the apex, balance the car on the throttle and let the engine's torque haul you onto the straight.
The carbon ceramic brakes are nothing less than sensational. Supported by the Airbrake, they stop proceedings with all the impact of a Joshua uppercut. Subjectively at least, these are the finest brakes WIRED has experienced on a road car.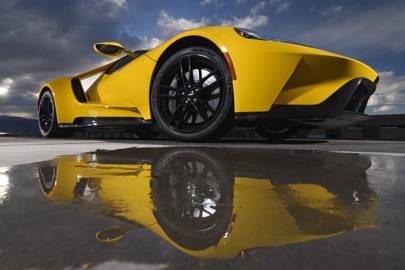 It would take more time than WIRED had to experience the full repertoire of the GT's skills on the circuit. Thankfully, progress will be assisted by a bespoke Ford Performance Track App, which debuts here. Built for Android (and soon iOS), it mounts behind the windscreen and uses the phone's camera to capture the action, while plugging into the car's brain to provide telemetry on throttle, steering and braking inputs. You can compare lap data and even upload it to social media, directly from the app. It's still being developed and will filter down to more affordable Ford Performance products in the months ahead.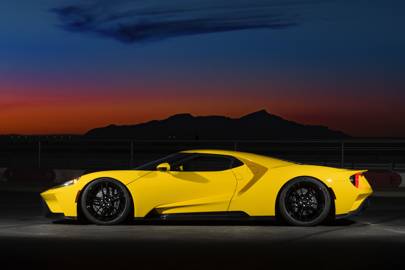 Advertisement
Just 1,000 Ford GT's will be built over the next four years, with only around 25 per year reaching Europe. Despite the lofty price tag, the exclusivity means that values are likely to appreciate on the used market. Let's hope that owners actually enjoy the cars, rather than locking them up as an asset.
Those that do will have a unique experience. This is a very different proposition to rivals from Ferrari and Lamborghini, which are built to multitask. The GT, by contrast, is a hugely expensive but enthralling toy. Ford set out to build not a road-going supercar but a Le Mans car for the road – and they've succeeded, brilliantly.