2017 Fiat 124 Spider Abarth
2017 Fiat 124 Spider Abarth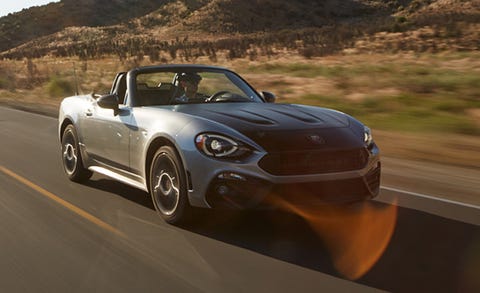 Go ahead, write off the new 2017 Fiat 124 Spider two-seat roadster as a Mazda Miata wearing Italian rally drag. After all, this revivified 124 Spider is made in Japan, by Mazda, alongside the MX-5 Miata, and it shares with it most every structural and general mechanical design. That this Abarth version has a limited-slip differential and four more horsepower than a regular 124 Spider squeezes out of its Fiat-made, 1.4-liter turbocharged four-cylinder doesn't change the fact that there's a lot of Miata substance here.
But then there's the Aurelio Lampredi factor. It's Lampredi's 22-year-long legend as chief engineer at Fiat that the 2017 124 Spider Abarth must contend with. Lampredi, who drew up Ferrari racing engines in the early 1950s and joined Fiat in 1955, designed the Fiat Twincam four-cylinder engine that powered all the original 124 Sport Spiders from the first 1967 model until the last one left production in 1985 as the Pininfarina Spider. And Lampredi was running the Abarth racing division when it campaigned the original 124 Spider Abarth Rally in competition between 1972 and 1975.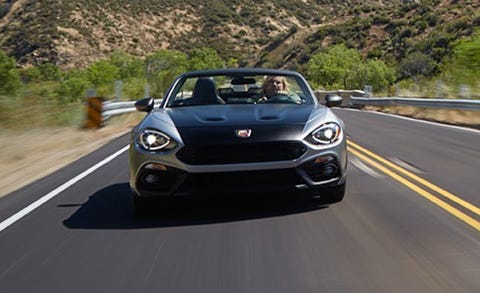 Lampredi's spirit inhabited the original 124 Spider, from the way that Twincam engine revved to how the five-speed transmission shifted—and that the four-wheel disc brakes almost nearly always stopped the car. It had a distinct character that could practically be seen in how the Veglia gauge needles danced, and the raw 90 horsepower (in '67) snort of its exhaust. And the Abarth version was good enough to win the 1975 European Rally Championship.
Italian-Adjacent Tailoring
The new 124 Spider Abarth's appearance has a swagger to it that's missing from lesser 124 Spiders. Most of that machismo stems from its more open, darker-colored lower grille opening and the "gunmetal" finish on the side mirrors and roll bar. The test car featured the optional ($1995), hand-painted (!) matte black hood and trunklid to give it more of a competition vibe, though it does inspire questions about how to wax the car.
A big fail are the ridiculously large, cheap-looking "Abarth" scorpion badges on the nose and trunklid. They've got all the subtlety of plastic WWE championship belts from the bargain bin at Toys 'R' Us. It's a design misstep that borders on inexplicable.
With better-padded door panels and more shiny bits on the dash (such as the vent rings), the 124 Spider Abarth's interior looks a bit nicer than the Mazda's cockpit. Beyond that, the Abarth was equipped with $1195 worth of Recaro seats covered in a faux sort-of suede that Mazda doesn't offer. For the narrow of butt, these Recaros are fantastic. For those with wider tails, however, well, at least the standard seat upholstery has horizontal ribs in the traditional Italian style.
Starting at $29,190 including a $995 destination charge, the tested 124 Spider Abarth had every option except an automatic transmission ladled onto it. That brought the total price to $37,870.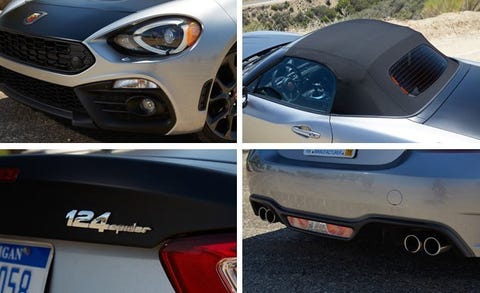 Fiat's old Twincam four was a rev-happy little thing that made a wonderful sound and produced practically no torque. It bore more resemblance to the original Miata's 1.6-liter engine than it does to Fiat's new MultiAir turbocharged four, which revs only reluctantly, makes practically no sound at all, but produces gobs of torque from off-idle to the 6500-rpm redline. The original's European 1.4-liter Twincam made 90 horsepower while the new 1.4-liter MultiAir turbo engine is rated at 164 horsepower.
Actually, there is a nice resonant noise coming out of the four exhaust outlets. But it's still impossible to drive any car while standing behind it, so this bit of aural theater is lost on the driver.
Mangia Torque
Because the Abarth's turbo engine rates at 184 lb-ft of peak torque compared with the Miata's naturally aspirated 2.0-liter four's measly 148 lb-ft, the 124 Spider uses the six-speed manual transmission from the previous-generation Miata to handle the load. It's still good in the Fiat—short, quick throws, precise gating, and the subtle feel of gears meshing that rises up through the boot around the awkwardly blocky knob. But the current Miata gearbox feels better still.
It takes a slight moment for the turbo to spool up, and then it tips in rather than hitting hard. There may be four more horsepower in the Abarth than the regular 124s, but that quartet of ponies, product of the "sport-tuned exhaust," can't really be felt.
By historic small-roadster standards, the 124 Spider Abarth's swift 6.7-second zero-to-60-mph time and 15.1-second tarantella through the quarter-mile at 91 mph is admirable. Back in 1979, C/D included a Fiat Spider 2000 in a six-way sports-car blowout comparison test. By then, the Lampredi Twincam engine had grown to 2.0 liters in displacement and shrunk to 80 emissions-strangled horses. That car took an agonizing 11.2 seconds to reach 60 mph and oozed through the quarter-mile in 18.4 seconds at an awful 76 mph. The Fiat finished that test ranked sixth out of six.
Today's stronger Fiat would've run a close second to the '79 Corvette in acceleration, but it couldn't match the current Miata's performance. In C/D's first test of the 2016 MX-5 Miata, it sped to 60 mph in 5.9 seconds and ran the quarter-mile in 14.6 seconds at 95 mph—0.8 and 0.5 seconds quicker, traveling 4 mph faster than the Fiat at the end of a drag strip. The most frustrating thing about the Fiat MultiAir engine is how unforgiving it can be when hustled. Screw up a shift or bog down in the wrong gear, and the engine loses its turbo edge and goes limp. Our top-gear 30-to-50-mph test found the engine in a hole–it took many long seconds more than the Miata did to complete that task, after which it was fully on-boost and handily outran the Mazda from 50 to 70 mph. In reality, both cars would need a downshift to zip around even the slowest traffic, but this nobody-home sensation is an aggravation that the Miata engine better resists. Atop that, the Mazda makes a more engaging, and louder, sound. This adds a little more fun when you're flinging it, although it can be tiring on extended cruises.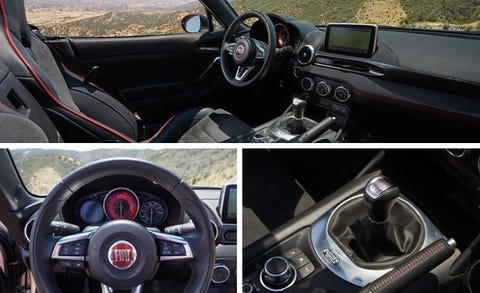 Fiat tunes the 124 Spider Abarth's chassis with a touch of entertaining oversteer. With the driver sitting only barely forward of the rear axle, it's a sweet sensation that makes diving into corners that much more delicious. In contrast, the Miata is a bit more neutral and seems to stick more tenaciously, even as its body leans over more.
Most Miatas and 124 Spiders ride on 17-inch wheels with a fairly narrow 205/45R-17 Bridgestone Potenza S001 summer tire at all four corners, so the differences in feel are attributable to the tuning of the dampers, springs, and anti-roll bars. But the Abarth uses the Potenza RE050A of identical size, a tire Fiat says it chose for better grip and to complement the suspension tuning. The 124 Spider Abarth circled the skidpad at 0.87 g while the Mazda stuck all the way to 0.90 g, which leads us to believe the S001 is actually the grippier tire. Put it all together, and the Mazda has an eager, antsy, on-its-toes readiness, while the Fiat is more settled but ready to romp.
Both cars can be had with sweet Brembo front disc brakes – Fiat charges $1495 for them (Mazda includes the brake upgrade in a $3400 package that also brings BBS wheels, a proximity key, and assorted body add-ons on the Club trim level). The Fiat's 171-foot stops from 70 mph feel great, even as it took 13 feet longer than the Mazda, but it's the fade-free performance while barreling down mountain roads that's most reassuring. Option money well spent, we'd say.
By now, where a car is assembled is almost beside the point. That this is a Fiat made by Mazda in Japan doesn't mean it can't carry forward both the original 124 Sport Spider's styling and its spirit. Italy isn't missing from this Abarth, but Aurelio Lampredi is. The current MultiAir engine simply doesn't have the dramatic, mechanical flair that Lampredi built into his Fiats.
Our ideal 21st-century 124 Spider Abarth would have a naturally aspirated four that spun up aggressively and sang out with a vibrant growl. You know, something like the 2.0-liter four in the Miata, but with lighter rotating and reciprocating internals. Somewhere inside Fiat—er, FCA—there must be an engineer ready to follow Lampredi's example and build that. So get to it.
Specifications
VEHICLE TYPE: front-engine, rear-wheel-drive, 2-passenger, 2-door convertible
PRICE AS TESTED: $37,870 (base price: $29,190)
ENGINE TYPE: turbocharged and intercooled SOHC 16-valve inline-4, iron block and aluminum head, port fuel injection
Displacement: 83 cu in, 1368 cc
Power: 164 hp @ 5500 rpm
Torque: 184 lb-ft @ 3200 rpm
TRANSMISSION: 6-speed manual
DIMENSIONS:
Wheelbase: 90.9 in
Length: 159.6 in
Width: 68.5 in Height: 48.5 in
Passenger volume: 49 cu ft
Cargo volume: 5 cu ft
Curb weight: 2509 lb
C/D TEST RESULTS:
Zero to 60 mph: 6.7 sec
Zero to 100 mph: 18.8 sec
Zero to 120 mph: 31.9 sec
Rolling start, 5-60 mph: 7.6 sec
Top gear, 30-50 mph: 13.6 sec
Top gear, 50-70 mph: 8.1 sec
Standing ¼-mile: 15.1 sec @ 91 mph
Top speed (drag limited): 136 mph
Braking, 70-0 mph: 171 ft
Roadholding, 300-ft-dia skidpad: 0.87 g
FUEL ECONOMY:
EPA city/highway driving: 26/35 mpg
C/D observed: 24 mpg
Экстерьер Fiat 124 Spider Abarth 2017
Fiat 124 Spider — чрезвычайно привлекательный, стильный и, не побоимся этого слова, сексуальный автомобиль, моментально приковывающий взгляды окружающих, что не раз подтверждалось на разного рода мероприятиях, в рамках которых проводилась демонстрация новинки. Казалось бы, невозможно сделать идеальный внешне автомобиль ещё более идеальным, однако с этим утверждением не согласны дизайнеры из подразделения «Abarth», которые всего несколькими росчерками смогли придать новинке ещё более спортивный и агрессивный облик.
Так, в сравнении со стандартным Fiat 124 Spider, лицевая часть авто получила иной, более агрессивный дизайн переднего бампера, обновлённый рисунок фальшрадиаторной решётки и переднего воздухозаборника, а также новое оформление противотуманных огней и логотип «Abarth» на капоте.
Профиль автомобиля, как и прежде, обладает всеми атрибутами полноценного спорткара: заваленное назад ветровое стекло, длинный капот и смещённый к задним колёсам кокпит. Из нового – спортивные «юбки», эксклюзивный дизайн колёсных дисков, окрашенные в красный цвет боковые зеркала (версия Turini 1975 White) и шильдики «Abarth», обитающие за арками передних колёс.
Не обошлось без изменений и в кормовой части родстера, где появился более агрессивный задний бампер со стильным аэродинамичным диффузором и двумя парами патрубков системы выхлопа.
Специально для заряженной версии 124 Spider производитель подготовил несколько «исторических» вариантов окраса кузова: «Turini 1975 White», «Isola d'Elba 1974 Blue», «Costa Brava 1972 Red», «San Marino 1972 Black» и «Portogallo 1974 Grey».
Внешние габариты Fiat 124 Spider Abarth идентичны таковым в базовой версии родстера и составляют:
Длина – 4,054 м;
Ширина – 1,74 м;
Высота – 1,233 м;
Длина колёсной базы – 2,31 м.
Эксклюзивно машина комплектуется 18-дюймовыми легкосплавными дисками с уникальным дизайном. Для сравнения, обычному «Спайдеру» доступны «катки» исключительно на 16 либо 17-дюймов. Дорожный клиренс равен 13,5 см, чего откровенно мало для условий отечественных реалий.
What's different? A 1.4-liter turbocharged engine
Speaking of the trunk, I was surprised to learn that the Fiat's boot is bigger than that of the Miata. The 124 is a total of 5 inches longer than its Japanese cousin; two of those inches manifest as a longer rear overhang and just a bit more trunk space. It's still a small cargo area. I estimate that there's maybe room for two small weekend bags.
The other three additional inches are taken up by the Fiat's unique fascia. Fiat says that the Spider's large headlamps and upturned grille give it an approachable appearance, but I think the shark-like eyes and forward-jutting front end make it look so much more aggressive and predatory. The hood has a pair of sculpted bulges that look like angry eyebrows. I love it, especially in red.
This is no mere facelift. Fiat has changed every single body part on the 124 Spider. The changes are subtle, but they add up to an appearance that is very different when the two cars are viewed side by side. The Italian has more squared-off and defined shoulders that rise sharply just behind the door and form a very strong horizontal character line that Fiat says is evocative of the original 1966 124 Spider's silhouette.
Viewed side by side, I think I prefer the more compact proportions of the Miata — it's amazing how much of a difference 5 inches makes. The Miata's sloping hood gives a slightly better view down to the road ahead of the roadster, which makes placing the car at an apex just a little more accurate and slightly enhances the perception of speed.
5. The Interior Is Nicer Than the Miata's
It's the seat pattern – it's Italian in a classical way, the same kind of look you see in classic Ferraris and Alfa Romeos. The Mazda multimedia system, however, is just OK; I wish they could have gone with FCA's Uconnect instead and eliminated the selector knob in the center console.
If I could pick and choose the best from both brands, my own brand-new Fiata would look like this:
Body by Mazda (it's hard to improve on the Miata's amazing styling)
Fiat turbo engine
Manual transmission
Suspension reworked by Long Road Racing, using their Ultimate MX-5 package (it was so good in the car I drove around a track earlier this summer)
Aftermarket exhaust to clear the pipes
Bose sound system to bring the tunes
If you're looking for an affordable yet respectable sports coupe, you'll be rewarded for waiting on the 2017 Fiat 124 Spider. The new Spider combines classic Italian style with modern, state-of-the-art engine technology to create a two-seat droptop you'll be excited and proud to drive. The 2017 Fiat 124 Spider will offer three trim levels: Classica, Lusso and Abarth. All feature the same 1.4-liter turbocharged engine, but the top-tier Abarth trim adds four horsepower to the powertrain.
2017 Fiat 124 Spider Engine Specs
Under every new Spider's hood is a 1.4-liter MultiAir Turbo engine that produces 160 horsepower and 184 pound-feet of torque. Also standard are rear-wheel drive and a six-speed manual transmission with a short-throw shifter. This powertrain is rated at 36 miles per gallon in highway driving, according to Fiat's website. The 2017 124 Spider Abarth adds four horsepower to the system and maintains the same torque rating. Fiat claims the all-new Spider reaches 60 mph from a standstill in 6.8 seconds.
[bscolumns src=»https://cdn-ds.com/blogs-media/sites/161/2016/06/21133114/2017-Fiat-124-Spider-Trim-Levels_d_o.jpg» />[/bscolumns][bscolumns src=»https://cdn-ds.com/blogs-media/sites/161/2016/06/21133114/2017-Fiat-124-Spider-Trim-Levels_c_o.jpg» />[/bscolumns][bscolumns /> Learn more: 2017 Fiat 124 Spider Color Options
[bscolumns src=»https://cdn-ds.com/blogs-media/sites/161/2016/06/21133112/2017-Fiat-124-Spider-Trim-Levels_a_o.jpg» />[/bscolumns][bscolumns src=»https://cdn-ds.com/blogs-media/sites/161/2016/06/21133112/2017-Fiat-124-Spider-Trim-Levels_b_o.jpg» />[/bscolumns][bscolumns /> Hot Comparison: 2017 Fiat 124 Spider vs Mazda Miata
2017 Fiat 124 Spider Trim Levels
Available in three trims, each affordable 2017 Spider offers a convertible droptop and five cubic feet of cargo space.
[bscolumns />
Fiat 124 Spider
Classica
Independent Front and Rear Suspension
Near 50/50 Weight Distribution
Push Button Ignition
Leather-wrapped Steering Wheel and Shift Knob
[/bscolumns][bscolumns />
Fiat 124 Spider
Lusso
Fog Lamps and Automatic Headlamps
ParkView Rear Back Up Camera
Automatic Temperature Control
[/bscolumns][bscolumns />
Fiat 124 Spider
Abarth
Sport Mode Selector
Available Aisin Six-Speed Automatic Transmission
Bilstein Front & Rear Performance Suspension
Heated Leatherette and Microfiber Performance Seats
Likes
While neither as timeless nor as simplistic as the original 124 Spider, the new car obviously draws its inspiration from the classic Fiat roadster. From the scalloped hood to the tapered taillights, this roadster is instantly recognizable as a Spider, and the design looks terrific.
Inside, evidence of Mazda's handiwork is easy to spot. Nevertheless, Fiat improves upon the MX-5 Miata's cabin with upgraded materials and, in Lusso trim, a gorgeous Saddle tan leather color. New seats look and feel good, providing hours of comfort thanks to special foam padding and other changes.
A turbocharged, 1.4-liter 4-cylinder engine makes 160 horsepower (164 hp in the Abarth) and 184 lb.-ft. of torque, and is paired with a manual gearbox. A 6-speed automatic transmission is available, but the standard stick is the transmission to choose. By rowing your own gears you can keep the turbocharger spooled up and the engine within the thick of its power band.
Fiat has made significant changes to the 124 Spider's suspension, which proves softer and more absorbent than expected. The result is a cushier ride quality, and while body roll is plainly evident when tossing the car into a corner, it grips with grace and rips around curves with ease.
On an autocross course I was able to examine the 124 Spider Abarth at its handling limits without fear of consequence, and the car impressed. The Abarth receives a number of handling upgrades, and Fiat says that when this version of the 124 Spider is placed in Sport driving mode the company purposely tuned the car to deliver oversteer when exiting corners.
Talk about a good time.
If you're searching for a FIAT Abarth in Seattle, you can't miss out on the 2017 FIAT 124 Spider Abarth. Whether you're headed seaward or up into the hills, you'll love the wind in your hair and luxury surrounding you in your newest prized possession. To learn more about what makes this roadster truly special, read through the details below. Then, contact us at FIAT of Tacoma here in Washington, just a short drive from Olympia.
The refined and sophisticated 2017 FIAT 124 Spider is ready to meet your needs. Not only does the 124 Spider come in a variety of stand-out colors but it's available in two trim levels as well.
The FIAT 124 Spider Classica trim offers high-quality amenities including
halogen daytime running lamps
LED tail lamps
power exterior body-color mirrors
remote key-less entry, and much more.
Or, treat yourself to the FIAT 124 Spider Lusso trim, which comes equipped with
automatic headlamps
dual chrome finish exhaust tips
automatic temperature control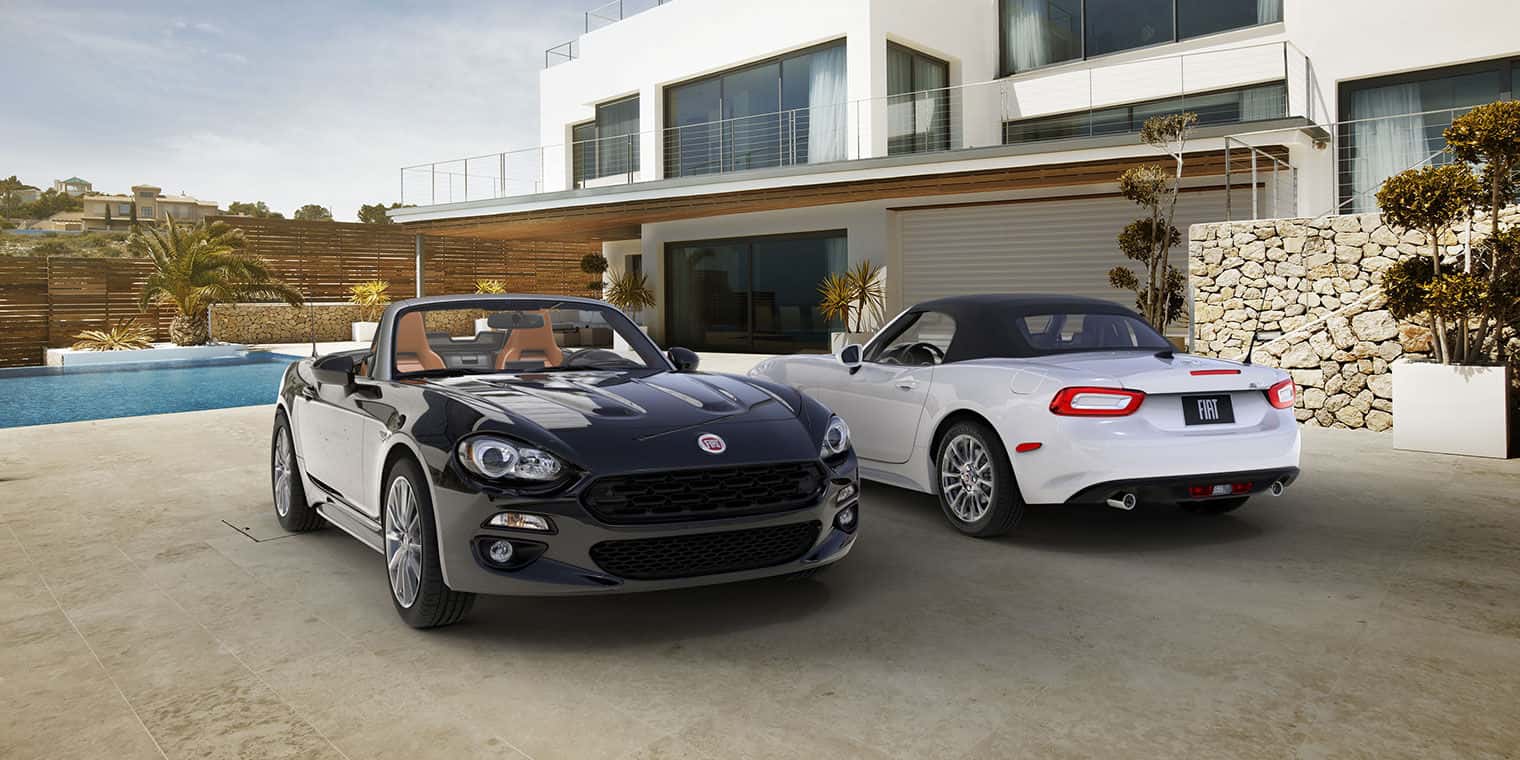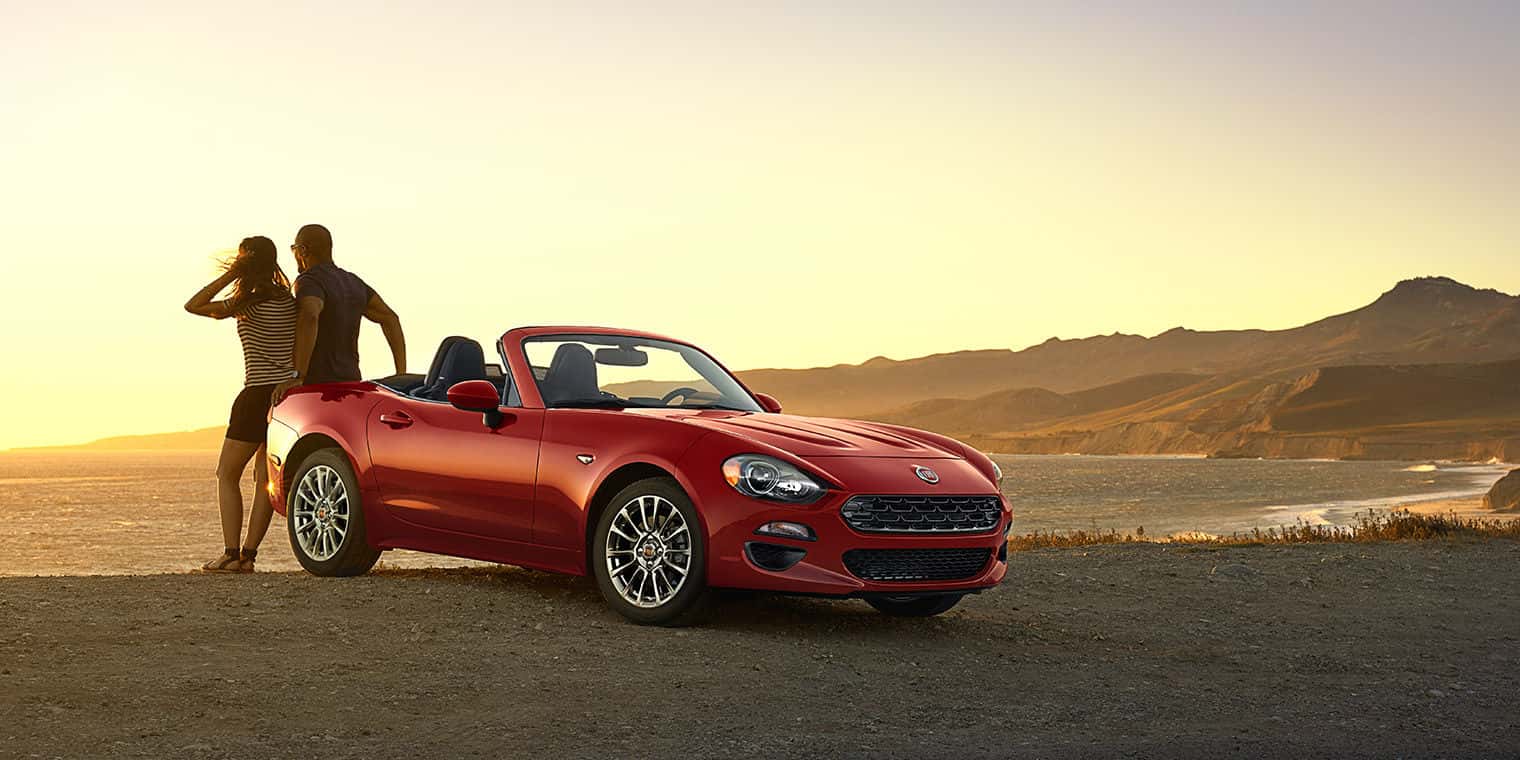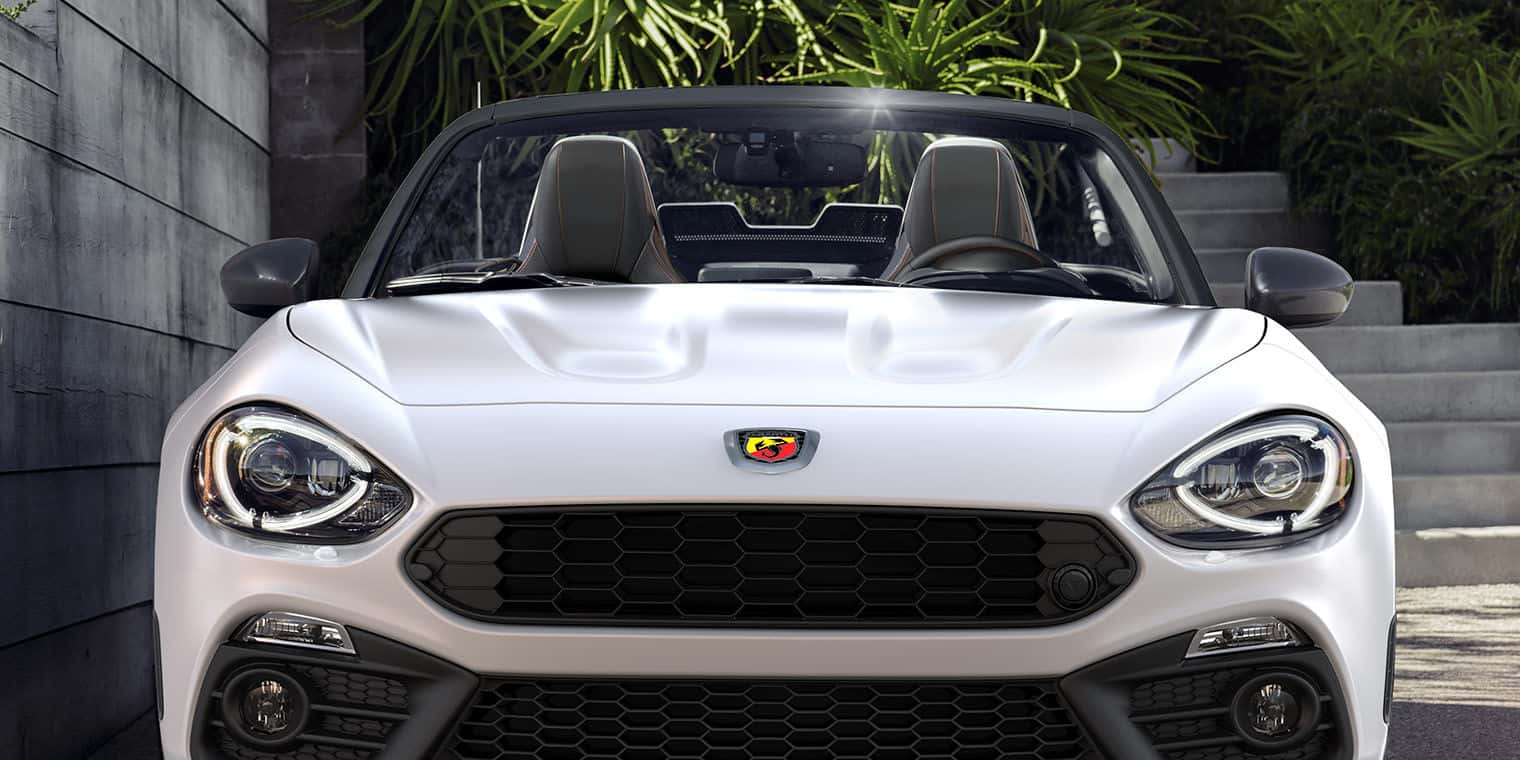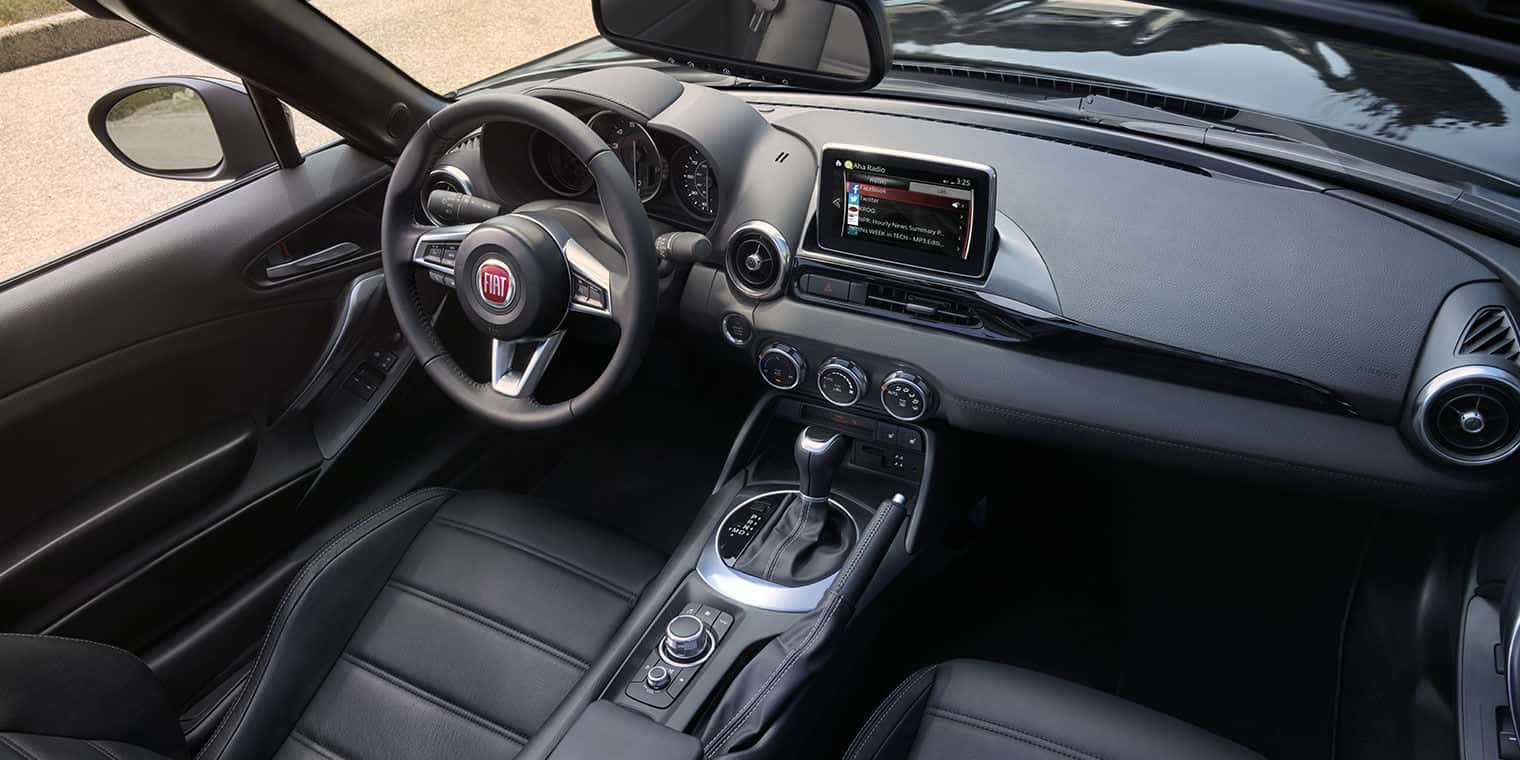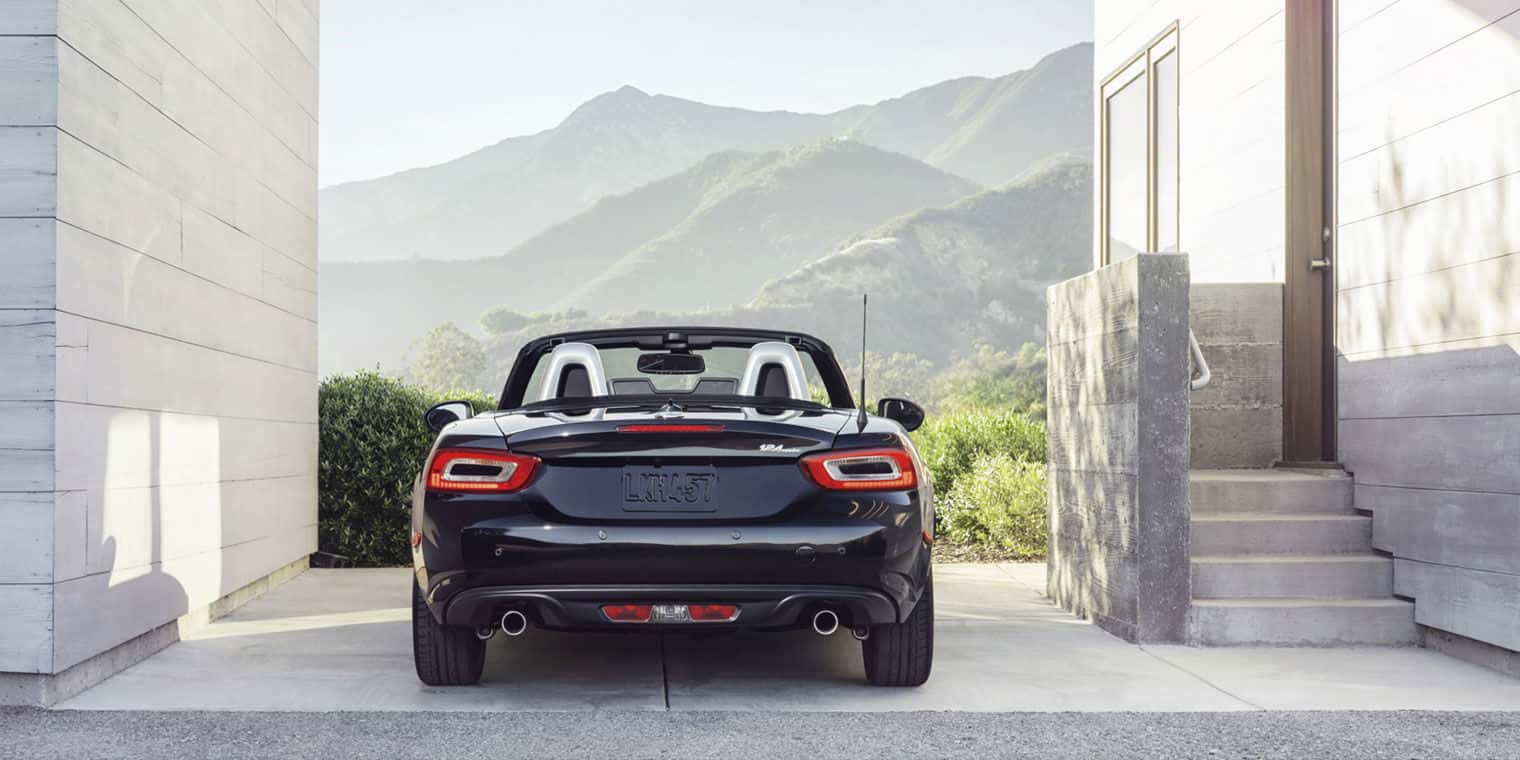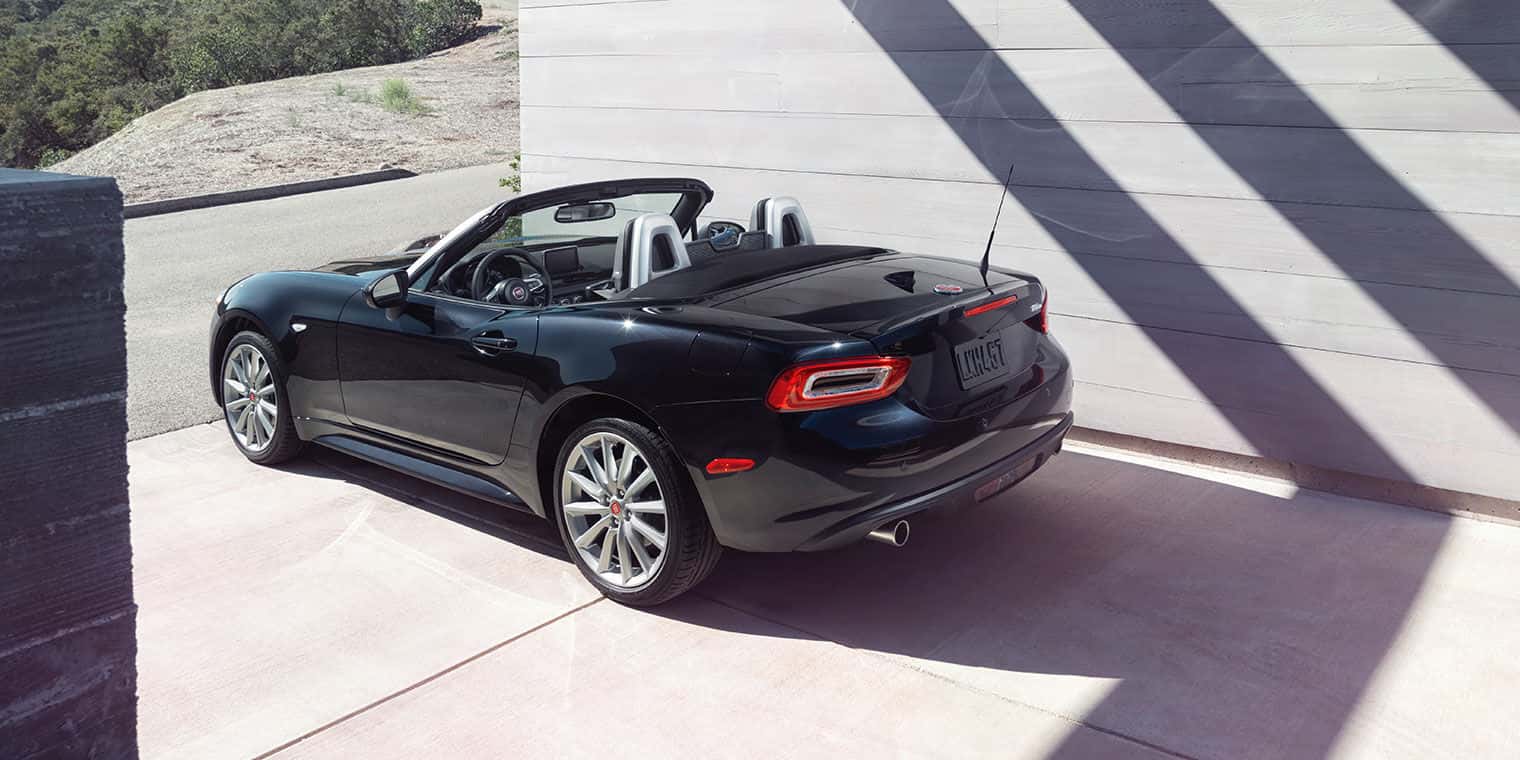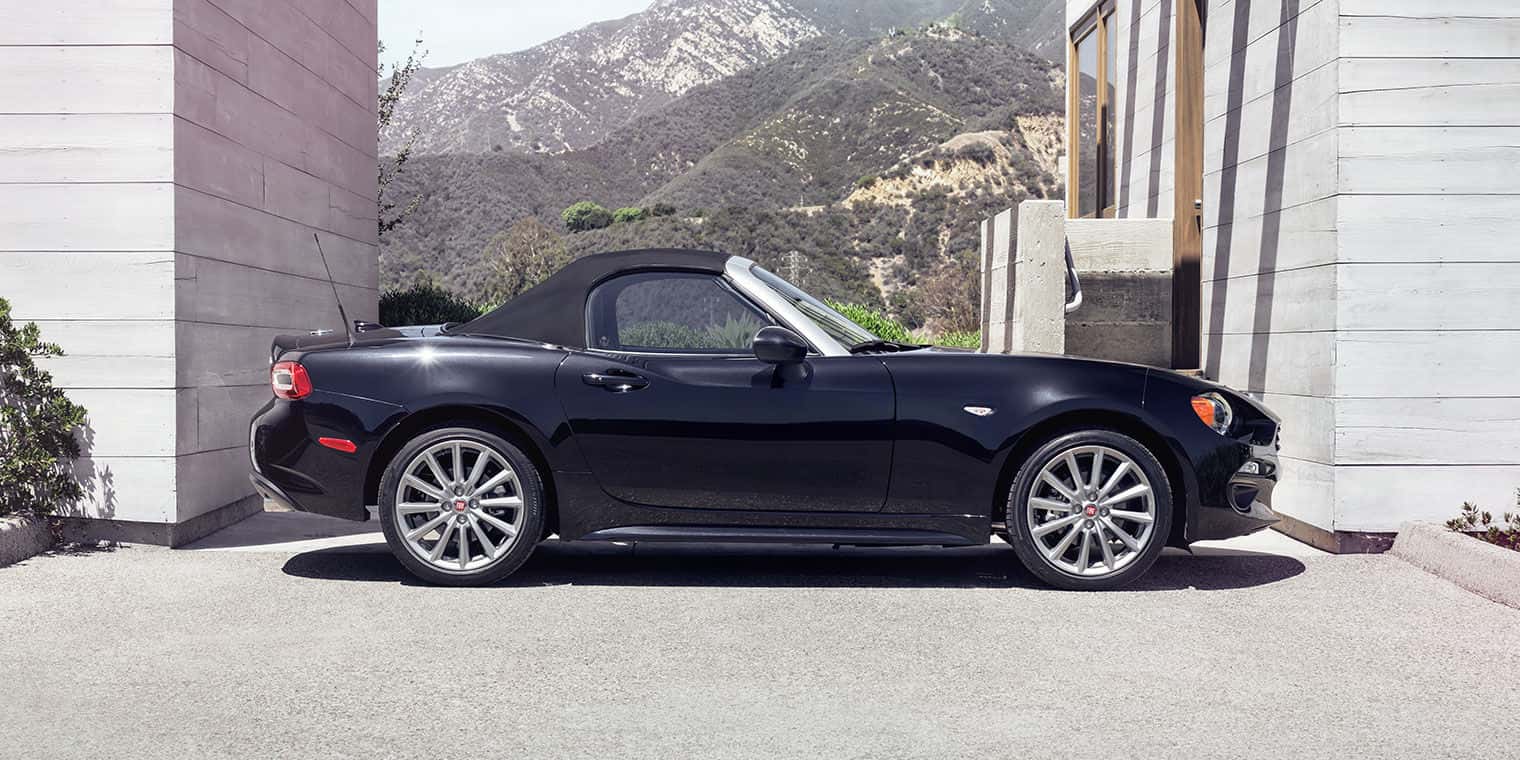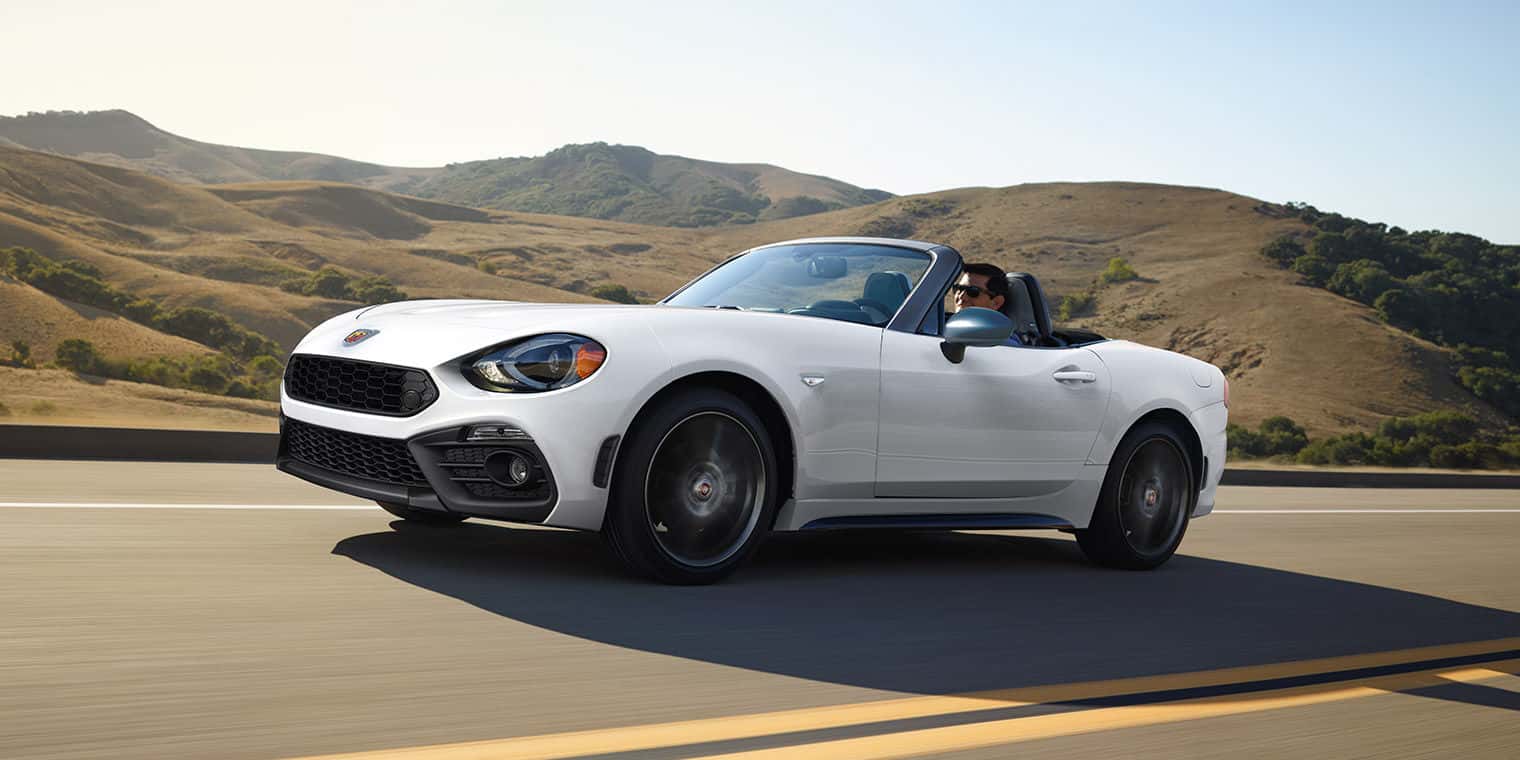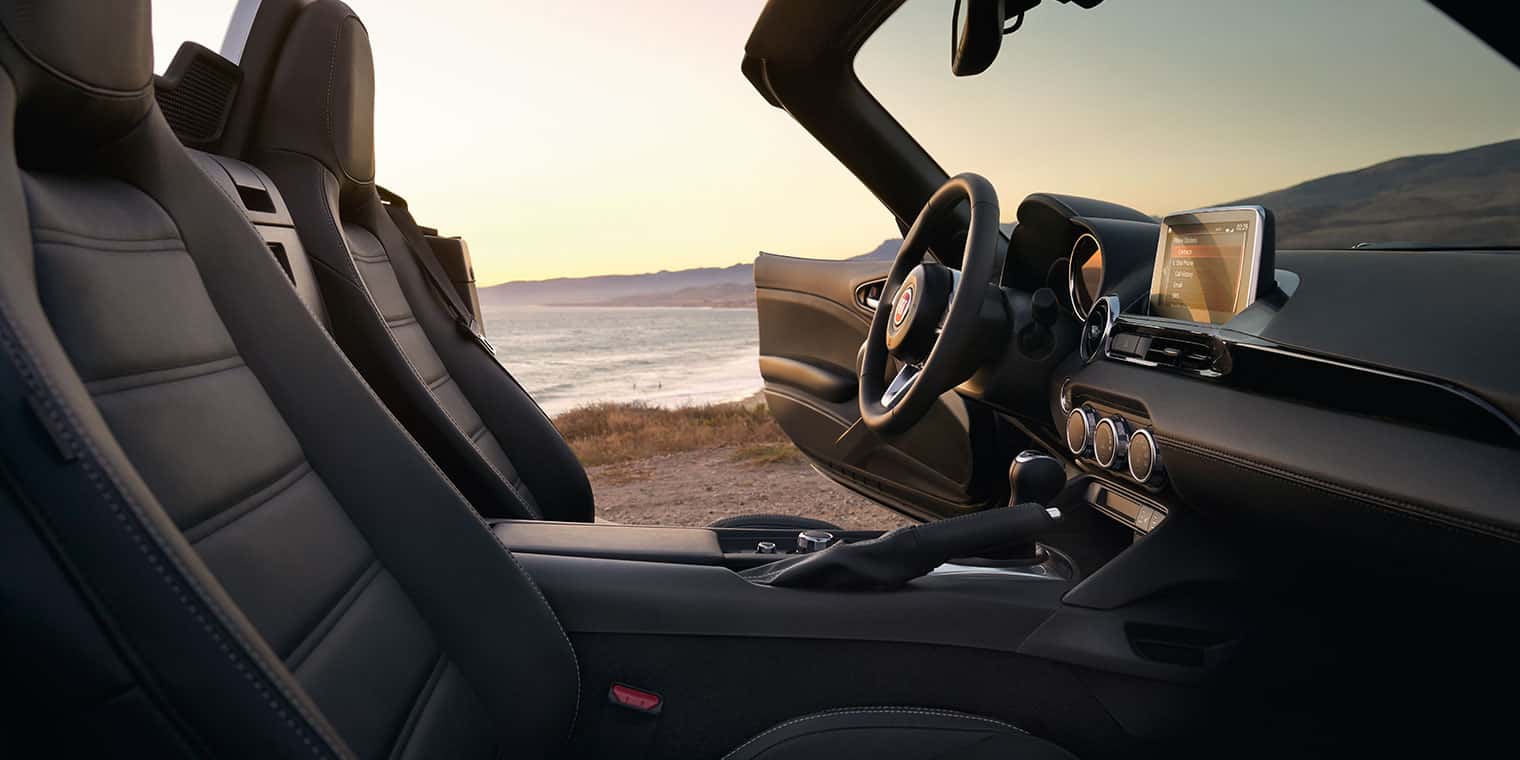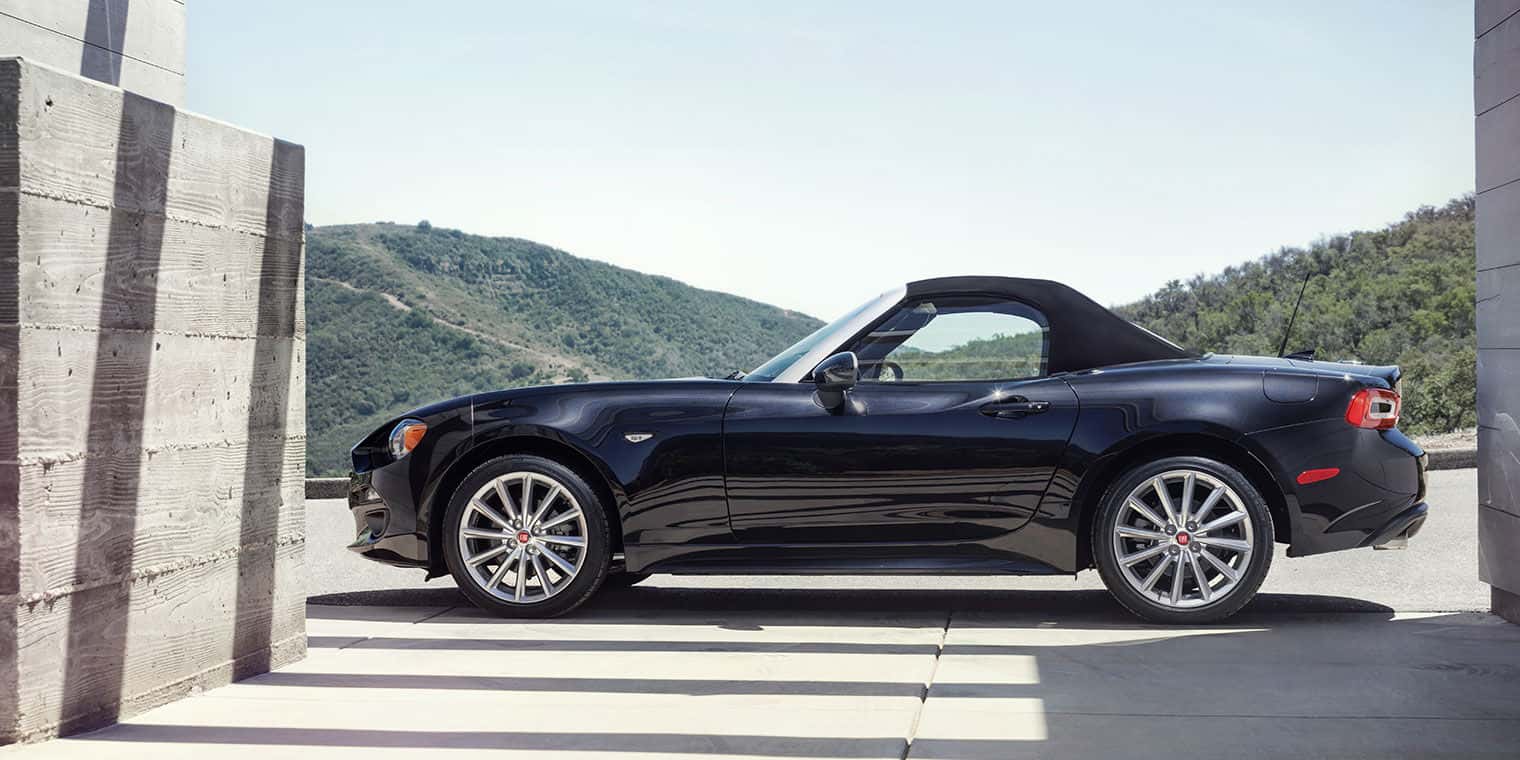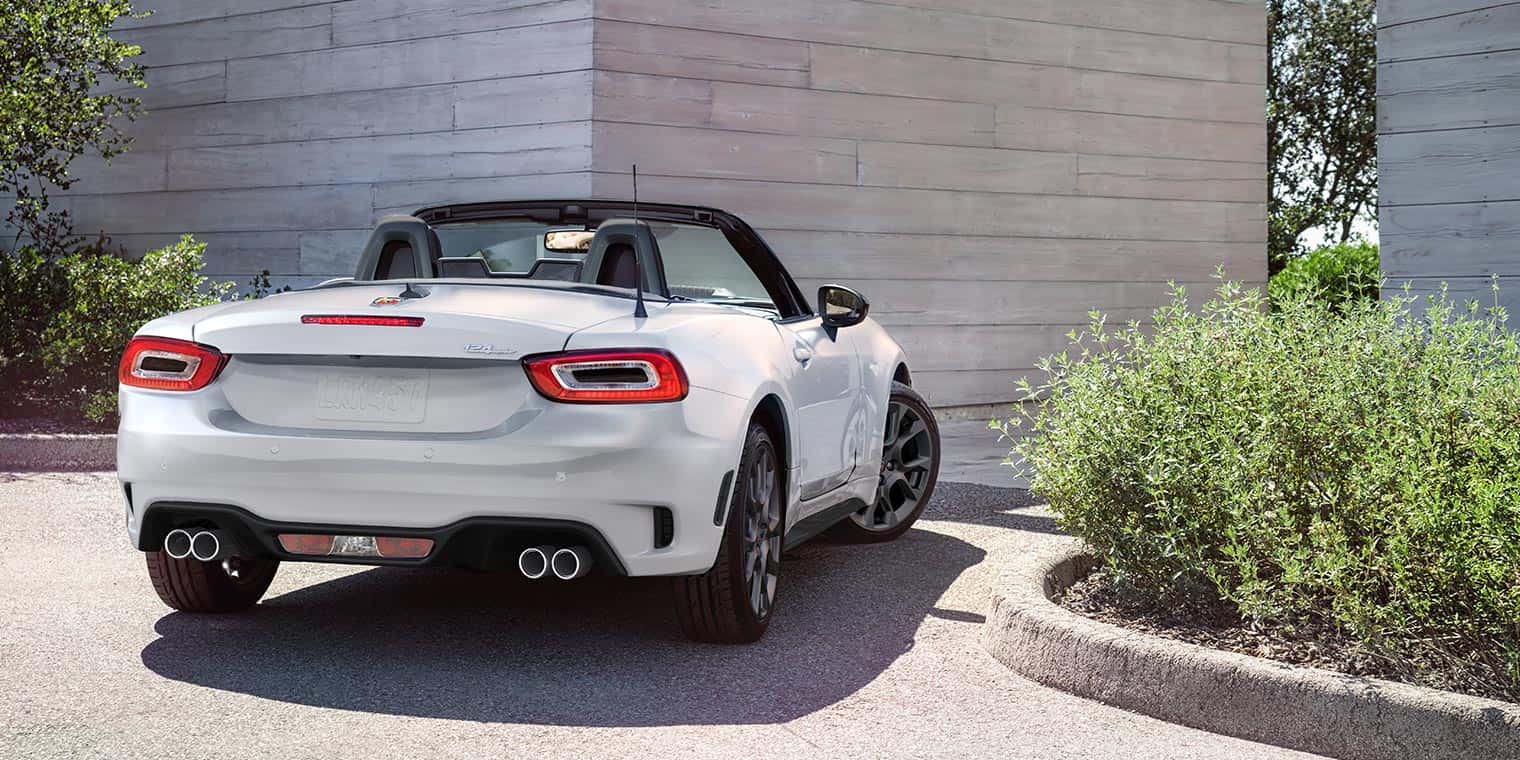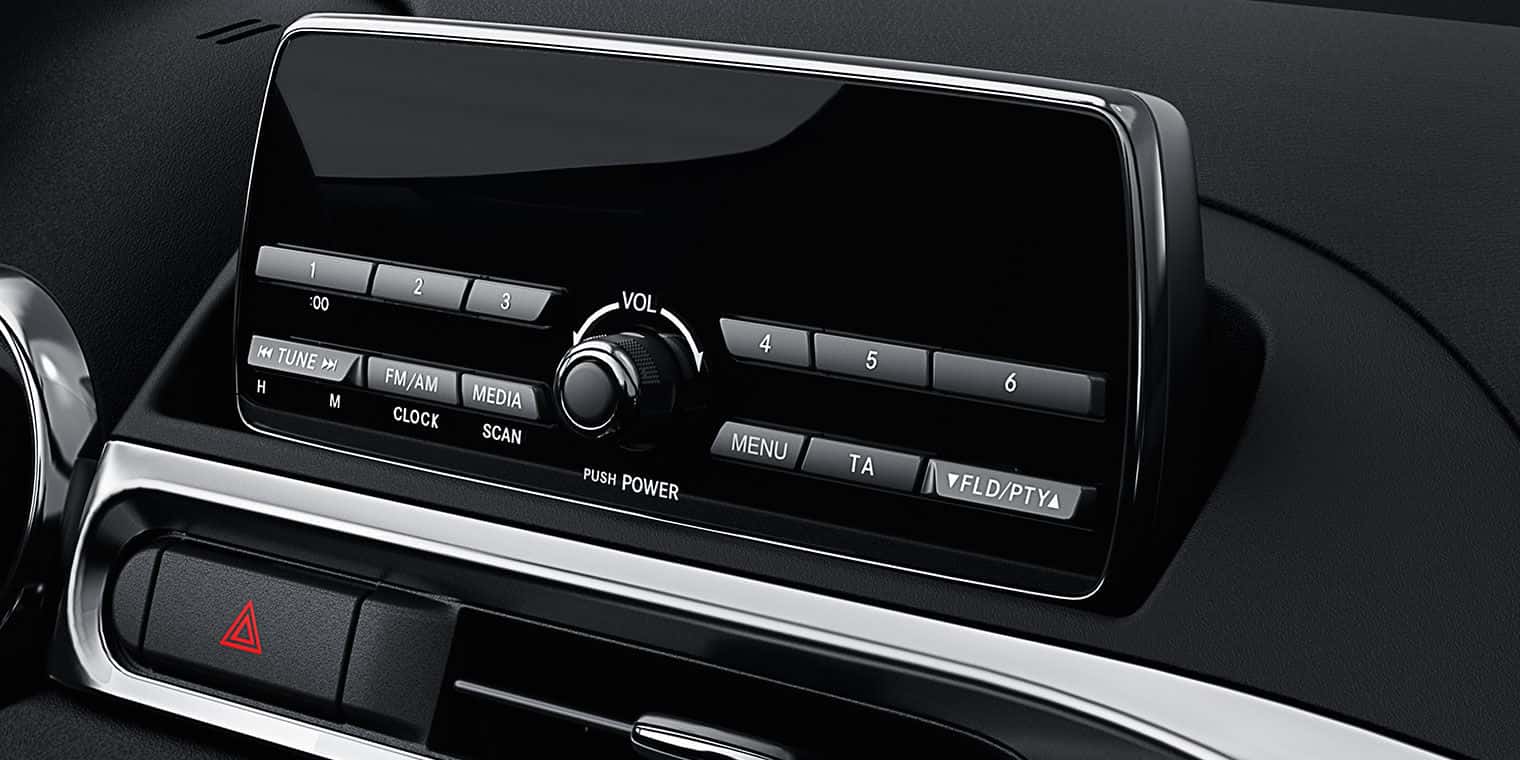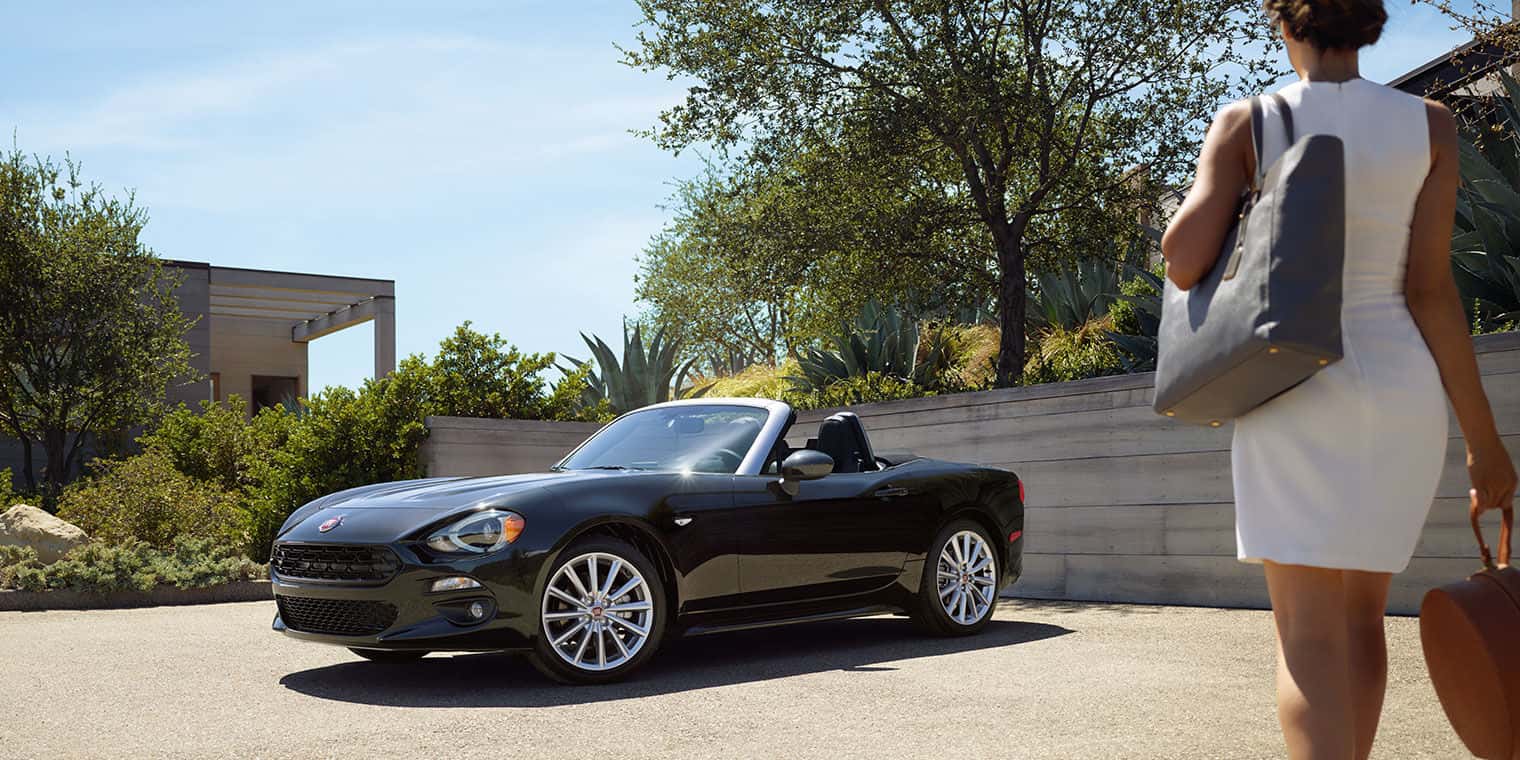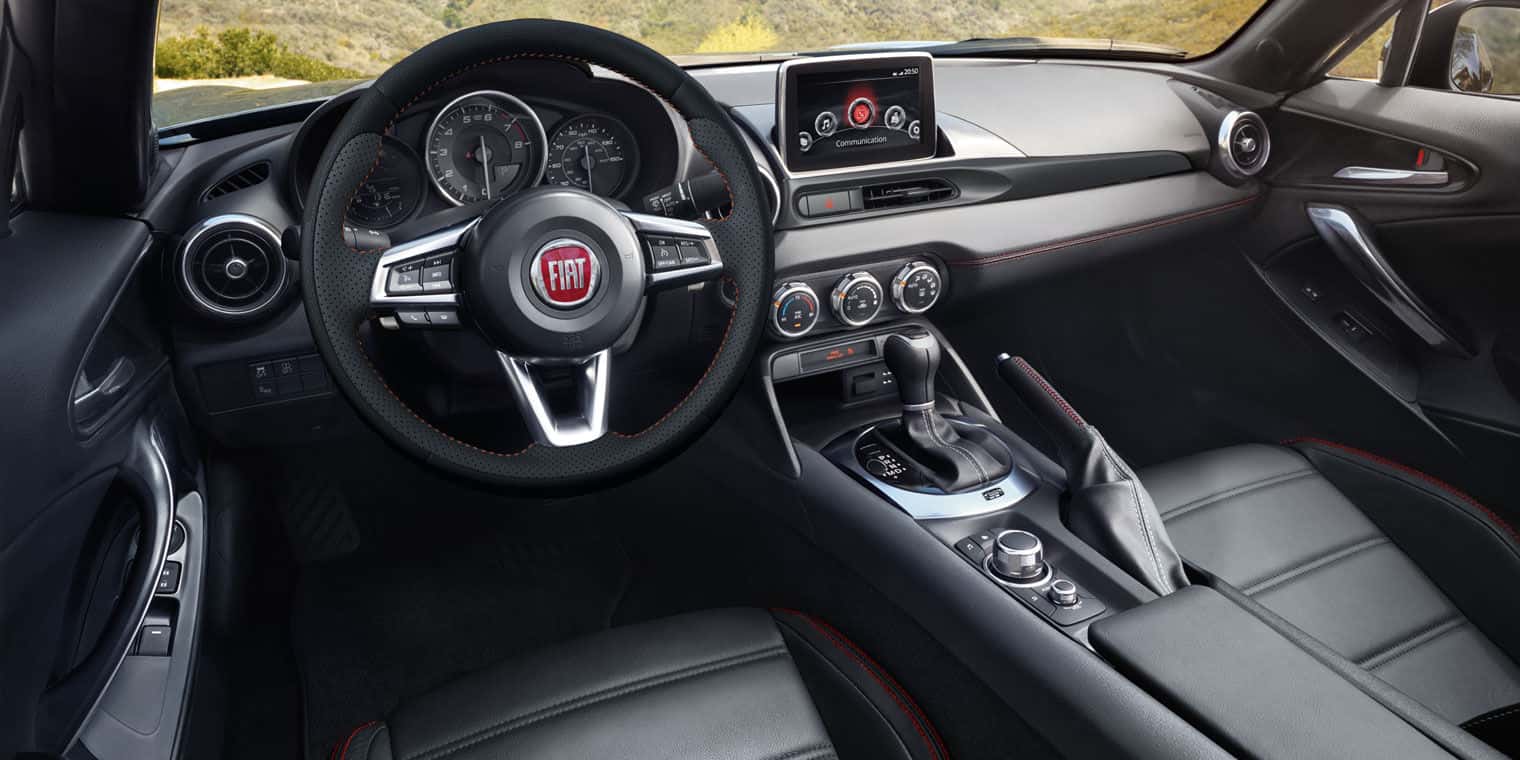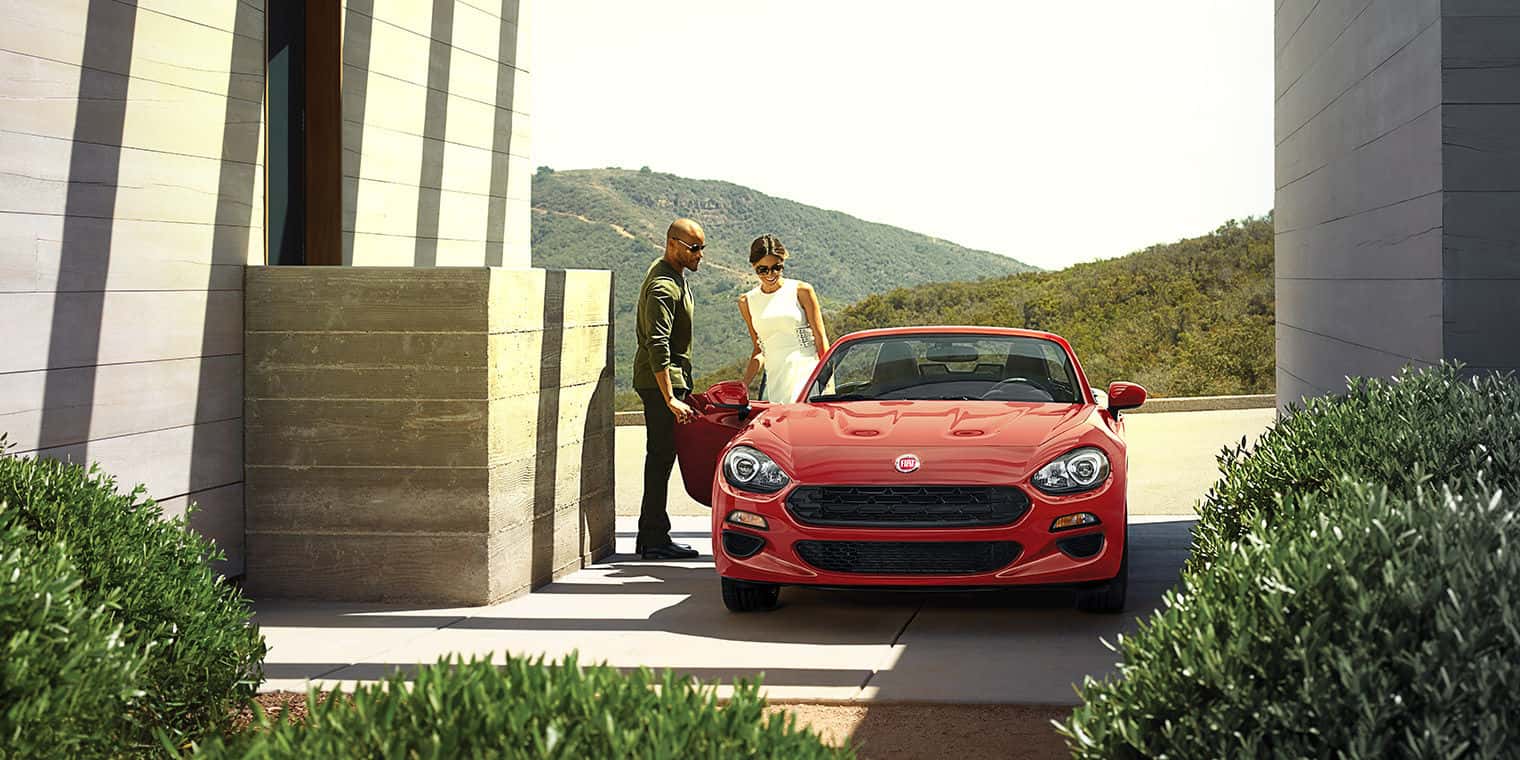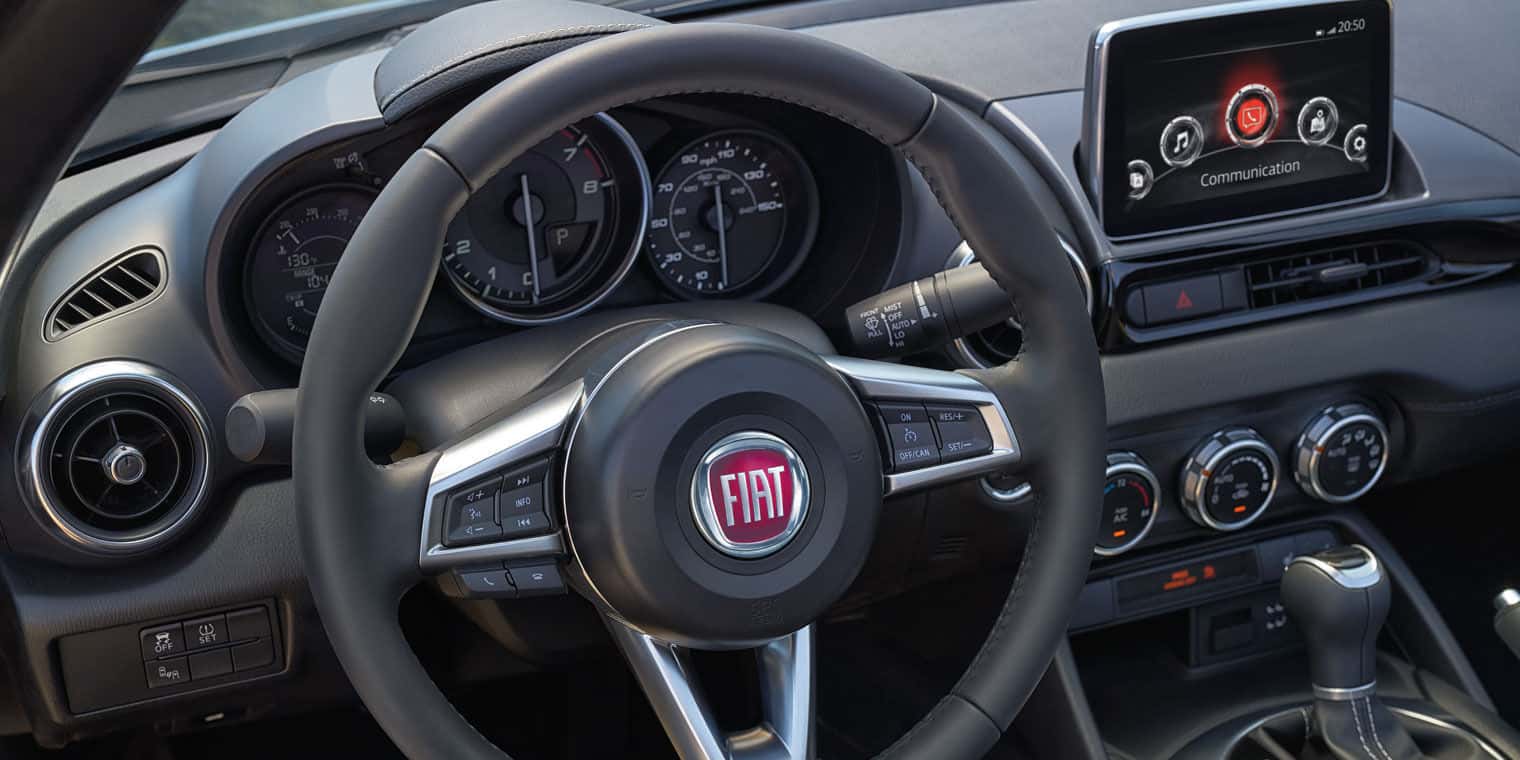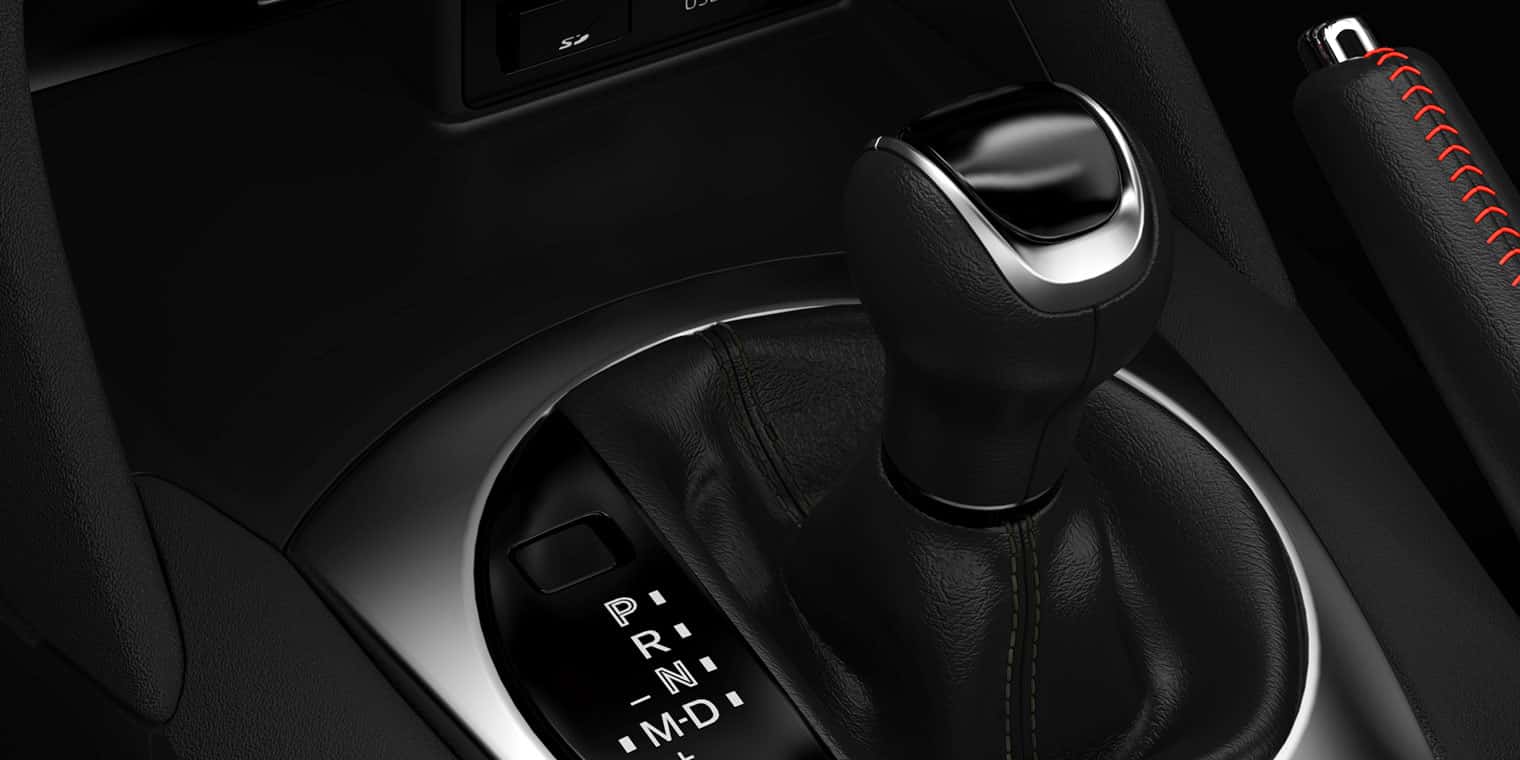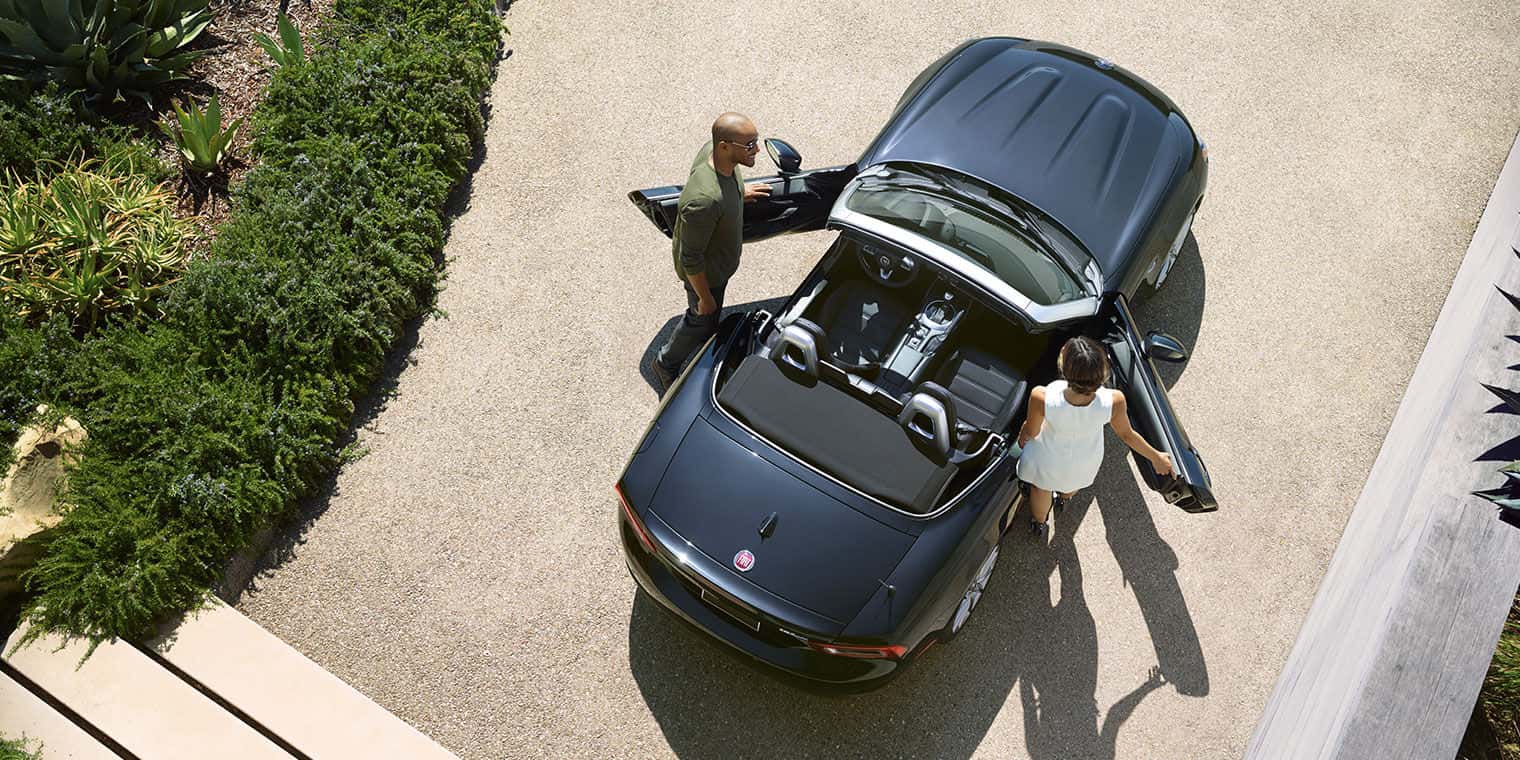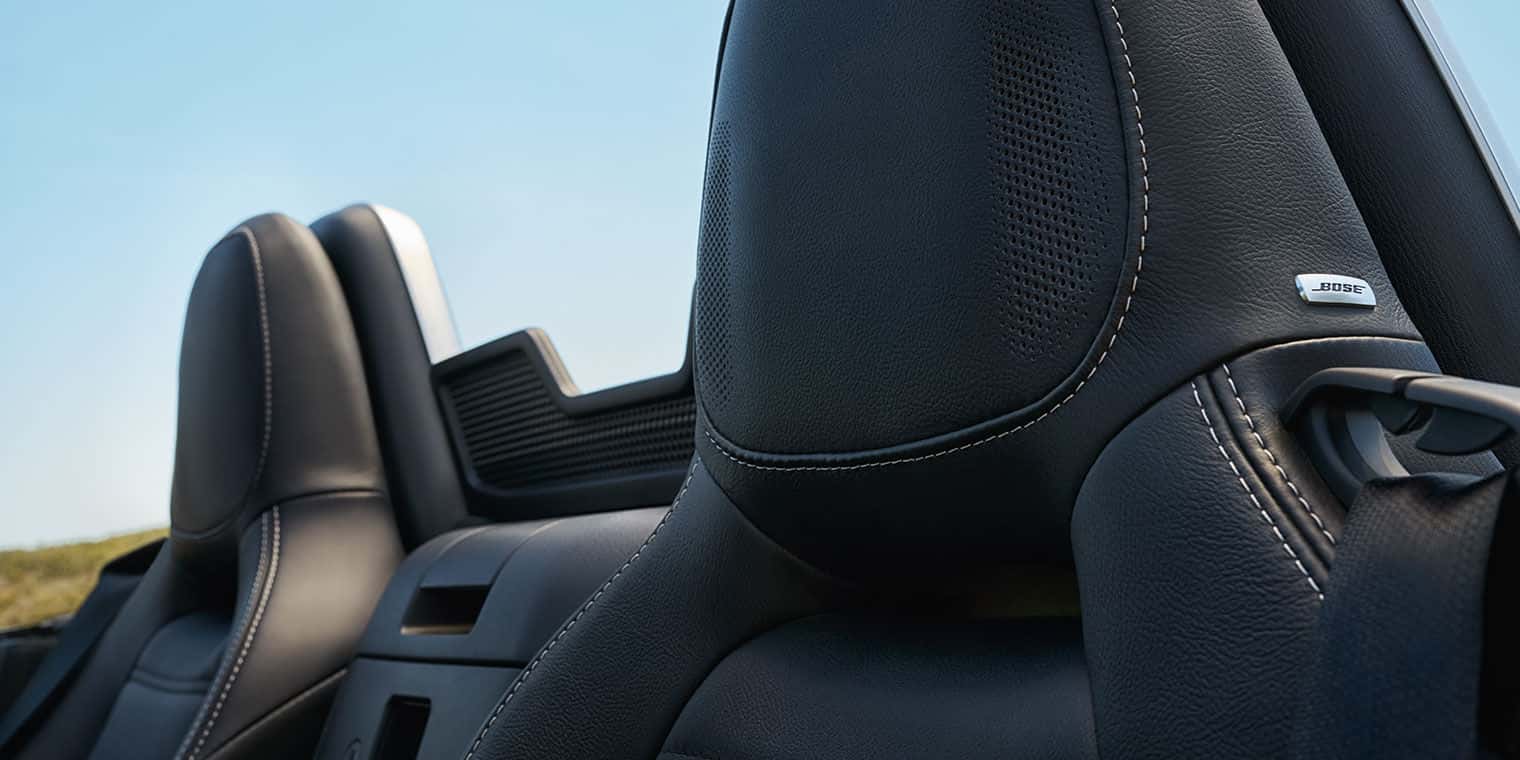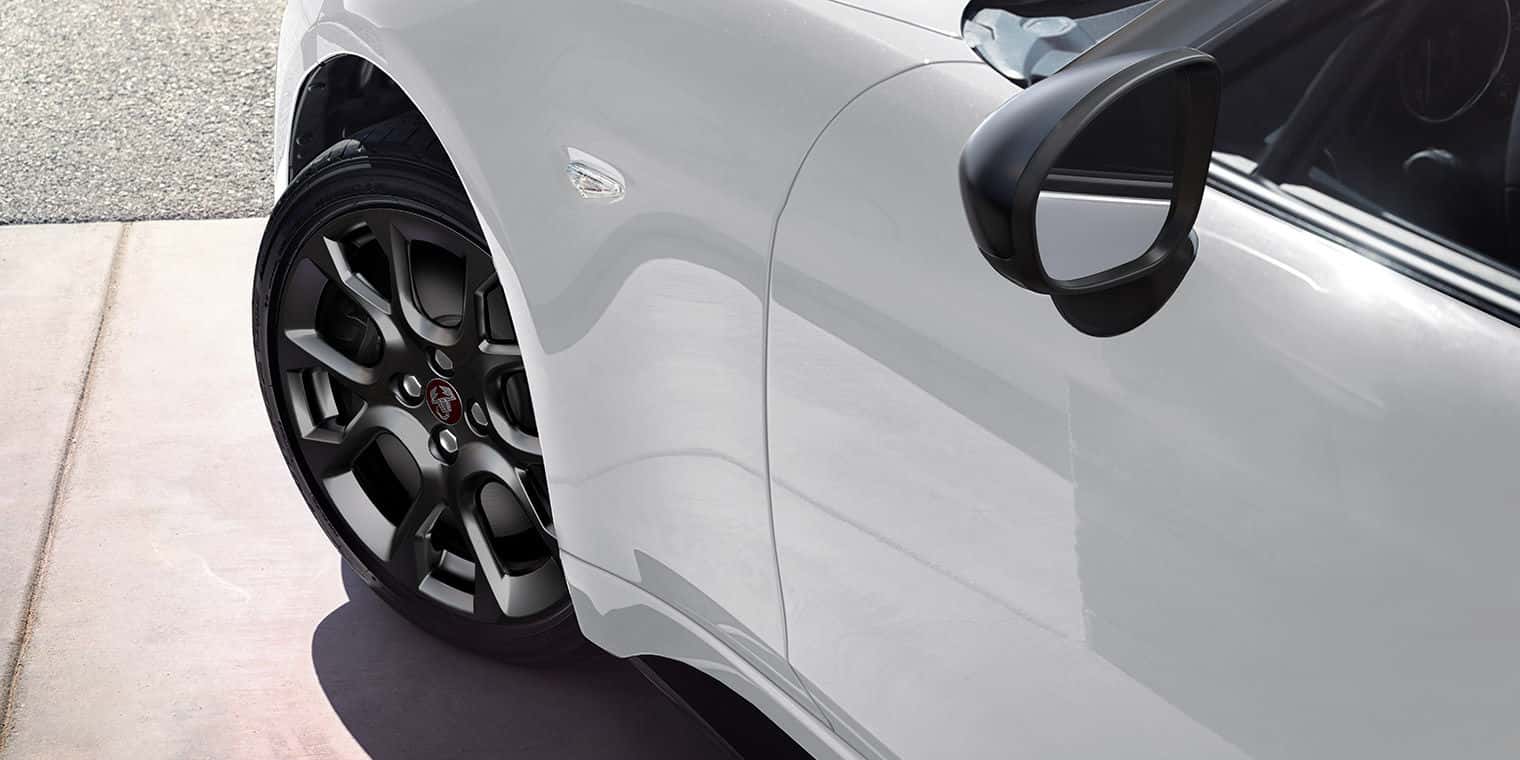 2017 FIAT 124 Spider Abarth: Technology and Safety
In a beautiful work of engineering and design like the 124 Spider, you need to know you and your investment are protected. Collision avoidance is priority number one, which is where features like the halogen daytime running lamps, available Adaptive Front Headlight System, Available Automatic High-Beam Control Headlamps, and more come in. The available Blind Spot Monitoring, Available Rear Cross Path Detection, and available Rear ParkSense Assist systems help you see the parts of the road, no matter if you're driving around Seattle, Bellevue or Kirkland, that are out of your field of view.
2017 FIAT 124 Spider Abarth: Performance
The new 2017 FIAT 124 Spider Abarth is driven by passion and it's clear that you'll feel passionate about your driving experience from behind the wheel. When you drive the FIAT Abarth in Seattle, you'll be exhilarated by the 160-horsepower turbocharged engine, electric power steering, and a responsive four-wheel independent suspension. The double wishbone front suspension and the multi-link rear suspension creates a smooth ride that makes every drive a joy ride. Be sure to reserve your test drive at FIAT of Tacoma near Lakewood to experience this turbo roadster for yourself!
Visit the new 2017 FIAT 124 Spider here at FIAT of Tacoma, Serving Kirkland and Bellevue, Washington
The premium Italian vehicle you've been dreaming about is waiting for you at FIAT of Tacoma, The Intersection of Savings near Seattle! We're carrying a full selection of new and pre-owned Alfa Romeo and FIAT models, and our sales professionals will be happy to help you getting the best vehicle and new FIAT savings for your needs and budget. Choose us for your FIAT maintenance and repair for great deals on FIAT service and you'll also find a great variety of parts and accessories tailored to your needs. If you're ready to learn more, contact us at (253) 267-8722 and come see us at 3740 S Tacoma Way, Tacoma, WA 98409, where we're proud to serve nearby Renton and Federal Way, WA.
Our sales team is standing by to help you find the perfect 2017 FIAT 124 Abarth Spider configuration for your style!
Facebook
Twitter
Google Plus
Mail
Overall Rating
4.5 out of 5 stars
Safety, value & features
Comfort & space
Engine & gearbox
Ride & handling
Technology
Pros & Cons
Pro Fun handling; turbo grunt; slick manual shift.
Con Not likely to hold value as well as an MX-5.
The Pick: 2017 Abarth 124 Spider 2D Roadster
What stands out?
What might bug me?
Accommodating friends and luggage. The Abarth 124 Spider is a very small vehicle with a tiny boot.
Dealing with a flat tyre. If you puncture a tyre on an Abarth 124 Spider, you must get to grips with the tyre-repair kit – or walk. There's no spare.
What body styles are there?
What features do all versions have?
Smart-key entry and start, which lets you open the doors and start the car with the key kept safety in a pocket or bag. Cruise control, and a reversing camera.
A leather-wrapped steering wheel and gear lever handle, and a mix of leather and microfibre fabric on the seats. Climate control air conditioning – which maintains a set temperature – and heaters in the seats.
An infotainment system with a 7.0-inch touchscreen interface, a digital radio, satellite navigation, USB and auxiliary input sockets, and Bluetooth connectivity for phone calls and audio streaming. A Bose-branded sound system, with a sub-woofer for better bass presentation.
Headlights that turn on automatically when it's getting dark. Front and rear foglights, and bright, long-lived LEDs in the taillights. Windscreen wipers that operate automatically when it rains.
Seventeen-inch aluminium alloy wheels, and a tyre repair kit. A tyre pressure monitor, which warns you if a tyre has lost air (this can give you extra time to get a slow puncture seen to).
A sport mode switch, which lets you adjust how readily the car responds to your pressure on the accelerator pedal.
A limited-slip differential, which helps control rear-wheel slip through turns. Suspension dampers and brakes from specialists Bilstein and Brembo, respectively.
Four airbags: two directly in front of the driver and passenger; and one on the outer side of each occupant to protect the upper body and head.
Electronic stability control, which can help you control a skidding car. All new cars must have this feature.
Every Abarth 124 Spider carries a three-year, 100,000 kilometre warranty.
Which engine uses least fuel, and why wouldn't I choose it?
There is only one engine in the Abarth 124 Spider, a 1.4-litre turbo-petrol four-cylinder which uses 6.5 litres/100km on the official test (city and country combined) with the standard six-speed manual gearbox.
Many people think it is more fun to change gears yourself in a car like this, and the gearshift is very pleasant to use. The manual version also uses slightly less fuel than the optional auto.
However, if you are planning to do a lot of suburban driving in your 124 Spider, or just don't like manuals, you might find the auto gearbox easier to get along with. It's a six-speeder too, and the conventional torque-converter design means it's smooth in stop-start traffic or when parking.
What key features do I get if I spend more?
The Abarth 124 Spider comes in only one trim level, and with a manual gearbox as standard.
You can have an automatic gearbox for an extra $2000 or so.
An optional Visibility pack gets you better headlights and some active safety features. The headlights use long-lived and very bright LEDs, and they swivel left and right with the steering to light the way around corners. There are also LED daytime running lights, which help other drivers see you. Rear parking sensors help you judge how close you are to obstacles. Blind-spot detection warns you, when you indicate to change lanes, if a vehicle is alongside out of view. And a rear cross-traffic alert warns, when you're reversing, if a jogger, cyclist or other vehicle is crossing behind you.
If you plan to make the most of your 124 Spider through turns, you might consider the optional Recaro brand sports seats. These have more deeply bolstered backrests (to hold you in place more securely) and are trimmed in leather and Alcantara.
Does any upgrade have a down side?
It is likely you will find the optional Recaro seats harder to climb out of than the standard seats, and some people may also find them less comfortable on long drives.
Of six colours available on an Abarth 124, only two – red and white – are non-metallic and come without extra cost. Other colours cost about $490 extra.
How comfortable is it?
The Abarth 124 Spider cocoons you with a mixture of neat design – much of this shared with the Mazda MX-5 – and Latin flair, all rendered in good quality materials. It feels at least the money's worth inside.
The seats, bolstered to provide lateral support for swift cornering, are designed to allow easy entry and egress – the outer bolsters on the seat cushion are a bit less pronounced than the inner ones, to let you slide in and out easily. There's also a broad inner door sill to lean on.
The cushion comfort of the seats is excellent for extended periods, and our testers report a driving position that's just right – even though the steering column adjusts for height but not reach. The seats hold you in when you're cornering quickly.
Navigation of infotainment is via the Mazda MZD-connect system, which is intuitive to use.
The Abarth 124 Spider rides bad roads with controlled absorbency – it's a well judged sports ride, and not a bone-shaker.
In the inescapable comparison with the MX-5, the Abarth feels a bit bumpier at low speeds. But in corners it leans less and responds a little more directly. The differences are small in both respects, however.
The Abarth 124 Spider does a good job of shutting out wind noise with the roof up, even if it is noticeably noisier inside than a car with a fixed roof.
What about safety?
Four airbags might not sound much compared with the typical passenger car's six-plus count, but it's a full suite in a drop-top two-seater. There are two frontal airbags, and side airbags that protect the upper body and head.
Elsewhere, electronic stability control, a reversing camera and a tyre pressure monitor are solid safety fundamentals in all Abarth 124s. Auto-on headlamps and auto wipers improve visibility and cut driver fatigue.
Optional active safety aids extend to a blind-spot monitor, which helps you avoid changing lanes into the path of a car closing fast from behind. Another optional monitor works when you are reversing – for example, out of a parking space – alerting you to vehicles approaching from the side. Both come with the Visibility pack.
Autonomous emergency braking is not available on the Abarth 124 Spider.
The Australasian New Car Assessment Program (ANCAP) has not rated the Abarth 124 Spider. However, it awarded the very similar Mazda MX-5 its maximum five stars for safety, in June 2016. The Mazda achieved perfect scores in the pole and side impact tests on its way to an overall score of 35.20 out of 37.00.
I like driving — will I enjoy this car?
The Abarth 124 Spider is derived from the Mazda MX-5, which was Wheels Magazine's 2016 Car of the Year. You don't get a better donor-car than that.
The Abarth, like its Japanese sibling, is a dream for an enthusiastic driver. The open-top Italian allies progressive, intimately connected steering with faithfully responsive handling and arresting brakes. You get great feedback, which builds confidence and rewards your driving. Even the six-speed manual gearbox is a delight to slot from one gear to the next.
The 1.4-litre turbo four-cylinder perhaps makes the 124 Spider a superior urban drive to the MX-5. The extra oomph it provides, even from low speeds, also aids overtaking and enhances sporty driving. However this focus on businesslike grunt does mean you lose some of the playful exuberance that is especially apparent in the high-revving 1.5-litre MX-5.
The turbo engine has a pleasant note, but it isn't especially vocal. You can better appreciate the subtle deceleration grumble of the exhaust when you have the roof down.
Being able to drop the top and be part of the surroundings brings a dimension to the enjoyment of driving the 124 Spider that you don't get from the hot hatches available at a similar price. It is easy to lower and raise the Spider's light fabric roof – you can do so in seconds, without even undoing your seatbelt.
The optional automatic gearbox is smoothly responsive, and brings paddle shifters to allow some of the fun of manual gear selection.
specifications are based on the latest information at the time publication
FIAT 124 SPIDER GENERAL INFORMATION
Body Style: Roadster
Assembly Plant: Hiroshima, Japan
EPA Vehicle Class: Two-seater
Introduction Date: Summer 2016 as a 2017 model
FIAT 124 SPIDER BODY AND CHASSIS
Layout: Monocoque unibody; front and rear suspension subframes
Construction: High-tensile strength steel body to improve rigidity; double-wishbone
suspension at the front and multi-link at the rear; sport suspension
BODY AND CHASSIS
Layout Monocoque unibody; front and rear suspension subframes
Construction High-tensile strength steel body to improve rigidity; double-wishbone
suspension at the front and multi-link at the rear; sport suspension
ENGINE: 1.4-LITER TURBOCHARGED MULTIAIR I-4
Availability: Standard
Type and Description: In-line four-cylinder, liquid-cooled, turbocharged
Displacement: 83.48 cu. in. (1,368 cc)
Bore x Stroke: 2.83 x 3.31 (72.0 x 84.0)
Valve System:
Belt-driven, MultiAir, SOHC, 16 valves,
hydraulic end-pivot roller rockers
Fuel Injection:
Sequential, multiport, electronic, returnless
Construction:
Cast-iron block with aluminum-alloy head and aluminum-alloy bedplate
Compression Ratio: 9.8:1
Maximum Turbo Boost: (psi / bar) 22 psi / 2.49 bar
Power(SAE):
160 hp (119 kW) @ 5,500 rpm (Classica and Lusso)
164 hp (123 kW) @ 5,500 rpm (Abarth)
Torque (SAE):
184 lb.-ft. (250 N•m) @ 3,200 rpm (Classica, Lusso, Abarth in normal mode)
184 lb.-ft. (250 N•m) @ 2,500 rpm (Abarth in Sport mode)
Max. Engine Speed: 6,250 rpm (electronically limited)
Fuel Requirement:
87 octane (R+M)/2 acceptable
91 octane recommended
Oil Capacity: 4.0 qt. (3.8 liter) with dry filter
Coolant Capacity
7.6 qt. (7.2 liter) six-speed manual
7.5 qt. (7.1 liter) six-speed automatic
Emission Controls:
Three-way catalytic converter, heated oxygen sensors and internal
engine features
Fuel Economy (city/highway/combined):
26/35/30 six-speed manual transmission
25/36/29 six-speed automatic transmission
Towing: Not recommended
Engine Assembly Plant: Termoli, Italy
B400 AISIN SIX-SPEED AUTOMATIC TRANSMISSION
Availability: Classica, Lusso, Abarth
Description:
Planetary gear train, longitudinal layout
Paddle-shifted driver-interactive manual control (Abarth)
Gear Ratios
1st: 3.53
2nd: 2.06
3rd 1.40
4th: 1.00
5th: 0.71
6th: 0.58
Reverse: 3.16
Axle Ratios: 3.583
Mechanical limited-slip differential Standard on Abarth
C635 SIX-SPEED MANUAL TRANSMISSION
Availability: Classica, Lusso, Abarth
Description: 1st, 2nd, 3rd, 4th gear: Triple cone
Gear Ratios
1st: 4.363
2nd: 2.348
3rd: 1.647
4th: 1.262
5th: 1.000
6th: 0.844
Reverse: 3.863
Final-drive Ratio: 3.454
Mechanical limited slip differential Standard on Abarth
ELECTRICAL SYSTEM
Alternator: Denso SC2 150 A with LIN regulator
Battery: Q85
SUSPENSION
Front:
Double-wishbone
Front stabilizer bar size:
23.6 mm
Tower strut bar (Abarth)
Rear:
Multi-link
Rear stabilizer bar size:
Classica and Lusso: 14.0 mm
Abarth Spider: 13.0 mm
STEERING
Type:
Double pinion electric power assist system (DP-EPAS) –
rack-and-pinion
Overall Ratio: 15.5
Turning Diameter (curb-to-curb): 30.8 ft. (9.4 m)
Steering Turns (lock-to-lock): 2.7
BRAKES
Availability Standard: Classica, Lusso, Abarth
Front:
Ventilated front disc
Size and Type: 11-in. floating
Swept Area (per caliper): 10.5 sq. in. (67.8 sq. cm)
Rear:
Solid rear disc
Size and Type: 11-in. floating
Swept Area (per caliper): 9.8 sq. in. (63.0 sq. cm)
Availability Optional: Abarth
Front:
Brembo ventilated front disc
Size and Type: 11-in. opposed
Swept Area (per caliper): 18.6 sq. in. (120 sq. cm)
Rear:
Solid rear disc
Size and Type: 11-in. floating
Swept Area (per caliper): 9.8 sq. in. (63.0 sq. cm)
Power-assist Type: Vacuum booster
Four-wheel anti-lock brake system (ABS): Standard
Electronic stability control (ESC): Standard
Parking Brake Type: Mechanical (lever type)
DIMENSIONS AND CAPACITIES
Wheelbase: 90.9 (2,309)
Track, Front: 58.9 (1,496)
Track, Rear: 59.1 (1,503)
Overall Length: 159.6 (4,054)
Overall Width: 68.5 (1,740)
Overall Height: 48.5 (1,232)
Approach angle, degrees: 13.1
Curb Weight, pounds (kg):
2,436 (1,105) six-speed manual (Classica, Lusso)
2,477 (1,124) six-speed manual (Abarth)
2,476 (1,123) six-speed automatic (Classica, Lusso)
2,516 (1,141) six-speed automatic (Abarth)
Fuel-tank Capacity: 11.9 gal. (45 liters)
Drag Coefficient (Cd)
0.35 all models
ACCOMMODATIONS
Seating Capacity: — Front 2
Head Room: 37.4 (950)
Legroom: 43.1 (1,096)
Shoulder Room: 52.1 (1,325)
Hip Room: 52.0 (1,320)
Seat Travel: 8.3 (210) driver / 6.7 (170) passenger
Recliner Range (degrees): From 25 nominal, 12 forward and 22 rearward
Cargo space, cu ft: 4.94 (140 liter)
TIRES
Availability Standard: Classica
Size and Type: 195/50R16 three-season
Mfr. and Model: Yokohama Advan Sport V105
Revs per Mile (km): 879 (1,414.6)
Availability Standard: Lusso and Abarth
Size and Type: 205/45R17 three-season
Mfr. and Model: Bridgestone Potenza S001 (Lusso)
Bridgestone Potenza RE-050A (Abarth)
Revs per Mile (km): 856 (1,377.6)