BMW X4 M40i 2016-2017; заряженный купе семейства Х4
BMW X4 M40i 2016-2017 — заряженный купе семейства Х4
Мощь, стиль, качество экстра-класса и соответствующая цена – это все BMW X4 M40i модельного 2016-2017 года. Вполне ожидаемый набор характеристик для продукции автомобильного завода из Баварии, уже много лет не забывающего поддерживать свою репутацию на должном уровне.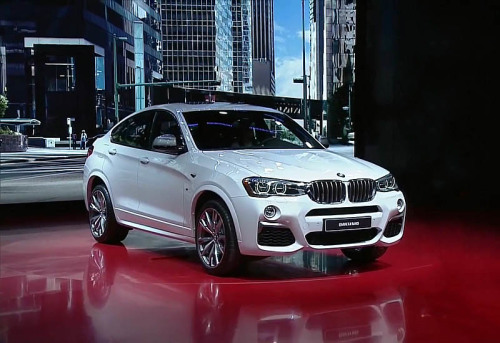 Новинка купе BMW X4 M40i 2016-2017 года
Автомобиль получил в качестве названия некий симбиоз – купе-кроссовер. Вероятно, следует понимать эти слова так, что машина – настоящее купе, но ездить на нем можно где угодно. Что подтверждается хотя-бы возможностями мотора – 360 л.с. У других представителей линейки BMW X4 с этим куда скромнее, а выпуск полноценного ее представителя только с буквой «M» и без цифр – скорее из области легенд и слухов.
Подробно о дизайне
У BMW X4 присутствует свой стиль во всем. Такой автомобиль понравится тем людям которые любят все оригинальное. Многие опрошенные говорят что кузов купе и интерьер выглядят отлично. На выбор может повлиять:
крыша которая взята из X6;
установленные двадцатидюймовые колеса;
окрашенные облегченные диски;
высокий клиренс;
много стильных элементов салона.
Менеджмент BMW изначально знал что X4 не сможет понравиться большинству покупателей. В модели слишком много нестандартного что способствует увеличению цены.
Габариты:
Колесная база 2809 мм; Длина 4681 мм; Ширина 1882 мм; Высота 1623 мм.
Большинство заметных модных решений перешло из X6. Хотя X4 основан именно на X3. Потому что эта модель появилась раньше. Но первопроходцем семейства стала X6. Кузов пронизан спортивной тематикой. Особенно свою мощь показывают огромные крылья в которых красуются двадцатидюймовые колеса. Одновременно задняя часть крыши сильно занижена, и всех привлекает и восхищает. Но есть другая сторона медали. Те кто желает сесть через заднюю дверь вынуждены нагибать ниже голову. В салоне дискомфорт для высоких пассажиров не заканчивается. Голова и крыша находятся слишком близко что недопустимо в долгих поездках. В базовой комплектации устанавливают деревянные панели. Они намекают на высокий уровнь. За такой базовый салон необходимо заплатить не менее 50000 долларов. Если двигаться дальше по ценам, то интерьер будет становиться комфортнее. Еще есть комплектация с Long Beach Blue и Nevada White Leather. О полученной комплектации будет напоминать не только цвет кузова. Еще на обшивке делают стежки соответствующим цветом.
Особенности салонов новейших моделей БМВ
Эксперты очень высоко оценивают интерьер салонов обоих немецких кроссоверов. Все сделано так, чтобы превратить в удовольствие даже очень продолжительную поездку. В салонах БМВ Х4 и Х6 используются отделочные материалы высочайшего качества и нестандартные дизайнерские решения, благодаря чему передние кресла как бы обволакивают сидящих на них людей.
Германские производители уделяют очень большое внимание обеспечению безопасности пассажиров. Кроссоверы оборудованы несколькими системами, которые защищают их при возникновении форс-мажорных ситуаций.
В центральной части Х4 расположен слегка удлиненный большой дисплей мультимедийной системы, на котором можно без труда прочитать все нужные водителю и пассажирам сведения. Следует отметить, что посадка кресел является низкой в соответствии со спортивным стилем салона.
В задней части БМВ X4 заметно негативное влияние покатой крыши. Рослые пассажиры могут упираться головой в потолок. На втором ряду желательно размещаться вдвоем, поскольку места для трех людей там недостаточно. Багажник является очень объемным: пятьсот сорок литров в стандартной позиции и тысяча семьсот литров при разложенных задних сидениях.
Любителей «X-линейки» немецкий концерн побаловал в 2018 году новой моделью — BMW X2 — автомобем со спортивным нравом! Внешний вид кроссовера и дизайн продуман до мелочей и всем своим видом кричит о том, что по дороге едет любитель острых ощущений. Внушительные воздухозаборники охлаждают двигатель и тормоза. Скошенная линия крыши и багажник, стремящийся к заднему бамперу, не только подчёркивают темперамент БМВ X2, но и отвечают за аэродинамику. Впервые в истории бренда появились новые цветовые решения: разновидности золотого и голубого, что позволит сделать вашу машину ещё более уникальной и выразительной.
Резвый характер BMW X2 проявляется и в его технических особенностях. Всего 7,7 секунд понадобится авто, чтобы разогнаться до 100 км/ч, а расход топлива при этом останется минимальным. Благодаря BMW ConnectedDrive, вы всегда будете на связи, не отвлекаясь на свой смартфон. Система безопасности Driving Assistant сама управляет фарами, избегает прямого столкновения и наезда на пешеходов, оповещает о выезде из полосы и контролирует скорость.
Технические характеристики BMW X4 M40i
Привод полный. Спорт-шасси обеспечивают динамику на продвинутом уровне. Стабилизаторы и пружины стали более сильными. Увеличился развал на передней оси. Амортизаторы адаптивные. Машинка стала обладательницей совершенно нового, высокопроизводительного трёхлитрового V6 TwinPower Turbo, мощность которого 360 лошадей при 5800-6000 об/мин.
Кроме того, новый трехлитровый мотор оснащен Auto Start Stop и рекупирацией энергии торможения в качестве стандартного оборудования. По-сути, этот движок, не что иное, как глубоко модифицированный агрегат от xDrive35i. Двигатель разработан совсем недавно и сочетает в себе высокую производительность с экономичность. Пару для работы составит восьмиступенчатая коробка Steptronic, имеющая Launch Control в качестве стандарта.
Двигатель BMW X4 M40i 2016-2017
Инженеры акцентировали внимание на том, что трансмиссия адаптирована под спорт-стиль. Разгон до 100 км/ч составит 4.9 секунды, а максимально допустимая скорость равна 250 км/ч и ограничивается электроникой. Расходовать обещает до 8.6 литров топлива. А выброс углекислого газа в атмосферу — 199 г/км.
Кроме всего этого внедорожник станет обладателем аэро обвеса M-Performance, а так же системы тормоза, которая максимально оптимизирована под возросшие возможности.
Главными конкурентами кроссовера BMW X4 M40i станут новые Jaguar F-Pace , Мерседес GLС .
О комплектациях
В базовой версии BMW X4 M40i нового модельного года кресла переднего ряда двигаются электромотором и подогреваются при необходимости. Есть уже становящийся обязательным помощник в парковке, климат-контроль. Оптика снабжена биксеноновыми лампами для головного света и светодиодами для противотуманных фар. Система звуковоспроизведения стандартная для машин из Баварии — BMW Professional. Ее дисплей чуть не дотягивает по размерам до обычного планшета – 6,5 дюйма по диагонали.
Комплектации побогаче предложат информационно-развлекательную систему, оснащенную iDrive Touch Controller, систему кругового обзора, несколько систем помощи водителю, в том числе и тех, которые умеют видеть пешеходов, возникающих ниоткуда и могут вовремя притормозить.
2017 BMW X4 M40i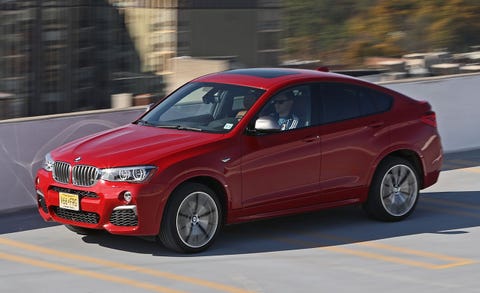 When BMW pioneered the fastback SUV with its X6, it wasted little time bringing out an M version, figuring correctly that buying an X6 isn't about making a rational choice—it's about making a statement. And the X6 M makes that statement louder and prouder, a preening, muscular brodozer among SUVs. Unsurprisingly, BMW applies the same logic to the generally not-very-baller compact-luxury-crossover segment. It brought out the X4, basically an X3 suited up in a flashier—and considerably less practical—fastback body that looks like a junior X6. The next logically illogical step was sprinkling some magic M dust on it, thus creating the X4 M40i.
BMW nomenclature has long since passed the point of absurdity, with model designations seemingly created by pounding a fist on a keyboard. The relevant information here is that, compared with the now discontinued X4 xDrive35i, the M40i has more power and a host of sporting touches—but not enough to earn it a full-fledged M designation. (A four-cylinder, xDrive28i version continues but seems at odds with the X4's more-is-more zeitgeist.)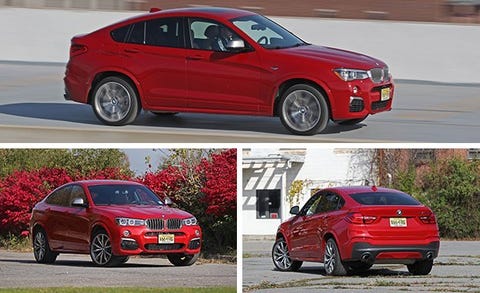 For the M40i, the already hyperstylized, low-roof, fastback X4 body is fancied up with trendy Ferric Gray metallic accents on the side mirrors, the grille slats, and in the lower air intakes. The same finish also adorns the optional 20-inch wheels (19s are standard). At the back is a diffuser, punctuated by four exhaust tips in black chrome. Inside, there are Sport seats and an M-design steering wheel, and "M40i" is spelled out on the doorsills and in the instrument cluster.
At the heart of the X4's mechanical upgrades from xDrive35i to M40i is a more muscular version of BMW's 3.0-liter twin-scroll, single-turbo "TwinPower" inline-six. Greater boost pressure, a forged-steel crankshaft, modified pistons, higher-performance spark plugs, a revised intake, and a specifically tuned exhaust system add 55 ponies to the horsepower count, now 355, and 43 lb-ft of torque, totaling 343. At startup, the turbo six sounds like something in a slammed Honda Civic, but the engine note instantly gets sharper and meaner as the revs climb. Pop this X4 into Sport mode (rather than the default Comfort), and every lift off of the accelerator brings a brash cacophony trumpeted from the quad exhaust pipes, a fittingly bro-riffic touch.
It's Got the Moves
This engine, however, is less about sound than action. Paired with BMW's eager-shifting eight-speed "Sport" automatic and rear-biased xDrive all-wheel drive (both standard on all X4s), it flings this little crossover forward with serious verve. Sixty mph comes up in a sizzling 4.4 seconds, nearly a full second quicker than the six-cylinder X3—which is basically the mechanical twin of the old X4 xDrive35i—and tying the Porsche Macan GTS. The M-infused fastback dispatched the quarter-mile in 13.1 seconds at 105 mph, against 13.9 and 100 mph for the still quick X3 35i (and basically right on top of the Porsche's 13.0 and 105 mph).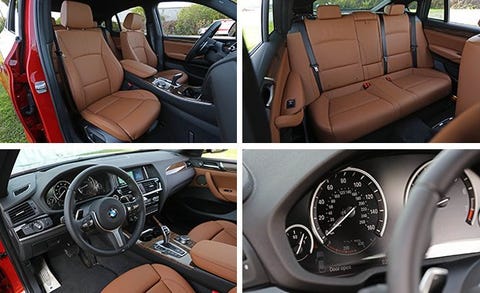 Reining in all that go are larger front brakes with higher-performance pads, which helped haul this X4 to a stop from 70 mph in 156 feet. That's a foot shorter than the Macan and substantially better than the last X3 we tested.
As you'd expect, the M-inistrations to the X4 include the suspension, with firmer springs, stiffer anti-roll bars, and retuned adaptive dampers. And the M40i's cornering blithely defies the vehicle's height and weight—body roll is all but nonexistent, and we recorded a phenomenal 0.95 g on the skidpad, a major leap over the X3's 0.83 g (and also besting the 0.87 g posted by the Macan). At least partial credit should go to this X4's sticky footwear: Michelin Pilot Super Sport tires wrapping the optional 20-inch wheels. Exercising the M40i's impressive cornering abilities might be more fun, however, if its steering weren't so inert. BMW's Variable Sport Steering has no real buildup of effort as one moves off-center, and while Sport mode heavies up the steering, it doesn't make it any better.
The steering's quickness, though, is useful as the X4 driver attempts to dodge bumps and potholes, since the ultra-low-profile rubber and the stiff ride make for jarring impacts. Over lumpy pavement the M40i also suffers a barrage of side-to-side and vertical body motions even in Comfort mode, and Sport can be used on only the smoothest pavement. We also drove (but did not track test) an M40i with the standard 19-inch wheels and 45-series tires, and that combo seemed to mitigate some of the ride harshness.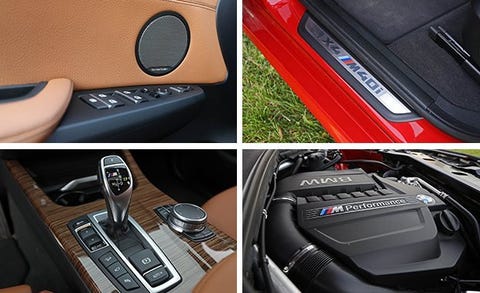 Inside Story
The X4's bodacious body shape exacts a toll in interior space, and the view out the rear is but a narrow slit. Wide doorsills and a low seating position make the act of planting your butt in the driver's seat a somewhat awkward drop. Meanwhile, rear-seat riders sometimes bang their noggins while getting in, although once inside, headroom is adequate for a six-footer. So, too, is rear legroom, but footroom is tight and the seat cushion is low. Overall, the rear compartment lacks the spaciousness of the X3, but that's the price you pay for style. Well, that and a smaller cargo hold— it's 18 cubic feet here with the rear seats up, fully 10 cubes fewer than the X3 offers.
The other price is the one on the window sticker, which starts at $59,095. The M40i at least brings a load of standard features: leather, adaptive dampers, a sunroof, parking sensors, adaptive cruise control, dual power seats, a Harman/Kardon premium audio system with 16 speakers, a proximity key, rain-sensing wipers, and a power liftgate all are included. The more expensive options on our test car included navigation (bundled into a $2750 Technology package that brings few additional items of note beyond a head-up display), a backup camera ($400 plus $750 for the surround-view function), and $950 for a Cold Weather package that includes heated front and rear seats, together with headlamp washers and a heated steering wheel. Add $700 for metallic paint (as ever with BMW), $1900 for the Lighting package (full-LED adaptive headlights and automatic high-beams), plus $950 for the 20-inch wheels, and you reach an as-tested total of $67,495.
That the more practical and pedestrian X3 xDrive35i is some 10 grand cheaper probably isn't relevant to the BMW shopper eyeing the M40i. That an X6 can be had for $62,395 might be. Which begs the question: How much of a baller are you, bro?
Specifications
VEHICLE TYPE: front-engine, 4-wheel-drive, 5-passenger, 4-door hatchback
PRICE AS TESTED: $67,495 (base price: $59,095)
ENGINE TYPE: turbocharged and intercooled DOHC 24-valve inline-6, aluminum block and head, direct fuel injection
Displacement: 182 cu in, 2979 cc
Power: 355 hp @ 5800 rpm
Torque: 343 lb-ft @ 1350 rpm
TRANSMISSION: 8-speed automatic with manual shifting mode
DIMENSIONS:
Wheelbase: 110.6 in
Length: 184.3 in
Width: 74.8 in Height: 63.9 in
Passenger volume: 95 cu ft
Cargo volume: 18 cu ft
Curb weight: 4272 lb
C/D TEST RESULTS:
Zero to 60 mph: 4.4 sec
Zero to 100 mph: 11.8 sec
Zero to 130 mph: 23.4 sec
Rolling start, 5-60 mph: 5.5 sec
Top gear, 30-50 mph: 2.9 sec
Top gear, 50-70 mph: 3.3 sec
Standing ¼-mile: 13.1 sec @ 105 mph
Top speed (governor limited, mfr's claim): 150 mph
Braking, 70-0 mph: 156 ft
Roadholding, 300-ft-dia skidpad: 0.95 g
FUEL ECONOMY:
EPA city/highway driving: 19/26 mpg
C/D observed: 20 mpg
C/D observed 75-mph highway driving: 27 mpg
C/D observed highway range: 470 mi
Introduction
The BMW X4 is the rakish, 'coupe' version of the X3 mid-sized premium SUV. It is sold in the UK in a six-strong model line-up powered entirely by diesel engines, while all examples come with xDrive four-wheel traction as standard. The X4 is designed to appeal to buyers who want the practicality and security of an SUV, with some of the visual élan of a sports car thrown in, and to that end the X4 is supposed to be a sharper steer than its closely-related X3 stablemate. It competes in a class with the sportier SUVs offered by rivals, such as the Jaguar F-Pace, Porsche Macan, and the Mercedes-Benz GLC Coupe.
| | | |
| --- | --- | --- |
| Body Style: SUV Coupe | Seats: 5 | MRP from £37,635 — £50,735 |
Did you know? BMW makes petrol X4s for other markets – including the superb M40i high-performance model, with 360hp and a sub-five-second 0-62mph time.
If you can live with the idea of a less practical and yet more expensive version of the BMW X3, then there's little reason to avoid the X4. Its peculiar appearance won't win over everyone, but by the same token the sweeping roofline is the main reason that buyers who do decide to take the plunge will opt for the X4 over and above the X3 in the first place. Beyond the concept of an SUV coupe, what we have here is a classy, well-built, and comfortable four-wheel-drive vehicle that comes with plenty of desirable equipment and frugal diesel engines — although it's a shame that there's no petrol or hybrid option. The BMW isn't particularly cheap, but it's on a par with key rivals for purchase and running costs.
We Like
Typically impressive BMW chassis
We Don't Like
No petrol option
Rear-seat space is compromised
Not appreciably better to drive than the X3
There's no point debating the looks of the BMW X4 here – people are either going to love it or loathe it, and will have long since made up their minds which camp they fall into. Nevertheless, for what it's worth we think the X4 is a slightly more convincing SUV coupe than the bigger X6, purely because it is a physically more delicate machine that doesn't look hulking and offensive. The detailing is largely all identical to the handsome X3, save for that descending roof at the rear, and the X4 looks its absolute best in top-ranking M Sport guise, where its body addenda and larger alloys work well with some of the bolder paints offered.
Furthering the X4's case is the fact there is only one direct rival for it within the class at this stage, which is the Mercedes-Benz GLC Coupe. Audi hasn't yet done a 'Q6' derivative of the Q5, which is the X3's analogue, and while the Porsche Macan and Jaguar F-Pace are both dynamic machines, they have conventional SUV shapes, rather than the BMW's fastback appearance.
Up front, the X4's cabin is identical to the 2011 BMW X3's cockpit, but that's already been replaced, so while it's orderly and beautifully built, the X4's dash does lack for visual flair and feels old now. However, BMW's iDrive remains the best infotainment system controller in the marketplace. Touchscreens are all well and good, but to use them effectively you have to take your eyes off the road for longer than is comfortable, whereas the iDrive's click-and-scroll rotary controller works far more intuitively on the fly. Alongside that feature, every X4 comes with Nevada leather and heated front seats, which makes for pleasant motoring on cold winter mornings.
The obvious deficiencies compared to the X3 come in the form of reduced rear visibility for the driver, less headroom in the back, and a smaller boot. Yet, on these latter points, neither of them are as big a drawback as you might imagine. The roof is lower on the X4 than the X3, but then so are the seats, the rear bench mounted 28mm closer to the ground than it is in the regular SUV. That means headroom isn't awful at all, even for taller adults, and there's plenty of legroom too. The middle rear seat is less convincing, given the squab is high and flat, and the X4 has a chunky transmission tunnel cutting into the space allocated for lower legs and feet.
Meanwhile, the X4's boot only loses 50 litres of capacity compared to the X3 with all chairs in place, and 200 litres with the back seats folded away; outright X4 numbers are 500 litres and 1,400 litres respectively. To boost practicality, all models have an automatic tailgate fitted and the rear backrests split in the 40:20:40 ratio.
There are plenty of storage cubbies, big door bins, and a capacious glovebox to make storing items a cinch, while multi-way adjustment of the seats and steering wheel allows for a spot-on driving position to be attained. So the X4 is not as impractical as its fiercest detractors would make out, although we can't really defend the rear visibility issue – the back screen is like a letterbox and the X4 has fat D-pillars that restrict three-quarter vision too. That's probably why BMW includes Park Distance Control sensors as standard on all X4s.
There's just enough standard connectivity gear to commend the X4, although it'd be nice if some of the toys that are cost options were included in the high purchase prices. Nevertheless, from SE level upwards, satellite navigation on a 6.5-inch colour screen is included, as is Bluetooth, DAB, MP3 compatibility, a multifunction steering wheel, BMW ConnectedDrive services, and Wi-Fi hotspot preparation.
Options include upgrading to full BMW Professional Nav on an 8.8-inch screen, which also comes with 20GB of hard drive storage space, plus enhanced Bluetooth with Voice Control and wireless phone charging, a TV function, and Apple CarPlay support. A reversing camera and an around-view monitor system are both available to aid parking manoeuvres. None of these items are extortionately expensive.
And neither are the two optional sound systems. The 205-watt BMW Advanced Loudspeaker packs nine speakers and a seven-channel amp, but the dearer Harman Kardon set-up is the audiophile's choice, as it's a 16-speaker system with a nine-channel amp, rated at 600 watts.
As midsized SUVs go, the X4 is up there near the top of the dynamic charts, if not as involving as the Jaguar F-Pace or the sublime Porsche Macan. It's about as good to drive as the X3, which is a compliment… but the promise of sharper handling, courtesy of its coupe-like bodywork, is never really fulfilled. It grips and goes with aplomb, rather than sparkle, as the steering is fine, the body control excellent, and the brakes nice and progressive. It'll rarely put a grin on its driver's face, sadly, although it is comfortable and hushed in regular driving conditions by way of compensation.
However, the engines are uniformly excellent. They're all diesels, with a 2.0-litre, four-cylinder unit in the entry xDrive20d. It delivers 190hp and 295lb ft, enough for an eight-second 0-62mph time. It's a mostly quiet and punchy engine, only really making harsh noises if it is revved to the redline.
It's the engine we'd recommend if you're on a budget, although it's hard to resist the temptation of the bigger motor offered. It's a 3.0-litre straight-six, with either 258hp and 413lb ft in the xDrive30d, or the range-topping xDrive35d's deeply impressive numbers of 313hp and a beefy 465lb ft. Inline-six engines are a BMW trademark and this is a fabulous unit, cultured and full of muscle. The 30d can hit 145mph and takes 5.8 seconds to do 0-62mph, but the 35d trumps it with 0-62mph in 5.2 seconds and 153mph flat out.
As the xDrive badging asserts, the X4 range is entirely four-wheel drive. And, while there's a six-speed manual gearbox fitted to the 2.0-litre engine, BMW's exceptional eight-speed automatic is standard for the rest of the range; it's an option on the manual 20d cars.
Recommended engine: xDrive20d M Sport
BMW X4 2017: así es el SUV coupé de BMW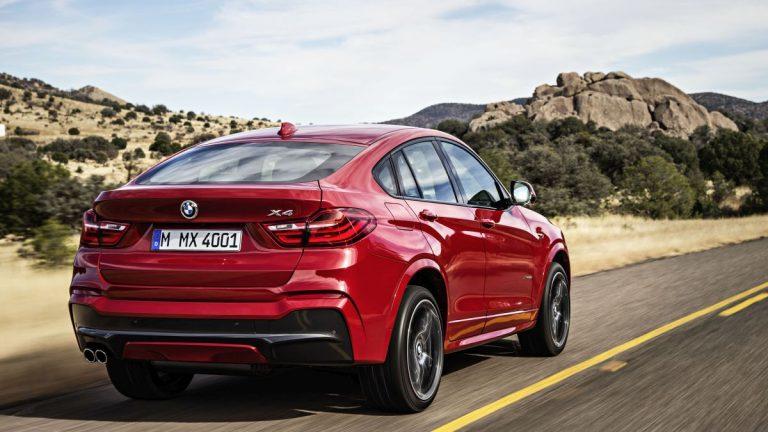 Si bien es cierto que el BMW X4 2017 hereda la esencia de su hermano BMW X3, se desmarca de éste con una carrocería estilo "coupé" que le confiere un aire deportivo. En 2014 el BMW X4 fue lanzado al mercado heredando la mecánica del BMW X3, y superándolo en dinamismo y comportamiento. Desde luego su original diseño levantó pasiones… y ampollas entre sus competidores.
BMW X4 2017: fotos
BMW X4 2017: diseño
Su estética nos recuerda a la del BMW X6 por sus líneas musculosas, aunque con un perfil lateral más refinado. La silueta coupé se dibuja desde el punto más alto sobre la zona del conductor y desciende con gracia y equilibrio hasta la zaga.
Su frontal se caracteriza por las amplias entradas de aire laterales que acompañan a la doble parrilla inferior. Junto a los faros dobles típicos de la firma, los faros antiniebla – con tecnología LED opcional- y su ya clásica calandra de doble riñón. Completan el diseño trasero las ópticas de exclusivo diseño en L con tecnología LED y un "musculoso" capó.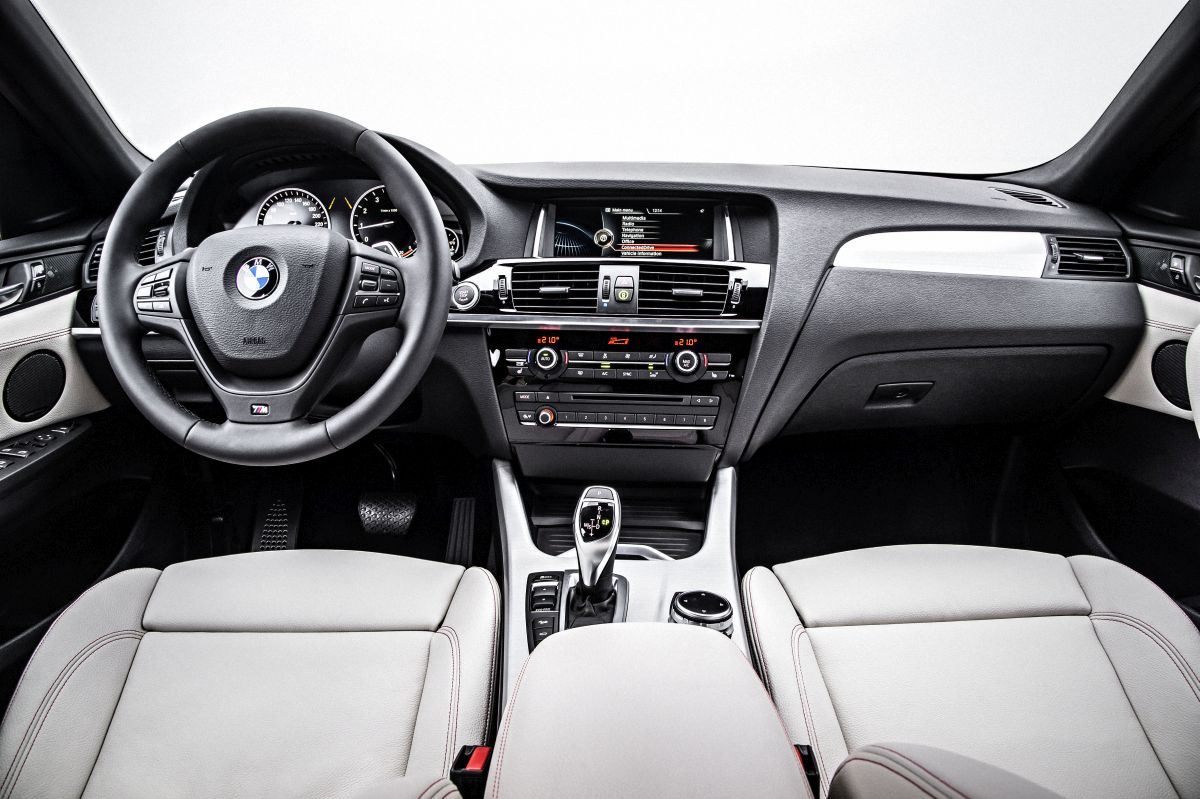 Está disponible un kit deportivo M, con elementos aerodinámicos M, suspensión más firme, carta de colores exclusivos para la carrocería, asientos deportivos… También el acabado xLine permite elegir entre llantas de aleación exclusivas de 18 ó 19 pulgadas, inserciones decorativas especiales y todo tipo de caprichos a los que BMW acostumbra a sus clientes.
BMW X4 2017: motores
El BMW X4 2017 o Sports Activity Coupé, se oferta en 3 motores de gasolina y 3 diésel. Todos ellos van equipados de serie con la transmisión automática Steptronic de 8 velocidades, exceptuando el xDrive20d que puede montar una caja de cambios manual. Ni que decir tiene que todos sus motores pasan la restrictiva norma EuroVI.
La oferta de potencia en gasolina pasa por los 186 CV del xDrive20i, los 245 CV del xDrive28i y los 306 CV del xDrive35i. En el caso de los motores diésel, tenemos los 190 CV del xDrive20d, 258 CV del xDrive30d y los 313 CV del xDrive35d. Destacar que el potente motor xDrive35d capaz de rozar los 247 km/h, cuenta con el sistema Launch Cotrol para acelerar de 0 a 100 km/h en 5,2 segundos.
BMW X4 2017: equipamiento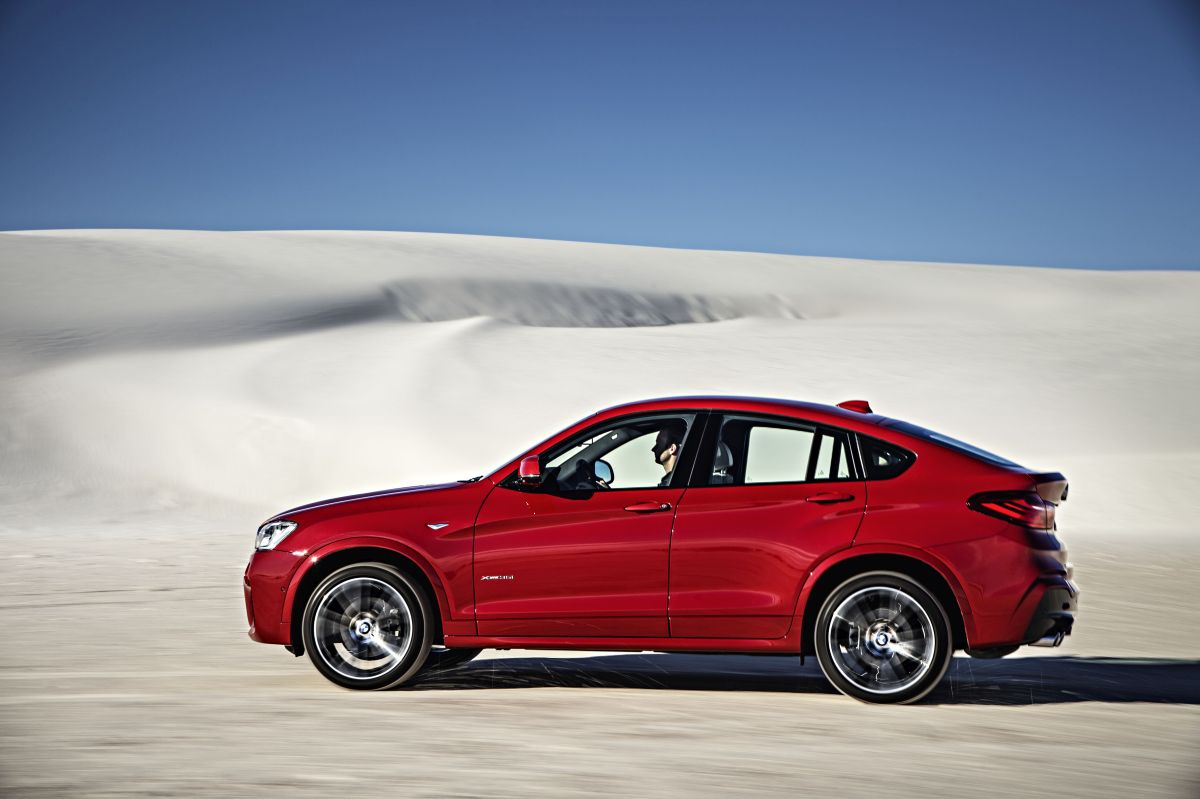 La equipación BMW Connected Drive permite disponer del Head Up Display o bien el navegador Professional con mando táctil y rutas ECO PRO. Avances tecnológicos como la función antideslumbramiento de las luces de carretera, la de frenado automático en ciudad, la función Stop and Go en ciudad, o la advertencia de cambio involuntario de carril, están disponibles en el BMW X4 2017.
Como opcionales también se dispone del asistente de aparcamiento y los servicios ConnectedDrive que se activan con la colocación de una tarjeta SIM en el vehículo. Permiten el acceso a las aplicaciones de móviles y al Concierge Service, un centro de llamadas de BMW que permite desde buscar una farmacia de guardia, hasta reservar mesa en un restaurante.
Destacar también que aunque en 2015 ya era obligatorio instalar el sistema de emergencia automática en los coches nuevos, en 2014 el X4 ya lo incluía. Un sistema que se activa cuando se accionan los airbags tras un impacto y que envía automáticamente un aviso a los servicios de emergencias de la zona.
Tout est dans le plaisir de conduite
Sous le capot, il a droit à un nouveau moteur qui a fait son apparition initialement à bord de la petite BMW M2, soit un six cylindres biturbo de 3,0 litres qui développe 355 chevaux et 343 lb-pi. Cette puissance le place en ligne avec ce que déploient les Mercedes-AMG GLC 43 (362 chevaux) et Audi SQ5 (354 chevaux). Seul le Porsche Macan Turbo peut se vanter d'en libérer beaucoup plus avec ses 400 chevaux. Quoi qu'il en soit, le X4 M40i est demeuré rapide, lui qui boucle le 0-100 km/h en environ 4,9 secondes. C'est le couple du moteur disponible instantanément qui surprend!
Au volant, on apprécie immédiatement le plaisir de conduite qui se dégage du véhicule. Les ingénieurs ont raffermi la suspension et ajouté des barres stabilisatrices, ce qui cloue littéralement le véhicule au sol en virage. Jumelé à une hauteur réduite et à des pneus larges, on a davantage l'impression de conduire une voiture sport qu'un VUS. Le comportement du rouage intégral a aussi été modifié pour renforcer cet effet. En condition normale, plus de couple est acheminé aux roues arrière afin de maximiser les performances. Il faut pousser un peu plus le véhicule pour être en mesure d'apprécier toutes ses capacités.
Bien entendu, le prix du BMW X4 M40i 2017 n'est pas à la portée de tous. Si jamais vous n'aimez que le style de cette version M et que les performances supérieures vous semblent inutiles, on vous conseille fortement de vous rabattre sur la version xDrive28i et de l'équiper de l'ensemble M.