BMW M3 CS 2018: самая мощная «тройка» за всю историю модели
BMW M3 CS 2018: самая мощная «тройка» за всю историю модели
Обзор BMW M3 CS 2018: экстерьер машины, внутреннее убранство, техническая начинка, безопасность, комплектации и стоимость. В конце статьи — видео-обзор БМВ M3 CS 2018 года!
Содержание обзора:
Внешний вид
Салон
Характеристики BMW M3 CS 2018
Системы безопасности
Стоимость и комплектации БМВ M3 CS 2018 года
Видео
Осенью 2017 года немецкий автоконцерн BMW преподнёс настоящий сюрприз поклонникам М-серии, представив самую мощную модификацию из когда-либо выпускавшихся седанов М3, получившую приставку «CS» в названии. Новинка располагается на одну ступень выше от специальной версии M3 Competition, славящейся мощнейшим 450-сильным мотором, большим количеством инновационных решений и максимально спортивным характером.
В сравнении с обычной М3 версия CS получила целый ворох визуальных доработок экстерьера, улучшенный интерьер и более богатое оснащение, а также модернизированную техническую начинку. Чтобы стать обладателем новой BMW M3 CS, необходимо обладать не только внушительной денежной суммой, но и чуточкой везения, так как всего будет выпущено лишь 1200 экземпляров модели.
Архитектура и дизайн кузова
Главной «фишкой» М3 в исполнении CS является широкое использование углепластика в конструкции кузова. Из этого легкого и прочного материала изготовлены крыша, капот, сплиттер и диффузор. Также из армированного углеродным волокном пластика выполнен аэродинамический выступ на крышке багажника, играющий роль спойлера. Благодаря высокой доле композитов в общей структуре кузова автомобиль удалось сделать гораздо более легким. Так, в снаряженном состоянии (без водителя) машина весит 1585 кг, тогда как классическая «эмка» показывает на весах минимум 1635 кг, т.е. выигрыш составил порядка 50 кг.

Фото БМВ М3 CS 2018-2019
Внешне быстрейшая из семейства М3 модель отличается более агрессивным обвесом с особой трехсекционной конфигурацией передних воздухозаборников, острым «лезвием» сплиттера и спортивным диффузором от BMW M4 GTS. Большие вырезы на бампере способствуют лучшему охлаждению силового агрегата и тормозных механизмов колес. Сплиттер и диффузор вкупе со спойлером спроектированы таким образом, чтобы оптимизировать движение воздушных потоков и обеспечить необходимую прижимную силу. Двухпоточная выхлопная система заканчивается двумя парами круглых насадок, придающих автомобилю спортивный вид.

Корма «цэ-эски»
Помимо всех вышеперечисленных нюансов внешнего декора новый BMW M3 CS можно будет узнать по эксклюзивному дизайну колесных дисков, выполненных в стилистике Orbit Grey Matt. Щеголяющие пятью парами тонких спиц диски имеют спереди размерность 9Jx19, сзади – 10Jx20. Седан стандартно комплектуется резиной Michelin Pilot Super Sport: на передней оси устанавливаются шины 265/35 R19, на задней – 285/30 R20.
Цветовая гамма кузовных эмалей новинки БМВ включает пять оттенков – Alpine White (базовый вариант окраса), Lime Rock Grey Metallic, San Marino Blue Metallic, Black Sapphire Metallic, Frozen Dark Blue II Metallic.
BMW M3 CS 2018 Review
The M3 left too many people whelmed: good without the greatness that sparked its predecessors. Then the upgrades rolled in, like the Performance Pack and the Competition and each time it felt sharper. Now the CS is as sharp as it's ever going to get in this body shape, with more power, (a bit) less weight, Michelin Cup tyres and aero tweaks. And it all works.
The benchmark
There was a time when the BMW M3 was the entire world's go-to junior sports sedan. No other car-maker consistently made fast, small-to-middling sedans in the M3's early generations and nobody ever did it as well.
And then the V8 came and the M3 was never the same again, losing its delicious poise in favour of muscle and manufacturing convenience. It returned to its sixiness in the current generation, but never quite regained the delicacy. Instead, it became a junior grand tourer.
M knew all of this. It countered by making the M3 faster with the Performance Package, then faster again with the Competition Package and now with the CS it's as fast as the road versions are ever going to get.
Only 1200 of these suckers will be built (with Australia's cars being knocked together next month), and they'll be a hoot — albeit a hoot at $179,900, which is $10,000 less than the M4 CS Coupe but a full $50,000 upstream of the M3 Pure.
What's new?
By far the biggest gain in straight-up lap and cornering performance comes from the standard Michelin Pilot Sport Cup 2 rubber. They are wilfully; gloriously sticky things and they're even reasonable in the rain – at least until the rain gets heavy.
But bolting on sticky rubber and calling the resulting car a new model would be a bit cheeky. So there's more.
The 3.0-litre twin-turbocharged straight six has been massaged again, now pumping out 7kW and 50Nm more than the Competition Package, so it's probably just as well they've stopped building the standard version.
The Competition Package itself brought the power up by 14kW, but now the CS pumps that out to 338kW of power at 6250 (though it revs out to 7600rpm in all but first gear).
It adds 50Nm to the Competition's 550Nm of torque, too, with 600Nm on tap from 4000 to an oddly specific 5380rpm.
Then there are other important additions, like the 280km/h top speed that comes with the M Driver's Package, the wider performance range of the adaptive M suspension, the active M differential and a CFRP bonnet to go with the exposed carbon-fibre roof.
M has ditched the centre console and armrest inside, leaving only a lone USB plug behind the handbrake lever, then fitted lighter, heavily contoured front seats.
Does it work?
It's all enough to haul the CS to 100km/h in 3.9 seconds, which is only a tenth quicker than the Competition, but the real strength of the upgraded engine lies in the way it helps through and out of corners.
It's deeper and rumblier than you'd assume, too. There's a sharp crack on start-up, then it settles into an idle that sounds lumpy while not feeling it.
It always starts in its Efficient mode (probably how they get away with an NEDC figure of 8.5L/100km), yet the engine note still has enough menace to be a front-and-centre highlight at kick off.
In Sport or Sport +, it's a whole 'nother world, dripping aggression, popping and crackling at every blip of the throttle.
It runs the Sports exhaust system as standard equipment, with the engine's spent efforts emerging out of four exhaust tips beneath a bootlid-mounted, carbon-fibre spoiler that looks like it's been swiped off an Alfa Romeo Giulia QV.
For all that, though, the CS isn't all about its engine, even if its on-paper specifications suggest it should be. It's all magnesium sump this, variable-geometry-turbocharger that, forged crankshaft here, closed-deck crankcase there, but all you really need to know is that it's high-tech and it works enthusiastically.
For sure, it's always there and it's always ready to attack, especially once it has crossed the 4000rpm threshold.
It's one of those cars with a performance band so wide that it's almost always better to short-shift it into a taller gear if you're approaching a tricky bend or one with bumps in it or lumps across it.
Multimodal
More Research
BMW M3 Pricing & Specs
Read what BMW M3 owners think
Read more BMW M3 news & reviews
It has three modes to its powertrain's operating tune, and another three for the steering and the suspension, though they forego the 'Efficient' tag in favour of 'Comfort'.
As usual, Sport + should be used for tracks only, or super-smooth roads. It's too hard and too aggressive for real-world driving, especially the damper tune, and it's only ever going to give its best on a closed circuit.
Even then, the car will be faster and handle better with the dampers in Sport mode and most of the time on public roads it will be more stable and give its best with the dampers in Comfort mode.
It feels a bit floatier and slower to respond to the helm, but it will carry more mid-corner speed, more assuredly. Only on the high-speed autobahn, at well beyond 250km/h, did it feel more secure in Sport mode.
We did some track time in the car at an airfield near Munich and even there it was clearly a better car in Sport rather than Sport +, which remains the impress-the-neighbours enigma it has always been.
The main reason for that is that it's just too hard, giving the Cup tyres less opportunity to bite the road in the way they love and giving the distinct feeling that it's skipping over bumps that both Sport rides over and Comfort just oozes across.
Its ride quality in Comfort mode is about average for a mid-size sedan, which is a shock given the forged alloys at both ends and the 265/35 R19 front and 285/30 R20 rear rubber.
It all comes together in an altogether more coherent way than any other M3 in this generation, too.
Perhaps the biggest upgrade to help drivers feel secure and confident has been the huge step forward in rear-end stability at high speed, whether over bumps or direction changes or both.
No longer does it feel like the rear bodywork is climbing up, then over, then across and then down. Instead, it feels planted, flat and calm, with just enough action from the rear tyres to thwart understeer and not enough to pucker the privates.
To do all this, M's suspenioneering folk insist, there hasn't been any changes in the spring, damper or bush rates at all and none of the geometry from the forged alloy links have changed, either.
They insist it's all been done with fine-tuning of the skid-control software, which is astonishing evidence for how far that technology has come. The improvement squeegies out the last iffy piece of handling from the M3, leaving you with a confident, poised and cheery companion.
It's now happy with you if you want to cruise, drive briskly or hammer on a track and its core handling character doesn't change as you switch between them.
At the tiller
The steering system's weighting ranges between relatively heavy and really heavy (Sport +), but it's always accurate and always fast to react.
The only real issue is that M's steering wheel rims seem to grow fatter and fatter with each passing generation and now the M3's wheel feels like you're holding on to a circular, leather-coated Coke can.
It's happy to cruise along in traffic, with the seven-speed dual-clutch transmission susceptible to awkward clunking downshifts only in the two sportier modes. Otherwise, it masquerades as well as an automatic as the rest of the car masquerades at being a street car.
It's when the roads bend that the M3 CS comes into its own and now, happily, it adds fast-bend security to its resume. And it's a burgeoning resume.
It whips into bends with brilliantly strong (optional) carbon-ceramic front brakes and a firm, high pedal, then through them thanks to the tyres, largely, and out of them again with kudos to the differential and the DSC.
It all feels balanced in a way that it wasn't before, and agile in a way that belies the 1585kg dry weight. And that engine just punches and punches and just when you think you're on top of all of its tricks, you find launch control and it punches even harder.
The beauty of the chassis set-up on these tyres is that it's avoided the trap of delivering stratospheric mid-corner grip levels but forgetting to add manners when all of that runs out. The M3 CS is a doddle to handle at the edge of its abilities, either with the DSC on or off.
The DSC will allow more liberties with slight drifts into, through and out of corners than it did before, but it will avoid giving you snappy danger zones with the whole thing switched off.
It will just let the heavy steering go lighter to warn you of impending understeer and oversteer is easily controlled via that fat torque curve and the pretty-good throttle response from the turbo motor.
It is better when it's being utterly attacked and hurled at the corners, too, with more accuracy from the entire car, rather than just more bite, and it's incredibly forgiving when you push too hard.
The seats don't have any trouble arresting their occupants during all of this carryon (at least, not the front ones) and the interior is partly surprisingly comfortable and partly obviously stripped out (especially that centre console).
The stock package will include a two-tone leather and Alcantara mix, a Harman Kardon sound system, Navigation Professional for the sat-nav and climate control.
But is it really worth all that money compared to a standard M3 Pure? When you're pushing through quick bends and revelling in the stability, you almost have to think that, yes, it just might be.
How much is the 2018 BMW M3 CS?
Price: $179,900 (plus on-road costs)
Engines: 3.0-litre twin-turbo inline six
Output: 338kW/600Nm
Transmission: Seven-speed dual-clutch
Fuel: 8.5L/100km
CO2: 198g/km
Safety rating: N/A
2018 BMW M3 CS review — price, specs and release date
Priced from £86,425 On sale Now
There's a feeling, isn't there? The reaction to an intangible 'something' that sets every follicle on your head all of a quiver when, for example, you hear someone playing an instrument or acting in a film, and what you're absorbing transcends simple technical perfection; you're connected, wholeheartedly, to a stirring, magical performance.
Arguably, the latest-generation M3 has never done that. No one with an intellect would imply it wasn't bonkers-fast in a straight line, or stonkingly rapid around a track, but a fair few have suggested it lacks theatre – the X-factor, that 'something' required to move you from respecting it to loving it indiscriminately. The way you might feel about, let's say, an Alfa Romeo Giulia Quadrifoglio.
Yet this M3 is different. It's the M3 CS, or Club Sport version, and the last hurrah before the curtain descends finally on the current M3 – something that is happening prematurely, because BMW has decided not to re-engineer it to meet new, tougher WLTP emissions rules.
So, what's different? Well, we've already had the M3 Competition Pack, which has 444bhp, compared with the standard M3's 425bhp, along with lightweight components and rejigged suspension. The CS takes that formula and milks it to the max, with a power hike to 454bhp (and a little more torque to boot), plus more weight saving, courtesy of carbonfibre-reinforced plastic panels replacing the standard steel bonnet and roof.
You also get lightweight, forged alloy wheels – 19in at the front and 20in at the rear – shod with sticky Michelin Pilot Sport Cup 2 tyres that should grip like billy-oh in the dry. Alternatively, you can swap these for Pilot Super Sports, which offer better wet-weather grip for anyone intent on using their shiny new CS all year round.
2018 BMW M3 CS on the road
Without wishing to spoil the suspense, the M3 CS has that 'something' element licked. Finally, the current-generation M3 has found the sweet spot that lifts it from technically great to "Oh my God, I want one".
It's not that the engine upgrades make it feel a heck of a lot quicker than the other versions, although it is rapid; 0-62mph in a claimed but believable 3.9sec and a climactic 174mph would seem to vouch for that. And it revs zealously for a turbocharged motor; the surge starts from 2000rpm, but as the rev counter's needle strikes 3000rpm it's really into its stride, and there's no let-up until it bangs enthusiastically into its 7600rpm limiter.
But more significant than all of that is how the CS sounds. Sure, it's no thundering Mercedes-AMG C 63 S, but at last there's a current M3 that sounds good. You see, when this M3 was launched, BMW was worried that, being turbocharged, it would sound like a muted trumpet and elected to enhance the engine's note with a contrived straight six jingle, played in via the stereo speakers.
But that's like turning up to the Albert Hall expecting to the hear the London Symphony Orchestra rendering sweetly some Gershwin, only to find the band has been replaced by some fella with an amplified Casio synth. It's hardly what you dreamed of when paying good money for a proper performance car that's meant to come with a tuneful, petrol-powered wind instrument of its own.
Now, the CS's sound is still boosted by faux tones rumbling through its sound system, but now it's harder to tell how much of the overall ensemble is made up by that, or its new sports exhaust. But who cares, because the result is a discernible straight six yowl that at least sounds authentic enough to raise a smile and a tingling follicle or three.
Then there's the way the CS steers. The ludicrous girth of its M Sport steering wheel rim aside, the Alcantara encircling the wheel feels delightful to paw and the gubbins to which it's bolted have been honed to feel wonderfully natural through corners. It's not as quick off-centre as the Giulia's steering and still doesn't tinkle little messages through the rim like other focused machines do – the Porsche 911 GT3 being the most obvious example – but now there's a progressiveness to its weighting and an eagerness on turn in that's absent from lesser M3s. It means you trust it more, so you swoop-swoop the CS left and right with the dexterity of a downhill skier.
In the balmy heat of summer, the CS's sticky tyres grip like a frightened toddler, too, which results in you carrying serious speed. And on the way out of bends, the rears cope with an awful lot of the engine's muscular potential before they let go and start to slide. That's assuming you've switched the stability control into either M Dynamic Mode, which allows a little slide before nannying, or turned it off completely.
In the edgier standard M3, at the start of any slide with all its systems turned off, you'd have tensed up immediately, wondering which portion of the nearest hedge you were about to enter through, probably backwards. But in the CS, the slides happen at a beautifully controllable rate, so if you're looking for a playful yet easy-to-master track car, this is it.
Remember back at the start, when we mentioned all those lightweight carbonfibre-reinforced plastic panels? According to the information supplied to us by BMW, the CS actually weighs more than the standard M3, but we're told that's because of the extra kit it comes with as standard. Hmm, a lightweight special that weighs more than the regular car… make of that what you will.
What we do know is that the optional (lighter and more heat-resistant) carbon-ceramic brakes bite assuredly and, if you put the tweaked adaptive dampers into Sport mode, they take out the excess body movements over dips and crests that you get in Comfort. That provides you with a car that breathes with the surface to keep the rear tyres in better contact with the road, and it will dispatch challenging back roads without breaking a sweat.
It's relatively comfortable, too – firm, yes, but better than you might expect for such a focused machine. Even wind and road noise – despite the huge tyres – are perfectly acceptable on motorways.
2018 BMW M3 CS interior
There's little to report beyond the standard car, which you can read all about by clicking here. That said, the electrically operated bucket seats that come with the CS can be made to fit you like a glove, in part thanks to their adjustable side bolsters.
The decision to remove the standard centre console, complete with its useful cubbies and comfortable armrest, is an odd one, though. Instead of getting rid of it entirely, which might have saved some weight, it's been replace by an Alcantara-trimmed moulding that surely can't have any tangible benefit but means you don't have anywhere to rest your arm comfortably on a long trip.
To match its exulted position, the CS looks even shoutier, with an aerodynamic snout in its bonnet and a carbonfibre front splitter, boot spoiler and rear diffuser, to go with the standard car's flared wheel arches. And the upgraded equipment means this is certainly no stripped-back track day special; adaptive LED headlights, climate control, a Harman Kardon stereo and BMW's top-spec Professional navigation system are all included.
2018 BMW M3 CS First Drive Review | Love, at last
More Photos
Vehicles most likely to hit 300,000 miles
Cars most likely to have major powertrain problems
Top 10 brands with the lowest average repair cost to fix a check engine light
Top 10 brands least likely to flash a check engine light
The least reliable cars in America
The Best New Car Deals: October 2020
MUNICH, Germany — New M3s were always a calendar highlight, but when the current generation debuted it didn't quite measure up to (admittedly very high) expectations. M has spent the years since 2015 making the M3 sharper. The first try was a Performance Package, then a Competition Package and now, finally, the new M3 CS. It's as if they've spent three years trying to bring the M3 back to where it should have always been, and charging extra for it.
The engineering is formidable, with features such as a magnesium sump, a forged crankshaft, two variable-geometry turbochargers, and a closed-deck crankcase, but it carries it all lightly. All you need to know is that it's high tech and it works enthusiastically, but it's not the CS's highlight. It's the chassis. One of the M3's biggest shortcomings was the lofty feeling of its rear roll center. That's gone.
It's only 66 pounds lighter than the M3 Competition Package, and part of that is the loss of the entire center console cubby to save every available ounce. Sure, there's a carbon-fiber roof, and its CFRP hood is 25 percent lighter than the metal one, but the car still weighs 3,494 pounds. Inside, the center cubby's departure leaves the interior looking a bit disjointed, stranding a lone USB plug behind the handbrake lever. The heavily contoured front seats work brilliantly, with a two-tone leather and Alcantara mix, while there's also a Harman Kardon sound system, Navigation Professional and climate control.
There are aero fiddles, too, with a bigger front splitter that smells like speed-hump bait and a trunklid spoiler that looks suspiciously as if it was swiped off an Alfa Romeo Giulia Quadrifoglio. But the biggest leap in sheer speed comes from a set of Michelin Pilot Sport Cup 2 tires that are progressive and easily manageable, as well as being Super Glue sticky.
There's more. It scores toys such as an active M differential, the adaptive M suspension and a Sports exhaust, all to help with the pieces of road between the braking point of a corner and the next straight bit. Its three-stage dampers work best in Comfort mode on the road or in Sport if the blacktop is super smooth (and almost never in Sport+ mode, which is so comically hard it could crack diamonds). There is a separate adjustment switch for the steering, and it, too, has two good modes (Sport and Sport+) and one you'll want to skip past every time (Comfort).
In sum, the CS is an M3 that likes to play. We smacked it up to its speed limiter on the Autobahn, hurled it around a couple of slalom tracks, ripped around a two-mile track and basically just threw it everywhere. And that's a major difference from even the Competition Package: Not only can you throw it in to corners instead of always caressing it, but the car will like it. No previous version of this M3 is as coherent.
It has exquisite balance, and responds accurately and quickly to steering inputs. Its performance envelope accommodates both gentle and heavy-handed drivers, and gives them similar point-to-point speed, no frights, and lets them gorge on giggles. It ripped to the speed limiter on the Autobahn without a trace of instability, even under heavy braking, and shone with all three adjustable modes in Sport.
On backroads, though, the car was undoubtedly quicker and calmer with the damping in Comfort mode, where it kept the rubber on the road longer, though it felt sharper in Sport. Its ride quality is a bit of a shock, too, and isn't much firmer than a standard 3 Series despite running on forged alloys and 265/35 R19 front and 285/30 R20 rear tires.
The biggest jump forward is its high-speed stability, especially direction changes in the seven-speed dual-clutch's top three gears. The stock model could feel a bit tiptoed at the rear, but the CS sits flatter and feels lower, whipping through with a balance that allows quick drivers to lean on the tail or the nose without puckered privates. It came as a shock when M's suspenioneers insisted they had only tweaked the skid-control software and the hardware was untouched. The coding tweak squeegies out the last iffy piece of handling from the M3, leaving a confident, poised and cheerful companion.
It is at its best when it's being utterly hurled at corners, as more energy equals more accuracy. It's a lot more than just more bite from the tires, and it even has the good manners to be incredibly forgiving when you push too hard. The steering ranges between relatively heavy and really heavy (Sport+), but it's always accurate and always fast, though the wheel is now so fat it feels like gripping a pair of Coke cans.
The optional carbon-ceramic brake rotors make a quick car even quicker by taking advantage of the added grip of the Michelins, though it can still be caught out over bumps that unweight the tires. The beauty of it is that the CS feels balanced in a way that the M3 wasn't before, and agile in a way that feels like a slightly larger M2. All the while, as the chassis' cornering muscle is trying to pull your head off your neck, that engine keeps punching and howling and then, when you think you've got it covered, you find launch control and it punches even harder. There's enormous depth and range to its vocals, too, and where the old M3 sixes howled and screamed to their rev limits, the CS maintains its manliness all the way to 7,600 rpm.
M quotes a 0-to-62-mph time of 3.9 seconds and a 174-mph top speed, with another 10 horsepower (up to 453 horsepower) and 37 added pound-feet of twist (now 443 lb-ft) over the Competition Package. For added impressiveness, that's up 28 hp over the stock M3. The straight-six always starts in its Efficient mode (instead of Sport or Sport +), so there's a subdued menace to its daily greeting. The four-pipe exhaust leaps to a more in-your-face threat in its harder modes, filled with a deeper growl, cracks and burbles, and it snarls at every flick of the gas.
The engine's secret weapon is its torque. The M3 CS can blast to the limiter in a straight line, but it is hugely impressive when it's short-shifted on the wheel-mounted paddles controlling the seven-speed M Double Clutch Transmission (the only available transmission, for better or worse), letting you keep your foot in it even over bigger bumps. It's got the mid-range gristle to be just as fast out of corners as if you'd been at 7,000 rpm. It's one for the M3 fans, for sure, and it's finally an F80 M3 you could properly love and live with every day, even with its ridiculous pace.
There will only be 1,200 of them sold worldwide, and Europe's share is almost sold out already. The U.S. scores the lion's share, but M won't build our 550 cars until June, so don't expect to see the $97,000 sports sedan on a corner anytime soon.
Related Video:
Featured Gallery 2018 BMW M3 CS
BMW
First Drives
First Ride
Performance
first drive
m3 cs
Autoblog accepts vehicle loans from auto manufacturers with a tank of gas and sometimes insurance for the purpose of evaluation and editorial content. Like most of the auto news industry, we also sometimes accept travel, lodging and event access for vehicle drive and news coverage opportunities. Our opinions and criticism remain our own — we do not accept sponsored editorial.
New BMW M3 CS 2017 revealed in pictures
Among some of the car's the standard features are automatic climate control a Harmon Kardon surround sound system and Navigation system professional.
The car's styling is also reflective of the upgraded sporting credentials.
It has twin LED headlights, large three-section air intakes, Gurney lip spoiler, front splitter and rear diffuser, which have all been redesigned for the M3 CS.
In addition to this, the bonnet features scoop to improve aerodynamics and air intake.
The M3 CS is based on the Competition but is produced in limited numbers
The special-edition model – which will be limited to a run of approximately 1,200 units due to production factors – will be built from March 2018.
Orders for the new BMW M3 CS can be placed from January 2018.
Prices for the car are £86,630, which does pose a conundrum for buyers.
It is around £25,000 more expensive than the M3 Competition edition and only slightly quicker and slightly modified styling.
Therefore you are paying a premium for the car's rarity and exclusive badge — but is that worth £25,000?
BMW présente la M3 CS, une version radicalisée de sa célèbre M3. Esthétiquement, cette version se démarque par un bouclier avant percé d'entrées d'air plus larges, d'un diffuseur arrière, de jantes en alliage spécifiques (19 pouces à l'avant, 20 pouces à l'arrière) chaussées de pneus Michelin Pilot Sport Cup 2, ou encore d'étriers de frein jaunes avec étriers à quatre pistons à l'avant et deux pistons à l'arrière.
Par rapport à une M3 classique, cette M3 CS a perdu 50 kg sur la balance (soit 1 500 kg à vide) grâce à l'emploi de carbone sur le toit, le capot moteur, le diffuseur et le petit spoiler qui surmonte la malle arrière.
A bord, la M3 CS reçoit une sellerie spécifique bicolore, un bouton de démarrage rouge, tandis que le bandeau de planche de bord et le volant M Sport sont habillés d'Alcantara (en option en France).
460 ch pour la BMW M3 CS
Sous le capot, le 6-cylindres 3.0 bi-turbo délivre une puissance de 460 ch, soit 10 ch de plus que la M3 Pack Compétition, ainsi qu'un couple maxi de 600 Nm. Cette cavalerie est envoyée aux roues arrière via une boîte M DCT à double embrayage et 7 rapports (avec palettes au volant).
Selon BMW, la M3 CS passe de 0 à 100 km/h en seulement 3,9 s, soit 0,1 s de mieux que la M3 Pack Compétition. La vitesse maxi est bridée à 280 km/h avec le pack M Driver installé en série sur cette version.
Outre des performances en léger progrès, la M3 CS devrait régaler les oreilles des passagers grâce à la présence d'un échappement spécifique à la sonorité encore plus sportive. BMW annonce également un meilleur comportement sur route et sur circuit grâce à la suspension adaptative M et au différentiel à glissement limité « Active M », tous deux livrés en série.
Prix et date de sortie de la BMW M3 CS
La BMW M3 CS ne sera disponible à la commande qu'à partir de janvier 2018, mais nous connaissons déjà son prix pour le marché français : 113 600 euros, soit 17 000 euros de plus que la M3 Pack Compétition. Un tarif élevé qui ne devrait toutefois pas effrayer la clientèle, d'autant que cette version ne sera vendue qu'à 1 200 exemplaires dans le monde. La production de la M3 CS débutera en mars 2018.
Ride and handling
This is what most people wanting a more thoroughbred M3 are after, and it's safe to say they won't be disappointed.
To drive, it's frankly astonishing. The engine revs all the way up to 7,600rpm and has plenty of power at all rev bands, as well as a spine-tingling engine note. And even once you're up to speed, the ceramic brakes have an immense ability to slow you down.
The Michelin Pilot Sport 2 tyres are also super-sticky, and allow the CS to feel perfectly balanced, while its seven-speed DCT automatic gearbox is a delight and can change gear at an unbelievable rate.
In some of the driver settings you can choose from, though, the steering lacks feel, and while shedding weight from the seats might have aided lightness, they certainly haven't helped when it comes to comfort.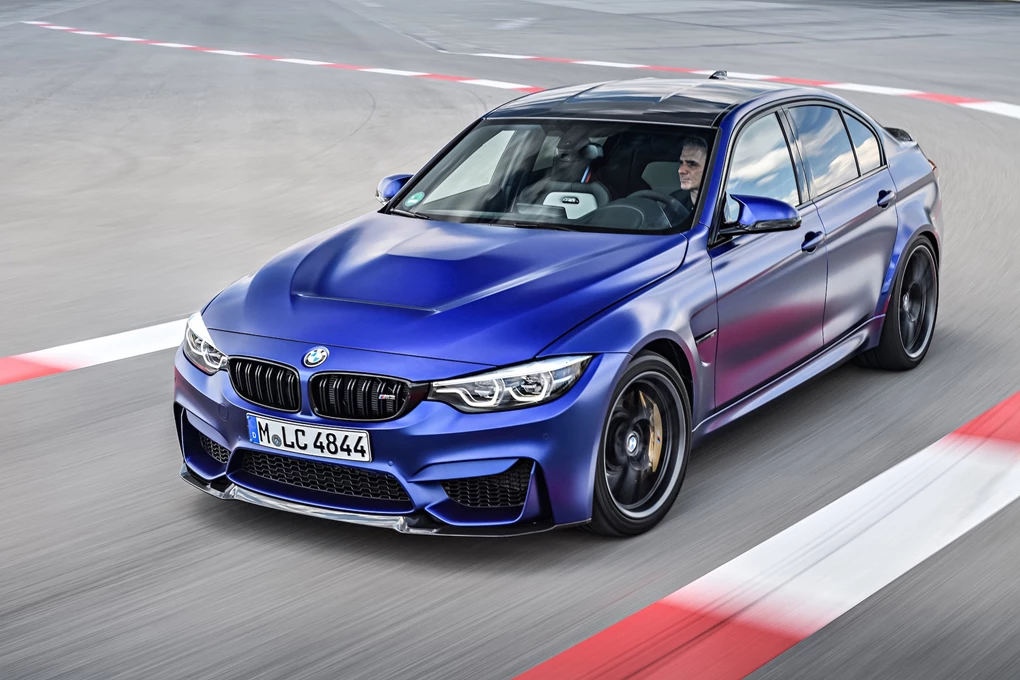 Similar Cars
We'll help you find great deals among the millions of vehicles available nationwide on CarGurus, and we'll provide you with dealer reviews and vehicle history for each one. After all, over 30 million shoppers use CarGurus to find great deals on used cars and new cars in their area. And when it's time to get rid of your old ride, sell your car simply and securely on CarGurus.
Once you're ready to narrow down your search results, go ahead and filter by price, mileage, transmission, trim, days on lot, drivetrain, color, engine, options, and deal ratings. And if you only want to see cars with a single owner, recent price drops, photos, or available financing, our filters can help with that too.