Volvo S60 Cross Country 2016
Volvo S60 Cross Country 2016
Autoshow
News
New Cars
Reviews
Videos
Top List
Guides
21,011 Used Cars
Find a Dealer
Total Cost Of Ownership
Trackworthy
Corporate Privacy Policy
Terms of Use
Accessibility
Newsletter Signup
Signup / Login
Car Compare
Commuting Guidelines
Contact Us
Site Map
SELECT YEAR
SELECT MAKE
SELECT MODEL
SELECT TRIM
ADD VEHICLE
Autoshow
News
Reviews
New Cars
Videos
Top List
Guides
21,011 Used Cars
Find a Dealer
Total Cost Of Ownership
Trackworthy
Corporate Privacy Policy
Terms of Use
Accessibility
Newsletter Signup
Signup / Login
Car Compare
Commuting Guidelines
Contact Us
Site Map
Autoshow
News
Reviews
New Cars
Videos
Top List
Guides
21,011 Used Cars
Find a Dealer
Total Cost Of Ownership
from the Cars.com expert editorial team
While the Cross Country versions of the 2016 Volvo S60 sedan and V60 wagon have higher ground clearance, plus bodywork that suggests off-road capability, their firm suspensions mean they're best-suited for on-pavement driving.
I tested both of these; reviews of the S60 and V60 on which the XC versions are based are also available. The XCs' competitors include all-wheel-drive-only vehicles such as the Subaru Outback and Audi Allroad. Compare them here.
Exterior & Styling
Cross Country models are easily spotted because of their raised height compared with the standard V60 and S60; their 7.9 inches of ground clearance is about 2.5 inches more than conventional models. They also feature skid plates that protect the undercarriage from damage.
The look wears well on the wagon but makes the otherwise well-proportioned S60 look ungainly. Something about the size of the wheels, raised bodywork and general proportions just doesn't look right on that body style.
There are pieces of body cladding on both models that are subtler than previous off-road Volvos, like the XC70. In this way, the XCs manage a more elegant body design than both the previous Volvos and the Outback and Allroad.
How It Drives
Cross Country models are powered by a 250-horsepower, turbocharged 2.5-liter inline-five-cylinder engine matched with a six-speed automatic transmission. The combination is one of the best parts of driving the car.
Engine response is good off the line, and there&#8. Show full review
While the Cross Country versions of the 2016 Volvo S60 sedan and V60 wagon have higher ground clearance, plus bodywork that suggests off-road capability, their firm suspensions mean they're best-suited for on-pavement driving.
I tested both of these; reviews of the S60 and V60 on which the XC versions are based are also available. The XCs' competitors include all-wheel-drive-only vehicles such as the Subaru Outback and Audi Allroad. Compare them here.
Exterior & Styling
Cross Country models are easily spotted because of their raised height compared with the standard V60 and S60; their 7.9 inches of ground clearance is about 2.5 inches more than conventional models. They also feature skid plates that protect the undercarriage from damage.
The look wears well on the wagon but makes the otherwise well-proportioned S60 look ungainly. Something about the size of the wheels, raised bodywork and general proportions just doesn't look right on that body style.
There are pieces of body cladding on both models that are subtler than previous off-road Volvos, like the XC70. In this way, the XCs manage a more elegant body design than both the previous Volvos and the Outback and Allroad.
How It Drives
Cross Country models are powered by a 250-horsepower, turbocharged 2.5-liter inline-five-cylinder engine matched with a six-speed automatic transmission. The combination is one of the best parts of driving the car.
Engine response is good off the line, and there's a sensation that there's a lot of power on reserve if you need it. The XCs move away well from a dead stop, and they're responsive when you need to make a pass on the highway. There's a fair amount of engine noise in the cabin, but the engine sounded really good to me, so I didn't mind.
The other standout positive of the Cross Country models is their steering. It provides a lot of feedback and really feels connected to the road. Those who prefer a lighter steering setup, though, will want to take a test-drive and pay close attention. These Volvos are among the few cars on the market that have too heavy a steering setup for some people.
Engine response and steering feel give you confidence to hustle a Cross Country, and the suspension is firm enough to reward that kind of aggressive driving.
And that's the problem. The XCs ride so firmly that they're just not comfortable on the rough stuff — or even on rough pavement. Put another way, I've driven the Outback in a variety of off-road settings and have always felt as if the suspension were soaking up some of the crap I was driving over and that the car was working to clamber over and through obstacles. The XCs feel so stiff you worry they might snap. Also, the standard wheels are 18-inchers, with 19-inch wheels optional. Here again, if I were going off road I'd want something with a bit more sidewall (to absorb bumps) than an 18- or 19-inch wheel provides.
Conversely, there's no doubt I'd prefer the XCs' overall power and handling if I were facing a long drive on twisting roads. In that setting, the Outback just can't match the Volvos' poise and power.
Both the sedan and wagon get the same EPA-estimated 20/28/23 mpg city/highway/combined. Sticking to combined mileage figures, the Cross Country models trail the Allroad (24 mpg) and four-cylinder Outback (28 mpg), but edge out the V-6 Outback models' 22 mpg.
Interior
If the off-pavement performance of the Volvos is underwhelming, their interiors are a highlight. There's a nice mix of high-quality materials. The leather seating surfaces look and feel good, with plenty of support. Side-bolstering is pronounced, but I didn't find it to be uncomfortable.
Volvo's material choices are consistent with a luxury brand. Cross Country buyers have a choice of metallic, piano black or wood inlays; our test model came with the wood trim. Normally I'm not a fan of this type of trim, regardless of automaker, but in this case Volvo's picked a material with good graining and a nice finish that appears attractive to my eyes.
Further, everything felt good in my hands. What appears to be metal feels like real metal. There's nothing plasticky or shoddy-feeling in the XCs, although one might want to suggest to Volvo that nobody uses a number pad to dial a telephone number anymore, so we might be able to clean up that part of the center console.
Visibility, however, is an area where Cross Country models struggle. There's a sloping windshield pillar that blocks a lot of the road, especially pedestrians. Also, the XCs' sight lines are different from the regular S60 and V60 and I found them harder to park than the conventional models. Both XCs feel like they're much larger cars than they really are, but, weirdly, the sedan was much more affected by this.
Finally, both models were cramped for me, especially in the headroom department. A moonroof is standard in all XCs, which cut into my space compared with the S60 sedan. That car does without the standard moonroof in lower trim levels, providing more than a half-inch more headroom. The specifications say all other seating dimensions and interior volume are the same between regular and Cross Country versions of the S60 and V60.
Whatever the reason, despite the higher ground clearance it sure felt as if my driving position wasn't really any higher than it would have been in many other cars. So the effort Volvo went through to raise the XCs didn't pay off for me, at least as far as my perception went.
Ergonomics & Electronics
This is another area where Cross Country models struggle. Volvo made a lot of odd choices.
For starters, using the tuning button on the stereo requires you to turn the knob to get the system to respond, then turn it more to get it to start changing stations. Then you have to click a button inset in the dial to actually change it to a new station. It's a lot of steps to do something very simple. As nice as the controls feel, it's just too much work.
Also, if you want to go from adjusting radio stations to the navigation settings, you have to make a selection from a ring of buttons around the telephone keypad buttons. It's hard to remember which button is placed where … and even harder to see the buttons at a glance.
Ditto with the climate controls, where Volvo has you change the zones that the air blows out of by pushing a profile of a body. Yes, it's how Volvo's done it for a while. No, that doesn't mean it's good. Simply put, after driving other cars I became aware of how frustrating both the audio and climate controls were in the XCs.
Finally, the Volvo system was the most likely to quit working, either while inputting a destination or while playing music from my phone. That's highly unusual in my experience testing cars, so it bears mentioning.
Cargo & Storage
Cargo space is the single biggest difference between the V60 Cross Country and the S60 Cross Country. It's to be expected that a wagon would offer more room than a sedan, and this is the case. However, the S60 sedan has an almost-unusably small trunk. It's wide from side to side and extends forward from the rear bumper a good amount, but the opening from top to bottom is quite small. I kept fiddling with items in the cargo area in hopes of finding more room because I couldn't believe how small the trunk was.
The V60 Cross Country is better in this respect, offering almost as much volume as the regular V60: There's a maximum of 43.1 cubic feet with the backseat folded, versus 43.8 cubic feet in the regular V60.
Safety
Neither the 2016 S60 nor the V60 Cross Country has been crash-tested by the Insurance Institute for Highway Safety or the National Highway Traffic Safety Administration.
Standard safety features include what Volvo calls City Safety, which is autonomous braking that — at low speeds — applies the brakes to avoid a collision not only with other cars, but also with pedestrians.
Notable safety options are included in a $925 Blind Spot Information System Package, including rear cross-traffic alert, front parking sensors and blind-spot warning lights.
Value in Its Class
In some areas — notably interior quality and driving dynamics — the Cross Country holds up well against the luxury class, and it soundly beats competitors like the Outback. However, its ergonomics and especially its multimedia/electronics systems lag not only direct competitors, but the market as a whole.
While you could say the XCs' competition is the Outback and Allroad, I'm not sure the better comparison isn't between them and the regular S60 and V60 models, both of which are impressive on the road and competitive on price when similarly equipped.
Faced with the choice, I can't see any attributes of the Cross Country models that vault them ahead of their "conventional" siblings. Their increased ride height is offset by their tight headroom, and their driving dynamics and engine response are not superior to the S60 or V60. In short, choosing a Cross Country over another Volvo is a case of picking style over substance.
Fits like a glove
I was impressed at the remarkable level of comfort provided by the S60's seats. Some cars (even some noted luxury manufacturers) are really just not up to par in this department. Not so for Volvo. This was one of the most comfortable vehicles I can remember driving with seats that hug the body perfectly, a shifter that is fun to use and a big fat cushy leather steering wheel.
Being a model nearing the end of its current cycle, I expected some interfaces that were perhaps outdated. The only thing that might be is the overall look of the dash, but I didn't mind it at all. The essentials are still easy to find and operate, and the brushed aluminum is really quite beautiful. I enjoyed every minute behind the wheel, which is high praise considering that the S60 has likely only one more year left before a refresh.
The conservatively styled exterior still wins me over, even when comparing it to newer designs such as those of the Acura TLX and Mercedes-Benz C-Class. Volvo has always managed a certain uniqueness in their designs that I find separates the Swedish brand from all the others. That trend is continuing with the release of the New XC90 SUV and S90 sedan, and I cannot wait to see what they have in store for the next-generation S60.
"The S60 Cross Country isn't for everyone, but the few who sign the dotted line will drive home in one of the most unique cars Volvo has ever built."
Rugged, well-executed styling
Quick off the line
Supremely comfortable seats
Luxurious interior
Dreadful infotainment system
Limited availability
More expensive than many compact crossovers
Today, the term "niche model" is often used to describe a car that's unconventional in one way or another. The BMW X6 is the poster child of the segment; it's neither a crossover nor a coupe so it gets lumped in the niche category. But, it's difficult to ignore that it remains a relatively volume-focused model; BMW sold over 230,000 examples of the first-gen X6 globally.
One of the only true niche cars available in the United States today is the 2016 Volvo S60 Cross Country. Presented earlier this year at the Detroit Motor Show, the Cross Country accurately illustrates the term "niche model" because it's in a class of one and its production is limited to just 500 examples.
What is it?
The Cross Country is essentially a regular S60 that has been crossover-ized. Looking back, the list of cars that follow the same basic recipe as the S60 Cross Country is largely limited to the Subaru Outback sedan and – set your time machine to 1979 – the AMC Eagle. Digging deeper into the pantheon of automotive history reveals that Russia's Moskvitch also experimented with the idea of a tall, four-wheel drive sedan during the 1950s.
Visually, the Cross Country immediately stands out from the S60 thanks to design cues like a model-specific grille with honeycomb inserts, light gray trim on the bottom of both bumpers, black plastic cladding over the wheel arches, new side skirts as well as 18-inch wheels. The alloys are wrapped by tall-profile all-season Continental tires, the kind more commonly found on crossovers and SUVs.
The tall tires are required because the Cross Country also gains an extra 2.6 inches of ground clearance. Volvo increased the ride height the old-fashioned way: by installing taller suspension components. Simply put, the Cross Country is a S60 fitted with a lift kit. I think the rugged, jacked-up look suits the sedan surprisingly well, but maybe that's just me.
By the numbers
In the United States, the S60 Cross Country is exclusively available with a time-tested, turbocharged 2.5-liter five-cylinder engine that generates 250 horsepower at 5,400 rpm and 266 pound-feet of torque from 1,800 to 2,400 rpm. Bolted to a six-speed automatic transmission, the straight-five sends the Cross Country from 0 to 60 mph in a brisk 6.7 seconds.
Essentially a sedan that has been crossover-ized, the Volvo S60 Cross Country is a unicorn in the automotive landscape.
I picked up the example tested at Volvo's headquarters in Gothenburg, Sweden, so I got a Euro-spec model powered by a 2.4-liter straight-five turbodiesel engine that makes 190 hp at 4,000 rpm and a generous 310 lb-ft. of torque from 1,500 to 3,000 rpm. Front-wheel drive cars get a six-speed automatic transmission, but my tester benefited from an eight-speed automatic because it was fitted with the optional all-wheel drive system.
With an oil-burner under the hood, the Cross Country sprints from 0 to 62 mph (100 km/h) in approximately 8.8 seconds, and it goes on to a top speed of 130 mph. Gas mileage checks in at about 40 mpg if you drive with a light right foot.
Family resemblance
As you'd expect, the Cross Country is all but identical to the regular S60 on the inside. That means it boasts Volvo's waterfall center console, which is one of the most elegant and practical designs in the industry. Noticeably tilted towards the driver, the console earns its name because it conceals a generously-sized storage compartment.
Unfortunately, the Cross Country also gets the S60's infotainment system. Dubbed Sensus in Volvo-speak, the software is built around a recessed seven-inch screen and it's controlled by a galaxy's worth of buttons and knobs grouped on a small part of the center console. The setup scores virtually no points for user-friendliness because its learning curve is steeper than the Rocky Mountains. It's also getting increasingly outdated compared to the systems offered by the competition, notably Mercedes-Benz and BMW. The S60 would benefit immensely from a large touch screen like the one that's found in the XC90.
The rest of the interior lives up to Volvo's premium ambitions, the Cross Country feels downright luxurious. The design of the dashboard is refreshingly clean and uncluttered, and the entire cockpit is built with high-quality materials. The instrument cluster is made up of four digital gauges and a thin-film transistor (TFT) screen that can be configured to display a wide variety of data including which driving aids are turned on and trip-specific information.
Behind the wheel
One of the most surprising aspects of the S60 Cross Country is how pleasantly silent it is, especially at freeway speeds. The cabin is remarkably well isolated so road noise and the deep, low rumble of the diesel engine are both kept out. The quietness is complemented by some of the most comfortable front seats on this side of a Mercedes-Benz S-Class, and by the peace of mind that comes with an intuitive adaptive cruise control system capable of bringing the car to a full stop if the need be. Taller adults will feel cramped sitting in the back seats, however.
The chassis is decidedly geared more towards a predictable and sure-footed handling than an enthusiast-friendly driving style.
The Cross Country sprints off the line thanks to diesel's low-end torque, and the automatic transmission goes through the gears instantaneously without the slightest thunk. Although the Cross Country performs well around bends, its chassis is decidedly geared more towards a predictable and sure-footed handling than an enthusiast-friendly driving style. Despite its new stance, body roll is kept in check. The difference between the Cross Country and the S60 is almost imperceptible, but both cars share the same numb and overly assisted steering.
The Cross Country is also more comfortable than the S60 – whose ride is rather firm – thanks to the suspension upgrades and the bigger tires. The difference is more pronounced when driving over dirt roads or streets paved with cobblestones. The four-wheel drive system provides an adequate amount of grip on loose surfaces such as gravel, but I wasn't able to test it on snow or in the rain.
Drivers coming from a crossover or a SUV will find that the Cross Country is easy to maneuver around town because it offers a vantage point that's higher than that of a regular sedan but it's not anywhere near as bulky as tall soft-roaders like Volvo's own XC60. Rear visibility isn't excellent, but parking sensors on both ends and a rear-view camera partially make up for that.
Conclusion
The DT Accessory Pack
Up your game with these accessories, hand picked by DT editors:
All-weather floor mats keep the interior clean when the going gets tough.
Carry more gear on your off-road adventures.
"What's it look like up there?" A picture is worth a thousand words.
For the average new car buyer, the segment-bending $43,500 Cross Country isn't worth the premium it carries over a regular S60 sedan. However, it makes complete sense for folks who live at the far end of a dirt road, or motorists who go off the beaten path on a regular basis. I'm looking at you, biologists.
An oddball in the best possible way, the Cross Country is in a class of its own but it nonetheless faces stiff competition from Volvo's own V60 Cross Country and from countless premium compact crossovers. While it's well equipped, it's also more expensive and less spacious than both the V60 and the XC60, which means it's aimed at a very small target audience that values a sedan body style above all. Forget the X6, the CLS, and the CC, the S60 Cross Country is the perfect example of what a niche model really is.
Volvo knows what, which is why only 500 examples of the 2016 S60 Cross Country have been earmarked for the United States market. The few that sign the dotted line will drive home in what is unquestionably the most unique Volvo built in recent memory.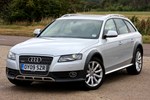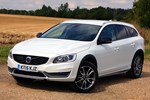 Introduction
Practicality
Interior
Running costs
Engines
Verdict
Photos (23)
Written by Graeme Lambert on 06 June 2019
This slightly ungainly looking contraption is the Volvo S60 Cross Country – a jacked-up version of the firm's popular mid-sized saloon.
Read about the 2018 Volvo S60 Saloon
It shares much of its architecture with the Volvo V60 Cross Country, which in turn shares many parts with the conventional Volvo S60 and Volvo V60. Read on for the full Volvo S60 Cross Country review to see how it differs from the standard Volvo S60
Volvo S60 with off road capability
The idea is to take a standard car and give it the ability to stray from the tarmac road. Volvo has history of doing this sort of thing and the idea harks right back to the V70 in '97.
That's when the company gave its large estate the first ever Cross Country makeover. That model continues today in the shape of the Volvo XC70
Two engines on offer
Effectively, this is an S60 saloon with a 65mm higher ride height and the choice of either front- or four-wheel drive. The former comes with Volvo's D4 diesel engine, which makes 188bhp and the latter from the firm's 2.4-litre, five-cylinder diesel. In this case it's also badged 'D4'.
As standard it comes with 18-inch wheels and rides on slightly firmer, but still perfectly comfortable, suspension.
Economy ranges from 49.6mpg for the five-cylinder automatic with four-wheel drive to 67.3mpg for the front-wheel drive manual car with the four-cylinder diesel engine, with emissions ranging from 111-149g/km
Packed with safety features
The Volvo brand is synonymous with safety so the Volvo S60 Cross Country is packed with safety features. Some are available either as standard or optional extras including lane-keeping assist, blind spot monitoring, low-speed automatic braking and adaptive cruise control.
There's just one trim level – Lux – which means it's comprehensively equipped. As standard it comes with leather seats — the driver's electrically adjustable – along with 18-inch alloy wheels, Active Bending Xenon headlights and is available in two new colours – Twilight Bronze and Rich Java.
Available now, read the rest of the Parkers Volvo S60 Cross Country review to find out how it stacks up against its rivals.
2016 Volvo S60 Cross Country Safety
The 2016 Volvo S60 Cross Country features Hill Descent Control, which uses the vehicle's brakes and engine torque to aid its drivers when navigating down steep inclines. The 2016 Volvo S60 Cross Country also comes standard with City Safety technology that helps to prevent and mitigate collisions, which is done by using a closing velocity sensor to help determine if an accident is likely. If the technology senses an impending crash–at speeds of 31 mph or less–it can automatically pre-charge or apply the brakes to help avoid or mitigate an accident.
Standard Safety Features
Hill Descent Control
City Safety
IntelliSafe
Dynamic Stability and Traction Control (DSTC)
Corner Traction Control by Torque Vectoring
Pedestrian and Cyclist Detection with Full Auto Brake
Adaptive Cruise Control with Queue Assist
Distance Alert
Driver Alert Control
Lane Departure Warning
[/wptab]
The News Wheel is a digital auto magazine providing readers with a fresh perspective on the latest car news. We're located in the heart of America (Dayton, Ohio) and our goal is to deliver an entertaining and informative perspective on what's trending in the automotive world. See more articles from The News Wheel.
You may also like
Australia doesn't get the 184kW/361Nm turbocharged petrol five-cylinder version we've sampled overseas last year, but instead features a one-engine-fits-all-trim-levels 2.4-litre twin-turbo diesel five producing 140kW and 420Nm. This cylinder count plus four-wheel drive separates the soft-roading CC haves from the 2.0-litre turbo-diesel front-drive V60 wagon have-nots, more of which is explained further in our pricing and specifications story.
Speaking of which, our V60 CC D4 Luxury (as it's officially called) test car is fitted with the $4000 cost-optional Driver Support Package, which adds a host of active safety and convenience features — and lifts its price from an un-optioned $63,375 list price to $67,375 before on-road costs. That's serious coin for a mid-sized, jacked-up wagon. Particularly when, at just $35,490, there's a diesel Outback available with both similar mid-sizing and all-weather aspiration to the V60 CC. (However, the caveat here is that even the pricier $41,490 Outback 2.0D Premium lacks the option of Subaru's clever EyeSight active safety tech that our as-tested Volvo comprehensively counters). A chunk of the investment, it would seem, goes towards that Cross Country badge.
Perhaps in a more realistic cross-shopping context, once Euro cache weighs in, the V60 CC plugs the fiscal gap between the current Volkswagen Passat Alltrack $48,290 and Audi A4 Allroad $72,000, both of which are due for replacements this year.
On paper, the V60 CC strikes a fine blend of requisite Euro luxury, depth of quality (build, engineering, materials, core safety, etcetera) and brimming specification. It's just that in the experience throughout, it comes a little short in a great many areas – not for lacking 'stuff', it's just that the stuff it plies isn't as fresh, well designed, well executed or resolved as it could be. It's a car left a little wanting from initial first impressions and it doesn't get noticeably rosier with extended experience. And in areas wide-reaching enough to cause difficulty in deciding where to start…
How about the cabin space? Well, it feels tight — certainly more cosseting and less airy than our memories of Outback…or even the (whole segment smaller) Golf Alltrack that passed through the CarAdvice garage recently. Fortuitously, we happened to have Subaru's small-sized XV cross-over concurrently on test, so A-B-ed the pair for interior space: while the Volvo's cabin is slightly better for shoulder room, the XV was otherwise more spacious up front, and noticeably larger for head and legroom in the second row. Yet, the XV is supposedly a class smaller…
Interior design has made a long and prosperous march to the slick simplicity of Volvo's XC90 to the tired layout the V60 CC continues to endure. The small, seven-inch non-interactive, low-resolution infotainment screen looks old hat, the four-dial submenu-based interface is clunky, and the button-festooned centre stack is distracting and haphazard to use. Meanwhile, the single-dial instrumentation has clarity of information, but adjusting the driver's info screen, via a stalk dial, confounds. In how it looks, feels and interacts, the cabin is well behind the times.
The seats, though, are excellent, as if crafty designers had hewn the supportive, curvaceous sports buckets using the leather and stitching from a classic Chesterfield lounge. The driving position, too, is sound, though the shallow footwell forces rearward seat positioning for taller drivers – nobbling second-row space – and their bulky bases will have fingers jamming themselves in the tight space between the seat controls and door trim when adjusting seat lumbar. Realistically, the seating provides a key lift to interior presentation — the materials and finishes are modestly premium at this price point; the air of quality is leveraged largely through austerity and the hefty, tank-like closure of the doors.
The second row does offer enough space for adults in the outboard positions (where Isofix is offered) and features pillar-mounted air vents and a single 12v outlet in the back of the centre console, while the centre foldable armrest has ample oddment storage and dual cupholders. Cavernous it's not, but certainly serviceable for small families. The neat 'booster seat' function – where the seat squab folds out into a raised position for the benefit of small children – is inspired design.
The luggage space, at 430 litres rear seats up, is also on the modest side for a mid-sized wagon. There are, though, some neat features. The 40:60 split-fold seating, which places the '40' kerb side, stows to create a flat floor and features an integrated roll-out cargo net that hooks into the cabin ceiling. Another plus is that the cargo space is completely carpet-lined to avoid noise when luggage moves around. There's a single 12V outlet and tie-downs but no remote switch to fold the second-row seats in rear, while the spare is a space saver type. The tailgate, too, offers no automated functionality.
For a mid-sized wagon, the V60 CC drives a helluva lot like an SUV. It seems that whatever fiddling went on underneath, producing an extra 65mm of ride height, has engineered some lethargy into the handling package, despite the clever active Corner Traction Control trickery designed to enhance the on-road character.
It rides with an acceptable compliance across speed humps and through potholes but thumps across expansion joints noticeably. It's just a bit wieldy on the move, feels heftier than it should be, and there's a level of detachment sat on those 50-series Michelins that I don't recall experiencing on other V60s. I'm not talking about hooking through country sweepers, where the V60 CC exhibits taut body control and hangs on with gusto, but rather merely guiding the thing around town. It's just a bit, well, numb.
Compounding the disconnection between driver and road is the steering. And what a strange thing it is. Not merely does it filter out all sensation of the road surface, it's quite heavily off centre, weight for weight's sake that makes tracking a straight line tiresome and low-speed manoeuvring a chore.
What drew widespread criticism from the CarAdvice crew who drove the Volvo is its stop-start system, which turns the steering concrete stiff — inevitably in the straight ahead position — at engine shutdown too early in slowdown phase when coming to a standstill. Given that normal intuitive practice is to steer into the direction of travel prior to acceleration, this 'moving stop-start' application increasingly adopted by carmakers is an annoyance at best, downright dangerous at worst.
Also annoying is the overzealous calibration of some of the V60 CC's active safety systems, a topic of much debate at CarAdvice HQ. For every view that a larger margin is a safer margin, there's a counter that incessant alerts cause relentless distraction. In the V60 CC, the Blind Spot Information System is so hyperactive, glowing or blinking orange in the wing mirrors often for no suitable reason, that with time you tend to ignore it. Likewise the Collision Warning light tends to glow bright in the windscreen during the most defensive driving in urban hustle and bustle, rendering any actual warning of impending trouble somewhat redundant.
On balance, though, the optional active safety suite is superb, with systems such as City Safety low-speed autonomous braking a godsend.
Also lacking a little in finer calibration and consistency is the ageing powertrain. The evergreen diesel five-cylinder is an energetic unit, its 420Nm amply enthusiastic. Its rosy 5.8L/100km combined fuel claim, though, is a bit optimistic given that the V60 CC rarely dipped below sixes on the highway or below nines during light-throttle urban driving.
It's also a noisy unit bereft of charm and there's plenty of lag. Sinking the right boot is a cause and effect crapshoot, sometimes producing a progressive ramp-up of acceleration, other times yielding an explosion of torque, and usually dependant on the mood of the old hat six-speed auto that can be slurry and lazy in the upshifts. There's enough muscle, though, to tow a braked 1900kg.
Activating Sport mode, by knocking the console shifter sideways, produces more consistency and predictability in progress, and heady march-for-the-horizon-type progress at that. The V60 CC certainly feels quick enough, though its 8.9sec 0-100km/h isn't exactly worthy of trumpeting from upon high.
Sheer pace can't gloss over a package that offers a mere smattering of highlights but, on balance, is inconsistent and patchy. A mid-sized wagon that drives like a large SUV and feels all the part the small car inside is hardly what you'd call moving the rough and tumble game forward. It leverages Volvo hallmarks of safety and surety but – clever interior details apart – doesn't bring enough newness or freshness to the table.
The V60 CC is perhaps an all-new sum, if not a well-executed sum of far too many ageing parts. It's a throwback indeed for the company that's already moved on in other model ranges, and remains the stopgap in the wait for a new-generation replacement worthy of re-establishing cult car status to the Cross Country brand. Look no further than the current XC90 to see where such a replacement is heading.
If you fancy the Swedish cross-over wagon, it's well worth checking out the plastic-clad alternatives from Germany or Japan.
Click on the Photos tab for more images by Mitchell Oke.
Performance and on the Road
This V60 Cross Country is the entry-level D3 model, so it comes with Volvo's 2.0 litre Drive-E engine producing 147bhp and 258lb/ft of torque, promising official economy of 67mpg, emissions of 111g/km and a o-62mph of 8.8 seconds.
A week with a lot of short journeys and lots of stop start traffic saw us averaging 46.3 mpg, but there's no doubt that will be at the bottom end of the economy range for most owners.
As for performance from the latest Drive-E engine, even in this lowly D3 guise, it feels better than it looks on paper, with the nice wodge of torque making brisk progress always easy, and the torque also makes the Cross Country feel relaxed when cruising.
In fact, the torque makes for a very comfortable drive on dual carriageways and motorways, with the optional Adaptive Cruise (part of the Driver Support Pack) meaning you can stick it at 80mph and know the car will take care of acceleration and braking even down to 50mph without changing gear.
Add to that what feels a more comfortable ride thanks to the raised ride height and the fitting of tyres with a deeper sidewall for rougher roads, and you have a car in the Cross Country that's actually a more comfortable cruiser than the regular V60. Which wasn't really the point.
But when it comes to what the Cross Country is designed for – a more rugged road surface – the same virtues come in to play, and the CC does manage country tracks and unmade car parks with reasonable alacrity.
True, as a front-wheel drive model, this D3 doesn't have the reassurance of AWD, but its front-wheel drive does manage to cope without problems, and the fitting of winter tyres (or one of the new 'All Season' tyres, like the Michelin Cross Climate) would give the FWD D3 Cross Country plenty of ability in slippery winter conditions too.
Despite what feels like a more comfort oriented setup, the Cross Country still manages to handle well, with little body roll, accurate steering and a feeling of being generally un-flustered, whatever you throw at it.
It's not a 'sporty' drive, but it does respond a lot better than you might expect to being thrown around.
Der Volvo S60 Cross Country 2016 ist eine Cross-Over Limousine für höchste Ansprüche. Beste Kontrolle und ein intensives Fahrerlebnis sind gegeben. Bei jedem Wetter und bei jedem Gelände. Die selbstbewusste und konzentrierte Ausstrahlung des S60 Cross Country wirkt nahezu animalisch. Ausdrucksstarke Schweinwerfer erhöhen seine Präsenz auf der Straße. Doch der Volvo V60 Cross Country 2016 im typischen Skandinavischen Design sieht nicht nur gut aus, er fährt auch gut. Ist mit den neuesten Sicherheitstechniken ausgestattet und begeistert durch Komfort und Bedienerfreundlichkeit. Mit dem Volvo S60 Cross Country gibt es keinen vernünftigen Grund zu Hause zu bleiben. Schlechtes Wetter, schlecht Straßenverhältnisse sind für die schwedische Limousine auf SUV Niveau Herausforderungen, die mit Bravour gemeistert werden. Zum täglichen Gebrauch als Geschäftswagen, zur Urlaubsreise oder als bequeme Familienlimousine, für Fahrer mit hohem Anspruch, bestens geeignet.
Volvo S60 Cross Country 2016 mit robust-funktionalem Charakter
Bei der Ästhetik des Cross County S60 haben sich die Designer von Mutter Natur inspirieren lassen, so Peter Reutenberg, Senior Exterior Designer. Beim Entwurf der Frontpartie standen die Augen des Wolfs Pate. Die ausdrucksstarken neuen Schweinwerfer, sowie das wellenförmige Profil der Motorhaube, in typischer Volvo V-Form, spiegeln animalische Stärke und Präsenz wieder. Verleihen ihm einen Respekt einflößenden Blick. Die athletischen Schultern, der ausdrucksstarke Volvo Kühlergrill, sind weitere Designelemente, die den S60 unverkennbar zu einem athletischen Volvo machen. Beim Cross Country wurde dem dynamischen Volvo S60 eine robuste Note verliehen. Die Kombination aus sportlicher Linienführung und der Bodenfreiheit von 201 mm (65 mm mehr als beim S60) geben ihm seinen einzigartigen Charakter. Die mattschwarze Radhausverbreiterung, spezielle mattsilberne Einsätze in Front- und Heckschürze betonen die Offroad-Eigenschaften des S60 Cross Country 2016. Elegante Akzente, wie die schwarz glänzenden Fensterrahmen und Außenspiegelklappen, setzen einen optischen Kontrast.
Perfekte Kontrolle des Volvo S60 Cross Country 2016
Zwischen vier Fahrwerkstypen kann der S60 Cross Country Fahrer bei Volvo auswählen: dem dynamisch abgestimmten Serienfahrwerk, dem Touringfahrwerk, dem adaptiven Fahrwerk mit Four-C-Technologie und dem Sportfahrwerk. Perfekte Kontrolle und optimaler Fahrspaß ist bei jedem auf seine Weise gegeben. Dabei unterstützen modernste Systeme den S60 Cross Country, reagieren sofort und präzise auf die Wünsche des Fahrers. Die sportliche Cross-Over-Limousine denkt mit und unterstützt mittels elektronischer Differentialsperre Corner Traction Control den agilen Fahrstil. Mit dem Torque Vectoring wird das Untersteuern beim Beschleunigen aus der Kurve heraus unterbunden. Die höhergelegte Karosserie gewährt die erforderliche Bodenfreiheit zum Fahren im Gelände. Dank der längeren Federn ist die Fahrt auf unwegsamen Untergrund besonders komfortabel. Zugleich werden die dynamischen Fahreigenschaften erhalten. Eine ausgezeichnete Übersicht, sowie einfaches Ein-, Aussteigen und Beladen des S60 Cross Country sind weitere Vorteile des hohen Fahrwerks.
Exklusive und luxuriöse Ausstattung des Volvo S60 Cross Country 2016
Exklusiv in der gehobenen Volvo Ausstattungslinie "Summum" ist der Volvo S60 Cross Country erhältlich. Somit ist sichergestellt, dass der gehobene Anspruch mit der einzigartigen Offroad-Limousine optimal abgedeckt ist. Auf dynamische Fahrleistung, hohe Effizienz, exzellente Funktionalität, Sicherheit und sehr hohen Komfort ist der Volvo S60 Cross Country ausgerichtet. Innovative Motoren aus der Volvo E-Drive Familie, sowie der bewährt Fünfzylinder-Diesel, sichern ausgezeichnete Fahreigenschaften. In Kombination mit modernen Schaltgetrieben, wie der Geartronik Achtgang-Schaltautomatik, können Kraftstoffeinsparungen von bis zu 30 Prozent im Bezug auf herkömmliche Antriebe ermöglicht werden. Neueste Systeme hinsichtlich automobiler Sicherheit schützen und wirken präventiv in der Cross Country Limousine S60. Volvo "City Safety", zur Vermeidung von Unfallschäden bei einer Geschwindigkeit von bis zur 50km/h, Spurhalteassistent und Verkehrszeichenassistent sind nur einige Beispiele für die in Serie, bzw. optional erhältlichen Ausstattungselemente bei Volvo. Alle Cross Country S60 2016 sind bereits serienmäßig mit Fahrdynamikregelung ESC (Electronic Stability Control), Anhänger-Stabilisierungskontrolle (TSA) und Corner Traction Control für harmonisches Kurvenverhalten ausgestattet.
Motoren Volvo S60 Cross Country 2016
Volvo S60 Cross Country D4: Drive-E Vierzylinder-Common-Rail-Turbodiesel, Start-Stopp-System, 1.969 ccm, 140 kW (190 PS*), max. Drehmoment: 400 Nm von 1.750-2.500 U/min, 0-100 km/h: 7,7 Sek. (Automatik: 7,7 Sek.), Höchstgeschwindigkeit: 210 km/h (Automatik: 210 km/h), Verbrauch: 4,2 l (Automatik: 4,6 l) auf 100 km, CO2-Emissionen: 111 g/km (Automatik: 120 g/km), Sechsgang-Schaltgetriebe, Option: Geartronic Achtgang-Automatik.
Volvo S60 Cross Country D4 AWD: Fünfzylinder-Common-Rail-Bi-Turbodiesel, Start-Stopp-System, 2.400 ccm, 140 kW (190 PS*), max. Drehmoment 420 Nm bei 1.500-2.500 U/min, 0-100 km/h: 8,8 Sek., Höchstgeschwindigkeit: 210 km/h, Verbrauch: 5,7 l auf 100 km, CO2-Emissionen: 149 g/km, Geartronic Sechsgang-Automatik.
Im Volvo S60 Cross Country bleiben keine Wünsche offen
Mit viel Sorgfalt wurde das Cockpit hinsichtlich Usability konzeptioniert. Edle Materialein und höchste Verarbeitungsqualität stellen das luxuriöse Raumambiente im S60 Cross Country sicher. Die Aluminiumeinlage "Shimmer Graphite" setzte einen besonderen Akzent, wie auch das sportliche Drei-Speichen-Design-Lenkrad mit Schaltwippen. Bei den Sitzen geht Volvo erfahrungsgemäß niemals Kompromisse ein. Die im S60 Cross Country serienmäßig verbauten Sportsitze sind ein weiteres luxuriöses Highlight in der Offroad-Limousine. Sie sehen nicht nur fantastisch aus, sondern ermöglichen stundenlanges ermüdungsfreies fahren. Konfigurieren Sie den Volvo S60 Cross Country online und buchen eine kostenlose Probefahrt im Volvo. Nehmen Sie jetzt Kontakt zu uns auf.