Tesla Model X P100D (Performance)
Tesla Model X P100D (Performance)
Описание
Характеристики Tesla Model X
Особенности
Tesla Model X P100D (Performance) — кроссовер запредельной мощности
Tesla Model X Performance — самый мощный кроссовер в линейке моделей компании, и самый быстрый SUV в мире. Работая на аккумуляторных батареях с емкостью 100 кВт•ч, электрический внедорожник способен разгоняться до 100 км/ч за 2,9 секунды, то есть с показателями, которыми не могут похвастаться многие суперкары. Скорость автомобиля ограничена на отметке 250 км/ч, возможно чтобы уберечь литий-ионные аккумуляторы автомобиля от чрезмерного износа и выхода из строя. Поэтому вполне можно предположить, что отметка в 250 км/ч, лишь часть скоростного потенциала Tesla Model X P100D. Такой тип авто принято классифицировать, как «заряженную» версию, то есть как автомобиль с увеличенными возможностями.
Комфортный спринтер
При всей мощности, Tesla Model X P100D остается серийным электрическим кроссовером, сохранившим все лучшее от менее «стремительных» версий. Это полноценный 7-местный SUV, с просторным салоном, комфортной посадкой пассажиров, вместительным багажником. Спокойная езда на нем приносит только положительные эмоции. Он очень удобный, эргономичная подвеска, настроенная на режим комфортной езды буквально, поглощает все неровности дороги. Но если нажать на педаль акселератора, будьте готовы к взрыву эмоций. Автомобиль в прямом смысле срывается с места, моментально набирая скорость. Подобная прыть электромобиля — настоящий вызов для водителей, ценящих драйв на высоких скоростях.
Особенности модели
Кроме спортивного характера с удивительной динамикой, Tesla Model X P100D интересен как автомобиль эксклюзивного дизайна и богатой комплектации.
Главная дизайнерская «фишка» кроссовера — задние боковые двери «крыло сокола». Очень необычный и интересный способ открытия дверей, но при этом удобный и простой. Многие жаловались на непрактичность такого подхода, но специфика в том, что двери не открываются на весь размах (как это делалось в популярных ранее автомобилях), а сначала приподнимаются до определенной высоты и лишь потом «расправляют крылья». Таким образом, достаточно пространства в 30 см от рядом стоящего автомобиля, чтобы обеспечить открытие дверей и посадку/высадку из автомобиля.
Еще одна особенность модели — автопилот. Революционная система, которая действительно самостоятельно управляет автомобилем. В этом ей помогает комплект из нескольких камер, система навигации с постоянным обновлением, радары, сенсорные датчики.
На Tesla Model X P100D (Performance) установлено специально разработанное под технические характеристики автомобиля программное обеспечение. Основное отличие от ПО других модификаций увеличенная скорость обработка данных, глубокая диагностика систем, быстрое обновление, дополнительный комплект приложений для установки.
Безопасность Tesla Model X P100D
Кроссовер Tesla Model X P100D — безопасный автомобиль. Здесь присутствует полный комплект всех активных систем безопасности, включая режим экстренного торможения и пакет из 12 подушек безопасности. Единственное, что делает электромобиль небезопасным — мощность, справиться с которой могут только опытные водители.
| | |
| --- | --- |
| Тип двигателя | Трехфазный асинхронный электродвигатель |
| Тип топлива | Электроенергия |
| Количество электромоторов | 2 |
| Тип аккумулятора | Литий-ионный |
| Медленная зарядка | Время зарядки от бытовой сети переменного тока: 240В — 20-30 часов |
| Ускоренная зарядка | Время зарядки от бытовой сети переменного тока: 380В — 3 часа |
| Быстрая зарядка | Время полной зарядки на станции Tesla Supercharger — 30-40 мин. |
| Выброс CO2 в смешанном цикле | 0.0 г/км |
| Коробка передач | Автоматическая |
| Тип коробки передач | Одноступенчатый редуктор |
| Привод | Полный |
| Усилитель руля | Электрический |
| Передняя подвеска | Независимая двухрычажная |
| Задняя подвеска | Независимая многорычажная |
| Тормоза передние | Дисковые вентилируемые |
| Тормоза задние | Дисковые вентилируемые |
| Размеры передних шин | 265/45 R20 |
| Размеры задних шин | 275/45 R20 |
| Количество мест | 5-7 |
| Количество дверей | 5 |
| Длина | 5029 мм |
| Ширина | 2271 мм |
| Высота | 1684 мм |
| Клиренс | 175 мм |
| Колесная база | 3061 мм |
| Диаметр разворота | 12.4 м |
| Снаряженная масса | 2441 кг |
| Страна производства | США |
Яркий дизайн; Просторный салон; Динамика разгона и скорость; Комплектация; Экологичность; Наличие полного привода.
Слишком мощный для неопытных водителей; Стоимость; Кроме мощности электродвигателя и динамики разгона, большинство технических характеристик осталось на уровне более доступных модификаций.
Кроссовер tesla model x p100d характеристики
В первую очередь электромобиль имеет просто невероятную динамику ­– у этой версии Tesla Model X разгон до 100 км/ч занимает всего 2,9 секунды. Здорово помогает в этом лучшая аэродинамика среди себе подобных. Скорость разгона обеспечивает уникальный режим работы двигателя Ludicrous. Авто немного проигрывает таким монстрам, как Ferrari LaFerrari (2,8 секунды) и MacLaren P1 (те же 2,8), но это чистой воды спорткары, а вот Tesla Model X P100D производитель позиционирует, как семейный автомобиль.
Действительно, он 7-местный, к тому же имеет самый высокий уровень безопасности в своем классе. Вроде бы эти параметры вполне укладываются в рамки семейного кроссовера, а вот двигатель мощностью 773 л/с в семейном авто выглядит как-то странно. Впрочем, многодетные мамы могут облегченно вздохнуть – у Tesla Model X максимальная скорость ограничена, и больше 250 км/ч на нем не разогнаться. Спокойствия добавляют целых 12 подушек безопасности, а почти мгновенное торможение, несмотря на то, что у Tesla Model X вес составляет 2440 килограммов, обеспечивают усиленные тормоза Brembo.
Tesla Model X P100D от предыдущих моделей отличается, в первую очередь, дверями системы «Falcon Wing» (крыло сокола), которые внешне напоминают известные всем «крылья чайки» – двери открываются вверх. Эта система использовалась уже во многих транспортных средствах, начиная с Mercedes 300SL 1952 года. Однако у Tesla все не так просто – да, двери имеют классическую Г-образную форму, но… с изменяемым углом. Дизайн «Falcon Wing» очень красив, но его основная задача чисто практическая. Это удобство для пассажиров, и возможность парковать машину, занимая минимум бокового пространства, что немаловажно в условиях современного города. Двери переднего ряда открываются, как на обычных авто. Это, что касается внешнего вида.
А вот основное отличие – увеличенная емкость батареи, которая составляет 100 кВт*ч, что и отражено в названии модификации. В первой версии емкость была всего 75 кВт*ч, во второй и третьей – 90. Литера «D» в названии означает «Dual Motor», и говорит о том, что автомобиль оснащен двумя электродвигателями – для передней оси 259 л/с, а для задней – 503, и это в базовой комплектации. Запас хода Tesla Model X P100D на одном заряде 542 километра, так что дальние поездки для электрокара не составляют проблемы.
Мощность авто позволяет тащить за собой прицеп весом в две тонны. Средних размеров автодом весит гораздо меньше, так что Tesla вполне по силам длинные путешествия, было бы, где заправиться. Время полной зарядки литий-ионной батареи составляет 7 часов от 220 вольт, а вот от 440 вольт – чуть большее полутора часов. Батарея, кстати, расположена на уровне подвески, что положительно влияет на устойчивость автомобиля. Как будто специально для российских дорог задуман и регулируемый клиренс – от 16,5 до 23 сантиметров. Диаметр колес – 20 – 22 дюйма. Привод – полный. Под модификацию «Performance», а именно это означает буква «P» в названии, разработано свое программное обеспечение, отличающееся увеличенной скоростью обработки данных.
Кузов Tesla Model X P100D сделан из алюминиевого сплава и усилен высокопрочной сталью. Весь корпус визуально устремлен вперед, этот эффект обеспечивает сильно «заваленное» лобовое стекло, у которого даже есть свое название – «Big Sky», буквально «Большое Небо». Стекло, благодаря своим размерам, обеспечивает максимальный обзор.
Салон Tesla Model X P100D просторный, в отделке используется кожа, карбон и ценные породы дерева. Вся необходимая для водителя информация выводится на огромный 17-дюймовый монитор, расположенный вертикально. На экран также выведены все функции, которые раньше переключались механически. Больше никаких кнопок, тумблеров и рычажков. С дисплея же управляется мультимедийная система, которой вполне хватит для средней величины кинотеатра. Помимо основного монитора, есть еще и водительский, расположенный за рулем, на его экран можно вывести практически любые нужные показатели. Воздух в салон попадает, пройдя сквозь медицинские фильтры НЕРА, они гарантированно удаляют не только все вредные примеси, но и, как заявлено, микробов и вирусов.
(Tesla Model X салон)
Багажник Tesla Model X P100D – также рекордсмен в своем классе, его максимальный объем при сложенных задних сиденьях составляет 2180 литров, если и этого покажется мало – под капотом имеется дополнительное пространство в 187 литров.
Машина Tesla Model X P100D не имеет боковых зеркал, их функции выполняют (и превосходят) камеры – передние, боковые и задние – передают картинку на все 360 градусов. 12 ультразвуковых датчиков контролируют обстановку вокруг машины, а передний радар способен обнаружить проблему на расстоянии до 160 метров. Однако во многих странах закон еще не столь прогрессивен как Tesla, поэтому правилами запрещается езда без зеркал. Специально для таких случаев автопроизводитель предусмотрел установку необходимого оборудования.
И, конечно же, поскольку это Tesla, электрокар имеет функцию автопилота.
Если у вас есть деньги — однозначно стоит купить такую машину! Она пригодна как для агрессивной езды, так и для тихой спокойной поездки со всей семьей.
Sponsor:
Omaze, Inc. ("Sponsor")
Charity:
Girls Who Code («Charity»)
All donations made in connection with a fundraising campaign are paid to Charities Aid Foundation of America ("CAFA"), an IRS-recognized, U.S. public charity whose mission is to make giving internationally and domestically safe, easy and effective for U.S. donors. CAFA prequalifies each Charity as an eligible recipient of CAFA grants. At the end of each fundraising campaign, so long as the Charity continues to qualify as an eligible recipient of CAFA grants, CAFA will make a grant to the Charity of the net proceeds of the fundraising campaign.
Prize Provider:
Omaze («Prize Provider»)
Winner will receive a new Tesla Model X P100 D plus $20,000 United States Dollars (Taxes and shipping covered)
*Sales tax prepaid and 25% of ARV will be paid by Omaze to the IRS on winner's behalf in lieu of income taxes
In lieu of accepting the Prize described herein, Winner may elect to receive a cash alternative prize in the amount of $125,000 United States Dollars. If Winner elects to take the cash alternative, Winner will be solely responsible for all applicable taxes.
«Tesla» is a registered trademark of Tesla, Inc. This sweepstakes is not sponsored, endorsed, approved, or affiliated with Tesla, Inc.
Sweepstakes Start Date:
January 24, 2019
Deadline to Enter:
April 4, 2019 at 11:59pm PT
Winner Announced:
On or around April 18, 2019
Approximate Retail Value:
$160,000
Who's Eligible:
You must be at least 18 years old to win and reside in North America, Mexico, Europe (excluding Belgium and Italy), Australia, or New Zealand to win.
In certain countries, local rules and laws may restrict or prohibit the award of certain prizes or impose additional restrictions on participation. Entry is subject to all local laws. See our Sweepstakes Official Rules for more details. Employees, officers, and directors of Sponsor, Charity, or Prize Provider, and members of their immediate families and households, are not eligible to win.
Individuals may not receive more than one major/grand prize and one minor prize within the same 18 month period.
How to Enter:
Visit Omaze.com to utilize any of our methods of entry. Receive bonus entries for donations. See our Sweepstakes Official Rules for more details.
Selection Process:
Conditional Winners will be chosen through a random selection process by Omaze or its representative. Odds of winning depend on the number of tickets held. A verification process will take place during which conditional Winners will be required to sign paperwork re-confirming their eligibility and their ability to participate on given dates. Omaze may also perform background checks, at its discretion, before an official Winner is announced.
NO PURCHASE, PAYMENT, OR CONTRIBUTION NECESSARY TO ENTER OR WIN. Contributing will not improve chances of winning. Void where prohibited.
Модифікації
Long Range
Performance
ЗАПАС ХОДУ (WLTP)
507 км
487 км
РОЗГІН
до 100 км/год
4.6 сек
2.8 сек
ШВИДКІСТЬ
250 км/год
261 км/год
ЗАРЯДЖАННЯ
на supercharger
40 хвилин
40 хвилин
ЗАРЯДЖАННЯ
від AC зарядки
6-7 годин Придбати
6-7 годин Придбати
The family-friendly 2017 Tesla Model X is an electric 3-row SUV with awesome performance, up to 295 miles of range and autonomous capability. Yes, it can almost drive itself. Designed and built in California, it offers families emissions-free driving and 0-60-mph acceleration as quick as 2.9 seconds. Four trim levels are available, each is all-wheel drive and all come with the Model X's signature power "Falcon Wing" rear doors that open up instead of out. The base Model X 75D has up to 237 miles of driving range. The 100D and P100D are the quickest and most powerful. And they offer the most range, 295 miles and 289 miles, respectively.
In normal, daily driving it's essentially impossible to distinguish among the Model X's three models. They're all extremely comfortable, extremely powerful and well appointed. The steering is light and the Model X is agile for such a big, heavy beast. The ride quality is good, but not spectacular, and visibility is marred by too-thick pillars on either side of its enormous windshield. It's an easy vehicle to drive. And it's really fun to put your foot down and bask in the silent thrust only an electric car can deliver. "Fast" doesn't begin to describe the performance. You have to experience it. Standard on the P100D is Tesla's famous "Ludicrous" mode. Push the button and acceleration goes from neck-snapping to 0-60 mph in just 2.9 seconds. Still, the one to get is the 75D. It's about $50,000 cheaper, offers astounding acceleration and a very useful 237 miles of range.
17-INCH INFOTAINMENT SCREEN
If you like high-tech, you'll love the massive 17-inch infotainment screen in the 2017 Tesla Model X. The screen acts as the command center for the SUV, using tablet-like controls to swipe, pinch and drag functions for everything from the climate-control system to the audio and navigation.
AUTOPILOT
With Tesla's Autopilot system the Model X will not just stop and go without direct input from the driver, but also steer. It uses a complex system of cameras and sensors as well as GPS to monitor the car's surroundings and alert the driver if he or she needs to take control.
Inside, the Model X is essentially identical to the Tesla Model S sedan. That means comfort is high, as is material quality, but fit can be inconsistent. It also means the controls for the climate, audio and other functions are electronic and found on a massive 17-inch touch screen that makes up the majority of the dashboard. It's the largest screen in the business, and it's fast to react and simple to use. Also unique are the Tesla's power-operated Falcon Wing doors that open up instead of out. They'll wow your neighbors but can be frustrating in tight spaces.
Much of the Tesla's appeal is that it looks like nothing else on the road. Well, except for another Tesla. When viewed from the front, the new 2017 Tesla Model X is almost indistinguishable from its sexy sedan brother, the Model S, which is still one of the best-looking cars around. And the family resemblance continues with the SUV's steep windshield, flush chrome door handles and fastback roofline. However, while the Model S pleases the eyes with a low silhouette and wide stance, when viewed from some angles the Model X looks awkwardly tall and a bit slab-sided.
There's no such thing as a stripper Tesla. The Model X comes very well equipped, even in base 75D configuration. Standard equipment includes all-wheel drive, navigation with real-time traffic, LED headlights, power-folding, heated outside mirrors, keyless entry, power Falcon Wing rear doors and a power rear liftgate. Standard is a 2-row configuration that seats five. There's also an 8-year/infinite-mile warranty on the battery and drive unit as well as a 4-year/50,000-mile limited warranty on the rest of the vehicle. The 100D and P100D models get an upgrade to a standard air suspension, and the P100D comes with Ludicrous mode for ultimate acceleration.
A third row is optional as are 2nd-row captain's chairs, so the new Model X can be configured as a 5-, 6- or 7-passenger SUV. Available are a Subzero Weather Package with seat heaters throughout the cabin and a heated steering wheel, an optional 17-speaker audio system, a towing package and a Premium Upgrades Package, which allows the front doors to open automatically as you approach the vehicle, a HEPA air-filtration system with a Bio-weapons Defense Mode and leather interior trim. You can also order Full Self-Driving Capability, which enables the car to drive itself and park itself.
Every 2017 Tesla Model X is powered by two AC electric motors and a lithium-ion battery pack, with either 75-kWh (75D) or 100-kWh (100D and P100D). All three models use the same single-speed transmission and all three models are all-wheel drive. The 100D offers the most driving range, an incredible 295 miles. The 75D can travel 237 miles on a charge. Tesla says charging from a standard 240v 48-amp wall connector will take about eight hours. That quickens to five hours using a 72-amp wall connector and only an hour using one of Tesla's nationwide Superchargers.
AC electric motors with 75-kWh lithium-ion battery pack (75D)
N/A horsepower
N/A lb-ft of torque
Range with full charge: 237 miles
AC electric motors with 100-kWh lithium-ion battery pack (100D)
N/A horsepower
N/A lb-ft of torque
Range with full charge: 295 miles
AC electric motors with 100-kWh lithium-ion battery pack (P100D)
N/A horsepower
N/A lb-ft of torque
Range with full charge: 289 miles
Note: Due to changes in EPA testing to more effectively reflect real-world conditions, some 2017 models show slightly lower fuel-economy scores than their 2016 versions.
El Tesla Model X cuenta con Autopilot 2.0, aunque está «capado» en España
El Tesla Model X incluye la versión 2.0 del sistema Autopilot gracias a ocho cámaras envolventes, doce sensores de ultrasonidos -que permiten detectar los objetos que hay alrededor del vehículo- y un radar delantero para ver incluso por delante del vehículo precedente. En este vídeo, Tesla explica cómo trabaja el sistema Autopilot.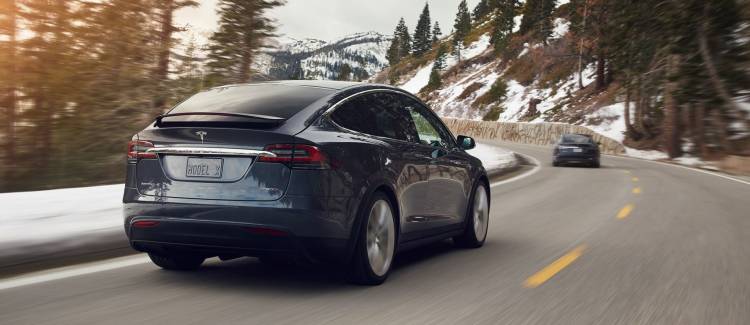 Tesla asegura que cualquiera de sus modelos son vehículos autónomos a nivel de hardware, es decir, están capacitados técnicamente para poder circular sin conductor con todas las garantías. En cualquier caso, de momento, sus capacidades están limitadas, ya que la legislación actual en España no lo permite. Cuando se produzca un cambio de legislación, los Tesla tan sólo necesitarán una actualización de software para transformarse en verdaderos coches autónomos, ahora sí, plenamente funcionales.
Debido a que las prestaciones del Autopilot están capadas por motivos legislativo, lo que queda del sistema es algo muy similar al control de crucero que podemos encontrar en vehículos como Audi. Básicamente el Tesla Model X es capaz de acelerar y frenar en función del tráfico. Es capaz de detenerse si el vehículo que precede la marcha lo hace, o reanudarla de forma automáticamente, siempre manteniendo al vehículo dentro del carril. El sistema también puede actuar sobre la dirección, trazando cualquier tipo de curva en autovía, aunque el conductor debe siempre ir sujetando el volante.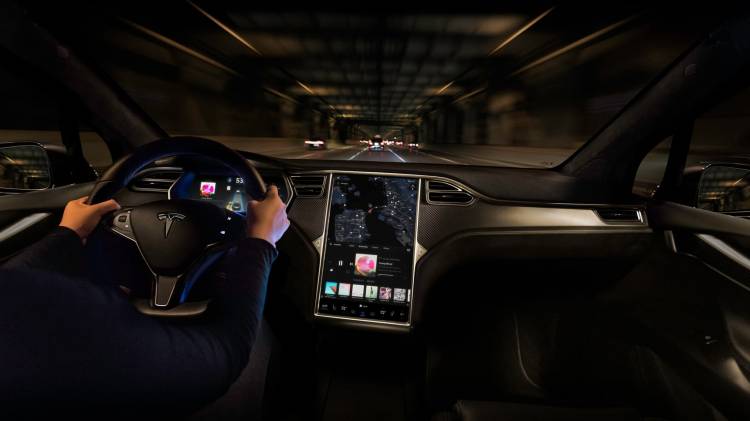 Audi RSQ8 Vs Lamborghini Urus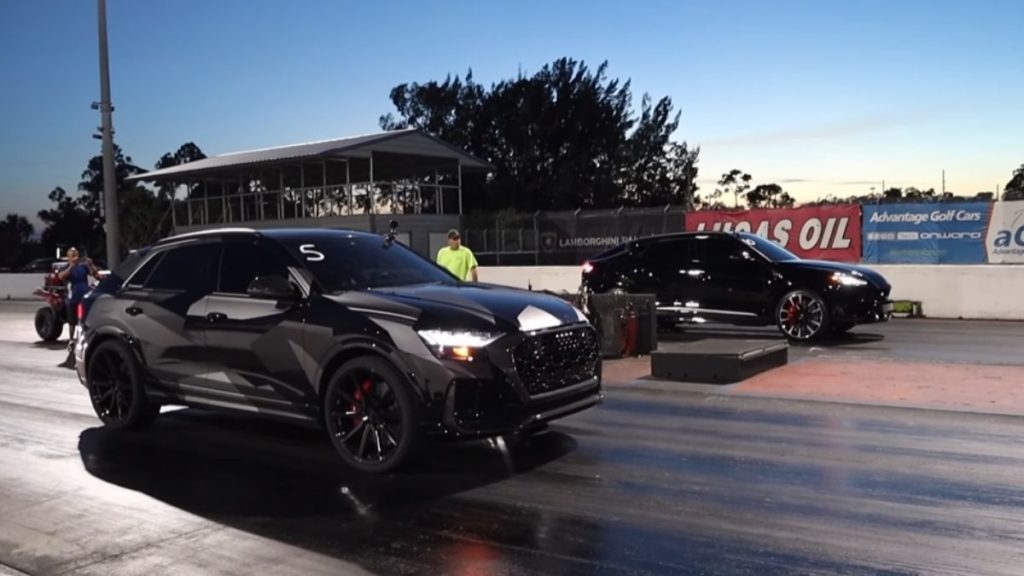 Due to the impressive modification RSQ8 underwent, it easily won the drag race. It took 11.56 seconds for Audi RSQ8 to complete the quarter-mile while touching a maximum speed of 118.73 mph.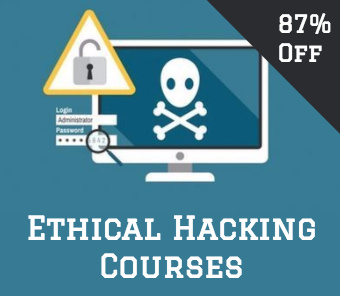 On the other hand, Lamborgini Urus consumed 11.82 seconds to cross the finish line at a speed of 115.88 mph.
Hands-on review: The Tesla Model X P100D
Around 11 years ago, Steve Jobs completely redefined the way in which we use mobile phones when he released the original iPhone. Now, you could argue that Elon Musk is doing the same with the automobile.
Named after the pioneer Nikola Tesla, the company has come a long way in 15 short years. Initially launching the ambitious Roadster in 2008, the California-based manufacturer now offers just three models — the Model S, the Model X and the Model 3.
Currently, only the Model S and Model X are available in New Zealand, and a few weeks ago I had the pleasure of testing the most powerful version of the Model X, the P100D, for an entire weekend.
I'm from the Isle of Man — an island famous for motorcycles. I effectively grew up on an island where speed and petrol are engrained into us from an early age and, prior to my experience with the Model X, speed simply didn't exist without the grunt of an engine.
I initially had my doubts about Tesla and the sustainability of both the idea and the brand. Yes, the majority of us are much more eco-friendly than we were 10 years ago, but the fact of the matter is that most people can't afford an Electric Vehicle (EV), and I wasn't sure that New Zealand currently had the infrastructure for EVs to become the 'norm'.
Nonetheless, I must have looked like a kid on Christmas morning when I picked up the car from Tesla's new HQ on Karangahape Road in Auckland.
Tesla insist on a 40-minute demonstration to give you a short insight into the car, ultimately showcasing the exceptional Autopilot software.
After ten minutes of familiarising myself with the Model X, I was asked to engage Autopilot. By pulling one of the stalks next to the steering wheel towards me twice, I was able to experience the future.
Although not perfect, Tesla's Autopilot is a fine example of just how innovative the company is and how they're making bigger leaps in the market than any of their competitors. The car I tested featured Advanced Autopilot and Full Self-Driving Capability, which together created one of the strangest sensations I have ever felt
You're effectively putting your life into the hands of a machine, although legally you do need to keep both hands on the wheel when the feature is enabled.
Once I'd finished the demonstration on the outskirts of Auckland, I looked at a map and decided the best place to go where I could fully experience the car, was to take a spontaneous road trip up to Paihia in the Bay of Islands.
I wanted to embark on a roadtrip to see exactly how well the Model X performed and if such a trip could be convenient considering the car is powered on electricity alone.
Prior to leaving Auckland, I took advantage of Tesla's 24-hour customer lounge at the showroom while waiting for the car to fully charge on one of Tesla's Superchargers, which can fully charge your battery in around 75 minutes. There are only six of these across the whole of New Zealand, although more are in the pipeline.
Features
Like all other Teslas, the interior is curiously minimalistic with a vast array of features and customisation options.
There are no buttons, knobs or dials. Everything is controllable via the imposing 17-inch screen between the driver and passenger seats. This is effectively a central hub providing you with navigation, music, climate control, ride customisation and even a web browser. Oh, it also allows you to open and close all doors.
Whilst on the subject of the doors, never have I been in a car which has been this much of a conversation starter. Almost everywhere we parked, I'd have people come up and ask questions about the Model X.
The double-hinged 'Falcon Wing' doors are practical and make getting in and out of the car a breeze due to the extended head room, albeit rather slow to operate. However, we were tainted with torrential rain on our roadtrip and the water would drip onto the rear passengers everytime we needed to get in or out.
Unsurprisingly, there are no cup holders or extra storage on doors either due to the unorthodox design.
The Falcon Wings mean the doors work excellently in both tight spaces and low-ceilinged car parks, using sensors to recognise the car's surroundings to avoid any unwanted dents or prangs.
However, my overall opinion on the doors is that they are almost like a statement piece — a reason for people to stop, look and talk about the car. Their practicality is desirable, but the car would have been a lot cheaper to both build and buy had they just used the sliding doors that we've seen on cars this size for decades.
Similarly, Tesla's also come equipped with hidden 'Easter eggs', a term coined within the gaming community to describe hidden messages, features or jokes within a game.
You can turn the virtual Tesla on the infotainment screen into the Lotus from The Spy Who Loved Me and even display Mars' surface on your sat nav (complete with a mini rover). My personal favourite is the 'Holiday Show' in which the Tesla flashes its lights, flaps its doors and blares Christmas music out of its fantastic sound system.
Again, these features don't really benefit the car but make Tesla stand out from the crowd of normal, run-of-the-mill manufacturers.
The Tesla app connects to the car and allows you to pre-heat or pre-cool your car before entering, check battery life and start the car if you've left the fob at home. Trivially, it also allows you to honk the horn and flash the lights.
The most impressive feature of the app is the ability to 'Summon' the car. If your Tesla is parked in your tight garage, for instance, you can simply press the Summon button and your car will drive out of the garage by itself, allowing for much easier entry.
One thing to note, is that safety is paramount for Tesla, and you'll struggle to find a safer car anywhere thanks to the Advanced Autopilot, forward collision avoidance and 12 airbags.
Performance
The Tesla Model X P100D is the fastest SUV in the world. Simply put, it is biblically fast — 0-100km/h in approximately 2.9 seconds, which is faster than a Lamborghini Aventador. 762 horsepower in an SUV is both crazy and admirable, and the power is available to the driver instantly thanks to the electric motor. There's absolutely no lag, which makes the car somehow feel even faster from a standing start.
A top speed of around 250km/h is also surprising considering the size and weight of the car, so too is the way it handled the windy bends heading up to the Bay of Islands thanks largely to its low-centre of gravity.
Tesla have set the benchmark for the future of Electric Vehicles in many ways, but the acceleration that the P100D is capable of means that the future of transport is not only green, but also exciting.
You can use the 17-inch touch screen to further improve the ride by raising or lowering the suspension, turning off the traction control and enabling the insane Ludicrous Mode, which unlocks the cars maximum potential.
The P100D is not only quick — it's also an absolute delight to drive and getting behind the wheel of a 'normal' car a week afterwards made me realise just how special the experience in the Tesla was.
Looks
I have to be honest though, when I first saw the Model X a couple of years ago, I wasn't blown away by the way it looked. I thought it was rather ugly from the front and I wasn't a huge fan of the rear-end which has echoes of the BMW X6 — another car which I wasn't initially attracted to.
However, after spending a few days with the Model X and taking photos from all different angles, I must admit that the looks grew on me somewhat.
I think it actually looks much bigger in person than it does in photos, perhaps due to the sleek, aerodynamic design of a car in this class.
The huge, 22-inch wheels on our model also looked great but made the ride a lot firmer than it should have been. Tesla's 20-inch option would improve comfortability but, in my opinion, reduces the aesthetics of the car.
Practicality
The biggest drawback with an EV is the current infrastructure within New Zealand. Yes, charging points are relatively widespread but, if you want to use these, you'll probably require a CHAdeMO adapter, which comes at a significant extra cost.
We ran into some trouble on our journey, but Tesla's fantastic customer service representatives were able to locate us an adapter from a Tesla owner up in Paihia for a quick charge before heading back to Auckland.
Included with all Tesla's is a charger for your garage or exterior wall at home, so for your daily commute, you won't have an issue with charging your vehicle.
The Model X would be a perfect choice for a family — the vehicle customisation allows for seat layouts for five, six or even seven passengers. Our car could fit a driver and five passengers comfortably, although getting into the back row could be a struggle for someone of significant height.
The design of the Falcon Wing doors further demonstrates the family appeal of the Model X , with the sensors making sure your kids don't smash the doors into the car next to you whilst you're out shopping.
Overall verdict
My experience with the Model X P100D is one that I won't be forgetting in a hurry. When I was first presented with the opportunity, I was excited, but I didn't believe it would completely change my attitude towards cars and what they should be. But, it absolutely has.
Tesla plan to increase its fleet of vehicles by unveiling the Model Y in early 2019. However, the successor to the 2008 Roadster, due in 2020, promises to convert even more petrolheads like myself, with Tesla claiming it will be capable of reaching 97km/h in just 1.9 seconds and 161km/h in just 4.2 seconds.
Elon Musk has created both a brand and a product that every car manufacturer around the world is envious of. Tesla posted its first profits in two years during Q3 2018 and, in those three months, outsold Mercedes-Benz, Audi, Acura and Lexus in the United States.
In fifteen years, Tesla has entered the niche market of electric vehicles and made it almost completely its own and, as New Zealand becomes ever more green, I feel like Tesla will only grow in popularity over here.
It remains to be seen over time whether one of the bigger manufacturers will take this crown, but for now the future is certainly Tesla's.