Subaru BRZ 2017 *
Subaru BRZ 2017 *
Рестайлинг Subaru BRZ 2017
Рестайлинг Subaru BRZ 2017 вид спереди
Рестайлинг Subaru BRZ 2017 вид сбоку
Рестайлинг Subaru BRZ 2017 вид сзади
Рестайлинг Subaru BRZ 2017 интерьер
Рестайлинг Subaru BRZ 2017 приборная панель
Рестайлинг Subaru BRZ 2017 сидения
Рестайлинг Subaru BRZ 2017 оптика
Рестайлинг Subaru BRZ 2017 колеса
Субару BRZ
Субару BRZ
Субару BRZ сбоку
Субару BRZ сзади
Субару BRZ интерьер
Субару BRZ интерьер
Субару BRZ интерьер
Субару BRZ интерьер
Субару BRZ багажник
всего мнений: 6 просмотров: 5 089
2017 Subaru BRZ Driven: Refreshed and Refined
We drive the 2017 BRZ with power upgrades and sharper handling at Fuji Speedway.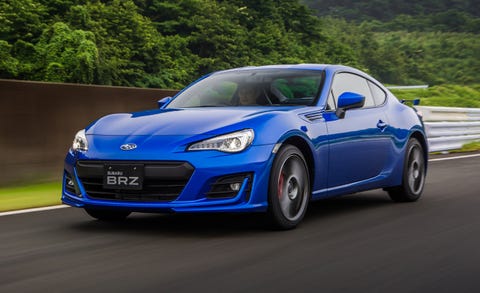 Change, it's said, is the only constant. Consider Fuji International Speedway, now in its fifth configuration. Resting in the foothills of Japan's picturesque Mount Fuji, the historic circuit was founded in 1963 with the intention of building a NASCAR-style 2.5-mile superspeedway. After one banked turn was built, it was evident there weren't enough funds for such a track, so it was completed as a 15-turn, 3.7-mile road-racing circuit with one wicked-fast banked corner; it opened in 1965. After a double fatality in 1974, the banked portion was eliminated, and the rest of the track was reconfigured as an eight-turn, 2.7-mile course. Beyond hosting a pair of landmark Formula 1 races in 1976 and 1977, Fuji had significance for many racing fans as the first real-world racetrack they learned by heart while playing the Pole Position arcade game in the 1980s or, more recently, the Gran Turismo series of video games. The track was extended to 10 turns in 1982 and 12 corners in 1993, the layout it had when Toyota bought it in 2000. A revamped 16-turn track, now 2.8 miles long, opened in 2005; F1 action briefly returned in 2007.
Subaru invited us to Fuji to sample a car that has gone through its own changes, the 2017 BRZ sports coupe. It's a well-balanced, enthusiast-oriented car that we've grown to love, and surely more than a few reside in the garages of former video-game champions. Most owners would probably agree with us that the BRZ could use more power, so we imagine Subaru chose Fuji and its monstrous front straight to emphasize that the BRZ's engine has been upgraded and our demands have been answered. Fuji is such a high-speed venue, though, that it overwhelms this small gain in output.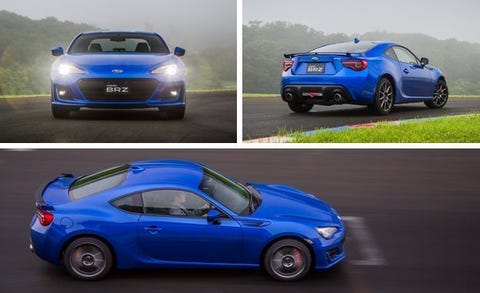 Big Changes, Small Gains
We flew a long way to get our first drive in the revised BRZ, and Subaru's engineers similarly went a long way to gain only 5 horsepower and 5 lb-ft of torque, bringing the totals to 205 hp and 156 lb-ft. These gains in power may seem minute, but Subaru assured us that this was not an easy number to squeeze out of the company's already well-developed naturally aspirated engine. The 2.0-liter flat-four gets an updated airbox feeding an aluminum intake system; it has 3.0-millimeter-larger tubes paired with freer-flowing exhaust manifolds. In the cylinder heads, the camshaft and valve surfaces undergo a more rigorous polishing process to reduce friction. The direct-fuel-injection pump has been tuned to further reduce drag. Pistons are shot-peened for added strength, and the crankshaft bearings have been beefed up.
While torque still peaks at 6400 rpm, the bottom end of the curve is swollen at lower revs. Still there, though, is the characteristic dip in torque between 3500 and 4800 rpm. Keeping the revs up high, above this soft spot, remains a key element of a quickly moving BRZ.
This engine is available only with our gearbox of choice, a six-speed manual, which has a stouter top gear for enhanced durability. While the minimal power upgrade is hardly noticeable, what's more apparent is that the final-drive ratio has been changed from 4.10:1 to 4.30:1, which helps the driver keep the revs up in the sweet zone. Buyers who order an automatic transmission will have to make do with the previous 200-hp engine and 4.10:1 final drive; engineers tell us the automatic cars could not clear pass-by noise regulations during downshifts with the new engine. To our ears, the engines sound pretty much identical.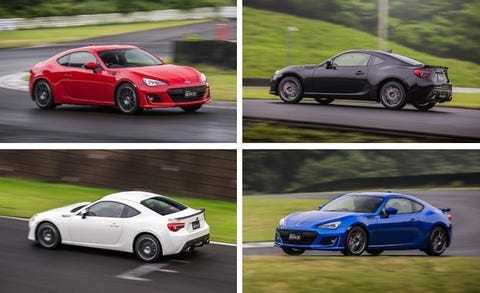 Vehicle Slide Control
The boxer engine isn't the only thing that bulks up for 2017. The BRZ's chassis receives minor structural changes across all trim levels and drivetrains. Mounting points for the front strut-tower brace, the transmission, and the rear struts all have been reinforced. The suspension has been retuned with a larger rear anti-roll bar and revised spring rates: stiffer in front, yet softer in the rear. Subaru let us drive the outgoing models back to back with new 2017 examples, and the changes were immediately apparent on the track, where the new car's chassis feels more dialed-in and body motions are better controlled. The stiffer front end delivers a more prompt apex-hunting turn-in to corners; revised tuning of the electrically assisted power-steering system provides a more linear response between on-center and full lock.
Another major change is that the stability-control system, VSC in Subaru-speak, has been reprogrammed. The VSC intervened as soon as it detected fun in previous BRZs, but the new default mode lets the driver enjoy a taste of the BRZ's drifting characteristics before taking over. This new tuning felt similar to the former Sport mode, which has been replaced by a new, even more liberal Track setting for 2017. Now drivers who wish to leave the stability-control safety net active can do so with far less annoyance. At Fuji, a blanket of fog lowered to asphalt level and made the surface damp, providing an excellent opportunity to exploit the lines of code in the new car as well as the programming of the old model. The earlier BRZ's VSC steps in abruptly once the rear tires begin to lose grip, but the new programming allows for a smoother, less intrusive intervention. After Track mode is activated, a drift can be easily controlled; the stability control steps in only if it senses an imminent spin.
Performance, Packaged
A new Performance package also is available for 2017 BRZs equipped with the Limited trim level and the manual transmission. An $1195 option, it includes Sachs dampers, Brembo four-piston front calipers with two-pot fixed clampers in back (replacing the standard sliding calipers), bigger 12.8-inch front and 12.4-inch rear brake rotors (up by 1.2 and 1.0 inches), and 0.5-inch-wider wheels (wearing the same tires) to accommodate the larger stoppers. The optional dampers further improved body control through the speedway's fast corners, and the steering was predictable yet razor sharp. Entering the high-speed braking zone, it was immediately noticeable that the Brembos, with their better pedal feel and reduced fade, were superior to the standard binders. The car still rides on slide-happy Michelin Primacy HP tires, and the brakes quickly overwhelm the available grip, leading to early ABS activation. As before, a BRZ owner heading for the track will want to opt for more serious performance rubber.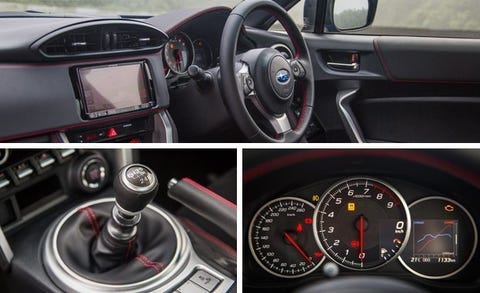 It's apparent that the upgraded BRZ plays well on Fuji's smooth surface; how all this translates to the street remains to be seen. Previous BRZs we've driven have had a firm ride and—as noted in our 40,000-mile long-term test and again in our recent drive of the 2016 Series.HyperBlue version—the cabin can be a buzzy place. Nothing Subaru has done to the '17 model is likely to smooth the ride or quiet it down. But the trade-off is a car that rewards the driver with affordable agility and some of the most fun to be had in a new car for less than $30,000.
Visual Enhancements
In addition to the powertrain and chassis changes, Subaru incorporated other updates. On the outside, the 2017 BRZ wears a broader-looking front fascia, full-LED headlamps along with LED taillamps, and a functional trunk-mounted aluminum wing that's standard on all trim levels. Inside, the new steering wheel is the center of attention. The wheel is slightly smaller in diameter and wrapped in leather, and it incorporates updated controls for the audio and Bluetooth systems. Limited models come with faux carbon-fiber trim and nicely bolstered leather sport seats with faux-suede inserts and red stitching. A new 4.2-inch performance display is integrated into the updated instrument cluster. Within the new readout, drivers can monitor fluid temperatures and horsepower and torque curves. The latter is especially useful for drivers intent on avoiding that soft zone in the powerband.
As when Fuji Speedway evolved from an eight-turn circuit to one with 10 turns, these changes, although small, are effective. Subaru still stands by its assertion that it will bring an STI-tuned BRZ tS to the United States. It also says that plans for a second-generation car (with or without Toyota as a partner) remain in the works, inviting us to consider the potential for a BRZ as dramatically different from today's car as the modern 16-turn Fuji circuit is from the one we learned playing Pole Position in 1982.
Specifications
VEHICLE TYPE: front-engine, rear-wheel-drive, 4-passenger, 2-door coupe
BASE PRICES: Premium, $26,350;
Limited, $28,465;
Series.Yellow, $30,515
ENGINE TYPE: DOHC 16-valve flat-4, aluminum block and heads, port and direct fuel injection
Displacement: 122 cu in, 1998 cc
Power: 200/205 hp @ 7000 rpm
Torque: 151/156 lb-ft @ 6400 rpm
TRANSMISSIONS: 6-speed manual, 6-speed automatic with manual shifting mode
DIMENSIONS:
Wheelbase: 101.2 in
Length: 166.7 in
Width: 69.9 in Height: 50.6 in
Passenger volume: 80 cu ft
Cargo volume: 7 cu ft
Curb weight (C/D est): 2750-2850 lb
PERFORMANCE (C/D EST):
Zero to 60 mph: 6.4-7.5 sec
Zero to 100 mph: 16.6-20.1 sec
Standing ¼-mile: 15.0-15.8 sec
Top speed: 140 mph
FUEL ECONOMY:
EPA city/highway driving: 21-24/29-33 mpg
Контроль заноса
Оппозитный двигатель не единственное, что подросло в 2017 году. Шасси BRZ, во всех конфигурациях и вариантах трансмиссии, также претерпело незначительные конструкционные изменения: точки крепления передней растяжки поперечной устойчивости, трансмиссия, задние стойки – все было усилено. Подвеску изменили, установив более крупный задний стабилизатор и другие пружины: спереди они стали жестче, сзади – мягче. Представители Subaru позволили нам сравнить уходящую модель с образцом 2017 года – и на трассе изменения сразу стали очевидны, шасси нового автомобиля ощущается более совершенным, а движения кузова – лучше контролируемыми.
Жесткая передняя подвеска позволяет точнее придерживаться апекса в поворотах; измененные настройки электрического усилителя рулевого управления обеспечивают более линейный отклик между центральным и крайними положениями. Еще одно крупное изменение – система курсовой устойчивости, VSC говоря на языке Subaru, была перепрограммирована. На предыдущем BRZ система VSC вступала в действие сразу же, как только начиналось веселье, но в новом режиме она позволяет водителю получить удовольствие от дрифта на BRZ, и только потом берется за дело.
Новые настройки похожи на бывший режим Sport, который 2017 году заменен новым, еще более либеральным режимом Track. Теперь водителей, которые не захотят отключать систему курсовой устойчивости, ее работа будет раздражать гораздо меньше.
На Фудзи на асфальт опустилось одеяло тумана, сделавшее покрытие влажным, что обеспечило нам прекрасную возможность проверить программы, как нового, так и старого автомобиля. В старом BRZ система VSC начинала работать сразу же, как только задние шины начинали терять сцепление с полотном, новая программа предлагает плавное и менее назойливое воздействие. После активации режима Track занос можно легко контролировать; система курсовой устойчивости начинает работать только при обнаружении неминуемого прокручивания колес.
Обновленный Subaru BRZ 2017 года
Субару БРЗ: Фото, Цена — смотрите, удивляйтесь!
Обновленный Subaru BRZ 2017 : Легче, быстрее, мощнее, с модернизированным внешним видом, а также новым пакетом Performence! Итак: Субару БРЗ: фото, цена на новый авто 2017, характеристики и комплектации!
Следует уточнить, что после нескольких незначительных обновлений своего спортивного купе BRZ за последние годы, компания Subaru вносит существенные изменения для модели 2017 года. Все это делается для убеждения нынешних владельцев, что авто совершенствуется и для привлечения новых покупателей в свои ряды. Модель 2017 года получит больше мощности, откорректированные настройки подвески и несколько визуальных изменений. Будет доступен новый пакет Performance.
Технические характеристики Subaru BRZ 2017
У двухлитрового рядного четырёх цилиндрового двигателя BRZ уменьшено внутреннее трение и увеличен расход воздуха. Это привело к увеличению мощности на 5 л.с. и крутящего момента на 7 Ньютон на метр, от 205 и до 212 соответственно. Ускорение автомобиля улучшилось за счет коротких передач. И это все при стандартной комплектации с шести ступенчатой механической коробкой передач. Если выбирать опцию с автоматом, тоже шестиступенчатым, то покупатели будут рады и такому варианту, поскольку ускорение автомобиля уменьшается совершенно незначительно.
Субару БРЗ: Фото, Цена, технические характеристики
Subaru немного изменила некоторые настройки уже сбалансированного шасси BRZ. Пружины и амортизаторы установлены новые, а задний стабилизатор поперечной устойчивости увеличили по сравнению с ранними версиями.
Жесткость автомобиля так же улучшена за счет новой фигурной формы стоек кузова, усиленных поперечных пластин и жесткости арок задних колес. Компания произвела изменения в настройках системы курсовой устойчивости, которая вмешивается в управление автомобилем после достижения большего угла скольжения в отличие от предыдущего режима «Sport«. Теперь этот режим называется «Track«.
Комплектация Performance
Впервые Subaru BRZ будет предлагаться в комплектации Performance с механической коробкой передач Limited моделей. Эта комплектация для тех, кто планирует ежедневную активную езду. Большие передние и задние тормоза с суппортами Brembo улучшат тормозные характеристики автомобиля. Комплектация Performance включает в себя амортизаторы фирмы Sachs и окрашенные в черный цвет 17 дюймовые колеса.
Субару БРЗ Фото панели приборов
Изменения внешности коснулись в незначительной степени передней части автомобиля. Установлены новые светодиодные фары и выполнены небольшие изменения переднего бампера.
Заднюю часть автомобиля компания изменила в гораздо большей степени. Установлены полностью светодиодные фонари, а новый задний бампер теперь будет одинаковый во всех комплектациях.
Установлены новые десяти спицевые колеса. В салоне самым большим изменением стала установка нового 4,2- дюймового ЖК дисплея, на котором отображаются несколько параметров: производительность, включая боковое скольжение; угол поворота рулевого колеса и время прохождения круга. Так же установлено рулевое колесо, отличное от предыдущих моделей.
Субару БРЗ: Фото, Видео, Цена
Цены на новый Subaru BRZ 2017 немного вырастут по сравнению с предыдущей моделью и будут стартовать с 26190$. Пока точно не известно, сколько будет стоить комплектация Performance. Это зависит от того, представят ли конкуренты от Toyota подобный вариант комплектации.
Более точные данные будут известны по мере приближения старта продаж автомобиля, который намечен на конец этого года. Тогда же мы сможем увидеть специальное издание от компании Subbaru BRZ в ярко-жёлтом цвете. Это представление должно произойти очень скоро 12 июня, так что следите за обновлениями. Делитесь новостью с друзьями!
The 2017 Subaru BRZ is both an anomaly in the automaker's lineup and a gem of a sports car hiding in plain sight. With its rear-wheel-drive layout, the BRZ coupe is the only Subaru that isn't all-wheel drive. That rear-drive configuration, combined with its 2+2 seating, lightweight design and roughly $26,000 starting price, also makes the BRZ among the few affordable compact-sports coupes available for today's generation of driving devotees. Lightly updated for 2017, the Subaru BRZ remains one of the least expensive ways to have some of the most fun for performance enthusiasts on a budget. Sure, you can get more power in a Camaro and open-air thrills in a Miata, but the BRZ offers balance and dynamics that few others can touch.
The 2017 BRZ offers some of the most joy that can be had in a car costing less than $30,000. Just don't expect tire-incinerating power or straight-line performance that will smoke rivals. That's not the BRZ's thing. Sure, with 200-odd horsepower its flat-4 engine makes this Subaru coupe quick enough. But the BRZ's real gifts are the way it corners — and the way it makes you feel doing so. If carving roads, wringing out an engine for all its worth and manually shifting through gears is your idea of fun, you'll smile every time you start the BRZ. We appreciate the revised suspension tuning and extra horses under the hood in manual-transmission models, but the biggest difference with the 2017 model is not seen but felt at its cornering limits. The BRZ's stability control threshold has been increased, enabling you to slide the tail with less intrusion from the safety system.
STEERING-WHEEL CONTROLS
Once you have the convenience of a steering wheel with built-in controls for audio, cruise control and Bluetooth, it's hard to go back. Thankfully, one of our few nits with the past BRZ has been rectified for 2017, with a steering wheel that boasts all these functions.
MANUAL TRANSMISSION
According to Subaru, the vast majority of BRZ buyers prefer the standard 6-speed manual transmission over the optional 6-speed auto. We can understand why they buck the trend. The BRZ has one of the best manuals around, and certainly at this price point. Easy, crisp and engaging, it just feels right.
The 2017 Subaru BRZ coupe can technically seat four passengers, but take one look at the diminutive rear seats and you'll likely just use them for extra storage. This isn't unusual for a coupe — the larger Camaro and Mustang are the same way — and at least adds to the BRZ's everyday practicality, especially since the rear seats fold to hold longer items passed through the trunk. Up front the seats are well bolstered for the kind of sporty driving the BRZ entices, and controls are easy to reach and use. We're real fans of the new steering wheel.
If you park the 2017 Subaru BRZ next to its Toyota sibling, the 86 (formerly the Scion FR-S), you'll be hard-pressed to tell the difference. The same could be said for a 2017 BRZ vs. a 2016 model. Slight revisions are there, but it takes study to find them, such as the modestly redesigned bumper and LED headlights. This isn't a bad thing. We've always been smitten with the BRZ's tight, sleek and aggressive looks. The car sits low, is well-proportioned and has creases in all the right places. Standard twin tailpipes and a new aluminum spoiler finish the tail end.
The 2017 Subaru BRZ remains available in two main trims: Premium and Limited. Premium models — yes, that's the base form — include Subaru's Starlink 6.2-inch touch-screen multimedia display with 8-speaker AM/FM/CD system with Bluetooth connectivity and USB/auxiliary ports, rearview camera, manual driver's seat with height adjustment, Torsen limited-slip differential, 17-inch wheels, cruise control, and leather-wrapped shift handle and tilt/telescoping steering wheel. BRZ Limited models add an Alcantara-and-leather interior with heated front seats, dual-zone automatic climate control, LED fog lights, security system, push-button ignition, a new 4.2-inch color instrument display, and red interior accents.
The 2017 BRZ's option list is relatively short. If you want an automatic-transmission BRZ, you'll have to get the more expensive Limited trim and option it. Other add-ons include the Performance Package available on manual-transmission BRZ's that bundles black alloy wheels, Brembo brakes and Sachs front and rear shock absorbers. The BRZ's options are nice, but in reality even a base Premium model is recommendable as this coupe's dynamic performance is its biggest draw. For real buffs, the 500-run Series.Yellow BRZ is based on a Limited model with performance package and adds interior accents and a bold yellow exterior paint color.
Just one engine is available in the Subaru BRZ, but it's been slightly tweaked for 2017, at least on manual-transmission models. It is a 2.0-liter 4-cylinder that is horizontally opposed, or a «boxer» or «flat» design. This layout allows the engine to sit lower in the vehicle, which means a lower center of gravity and thus better handling. The manual-transmission version receives new cylinder heads, valves, camshaft, aluminum intake manifold and redesigned exhaust manifolds. Aside from the lower price, better engagement and slightly increased horsepower, another reason to opt for a manual model is it boasts a sweet red intake manifold. Pop the hood and check it out. All BRZs are rear-wheel drive, just as divinity intended a sports car should be.
2.0-liter flat-4
200 horsepower @ 7,000 rpm (205 horsepower in manual-transmission models)
151 lb-ft of torque @ 6,400 rpm (156 lb-ft in manual-transmission models)
EPA city/highway fuel economy: 21/29 mpg (manual), 24/33 mpg (automatic)
Note: Due to changes in EPA testing to more effectively reflect real-world conditions, some 2017 models show slightly lower fuel-economy scores than their 2016 versions.
The Pros:
The BRZ handles like a dream. It drives like the car Colin Chapman would have built if Japanese scientists had resurrected him and told him to build a car out of the joint parts bins of Toyota and Subaru, or else they'd disconnect the pumps and send him back to oblivion.
It's surprisingly good in town, too. The engine may not make all that much torque, but what it has is right there; it plateaus between 2,000 and 3,000 rpm, right in the sweet spot for bopping around local roads. Combine that with a sensitive throttle, and the BRZ feels zippy and energetic when bopping through traffic or trying to beat the light
It looks good. Sure, the details may not be as elegant as an Aston Martin or as aggressive as a Challenger, but the basic shape of the BRZ is pure, old-school sports car: long hood, muscular fenders, compact greenhouse, taut tail.
The new infotainment system is miles better than the old crap Subaru and Toyota used to shoehorn into these cars. Granted, it still looks like an aftermarket head unit when it's powered down, but at least now you don't want to pull a Mark Fields and punch the sucker out of frustration.
Exterior
With its rakish profile and long sloping glass, the two-door BRZ looks like it should have a hatchback, but there's a small trunk there, which stiffens the structure of the body. Its looks are contemporary: a clean silhouette, arched roof, long low hood, sculpted flanks, flared fenders, and flashy five-spoke wheels.
The low beltline and wraparound glass not only makes the car look modern, it enhances visibility from the cabin. It's a shame the side fender vents just ahead of the doors look like they were put there by Pep Boys.
You may also like
Outside, and under the skin, changes include full-LED headlights and tail-lights, a new 'Track' mode within the Vehicle Dynamics Control, hill-start assist, 17-inch alloy wheels, auto climate control, a smaller steering wheel, modified bumpers front and rear, upgraded infotainment, updated driver's instruments and the option of BRZ-embossed seats with contrasting stitching.
As we saw when we experienced the updated Toyota 86 at Fuji Speedway a few months ago, the enhancements aren't massive then, but they make a subtle difference to the feel from behind the wheel.
Once you hunker down into the driver's seat of the BRZ, you get that sense of sitting go-kart like, on the ground as you did in sports cars of old. It's not the only thing that harks back to the classic sense of sports car driving either. There's a sharp, direct lightness to every input, which imbues the BRZ with a sense of connected clarity. While it's an excellent road car, it feels immediately like you'd have a ball on-track, and we know that to be true.
The updated infotainment system is easy to use, and while not right at the forefront of technical advancement, buyers in this segment, at this price point, won't care less. A car like the BRZ is all about the driving, not the technical details.
The 6.2-inch touchscreen is a major step forward from the 'afterthought' feel of the old system, which appeared to be an aftermarket fitment rather than an integrated factory design. It's also something that now sets the BRZ apart from its Toyota sibling.
The seating position itself is excellent, with the driver able to get into the position they prefer, and maintain a driver-focused balance between reach to the pedals, reach to the wheel, and reach to the shifter. You can tuck in a little closer for track work obviously, but for road driving where you might like a more relaxed seating position, you can achieve that, too. If you don't like climbing down into, and up and out of a vehicle though, the BRZ isn't for you.
Second row seating is best described as 'occasional' for behind the passenger, and 'not at all' for the position behind the driver, to the point where you wonder why the BRZ isn't simply a two-seater. Our test model was fitted with a full-size spare tyre too, which ate into the already compromised boot space. As with most sports cars though, if you don't do the shopping for a family of five, and you don't carry passengers around often, then who cares?
Around town, the BRZ is a doddle to drive. The snappy throttle pedal, short throw of the gear lever, and exceptional clutch pedal all combine to deliver smooth progress when you just want to get from A to B. There's nothing jerky, imprecise or harsh about the BRZ at low speed. It even manages to iron out poor roads with ease, too.
In fact, there's a forgiving nature to the suspension tune, which perches beautifully between comfort around town, and balanced precision at speed. You could stiffen up a BRZ for prolonged motorkhana or track work obviously, but unless you plan to do that more often than most, the standard suspension tune is excellent.
Under the skin, there's a thicker strut tower bar mounting bracket and transmission cross-member reinforcing plate. There's also more reinforcement in the rear wheel housing, while the springs have been retuned stiffer front and softer rear. They combine with a larger rear anti roll bar. The front differential mount stoppers have also been tweaked to lower vibration and aid noise suppression. And we thought the BRZ was a precise enough machine before…
When we drove the tweaked version of the 86, we found any noticeable changes came to the fore on the track where you can stretch the chassis to its limit. In short, the 86 felt more dialled in, sharper and a little more precise – a sensation we'd expect to sense behind the wheel of the BRZ, if we had track time.
While it's hard to pinpoint any one area where the BRZ has been sharpened up on road, it certainly feels like an even more pinned down sports car to punt at speed. Subaru reckons it wasn't especially easy either to squeeze even more power and torque out of a platform that was already cleverly tuned and efficient in the way it delivered its thrust.
While the numbers and graphs tell us the lower spectrum of the torque curve has been fattened up, we find there is still the characteristic drop off around the 3500rpm mark, which means you need to keep the engine singing away – in typical small capacity, naturally-aspirated fashion – above 4500rpm and up toward redline to extract rapid progress.
Subaru has made this easier than before though, with the change to the final drive ratio meaning it's not at all difficult to keep the engine working in its sweet spot. On the subject of the powerplant, the synthesized engine sound that cannons into the cabin sounds purposeful enough without being too drone-like or loud.
The steering remains beautifully precise as it always was, and it's perhaps the most confidence inspiring aspect of the whole drivetrain. The ability to point the BRZ exactly where you want it to go, and the fact it does that, makes you so much more inclined to have some fun. The brakes are likewise exceptional and to use a favourite term of our current PM, the 'agile' nature of the BRZ is as present as ever.
The BRZ is way sharper at speed than any other vehicle within a bull's roar of this price point aside from the MX-5. Head to a twisty road you know well and you can link corners together seamlessly, flowing into and out of them with precision and balance. The BRZ is so light on its feet, so nimble, it makes you feel like an expert behind the wheel no matter your skill level. As we say often, there's much to like about a comparatively underpowered car that is so easy to drive fast in comparison to a monster power figure in a chassis that is much harder to wrestle.
The changes to the ESC system and the way in which it cuts in to end your sliding fun, make a big difference to the overall experience too. Much less prone to cut in invasively and too early, it means drivers who want to leave ESC active, can do so with less intrusive annoyance.
Use Track mode and you'll be able to get the BRZ into a neat drift and keep it there, if that's your poison. You'll only ever want to explore this on track, but the BRZ presents as an excellent starting point for any buyer wanting to learn the basics on track.
Having previously owned two Toyota Sprinters, the BRZ/86 twins seem to me, to capture that lightweight, high revving, free spirit of late 1980s, early '90s sports cars. For some time now, the MX-5 has held a mortgage on that title, but the release of the BRZ in 2012 changed all that. You can accuse us of being mist-eyed in the face of modern FWD and AWD platforms that can be just as capable, but there remains innate appeal in a RWD, front engine platform that is so well executed.
Rare is the car that is both affordable and fun. Even rarer, is one that has both those traits but also retains an old world purity of driving experience.
We've revered the BRZ since it was first released, and there's no doubt this subtle upgrade reinforces that affection. It remains an exceptional sports car that is accessible to the masses. You have to spend a lot more money to have more fun than you can have behind the wheel of a BRZ.
Цена Субару БРЗ 2017
Изначально цена на новую модель стартовала с отметки 1 440 000 рублей. Но такая сумма показалась автолюбителям слегка завышенной, и дилеры пошли на уступки. Теперь спорткар доступен по цене 1 380 000 рублей, что не так ужи и дорого, как для автомобиля такого уровня и комплектации. Потом компания свернула производства и все предложения перешли на вторичный рынок.
Если кратко подвести итоги, то стоит сказать, что за несколько лет существования модели, ее дизайн и характеристики значительно улучшились. Разработчикам удалось навязать конкуренцию другим, более популярным автоконцернам.
Серьезных недостатков обнаружить не удалось, и это хороший выбор для людей, ищущих недорогой спорткар с агрессивным внешним видом.
Массового производства не будет и каждый владелец сможет считать себя счастливым обладателем эксклюзивной модели.