McLaren 600LT 2019 – новый суперкар семейства Sport Series
McLaren 600LT 2019 – новый суперкар семейства Sport Series
В Гудвуде, в рамках традиционного фестиваля скорости, дебютировал новый суперкар McLaren 600LT 2018-2019 модельного года. Новинка расширит младшую линейку эксклюзивных спортивных автомобилей британского бренда и появится на рынке уже в этом году. При этом МакЛарен 600LT станет самым быстрым и одновременно самым дорогим представителем семейства Sport Series от McLaren, что еще больше приковывает к ней внимание ценителей скорости.
McLaren 600LT 2018 Review – International
The new McLaren 600LT is far more than just a slightly stretched, slightly more powerful makeover over the 570S. Re-engineered to the extent that McLaren claims almost 25 per cent of its parts are changed, the 600LT is 100kg lighter, delivers 100kg of downforce and eats its stablemate's and competitors' lap times for breakfast. At the same time, it is more engaging, more purposeful and yet remains remarkably refined. Importantly, the improvements have come not just from throwing expensive parts at the car, but rather from a highly evolved knowledge of what a car needs to go fast – on the road and the track. Sure, it's not cheap, and the result is not the fastest McLaren yet (just), but it could well be the best.
Playing the long(tail) game
Longtail is an emotive label for McLaren. Its genesis was via a racing version of the historically significant McLaren F1. Since then the badge has evolved to now adorn the highest performance versions of it track-focused road cars.
The McLaren 600LT (Longtail) is in every way a fitting recipient of the already-storied badge. This new mid-engined, two-seater sports car may be based on the middle of the range McLaren 570S Sport Series, but the company's engineers have gone to town in terms of optimising this car for the road and track.
On sale now for $455,000 plus on-road costs, with first Australia deliveries due here by year's end, it is lighter, more powerful and, most importantly, more driver and performance focused.
It may not wear the title of McLaren's top-of-the-range Super (or Ultimate) Series cars, but it is in almost every way a performance match for the much more expensive 675LT that went before it.
More power, same hardware
Compared to its 570S donor stablemate, the new McLaren 600LT packs more punch from its 3.8-litre twin-turbocharged flat-plane crank petrol V8.
Horsepower is up 22kW to 441 (592hp, hence the rounded-up badge) and torque now peaks at 620Nm.
It's as much about how McLaren has massaged the delivery of the power and torque from the V8, as the increases themselves that makes the engine so good.
The delivery is incredibly linear – perfect for metering out the neddies in fractional doses to maximise every gram of traction on the track. Peak power is at 7500rpm with top torque achieved between 5500-6500rpm.
There have been engine management system changes but save for the single-seater-racecar-style top-exit exhaust (more later), the engine is essentially the same as un the 570S.
Stiffer engine and gearbox mounts are featured and help transfer more low-frequency sounds to the cabin and increase the connection between powertrain and driver, McLaren's theory goes. It works!
The automated seven-speed dual-clutch transmission is also essentially unchanged from the 570S. It has, however, been fettled terms of its shift characteristics.
Like the other cars in McLaren's line-up these can be customised by the driver via an ActiveDynamics system through Normal, Sport and Track settings. In Sport, you get all the froth and bubble you'll ever need (see below). Track is strictly business…
Less weight, longer nose and tail
The 600LT's key physical changes are outside of the engine-room and they are significant. Indeed, McLaren claims almost a quarter of the 600LT's parts are changed in the evolution from 570S.
Key to the Longtail recipe is weight reduction. McLaren claims an impressive 100kg has been shed in the change from 570S to 600LT to deliver a mass of 1245kg.
Just consider that for a moment. Not long ago, we were praising Peugeot for getting its 308 GTi hot hatch to down around this number. This thing is featherweight and packs 600hp!
The largest weight reduction (over 21kg) is via lightweight carbon-fibre seats – themselves inspired by the buckets McLaren fitted to its mega-dollar P1. Even lighter McLaren Senna part-trimmed variants are an option and featured on our launch cars.
But the weight reduction strategy has been tip to tail. There's more stripped from each corner of the 600LT via lightweight forged 10-spoke alloy wheels and the list of other items that have come in for a bit of good old 'gram strategy' reduction is long.
It includes suspension components (alloy front and rear double wishbones and uprights from the 720S); bodywork (much is now carbon-fibre); brake rotors and callipers; audio and sat-nav; front and rear screen glass; wiring loom and so on…
To achieve the headline 100kg reduction you'll actually need to ditch the air-con. Don't worry Aussies, McLaren will let you add it back (along with its 14kg or so with loom) as a no-cost option
More than 12kg is shed by adopting that incredibly racy top-exit exhaust set-up. This has a number of benefits, McLaren's boffins claim. The aforementioned weight reduction, less back-pressure which helps boost kW and, as it is entirely above the rear axle line, a cleaner and more efficient rear diffuser design.
And the mortar-style exhaust is also just plain-and-simple cool — even if the 800-degree exhaust gases mean McLaren has to mar the gorgeous carbon-fibre rear fixed wing's centre section with a special ceramic coating, lest it turn into a flaming appendage.
Aero-dynamic
That fixed rear wind brings us to another of the McLaren 600LT's party tricks – its optimised aerodynamics. The headline figure here is 100kg of downforce at 250km/h – split 40:60 favouring the rear.
This is achieved via a number of measures, the most obvious of which are the more pronounced front splitter and extended rear body work. It's the extra 74mm (27mm front and 47mm rear) these parts add that, strictly speaking, deliver the 600 its LT (longtail) designation.
The front splitter is more aggressively profiled, wider and sits closer to the ground thanks to an 8mm reduction in ride height. The profile increases downforce and also tidies flow around the front wheels and to the front-mounted intercooler and brake intakes.
There's a new carbon-fibre floor under the 600LT and even the 'floating' cantrails play a role in both generating downforce and directing cooling air over the engine deck lid. The profiling of the doors, even the mirrors, all plays a part in feeding more (and less 'draggy') air to the 600LT's main (rear) radiators.
But the parting shot of the 600LT is its aero triumph. Without the need to package an exhaust system under the rear of the car, the diffuser is both longer (it starts at the rear axle line) and deeper, thus generating a much larger low-pressure area – and downforce – without attendant drag increases.
Devils in the detail
If you're getting the impression that attention to detail abounds across the McLaren 600LT, you're on the right Shinkansen.
The front track has been increased by 10mm, and as noted above, ride height dropped. There's been tuning to the dynamic properties of the stability and traction control and launch control systems.
The continuously variable, electronically controlled twin-valve dampers and spring rates are bespoke, although the car retains the linked hydraulically-actuated anti-roll system McLaren has pioneered and perfected.
The steering geometry is unique and the rack quicker than in the 570S; the brake booster system comes from the Senna; the carbon-ceramic brake discs and lightweight multi-piston callipers themselves are from the 720S.
New McLaren 600LT 2018 review

The McLaren 600LT is a more hardcore proposition than the 570S it's based on, thanks to its stiffer suspension set-up, fixed-back racing seats and stripped-bare options list. But those are minor sacrifices; the 600LT rewards with astonishing performance and an even more involving and engaging driving experience.
McLaren's new 1,036bhp Speedtail hypercar is the talk of the automotive press this month, thanks to its sky-high list price and astonishing performance figures. We can't wait to drive it, but for some there's an even more exciting model joining the range right now: the Mclaren 600LT.
The brand's Long Tail badge is reserved for the more hardcore models in its range, and this new model follows the sensational 675LT in the series. While that car was a more focused version of the 650S supercar, the 600LT builds on the smaller 570S and sits at the top of McLaren's Sports Series range.
The name hints at the extra power that has been added as part of the overhaul process. It's 30bhp up on the 570S, with the 3.8-litre V8 that sits behind the seats now producing a total of 592bhp. There are a few styling tweaks to give the car a more aggressive look as well, although the 600LT remains fairly subtle — at least, as subtle as a near-600bhp two-seater performance car can be. The main additions on the outside are the carbon fibre roof, fixed rear wing, front splitter and rear diffuser.
These add-ons mean there's an extra 100kg of downforce at 155mph, which gives you an idea about how McLaren expects its customers will use the car: on the track. The special Pirelli Trofeo R tyres, beefier brakes and suspension tweaks are all focused on making the 600LT faster around a circuit. A weight saving of around 100kg over a standard 570S helps that extra 30bhp go further, too. But one of the McLaren 570S' most appealing features was how well it worked on British roads. Can the more hardcore 600LT match its sibling for fun on the road?
More reviews for 600LT Coupe
Road tests
New McLaren 620R 2020 review
New McLaren 600LT Spider 2019 review
From the moment you drop into the deep bucket seats, there's no question that the 600LT is a more hardcore, focused machine than its sister car. The cabin is similar, although it's missing features such as air-con, sat-nav and even a radio as standard. Those items are available as extras, however, and since there's a screen already fitted, the weight saving is likely to be tiny. Just add them to the options list and be done with it.
The V8 engine is slightly more purposeful than the similar unit in the 570S, and at low revs it sounds rougher. The engine has never been hugely characterful, and doesn't feel anywhere near as sweet as a Porsche 911 GT3's high-revving motor. The McLaren's engine doesn't howl or sing, but it does get smoother and louder the harder you rev it.
It's very effective, though, and the noise it makes is just about the only thing that might make you think twice about buying a 600LT; everything else about the driving experience is just sublime. The 0-62mph time of 2.9 seconds is a hint at how rapid the LT is, but it won't prepare you for how brutal it feels once the engine is on boost.
On cold, wet roads the Trofeo R tyres don't provide much grip, and the 600LT's abundance of power means it can feel nervous in these conditions. But as the roads and tyres warm up, the McLaren transforms. When it's able to put its power down, this Long Tail is a seriously fast car. The ultra-agressive gearchanges give it an extra sense of urgency, too.
The adaptive suspension is stiffer than the set-up in the 570S, and at low speed it thumps into potholes. The low-speed ride is no worse than any of the latest hot hatchbacks, however, and the faster you go the better it gets – to the point that it feels more comfortable at 60mph than some family cars. A 570S is a better car for using every day, but the 600LT's more communicative set-up is worth the trade-off.
The steering is among the best in any modern car: it's light enough that making inputs is comfortable, and weight is added naturally through corners. There's so much feel and feedback from the front wheels that it's a joy no matter how fast you're going, and you can place the car accurately in your lane. It doesn't feel unwieldy on the road, and it never fights back over bumps or potholes. The wheel has a wonderfully thin rim, too, so it feels great in the hands.
Track driving is part of its DNA
McLaren says there are six strands to "Longtail DNA". Increased power, reduced weight and limited availability we've covered, and we'll come to driver engagement. The final two are optimised aerodynamics and track-focused dynamics.
This quest for circuit-based speed starts with more aggressive aero. A jutting front splitter, larger side skirts, fixed rear wing and racing-style diffuser all contribute to 100kg of downforce at 155mph: a speed, incidentally, that I'll soon surpass at the Hungaroring.
Lighter, forged aluminium suspension, derived from the 720S, offers an 8mm lower ride height, stiffer anti-roll bars and a 10mm wider front track. Adaptive dampers are still standard-fit, but are recalibrated for a tauter, more tightly-honed response.
The final piece in the dynamic puzzle is tyres. The Pirelli P Zero Trofeo Rs fitted here are bespoke to the 600LT and have a soft, sticky compound for maximum cornering grip. Conventional P Zeros, longer lasting and better for wet weather, are a no-cost option.
But those exhaust pipes, and the ferocious noise that comes out of them, are unique, as is McLaren's proprietary infotainment system which is laid out in a skinny portrait-oriented screen and includes sat nav, Bluetooth connectivity, phone integration and air conditioning controls in a simple, yet stylish layout of tiles. Within the Iris screen, drivers can use a McLaren Track Telemetry smartphone app to map circuits and then record and display vital data. Taking the track day element a step further, the 600LT can be optioned with three cameras to record footage that can be overlaid with the data to evaluate driver performance.
The carbon construction not only makes the 600LT ultra stiff (which is ideal for a sports car) but it means the cockpit has smaller-than-normal A-pillars, a useable rear window and an expansive windscreen to provide exceptional vision for a car of its type.
2018 McLaren 600LT coupe review
Facebook
Twitter
Google Plus
Mail
McLaren takes the Sports Series and gives it the full Longtail treatment. Results predictably incredible.
WHAT IS IT
Think of this as a McLaren 570S that has spent all winter in the gym. Harder, faster, leaner and meaner, the 600LT is the fourth Longtail model from Woking's skunkworks and is undoubtedly the most accessible. We like that.
WHY WE'RE TESTING IT
We were given the opportunity to stretch the 600LT's legs on track at the Hungaroring. A McLaren on a bona fide F1 circuit? That's a hard invitation to turn down.
MAIN RIVALS
THE WHEELS VERDICT
We have to qualify this verdict as we've only driven it on a super-smooth F1 circuit, but the McLaren 600LT seems the real deal. Searingly rapid yet surprisingly approachable for a bona fide carbon-tub supercar with 441kW and doors that open upwards, the 600LT may look closely related to the 570S, but it feels markedly different. It's more direct, more alive and just flat-out angrier. It's a gem.
PLUS: Sharp responses; amazing steering; linear power delivery; chassis exploitability; flames from top-mounted exhausts
MINUS: Engine not overly tuneful; interior can look underdone without optioning
THE WHEELS REVIEW
MAX VERSTAPPEN calls the Hungaroring a Mickey Mouse track. Danil Kvyat reckons it's a bit too narrow for modern F1 cars. They might well be right, but in a McLaren 600LT, it's electrifying. All those things that GP jockeys hate – the guardrail proximity, the patchy runoff, the weird sightlines, the linked sequences of bends that make overtaking almost impossible – don't really matter when you've got the track to yourself in a 441kW road car that weighs just 1356kg.
The 600LT is not a difficult car to understand. Take a 570S and just tweak virtually every dynamic criterion. Aero, brakes, track width, power, torque, spring rates, roll bar width, breathing, weight, tyres – you name it, it's been amped up by a few percent. You might consider these marginal gains, but fully 23 percent of the 600LT is different to the 570S and it shows. The sighting laps of the 4.4km circuit were conducted in a 570S. Jump from that into the 600LT and the former feels rubbery and dull in its responses. It's anything but, and we rate the 570S very highly as a road car, but on track the 600LT is night and day better. It's sharper, fiercer, more playful and just a bigger, more three-dimensional personality.
Don't put too much credence in McLaren's claim that 100kg has been excised from the Sports Series to create the 600LT. Yes, it is possible to slice that amount from the 570S's figure, and McLaren claims that a hundred kegs less is more beneficial than another 60PS (44kW) due to the virtuous circle of lighter weight requiring lighter componentry, but you'd need to delete the air conditioning and audio system and nobody's about to do that. Few will go for the fixed bucket seats either. By the time you put the stereo back in, you lose the benefit of a cut-down lightweight loom. Most customer cars will weigh around 60kg less than a 570S.
You'll feel each and every kilogram of the car barrelling into Turn One. Switched into Track mode, you get a set of shift lights that are blazing blue as the speedo shows 255km/h and you jump on the brakes just past the 200m board. The 390mm carbon ceramic front discs are borrowed from the 720S and are augmented by a brake booster developed from the Senna's. The pedal feel is firm and you can hit it hard without worrying about the 600LT weaving under braking as you might in a 570S. At this speed, the LT's fixed aero package is creating 100kg of downforce as you jump on the picks, reducing front pitching.
Flick the carbonfibre paddle shifter down through three gears, and the top-mounted exhaust's blare right behind your head drenches the cabin in sound. The M838TE 3.8-litre V8 isn't a melodic powerplant, but it sounds purposeful and raw here, twin gouts of blue flame occasionally issuing skywards like foot-long candles. It's warm on track, 34 degrees, and the specially designed P-Zero Trofeo Rs find no shortage of purchase on the hotmix.
You'll need to trail the brakes gently into the broad hairpin before gradually feeding throttle. The 600LT can feel scrappy if it's driven clumsily or bullied through corners. It has its own cadence that you'll need to key into, which is quick and smooth. The hydraulically assisted steering doesn't change no matter which powertrain or handling mode you're switched into. That's a good thing, because it's the best steering in its class by a significant margin; clean, feelsome and with the sort of feedback you thought was a thing of the past. A stiffer torsion bar in the rack and a ratio that's four percent quicker than the 570S make the front feel alert but not hypersensitive.
Darren Goddard, Sport Series Line Director, explains the logic behind McLaren sticking with 'old tech' hydraulic assistance. "There's no pressure within the business to fit EPAS (electric power assisted steering) to our cars, but there is pressure from the industry as a whole, because everything now is going that way," he says. "We tried different manufacturers' EPAS systems and didn't like them. The Lamborghini Huracan? Ugh. Porsche's is about the best, but it doesn't have the on-centre feel. They're trying to replicate a lot of characteristics that we don't have to."
The steering's helped by the tyre, which McLaren has specially developed in conjunction with Pirelli, rejecting a couple of design iterations until the combination of huge belt stiffness with a slightly softer-than-normal sidewall was achieved. Turn-in is crisp, with hardly a sniff of understeer. "Getting the roll stiffness right at the rear was key to giving this car the front end it has," claims Goddard, alluding to the rear roll bar that's increased in stiffness by 25 percent. The front bar is 50 percent stiffer than 570S and spring rates have increased by 14 percent front and 34 percent rear to give a similar overall stiffness to the previous Longtail model, the 675LT. It corners flat and hard, but with just enough roll to telegraph its limits. The 600LT will lap this track quicker than the 675LT, despite being a little slower in terms of outright acceleration.
Mid-corner, you're rolling off brakes and onto power as you home in on the apex. In Sport powertrain mode, big throttle openings will see the car mete out only as much torque as the rear tyres can deploy, which can make it feel laggy on corner exit. Switch to Track mode and it's a lot more hands-off. That 'lag' was the software, taken from Bosch's standard map and developed in-house by McLaren, protecting you from yourself.
In Track, you feel the limit of grip more cleanly, and you also get Inertia Push – above 5000rpm and from 60 percent throttle input – which means that when the transmission is upshifting, the next gear is preselected and energy built up in the flywheel and rotating/reciprocating engine components is scavenged. The effect is such that rather than there being a lull when flicking up a gear, there's virtually no let-up in acceleration. Track delivers quicker and smoother gearshifts than Sport mode, which introduces a momentary pause that can shock the driveline.
Due to the fact that the power delivery is so linear, the 600LT never feels crushingly accelerative or boosty like a heavily turbocharged 911, but the numbers don't lie. Any rear-wheel-drive car that can dip below three seconds to 100km/h is quick. And 8.2 seconds to 200km/h is quicker than a 911 GT2 RS or a Huracan Performante. Historical point of reference? The McLaren F1, which managed 0-200km/h in 9.4sec.
In terms of outright laptimes, the 600LT will likely sit somewhere between the Performante and the Ferrari 488 Pista and, at $455,000, is more affordable than both. The 675LT was limited to 500 examples of each body style, but McLaren won't put a figure on 600LT production plans. A Spider model will follow next year, but the only indication on how many will roll out of the MPC at Woking is that less than 20 percent of Sport Series volume will be devoted to Longtail. Those lucky few will be rewarded with the most sweetly honed, beautifully balanced road car that McLaren has ever built. How to put a price on that?
Model McLaren 600LT coupe
Model McLaren 600LT coupe
Engine 3799cc V8 (90°), dohc, 32v, twin turbo
Max power 441kW @ 7500rpm
Max torque 620Nm @ 5500-6500rpm
Transmission 7-speed dual-clutch
L/W/H/WB 4604/1930/1194/2670mm
Weight 1356kg
0-100km/h 2.9sec (claimed)
Economy 12.2L/100km
Price $455,000
On sale Now
McLaren 600LT review : 5.0 / 5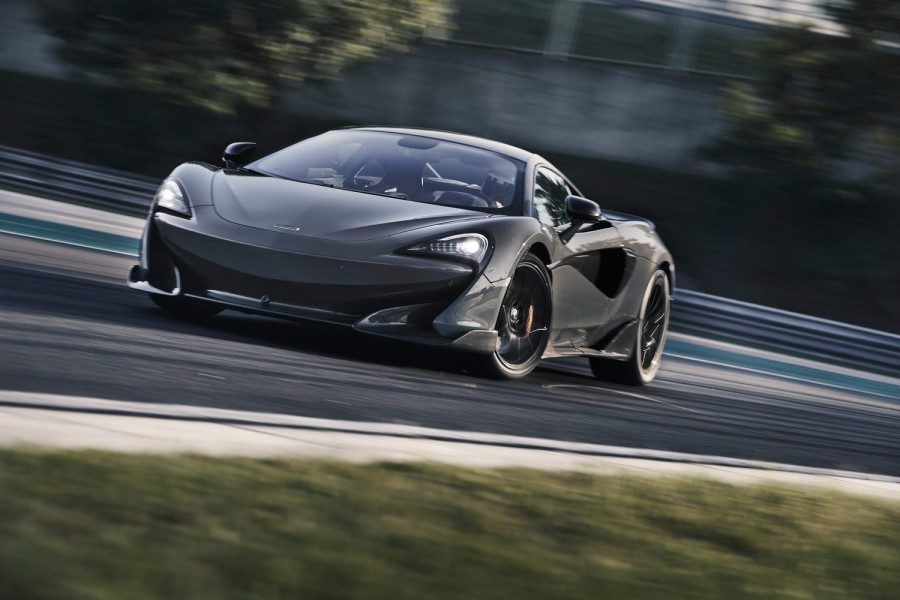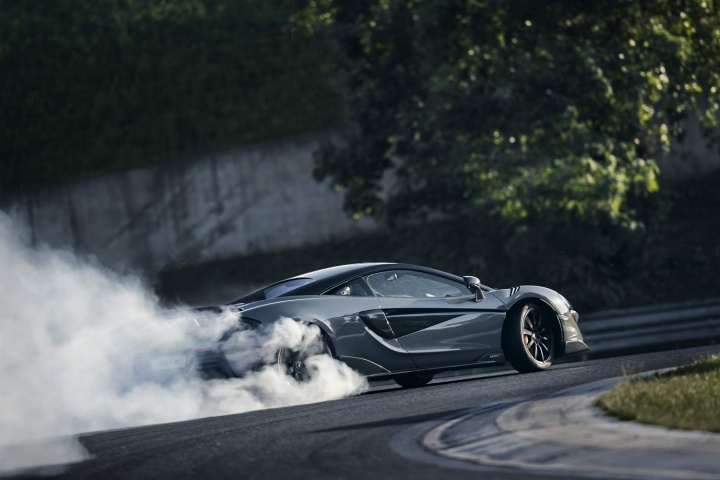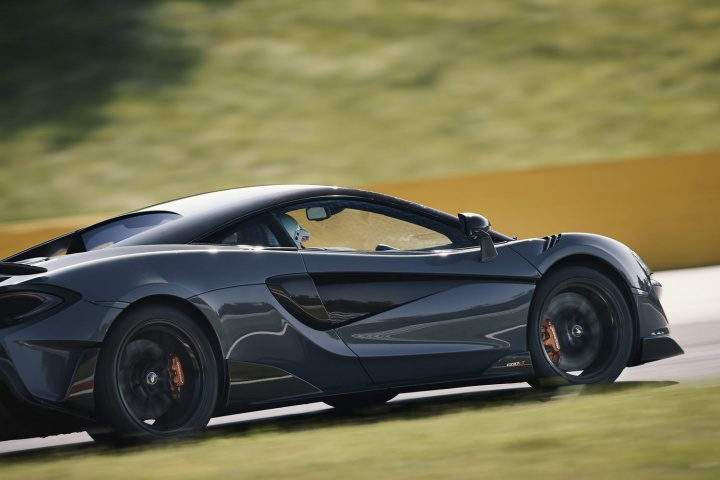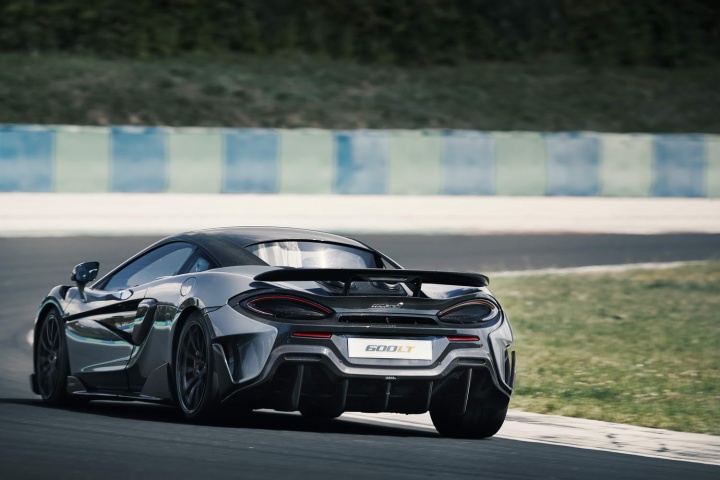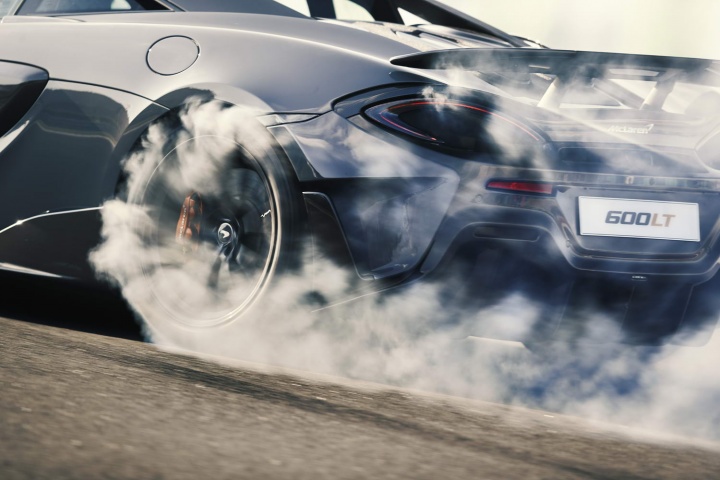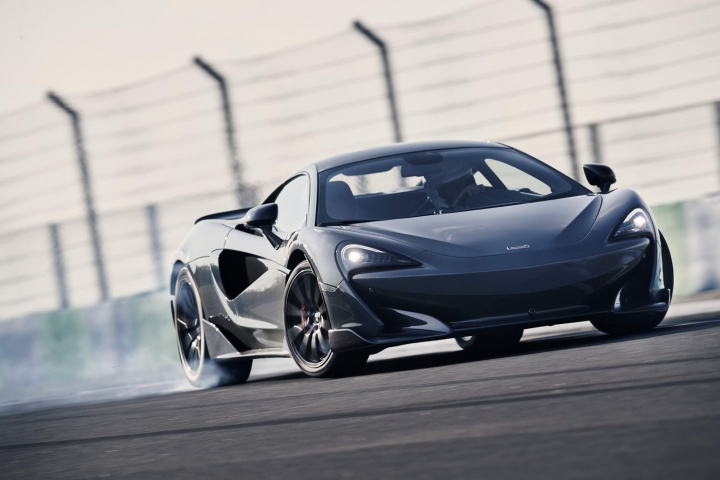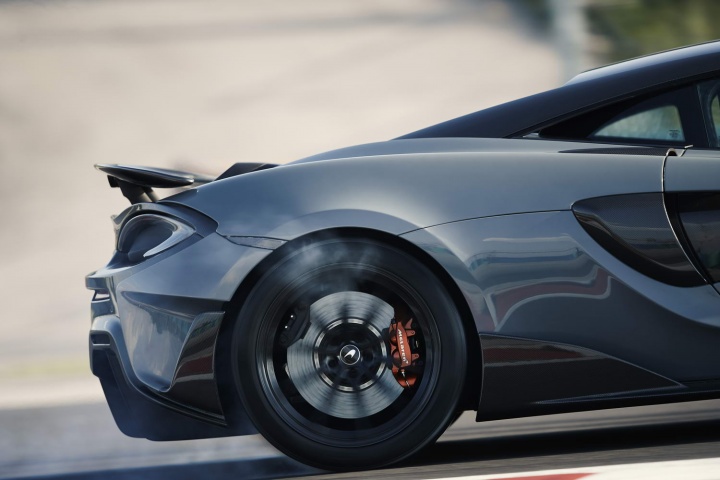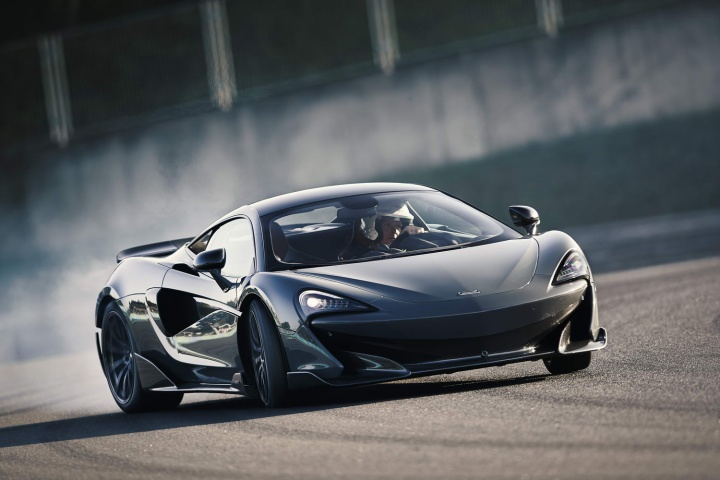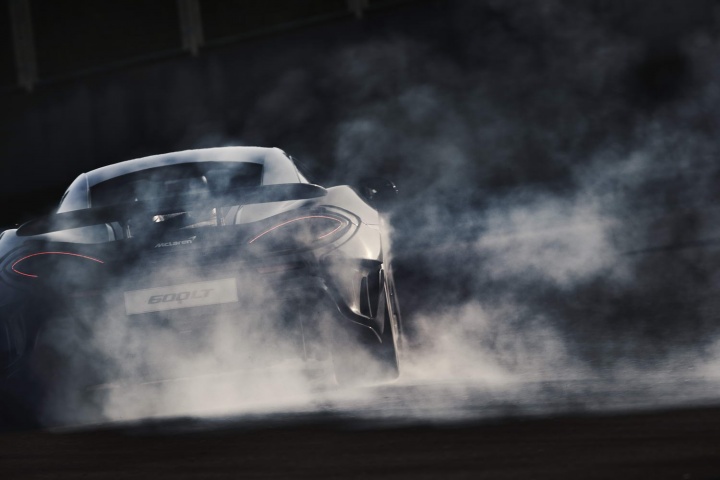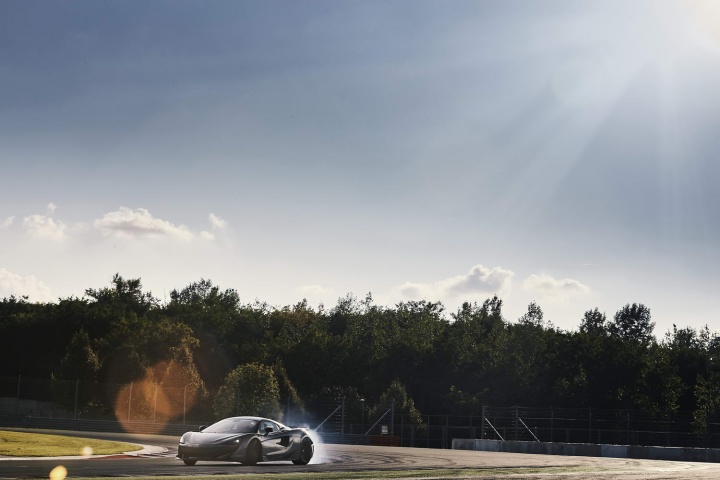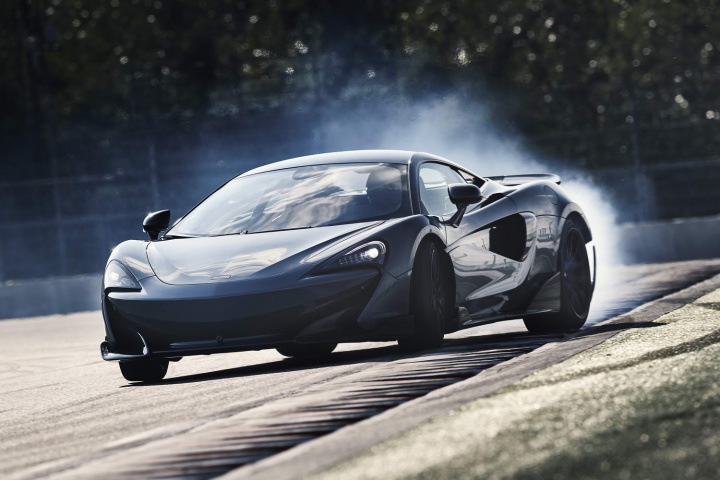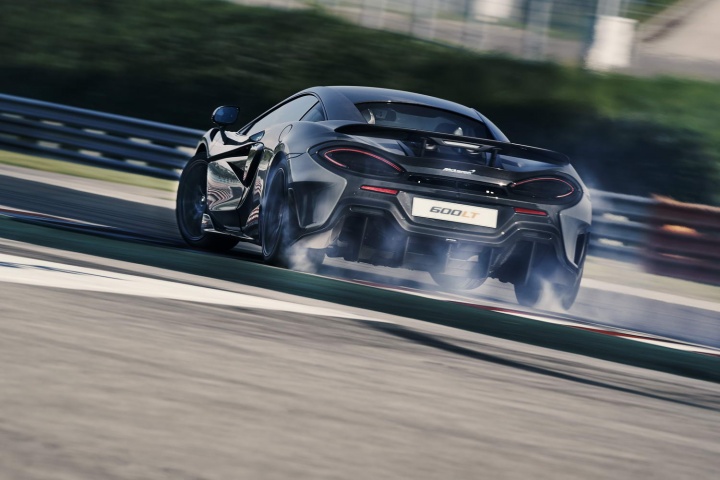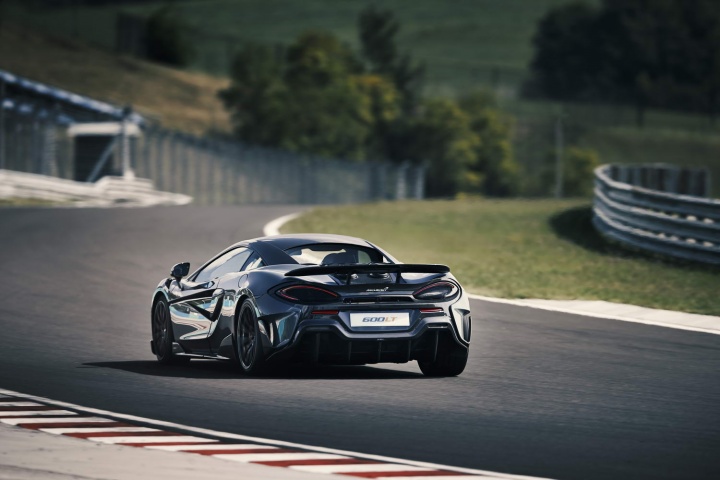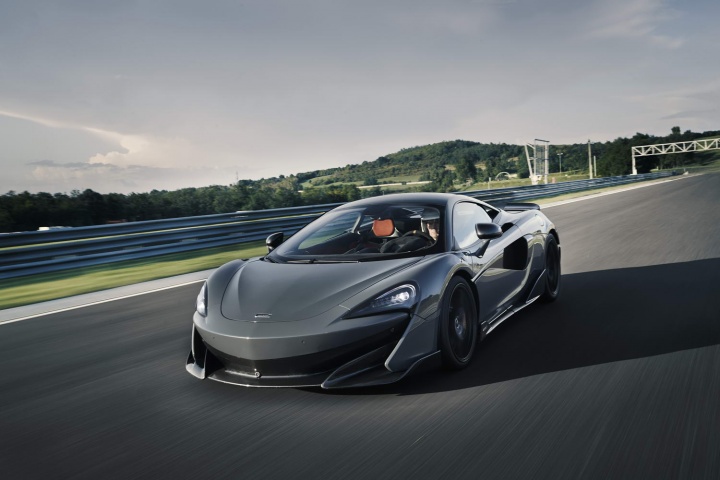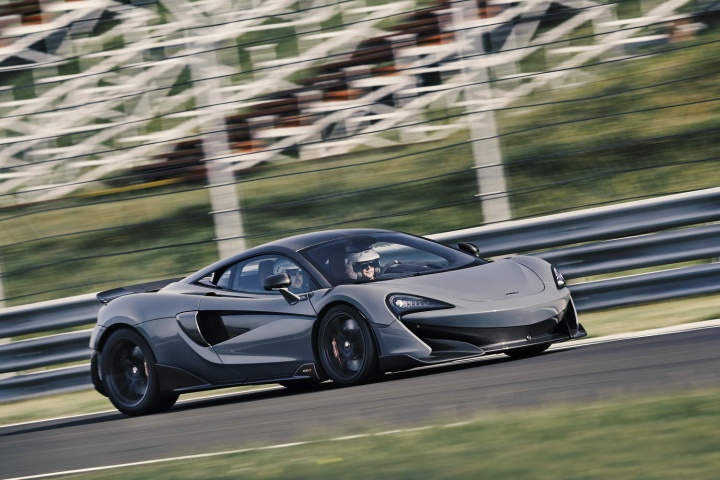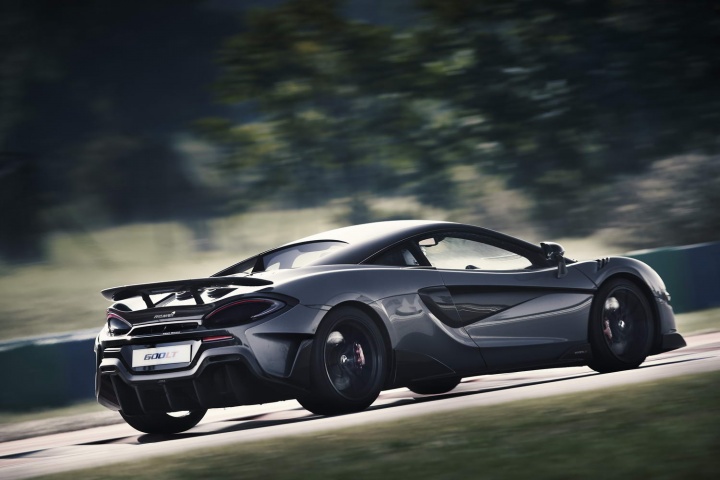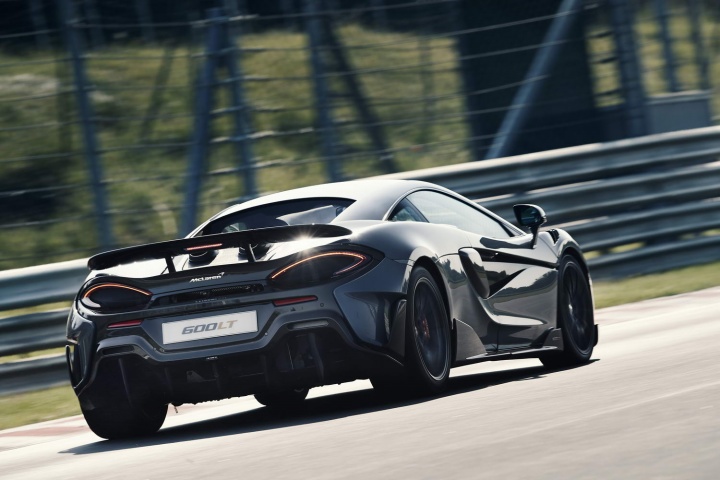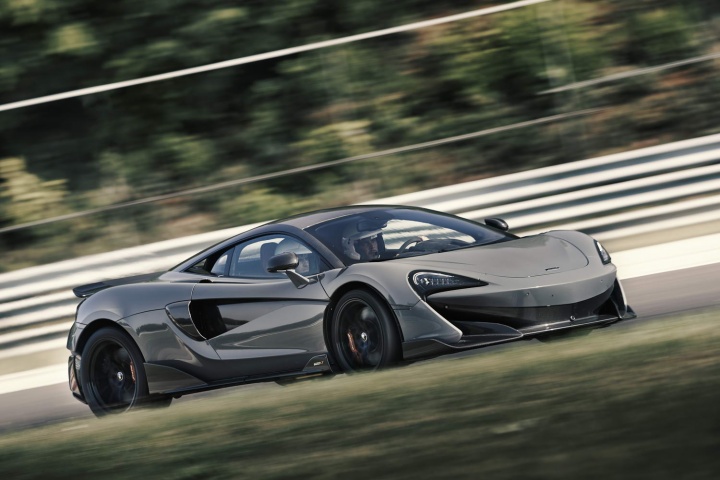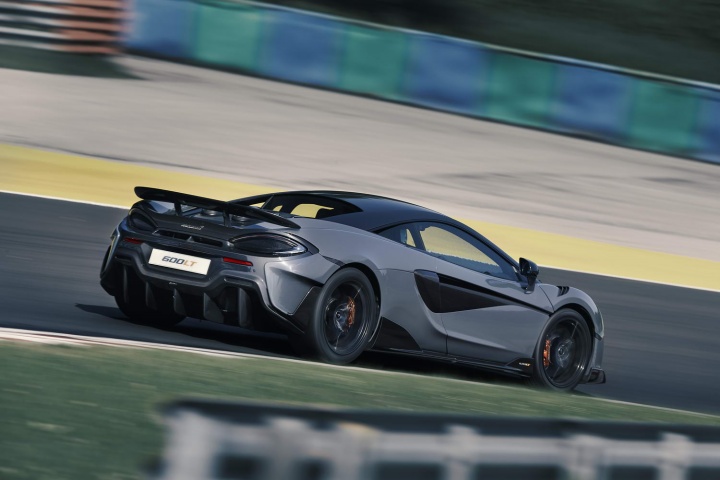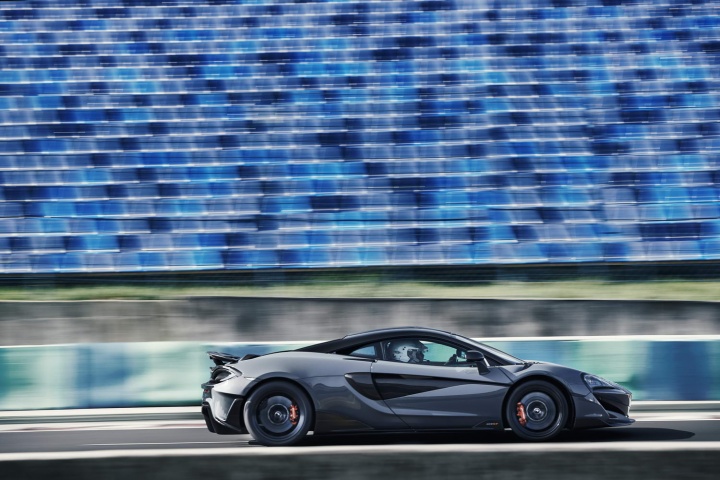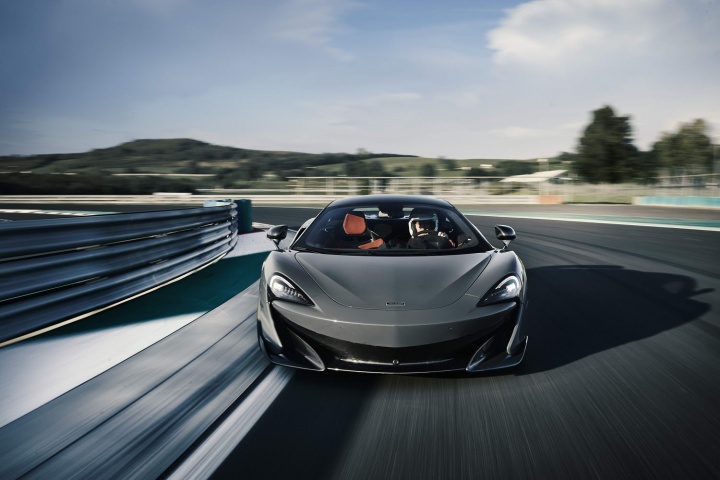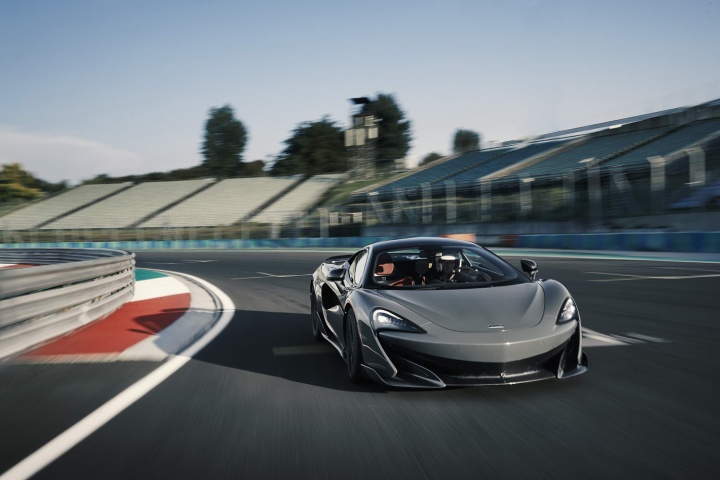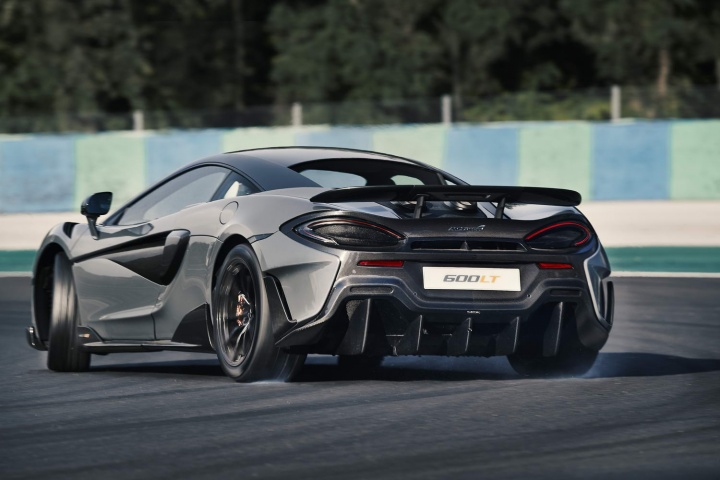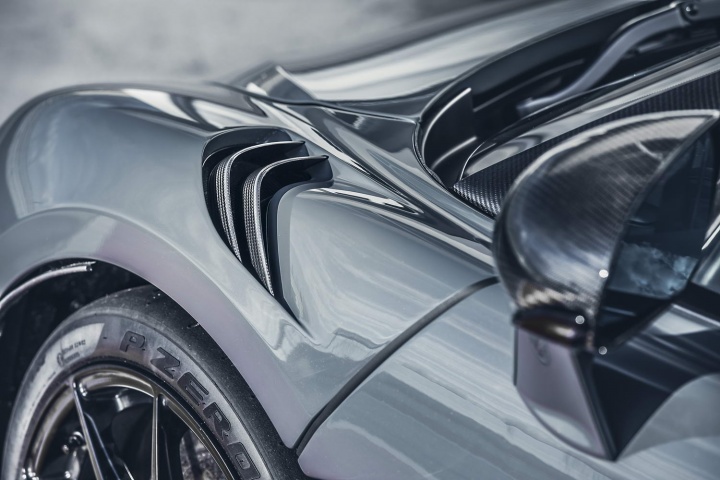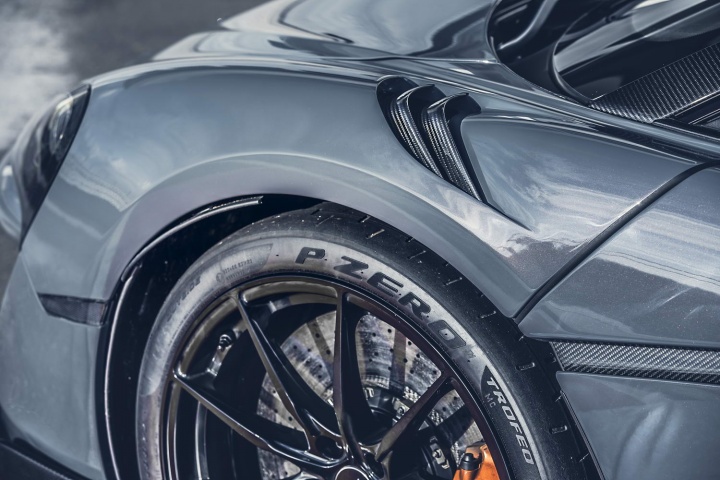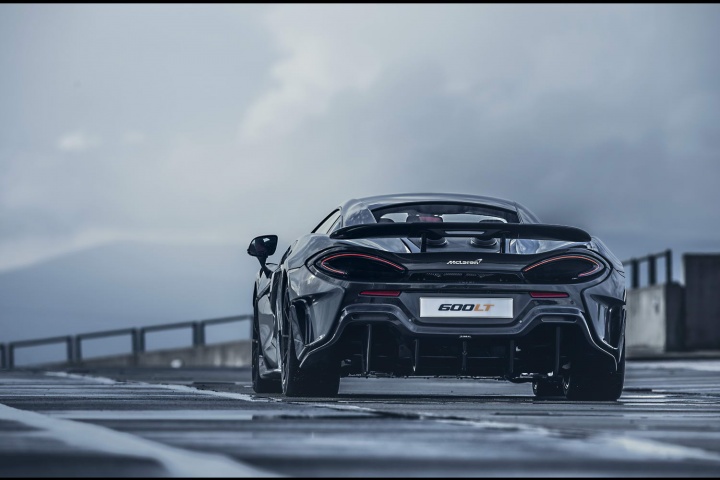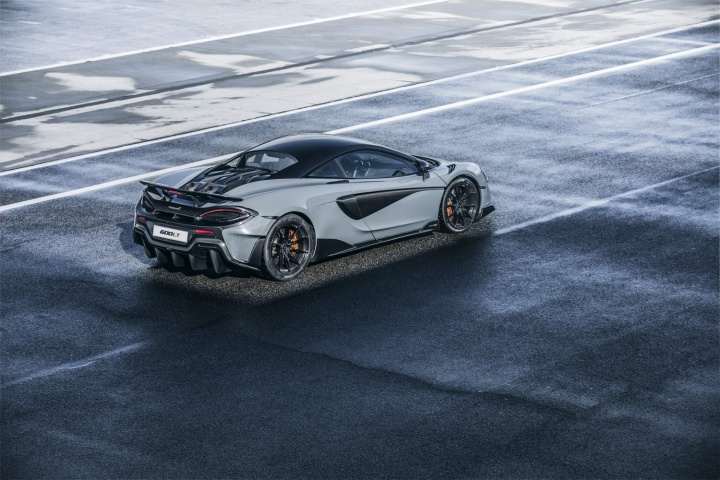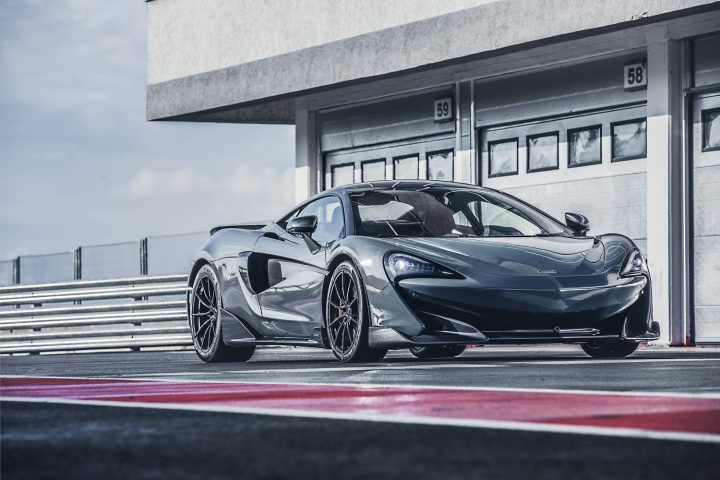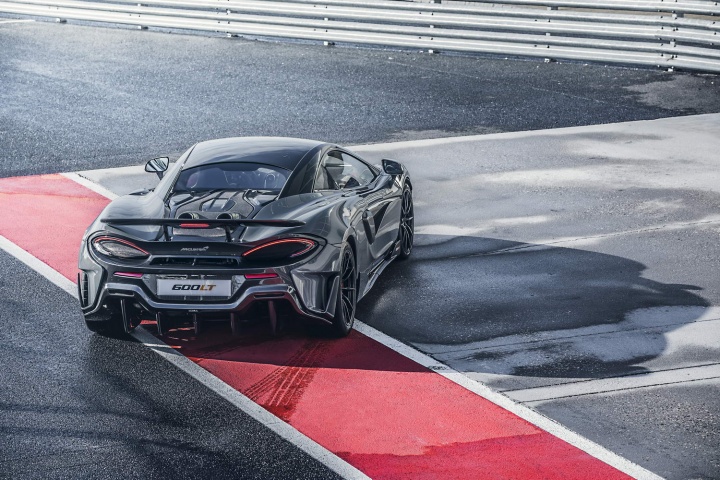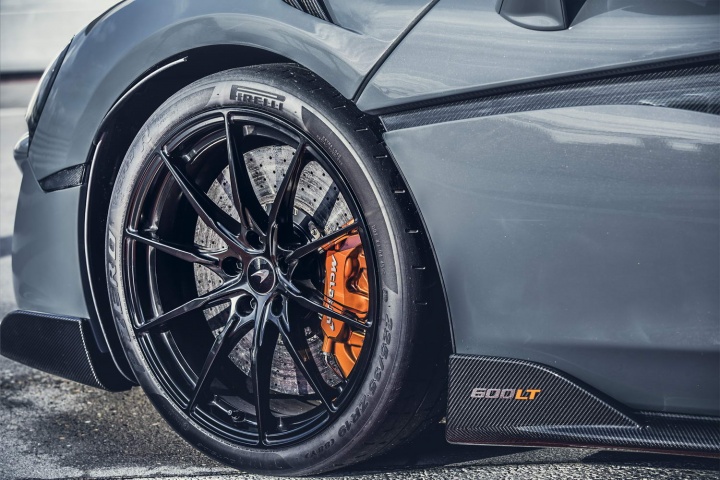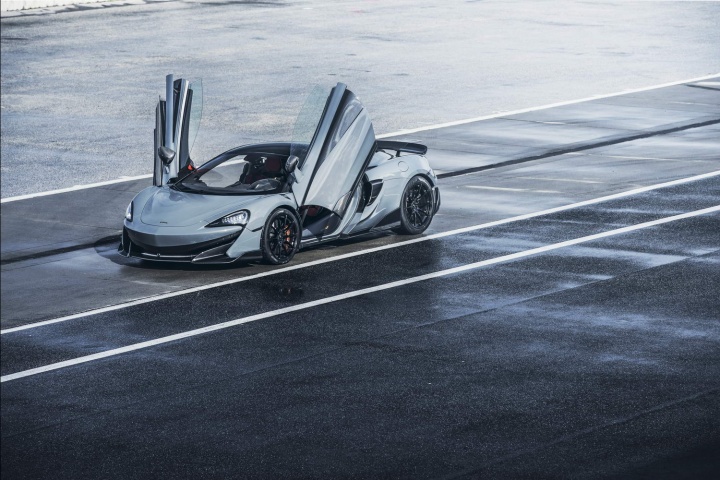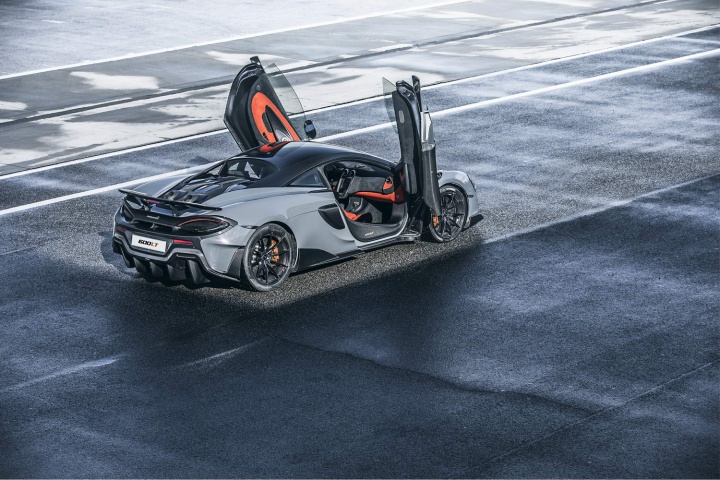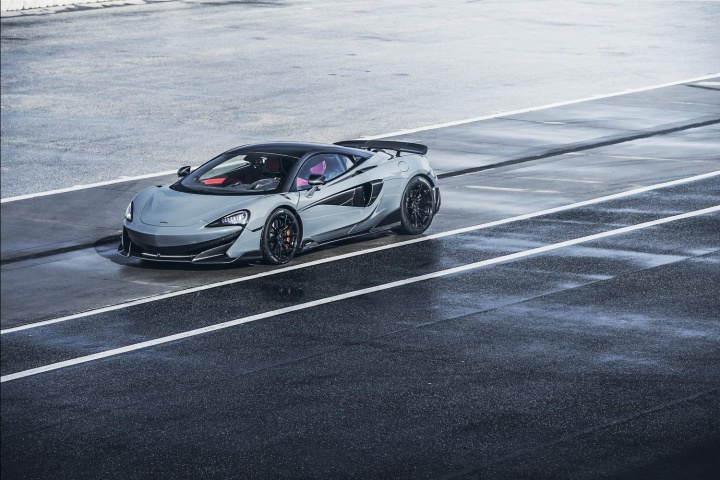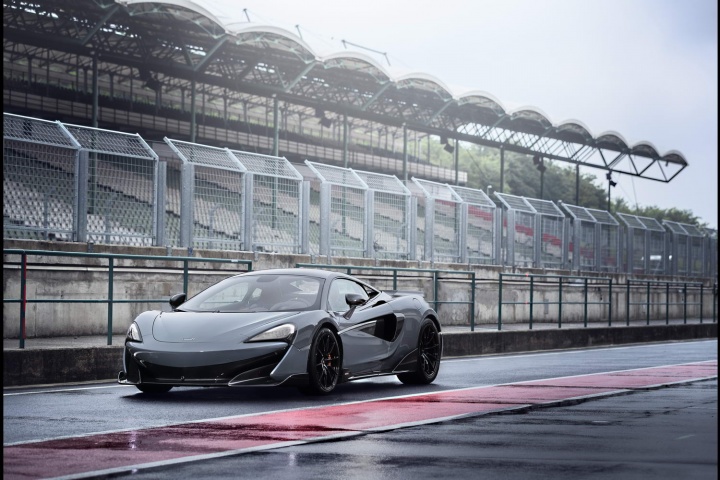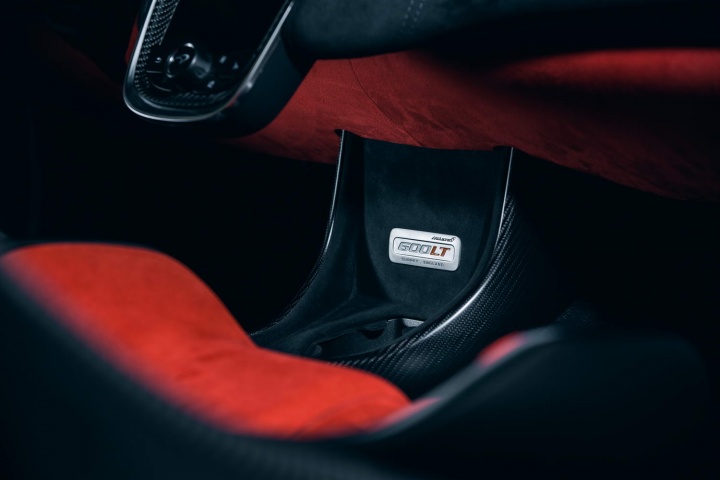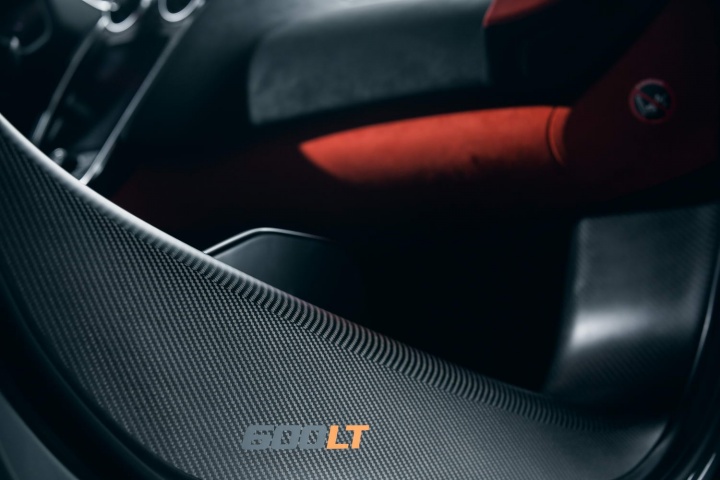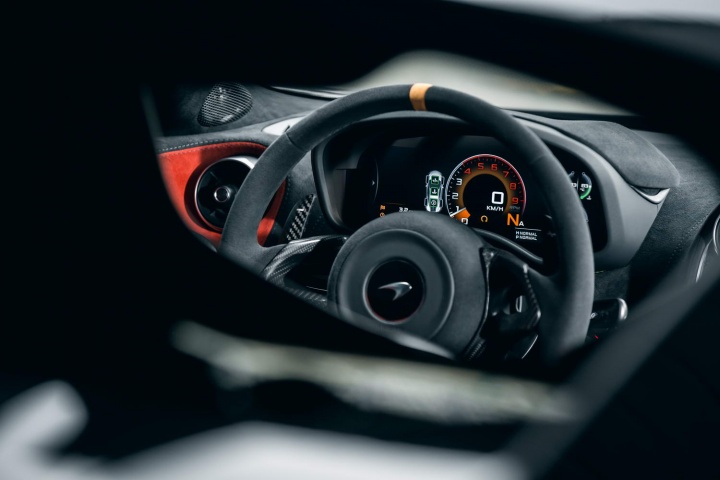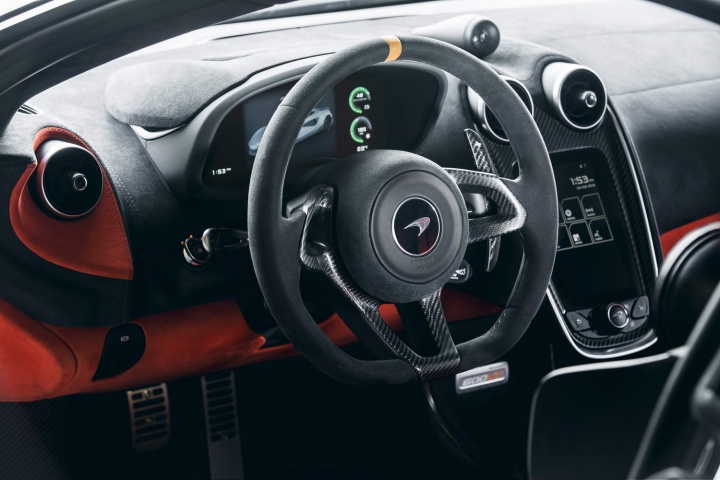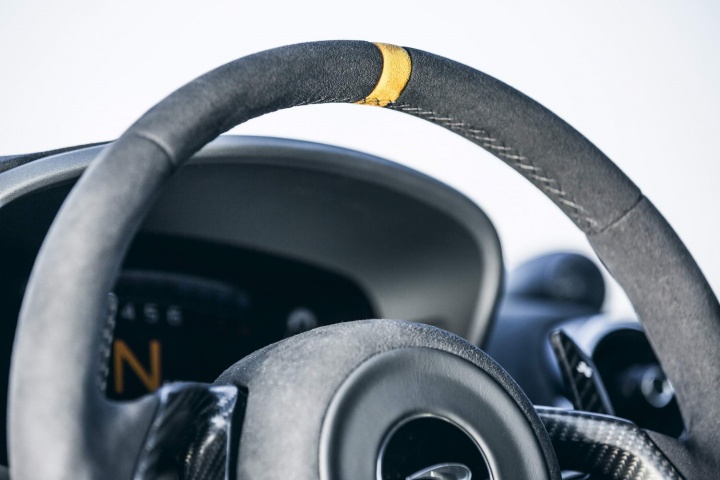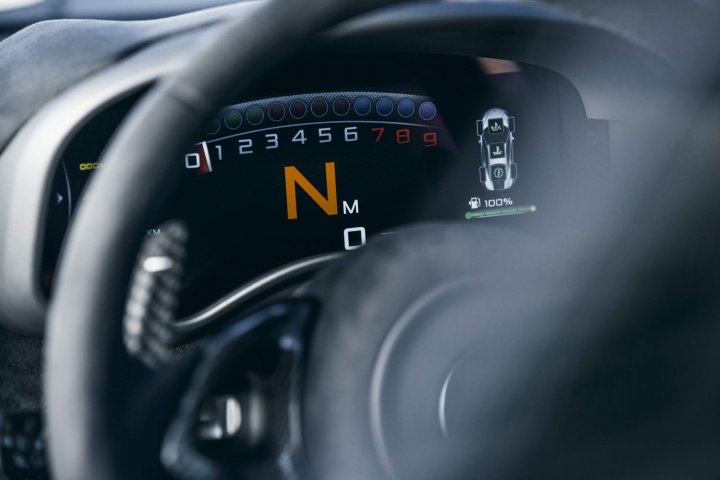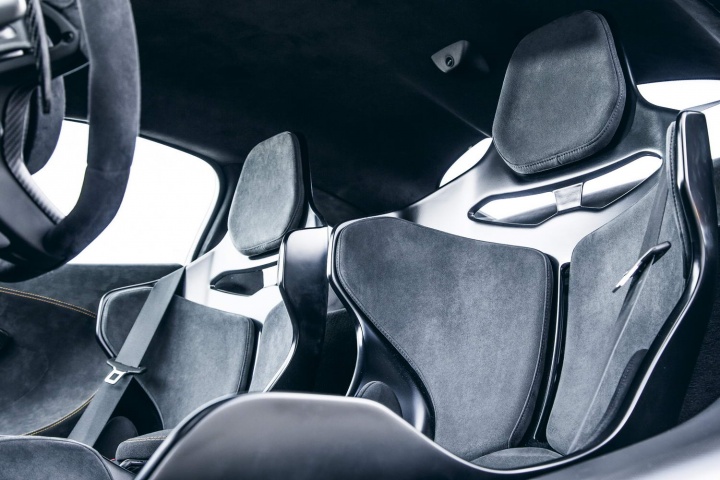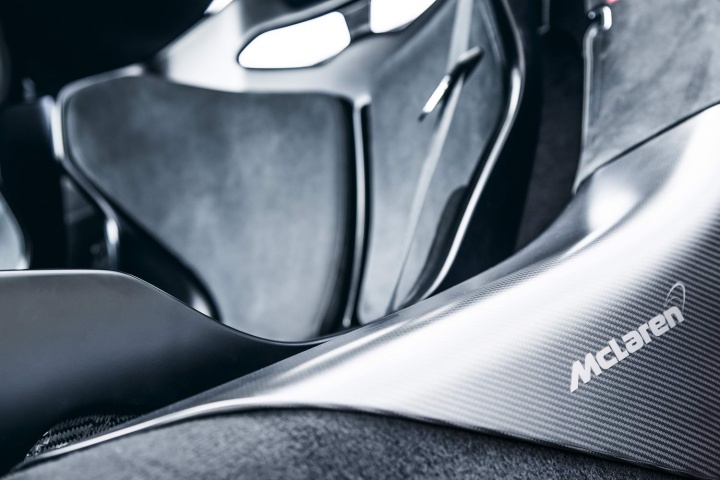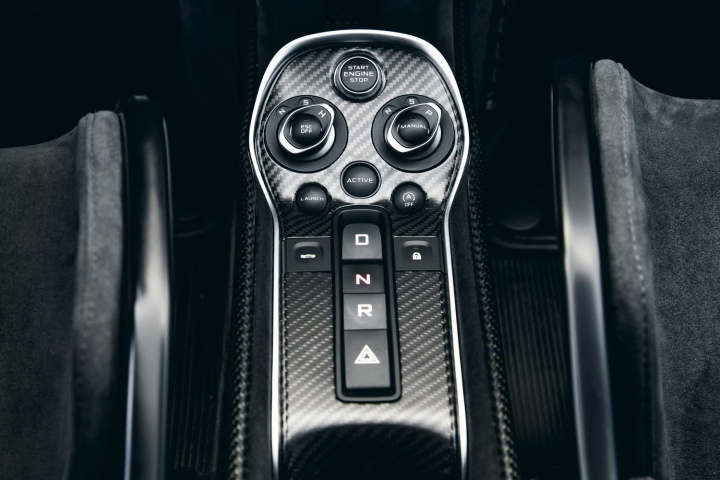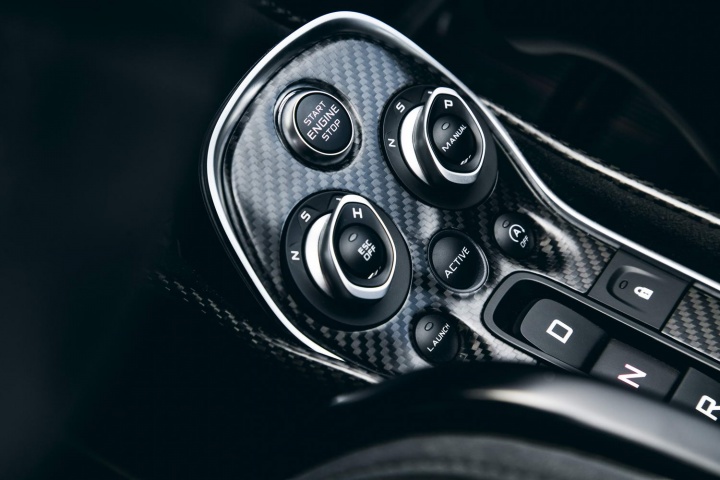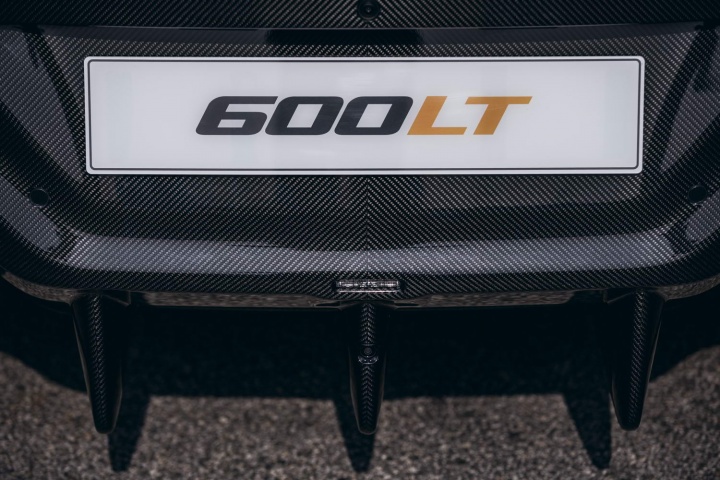 The new McLaren 600LT struts its stuff on the Hungaroring F1 circuit as the second modern-day Longtail model.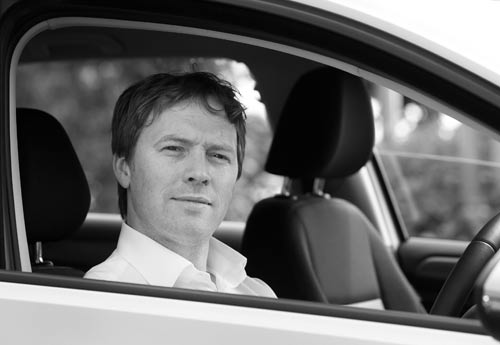 Published on: September 25, 2018
Published on: September 25, 2018
Tech Specs
| | |
| --- | --- |
| Model tested | McLaren 600LT Coupe |
| Pricing | starts at approx. €334,000 imported |
| Engine | 3.8-litre twin-turbocharged V8 petrol |
| Transmission | seven-speed dual-clutch automatic, rear-wheel drive |
| Body style | two-seat coupe |
| CO2 emissions | 276g/km (Band G — €2,350 per annum) * |
| Combined economy | 23.2mpg (12.2 litres/100km) * |
| Top speed | 328km/h |
| 0-100km/h | 2.9 seconds |
| Power | 600hp at 7,500rpm |
| Torque | 620Nm at 5,500-6,500rpm |
| Boot space | 150 litres |
| Minimum weight | 1,247kg |
| * | figures according to new WLTP standard |
While the new McLaren 600LT harks back to the iconic F1 GTR 'Longtail' of 1997, it brings the LT formula bang up to date, using reduced weight, enhanced aerodynamics, more performance and cleverly calculated chassis upgrades to create not only the most exciting model in McLaren's Sports Series, but one of the most engaging-to-drive cars the company has ever made.
In the Metal:
Finished in a dark hue, the McLaren 600LT is a menacing presence, yet one that's relatively subtle given its performance. The exterior changes over the 570S Coupe it's based upon focus on its aerodynamics for the most part, so there's a long front splitter and large rear spoiler, a serious looking rear diffuser and a flat carbon fibre floor underneath, along with other carbon body parts designed to enhance engine cooling and the aerodynamics. It lives up to its 'Longtail' billing thanks to an extra 74mm in the length and the net result is a quoted 100kg of downforce at 250km/h. Ultra-light alloy wheels are standard, too, but the easiest way to spot a 600LT is from the rear, where you'll see that the exhaust outlets have been moved onto the rear deck, ahead of the new wing. They've made way for more aerodynamic tweaking beneath and are complemented by a new mesh to aid engine cooling.
Bizarrely, the top exit exhaust has allowed McLaren to delete the rear window heating element, saving weight, while the glass itself has been trimmed down, meaning a reduction in mass from the glazing alone of 2.1kg. This obsessive weight reduction carries on throughout the car and has meant that the 600LT is some 100kg lighter than the 570S it's based on.
Inside, there's more evidence of weight loss in the form of the standard carbon fibre racing seats and multiple Alcantara pads rather than full trim. Buyers can go further again and specify the same seats as in the McLaren Senna, or if they aren't quite as obsessed as McLaren is with weight, they can have electrically adjusted and heated chairs instead. It's worth checking how you fit into the various seat designs, as you'll want to be snugly held in place. Likewise, to achieve the minimum weight, the 600LT needs to be kept in its default guise, without air conditioning, audio or satnav, though they're all no-cost options — and air conditioning is a must.
Driving it:
While the McLaren 600LT is a road-legal car, its remit is certainly to be more than a little track-capable, so our first taste of the coupe was exclusively within the environs of the Hungaroring circuit, the very one that the Formula One boys did their thing at in July this year. In fact, and this is a happy coincidence, McLaren has won more races here than any other F1 team. But I digress. In short, this is a serious race track, one that will soon show up any inadequacies in a road car's chassis.
As it proved when we hit the track initially in examples of the McLaren 570S Spider, to help us learn our way around before jumping into the 600LT. The 570S is a very good car, but driven to higher speeds on this circuit, it soon becomes clear that its stability, especially under heavy braking, is wanting somewhat. It's not something you'd discover on the public road, where the 570S excels.
We're still trundling down the pitlane at 60km/h in the 600LT when it becomes clear that it's a very different beast. It's much louder for a start, thanks to the re-piped exhaust. And it's an angry, 'you-better-drive-me-quickly-or-else' noise rather than a spine-tingling melody. Indeed, from the pit wall, watching and listening to 600LTs going past at full chat, they sound for all the world like something that would race in a GT class at Le Mans.
The suspension is obviously firmer, too, but not so much your teeth chatter. In fact, the 600LT borrows many parts from the McLaren 720S, including the front and rear double wishbones and uprights, plus the rear toe links, all made from forged aluminium. Up front, the track is 10mm wider than that of the 570S and there's an 8mm reduction in ride height. The springs are stiffer, the variable damping system has been tweaked and thicker anti-roll bars are fitted. We briefly tried the Normal setting in the Active Dynamics Panel before moving up to Sport and then spending most of the time in the most extreme mode, Track, which is ideal for a smooth circuit.
Turning into the first corner with conviction, the nose of the 600LT feels immediate and trustworthy, and you can quickly get back on the power to slingshot out of the corner, using all the track to release massive speed from the car. There's no limited slip differential at work here, but instead McLaren's Brake Steer system. It's highly effective. After a few laps, it's clear that the ESC's traction control is hampering progress a tad, so we switch it to the Dynamic setting and this, I believe, is the 600LT at its finest. In this guise, it allows the driver more control over rear traction, but with a safety net, allowing you lean hard on the tyres on the exit of a corner. The limits of grip are clearly telegraphed and breakaway is relatively benign when you ignore the textured messages coming at you from the steering and your own rear end. This is a lot of fun.
Pirelli P Zero Trofeo R tyres with a bespoke construction and compound are standard on the 600LT and they undoubtedly contribute to its dry-track ability. They endow the front end with astounding grip. So much so that you get a bit blasé about your corner entry speed and how early you get back on the accelerator. This can lead to minute amounts of understeer, which the electro-hydraulically-assisted power steering conveys to your hands in detail, so you soon realise that it's more satisfying to be patient in the middle of a corner, hugging the apex and getting the car rotated into the curve before squeezing the power back on. This results in breath-taking pace around the track. These days, 600hp doesn't sound like much for a supercar, but you won't get out of this car thinking it needs more.
But don't for a second think that the 600LT is all about fast laps and robot drivers; no, it feels good to drive at modest speeds, too, and it is a highly involving experience regardless. This really is a car to be driven. As often as possible.
What you get for your Money:
The McLaren 600LT is well-equipped by any measure, even taking into consideration its lofty starting price. For no extra costs, it gets Alcantara upholstery, carbon fibre racing seats in a choice of two sizes, air conditioning, a seven-inch portrait touchscreen infotainment system, telemetry, satnav, keyless entry and start, USB ports and even a couple of airbags. Nonetheless, it doesn't take many option tick boxes to swell the price well over €400,000, and you'll need to spend on some essentials, such as the nose lift kit. Still, given this car's performance and on-track ability, we reckon the target audience will see it as great value. What's more, nobody knows how many will be made as yet, as production is limited to just one year. Incidentally, there will also be a 600LT Spider.
Summary
If you're about to buy a McLaren 570S, whatever you do, don't take a drive in the 600LT, as it's immediately obvious how much more capable it is, especially driven on the track. This is a truly special car, yet one that doesn't necessarily shout about that (until you start it up). Get your order in now before all the production slots are spoken for.
Огнедышащие
Добавление стерео кажется бессмысленным, поскольку не может быть более красивой песни, чем рёв 3,8-литрового твин-турбо двигателя V8 600LT через выхлопные трубы, установленные сверху и выходящие непосредственно за водителем. Если обычного режима вождения недостаточно, переключите суперкар в режим «Спорт» и наблюдайте за пламенем из выхлопной трубы на своем виде сзади. Да, так и должно быть. Заднее крыло даже специально покрыто тепловым барьером, чтобы фейерверк не расплавил его.
Вместе со стрельбой огнем из выхлопных труб, двигатель выдаёт 592 лошадиные силы и 620 Нм крутящего момента. Конечно, это не сногсшибательные цифры. Но в легком и проворном 600LT 592 л.с. больше похожи на 1000 могучих скакунов, исполняющих ваши приказы. Надави на газ и, ооо, тебя уже нет.
Извините за такой подход. Просто все эти показатели производительности и технические детали не дают вам ощущения автомобиля. Это не просто хладнокровный научный эксперимент, это взлёт на колесах. 600LT Spider необузданный и впечатляющий. И он обязательно испортит вашу причёску, но вам это понравится. 600LT Spider может быть сложным на бумаге, но это автомобиль, предназначенный для водителя, который хочет почувствовать не только ветер в лицо, но и извилистую дорогу через рулевое колесо и ограничители треков своим копчиком.
McLaren 600LT Spider Price, Specs, Photos & Review
McLaren 600LT Spider Price
Any McLaren 600LT Spider for sale is far from a cheap car, and it certainly makes sense why. This vehicle is fast, flashy, and fashionable for fans of British sports cars.
A McLaren 600LT Spider can range pretty significantly in price. Currently, one can expect a McLaren 600LT Spider price to be around $256,500, which is the MSRP. The current as-tested price is around $310,390.
Because the McLaren 600LT Spider is a limited edition car (the brand itself has announced they will only build the open-top LT for a single model year), one can expect the price of this soon-to-be rare vehicle to grow in price.
McLaren 600LT Spider's predecessor, the McLaren 600LT, was released in June of 2018. Originally inspired by the 675LT and the F1 GTR Longtail, the body of this version of the 600LT has been notably altered to be longer. The current MSRP for the McLaren 600LT is around $240,000.
McLaren 600LT Spider Review
For our McLaren 600LT Spider review, we wanted to focus on the aspects of this vehicle that make it different from its predecessors. The biggest feature that sets it apart from other similar sports cars is speed– the McLaren 600LT Spider is blindingly fast and can reach speeds of up to 62 miles per hour in just under three seconds and 124 miles per hour in just over eight seconds. At maximum, a McLaren 600LT Spider can achieve a top speed of 196 miles per hour with the roof retracted and 201 miles per hour with the roof intact.
Complete with a carbon fiber monocoque MonoCell II chassis, drivers can take advantage of the core strength this vehicle provides for an ultra-dynamic and performance-heavy driving experience.
The McLaren 600LT Spider is hailed by motorsports enthusiasts for handling accuracy as well as sharpness with relative ease. One may also notice significant noise reduction with this model– the engine noise with the rear window is significantly lower than similar vehicles.
McLaren 600LT Spider Specs
Price: $260,000
Engine: 3.8L Twin-Turbo V8
Transmission: 7-speed Dual-Clutch
Horsepower: 592
Torque: 457 lb-ft
0-60 mph: 5.0s
1/4 mile: 10.5s
Top Speed: 201 mph
Weight: 3,179 lbs
McLaren 600LT Spider Engine
The McLaren 600LT Spider engine is quite a powerful one. It shares the exact sample 3.8 liter twin-turbocharged V8 engine as the McLaren 600LT. The 600LT Spider acceleration starts at around 60 miles per hour in approximately 2.8 seconds. The maximum acceleration speed for a McLaren 600LT Spider is 201 miles per hour. The 600LT Spider horsepower sits at 592 hp @ 7500 rpm.
McLaren 600LT Spider exhaust flames are possible with a handful of tips. With Manual Gear Shift enabled while in Active Mode, we recommend pressing and holding the throttle to between 4,500 to 5,000 rpm for about half a second. Then, quick release while in the third or fourth gear while driving. One can also do this while neutral at a stand-still for the ultimate expression of power
McLaren 600LT Spider Transmission
The McLaren 600LT Spider's seven-speed dual-clutch transmission is bolted directly to the engine, which is common with most modern McLaren models. The transmission can also fire off electron-quick changes in gear without disrupting the balance of the car.
The 600LT Spider's unique and powerful SSG automatic transmission was designed by Graziano. While automatic transmissions are not very common in similar models, the dual-clutch design is not wholly dissimilar to a manual transmission. Gear-switching is notably smooth with the McLaren 600LT Spider.
McLaren 600LT Spider Interior
The McLaren 600LT Spider interior is quite similar in design to the McLaren 600LT and the regular 570S with some key differences. At a glance, it features carbon black and graphite interiors. The housing for the infotainment system protrudes downwards from the middle of the dashboard, where it hovers above the center console.
The center console itself is where one will find the starter button, roof controls (for the retractable roof model, obviously), and toggles for different drive modes. One will find a cupholder hidden away in that area as well, though it is difficult to get to. The cabin also features a number of storage compartments for smaller objects like phones and bags.
In order to lighten the car up, McLaren did away with the glovebox and door compartments. The internal design also does not feature air conditioning or a sound system, though both elements can be added for free by the manufacturer.
McLaren 600LT Spider Brakes
The McLaren 600LT Spider brakes feature a firm pedal, which has much to do with the vehicle's standard carbon-ceramic brake discs. One will notice the advanced lightweight braking and suspension is the same as what would be found in the 720S– ultra-responsive and great at communicating the smallest ground changes.
The McLaren 600LT Spider can take on quite a few repeated hard stops from extremely high speeds without the risk of a soft pedal. The steering for the McLaren 600LT Spider is also fantastically smooth and natural without a hint of artificial lightness. The Spider version of this McLaren series features rear-wheel drive and a middle engine.
McLaren 600LT Spider Standout Features
There are so many standout features to the addition to the McLaren sports family. The McLaren 600LT Spider's top speed is 196 mph with the top down and 201 mph with the top-up. Even with the top down, those are some seriously impressive top speeds.
The 600LT Spider has a dry weight of 2,859 lb. Only about 109 pounds separate the Spider from its Coupe counterpart, and the Spider is the heavier of the two. It has a curb weight of 3,179 pounds and a torque of 620 Nm (457 lb-ft) @ 5500 rpm. The torque weight for the McLaren 600LT Spider is 436 Nm (321 lb-ft). The MSO ClubSport package deletes the air-conditioning and radio, adds titanium lug nuts, and borrows the carbon fiber seats from their Ultimate Series.