2018 McLaren 570S Spider
2018 McLaren 570S Spider
Downsized, and now opened up, for your pleasure.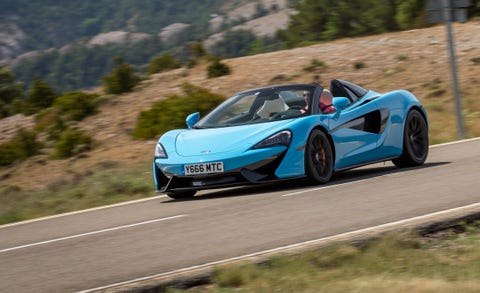 The subtle feedback of tugs and twitches coming through the steering wheel with every pavement undulation and nuanced change in road surface are vivid enough that an astute passenger will notice the wheel's wriggling. This is not standard-issue carmaking (or even supercar-making) these days. But McLaren is going countercultural by prioritizing driver involvement, even at sub-racetrack speeds, something regularly sacrificed across the industry due to ever-increasing horsepower, performance, and weight. While even McLaren succumbs to the siren song of the stopwatch on more expensive wares such as the 720S, the focus on feedback on its lower-priced Sports Series line of cars—a trio of $200,000 two-seaters that consists of the 570S coupe, the slightly more practical 570GT, and this new two-piece-hardtop convertible 570S Spider—makes them the McLarens to buy.
No Lumps
The pursuit of driving character is why McLaren refuses to take its electric-assist lumps like everyone else, continuing to use hydraulically assisted power steering. Also spec'd in the name of feel are surprisingly modest tire sizes, including 225-millimeter-section-width rubber in front, 10 millimeters narrower than what a Honda Civic Si wears. These restrained tire selections certainly benefit ride quality, too, which is very reasonable by supercar standards. It's not like these cars can't deliver impressive numbers, though. We expect the 570S Spider—powered by McLaren's familiar twin-turbocharged, flat-plane-crank V-8 that was designed with the English engineering firm Ricardo, screams to 8200 rpm, and makes 562 horsepower—to dash to 60 mph in 3.0 seconds and to return quarter-mile times in the high-10-second range. The last 570S coupe we tested managed 1.05 g on the skidpad, so this droptop version won't be a slouch there, either. And, with the top up, the Spider will reach the same claimed 204-mph top speed as the coupe, a point of pride for the aerodynamics team.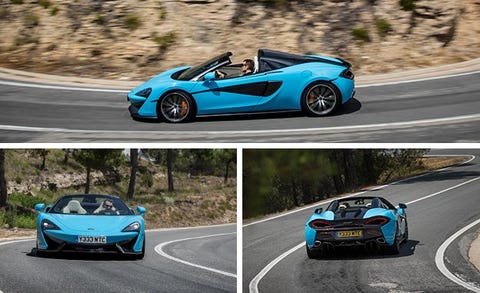 It's perhaps not a huge surprise that the dynamic exuberance of the coupe carries over pretty much unchanged to the Spider, as the folding-hardtop mechanism adds a claimed 101 pounds. And, indeed, the Spider feels coupelike in its solidity, despite receiving no additional bracing to its carbon-fiber structure. We were hard-pressed to feel a meaningful difference in structural rigidity with the top in either position. The coupe and convertible are so similar that the suspension hardware remains identical, with only slight Spider-specific software tweaks to the programming for the adaptive dampers.
Exhaust Screams, as Do Bystanders
Befitting a supercar, the 570S's extroverted looks turn heads as well as anything, and perhaps better in the sharply contrasting two-tone color schemes of the cars we exercised on sinewy mountain roads outside of Barcelona. Numerous times, young children—the most honest of all critics—were so overwhelmed by the Spider's presence that they simply yelled, possibly involuntarily, "Mama!" as we rolled by. Even with the car out of sight, folks are drawn to the properly cantankerous, tack-spitting grumble of the 570's twin-turbo V-8 when it's first started.
All of the cars we drove were fitted with the $4090 sport exhaust, which, besides louder conventional pipes, adds a sound-enhancing resonator tube to channel noise between the exhaust and the cavity where the top stows. A similar resonator on the intake side is standard, and the intensity of each is controlled by a butterfly valve. The two resonators, plus flaps in the exhaust, make meaningful differences in the V-8's roar among the three driver-selectable powertrain modes. Even with the exhaust at its loudest, though, with the top down, wind noise takes over above 70 mph or so. To better hear the 3.8-liter V-8 at high speeds, either find a tunnel—we blasted through more than a few on our route, where the violent shriek sounds as if it's attempting to inflict structural damage—or keep the top up and lower only the independently controlled rear window. This is actually a pleasant cruising option, where some outside air still wafts into the cabin but without permitting irritating wind buffeting.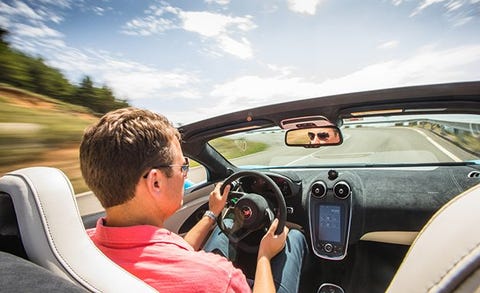 The two-piece folding hardtop stows at the touch of a switch in 15 seconds and at speeds of up to 25 mph. In an uncommon trick, the stowage spot for the roof can be used for additional top-up cargo capacity, the shallow but wide area accessed by raising the tonneau cover via buttons on the bottom edge of the doors. This location seems inconvenient but is actually an easy reach once the dihedral doors are swung skyward.
The standard seats aren't bolstered particularly aggressively—much snugger "racing" seats are available in two levels of constriction for those who like a firm embrace—and provide a comfortable perch for working the superb dual-clutch automatic. The gearbox's modes range from smooth to swift, and manual shifting is handled by a single paddle that snakes behind the steering wheel and pops out on both sides so either half can deliver up- or downshifts depending on whether the input is a pull or a push. We preferred manual mode for aggressive driving, as you can easily keep the engine near its 5000-rpm torque peak to ward off the sniffs of turbo lag at lower engine speeds. Other than rather thick A-pillars—by our measurements, those of the Acura NSX and the Porsche 911 are significantly slimmer—the view out the front is textbook mid-engine-car spectacular, the hood quickly falling away and leaving it to the rushing road to provide the visuals.
Mute Brake Pedal
Supercars usually aren't without ergonomic foibles, and the Spider has a few, including the awkward seat controls located at the front inner edge of the bottom cushion, where they can't easily be seen. In addition, the 7.0-inch vertically oriented touchscreen isn't terribly vibrant to begin with, and it easily washes out in direct sunlight.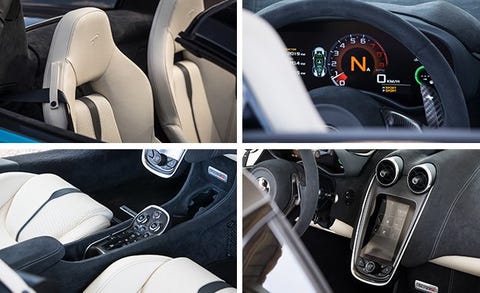 We didn't expect the lack of brake-pedal feel with the standard carbon-ceramic brakes, and it's the only area where car-to-driver communication is lacking. It's not about stopping power, of which there is plenty, but there's a too-long zone of initial pedal stroke where nothing happens, which can make navigating stop-and-go traffic more difficult than it should be. Once the pads are firmly in contact with the rotors, the pedal gets hard and doesn't budge much farther, making modulation more about force than travel. We didn't drive any cars equipped with the no-cost iron rotors, which may be better behaved.
McLaren is coming off a monumental sales year in 2016, during which its sales almost exactly doubled, to 3286. The 570S Spider—expected to be its best-seller—certainly will help nudge that number closer to the company's goal of about 4500 units per year (with no SUVs, thank you very much, says McLaren). At $211,300 to start, the Spider's price is roughly 10 percent higher than the coupe's, but depending on paint, trim, and feature options, it's basically a wash, with as-equipped prices for coupe, GT, and convertible widely overlapping.
It takes 11 days for the 370-person build team at McLaren's Woking, England, factory to turn a collection of parts into this organic, analog, and very much alive supercar. It's a spectacular achievement, just like the car itself.
Specifications
VEHICLE TYPE: mid-engine, rear-wheel-drive, 2-passenger, 2-door convertible
BASE PRICE: $211,300
ENGINE TYPE: twin-turbocharged and intercooled DOHC 32-valve V-8, aluminum block and heads, port fuel injection
Displacement: 232 cu in, 3799 cc
Power: 562 hp @ 7500 rpm
Torque: 443 lb-ft @ 5000 rpm
TRANSMISSION: 7-speed dual-clutch automatic with manual shifting mode
DIMENSIONS:
Wheelbase: 105.1 in
Length: 178.3 in
Width: 76.0 in Height: 47.3 in
Passenger Volume: 49 cu ft
Cargo volume, top up/down: 7/5 cu ft
Curb weight (C/D est): 3300 lb
PERFORMANCE (C/D EST):
Zero to 60 mph: 3.0 sec
Zero to 100 mph: 6.2 sec
Standing ¼-mile: 10.8 sec
Top speed: 204 mph
FUEL ECONOMY (C/D EST):
EPA combined/city/highway: 19/16/23 mpg
What's it like inside?
The 570S shares its interior with the 570S and offers a minimalistic cockpit design and a pair of ergonomically designed sport seats. Those wanting more lateral support can chose from more aggressively bolstered options. The upward opening dihedral doors remain and make it a bit easier to slide into the low seats.
The center of the dashboard is dominated by a vertically mounted touchscreen and the general fit and finish and switchgear quality is as one would expect of a McLaren.
The materials that the cockpit, doors and seats are covered in are all up to the customer and include a mix of leather, Alcantara and carbon fiber in numerous colors.
You will have to fly light though as there is not much space for carry-on luggage other than for a pair of sunglasses and your wallet. The front trunk is tiny too so checked baggage too will be limited to a squishy bag or two.
McLaren 570S Spider 2018 Review
To say the 570S fits in the 'entry' series of the McLaren range seems peculiar given its $379,000 asking price – even more so when you consider the $435,750 list price (plus on-road costs) of the 570S Spider tested here. But this is supercar territory, a rarefied and esoteric arena graced by only the finest of scalpel-sharp, powerful machines. In the company of such exclusive metal – or carbon-fibre, as the case may be – the McLaren 570S Spider is perhaps the ultimate paradigm of the breed, combining effortless pace with intuitive handling and surprisingly practicality.
Along came a Spider
The 570S Spider joined the McLaren Sport Series range late last year, giving prospective supercar buyers an open-air option to the 570S coupe – and one with very few compromises.
Here is a car that's as agile, fast and stylish as its fixed-roof sibling; the only real compromise comes from a $56,750 price premium.
Like the coupe, the 570S Spider focussed heavily on day-to-day liveability and driveability, upping luggage space (150 litres front, 52 litres rear) and interior storage to 'useful' levels. Well… useful for a supercar, that is.
The luxe teardrop-shaped cabin remains as personalisable as the coupe's with upholstery, headlining and trim garnishes galore joining 35 exterior paint colours, 10 alloy wheel options, seven brake-caliper colour choices, 11 optional feature packages, and a 1280-Watt Bowers & Wilkins 12-speaker premium audio system (fitted).
Standard cabin equipment includes manually-adjustable sport seats, hand-stitched leather trim, an electrochromatic rear-view mirror, dual-zone climate control and a heated rear window.
Infotainment and connectivity extends to a 7.0-inch portrait-oriented IRIS touch-screen display hosting AM/FM/DAB radio, Bluetooth audio and telephony, USB interface, reversing camera, sat-nav and 240-Watt four-speaker sound.
The 570S Spider draws much of its styling from the McLaren P1 hypercar, including the all-LED slimline head and tail-lights, open mesh rear valance for engine cooling, flying buttresses, visible engine compartment and 'floating' diffuser.
As tested, the 'Muriwai White' 2018 McLaren 570S Spider features a range of carbon-fibre styling elements, heated and electrically-adjustable seats, yellow seatbelts and brake callipers, volumetric alarm and nose-lift kit for a total list price of $537,310 (plus on-road costs).
Adding lightness
Contrary to popular perception, convertible versions of high-end supercars are usually heavier than their hard-top siblings.
Apart from structural reinforcements, the additional struts and bracing required to support the opening the roof leaves behind often adds sizeable amounts of weight to these carefully crafted machines, resulting in gentler acceleration times, compromised handling and slower top speeds.
But not the McLaren 570S Spider. Constructed of carbon-fibre technology borne of McLaren's experience in Formula 1 – making it a claimed 20 times stronger than an equivalent steel body – there's next-to-no additional stiffening.
The extremely rigid structure provides almost all the strength required to relieve the cavity created for the Spider's retractable two-piece aluminium hard-top.
In all, the 1359kg dry weight of the 570S Spider is only 46kg heavier than its coupe counterpart; convertible versions of rivals like the Audi R8, Lamborghini Huracan and Porsche 911 add 228kg, 183kg and 166kg respectively to their donor's chassis.
McLaren's Carbon Monocell II frame also serves to support the 570S Spider's trademark dihedral doors which, as well as being stylish, are crafted to guide air over the radiators cooling the all-aluminium 3.8-litre V8, its twin turbochargers and the seven-speed Graziano Trasmissioni 'seamless shift' dual-clutch tranny.
Feather-light to open, the Spider's striking soft-close doors make ingress and egress of the two-seat cockpit an almost effortless exercise, and add to the feeling of exclusivity that a supercar should impart.
A numbers game
As crucial to the supercar ownership experience as the exclusivity, craftsmanship and technology associated with the McLaren name are the astonishing performance and acceleration times laid bare in the brochure.
According to McLaren, the 570S Spider accelerates to 200km/h as quickly (9.6sec) as most mainstream passenger cars hit 100km/h, and breaks triple digits in a physics-defying 3.2sec – as per the coupe – with the aid of launch control.
At full noise the rear/mid-mounted M838TE V8 cranks 419kW (at 7500rpm) and 600Nm (over 5000-6500rpm) to swing the needle past 328km/h with the roof in place, or 315km/h top-down.
McLaren says the 0-400m dash takes just 11.0sec.
Like many of its ilk, the McLaren's twin-turbo bent-eight never really needs to brush its 8500rpm redline; the insurgence of torque available some 2000rpm earlier more than adequate for traction-challenging starts.
More Research
2018 McLaren 570S Pricing & Specs
Read more McLaren 570S news & reviews
The 570S Spider sends drive to the rear wheels via sticky 285/35-series 20-inch Pirelli P Zero Corsa tyres, and steering and stopping duties are tasked to 225/35-series 19-inch rubber of the same variety.
Perhaps as impressive as the acceleration on offer in the 570S Spider is its deceleration. Mammoth six-piston callipers grasp mega 395mm carbon-ceramic rotors up front with four-pot clamps arresting similarly gargantuan 390mm graphite discs in the rear.
McLaren Brake Steer (or torque vectoring by brake) helps the open differential and adaptive dampers keep the nose in line through corners, the entire package aiding a claimed stopping distance of 32m from 100km/h or 133m from 200km/h.
McLaren continues to offer electro-hydraulically assisted steering in the 570S. Although it's light, it is transparent enough in its feedback to engage the driver when push comes to shove.
It's not as talkative as some in this class, but does a great job of eliminating the front-end's tendency to track and wander over creases in the asphalt, a mannerism many wide-wheeled supercars suffer from.
A liveable supercar?
It takes 11 days to hand-assemble a McLaren 570S Spider from its myriad parts – and that level of dedication is clearly evident in the quality of finish and materials on offer.
Whether it's the bodywork and paint, the upholstery and trim, or even the attention to detail paid to the inside of its various storage compartments, the standard of workmanship is pretty hard to refute.
It's also pretty hard to argue with the tenacity of grip from the chassis. Although the 570S doesn't offer the interlinked Pro Active Chassis Control hydraulic damper system of the Super Series and Ultimate Series McLarens (remember, this is a Sport Series McLaren), its conventional anti-roll bars and three-mode adaptive dampers provide an outstanding ride/handling compromise which – importantly – is adjustable independently from the driveline via the Active Dynamics panel.
Depending on the road, track or simply your mood, the switchable H (Handling) and P (Performance) dials allow three discernibly different modes: Normal, Sport or Track.
The 570S Spider moves from comfortable and quite reserved in its response to throttle inputs – with clean, easy shifts to match – to sharp and eagerly responsive. Full manual mode and stability control off are available at the touch of a button.
Interestingly, despite of a notable change in damping, the ride remains quite comfort focussed. In fact, the only real detractor to the feel behind the wheel comes from the offset pedal box.
The inboard skew of the brake and throttle – owing in no small part to the ingress of the wheel well – makes stop-start driving a chore, and can impinge the accuracy of right-foot braking. The brake pedal stroke itself is also rather brusque, and takes a little muscle to activate effectively.
The only other criticisms stem from an instrument panel that never properly dims – attenuation of contrast is a poor substitute for a dulled screen at night – and a light but nonetheless present buffeting of wind across the top of the head restraints at highway speeds (sans roof, obviously).
Some passengers also felt the exhaust lacked soul at middling speeds, but I think it suits the 'well-engineered' premise of the McLaren brand – and sounds terrific when the taps are fully opened.
The verdict
I've said it before and I'll say it again: it really is difficult to review a supercar without descending into hyperbole.
But when you consider the effortless pace, intuitive handling and surprisingly comfortable open-top touring the McLaren 570S Spider offers, it can be hard to not get carried away.
No, it isn't perfect, as we've pointed out; but it is so fantastically capable and strikingly styled that you tend to forgive its trivialities.
For me, the 570S Spider ranks right up there (or perhaps even higher than) the very best of its contemporaries.
If you happen to find yourself with a lazy $537,310 kicking around, I'd strongly recommend a test drive.
How much does a 2018 McLaren 570S Spider cost?
Price: $435,750 (plus on-road costs), $537,310 (as tested, plus ORCs)
Engine: 3.8-litre eight-cylinder twin-turbo-petrol
Output: 419kW/600Nm
Transmission: Seven-speed dual-clutch
Fuel: 10.7L/100km (ADR Combined)
CO2: 249g/km (ADR Combined)
Safety rating: N/A
2018 McLaren 570S Spider review
Facebook
Twitter
Google Plus
Mail
As far as going fast and looking good is concerned, this British supercar is utterly… roofless
WHAT IS IT?
It's a McLaren 570S with a retractable hardtop, but with all of the important stuff intact. That means the same 3.8-litre twin-turbo V8, the same power and torque outputs, the same zero-to-hundred and the same top speed… provided the roof is raised.
WHY WE'RE TESTING IT
McLaren says the 570S Spider carries few compromises relative to its hard-top sibling, but the burning question is whether driving topless brings new kinds of thrills to the 570S experience.
MAIN RIVALS
Ferrari 488 Spider, Lamborghini Huracan LP610-4, Audi R8 Spyder V10 quattro, Porsche 911 Turbo Cabriolet
THE WHEELS VERDICT
Going sans roof is the best way to enjoy McLaren's Sports Series line-up, thanks to the better acoustic experience it offers. Unlike some rivals, going for the convertible doesn't really cost you anything in performance either, making the 570S Spider a win-win proposition – if you can afford the extra initial outlay.
PLUS: Better access to its sound than Coupe, superb balance of handling and ride comfort, few tangible compromises compared to Coupe
MINUS: Engine note still lacks aural appeal, considerable increase in cost over Coupe
THE WHEELS REVIEW
IT'S CURIOUS that one of McLaren's most 'affordable' models (there's some definite sarcasm there) is also one of its most tactile, engaging and appealing offerings. Simple minds might think of an entry-level convertible as being the poser's choice, but in reality it's closer to being the connoisseur's darling.
Don't get us wrong. There's little to dislike about the bigger-armed options in McLaren's three-tier product portfolio, whether it be the 720S that sits in the mid-level Super Series or the truly fearsome Senna that resides in the lofty Ultimate Series, but by the same token the 570S Spider that lives in the entry level Sports Series is no junior burger. If anything, it packs an equal amount of emotional pull as its brethren, and its performance is arguably more accessible – and enjoyable as a result.
As with all McLarens the 570S Spider is built around a carbonfibre tub, and its torsional rigidity is such that top-down scuttle-shake is non-existent. The power-retractable hardtop goes up or down in 15 seconds and adds 46kg of extra mass over a 570S coupe, but that's minuscule. More importantly, the Spider's 0-100km/h stat of 3.2 seconds is identical to the coupe's, and so is its roof-up top speed of 328km/h. So much for convertibles being the compromised choice.
What's more, the roofless Spider delivers something that roof-having McLarens tend to lack – some semblance of sonic satisfaction. An independently-retracting rear screen throbs in more engine noises when the side glass is up, or brings plenty of cross-flow when the windows are wound down, (and there's also a small amount of storage under the roof's tonneau cover that's perfect for slipping a briefcase or soft bag into).
The exhaust note still remains unique amongst the V8 supercar set. Though the 570S' 3.8-litre is built around a flat-plane crankshaft, like a Ferrari 488, the noise it emits from its twin tailpipes is almost rotary-like in its harmonics and tone. Roof-down, the hiss of both turbochargers cramming air into that 3.8 is punctuated by the faint sneezes of the recirc valves as you lift off, which is nice, but whether the resulting noise is pleasant or not is still highly subjective. Work it hard enough, though (and make sure the Powertrain toggle is set to Sport), and the exhaust will eject warzone sound effects on gearshifts and the overrun.
Granted, a 720S sounds angrier, but where a 720S is a grit-your-teeth-and-pray type of driving experience, the 570S Spider is far friendlier. It's a McLaren that doesn't leave you scared and sweaty, but is still road-crushingly fast.
On the road it seemingly shrinks, glove-like, around the driver. The steering is light but communicative, and virtually falls into the road's camber with the slightest of nudges. The suspension works best on twisty roads when in Normal or Sport mode, but unlike many supercars the 570S isn't spine-shatteringly firm when dialled up to Track. Its traditional anti-roll bars and conventional multi-mode dampers might not have the technological sophistication of the hydraulically-linked undercarriage in the 720S, but it still retains plenty of pliancy over rough ground.
Front-end grip is massive, and only turns to understeer at truly silly speeds. You can play with its balance though, especially if you trim the (ultra-smooth) stability control into its more permissive Dynamic mode. Hook in hard with the steering and you can use the inertia of that mid-mounted V8 to swing the tail around slightly, and the transition to oversteer is less spiky than you might expect. It'd be a hoot on a racetrack, where there's more space to exploit.
The twin-turbo 3.8 litre V8 might be at the lower end of McLaren's horsepower spectrum, but it's all relative. Its performance is mega when wound beyond 2500rpm where both turbos are at full puff, and with the redline not appearing until 8000rpm there's a fat powerband to exploit. The seven-speed dual-clutch also manages to be civil enough for daily use, though its take-up is predictably snatchy in stop-and-go driving. Those see-saw shift paddles are a neat trick though, allowing one-handed control of both upshifts and downshifts.
But the best part about the 570S Spider is just how effortless it is to switch from boulevard cruising to back-road blasting. It's docile and comfortable when the Handling and Powertrain toggles are rotated to 'N' (for Normal), but transforming it into a more hard-edged vehicle is as simple as twisting both knobs a click or two to the right – and with those two switches located high and forward on the centre console, right where your left hand naturally falls, customising the 570S' behaviour can be done entirely by feel.
And speaking of which, there's only really one ergonomic failing in the 570S Spider's cabin – the controls for the (cost optional) power seats are located on the bottom cushion itself, between the seat and the centre console. Curious placement, given the rest of the interior and its switchgear are so thoughtfully laid out.
But on the whole, the 570S Spider works with you. Unlike some supercars it doesn't fight you, and few mid-engined rivals feel quite as user-friendly as the McLaren. The Spider's ability to throw some sunlight on your scalp and send more decibels to your ears enhances the base 570S experience and introduces hardly any downsides, and perhaps the only real stumbling block you'll encounter is whether going topless is worth the considerable $40,750 premium over the Coupe.
SPECS
Model: McLaren 570S Spider
Engine: 3799cc V8, dohc, 32v, twin-turbo
Max power: 419kW @ 7500rpm
Max torque: 600Nm @ 5000-6500rpm
Transmission: 7-speed dual-clutch
Weight: 1498kg
0-100km/h: 3.2sec
Fuel economy: 10.7L/100km (claimed)
Price: $435,750
McLaren 570S Spider 2018: directo a Goodwood
La edición 2017 del Goodwood Festival of Speed, que tendrá lugar entre los días 29 de junio y 2 de julio, ha sido el escenario elegido por la firma de Woking para presentar el nuevo McLaren 570S Spider. La versión descapotable del 570S no presenta sorpresa a nivel de diseño, pero sí se convierte en el primer descapotable miembro de las denominadas Sports Series, la gama de acceso de McLaren.
Si algo caracteriza a la gama 'Spider' de McLaren es que es fiel a los modelos originales de los que parten. El McLaren 570S Spider no es una excepción ya que mantiene una imagen muy reconocible respecto al coupé, aunque con un techo rígido retráctil bien integrado, siguiendo los pasos marcados por las versiones descapotables del 650S y 675LT. Este techo retráctil está diseñado en compuestos de bajo peso y se puede abrir o cerrar en 15 segundos, siempre por debajo de los 40 kilómetros por hora.
El otro gran cambio estético de este McLaren 570S Spider es la integración de un deflector de viento de vidrio con activación eléctrica que sirve para reducir el golpeo y ruido del viento cuando el techo rígido retráctil está abierto. Sin embargo, este sistema no es vinculante al sistema de guardado del techo y se puede bajar aún cuando el techo rígido retráctil está puesto, en este paso para permitir que un mayor ruido del motor llegue a la cabina.
McLaren afirma que la adición del techo retráctil,de su sistema de autoguardado y del deflector, así como los refuerzos del chasis realizados en fibra de carbono sólo añaden 45 kilos de peso al McLaren 570S Spider, por lo que su peso final se fija en 1.497 kilos. Un aumento de peso que no debe afectar en exceso al rendimiento del motor V8 de 3.8 litros y doble turbo que esconde en su interior y que se acopla a una transmisión de doble embrague de 7 relaciones con tracción trasera.
De hecho, el McLaren 570S Spider cuenta con 562 caballos de potencia y 600 Newton/metro de par, condiciones que le permiten acelerar de 0 a 100 en 3,2 segundos, misma cifra que acredita la versión coupé. Además, alcanza una velocidad máxima de 328 kilómetros por hora, registro idéntico al del coupé, aunque siempre con el techo retráctil puesto. Sin el mismo, la velocidad máxima del McLaren 570 Spider desciende a los 315 kilómetros por hora por la mayor resistencia que ejerce el coche al viento.
El resto de ingredientes del McLaren 570S Spider pasan por frenos carbocerámicos, por unos neumáticos Pirelli P Zero Corsa y por unas llantas de aleación de 10 radios de 19 pulgadas delante y de 20 pulgadas atrás. En su interior integra un enorme cuadro de mandos y una pantalla táctil de 7 pulgadas. De forma opcional se pueden equipar los asientos de fibra de carbono del P1 y un tapizado en cuero Nappa o Alcantara. Las 400 primeras unidades formarán la 'Launch Edition' con equipamiento extra. Su precio de partida será 18.000 euros más alto que el del 570S Coupé, en torno a la barrera de los 200.000 euros.
What is it?
McLaren's road car company has been producing sport, super and hypercars at a prolific rate since it began with the somewhat inelegantly-named MP4-12C back in 2011. This 570S Spider represents the roadster version of the «entry-level» model in South Africa and the 570S is said to make up part of McLaren's Sport range, which the Woking-based marque reckons means the car «is suited for everyday use as opposed to a weekends-only supercar».
The name 570S comes from the power output of its engine, which is tuned to deliver 562 hp or 570 PS. That's 419 in kilowatt speak.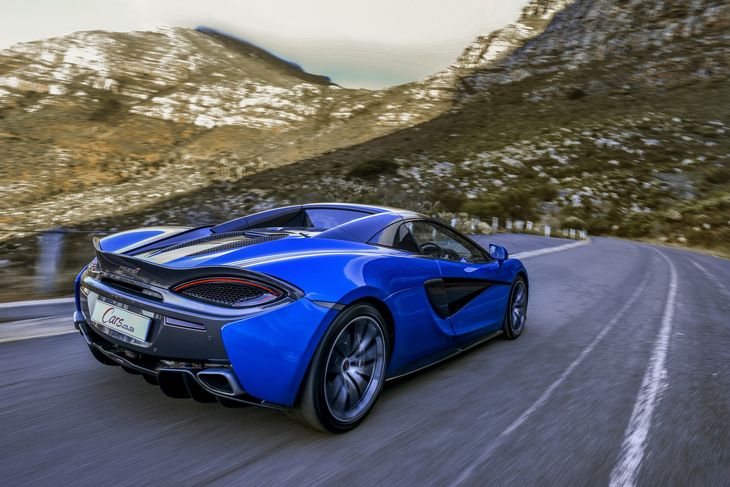 Gone is the active aero rear wing, which has been replaced with a slightly more subtle rear lip.
The Spider version uses a retractable hardtop roof that can be raised and lowered at below 40 kph. What's interesting is that the assembly adds only 45 kg to the weight of the car and has no effect on rigidity. McLaren's carbon fibre tub is designed like that of an F1 car, so it doesn't require a fixed roof to stop the chassis from flexing.
The 570S Spider continues to use the same 3.8-litre V8 twin-turbo unit across all its models (albeit in very different states of tune) and is mid-mounted behind the cockpit.
Интерьер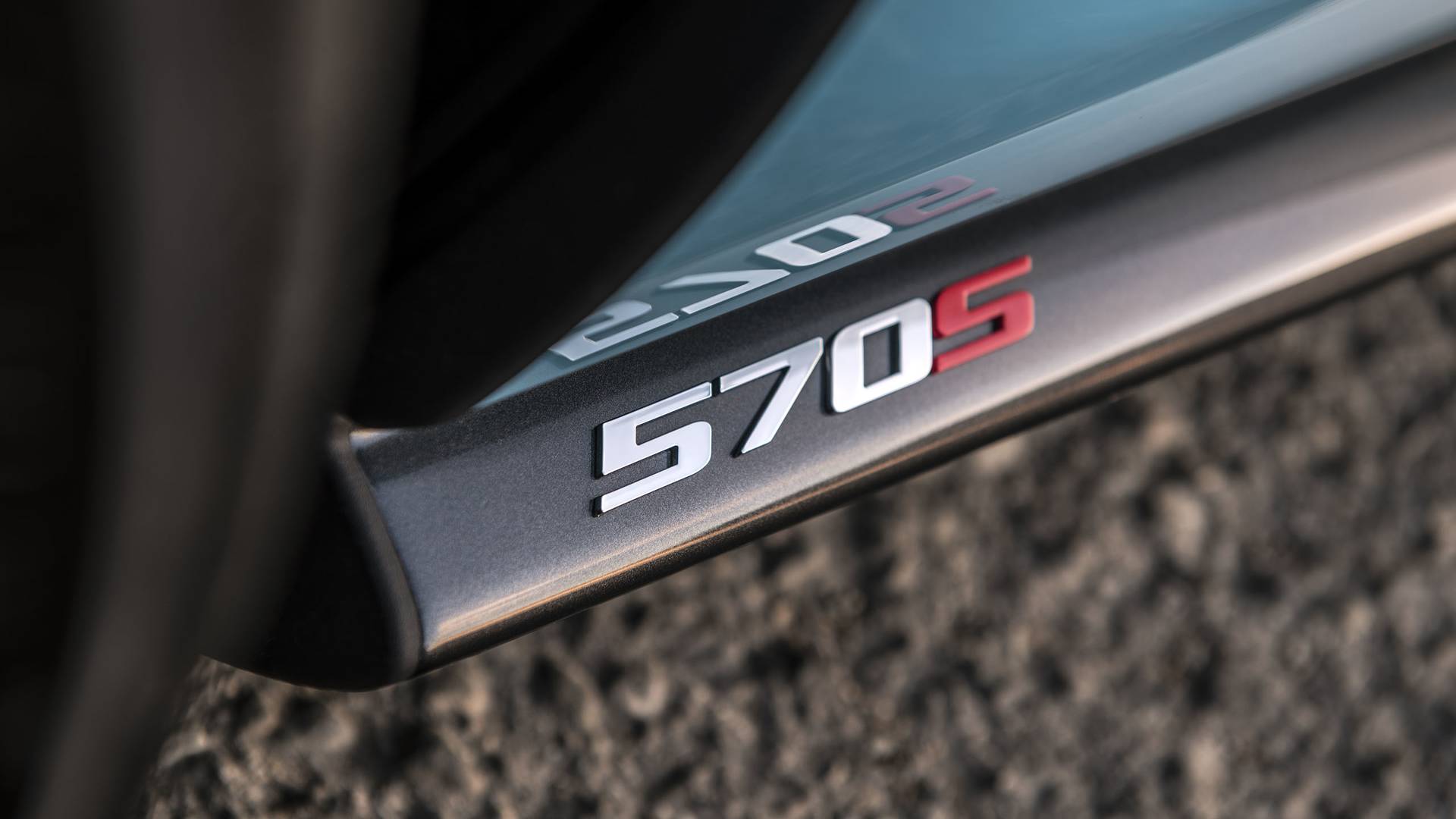 Но не одна из этих вещей в продвинутой приборной панели не нравится, как самая крутая вещь показывающая внимание к деталям, которые вы видели на машинах машин. Когда вы включаете 570s gt4, появляется небольшой индикатор на приборной панели, которое показывает вам на сколько дней вы можете оставить вашу машину припаркованной. Понимаете, владельцы таких машин обычно имеют в своем гараже 10, 12, 15 суперкаров и у них не всегда есть много времени, чтобы их водить. Так что часто такие машины простаивают, а эта машина сообщает вам, конкретно на сколько дней вы можете оставить ее в простой, перед тем как сядет аккумулятор. Эта фишка показывает, что McLaren действительно понимают своих покупателей.
Пойдём дальше по фишкам, в 570 Макларене уникальный ручки управления поворотниками. И дворниками. Многие люди не понимают, что ручки, кнопки салона — очень дорогие в разработке вещи для автопроизводителей. Поэтому многие автомобильной компании, наверное, как и в вашей машине, просто используют скучно выглядящий ручки, но не McLaren. Эти ручки прекрасные, также очень круто выглядят и наощуп приятные. В них даже есть отверстие. Но больше нравится ручка управления дворниками, она не только красивая и круто выглядишь сейчас, но они ещё написано быстро медленно авто и выкл. Так что вам не придется гадать в какой именно режим вы их переключаете.
Далее переходим к центральной части 570, где разумеется ещё больше высокотехнологичных наворотов и функций. В данном случае управления режимами езды. Здесь есть один переключатель подписанный буквой I, отвечающий за силовой агрегат и один переключатель, подписанный Н, за управление и подвеску. Всего есть три режима: нормальный спортивный и трек. Вы можете переключаться между ними, но только есть небольшая проблема, а именно: когда вы переключаете, то ничего не происходит. Можно крутить переключатели, и не появляется никакой индикации, что вы изменили настройку, а на экране приборной панели написано «изменение режима недоступно». Что-то сломалось? –Нет.
Чтобы изменить режим, вам надо сначала нажать кнопку Activе, которая затем загорается, и после этого вы можете менять режим, сколько вашей душе угодно. И вы сможете выбрать любимый для гонщиков режим трек, который полностью изменяет внешний вид экрана панели приборов, на более подходящий, который меняет внешний вид приборной панели на более подходящий для езды по треку.
Он даже показывает вам топлива в процентах, чтобы вы знали, когда надо заехать на пит-стоп. Что касается остальных органов управления в центре, то они не особо интересно. Тут есть кнопка запуска сверху, затем переключатели слева, кнопка лаунчконтроля и кнопка системы Старт Стоп справа. Даже Макларен на защищен от нормативов расхода горючего. Далее, в центре расположен селектор переключения передач, и выглядит просто как куча кнопок.
2018 McLaren 570S Spider
«McLaren's Sport Series 570S finally loses its top without compromising performance. 570S Spider is 46 kilograms heavier than the Coupe, and it takes just 15 seconds for the retractable roof to open or close. Acceleration from zero to 62 mph matches that of the Coupe with just 3.2 seconds. But there's a 'downside' to it, with the rood down top speed is limited to 315 km/h instead of 328 km/h. For more info check out the press release below:» Ed.
The new McLaren 570S Spider combines the exceptional dynamism and refinement of the 570S Coupé with the extra exhilaration of open-air motoring. Hand-assembled in Woking, England, the 570S Spider is the most attainable McLaren Spider ever and brings supercar attributes such as carbon-fibre construction, a mid-engined layout and extreme performance for the first time to the luxury sports convertible segment.
The two-seat, rear-wheel drive 570S Spider is the third bodystyle in McLaren's Sports Series portfolio, lining up alongside the Coupé and the GT. Compared to the Coupé, the 570S Spider adds a neatly integrated, retractable hardtop that when lowered delivers an even more immersive and exhilarating driving experience. The two-piece roof – which is engineered using technology proven in the McLaren 650S and 675LT Spider models – is constructed of lightweight composite panels and creates a purposeful, sleek appearance whether raised or lowered.
Most importantly, there are no performance compromises versus the 570S Coupé, with the Spider maintaining the same electrifying pace, dynamic excellence and impressive refinement. The carbon fibre MonoCell II chassis at the heart of all Sports Series cars does not suffer any reduction in strength or stiffness in convertible guise, or require any additional structural actions. This has allowed McLaren engineers to design and develop the 570S Spider without concerns that are potentially a significant issue with steel or aluminium structures.
"The McLaren 570S Spider is the most attainable McLaren Spider to date and adds yet another dimension to the McLaren Sports Series family. This is a convertible without compromise; its mid-engined layout and carbon fibre MonoCell II chassis guarantee the same thrilling dynamic performance and exceptional driver involvement enjoyed in a 570S Coupé, but with the added attraction of a retractable hard-top that delivers the extra exhilaration of roof-down motoring."
Mike Flewitt, Chief Executive Officer, McLaren Automotive
Electrically operated from the driver's seat using one simple control, the roof folds effortlessly to stow beneath a beautifully crafted tonneau cover that rises automatically to accommodate the lowered panels and returns to its closed position with the assistance of soft-close technology. The roof can be opened or closed in just 15 seconds, at vehicle speeds of up to 40km/h (25mph).
A glazed wind deflector can be electrically raised or lowered at the push of a button, providing further versatility with the roof up or down. The deflector reduces wind-buffeting when the roof is down and if desired can be lowered when the roof is raised to allow additional sound and fresh air into the cabin. Owners wanting to enjoy even more of the distinctive exhaust note of the new Spider can specify an optional sports system that features an ESG to channel exhaust sound towards the cabin, via the area beneath the tonneau cover.
The retractable hardtop is designed to withstand the severest conditions and is significantly more weather- and fade-resistant than fabric, yet with its operating mechanism adds just 46kg to the weight of the Spider; this is the only variance in weight between the new convertible and the 570S Coupé.
Supercar performance
The combination of lightweight carbon fibre construction and an incredibly potent 3.8-litre, twin-turbocharged McLaren V8 engine, means that the new 570S Spider is both more powerful and lighter than comparable convertibles, with an impressive power-to-weight ratio of 419PS-per-tonne (lightest dry weight).
Positioned behind the driver, the twin-turbocharged McLaren M838TE engine produces 570PS at 7,500rpm and torque of 600Nm between 5,000rpm and 6,500rpm. In combination with a rapid yet smooth seven-speed seamless-shift gearbox featuring Launch Control technology, the result is a luxury sports convertible with supercar acceleration from standstill to 100km/h (62mph) in 3.2 seconds and to 200km/h (124mph) in just 9.6 seconds.
Top speed is 328km/h (204mph) with the roof in place – identical to the 570S Coupé – and even with the roof lowered, the new Spider can reach 315km/h (196mph). Complementing this extreme performance is a stop-start system that contributes to overall efficiency; the 570S Spider returns official fuel economy of 10.7 litres/100km (26.6mpg) in the NEDC combined cycle and CO2 emissions of just 249g/km.
McLaren 570S Spider
Exceptional body control
McLaren's new Spider employs racecar-style, double-wishbone suspension all-round, with steel springs, twin-valve adaptive dampers and anti-roll bars calibrated to the same exacting specification as the 570S Coupé. Body control is exceptional and the overall drive incredibly pure and rewarding, while retaining impressive comfort. Accessing the Active Dynamics Panel adds another level of personal choice, allowing the driver to choose from Normal, Sport or Track modes, for progressively softer or firmer suspension. This versatility ensures that the Spider is as at ease in everyday use as it is on a race track.
Electro-hydraulically assisted power steering, carbon-ceramic brakes and Pirelli P ZERO™ CORSA tyres are standard, while the latest chassis software both enhances the driving experience and increases safety. Developed originally for Formula 1™, Brake Steer aids cornering and reduces understeer by subtly applying braking force to the inside rear wheel as the driver turns in to a corner. Performance Traction Control calibrated by McLaren provides precise control in extreme situations, while the ESC (Electronic Stability Control) system includes a 'Dynamic' mode with reduced intervention and increased 'driftability', allowing drivers to enjoy the 570S Spider's dynamic potential with confidence.
Tailored design
The breath-taking body design is enhanced by a rear spoiler, finished in Dark Palladium grey (a visible carbon fibre finish is available at additional cost via McLaren Special Operations) and 12mm taller than the rear spoiler of the 570S Coupé. The higher spoiler provides additional downforce to offset the aerodynamic changes resulting from the Spider having a different rear upper body design, ensuring exceptional aerodynamic balance overall that is the equal of the Coupé.
Designed around a perfect driving position that puts the driver at the centre of the action, the sophisticated cabin blends exceptional levels of craftsmanship, quality and technology; hand-stitched leather on the seats, door casings, dashboard and centre console sits side-by-side with a 10-inch TFT main instrument cluster and a centrally mounted, 7-inch IRIS touchscreen through which climate control and infotainment functionality are managed.
Customers can choose from standard six-way-adjustable or optional eight-way adjustable electric memory seats, with luxurious Nappa leather or performance-oriented Alcantara® trim available at additional cost. Lightweight carbon-fibre-shelled sports seats, the same as those fitted to the McLaren P1™, can also be specified.
Three new exterior colours celebrate the Spider's introduction, with Curacao Blue, Vega Blue and Sicilian Yellow joining the existing Sports Series palette and giving Spider customers a choice of 20 colours in total. The new hues dramatically showcase the complex forms of the aluminium bodywork and unique-in-class dihedral doors, particularly when combined for added visual impact with an optional Dark Palladium grey contrast finish on the roof, windscreen pillars and rear buttresses.
An all-new, 10-spoke lightweight forged alloy wheel design (19-inch front, 20-inch rear) has been crafted as an option for the new 570S Spider. For further differentiation, a new brake caliper colour, Liquid Black, is also available.
Available to order now from more than 80 McLaren retailers worldwide, each 570S Spider is hand-assembled at the McLaren Production Centre in Woking, England.
The new McLaren 570S Spider will make its public debut on 29th June at the Goodwood Festival of Speed, West Sussex, UK and the first cars are scheduled to be delivered to customers in August.
Technical specification
| | |
| --- | --- |
| Engine configuration | M838TE engine, 3.8 litre twin-turbo V8, 3,799cc |
| Drivetrain layout | Longitudinal mid-engined, RWD |
| Power PS (bhp/kW @ rpm | 570 (562/419) @ 7,500 |
| Torque Nm (lbs ft) @ rpm | 600 (443) @ 5,000-6,500 |
| Transmission | 7-Speed seamless-shift gearbox (SSG) |
| Suspension | Independent adaptive dampers, dual wishbones with Normal, Sport and Track modes |
| Steering | Electro-hydraulic; power-assisted |
| Brakes | Carbon Ceramic Discs (F: 394mm R: 380mm) with aluminium brake calipers (6-piston front; 4-piston rear) |
| Wheels (inches) | Front: 8J x 19; Rear: 10J x 20 |
| Tyres | F: 225/35 R19 R: 285/35 R20 |
| Length, mm (inches) | 4,530 (178.3) |
| Wheelbase, mm (inches) | 2,670 (105) |
| Height, mm (inches) | 1,202 (47.3) |
| Width, with mirrors, mm (inches) | 2,095 (82.5) |
| Width, mirrors folded, mm (inches) | 2,045 (80.5) |
| Width, without mirrors, mm (inches) | 1,930 (76) |
| Track (to contact patch centre), mm (inches) | Front: 1,673 (65.9); Rear: 1,618 (63.7) |
| Lightest dry weight, kg (lbs) | 1,359 (2,895) |
| DIN Kerb weight, kg (lbs) [fluids + 90% fuel] | 1,498 (3,302.5) |
| Luggage capacity (litres) | Front: 150 l; Tonneau: 52 l |
Performance data*
ACCELERATION
0 -60mph
3.1 seconds
0-100 km/h (0-62mph)
3.2 seconds
0-200 km/h (0-124mph)
9.6 seconds
0-400 m / ¼ mile
11.0 seconds
Maximum speed (roof raised/roof lowered)
328 km/h (204 mph)/ 315 km/h (196 mph)
200 – 0 km/h (124mph – 0) braking
5.3 seconds/130 metres
100 – 0 km/h (62mph – 0) braking
3.2 seconds/32 metres
EFFICIENCY
CO2 emissions [NEDC]
249 g/km
Fuel consumption – (EU l/100 km/UK MPG)
Combined
10.7 l /100km (26.4 mpg**)
Urban
17.2 l /100km (16.6 mpg**)
Extra urban
7.4 l /100km (38.4 mpg**)
*All figures subject to confirmation.
**MPG (UK) is not a homologation requirement therefore converted figure
Dynamic Display Ad(Long Version)

McLaren 570S Spider – THE PACKAGE
Yes, the 570S does look very similar to the 540C. Actually, it shares the exact same external dimensions and uses the same full carbon fibre tub. It also uses the same 3.8-litre twin-turbo 'M838TE' V8 engine, albeit in a slightly different tune, and the same seven-speed dual-clutch transmission. Most of the interior is identical, too. In fact, just 6kg worth of things separate the 540C coupe and 570S coupe.
However, going for the 570S does gain you access to some more desirable features and knee-weakening McLaren Special Operations options. Bragging rights is also something worth its weight in gold at this end of the market; imagine turning up to your next board meeting and telling the guy with the 570S that you have a 540C. Awwkward.
The 570S Spider is a different beast, though. Being able to drop the roof is something very much associated with the elite. McLaren has engineered this car to epic proportions to ensure it lives up to the brand's reputation for speed and precision. Normally, convertibles are much heavier than their coupe brothers. Not here. The Spider weighs only 46kg more than the coupe, and this is all to down to making sure it's still stiff and solid; to the point where McLaren says the structural rigidity is "unchanged" from the coupe.
It looks just like a coupe from the outside, with the roof up. There's a full hard-top split and folding roof that is controlled at the touch of a button, with a power rear windscreen which can be opened and closed regardless of the roof position, to let in engine noise or keep it out. Folding down the roof can be achieved on the go, at up to 40km/h, and it takes around 15 seconds to go up or down.
So, how about that interior. Well, it's definitely a supercar in that it's pretty bare. Unless it contributes to the driving experience or performance, it isn't included. The dash is minimal and pushed right up to the base of the windscreen, making it feel like you're wearing the car like a pair of spectacles. From the centre a stalactite of dash spears down and houses a carbon-surrounded 7.0-inch touch-screen system that McLaren calls IRIS. IRIS is a basic chap, with mostly black and white graphics and lots of blank screen space. Down below you have a couple of shallow cup holders – don't worry, you don't need coffee to wake up driving this car – and a narrow centre console box to protect your valuables from prying eyes.
Speaking of sneaky cubby holes, McLaren's interior designers have come up with a crafty little cove within the thick door trim. You wouldn't know it's there. Opening it requires fondling the upper edge of the deepest backboard of the trim. But if you do need to hide anything, like, say, a sachet of sherbet, this is the perfect spot for it.
Other than that the cabin is fairly straight-forward. The driver gets a fully digital and somewhat customisable 10-inch TFT instrument cluster, with a pair of driving mode toggles near the gear selector pad, and a set of race car pedals on the floor. Adjusting the electric seats can be a pain, in the hand, actually, as you need to blindly feel around for the buttons. For some reason the buttons are mounted down the inside of the seats, near that blackhole known as the space between the seat and the centre console. Why this couldn't be relocated to the outer side is beyond us. It is easy to find a natural driving position though, once you master the controls, with perfect steering wheel and pedal placement, especially for those who like left-foot braking.

McLaren 570S Spider – THE DRIVE
Sitting in the very low cockpit with the window sill at about jaw level, it's difficult not to feel butterflies in your gut when you first start the 570S. The starter motor churns away for a second or two before the V8 abruptly bellows into life. It's a lot of commotion from the engine bay until it eventually settles down to a high-tempo purr.
Now, there are a number of driving modes to select from before you get started. If you don't touch anything you'll get the default mode. This gives you a regular throttle response and steering feel, and smooth gear changes. The suspension is also surprisingly absorbent, providing excellent ride comfort for a sports car, let alone a supercar. McLaren implements a double-wishbone configuration front and rear, like on an F1 car, with steel springs and twin-valve adaptive dampers. We don't know how it maintains such compliance on the road, but it is one area you should note down as a big positive if comfort is high in your supercar buying criteria.
Before you can access any of the modes, of which there are Normal, Sport, and Track for the suspension and powertrain, you need to hit the 'Active' button. This is a great little setup as you can leave the manual switches in Sport or Track, for example, and then when the car is started again you only need to hit the Active button to activate them. You can mix and match as well, and have Track for the engine and Normal for the suspension, for example.
Out on your favourite road the 570S Spider is as flat and roll-free as Emily Ratajkowski's stomach. Match that with the bump-catching suspension and you're left with a surprisingly agile and playful machine, even in cross country conditions. Handling and grip is phenomenal. The 285/35 rear tyres grab the ground and hold on for far longer than most would dare push it, and getting the power down is no problem at all; you can nail the throttle in second gear around a tight bend, with the traction control off, and it won't budge. Instead, it propels you as quickly as the revs rise.
The steering feel is beautiful. It feels mechanical and precise, with the kind of feedback you get from a well-sorted go-kart. You just want to keep making turns for the fun of it. Normally cars like this can be intimidating to thread through a series of nice bends. But not this one. It's like playing with a toy. An extensively engineered and very fast toy, but still a toy that you want to discover and enjoy nonetheless. And with the roof down, you can forget anything you may know about drop-tops losing their rigidity; you'd need to be a robot to notice any potential, presumably microscopic flex.
In between the corners the V8 engine is mind-blowingly powerful. There is some turbo-lag down low, with peak torque of 600Nm not reached until 5000rpm. It'll rev to 8500rpm but you only need 7500rpm to experience the full 419kW. Keep it high in the revs and it'll smash through gears like smashing through the sound barrier. It pulls so freaking hard. It's insane. We clocked 0-100km/h in 3.25 seconds using the standard launch control system, with the quarter mile coming up in an incredible 10.99 seconds. Yep, it's a factory 10-second car. Although low-down acceleration isn't all that strong for a supercar, the top-end power and continuously climbing momentum is ridiculous.
Unfortunately, the engine doesn't offer the crystal-shattering serenade of a Ferrari or the full-lunged violence of a Lamborghini. Instead, it groans and moans its way up most of the rev range, with some hints of a superbike burble down low and a throaty, Honda-like roar up top. There is a faint turbo whistle and wastegate chuff if you listen closely, especially with the rear windscreen down.
McLaren 570S Spider – THE VIDEO
McLaren 570S Spider – THE VERDICT
The McLaren 570S is for enthusiasts who appreciate engineering that's primarily focused on driving capability and speed. It doesn't have the outrageous looks of a Lamborghini or the complexity and delicacy of a Ferrari. Instead, it earns big respect by being a maverick and paving its own path, and being very good at it.
As for the Spider version, it is literally the most accessible drop-top McLaren on offer. If it were our money we'd go for the more affordable 540C coupe (not that we can afford it in the first place) as it offers very similar thrills and capability, and it looks the same. If you want the added excitement of a drop-top then obviously it has to be 570S Spider.
PROS:
– Best ride comfort of any supercar (and even some sports cars)
– Immense speed and top-end power
– Pure and mechanical-feel steering
– Loads of grip and g-force in the corners
– Light weight; Spider only 46kg more than coupe
CONS:
– Pretty ordinary IRIS touch-screen system
– Stale interior
– $110k more than 540C, lacks distinction
As always, if you're thinking about buying a new car don't forget to click here to speak with our car buying specialists.