Mazda 6 Wagon 2015 — 2018
Mazda 6 Wagon 2015 — 2018

ОБЗОР MAZDA 6 2012-2019 (GJ)
КлассD-2
Тип кузова седан, универсал
Сборка Россия, Владивосток
Платформа Skyactiv Technology
КПП 6 АКПП
Привод передний
Варианты3 двигателя, 9 комплектаций
Цена1 450 000 — 2 200 000 рублей
≈ от 22 500 $
МАЗДА 6 2018 РЕСТАЙЛИНГ #2
Инженеры пересмотрели геометрию подвески, усилили точки крепления задних продольных рычагов, перенастроили пружины и амортизаторы на более комфортный ход и жестко закрепили рулевой механизм на подрамнике. Для улучшения шумоизоляции решили не ограничиваться одной лишь установкой иных звукоизолирующих матов, но и заморочились над утолщением металла в задних колесных арках.
mazda 6 2019
Под капотом новой модели Мазда 6 2018 впервые представлен 2,5-литровый турбомотор Skyactiv-G 2.5T, который выдает 231 л.с. и 420 Нм крутящего и сочетается он в паре с шестидиапазонным автоматом. Коробку передач тоже немного модернизировали – она получила маятниковый гаситель крутильных колебаний, а атмосферный 2,5-литровый двигатель Skyactiv-G на 192 "лошадки" (256 Нм) обзавелся функцией отключения крайних цилиндров при небольших нагрузках (на скорости от 40 до 80 км/ч). Сведений о ценах пока нет, равно как не сообщается и о том, появятся ли у нас версия с турбомотором и премиальная комплектация Signature.
Для рестайлинга Мазда 6 2018 модельного года характерен полностью переоформленный передок с увеличенной в размере щитообразной решеткой радиатора с мелкоячеистой структурой, которая напоминает кольчугу, а также иначе оформленный передний бампер. Сзади изменился рисунок фонарей, плюс их рассекли хромированной накладкой на крышке багажника. Добавлены новые варианты окраски кузова и дополнительные версии колесных дисков на 17 и 19 дюймов.
mazda 6 2019 интерьер
Салон базовой комплектации обновленной Mazda 6 впечатляет. Видоизмененное рулевое колесо, приборная панель без колодцев, лаконичная, стильная и модная передняя панель, все новые сиденья с оптимизированной формой и иным наполнителем, лучше поглощающим вибрацию, передние кресла, получившие более широкую подушку, модернизированная мультимедийная система с цветным экраном, выросшим по диагонали до 8-дюймов, новый более стильный блок управления климатической установкой и шайба управления мультимедийкой. В списке дополнительных опций: камеры обеспечивающие круговой обзор, проецирования информации на лобовое стекло, адаптивный круиз-контроль с функцией stop&go, работающий во всех скоростных режимах, цифровая приборная панель.
МАЗДА 6 2015 РЕСТАЙЛИНГ
Пережив рестайлинг Мазда 6 получила более изысканный и агрессивный дизайн кузова с обновленными адаптивными фарами головного света со светодиодным наполнением, а также новые бампера и легкосплавные 19-дюймовые диски. Изменения во внешности обновленной «шестерки» минимальны,однако на самом деле внешние зеркала заднего вида обзавелись аккуратными светодиодными повторителями указателей поворотов, а задние светодиодные габаритные фонари с подкорректированной графикой. Также производитель заявляет о расширении палитры цветов эмали, доступных при заказе автомобиля, за счет нового цвета Machine Grey.
мазда 6 рестайлинг 2015
Но седан изменился не только внешне, среди опций появилась система мониторинга «слепых» зон и усовершенствованная система экстренного торможения, которая автоматические увеличивает давление в тормозной системе в случае угрозы столкновения. Среди изменений в интерьере стоит отметить модернизированный мультимедийный комплекс с 7-дюймовым сенсорным экраном. Благодаря более качественной шумоизоляции в салон обновленной Мазда 6 проникает на 25% меньше шумов при движении по шоссе и на 10% во время езды по неровной дороге, по сравнению с предшественником. Кроме того, седан стал первой моделью компании Мазда, оснащенной электронным стояночным тормозом.
мазда 6 рестайлинг 2015 салон
В салоне рестайлинговой версии Мазда 6 новое более удобное и эргономичное мультифункциональное рулевое колесо от флагмана кроссоверной линейки Mazda CX-9 (в качестве опции доступен обогрев обода), новый полноцветный проекционный дисплей, цветной 4,6-дюймовый информационный экран на панели приборов, новая лучше читаемая оцифровка спидометра. Обновленная Мазда 6 2017 года получила более толстое лобовое стекло, дополнительную звукоизоляцию в дверях, потолке и под нищем, а также доработанные дверные уплотнители. А в топовом исполнении отныне ставятся ламинированные передние боковые стекла.
Присутствуют модернизированные системы мониторинга за объектами в слепых зонах зеркал заднего вида и система слежения за линиями разметки (Lane-keep Assist System), система Advanced Smart City Brake Support с функцией обнаружения пешеходов получила камеру, позволившую увеличить скоростной диапазон до 4-80 кмч, а в режиме Smart Brake Support 15-160 кмч.
МАЗДА 6 2012
Mazda 6 Sedan (Мазда 6 Седан) — переднеприводный седан класса «D». Треть поколение модели было представлено в рамках Московского международного автосалона в августе 2012 года. Премьера рестайлинговой версии в кузове "cедан" и "универсал" состоялась на автосалоне в Женеве в марте 2015 года.
мазда 6 2012
Mazda 6 – экспрессивный, привлекающий с первого взгляда автомобиль, воплотивший в себе революционные технологии, объединенные под названием SkyАctiv. Прежде всего, они направлены на уменьшение веса и повышение жесткости кузова, что ведет к снижению расхода топлива и уровня выбросов вредных веществ в атмосферу. Благодаря применению в конструкции кузова большого количества высокопрочных сталей автомобиль стал легче почти на сто килограмм. Жесткость кузова на кручение при этом увеличилась на 30%.
Моторная гамма Мазда 6 включает в себя два бензиновых двигателя – 2-литровый мотор выдает 165 л.с., в свою очередь 2,5-литровый силовой агрегат располагает 192 л.с. мощности. Оба работают в паре только с 6-ступенчатым "автоматом".
ОБЗОР MAZDA 6 2018 ВИДЕО
Внутреннее оформление Мазда
Салон обновлённой Mazda 6 Wagon, как и в случае с версией седан, получил совершенно новую архитектуру передней торпедо, выполненную в минималистичном стиле, что очень напоминает решение представленное в концептуальном Vision Coupe.
Качество материалов, как и сборка, находится на очень высоком уровне и вполне может конкурировать с машинами более высокого ценового сегмента. Чего только стоит наличие натуральной кожи Nappa, вставок из натуральной замши и дерева (японский ясень)!
Место водителя предлагает новый мультифункциональный руль и обновлённую комбинацию приборов, которая в топовых вариантах исполнения представлена крупным ЖК-дисплеем. На центральной торпедо производитель расположил 8-дюймовый «телевизор» мультимедийно-информационного комплекса, под которым располагается строги блок дефлекторов воздуховодов и лаконичный блок настройки внутрисалонного климата, представленный парой многофункциональных крутилок, несколькими механическими переключателями и небольшим ЖК-дисплеем.
Пассажирам переднего ряда предложены новые более широкие и комфортабельные кресла, предлагающие широкий диапазон регулировок, а также функцию подогрева и вентилирования. Кроме того, производитель подчёркивает, что сидения получили новый наполнитель, призванный лучше гасить колебания кузова.
Второй ряд кресел легко вмещает 3-х пассажиров, при этом им доступен отдельный блок воздуховодов и система подогрева (опция).
Объем багажника в классической 5-местной компоновке салона равен 480 литрам, но при необходимости его объем увеличивается больше чем в два раза путём складывания спинок заднего ряда кресел.
Отдельного внимания заслуживает улучшенная шумоизоляция, благодаря чему в салоне можно общаться вполголоса, причём делать это можно даже в момент активного набора скорости.
Обновление Mazda 6
Что касается кузова автомобиля, то он мало чем изменился от предыдущей версии мазды, за исключением некоторых деталей кузова.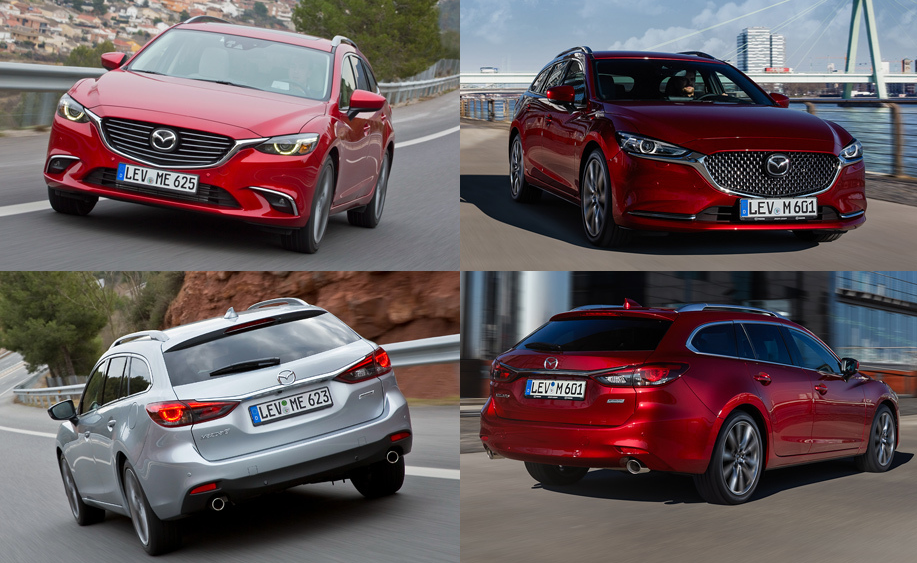 Новый рестайлинг будет отличаться от своего предшественника следующими деталями в экстерьере:
Выхлопные трубы – закругленные.
Более узкий центральный воздухосборник.
Больше хрома, дополнительная хромированная отделка над передней оптикой.
Фальшрадиаторная решетка теперь имеет форму ячеек.
Другая форма боковых выемок на бампере.
Суженые фары головного света теперь объединены в один блок с противотуманными фонарями.
Введение нового рокового красного цвета (Soul Red Crystal) в линейку кузовов.
Обновленный рисунок легкосплавных дисков.
Можно сказать что внешний вид Мазды 6 изменился незначительно, сохранив все выразительные и дерзкие черты предыдущей версии, чего нельзя сказать о салоне новой "Шестерки"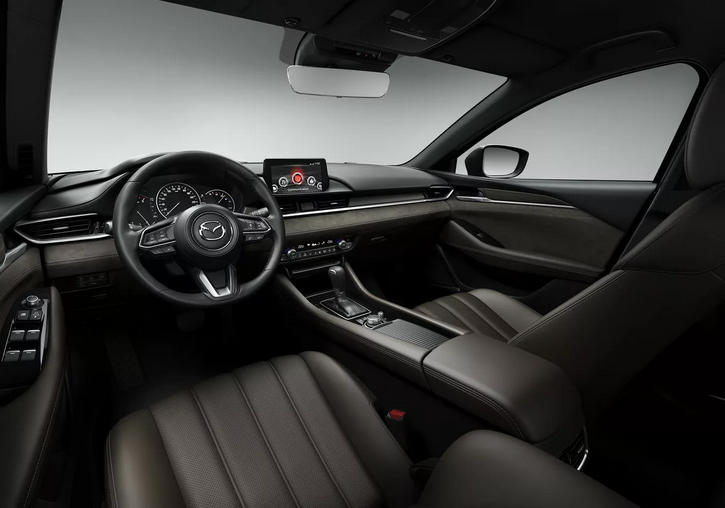 Салон третьего поколения Mazda 6
Новая мультимедийная система с экраном на 8-дюймов с повышенной контрастностью, мультифункциональный руль усовершенствованного образца (практически все, чем оснащается машина, можно настроить именно отсюда), проектор, транслирующий информацию на ветровое стекло, приборная доска без сферических показателей и многие другие "фишки" обновленного интерьера будут радовать владельца данной модели.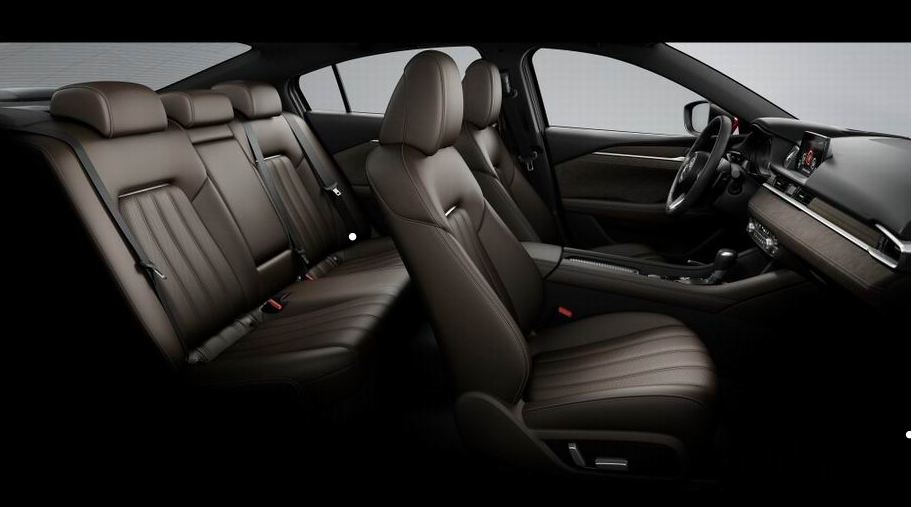 Mazda6 Turbo 2018 Review
After holding the door open for newcomers in the medium passenger car segment, the Mazda6 is back with a vengeance. The turbocharged 2.5-litre four-cylinder from the CX-9 now powers high-grade variants of the 2018 Mazda6, for easier touring, faster overtaking and towing capacity (1600kg) to match the diesel model's. But the facelifted Mazda6 is more than just a performance upgrade – it's also safer, better equipped and quieter. at a reasonable price. The turbocharged range starts at $43,990 with the non-turbo range kicking off from $32,490 (plus on-road costs).
Evergreen Mazda revitalised
The Mazda6 is a car that dates but slowly. Its styling is six years old and still looks fresh, even more so with the arrival of a facelifted 2018 Mazda6 range. Decent driving dynamics, comfort, safety, fit and finish have all been highlights of Mazda's largest passenger car too. And the whole SKYACTIV fuel-saving concept has proved its mettle in the real world too, finding the middle path between performance and economy.
Up against some newer competitors, however – mostly in the medium passenger car segment, but also including Holden's large, economy-sized Commodore – the Mazda6 is beginning to look vulnerable.
In a comparison some years ago we rated it the top choice, but it finished fourth in our last medium car comparison behind the winning Kia Optima GT and two other competitors.
Mazda has implemented frequent updates in the past – most recently to suppress engine noise for the diesel variants and enhance active safety with g Vectoring Control. This latest update addresses one of our principal concerns from the last comparison: performance.
Healthy engine output
The new turbocharged engine in the GT and Atenza variants is the same engine powering the CX-9 SUV. It's essentially a forced-induction version of the naturally-aspirated 2.5-litre petrol engine that continues to power the lower-grade Mazda6 Sport and Touring models, now with cylinder deactivation.
While the turbocharged engine doesn't quite transform the Mazda6, it makes for a marked improvement in a car that was somewhat lacking in straight-line urge. There's little sign of turbo lag, particularly in Sport mode, and performance will be more than adequate for most owners, even if the transmission does shift up just above 5000rpm.
That's well short of the redline, and in spite of the driver shifting manually. Its short shifting was academic, however, with the unmistakable feel of torque steer making its presence felt at full throttle – a novel experience in a Mazda6, frankly.
The turbo engine is a quiet unit at cruising speed, not a peep out of it at 1900rpm with the speedo nudging 100km/h. But there's enough bark from the turbo engine to please the ears once it's throttled up in the mid-range.
Although a proper determination will have to wait for a comparison, the Mazda6 with the turbocharged engine also promises to be more economical than the Kia Optima GT. The on-paper ADR consumption figures indicate that, and the Mazda's computer-posted fuel consumption finished the drive program at 10.8L/100km, which is a decent number in the circumstances.
Driving home from the launch saw the car's consumption drop from 10.8 to 8.7L/100km – helped by over 100km of freeway driving, but also offset by about 30km of peak-hour Melbourne traffic, including roughly 5km of bumper-to-bumper morass.
The six-speed automatic transmission shifts cleanly and smoothly, but the engineers responsible for calibrating the automatic don't define 'manual' the same way I do. In full-on manual mode the Mazda's transmission would kick down to a lower gear, and it would also change up automatically.
On low friction surfaces, for instance, or accelerating hard out of a tricky corner as another example, this could be an unwanted trait. But the transmission in the Mazda6 is at least an automatic for the people – most of whom will never see fit to use it manually.
Safe and tidy dynamics
Mazda has made some changes to the suspension, which the company claims improve ride comfort, body control and noise suppression in the cabin. On the drive program, the wagon tested didn't feel like it rode as comfortably as sedans we've tested in the past – but that may be due to the sedan's longer wheelbase and the Atenza wagon's 19-inch alloys. Overall, the wagon still rides acceptably well, but I expect the Optima GT might retain an edge for ride/handling balance.
Steering response in the Mazda6 is as good as before, although another point in favour of the Optima GT is the Kia's feedback through the tiller. The Mazda can be placed accurately on the road, but by my recollection the Kia's steering is more communicative.
Tyre noise has been an issue for Mazda in the past, but while the Bridgestones fitted to the Mazda6 Atenza wagon tested remained noisier than the car's engine or airflow over the body, the updated model earns itself a pass mark this time around for the revised suspension and other noise-suppressing countermeasures.
On the long run back from Ballarat the level of road noise was not fatiguing or unduly loud. In fact, road noise transmitted to the cabin is only noticeable because the rest of the Mazda6 is actually very quiet.
In construction zones on the way back from the media drive program, the Mazda's newly-introduced radar cruise control was effective at keeping a safe braking distance in front, right down to zero km/h. The Mazda6 has an almost full quotient of advanced technology like this on board, also including 360-degree camera coverage, but the obvious exceptions are Apple CarPlay and Android Auto.
More Research
2018 Mazda 6 Pricing & Specs
Read what Mazda 6 owners think
Read more Mazda 6 news & reviews
Interior delights
The Mazda's cabin has been critically praised in the past for its presentation, fit and finish – and the upgraded model improves on that again. Redesigned for comfort and lateral location, the seats suited me to a T, and the driving position could not be faulted for the relationship to wheels and pedals or the scope of adjustment on offer.
Ergonomically, the Mazda's major instruments and controls are easy to use, with the new-look instrument binnacle of the Mazda6 Atenza highly legible and complemented by the new Active Driving display (a head-up display) now reflecting off the windscreen rather than the pop-up unit fitted previously.
As an example of the instruments' cleverness, the analogue-look speedometer in the Atenza grade marks off the prevailing speed-limit zone with a red calibration point. A speed-limit-sign graphic is also displayed separately, to the left of the speedo. As is often the case with traffic sign recognition systems in other brands, the Mazda's is not perfect, but it will always choose the lower speed if it's confused by a school-zone restriction. All the minor instruments in the binnacle were clear to read at a glance, just like the tachometer and speedo.
Mazda has achieved a perception of width in the cabin by pushing the face-level vents further outboard so that they appear to overlap with the sculpture lines in the door cards. With the single-point controller for the (MZD Connect) infotainment system, the rest of the dash and centre fascia look elegantly simple. And the Mazda6 Atenza comes with a Bose audio system, which delivers clear, crisp sound in the treble range.
Sen Wood decorative trim is a darker, subtler woodgrain that tastefully coordinates with the test vehicle's Walnut Brown Nappa leather upholstery and an Alcantara-like soft-textured material on the dash.
Practical, stylish wagon
Having a wagon in the range is a trump card for the Mazda6. Kia won't bring the Optima Sportwagon, here, anticipating little demand for it. Ford Mondeo and Skoda Octavia do offer wagons in each respective range, but the Mazda6 wagon puts up a pretty strong fight against those two. According to Mazda, 31 per cent of Mazda6 sales are wagons – and little wonder.
It's a practical and stylish unit, with features like the finger pulls in the luggage compartment to drop the rear seats and a flexible cargo blind that lifts – hatchback style – with the tailgate for a larger opening. There's a temporary-use space-saver spare wheel under the floor, which will at least get you out of trouble in rural areas.
Although the wagon is built on a shorter wheelbase than the sedan, rear-seat legroom is still adequate for an average-sized adult, and the head room wasn't compromised by the car's sunroof. Kneeroom is fine, but there's not that much length to stretch out behind the front-seat occupants. If rear-seat legroom is an issue for buyers, the longer-wheelbase sedan may be the preferred choice.
Either way, the cumulative effect of running changes over the past year or two places the Mazda6 back in contention for the title of the medium car segment's benchmark. And with its nearest direct competitor rumoured to be on the chopping block, the Mazda's lock on that title appears stronger than it has been for some time.
How much does the 2018 Mazda Mazda6 Atenza wagon cost?
Price: $48,990 (plus on-road costs)
Engine: 2.5-litre four-cylinder turbo-petrol
Output: 170kW/420Nm
Transmission: Six-speed automatic
Fuel: 7.6L/100km (ADR Combined)
CO2: TBA
Safety Rating: Five-star ANCAP (2012)
More about the new gasoline engine:
Mazda SkyActiv-X Prototype First Drive: The Future Of Gas Engines?
Although exact technical specifications (and when it will be effectively launched) have not been disclosed, Mazda has previously said the Skyactiv-X will boost fuel efficiency by as much as 30 percent while increasing torque by up to 20 percent. It has been engineered to work with both a six-speed manual and a six-speed automatic to please both worlds and our ride in a Mazda3 prototype has shown it feels quicker than the current 2.0-liter, particularly at low engine speeds.
We will have full details on March 6 when the updated Mazda6 Sedan and Wagon for the European market will debut in Geneva where the two will share the spotlight with the stunning Vision Coupe and Kai concepts. It will be interesting to see whether the new turbocharged 2.5-liter powering the North American model where it pumps out 250 horsepower (186 kW) and 310 pound-feet (420 Newton-meters) of torque will find its way inside the Euro model, though we wouldn't get our hopes up too high just yet.
Source: Mazda
Gallery: Mazda6 Euro Spec at the 2018 Geneva Motor Show
Share on Facebook
Share on Twitter
Share on LinkedIn
Share on Flipboard
Share on Reddit
Share on WhatsApp
Send to email
MAZDA'S GENEVA MOTOR SHOW STAND SPOTLIGHTS THE NEW MAZDA6, STUNNING CONCEPT CARS AND NEXT-GENERATION ENGINE TECHNOLOGY
World debut of the new Mazda6 Tourer and European debut of the new Mazda6 Saloon.
Mazda VISION COUPE and Mazda KAI CONCEPT make their European debuts.
SKYACTIV-X next-generation compression ignition petrol engine technology showcased.
The Mazda stand will be one of the busiest at the 88 th Geneva International Motor Show next month. It will feature the world debut of the new Mazda6 Tourer, the European debut of the new Mazda6 Saloon, and two stunning concept vehicles -the Mazda VISION COUPE and Mazda KAI CONCEPT, as well as showcasing Mazda's revolutionary SKYACTIV-X next-generation petrol engine.
The latest update of the Mazda6 is the most comprehensive yet, offering enhanced quality in almost every detail of Mazda's flagship model. It features a more mature, elegant and refined exterior design, extensive interior revisions including completely new seating, boosted SKYACTIV powertrain performance, enhanced driving dynamics, greater aerodynamic efficiency, reduced NVH and an even broader range of i-ACTIVSENSE safety features, such as a 360° view monitor and an intelligent speed assist system.
The Mazda VISION COUPE, recently crowned 'Most Beautiful Concept Car of the Year', adopts the basic form of a flowing four-door coupe. It forgoes the rhythmical motion that prior iterations of KODO design emphasised in body styling, opting instead for a simple form that strips away all non-essential elements to follow the principle of 'Less is More'. Tremendous time and care have been invested on the bodywork, especially the play of light across its surfaces.
Its name Kai meaning 'Pioneer', the Mazda KAI CONCEPT compact hatchback sets the stage for the future of the Mazda brand, showcasing the company's breakthrough technologies and the latest evolution of its KODO design. Within next-generation SKYACTIV-VEHICLE ARCHITECTURE which maximises the human body's inherent abilities to effect the ultimate connection between driver and car, it adopts Mazda's revolutionary SKYACTIV-X powertrain.
Exclusive to Mazda, SKYACTIV-X is a ground-breaking engine which introduces an innovative combustion method called Spark Controlled Compression Ignition (SPCCI). Set to become the world's first commercial petrol engine to use compression ignition*, SKYACTIV-X combines the benefits of a spark-ignition petrol engine -expansiveness at high rpm and cleaner emissions- with those of a compression diesel engine -superior initial response and fuel economy- to produce a crossover engine that delivers the best of both worlds.
Mazda will hold a press conference at 8.15 — 8.30am CET on Tuesday 6th March, the first of two press days, at its stand (no. 5150 in hall 5) in the Palexpo convention centre. The 2018 Geneva Motor Show opens to the public from 8-18th March.
* As of February 2018, according to in-house investigation
Dynamic Display Ad(Long Version)
* Figures as tested by PerformanceDrive on the day. Factory claims may be different

2018 Mazda6 GT turbo wagon – THE PACKAGE
Although the current shape Mazda6 has been around for a while now, it still looks modern and sophisticated. Internal and external design flows and shapes are very Mazda-esque. The exterior goes by fluid and curvy contours flowing from front to rear, and the inside is a familiar territory – continuing with an easy-to-navigate yet elegant theme that uses a mechanical instrument cluster and a rotary knob to control the infotainment screen – called MZD Connect. Most of this has been tweaked for the 2018 model, in terms of cosmetics, for a more refined design. We'd suggest the Mazda6 remains as one of the nicest in the segment in this area.
The base model's entry price is similar to many mid-sized SUVs, but they will probably not have the boot size and family car-like room that the Mazda6 wagon has. In the back there's 506L of cargo space, expandable to 1648L with the rear seats folded down. This volume makes it bigger than its CX-5 cousin (442L/1342L), but smaller than the Ford Mondeo wagon without the second row folded (730L/1605L). And the great advantage is accessing the area is easier than in an SUV, since it sits lower.
Features are aplenty. As standard all models come with blind-spot sensors, front and rear collision mitigation braking, distance controlled cruise control, auto-dipping high-beam, proximity sensor keyless entry, lane-departure warning with passive steering, digital radio, road-sign recognition, and rear cross-traffic alert. Is there anything else left to fit in the premium variants?
Well, the GT also scores a better 11-speaker sound system by Bose, 19-inch wheels, driver attention detection, power front seats, active cornering headlights, front and rear heated seats, a head-up information display, partially leather trim, a few minor finish alterations, and of course, the better turbo petrol engine (if you opt for petrol).
Comfort levels are up there with that of a premium brand. They have many adjustments that will tailor to all body types. And there is heaps of space around you, whether you're in the front or rear. But there isn't a huge amount of practical hidey-holes to throw your items into. For example, the centre console won't fit a small tissue box in it, and the glove box is tiny.
Mazda as a brand has been proven to be a safe buy when it comes to long-term reliability, parts costs, and resale value. And Mazda Australia offers a three-year unlimited kilometre warranty, but servicing intervals are required more frequently than average – every 10,000km or 12 months.

2018 Mazda6 GT turbo wagon – THE DRIVE
Our prediction is that this engine will be the standard across the range soon enough. And not just because it's Mazda's latest unit, but because it is a great engine. With 420Nm of torque on tap, you would be forgiven to think you were driving a diesel. It has loads of punch, and plenty of power for any hill or take-off. We measured the 0-100km/h test in an impressive 7.16 seconds.
There is a slight drawback with having all this power on tap. The Mazda6 is a front-wheel-drive, and under heavy acceleration, you experience some torque-steer, especially with all of that torque. Most engines in the 2.0-litre turbo category produce around 350Nm. This has 70Nm more. But it means highway cruising and overtaking is totally effortless.
The engine is matched to a silky-smooth six-speed auto gearbox that has been used by Mazda for a while now. Mazda claims that it doesn't need any more gear ratios to achieve fuel economy expectations, mainly because of the 2.5 engine capacity and the high torque being able to offer a wide torque spread. We do love how well-matched the gear ratios are to this engine, and how the gearbox seems to be very intuitive in selecting or lining up the right gear for the task at hand, with minimal delay.
In the way of driving dynamics, the family wagon undertakes corners with minimal body roll, providing heaps of grip in the wet or dry. Although, at highway speeds, the suspension exerts a slight 'boaty' feeling. It's more evident from a front-to-back axis rather than side-to-side. But it is a rather lengthy 4.8-metre long car. The steering can also feel a tad too light at highway speeds. That, with the softish suspension means it is very comfortable for long distance touring. Fortunately, there's no doubting the ride comfort when it comes to tackling big bumps and holes on country roads – it cushions over them fluently.
NVH (noise, vibration and harshness) levels are blissfully low for a passenger. They would be at the envy of some luxury European brands. You can't hear the engine at idle, and there's no harshness when the engine is working hard, unlike the non-turbo 2.5 option which can get a bit harsh higher in the revs. We found the auto stop-start feature needs some refinements, though, upsetting the relaxation potential somewhat. It seems to be confused easily. For example, when you come to a stop when you have parked the car, the engine automatically shuts off. If you proceed to turn the engine button off to get out of the car, it displays the message 'engine stalled' and the engine needs to turn on, then off again.
The new turbo-petrol engine is one of those engines that has the potential to be frugal on fuel use, but changes quite dramatically when pushed hard. During our slightly harsher testing, we achieved an average of 8.2L/100km. This can increase more than you might expect if you're frequently heavy footed. But, if you're a calm driver, which the Mazda6 supports very well, you'll be able to score a commendable consumption that is closer to the official average of 7.6L/100km. And to help your back pocket, the SkyActiv engine can run on 91-RON petrol and E10 ethanol blended fuel. In fact, Mazda says the engine actually produces 184kW if you run it on 98 RON, but says the engine was tuned to run on 91 to meet Australia's lower fuel standards.

2018 Mazda6 GT turbo wagon – THE VIDEO
2018 Mazda6 GT turbo wagon – THE VERDICT
The 2018 Mazda6 GT wagon is a perfect solution for family-sized premium-inspired transport if you require plenty of space and, but don't want to join the SUV bandwagon. It also has a generous price point with a huge list of important features, which would usually cost extra in most of the competition. As for the new turbo, it is a brilliant engine with loads of punch and it suits the elegant nature of the Mazda6 perfectly.
PROS:
– Refined and well-performing turbo engine
– Smooth and synced ratios for the 2.5T
– A popular brand and safe buy
– Roomy interior and sizeable boot is bigger than most wagons
– Undeniably premium character
CONS:
– Suspension can feel a little too soft, for GT variant anyway
– Stop-start sometimes confuses itself
– Lovely car but competes in declining segment
As always, if you're thinking about buying a new car don't forget to click here to speak with our car buying specialists.
Is it comfortable?
There's a lot to like about the updated Mazda6's cabin, which features a new-look dash, higher-quality materials and new seats.
The former has like a simple T-bar design with a horizontal section in the middle that runs the length of the dash and separates the upper and lower sections. The air vents at either end are beautifically intricate with the brushed-alloy surround flowing around the edges and piercing into the door panel.
The multimedia screen is now perched on top of the dash — following the trend — rather than being recessed into the panel as before, which not only looks nicer it lowers the rest of the dash for better vision. Mazda's MZD system, however, is really showing its age as it is slow to start-up and process inputs and misses out on smartphone mirroring for Apple and Android devices.
Overall, it's a well executed interior upgrade that while looking familiar actually feels a step above its predecessors, thanks in part to greater use of higher-quality materials with sections of the centre console now covered in soft touch leather.
No 8-Speed Auto available
Limited rear leg room
While I've been an admirer of the Mazda6 for a long time, the newest version is undoubtedly the best.
Building on an already competent car, Mazda have crafted the 2018 Mazda6 into a car that is the benchmark in its class. And you get so much car for under $34k.
It's a great performer that offers lots of space, but it's because it is so refined, so well built, and such a pleasure to live with, that the Mazda6 is a cut above anything else available for the same money.