Ferrari 812 Superfast Stallone by Mansory 2018 года (фото 1 из 12)
Ferrari 812 Superfast Stallone by Mansory 2018 года (фото 1 из 12)
Галерея автомобиля Ferrari 812 Superfast Stallone by Mansory 2018 года включает в себя 12 оригинальных изображений высокого качества.
По этим изображениям вы можете ознакомиться с внешним видом автомобиля, узнать его особенности и отличительные черты, которые выделяют этот автомобиль Ferrari от других автомобилей.
А также вы можете скачать фотографии абсолютно бесплатно и использовать их как обои для рабочего стола с изображением автомобиля Ferrari 812 Superfast Stallone by Mansory 2018 года, нажав на иконку в правой нижней части изображения.
Изображенный на фотографиях автомобиль был выпущен в 2018 году.
Изображенный на фотографиях автомобиль не серийный, а доработанный в специализированном тюнинг-ателье.
Другие галереи Ferrari 812
Другие галереи Ferrari 2018 года
2008 Renault Koleos
2008 Hongyan Tampa 8×4
2017 Jaguar XE SV Project 8
2001 Opel Astra XTreme
1990 Buick Lucerne Convertible Concept
1929 Rolls-Royce Phantom I Ascot Tourer
Страна: Италия
Годы работы: 1947 — н.в.
«Ferrari» — это всемирно известный бренд, основанный легендарный гонщиком Энцо Феррари.
Модели Ferrari
208/308
250 GTO
328
348
360
400
412
456
458
488
512 BB
512 M
512 TR
550
575M
599
612
812
California
Enzo
F12berlinetta
F355
F40
F430
F50
F8
FF
FXX K
GTC4Lusso
LaFerrari
Mondial
Monza SP
Portofino
Roma
SF90
Testarossa
Популурные галереи
Renault Megane Sedan 2017 года
Audi TT RS by Pipifein on Vossen Wheels (LC2-C1) 2019 года
Fiat Strada Working CS 2017 года
Citroen 2CV6 Picasso Citroen by Andy Saunders 1983 года
BMW M3 GTS and 2014 BMW M3 CRT by G-Power 2014 года
Fiat 500X S-Design 2017 года
HongQi H7 2017 года
Audi TT RS Coupe 2017 года
Weinsberg TI 2011 года
BMW M4 Coupe Daytona Violet Paint 2018 года
Volkswagen Golf GTD Variant 2017 года
О проекте
Условия оказания услуг
Политика конфиденциальности
Вакансии
Реклама
Партнеры
Контакты
При использовании информации в электронном виде (интернет-сайт, электронный файл и т. п.) в каждом случае необходимо размещение активной гиперссылки на главную страницу Сайта или на страницу размещения соответствующего материала.
Все замечания и вопросы по сотрудничеству направляйте по электронной почте: auto@vercity.ru.
Обращаем ваше внимание на то, что изображения являются чьей-либо собственностью и добавлены посетителями сайта.
Администрация сайта не располагает информацией о правомерности публикования этих материалов.
Все изображения размещены в ознакомительных целях.
Технические характеристики Ferrari 812 Superfast
V12 ENGINE

Максимальная мощность
Разгон
Максимальная скорость
| | |
| --- | --- |
| Передние | 275/35 ZR20; 10" J х 20" |
| Задние | 315/35 ZR20; 11.5" J х 20" |
| | |
| --- | --- |
| Тип | V12 — 65 o |
| Рабочий объём | 6496 см 3 |
| Максимальная мощность | 588 КВт (800 л/с) при 8500 об/мин |
| Максимальный крутящий момент | 718 Нм при 7000 об/мин |
| Диаметр и ход поршня | 94 мм x 78 мм |
| Степень сжатия | 13.6:1 |
| | |
| --- | --- |
| Передние | 398 мм x 38 мм |
| Задние | 360 мм x 32 мм |
| | |
| --- | --- |
| Максимальная скорость | 340 км/ч |
| Разгон 0-100 км/ч | 2,9 секунды |
| Разгон 0-200 км/ч | 7,9 сек |
| Торможение 100-0 км/ч | 32 м |
| Вес / мощность | 1,9 |
| | |
| --- | --- |
| Расход топлива | 14,9 л / 100 км |
| Выбросы СО2 | 340 г/км |
4WS / 7-ступенчатая коробка передач F1 с двойным сцеплением / E-Diff3
ECE+EUDC со стандартной системой HELE
Настоящим Я, в соответствии с требованиями Федерального закона от 27.07.2006 г. №152-ФЗ «О персональных данных» даю свое согласие лично, своей волей и в своем интересе на обработку (сбор, систематизацию, накопление, хранение, уточнение (обновление, изменение), использование, распространение, передачу (включая трансграничную передачу), обезличивание, блокирование и уничтожение) моих персональных данных, в т.ч. с использованием средств автоматизации.
Согласие предоставляется в отношении следующих персональных данных: Фамилия, имя, отчество, Год, месяц, дата рождения; Пол; Контактные телефоны; Контактный адрес; Контактный email; адрес; Сведения о профессиональной деятельности; Модель приобретенного; обслуживаемого автомобиля; Название дилерского центра, где приобретен / обслуживался / ремонтировался а/м; Дата выдачи автомобиля при покупке / из сервиса; Государственный номерной знак автомобиля; VIN –номер автомобиля; Пробег автомобиля; Перечень работ, проведенных с автомобилем; Перечень замененных деталей.
Согласие предоставляется в целях определения потребностей в производственной мощности, мониторинга исполнения сервисными центрами гарантийной политики; ведения истории обращения в сервисные центры; проведения маркетинговых исследований в области продаж, сервиса и послепродажного обслуживания; для рекламных, исследовательских, информационных, а также иных целей.
Предоставляя свои персональные данные, я даю согласие на направление мне рекламной информации и участие в маркетинговых опросах.
Согласие предоставляется:
АО «Авилон АГ», адрес: 109316, г. Москва, Волгоградский пр., д.43, корп.3
Я выражаю согласие на передачу моих персональных данных:
АО «АкитА», адрес: 109316, г. Москва, просп. Волгоградский, д. 43, корп. 3
Согласие действует 75 лет и может быть отозвано в любой момент на основании письменного заявления.
Интерьер Феррари 812 Суперфаст 2018
Двухместный кокпит новинки выполнен в фирменном минималистическом стиле Ferrari, а большая часть решений схожа с таковыми в модели F12berlinetta.
Место водителя обзавелось эффектным мультифункциональным рулевым колесом с тремя спицами и по-спортивному срезанным ободом снизу, а также стильным и информативным щитком приборов с парой ЖК-дисплеев и крупным аналоговым циферблатом тахометра.
Отдельного внимания заслуживает небольшой сенсорный дисплей, расположенный со стороны переднего пассажира, посредством которого последний может наблюдать информацию об основных параметрах авто и осуществлять управление мультимедийной системой.
Передние кресла суперкара, как и положено, представлены парой спортивных сидений с интегрированными спинками, обеспечивающими надёжную фиксацию корпуса и обладающими достаточным количеством регулировок. Между передними сидениями установлен высокий трансмиссионный тоннель.
Так как перед нами купе, второй ряд сидений отсутствует как таковой, при этом автомобиль оснащён небольшим багажным отсеком. Правда, точный объем багажника нигде не фигурирует.
Качество материалов, как и сборка, полностью соответствует автомобилю премиального класса (мягкие пластики, натуральная кожа и замша, алюминий и карбоновое волокно), а в число приятных бонусов можно записать возможность выбора между более чем 15 цветовыми вариациями отделки интерьера.
Ferrari 812 Superfast, the Literally Named Supercar
Our test results prove it is what it says it is.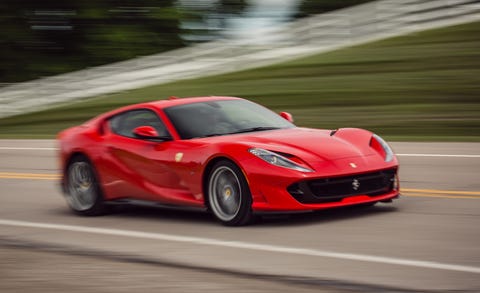 At the intersection of circles in the Venn diagram of Ferrari, Car and Driver, and November 1971 lies a very special sliver of commonality. It was then that C/D organized the very first Cannonball Baker Sea-to-Shining-Sea Memorial Trophy Dash. The entrants were a hodgepodge of vehicles, many of them modified. But the winning car, a Ferrari 365GTB/4 Daytona piloted by the one and only Brock Yates and professional racer Dan Gurney, was bone stock. And the spirit of that Ferrari lives on in the 812 Superfast.
What «812» Means
Unlike many other marques, this Ferrari's name is 100 percent literal. The «8» stands for 800 cavalli vapore, Italian for horsepower. Italian horses are a little smaller than the ones bred in Kentucky, so that equates to 789 horsepower in the States. The «12» denotes 12 cylinders, arranged in two banks that are positioned in a perfectly balanced 60-degree V. And «Superfast,» well, this car's test numbers speak to that credential.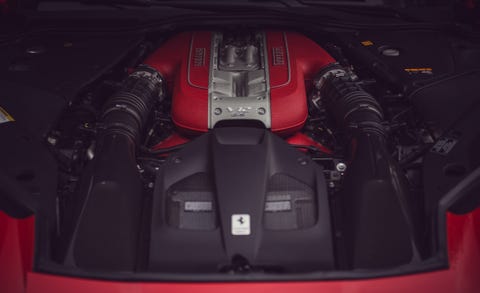 The engine is one in a long line of V-12s from Ferrari, including the one in that Cannonball pacesetter. In the simplest of terms, this 6.5-liter V-12 is a stroked version of the F12's engine. But, according to Ferrari, it consists of 75 percent new parts, including a system that continuously varies the intake-runner length. Indicated redline is 9000 rpm (although Ferrari says it revs to just 8900). Regardless, given the opportunity, you will explore the upper reaches of engine speed with great frequency. The sound isn't as loud as a 911 GT3's or a McLaren 720's—at wide-open throttle, the 812 emits 91 decibels to the Porsche's 100 and the McLaren's 95—but it's a sound that penetrates the soul. It also reminds you that engineers, when pushed and challenged the way Ferrari's are, can be just as artistic as designers.
How Fast Is Superfast
Rear-wheel-drive cars typically lack the grip required for a sub-3.0-second zero-to-60-mph time, and yet this 812 manages it in 2.8 seconds. It also reaches 100 mph in 5.8 seconds and completes the quarter-mile in 10.5 at a blistering 138 mph. Just 7.1 seconds later, the 812 hits 170 mph. Still, the McLaren 720S (also rear-wheel drive) is quicker, as it weighs nearly 700 pounds less than the 812. That doesn't diminish the fact that the Ferrari is so quick accelerating from 70 mph that it takes not more than a half-mile of open interstate and 9.3 seconds to show the driver and up to one passenger what 150 mph feels like.
Hauling down all that speed are four girthy Pirelli P Zero PZ4 tires and carbon-ceramic brake rotors that wouldn't look undersized on a Boeing 737. Stops from 70 mph require just 142 feet—and this is a car that weighs 3851 pounds.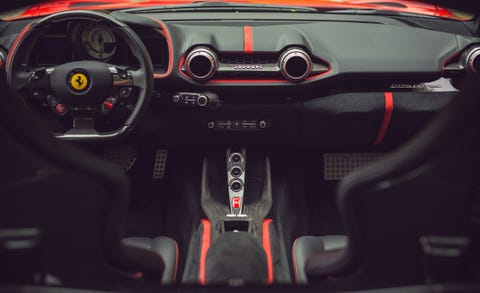 Cabin ergonomics are excellent. All the normal steering-wheel stalk controls are moved to various buttons on the wheel. The idea is that this allows the driver to keep both hands on the wheel at all times. Shuffle steering isn't necessary, even through roundabouts, since the 812 incorporates rear-axle steering.
Ferrari's longstanding use of magnetorheological dampers—going back to the 2007 599GTB—pays off, as the 812's around-town ride rivals that of a family sedan, particularly in the «bumpy road» mode. Crank the steering-wheel-mounted mode switch to Race, and the 812 will stick with an even 1.00 g of lateral grip.
If the 812 has one dynamic weakness, it's the dual-clutch transaxle. Multiple drivers noted hard shifts, particularly when the gearbox reengages after an auto stop-start engine shutdown when the car comes only to a rolling stop. But that's small-potatoes stuff. Besides, do you really want your Italian exotic to be as smooth in traffic as a Honda Accord?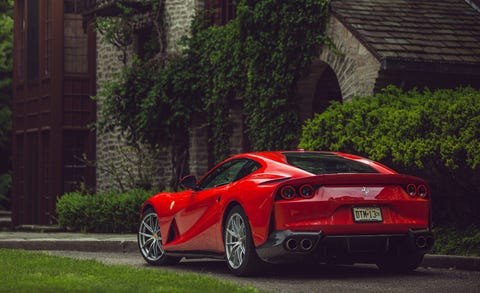 Even when it's sitting still, the 812 looks as if it's sprinting, particularly with the Rosso Corsa (race red) paint worn by our test example. As you're gazing at it, you can almost see the wind tunnel's labor on its body. Air flows up, over, and around the front fenders through channels and tunnels that appear to have been carved by fluid dynamics. The design does the magic trick of packing in a ton of details without looking too busy. Sure, there is a lot going on, but as with any fine art, the details make the whole picture better. This is, after all, Ferrari's flagship, even listed above the LaFerrari Aperta on its consumer website.
Consumer. What a funny way to think of a Ferrari buyer. This car as it sits costs more than $450,000, about $125K of which is in more than 30 options, including a titanium exhaust and seemingly every carbon-fiber item imaginable. The carbon-fiber racing seats aren't the most comfortable design for a long haul, and if one were to attempt a coast-to-coast run in an 812, that's an option we'd avoid. Still, there is probably no better car in which one could attempt a record-breaking dash from sea to shining sea.
Specifications
SPECIFICATIONS
2018 Ferrari 812 Superfast

VEHICLE TYPE: front-engine, rear-wheel-drive, 2-passenger, 2-door hatchback
PRICE AS TESTED: $465,509 (base price: $340,712)
ENGINE TYPE: DOHC 48-valve V-12, aluminum block and heads, direct fuel injection
DISPLACEMENT: 396 cu in, 6496 cc
POWER: 789 hp @ 8500 rpm
TORQUE: 530 lb-ft @ 7000 rpm
TRANSMISSION: 7-speed dual-clutch automatic with manual shifting mode
CHASSIS
Suspension (F/R): control arms/multilink
Brakes (F/R): 15.7-in vented, cross-drilled carbon-ceramic disc/14.2-in vented, cross-drilled carbon-ceramic disc
Tires: Pirelli P Zero PZ4, F: 275/35ZR-20 (102Y) F, R: 315/35ZR-20 (106Y) F
DIMENSIONS
Wheelbase: 107.1 in
Length: 183.3 in
Width: 77.6 in
Height: 50.2 in
Cargo volume: 18 cu ft
Curb weight: 3851 lb
C/D TEST RESULTS
Zero to 60 mph: 2.8 sec
Zero to 100 mph: 5.8 sec
Zero to 130 mph: 9.3 sec
Zero to 150 mph: 12.7 sec
Zero to 170 mph: 17.6 sec
Rolling start, 5–60 mph: 3.3 sec
Top gear, 30–50 mph: 2.8 sec
Top gear, 50–70 mph: 2.5 sec
Standing ¼-mile: 10.5 sec @ 138 mph
Top speed (drag limited, mfr's claim): 211 mph
Braking, 70–0 mph: 142 ft
Roadholding, 300-ft-dia skidpad: 1.00 g
C/D FUEL ECONOMY
Observed: 11 mpg
EPA FUEL ECONOMY
Combined/city/highway: 13/12/16 mpg
DOWNLOAD TEST SHEET
Ferrari 812 Superfast 2018 Review
Ferrari has a new V12 flagship in Australia. The aptly-named Ferrari 812 Superfast arrives in showrooms as a replacement to the much-loved F12 Berlinetta, priced at a cool $609,888 (plus on-road costs). Along with mesmerising performance and road presence, the 812 achieves what very few supercars of this ilk cannot – it is surprisingly easy to live with. On Australian roads, that's no mean feat.
What's in a name?
Ford GTHO Phase III, Lamborghini Countach, Ferrari 812 Superfast…
In years to come, you cannot help but think Ferrari's latest V12-powered supercar – and possibly the last of a long lineage – will be remembered as one of those era-defining vehicles that remain firmly etched in our psyche.
With a name like Superfast, how can it afford not to be?
The Ferrari 812 Superfast arrives in Australia packing some serious heat. Its 6.5-litre naturally-aspirated V12 offers outputs that are unmatched by any other production-spec Ferrari (limited-run LaFerrari excluded): 588kW and 718Nm.
For sheer reverence, we'd like to point out that's 800 metric horsepower in the old money – and the '8' in the 812 nomenclature equation. The 12 denotes those bustling cylinders up front.
And super-fast it is: Claimed performance figures are 0-100km/h in a 2.9 seconds, 0-200km/h in an equally fearsome 7.9 seconds and a speed ceiling of 340km/h.
With those figures, the Ferrari finds itself in an ultra-elite group that includes the Lamborghini Aventador S, Bentley Continental Supersport and Porsche 911 GT2 RS – some of the fastest vehicles to wear numberplates in Australia.
The Maranello export's prodigious pace is matched by a price tag that few other cars can compare with, either: $609,888 (plus on-road costs) – a figure that will happily blow out to $900,000 on the road when you take in our tester's extensive options catalogue.
But for all its superlative performance and eye-watering price, it is the Superfast's broader skillset – the comfort and amenity of an everyday tourer – that truly sets it apart.
It is no mere hyperbole.
Revisiting the drawing board
The Ferrari 812 Superfast may present as a re-hashed version of the brutal F12 Berlinetta, but according to Ferrari there is only 25 per cent commonality between the pair.
The Italian car-maker purportedly set about creating a successor whose limitations were more accessible, as opposed to the razor-sharp F12, which arrived at its grip purchase all ragged and edgy.
Mechanical highlights of the F12 replacement include four-wheel steering and electrically-assisted power steering, a first for Ferrari. The engine's capacity increases from 6262cc to 6496cc — a move the endows the 812 with an additional 44kW and 28Nm.
As before, the powerplant sends drive to the rear wheels via a seven-speed dual-clutch automatic gearbox. Ratios have been shortened by about six per cent, while upshift-downshift times are said to have been sharpened by 30 per cent.
The entire package is wrapped in an aerodynamically-shaped body work complete with an active diffuser that allows the 812 to slice through the air en route to its heroic maximum velocity.
Kerb weight remains unchanged at 1630kg.
Inside, the Ferrari 812 Superfast takes in the latest mod-con tech: Apple CarPlay, satellite-navigation, digital display screens and climate control.
However, the functions are integrated in a streamlined way that shows unequivocal preference for the driver.
Most functions are contained within two digital instrument displays positioned in front of the steering wheel, either side of an oversized analogue tachometer.
Both displays are shrouded by plastic aviation-inspired air-vents that hopelessly fail in matching the reams of surrounding quality Italian leather, a small disappointment given the financial outlay.
Happily, the Ferrari 812 Superfast avoids ridiculously low-set seats or narrow door apertures. It is a cinch to get in and out of, and still manages to offer an excellent driving position and outward vision. There's even a centrally-mounted cupholder!
A large boot opening gives way to adequate luggage space for a couple of overnight bags, reinforcing the car's grand tourer appeal.
Of course, an exotic Italian supercar wouldn't be complete without a long list of options, and the Ferrari 812 Superfast delivers in a big way: a $52,937 paint job, $10,000 wheels, $9981 parking cameras and $2715 titanium wheel bolts to name a few.
Clearly, there are no limits to making 'your' Ferrari distinctive. At least you get seven years of servicing included in buy-in.
Pièce de résistance
More Research
2018 Ferrari 812 Superfast Pricing & Specs
Read what Ferrari owners think
Read more Ferrari 812 Superfast news & reviews
First thing's first: the Superfast's engine is vintage Ferrari. It starts and idles with presence and theatre akin to an Italian orchestra, with no turbochargers or sound enhancement to dull the experience.
Tug on the fixed right-hand steering paddle, the Superfast gently slots into first gear before slotting tentatively away from the line, trying in earnest not to bind or lurch despite the engine's surfeit of riches.
From this point, the low-speed experience is incredibly… docile. The engine purrs along happily below 2000rpm, and the seven-speed automatic gently slurs through the ratios in a bid to maximise fuel economy. On several occasions we look down and the car is sitting in seventh gear at 40km/h.
The 812's exhaust valves open at about 3500rpm, instantly liberating more vocal potential from the extraordinary V12, previewing what is yet to come.
Elsewhere, the electrically-assisted power steering transfers less road interference through the steering wheel than before, and is lighter at the same time, while the car's adaptive dampers take the edge of B-grade country roads, particularly when set to 'bumpy road' setting.
The Ferrari 812 Superfast packages the latest 5.0 version of Ferrari's Side Slip Control (SSC) electronic safety suite. At low to middling speeds, the system is never really called into action, but upon exploring the accelerator pedal, the system becomes invaluable.
Upping the 812 for the rent often requires forward planning, such is the ferocity in which it gathers speed. We discover this upon our first full-tilt blast, on a damp road surface on the picturesque Barrengarry Mountain, which meanders into stunning Kangaroo Valley.
Our videographer on the day has just requested a pass best described as enthusiastic. I duly oblige, tipping the Superfast into the slightly off-camber hairpin, before proceeding to gently bury the accelerator as I unwind lock.
With the steering wheel-mounted Manettino dial switched to Sport, the result is… wheel spin, followed by swift intervention from the stability control suite, which admirably chimes in before things turn awry.
It all happens very quickly but controllably, the 812 still managing find forward drive despite protesting from the surface underneath.
The same sequence is repeated, this time in wet mode. The difference could not be starker, the SSC suite making benign but measured adjustments to balance slippage with speed. The 812 blasts forward without threatening to snap sideways.
And that in itself helps define the 812 Superfast. It should be super-scary, but it's not. Granted, it's stupid-fast, but in a controllable way.
Upon getting your head around the speed, sound and theatre, it drives with a real composure that feels well up to the measure of fast road driving. This Grand Tourer would feel right at home at a track.
The steering now observes an element of lightness because of its underlying hardware change, but is nonetheless direct and accurate. Body control is well balanced between performance and comfort, and the carbon-ceramic brakes are unflinching from high speed.
Charging ahead
But those features ultimately pale against the engine, which is central to the 812's appeal. What a thing; 80 per cent of peak torque materiales from 3500rpm, en route to spine-tingling 8900rpm cut-out.
The naturally-aspirated V12 is a veritable exclamation point on internal combustion engines. It revs freely and honestly, cultivating its power in a way that excites you as much as it frightens you from losing your licence.
Our only real mechanical hiccup with the Ferrari 812 Superfast comes in the form of a flat battery, a result of the car sitting idle in the garage for three days (let's be honest, would you risk driving the thing if it wasn't totally necessary?).
Other than reminding me that I should really invest in a trickle charger, the experience highlights that this could be the last of Ferrari's true naturally-aspirated V12s. One whose reliance on electricity is limited to turning over the starter motor.
Gazing into the crystal ball, this is surely a high-watermark in Ferrari's history. A car that will define an era. One thing's for sure: this one certainly lives up to its name.
How much does the 2018 Ferrari 812 Superfast cost?
Price: $609,888 (plus on-road costs)
Engine: 6.5-litre V12 petrol
Output: 588kW/718Nm
Transmission: Seven-speed dual-clutch automatic
Fuel: 15.0L/100km (ADR Combined)
CO2: 340g/km (ADR Combined)
Safety rating: Not tested
What do you call a car with 789 horsepower that can dash to 60 mph in 2.8 seconds and has a top speed approaching 211 mph? If you're looking at the same car we're looking at, you call it the 2018 Ferrari 812 Superfast. Yes, Superfast. With two seats, 12 cylinders and a price tag that can exceed $450,000, the all-new 812 Superfast will likely do everything its name suggests. It's a car that will give the best McLaren, Porsche and Lamborghini a run for their money, but only if the owners love spending time on the track. From a practical side, the 812 isn't one of the most comfortable-riding supercars out there, but we bet you'll love every minute behind the wheel, nevertheless.
The Ferrari 812 Superfast isn't one of those luxury-performance cars that doubles as a comfortable daily driver. Nope. This one is as angry as it looks and just begs to be hurtled around a professional track at insane speeds. Just about everyone who's driven this car mentions its aggressive handling, touchy throttle and lightning-quick reflexes. The 6.5-liter V12 puts out an astounding 789 horsepower and 530 lb-ft of torque, all running through a beefed-up 7-speed twin-clutch automatic transmission. Redline maxes just shy of 9,000 rpm, although in fully automatic mode the transmission will shift around 5,000 rpm. The melodious sound of the 812's engine is surpassed only by the performance figures it lays down: zero to 60 mph in just 2.8 seconds, the quarter mile in 10.5 seconds and the ability reach 150 mph in about six seconds. Keeping all this Wild Child power in check are massive Pirelli P Zero PZ4 tires that provide an unbelievable amount of grip, aided by Ferrari's version of rear-axle steering. A powerful set of carbon-ceramic brakes quickly brings this 3,800-pound supercar to a stop.
V12 ENGINE
Equipped with a stroked version of the V12 in the previous F12, Ferrari says that 75 percent of the 812 Superfast's 6.5-liter V12 is new or improved. The result is a V12 engine with more horsepower and torque, lower emissions and better fuel economy.
PASSENGER-SIDE VIEW SCREEN
Slotted between the top of the dash and the glove box, this optional touch screen allows the passenger to observe the tach and speedometer, navigation settings, g-force meter, vehicle traction-control settings and of course the all-important audio and music selections. It's the ultimate back-seat driver's assistant.
In typical Ferrari fashion, the 2018 812 Superfast has a glorious cockpit occupied by a brilliant set of sport seats available in eight different configurations. There's also a driver-focused instrument cluster and yards of leather and carbon fiber. A set of massive rotary climate vents helps move air where it needs to go, and the steering wheel is so complex it looks as if it might have come from inside the latest Air Force fighter jet. In the wheel are controls for the turn signals, high beams, suspension settings, ignition switch, wipers, Bluetooth and a 5-position switch for the driving modes. We assume there's a horn in there someplace, too.
Behind all the sexiness that is the 812 Superfast are some very technical features added with the goal of maximizing performance. Every inch of the exterior is designed to improve aerodynamics and create more downforce when the car is in motion. A larger turning vane built into the front bumper, for example, helps air hug the Superfast's sides, thus limiting the width of the car's wake. The rear of the 812 Superfast pays homage to the 1969 365 GTB4, with a unique integrated spoiler for maximum downforce.
The most important standard equipment on the 2018 Ferrari 812 Superfast isn't the manually adjustable seats or power windows, it's the things related to performance. There's the previously mentioned multi-function steering wheel with driving modes for Wet, Sport and Race. Also, onboard sculpted sport bucket seats, Ferrari's Virtual Short Wheelbase (rear-wheel steering), electric-power steering (a first on a Ferrari), Brembo carbon-ceramic brakes and a small configurable screen to the right of the tachometer for displaying various functions from speed to audio and navigation settings. Don't look for advanced driver assists like collision-mitigation braking or even a standard rearview camera (it's optional).
The 812 Superfast's option list is wide and expensive. It also contains some items you'd expect to be standard on a $350,000-plus supercar, like power seats. You can opt for eight different leather seat designs, various stitching in multiple colors, a leather headliner, multiple carpet and floormat colors and carbon-fiber interior trim. Also offered are power adjustable seats, a high-end audio upgrade, adaptive headlights, suspension lifter, black ceramic or titanium exhaust tips, special Rosso 70th anniversary red paint, colored brake calipers and a parking camera. Check all the boxes and you can easily push the 812 Superfast's price past the $450,000 mark.
Ferrari's 812 Superfast for 2018 is powered by a hand-built, 6.5-liter V12 engine equipped with the latest in performance technology. Upgrades from the previous 6.3-liter V12 upon which it is based include revised pistons, stronger connecting rods and crankshaft, as well as smaller fuel injectors working under extremely high pressure for better combustion at high speeds. The result is a normally aspirated V12 producing 789 horsepower, 530 lb-ft of torque and an 8,900-rpm redline. All this power is routed to the rear wheels via a twin-clutch 7-speed automatic transmission.
6.5-liter V12
789 horsepower @ 8,500 rpm
530 lb-ft of torque @ 7,000 rpm
EPA city/highway fuel economy: 12/16 mpg
The Manufacturer's Suggested Retail Price (MSRP) for the 2018 Ferrari 812 Superfast starts at $335,275, but when you add destination and the gas-guzzler tax, that figure winds up just shy of $341,000. Of course, that's for a base model with nothing extra. Toss in the upgraded sport seats, high-end audio, passenger touch screen, adaptive headlights and about a dozen color and fabric choices, and you can easily add $100,000 to the 812 Superfast's bottom line. With similar performance, the Corvette ZR1 costs around $130,000, the Acura NSX sits at $158,000 and the Porsche 911 GT2 RS is about $300,000. As most Ferraris hold their value exceedingly well, we don't think depreciation will be an issue, especially 20 years from now. To see what others are paying for their 812 Superfasts, be sure to check the Kelley Blue Book Fair Purchase Price.