Bentley Bentayga V8 2018: отменная динамика и роскошь
Bentley Bentayga V8 2018: отменная динамика и роскошь
Обзор Bentley Bentayga V8 2018: внешний вид модели, интерьер, технические характеристики, системы безопасности, цены и комплектации. В конце статьи — видео панорама Бентли Бентайга 2018 года!
Содержание обзора:
Внешний вид
Салон
Характеристики Bentley Bentayga V8 2018
Системы безопасности
Стоимость и комплектации Бентли Бентайга 2018 года
Видео
В 2015 году в рамках Франкфуртской автомобильной выставки компания Bentley показала первый за всю историю существования компании внедорожник, получивший громкое имя Bentayga. Чуть позже была представлена его специальная и ещё более роскошная версия Bentayga Mulliner, созданная и разработанная знаменитым ателье Mulliner, история которого началась более 500 лет назад.
В 2017 году в сети появились слухи о выходе спортивной модификации Bentley Bentayga с восьмицилиндровым бензиновиком, который должен расположиться между базовым W12 и дизельным V8. В конце того же года руководство компании подтвердило слухи, начав приём предзаказов на новую Bentley Bentayga V8 2018, покупатели которой смогут получить свой автомобиль уже в первой половине 2018 года.
Давайте подробнее поговорим о новинке и посмотрим, чем компания Bentley намерена удивить мировую общественность в этот раз.
Bentley Bentayga V8 2018 Review
Super luxury
Just when most other car-makers are dropping powerful petrol V8s from their line-up Bentley has decided to introduce one in its Bentayga. On paper, it doesn't make sense. Especially since it's set to be priced in spitting distance of the far more advanced V8 diesel that can cover 1000km between tankfuls. Worse still, the less efficient V8's fractionally quicker acceleration is, in the real-world, negated by the oil-burner's towering torque peak — but rule out the new V8 at your peril because if you're in the market for a Bentayga it's the best version Bentley currently makes.
Bentley's gamble to create a super-luxury SUV has paid off. Just two years after it risked its near 100-year heritage the small volume British car-maker is celebrating 10,000 sales worldwide.
That's a drop in the ocean compared to the number of Range Rovers that Land Rover makes, but for Bentley it's a real success story — especially since most of those cars have ended up in the hands of customers new to the brand.
Capitalising on its success, this year Bentley wants to broaden the appeal of the Bentayga.
Sadly, this hasn't involved trying to make it any prettier but by adding a new V8 and a plug-in hybrid. The latter is set to be revealed at next month's Geneva motor show.
It seems an odd decision, in Australia at least, because on paper the diesel makes it completely redundant.
After all, how can a petrol compete with a 4.0-litre V8 diesel that possess not only two turbos but a trick 48-volt driven electric compressor that gives it a towering 900Nm torque peak?
The need for the new engine and plug-in version no doubt comes from Europe where the backlash against diesel is in full swing. Think of the petrol V8 as a wise piece of future-proofing.
Not an old V8
Of course, it's not just any V8 that Bentley is introducing but the same compact 4.0-litre twin-turbo you'll find under the bonnet of the Cayenne Turbo.
The British car-maker is quite happy to admit Porsche did most of the engineering — with the Brits only getting involved to completely re-engineer the V8's cooling system to help it cope with the unbelievably high under-bonnet temperatures involved with cruising in hot climates at the V8's maximum 290km/h top speed.
You read right. The new V8 petrol is currently the second fastest SUV money can buy after its 300km/h Bentayga W12 sibling. Completely irrelevant for us Down Under but an engineering feat, we're sure you'll agree.
More relevant to us is the V8's acceleration. Producing 404kW/770Nm, the big Bentley can shrug off its near-2.4-tonne kerb weight and hit 100km/h in just 4.5 seconds — only 0.4 seconds slower than the 6.0-litre flagship and 0.3 seconds faster than the diesel.
We keep mentioning the diesel because many buyers who own the oil-burning Bentayga, we're told, love how little they have to replenish the 85-litre tank.
On that front, the petrol V8 struggles to compete.
Helping boost real-word efficiency is new deactivation tech that effectively converts the V8 into a 2.0-litre V4 up to 3000rpm but, officially, the Bentley averages 11.4L/100km and can only manage 746km before it drains the tank or, so we're told, just 22 minutes at a constant 290km/h.
On the road
More Research
2018 Bentley Bentayga Pricing & Specs
Read more Bentley Bentayga news & reviews
Live with that and, from then on, the V8 makes for an effortless match for the luxury SUV.
Only scratching the potential of the 4.0-litre V8 that cleverly packages the two twin-scroll turbos with the cylinders «hot-vee», Lamborghini had little trouble squeezing an additional 74kW/80Nm out of it for its forthcoming Urus and behind the wheel of the Bentley it feels unstressed.
In fact, delivering its maximum torque from just 1960rpm, the thrust on tap is borderline alarming. Better still, the V8 also loves to rev all the way to 7000rpm — but the main reason you'll fall for its charms is not how flexible it is but just how wonderful it sounds in situ.
Potter around town and there's a deep, meaningful rumble that builds to a glorious snarl as it nears its red line. It sounds far more natural, and interesting, than the unusual off-beat V6 sounding W12.
Perhaps the cleverest trick is the tuneful V8 knows its place. On the highway, when you're not in the mood (the Sport mode opens a valve in the exhaust) the engine is almost imperceptible.
Same goes for wind and road noise even on the large 21-inch winter tyres.
Bentley said it would have been tempting to create a sportier version of the Bentayga, and a more powerful Speed version is «entirely feasible», but for the standard version engineers decided to make it as comfortable and relaxing as the W12 and diesel.
That means the adaptive air suspension and trick 48-volt active anti-roll stabilisation carry over with the same comfort bias.
Like the other Bentaygas, the V8 come with a Comfort, Sport and 'Bentley' auto mode that sharpens up or slackens-off the responses of the engine and transmission, while adding weight to the steering.
Select sport and it is remarkable how much speed can be carried along an alpine road and, with the active roll-stabilisation, big body movements are largely kept in check. There's some roll, but that's understandable given the size and weight management involved.
Nit-picking
Criticisms? Throttle response feels overly sharp at low speed in town but, according to the man who calibrated it, it's deliberate to help broadcast the performance on tap to its customers. For us it adds unnecessary jerkiness.
Same goes for the steering responses too, which feel a little too darty off-centre for a luxury car.
Our car also came with the huge 10-piston carbon-ceramic discs that feature enormous 440mm front rotors. Unless you tow, or live in Germany and regularly max out your Bentayga, it's difficult to justify the incredible $20,500 they're likely to cost in Australia.
Since the Bentayga V8 was launched overseas we also were given the opportunity to drive off-road on ice and snow, allowing us to test the 'Snow + Grass' setting that pre-arms the car for those conditions.
It's impressive as the Bentley didn't get stuck and, if there's enough space, it's even possible to coax the big SUV into lurid drifts, if you have a spare few acres of space handy.
Finally, just two years on sale and the cabin is beginning to feel its age.
The infotainment isn't as sharp or precise as what's offered by the likes of, ironically, sister brand Audi and some of the detailing, like the exposed plastic cup-holders and gear-shifter surrounds, look desperate for an update.
That said, overlook these small details and the majority of the materials and finishes used are, as you would expect, beautiful but be careful of getting too carried away in making your car your own. Our test car had a sobering $150,000 worth of options.
Which brings us to pricing.
In Australia the Bentayga V8 is priced $300 less than its diesel sibling. That means the V8 petrol-powered SUV weighs in at around $334,700 — a huge sum of money and an amount difficult to justify considering both a Range Rover and Mercedes-Benz GLS offer similar levels of refinement and comfort.
But if you want the very best luxury SUV money can buy, the Bentayga still has all its rivals beat with added exclusivity to boot and, if it were our money, we'd choose the new petrol V8 every time.
Bentley Bentayga pricing and specifications:
On sale: June
Price: $334,700 (plus ORCs)
Engine: 4.0-litre twin-turbo V8 petrol
Outputs: 404kW and 770Nm
Transmission: Eight-speed automatic
Fuel: 11.4L/100km
CO2: 260g/km
Safety rating: N/A
New Bentley Bentayga V8 2018 review

If you like your SUVs with heaps of clamorous character, few come close to the twin-turbo Bentley Bentayga V8. Opulent, ostentatious and surprisingly fun to drive, the brutish off-roader displays personality and charm by the bucket-load. While many will opt for the W12 simply for its flagship status, it's the V8 that represents the sweet spot in the range.
With Bentley the latest in a long line of manufacturers deciding to ditch diesel in Europe, the Bentayga is back to being a petrol-only SUV.
And until the plug-in hybrid arrives in 2019, this V8 version is now the most economical model you can buy. Still, it's all relative: the Bentayga V8 emits 260g/km of CO2 and will return just 24.8mpg on a good day.
Make the most of the colossal 542bhp and 770Nm of torque and that fuel economy figure will plummet, too. Yet that's exactly what you'll want to do; the characterful V8 sounds like a thunderstorm at full chat and flooring the throttle sends the 2.4-tonne SUV rocketing towards the horizon without hesitation.
Using the same 4.0-litre twin-turbo petrol engine as the Porsche Cayenne Turbo, it sprints from 0-62mph four tenths slower than its German sibling. Yet what it never feels is slow; the Bentayga V8 is relentlessly fast in a straight line, revving aggressively all the way to its 7,000rpm red line.
More reviews for Bentayga SUV
Car group tests
Aston Martin DBX vs Bentley Bentayga
Mercedes-AMG G 63 vs Bentley Bentayga V8
Bentley Bentayga vs Range Rover
In-depth reviews
Road tests
New Bentley Bentayga 2020 review
New Bentley Bentayga Hybrid 2019 review
New Bentley Bentayga Speed 2019 review
New Bentley Bentayga Diesel 2017 review
The eight-speed ZF gearbox is as silky smooth as ever, yet it'll fire off changes as quickly as the best dual-clutch transmissions should you ask it to. The Bentayga even rides rather nicely, despite our car's optional 22-inch wheels.
But with that much weight on board, you might expect the Bentley to handle like soggy blancmange. But the eight-cylinder engine is actually 25kg lighter than the W12 – making this the finest handling Bentayga of them all.
It belies its size in a way few SUVs can, handling tight bends with a display of accuracy and control. The steering doesn't offer an enormous amount a feel, but it's well weighted and allows you to thread the bulky SUV through a series of sweeping bends with amusing satisfaction. It's certainly sharper than the W12.
It's as refined as you'd ever expect a Bentley to be, as well. At a steady cruise it can shut off four of its eight cylinders, settling down with a serene sense of calm at motorway speeds. So much so, that without flexing your right foot, your passengers may never know this Bentayga was such a rocket ship.
Of course, elsewhere its standard Bentley fare. The interior is exquisite, with leather, wood and knurled metal pinned to every surface. Our car's chintzy colour scheme may not be to all tastes, but you can't fault it for perceived quality.
The infotainment system is lifted from the W12, and while the menu set-up may have a distinct VW Group vibe, it's layered with bespoke graphics and unique fonts. It's easy to use, and the mapping is clear. The analogue dials offer a level of class missing in some rivals, even if they're less configurable than Audi's Virtual Cockpit system.
The only visual difference between the W12 and the eight-cylinder car can be found at the rear. Here, those with a keen eye will notice the tweaked exhausts, which have been adapted to give the illusion of four pipes instead of two. The V8 usually comes with sportier gloss black trim, although our car had been specified with optional chrome inserts.
It's an expensive car – but then all Bentleys are. You do get a fair amount of kit for your cash; all V8s get full-LED headlights, multi-mode air suspension and a panoramic sunroof. The eight-inch touchscreen is also standard, and every version comes with a 10-speaker stereo. Our car had a frankly eye-watering array of options, however, including deep pile floor mats, a Naim audio system and special £4,545 'Hallmark' paint.
Bentley Bentayga V8 2018-2019 видео тест
Экстерьер
Перейти в фотогалерею нового Бентли Бентайга
Bentley Bentayga получил элегантно-классический дизайн, выполненный с учетом многолетних традиций британской марки. Своим внешним видом внедорожник как бы намекает, что ездить на нем лучше всего в пиджаке и при галстуке.
Аристократичный Бентьяга имеет такой же каркас кузова, что и Ауди Q7, при этом у британца более пухлые «бедра» и массивная задняя стойка, что делает его облик более внедорожным, однако из-за этого пострадал коэффициент аэродинамического сопротивления. Здесь он равен 0,34 против 0,32 у Ауди.
Спереди в глаза бросаются массивная сетчатая решетка радиатора и классические круглые фары, при этом в основании переднего бампера виднеется мощная защита днища. Заметим, что вся оптика у модели светодиодная.
Профиль кроссовера Бентли Bentaya 2017-2018 года получился достаточно мускулистым. У модели острые грани на крыльях и эффектные выштамповки на боковинах. Сзади имеется стильный спойлер на крышке багажника и разведенные по бокам необычные патрубки выпускной системы.
Цветовая палитра внедорожника представлена аж 90 различными оттенками, однако только 17 из них являются базовыми — остальные доступны лишь за доплату. Впрочем, представители британской марки не исключают возможности индивидуального подбора краски.
Салон
Первое, что бросается в глаза в салоне нового Бентли Бентайга, так это массивная передняя панель, выполненная в духе «старой школы». Такое исполнение смотрится очень здорово, однако из-за этого места спереди не так много, как хотелось бы.
Сам дизайн передней панели вполне традиционен для автомобилей марки Bentley. Так, от центральной консоли здесь в стороны расходятся мощные козырьки-крылышки. Приборная панель получилась весьма симпатичной и информативной. По ее бокам находятся две аналоговые шкалы, а между ними расположен большой цифровой дисплей. Интересно, что приборку британцы решили прикрыть не прозрачным пластиком, а минеральным стеклом.
В верхней части центральной консоли расположено два вентиляционных дефлектора, между которыми имеются аналоговые часы. Ниже находится достаточно большой сенсорный экран мультимедийной системы.
Передние сиденья радуют оптимальной жесткостью и красивой отделкой, однако они достаточно широкие, поэтому на виражах худощавых водителей может болтать из стороны в сторону, даже несмотря на наличие боковой поддержки.
Задний ряд может представлять собой либо трехместный диван, либо два раздельных кресла. Последние доступны за доплату и имеют сервопривод и функцию массажа. Еще одна опция — планшеты для пассажиров сзади, которые встроены в спинки передних сидений.
Характеристики
Новый Bentley Bentayga построен на модернизированной модульной платформе MLB Evo концерна Volkswagen, на которой базируется упомянутый выше Audi Q7. Габаритные размеры модели составляют 5 140, 1 998 и 1 742 мм в длину, ширину и высоту соответственно.
Колесная база внедорожника равна 2 992 миллиметров. Снаряженная масса автомобиля с дизельным двигателем равна 2 440 кг, а версия с бензиновым мотором весит чуть больше — 2 500 кг.
Багажник рассчитан на 431 литр, при этом сам грузовой отсек отделен от пассажирского декоративной перегородкой. У пятиместного варианта вседорожника спинку заднего дивана можно сложить, однако ровного пола здесь не получится, но рабочее пространство увеличится до 1 774 л.
Бентли Бентайга получил независимую многорычажную подвеску и дисковые вентилируемые тормоза. Дорожный просвет регулируется и может достигать 245 мм. Уже в базе автомобиль предлагается с большими 20-дюймовыми колесами с покрышками размерности 275/50. За доплату вседорожник и вовсе можно заказать с дисками диаметром дюйма.
Подробные технические характеристики Bentley Bentayga
Bentley Bentayga Diesel приводит в движение 4,0-литровая «турбовосьмерка» мощностью 421 л.с. и 900 Нм. Что касается бензинового варианта модели, то он оснащен турбомотором W12 рабочим объемом 6,0 л, который развивает уже 608 сил и 900 Нм крутящего момента.
Обе версии оснащаются восьмиступенчатым автоматом ZF AL952 и системой полного привода с самоблокирующимся дифференциалом Torsen, который распределяет момент в соотношении 40:60 в пользу задней оси.
По умолчанию внедорожник имеет четыре режима работы управляющей электроники (Sport, Bentley, Comfort и Custom), однако можно заказать опциональный внедорожный пакет с еще четырьмя режимами, но уже для езды по бездорожью. Заметим, что режим Custom предусматривает тонкую настройку работы движка и подвески через меню. С его помощью водитель может буквально сконфигурировать машину под себя.
Цена в России
Роскошный кроссовер Bentley Bentayga продается в России в одной базовой комплектации, но с двумя различными моторами и со множеством доступных опций. Цена на Бентли Бентайга 2019 варьируется от 11 900 000 до 15 948 700 рублей.
| | |
| --- | --- |
| Комплектация | Цена, руб. |
| 4.0D (421 л.с.) Diesel AWD AT8 | 11 900 000 |
| 4.0 (550 л.с.) V8 AWD AT8 | 12 990 000 |
| 6.0 (608 л.с.) W12 AWD AT8 | 15 948 700 |
AT8 — восьмиступенчатая АКПП
D — дизельный двигатель
AWD — полный привод (постоянный)
Комплектации внедорожника Бентли Бентайга
Смотреть еще видео тест-драйвы Бентли Бентьяга
Конкуренты Bentley Bentayga, BMW X7, Cadillac Escalade, Chevrolet Tahoe, Infiniti QX80, Lamborghini Urus, Lexus LX, Mercedes G-Class, Mercedes GLS, Nissan Patrol, Range Rover Vogue, Rolls-Royce Cullinan, Toyota Land Cruiser
2018 Bentley Bentayga 4.0 V8 review – price, specs and release date
Priced from £136,200 Release date On sale now
For a car that sells in such relatively low volumes, it's remarkable that the Bentley Bentayga SUV now offers a choice of three engines.
There's the big-hitting, effortlessly strong, twin-turbocharged 6.0-litre W12 petrol, plus the comparatively efficient 4.0-litre V8 diesel, which won its price point at the 2018 What Car? Car of the Year Awards. And now you can also have a 4.0-litre twin-turbocharged V8 petrol, an engine shared with the Porsche Cayenne Turbo and Audi RS6, among other performance cars in the Volkswagen Group empire.
The numbers are not quite as otherworldly as those touted by the 608bhp W12, but this petrol V8 still generates 542bhp. Plus, it generates 569lb ft of torque from just 1960rpm, so should endow the Bentayga with serious acceleration in any gear at any speed.
Fewer cylinders mean better fuel economy, too, although in this case the difference is small, with the V8 managing an official average of 24.8mpg to the W12's 21.6mpg. It's worth mentioning that the diesel, while less powerful, musters 35.8mpg.
The Bentayga's outstanding versatility is otherwise preserved, and the V8 petrol model comes with a range of safety aids and the option of All-Terrain technology, with presets for varying surfaces, such as snow and grass or dirt and gravel.
2018 Bentley Bentayga 4.0 V8 on the road
This twin-turbocharged V8 slips into the Bentayga's engine bay like one's hand would into a tailored glove. That's not to say that the physical fit is tight – there's enough space up front for the 6.0-litre W12, remember – but that there's a nice match here in terms of character and performance.
With the drive mode selector set to Comfort, you get effortless propulsion at all speeds, and there's barely a murmur from the engine during motorway cruising. Moreover, the eight-speed automatic gearbox that's carried over from the rest of the Bentayga range is sensationally smooth most of the time, only stuttering slightly when you lift off the accelerator and coast for a few seconds. Dial things up to Sport and call for maximum acceleration, though, and this 2.3-tonne SUV will leap forward with the vigour of a purpose-built sports car.
Overall, in terms of the way this Bentayga develops its power and delivers it to the ground, there's almost nothing to criticise, and it has a tasty V8 exhaust note, too.
As for the ride, it's pretty sensational, given the forces at play. The petrol V8 model benefits from the same adaptive air suspension as the W12 version, including clever active anti-roll bars. These allow the car to glide along beautifully in a straight line, absorbing lumps and bumps with an effortlessness bordering on disdain, yet still corner with remarkably little body lean for a car of such vast height and weight.
The V8 Bentayga is not as dynamically sharp as the latest Porsche Cayenne Turbo – nothing in this class is – and it forfeits an element of fun in the pursuit of refinement. But that feels like a fair trade-off in a car of this sort.
2018 Bentley Bentayga 4.0 V8 interior
The changes inside are subtle – this is merely a new engine variant, not an all-new model – and are orientated around personalisation. You can, for instance, now opt for a high-gloss carbonfibre finish where before the only choice was matt, and there's a new wood and leather steering wheel, plus a novel hue for the hide – a deep red named Cricket Ball.
The quality of the materials is suitably high, although the digital displays look a little dated and the touchscreen infotainment system isn't as easy to use as the MMI set-up in the Audi Q7, with which the Bentagya shares its platform. The effectiveness of the driving position, however, is class-leading.
Bentley reckons the average Bentayga customer will tick options boxes to the tune of £40,000. Given that a carbon exterior trim packs costs £15,000 and the Touring pack, which includes relatively basic amenities such as adaptive cruise control, a head-up display and lane-keeping assist, comes in at £6225, it's easy to see how.
Should you want a deeper dive into the Bentayga's interior, have a look at our extensive four-point review.
More, Please
Bentley prepared an ice course for us to experience the off-road capabilities of the Bentayga V8. At first glance—and walk—nothing about the course indicated it would be safe, fun, or provide any meaningful feedback about how the Bentayga V8 behaves off-road, considering we could barely stay upright on our feet. Then we drove it.
The Bentayga V8 has eight driving modes, and when equipped with Pirelli Sottozero snow tires, "Bentley" mode does an incredible job of keeping the vehicle calm, composed, and in a straight line—even when there should be no traction. That mode selection is what the engineers find to be the perfect mixture of sportiness and comfort. It'll have enough pep to get hauling but sans any jerkiness on throttle tip-in and minus wallowing in corners.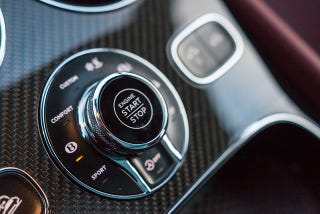 With any mode, however, any driver input gets detected and digested by the Bentayga's computer, which determines the appropriate response to your driving style. If the surface below is pure ice, the Bentayga will retard the throttle so you don't spin your wheels. If the surface below is snow, the Bentayga portions the power to various corners to give you enough momentum to avoid getting stuck. The result is a vehicle that effortlessly pushed and pulled its way through sections of ice and snow with finesse. But rotating the drive dial to "off-road" is where the fun begins.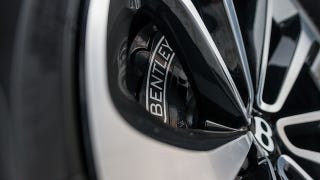 With traction control still enabled, "off-road" mode allows more sideways slip. When you're mid-corner and feather the throttle, the V8 unleashes a bit more torque so the tires slip atop the ice. A bit of countersteer initiates a mega poweslide, and the Bentayga's traction control system allows you to keep it there—provided smooth inputs. Most traction control systems would freak out, lighting up the dashboard like a Christmas tree, the Bentayga relishes in oversteer.
Todo un Bentley
Al acceder al habitáculo del Bentley Bentayga V8 reconocemos rápidamente que estamos ante todo un Bentley donde el lujo es el común denominador. El cuero viste tanto los asientos, como los paneles de las puertas y el salpicadero, destacándose estos dos últimos por costuras en diferente tonalidad.
También encontramos mucha tecnología enfocada al confort, la seguridad y el entretenimiento a bordo. Asimismo, el SUV destaca por las múltiples opciones de configuración que van desde los cuatro a los siete asientos, pasando por una opción para cinco ocupantes. Un buen argumento frente a otros todocamino premium de cinco y siete plazas como el Volvo XC90, el Range Rover Sport o el Audi Q7.
Los asientos delanteros equipan regulación eléctrica que permite hasta 22 posiciones diferentes que pueden memorizarse. Asimismo, tanto las plazas delanteras como las traseras disfrutan de asientos calefactados, función de masaje y ventilación.
Razão Automóvel
Após o W12 a gasolina e o V8 a Diesel, o Bentley Bentayga recebe uma nova motorização. Trata-se de um V8 Turbo a gasolina — o mesmo do Porsche Cayenne Turbo.
Fernando Gomes Publicado há 3 anos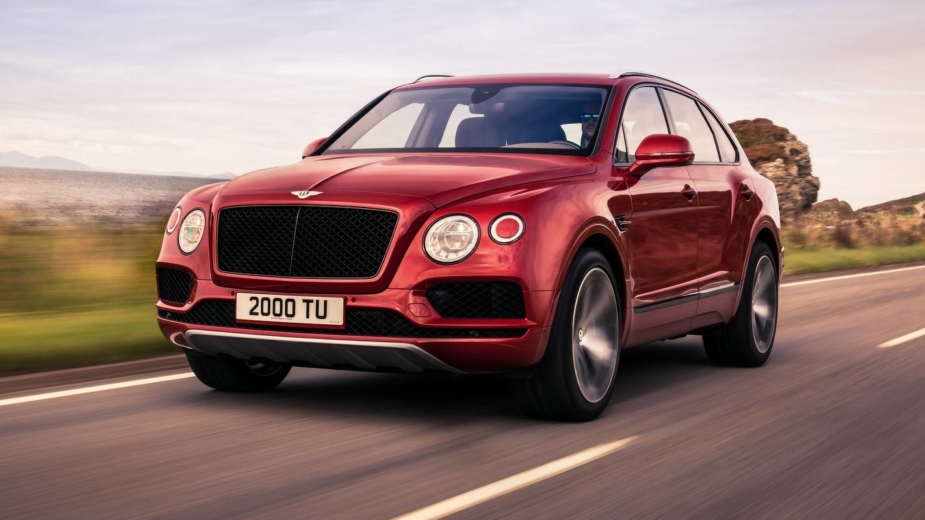 Lançado em 2015, o Bentley Bentayga apresentou-se como o mais rápido SUV do mundo — já destronado pelo Lamborghini Urus — , capaz de atingir os 301 km/h de velocidade máxima, cortesia do seu W12 de 6.0 litros e dois turbos, capaz de 608 cv de potência e 900 Nm de binário. Um ano mais tarde, surgiu uma opção Diesel; um possante V8 com 4.0 litros e 435 cv e idênticos 900 Nm, com consumos mais convidativos que o W12.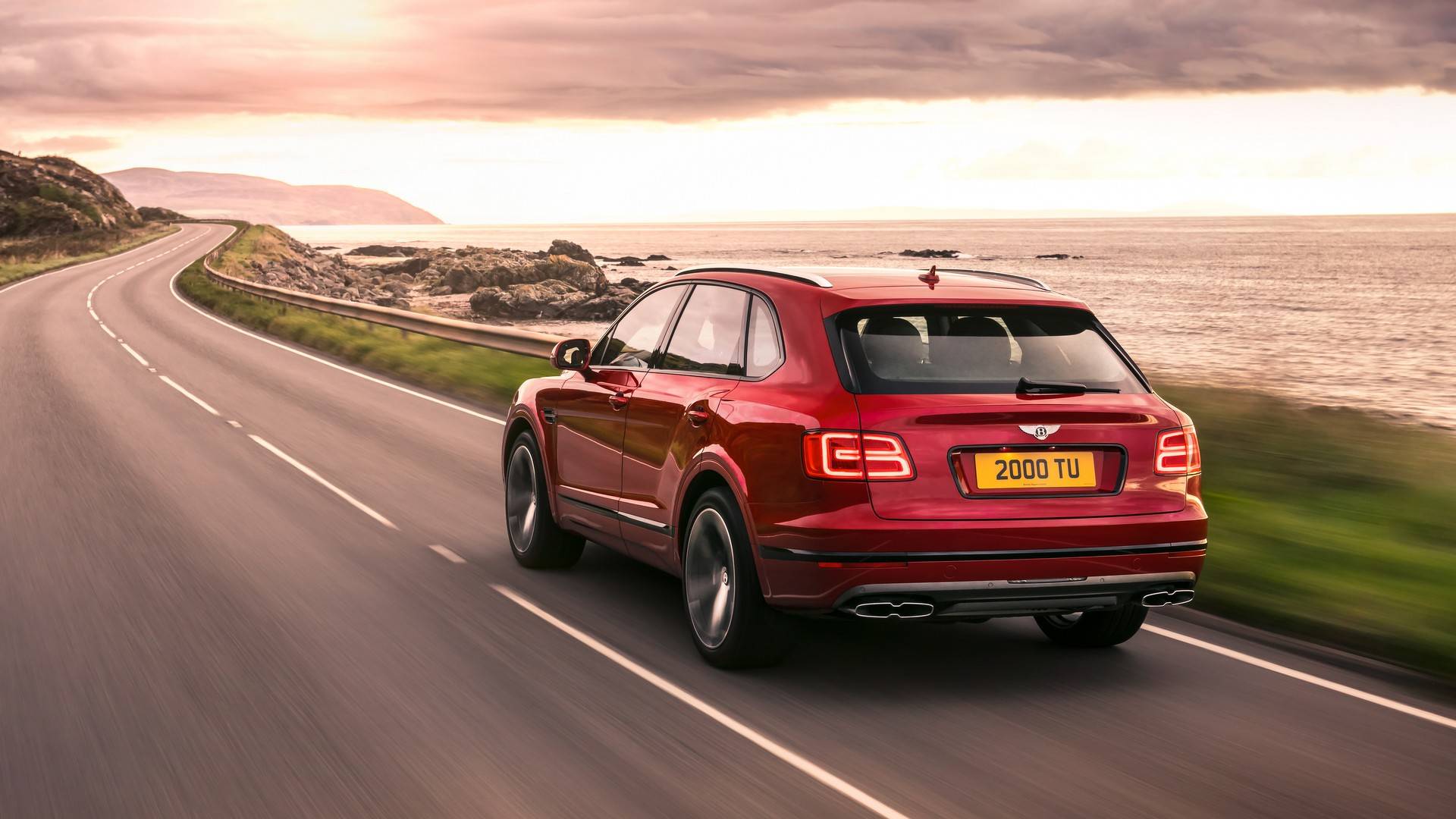 V8 novo, mas conhecido
O Bentley Bentayga ganha, agora, uma nova motorização V8 a gasolina, que se posiciona praticamente a meio das duas existentes. Tem 4.0 litros de capacidade, dois turbos, e debita 550 cv e 770 Nm — números bastante respeitáveis, e está acoplado a uma transmissão automática de oito velocidades.
Se o motor e os valores por ele debitados parecem familiares é porque coincidem exatamente com os apresentados pelos Porsche Cayenne e Panamera Turbo — trata-se exatamente do mesmo motor.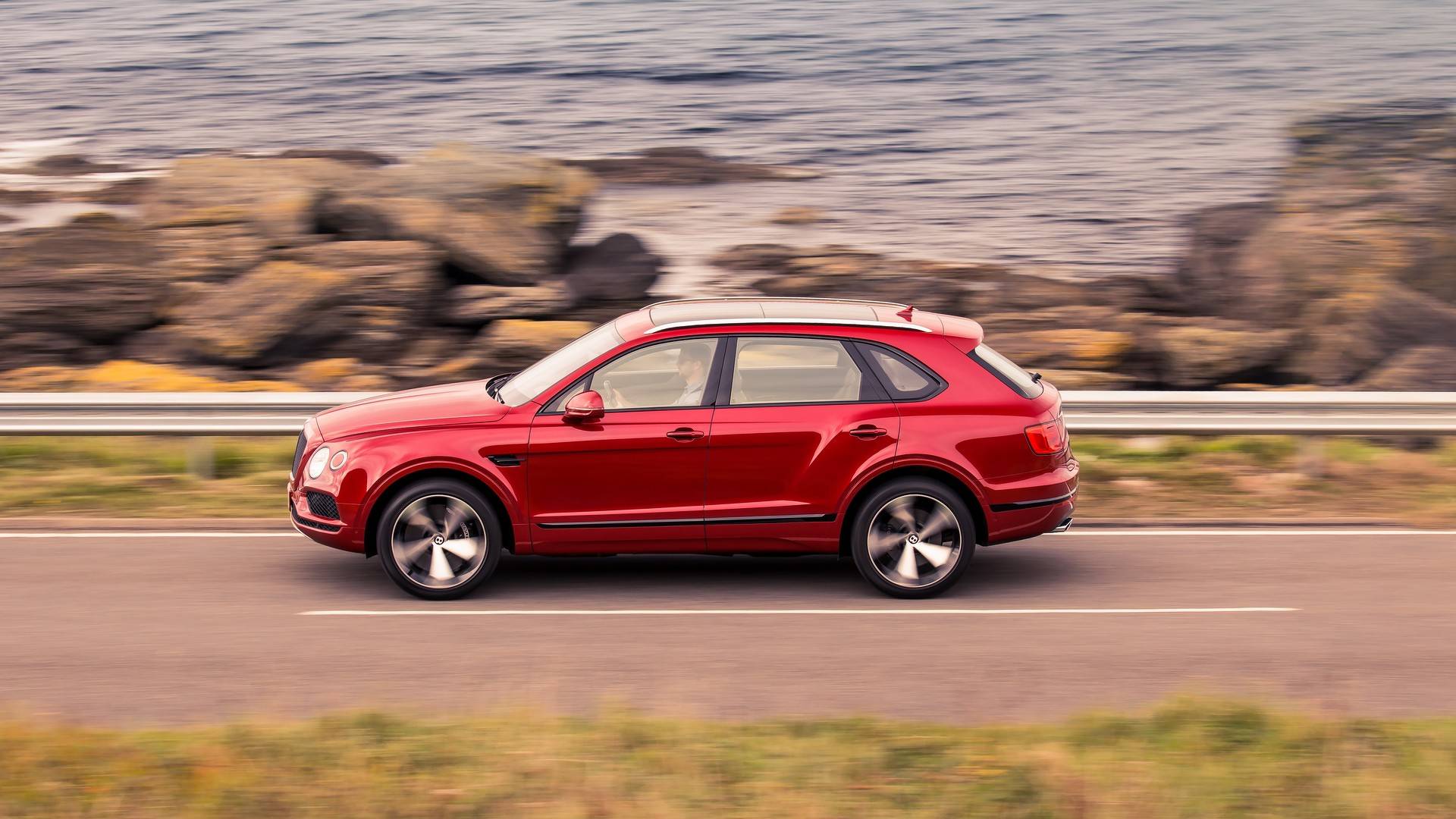 O novo motor V8 é capaz de lançar o Bentayga até aos 100 km/h em apenas 4,5 segundos e atingir uma velocidade máxima de 290 km/h — praticamente a meio dos 4,1 segundos e 301 km/h e dos 4,8 segundos e os 270 km/h do W12 e V8 Diesel, respetivamente. Números de respeito considerando os 2395 kg que pesa (cinco lugares) — e trata-se do Bentayga mais leve. O W12 pesa 2440 kg e o Diesel cerca de 2511 kg, também para a versão de cinco lugares.
O V8 destaca-se também por permitir desativar metade dos cilindros, em certas circunstâncias, de modo a poupar combustível. Mesmo assim, considerando os números do motor, e o peso do Bentayga, os consumos combinados anunciados, por norma otimistas, não são "famosos": 11,4 l/100km e emissões de 260 g/km de CO2.
Mais opções
De resto, o V8 não se destaca muito do mais possante W12. As pinças de travão estão a vermelho, recebe jantes de 22″ de novo desenho, escapes diferentes e uma grelha com preenchimento distinto. O Bentley Bentayga V8 também pode, em opção, receber discos em carbono-cerâmica — atualmente, os maiores do mundo, com 17,3″ de diâmetro ou 44 cm(!).
No interior, destaca-se um novo volante em pele e madeira, assim como um novo acabamento para as portas, consola central e painel de instrumentos em fibra de carbono brilhante. Também surge um novo tom de pele — Cricket ball, ou tom semelhante ao da castanha. Opções que acabarão por ser alargadas à restante gama.
O Bentley Bentayga não esgota no V8 a adição de novas motorizações. A próxima deverá ser conhecida já no próximo Salão de Genebra e promete ser a mais "verde". Trata-se de uma motorização híbrida plug-in, a mesma que equipa o Porsche Panamera E-Hybrid. Ou seja, um V6 de 2.9 litros, que em conjugação com o motor elétrico é capaz de debitar 462 cv e permite, no Panamera, uma autonomia elétrica de até 50 km.