2018 Alfa Romeo Stelvio Quadrifoglio First Drive
2018 Alfa Romeo Stelvio Quadrifoglio First Drive
Whether it's an IKEA run or a track day, Alfa's manic SUV is ready to haul.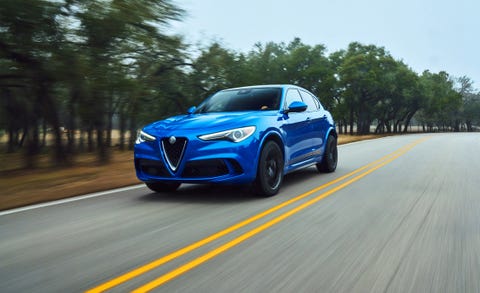 Is it just us, or has the automotive world gone crazy? Well, okay, crazier. As evidence, we offer the fact that manufacturers now not only routinely drag their high-performance cars to the fabled Nürburgring to break lap records, they're now doing the same thing with their hyperactive SUVs. Two SUV protagonists currently vying for 'Ring lap-time supremacy and the brand cred that comes with it are Porsche—no surprise there—and little Alfa Romeo.
It's a David-and-Goliath moment, and, as in the ancient parable, the little guy is winning: The new 505-hp Stelvio Quadrifoglio, with Alfa factory driver Fabio Francia at the wheel, recently seared the writhing 12.9-mile ribbon draped across the Eifel mountains in 7:51.7. It was the fastest-ever lap for a production SUV and beat the Porsche Cayenne Turbo S's best effort by eight seconds. You want to know how quick that is? Back in 2008, Cadillac was jubilant when its supercharged, 556-hp CTS-V sedan managed a 7:59.3. A decade later, the Caddy and a lot of other hot cars have been smoked by a truck. So much for sanity.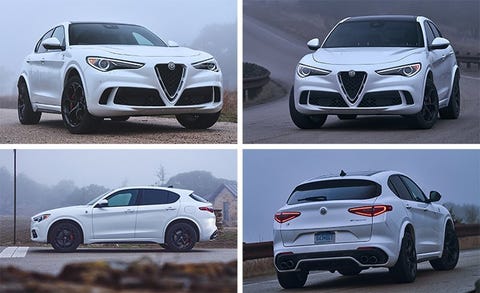 The racetrack fun continued on this side of the Atlantic at Alfa's Stelvio Quadrifoglio media launch. It was staged at the Circuit of the Americas in Austin, Texas, which has been on the Formula 1 dance card since 2012. You can guess at the company's objective. Luckily, the first half of our introductory day behind the wheel was on the road, where we expect almost all Stelvio QFs to spend their entire working lives.
Alfa is cognizant of that reality, says Stelvio QF chief engineer Andrea Zizak. Alfa points to the Porsche Macan Turbo with Performance package and the Mercedes-AMG GLC63 coupe as the Stelvio QF's chief rivals; we'd also include the 707-hp Jeep Grand Cherokee Trackhawk. "We wanted to build the best high-performance SUV," he said. "But we also wanted it to be good to drive on the road. We wanted it to have real Alfa personality."
That the Stelvio has. Based on the same Giorgio architecture as the Giulia Quadrifoglio sedan, it borrows that car's 505-hp twin-turbocharged 2.9-liter V-6, paddle-shifted eight-speed automatic, and cleverly named DNA Pro chassis-control system (with its Dynamic, Natural—which is normal—and Advanced Efficiency driving modes). As on the Giulia QF, there's also a fourth mode labeled Race, which amounts to truth in advertising: It switches off all stability- and traction-control enforcement.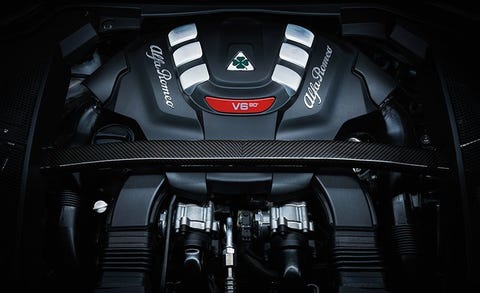 Speed Parts
The big mechanical difference for the Stelvio QF from its sedan cousin is that it inherits the base SUV's all-wheel-drive system, while the Giulia QF is rear-drive only. The Stelvio system defaults to sending 100 percent of the power to the rear wheels in most situations but can shuttle up to 60 percent of it to the fronts when rear slip is detected like in snow or rain. Or on a racecourse. The QF's handling is also aided by a torque-vectoring rear differential that can send 100 percent of the torque to either rear wheel, as traction and driving modes dictate.
Like the muscled-up Giulia Quadrifoglio sedan, the Stelvio QF's chassis is fortified with stiffer springs, larger anti-roll bars, and more powerful Brembo brakes—six-piston fronts and four-piston rears, versus the base car's four-piston fronts and single-piston rears. Extra-large carbon-ceramic rotors are an $8000 option. Fat 20-inch Pirelli P Zero summer tires specially developed for the Stelvio QF, sized 255/45R-20 front and 285/40R-20 rear, wrap around spindly alloys inspired by vintage Alfa Romeo wheel designs. A host of thermal-management components, including an array of coolers, heat exchangers, and hood vents, keep the QF from self-immolating when pressed into track use.
Dressed and Ready
While the hardware promises racecourse capability, our 100-mile road drive northwest of Austin confirmed that this is no stripped-out, track-day special of an SUV. It's a thoroughly equipped luxury SUV with everything from multi-adjustable power front seats to a standard 14-speaker Harman/Kardon sound system. It's comfortable as well as capable, friendly as well as fiery.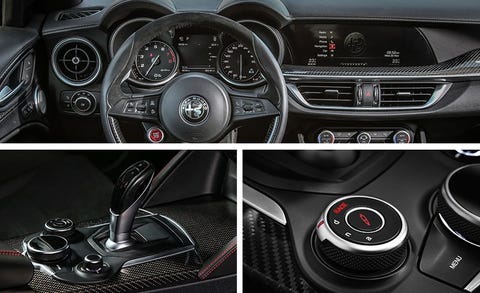 The QF's interior is significantly better dressed than in the base Stelvio—as it should be in a vehicle with a base price of $81,590—although that lesser model sets a fairly low bar. At least the workaday Stelvio's chintzy plastic bits are less obvious here, and there are better coverings everywhere in the cabin, including smooth leather on the dash and doors, seat inserts of faux suede, and trim bits upgraded to real carbon fiber. An 8.8-inch infotainment screen operated by a rotary controller on the console is standard, and the system includes navigation, SiriusXM, and Android Auto and Apple CarPlay capability. While not as overtly luxurious as the best interiors from Porsche and Mercedes-Benz, the QF's cabin is convincing enough for a sporting hauler whose impetus lies elsewhere.
The QF options list is short. Decorative bits range from a panoramic sunroof to a pair of sexy but wholly unnecessary Sparco carbon-fiber­-shelled racing seats. Adaptive cruise control and lane-departure warning are optional, but most other active-safety tech is standard. Choose between interior, exterior, and brake-caliper colors and you're pretty much done. Clearly, this is not a Porsche.
It's All about the Journey
As we made our way through the clots of morning Austin metro traffic, the QF was well behaved, although it pulses with an undercurrent of athleticism and raw power waiting to be unleashed, like an NFL lineman ambling down a sidewalk. The exhaust note is an angry snarl, and the eight-speed automatic shifts seamlessly. Response from the large column-mounted aluminum paddles is swift and is accompanied by a satisfying chorus of braps and pops.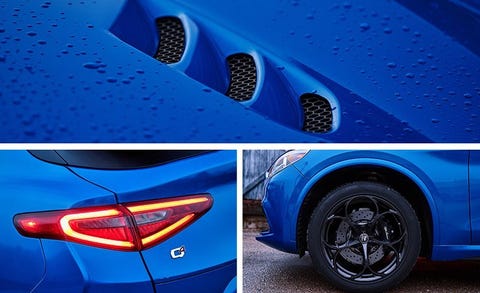 Acceleration comes in turbocharged torrents. Alfa claims the Stelvio QF is a tenth of a second quicker to 60 mph than the Giulia QF even though it's about 550 pounds heavier. Thank the all-wheel-drive system, which provides more grip at launch. If that advantage holds true in our testing, expect a zero-to-60-mph time of about 3.6 seconds. Top speed is a claimed 176 mph. On Texas Route 45, which has an 80-mph limit, the QF loped along half asleep well above the posted speed, but a solid prod of the throttle made it take off like a startled gazelle.
Besides raw speed, the Stelvio QF offers a measure of on-road finesse. This is a driver's car—did we just say car? Yes, it felt that confident on the smooth Texas two-lane roads, slick as they were with rain and fog during our morning jaunt. It cornered with unwavering stability, seemingly stuck to the shiny, wet tarmac, and displayed scalpel-sharp steering and little body roll. On the tighter sections of our drive route, the steering effort felt wispy and the feel was a bit distant; switching to Dynamic mode added some badly needed heft. The only demerits we can give the QF in daily driving were the engine's tendency to emit a bovine-like moan during low-rpm cruising and the brake-by-wire system's touchy low-speed response.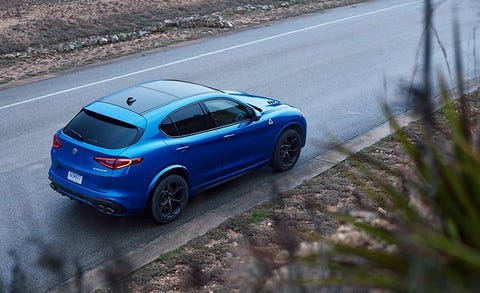 Track Rat in a Tux
But no demerits accrue to it as a track weapon, only gold stars. We ran about 20 laps on the magnificent COTA course, flinging the Stelvio QF around at racing speeds, easily hitting 135 mph on the back straight with the active exhaust wide open and emitting a demented howl. Switched into Race mode, the QF's steering effort and feel amped up considerably and became satisfyingly communicative. Pressed to its limits, the hot-rod Stelvio handled much like a mid-size rear-drive sports sedan, roaring out of tight corners with its tail slithering sideways, always easy to rein in. Its well-balanced chassis forgave our ham-fisted control inputs as we learned the track, and its brakes—with the optional carbon-ceramics on the track cars—were faithful, powerful, and fade free. It was a bravura performance.
That few Stelvio Quadrifoglio owners will ever experience their SUVs so vividly is both expected and a disappointing waste of automotive talent. But remember, this is a vehicle with practical capabilities and, with the rear seats folded, 57 cubic feet of cargo space. It will reach dealers in the second quarter of 2018, after which we expect more than a few runs to IKEA and trips to pick up the kids at school will be carried out in great haste in SUVs wearing the four-leaf-clover badge on their flanks. And by drivers wearing a broad smile.
Specifications
VEHICLE TYPE: front-engine, all-wheel-drive, 5-passenger, 4-door hatchback
BASE PRICE: $81,590
ENGINE TYPE: twin-turbocharged and intercooled DOHC 24-valve V-6, aluminum block and heads, direct fuel injection
Displacement: 176 cu in, 2891 cc
Power: 505 hp @ 6500 rpm
Torque: 443 lb-ft @ 2500 rpm
TRANSMISSION: 8-speed automatic with manual shifting mode
DIMENSIONS:
Wheelbase: 110.9 in
Length: 185.1 in
Width: 77.0 in Height: 66.3 in
Passenger volume: 89 cu ft
Cargo volume: 19 cu ft
Curb weight (C/D est): 4350 lb
PERFORMANCE (C/D EST):
Zero to 60 mph: 3.6 sec
Zero to 100 mph: 9.0 sec
Standing ¼-mile: 12.2 sec
Top speed: 176 mph
EPA FUEL ECONOMY:
Combined/city/highway: 19/17/23 mpg
The 2018 Alfa Romeo Stelvio Quadrifoglio Thinks It's a Sports Sedan
Practicality comes second for this wolf in Italian overalls.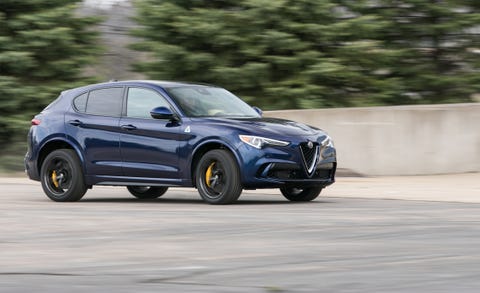 Alfa Romeo's history as a carmaker is steeped in performance, a storied legacy highlighted by legendary Grand Prix racers, sexy road cars, and the intimate bond between man and machine. Not exactly what comes to mind when considering most SUVs. But Alfa's Stelvio Quadrifoglio is no ordinary crossover, and its essence as a performance vehicle is, without question, very strong.
Viewed in isolation, the Stelvio QF is a practical driver's machine full of speed, feedback, and excitement. Yet what makes it a standout among other hot-rod utes are the very few exceptions it warrants when comparing the SUV to its sports-sedan sibling, the 10Best Cars–winning Giulia Quadrifoglio. Sure, its seating position is a smidge higher, and, at 4221 pounds, the Stelvio QF weighs 470 pounds more than the last Giulia QF we evaluated. But the similarity between their on-road demeanors verges on uncanny.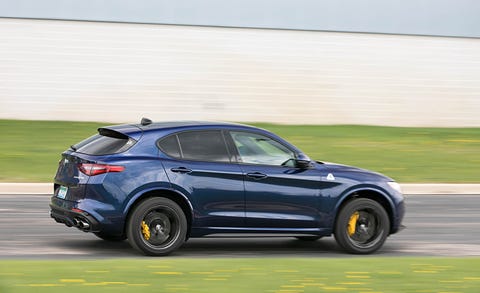 An Italian Delicacy
Upgraded from their standard 280-hp turbocharged 2.0-liter four-cylinders, both sedan and SUV Alfa Quadrifoglios are powered by the same Ferrari-derived, twin-turbocharged 2.9-liter V-6 churning out 505 horsepower and 443 lb-ft of torque accompanied by a rambunctious exhaust note. Both feature the same snappy ZF eight-speed automatic transmission. And both can blast through traffic with undeniable poise and change direction with deft control. The Stelvio QF is primarily a rear-driver until its computers detect the need to route up to 60 percent of the engine's torque to the front axle to prevent slippage. Stand on the brake pedal from a standstill and feed in the power to prime the drivetrain for maximum launch, and this SUV's rear wheels will slowly begin to rotate while the fronts stay put.
The Stelvio also shares the Giulia's rather mediocre interior materials and build quality for a vehicle of this price, as well as a somewhat clumsy infotainment system operating through an 8.8-inch center screen and a console-mounted rotary control knob. But the crossover's body-hugging front sport seats are just as cosseting as the sedan's, and you get a similarly thin-rimmed steering wheel that precisely communicates a pleasant amount of feedback from the front tires. Large, column-mounted shift paddles click through the transmission's gears with satisfying quickness, particularly as you move up from the default Natural driving mode to Dynamic and Race (there's also a lazy Advanced Efficiency mode at the other end of the console-mounted dial).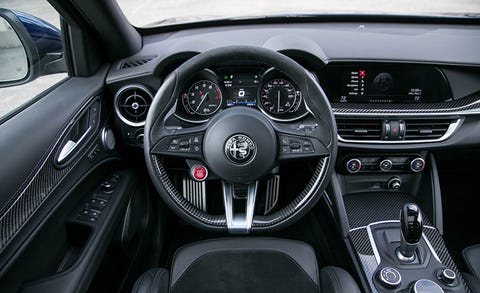 Adaptive dampers return excellent body control and notably taut ride quality in any of the modes, with the system limiting you to the two firmest settings in the spiciest Race setup for the chassis and drivetrain. The ride isn't unduly harsh, but a tad more compliance would be welcome on poorly maintained roads. Similarly, we wish the Alfa's active exhaust system had an independent control toggle instead of merely growing progressively louder and snarlier as you step up through the driving modes. This Italian's boosted 90-degree V-6, with its raspy blats on aggressive upshifts, is a treat to uncork even in relaxed cruising.
Blazing a Path
Starting at $81,590—$6295 more than the Giulia QF—and turning in a quarter-mile pass of 12.0 seconds at 115 mph (with a 3.4-second zero-to-60-mph time), our Stelvio was one of the quickest crossovers we've ever tested. It's also the best speed-per-dollar value in the current SUV universe, undercutting the similarly rapid 707-hp Jeep Grand Cherokee Trackhawk by $6105. (A separate Stelvio QF we tested in California, during which it vanquished the Mercedes-AMG GLC63 S coupe and the Porsche Macan Turbo in a comparison test, was fractionally quicker at 3.3 seconds to 60 mph and 11.8 at 117 mph in the quarter.)
Shod with sticky Pirelli P Zero PZ4 performance tires on 20-inch wheels, the Alfa achieved 0.94 g of lateral grip on the skidpad and a 157-foot stopping distance from 70 mph, figures that are also at the sharp end of its field. The considerably lighter Giulia QF may be about 20 seconds quicker around the daunting 12.9-mile Nürburgring Nordschleife, but the Stelvio QF's 7-minute-51.7-second lap still tops the charts for production SUVs.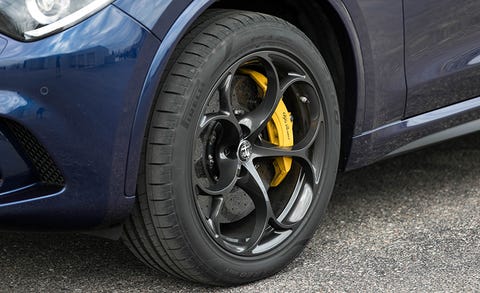 The Investment
Adding $8000 to our test vehicle's window sticker were a set of Brembo carbon-ceramic rotors in place of the standard iron discs. While we didn't notice any discernible difference in feel or performance between the two setups, the Stelvio's brake pedal remains reassuringly firm after repeated abuse and is a touch smoother in actuation than the overly grabby stoppers on our long-term Giulia Quadrifoglio. Unless you're allergic to brake dust or plan on regularly partaking in track days, skip the fancy brakes and pocket the extra gas money, 'cause you'll need it. Our test car's dismal 16-mpg fuel-economy average, 1 mpg less than its EPA city estimate, can at least partially be blamed on our wanting to hear the engine angrily rip through its powerband at full attack.
Additional extras that contributed to our example's $93,340 as-tested price include the $1500 Driver Assist Dynamic Plus package (adaptive cruise control, forward-collision and lane-departure warnings, and auto high-beam headlights), a $1350 panoramic sunroof, a $600 coat of Montecarlo Blue Metallic paint, $400 for a carbon-fiber-trimmed steering wheel, and the $200 Convenience package (an AC power outlet and cargo-area tie-down rails and netting).
As with our mechanically near-identical long-term Giulia QF, which spent a significant amount of time in our dealer's service center during its first 10,000 miles, we'd be remiss if we didn't note reliability as one of our greater concerns of Stelvio Quadrifoglio ownership. While more than a few owners of classic Alfas will say that's part of the Alfa Romeo experience, we find it more endearing that an all-wheel-drive utility vehicle with a decent 19 cubic feet of cargo space (57 cubes with the rear seats folded down) can look this sharp and drive this well. Potential mechanical issues aside, Alfa's Stelvio QF is one of the greatest rebuttals to the idea that our increasingly SUV-filled future has to be boring.
Specifications
SPECIFICATIONS
2018 ALFA ROMEO STELVIO QUADRIFOGLIO
VEHICLE TYPE: front-engine, all-wheel-drive, 5-passenger, 4-door hatchback
PRICE AS TESTED: $93,340 (base price: $81,590)
ENGINE TYPE: twin-turbocharged and intercooled DOHC 24-valve V-6, aluminum block and heads, direct fuel injection
DISPLACEMENT: 176 cu in, 2891 cc
POWER: 505 hp @ 6500 rpm
TORQUE: 443 lb-ft @ 2500 rpm
TRANSMISSION: 8-speed automatic with manual shifting mode
CHASSIS
SUSPENSION (F/R): control arms/multilink
Brakes (F/R): 15.4-inch vented, carbon-ceramic disc/14.2-inch vented, carbon-ceramic disc
Tires: Pirelli P Zero PZ4, F: 255/45R-20 101Y AR R: 285/40R-20 104Y AR
DIMENSIONS
Wheelbase: 110.9 in
Length: 185.1 in
Width: 77.0 in
Height: 66.3 in
Passenger volume: 89 cu ft
Cargo volume: 19 cu ft
Curb weight: 4221 lb
C/D TEST RESULTS
Zero to 60 mph: 3.4 sec
Zero to 100 mph: 8.8 sec
Zero to 130 mph: 16.8 sec
Zero to 150 mph: 25.9 sec
Rolling start, 5–60 mph: 4.4 sec
Top gear, 30–50 mph: 2.5 sec
Top gear, 50–70 mph: 2.9 sec
Standing ¼-mile: 12.0 sec @ 115 mph
Top speed (drag limited, mfr's claim): 176 mph
Braking, 70–0 mph: 157 ft
Roadholding, 300-ft-dia skidpad: 0.94 g
C/D FUEL ECONOMY
Observed: 16 mpg
EPA FUEL ECONOMY
Combined/city/highway: 19/17/23 mpg
Интерьер Stelvio Quadrifoglio 2018
Салон первого в истории компании кроссовера встречает лаконичной, стильно оформленной и, главное, эргономичной передней панелью. Водительский кокпит представлен удобным по сечению мультифункциональным рулём и высокоинформативной комбинацией приборов с парой аналоговых указателей и цветным монитором бортового компьютера.
Отдельного внимания заслуживают круглые дефлекторы воздуховодов, напоминающие турбины истребителя, располагающиеся по краям центральной панели. Сборка не вызывает никаких нареканий, а материалы полностью соответствуют автомобилю премиум-класса (натуральная и искусственная кожа, высокопрочная ткань, натуральная древесина и углеволокно).
Салон автомобиля имеет пятиместную компоновку. Передние спортивные сидения отлично скроены, а также могут похвастаться внушительной боковой поддержкой, подогревом и достаточным количеством регулировок (опционально с электрическим приводом).
Между сидениями первого ряда проходит высокий трансмиссионный туннель, на котором производитель расположил селектор КПП, а также три шайбы, отвечающий за управление мультимедийным комплексом, системой «Alfa Chassis Domain Control» и настройкой подвески (имеет 4 режима работы).
Задний диван также не подкачал и может похвастаться ладно скроенным профилем и возможностью комфортного размещения троих пассажиров, которым предложен отдельный блок воздуховодов и регулируемые по наклону спинки.
Объем багажника весьма внушителен и составляет 680 литров, причём опустив спинку заднего дивана, пользователь может увеличить его более чем в два раза. В подполье багажного отсека имеется запаска и набор необходимо инструмента.
Alfa Romeo Stelvio Quadrifoglio (949) 2018 года (NA) (фото 18 из 40) ? США и Канада
Галерея автомобиля Alfa Romeo Stelvio Quadrifoglio 2018 года включает в себя 40 оригинальных изображений высокого качества.
По этим изображениям вы можете ознакомиться с внешним видом автомобиля, узнать его особенности и отличительные черты, которые выделяют этот автомобиль Alfa Romeo от других автомобилей.
А также вы можете скачать фотографии абсолютно бесплатно и использовать их как обои для рабочего стола с изображением автомобиля Alfa Romeo Stelvio Quadrifoglio 2018 года, нажав на иконку в правой нижней части изображения.
Изображенный на фотографиях автомобиль был выпущен в 2018 году, в кузове 949. Автомобиль предназначен для рынка США и Канады.
Другие галереи Alfa Romeo Stelvio
Другие галереи Alfa Romeo 2018 года
2017 Toyota Land Cruiser Prado
2005 Lexus RX400h
2016 BYD Alexander Dennis Enviro200EV
2017 BMW X3 xDrive20d xLine
2009 Ford Fiesta Zetec S
1907 American Underslung Traveler
Страна: Италия
Годы работы: 1906 — н.в.
Итальянская компания Alfa Romeo ведет свою историю, начиная с далекого 1906 года, когда Александр.
Модели Alfa Romeo
145
146
147
15 HP
155
156
159
164
166
16C Bimotore
1750
1900
1900 M
20-30
2000
2000 Sportiva
2300
24 HP
2600
33
40-60 HP
4C
6
6C
75
8C
8C Competizione
90
A12/F12
Alfasud
Alfetta
AR6
AR8
Arna
B.A.T.
Brera
Dauphine
Disco Volante
G1
Giulia
Giulietta
Gran Sport Quattroruote
GT
GTA Coupe
GTV
Milano
Mille
MiTo
Montreal
RL
RM
Romeo
RZ
Saviem
Scarabeo
Scighera
Serie 140/150
Serie 400
Serie 50/80
Serie 500
Serie 800
Serie 85/110
Serie 900
Spider
Sport Sedan
Sport Wagon
Sprint
Stelvio
SZ
Tipo 158/159
Tipo 308
Tipo 33
Tipo 412
Tipo 512
Tipo A
Tipo B
Tipo C
Tipo P2
TZ
Популурные галереи
Volkswagen Beetle Cabriolet 2016 года
Buick Special Deluxe Sedan 1963 года
Mercedes-Benz S600 by Wald 2004 года
Honda Legend 1990 года
Ford Focus RS RX by M-Sport 2018 года
Dodge Ram 392 Quick Silver Concept 2011 года
AEC Regent II Weymann 1945 года
Land Rover Range Rover HSE on Forgiato Wheels (Sincro-ECL) 2018 года
Fiat Panda 4×4 Climbing 2009 года
Volvo S60 Cross Country 2016 года
Cadillac Model 30 1912 года
О проекте
Условия оказания услуг
Политика конфиденциальности
Вакансии
Реклама
Партнеры
Контакты
При использовании информации в электронном виде (интернет-сайт, электронный файл и т. п.) в каждом случае необходимо размещение активной гиперссылки на главную страницу Сайта или на страницу размещения соответствующего материала.
Все замечания и вопросы по сотрудничеству направляйте по электронной почте: auto@vercity.ru.
Обращаем ваше внимание на то, что изображения являются чьей-либо собственностью и добавлены посетителями сайта.
Администрация сайта не располагает информацией о правомерности публикования этих материалов.
Все изображения размещены в ознакомительных целях.
So-so luxury, so-so tech
At first glance, the Stelvio Quadrifoglio's interior looks like it'd be a well-appointed, luxurious place in which to spend time. And sure, the requisite leather surfaces and brushed metal accents are there, but so are large swaths of hard plastic, some chintzy trim on the center console and cheap-feeling buttons and dials.
The standard front seats are decently comfortable, with plenty of support for driver and passenger. Carbon fiber Sparco race buckets can be optioned for $3,500, but like the carbon ceramic brakes, I don't really see the point — especially since these fancy seats can't be heated. Rear occupants, meanwhile, have adequate space, with head- and legroom that's about par for the class. The cargo hold also offers adequate accommodations, with a maximum of 56.5 cubic feet of space on offer, the same as Mercedes' AMG GLC63.
Alfa's infotainment is crisp and bright, but difficult to control. Apple CarPlay and Android Auto are standard.
Infotainment duties are managed by Alfa Romeo's proprietary system, housed on an 8.8-inch color screen set back in the dash. The menus are relatively straightforward and the graphics are crisp and clear, but the dial controller on the center console leaves a lot to be desired. Not only does it feel lousy in hand, but response times are often laggy, making the system frustrating to use. If you'd rather use Apple CarPlay or Android Auto, you can — both are standard, though oddly, they aren't factored into the Stelvio's base price and show up on the winder sticker as individual $100 options.
Speaking of should-be-standard-on-an-$80K-SUV tech, a number of advanced driving aids are only available as options. If you want adaptive cruise control with stop-and-go functionality, forward collision warning, lane departure warning and high-beam assist, you'll need to opt for the $1,500 Driver Assist Dynamic Plus Package.
No matter the color, this thing looks good.
Split Personality
On Texas roads, the beast is very civilized in N (normal), A (advanced efficiency) or Eco driving modes—and even in D (dynamic) which makes everything a little more intense. With springs 27% firmer in front and 16% firmer in back, the ride is very stiff, but never harsh, and you hardly hear a whir of wind from the side windows—not even when rolling at the 80 mph (129 km/h) limit of Texas highways. However, the automatic emergency braking is too sensitive in town. Expect to be quite taken aback the first time it happens.
I instantly loved the optional carbon fibre shell Sparco seats, which are lighter and only height adjustable. All the Stelvio QVs driven on the 5.5-km Circuit of The Americas (COTA) were also equipped with optional brakes with bigger and more resistant carbon ceramic discs.
For the track, the obvious choice is Race mode, which applies the firmest and sharpest settings for the power steering, suspension, electronic accelerator and gearbox while liberating the exhaust and deactivating the stability control system. And yet, right from the first lap, I was surprised by the heavy feeling and body roll in curves.
The Stelvio QV is 216 kilogams heavier than its sister the Giulia because of its all-wheel drive. It weighs in at a hefty 1978 kg. The front/rear weight distribution remains perfect at 50/50, but the centre of gravity is much higher.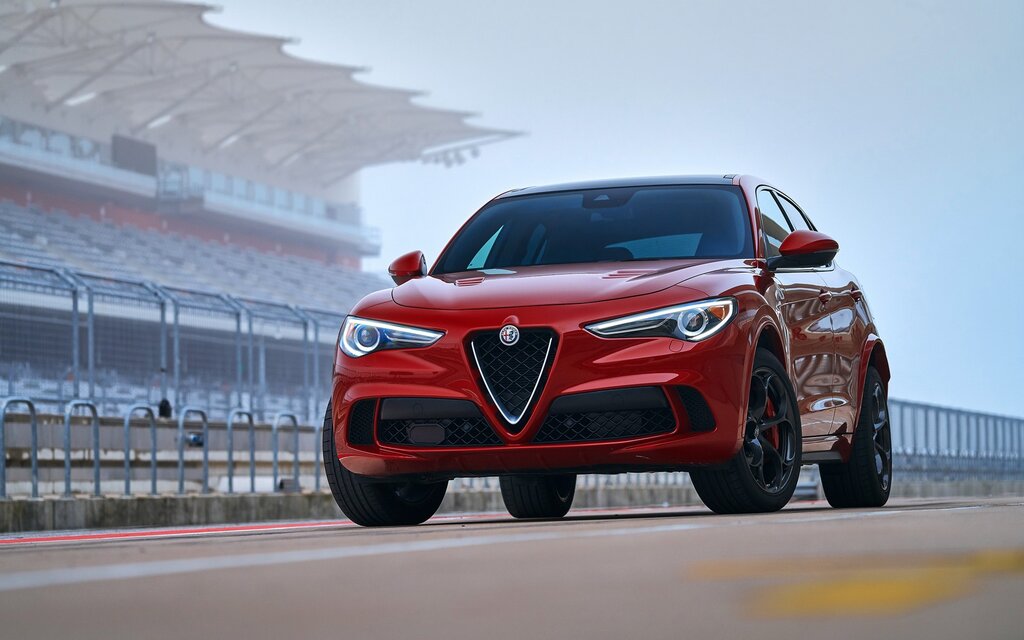 Not much has changed with the latest Stelvio Quadrifoglio, but it didn't really need to. Alfa Romeo has addressed criticisms of interior quality and in-car tech to varying degrees of success, but what is clear is that the Stelvio remains one of the most exciting performance SUVs on sale.
There was a time when supercars would be considered seriously rapid if they could crack a sub-four second 0-62mph time. Then, in seemingly no time at all, it became the norm for GT cars, then super saloons, and now performance SUVs.
Whether you think cars like the Alfa Romeo Stelvio Quadrifoglio need to be able to achieve that benchmark in a scarcely believable 3.8 seconds is one thing, but what isn't open for debate is that the hottest Stelvio, updated for 2020 alongside the rest of the range, is a seriously impressive bit of kit.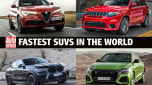 The revisions for this year are fairly mild, starting with some subtle cosmetic upgrades. The tail lights gain smoked lenses, behind which now sits full-LED tech as standard. Items like the badging and window trim are darkened, and buyers can choose a new 21-inch wheel design. A carbon-fibre roof is optional, and three new paint colours are offered, each inspired by classic models from Alfa's glorious back catalogue: 6C Villa d'Este (a deep metallic red), GT Junior Ocra (yellow), and Montreal Green. The brake calipers can now also be finished in a choice of shades, while inside it's possible to choose from a couple of seat belt colours, too.
More reviews for Stelvio Quadrifoglio
Car group tests
BMW X3 M vs Alfa Romeo Stelvio Quadrifoglio
Alfa Romeo Stelvio vs Jaguar F-Pace
In-depth reviews
Alfa Romeo Stelvio review
Alfa Romeo Stelvio Quadrifoglio review
Road tests
New Alfa Romeo Stelvio 2020 review
New Alfa Romeo Stelvio Nero Edizione 2019 review
New Alfa Romeo Stelvio 280 Q4 2018 review
Inside, Alfa Romeo has listened to criticisms of the pre-facelift Stelvio, and every change has delivered a noticeable improvement. Previously, the trim and switchgear on the centre console felt cheap and nasty. Now, there's a reshaped, leather-trimmed gear selector, and all the switchgear is now inset into a smart piece of carbon fibre trim. It's now a much better match for the rest of the stylish cabin.
Coffee drinkers and thirsty takeaway buyers will be pleased to know that the cupholder has shifted slightly, so you can fit big drinks properly without butting up against the dash. There's also now a smartphone cubby that allows for wireless charging.
The rest of the cabin keeps the same lovely details. The metal gearshift paddles mounted behind the wheel are arguably the nicest to touch in any car this side of a six-figure supercar, while the steering wheel — slightly altered for 2020 — is still lovely to look at and to hold. Whether buyers choose the standard sports seats (now with electrical adjustment as standard) or the upgraded carbon-backed Sparcos, they look great and feel supportive.
The Stelvio's infotainment system is new for 2020 too. Well, new to the Alfa, rather than the more industry-wide sense — while the introduction of touchscreen functionality to the 8.8-inch display, new home screen widgets, and performance menus for the Quadrifoglio mean that it's better than before, this system is still laggy and fiddly compared to the best that rivals from Mercedes and BMW have to offer. At least Apple CarPlay and Android Auto are now standard.
While the Stelvio's infotainment feels a good few years behind the competition, the driving experience is right on the money. Nothing much needed tweaking in this area, so all Alfa has done has made a few alterations, such as laminated glass, to improve interior refinement.
That means, as before, the Stelvio is one of the most exciting SUVs money can buy. Power comes from a 2.9-litre twin turbocharged V6 engine sending 503bhp and 600Nm to all four wheels. The Stelvio is light by SUV standards though — the official 1,830kg makes a BMW X3 M almost 200kg heavier — which means that it's quicker on paper by some margin.
And it translates into the real world. The Stelvio rockets away from a standstill, and the V6 unit snarls and gargles all the way to the red line. You could argue that the Mercedes-AMG GLC 63's V8 has even more character, but the Alfa still makes a fantastic, angry noise. One which can be made even louder in 2020, too, thanks to a new optional Akrapovic exhaust.
Its modest kerb weight helps in the corners, too, where the Stelvio turns in keenly, and with about as little body roll as a hot hatchback. The steering ratio is typically Alfa-quick, but the chassis is more than agile enough to match its response.
Of course such cornering ability can come at the expense of ride comfort, but the Alfa does have a trick up its sleeve. Regardless of the position of the 'DNA' driving mode selector switch, the rate of the adaptive dampers can be controlled independently. In its firmer mode, it feels a little too tense on a British B-Road; switch into the softer setting, and it's as if the whole car exhales gently, relaxing itself into a smooth flow.
That's not to say that the ride is perfect though. Our car rode on the standard 20-inch wheels, and at low speeds it felt a little fidgety, it's still smoother than rivals from BMW and Mercedes for the most part
Prices for the Stelvio Quadrifoglio start from £73,195. That's an increase from before, but it's still some £6,795 cheaper than the BMW X3 M, which may feel more expensive inside, but isn't anywhere near as well-executed as a driver's car though.
What's the interior like?
For the basics on the Stelvio's cabin, see our review of the four-cylinder petrol version. If you don't like jumping between browser tabs, here's a friendly takeout version. Front-seat driving position is comfortable, and basically car-like rather than SUV-like. It's as if the whole cabin is lifted off the ground. If we're being picky the seat is also a little too high off the cabin floor if you're tall.
The perceived space in the back is better than a saloon car's because you are more upright, but it's no more than average for the crossover class. You get vents, lights and power outlets back there.
The boot is deep front-to-back, but measures only 500 litres because it's shallow. You lose some more with the optional sub-woofer. Cabin materials are a step down from German rivals in perceived material quality, but no disaster. And the design is stylish, nicely in keeping with the curvy exterior.
For the Qf version, extra-supportive seats have been installed, in leather with suede-like inserts the better to grip you. Extra leather, with green-and-white edge stitching as an option, wraps the dash too. It lifts the look, especially of the double-arched cowl over the instrument binnacle. Cabin decor strips, and (overkill?) sections of the steering wheel are now glossy carbon-fibre.
There's been a lot of criticism of Alfa's infotainment system. In some ways it's good – decent sound for the music part, and menus that are easily learned. Most of all it's characterised by a screen that operates only the nav, phone and sounds, and shows the rear-view camera. It doesn't go into loads of car driver-assist functions, or work the climate. That means it's not overloaded or distracting, and lets you get on with enjoying the drive.
But another perspective says it's far too simple and insufficiently configurable. For instance, once you zoom in the map to a sensible scale for urban driving, it automatically switches from north-up to heading up. No choice about that. Searching for points of interest is also primitive. There's no option of a bigger screen, either.
But help is at hand: last year the Alfa system had no option of Apple CarPlay or Android Auto. This year it integrates them. So you can piggyback your phone's features. It's not brilliant, as these systems work best with a touchscreen and in the Alfa you have only the scroll wheel, but it's still a huge improvement.
That absence of infotainment options is characteristic of the Stelvio. The rivals offer optional head-up displays, massage and vented seats, matrix LED headlights, advanced driver assist systems, multi-way powered seats, online concierge services and so on. The Alfa, er, doesn't.
The 2018 Alfa Romeo Stelvio Quadrifoglio AWD Is A Sexy, Sensational SUV
Full confession: I'm half Italian. Further confession: I have a terrible weakness for Italian men, the food they serve, and the cars they make. Furthest confession: I want this brand to succeed as it continues its relaunch in the U.S. market, so I'm not entirely unbiased whenever I drive an Alfa.
Alfa Romeo adds the Stelvio Quadrifoglio AWD to its stable of Thoroughbred cars and SUVs. The "QV" – short for Quadrifoglio Verde — joins the Stelvio AWD, and Stelvio Ti AWD, and Stelvio Ti Sport AWD. For the uninitiated, all Quadrifoglio vehicles are badged with a green (verde) four-leaf clover in a triangle, a throwback to the superstitious racing legend Ugo Sivocci who first put a broke Enzo Ferrari behind the wheel of a race car (Grazie, Ugo).
2018 Alfa Romeo Stelvio Quadrifoglio embodies passion and performance in an SUV
The Stelvio QV, base price $79,795 plus a hefty $1,595 delivery, celebrates the performance heritage of Alfa. Powered by a 2.9L 505 horsepower Twin-turbo V6 engine mated to an 8-speed automatic transmission, the QV will propel you from 0-60 in a blistering 3.6 seconds, faster than a host of others including the Porsche 911 GT3 (manual) and the Audi RS7. Top speed is 177 miles an hour, not terribly useful off a track but all sorts of fun on one, as I discovered at Circuit of the Americas (COTA) outside of Austin, TX.
New 2021 IRS Income Tax Brackets And Phaseouts
Rock Legend Gene Simmons Kisses His California Estate And High Taxes Goodbye
Two More Chances To Order A PS5 Or Xbox Series X/S
But before we talk more about its personality, let's discuss style. The Stelvio Quadrifoglio is a gorgeous, beautifully proportioned SUV, reflecting the latest in sleek, timeless design popular in today's luxury European crossovers. The grille is the distinctive "Trilobo" signature Alfa front fascia, and the LED headlamps are compelling whether in the daytime or at night. The beltline is high and the greenhouse narrow, but visibility is good throughout with proper mirror adjustment despite the narrow rear window. The 20" summer tires are accessorized by truly stunning 5-hole aluminum wheels that show off the calipers, which can be ordered in black, yellow, or red at no cost, or a $650 custom option paint.
Inside, the QV comes with a bright red Start Engine button mounted low and to the left on the special leather-wrapped heated steering wheel, and the rich leather and suede-esque Alcantara heated 8-way adjustable seat hugs the driver and passenger like a lover, providing significant bolstering support and reinforcing the performance aspect of the QV. The well-appointed cockpit is busy but not off-putting, in the same way fusilli is more complicated than ziti but still appealing. Fusilli, a curly pasta, provides more nooks and crannies for maximum sauce delivery. In a vehicle like the QV, there's a lot to communicate, so sometimes more is needed, but it's all presented in an easy-to-see, easy-to-digest manner.
Along with the requisite cupholders and storage for phone and flotsam, the center console features a "DNA" dial, allowing for on-the-fly driving mode options including Race Mode; the speedometer does go up to 200 MPH for a reason. The Dynamic setting sharpens the steering and the throttle response for a sportier experience. The Normal mode is good for every day, while the Advanced Efficiency setting provides better grip in wet, icy, or snowy conditions by increasing the interaction between the traction and stability control. The Race mode is specific to Quadrifoglio models, and takes the dynamic mode to a new level, pairing sportier throttle and steering settings with a stiffer suspension.
2018 Alfa Romeo Stelvio Quadrifoglio interior
The Bluetooth system proved to be friendly and easy to use. I connected my phone quickly and seamlessly, and the voice activated commands worked as intended, not always the case with other systems I've tested. The menus are straightforward and intuitive, which is often half the battle when interfacing with technology.
The QV is set up for speed, handling, and comfort, a perfect trifecta of vehicle happiness. While on the track, the only limitation for the QV was my own talent. At no time did this SUV hesitate, even in the sharpest of corners, to provide all the capabilities required to manage the 20 turns on the COTA track. The "near perfect" 50-50 weight balance shone through as I navigated the twists and turns.
The ceramic Brembo 4-wheel disc brakes – initially at bit grabby in traffic – were perfection on the track. There's also the option of upgrading to Brembo ultra high performance CCM brakes, a good idea if you're pushing the limits of your Stelvio QV on a regular basis. The steering was precise and efficient, while the tires were confident, sure-footed, and provided the grip needed to maneuver around. The 505 horses eagerly ate up the straightaways, and reaching speeds of 130MPH and above was effortless, while the cabin stayed quiet and the ride comfortable.
Off the track, with the DNA knob set to "Normal," the Stelvio QV is grace in motion. Even on the cement-gravel mix pavement of Austin, the cabin noise was minimal, and on the highway wind noise was non-existent. As mentioned, the brakes took a bit of getting used to, but came in handy when I had to brake suddenly in downtown Austin. The Stelvio QV transitioned seamlessly from the track to the road, something not all performance vehicles do well and a testament to the engineering instilled by the Alfa Romeo team.
2018 Alfa Romeo Stelvio Quadrifoglio DNA knob allows for changes on-the-fly to driving dynamics
2018 Alfa Romeo Stelvio Quadrifoglio DNA knob allows for changes on-the-fly to driving dynamics
The Alfa team hasn't skimped on safety either. Standard equipment includes a rear back-up camera, rain sensitive windshield wipers, hill descent control, heated washer nozzles, blind-spot and cross-path detection. The optional Driver Assist dynamic plus package is a relative bargain at $1,500. It includes adaptive cruise control, forward collision warning plus lane departure warning, automatic high beam headlamp control, and an infrared windshield. Oddly, Apple CarPlay and Google Android Auto is a $100 option each, something I don't think I've seen before.
My test vehicle also included a $200 convenience pack, $600 Vulcano Black Metallic Exterior Paint, and a $400 Quadrifoglio carbon fiber steering wheel, plus the aforementioned ultra high performance CCM brakes for a rather whopping $8,000. All told, the Stelvio QV topped out at $92,290.
2018 Alfa Romeo Stelvio Quadrifoglio AWD
There's a lot of potential for the Stelvio QV and for the Alfa Romeo brand overall in the U.S. market. For Baby Boomers, the Alfa brand evokes the beloved European sport brands of youth. The Stelvio QV may look like it's a far cry from Dustin Hoffman's Alfa Romeo Spider, but the passion and performance are still there. The tight, sleek, muscular look appeals to the active lifestyles so many Baby Boomers continue to pursue.
For Generation X, the heritage and tradition of Alfa along with the classic, timeless design of the Stelvio appeals to the cohort's core values. The timing of the launch is ideal, with Gen X moving into peak earning years (the oldest is 52 by some count) and progressing towards empty nester life stage, where a 5-passenger SUV is a welcome change from a minivan or 7-seater family hauler.
For Millennials, a cohort open to new and resurging brands, Alfa Romeo draws them in by providing a luxury experience different than a Lexus or a BMW. The oldest Millennials (30-40 years old) are used to premium and enjoy making big statements, something an Alfa Romeo in rosso red certainly does. For younger Millennials, the Stelvio QV may be out of reach financially, but there's plenty more in the Alfa brand to consider.
The Stelvio QV is a beautiful combination of style, engineering, and performance. For the true aficionado, the QV is a must-buy. For the more fiscally sensitive, the Stelvio lineup starts at $41,995 for the base Stelvio AWD, and climbs to $46, 495 for the Stelvio Ti Sport AWD. All of the non-Quadrifoglio Stelvios are equipped with a 2.0L I-4 direct injection turbo engine, 8-speed transmission, AWD, Alfa DNA Drive Mode System, Brembo front brakes, and a host of other impressive standard features. I'm partial to the value of the well-equipped Stelvio Ti Sport AWD. Utilizing the Alfa Romeo website, my favored configuration priced out at $53,290, which was readily available at dealers in my area.