2017 Alfa Romeo Mito Review
Introduction
The Alfa Romeo Mito is just about the only game in town if you want something passionately Italian and striking to look at, yet small, relatively affordable, easy to park, with adequate room in the front for the taller driver and passenger, and which isn't a Fiat 500. It's a quirky, quite sporty three-door hatchback that wants to be a rival to the Mini or the Audi A1, but which undercuts them on price.
| | | |
| --- | --- | --- |
| Body Style: Hatchback | Seats: 5 | MRP from £15,855 — £21,695 |
Did you know? The Mito name is a portmanteau of Milan and Torino – the cities where the car was designed and where it is built.
Verdict: ★★★★★☆☆☆☆☆ (5.5/10)
The Mito has just about enough of the Pavlovian 'want one' response common to the Alfa Romeo brand to justify its existence. As the cheapest way into Alfa ownership it's not a terrible car, but it is a terribly out-dated one.
Running Costs & Fuel Economy
We Like
Decent back seats and boot
We Don't Like
Feeling outdated now
No five-door option
Design & Exterior: ★★★★★☆☆☆☆☆ (5/10)
Its design is, oddly, probably what holds the Mito back the most.
Alfa decided, when it designed the Mito, to try and squash and scrunch the styling of the gorgeous 8C supercar down to supermini size. That was never going to work well. The Mito has strange proportions, and a front which looks rather like a face stuck in an elevator – all squeezed in from the sides.
It's not all bad, though. It's certainly distinctive – you'll never mistake it for one of its rivals and from behind it's actually pretty nice with pert styling and lovely jewel-effect rear lights.
The biggest limitation is its three-door-only layout. When rivals such as the Audi A1 and Mini are able to offer five-door practicality, that leaves the Mito hanging out on a limb.
Beyond that, if you're a true motoring fan, you'll adore the Alfa brand image and what it stands for. If you're not, then you might just regard it as a bit of a posh Fiat.
Interior & Comfort: ★★★★★☆☆☆☆☆ (5/10)
The cabin is definitely something of a Mito weak point, although it's not a total disaster. Alfa worked hard to make sure that you would struggle to see the Fiat Punto that lies, mechanically speaking, beneath all Mitos, and in some ways it has succeeded. The deep, cowled dials are handsome, the central dash is different indeed to the Punto's and the seats and door panels can be dressed up with all sorts of soft-touch Italian leather.
The problem is that items such as the column stalks, the broader sweeps of plastic material and some of the switches are lifted from the Punto, and obviously so. They do detract from the quality of what is supposed to be a premium brand. On the upside, the front seats are comfortable and supportive and the driving position is fine, but don't go for the optional front centre armrest as it snags on your elbow when changing gear.
The Mito manages to be just about practical enough. Thanks to that Punto chassis, it's one of the longer small cars (breaking the measuring tape at 4.0 metres) so cabin space is actually not too bad. Those in the front should be sufficiently comfortable, and while you'd never describe the back as big, there is certainly more legroom on offer than you'll find in a three-door Mini even if headroom is a little tight.
Boot space is average for the class – at 270 litres it's the same size as that of an Audi A1, and a touch smaller than you get in a five-door Mini. Beware the high loading lip when placing hefty objects inside, though.
Technology & Connectivity: ★★★★☆☆☆☆☆☆ (4/10)
The Mito's older design rather limits its tech count, but at the most recent facelift it did get a uConnect touch-screen in the centre console. It's the smallest such system available, with a mere five-inch display, but it does have Bluetooth media streaming, a USB connection, an SMS reader (depending on your phone), satnav (optionally), and uConnect Live services, which allow you, among other functions, to monitor your own driving style.
All but the most basic 1.4-litre petrol model also come with Alfa's 'DNA' system. Controlled by a chunky chrome toggle switch, this allows you to switch between Dynamic, Normal and All-Weather modes. Dynamic should really be the default setting as Normal smothers the throttle response too much, but All-Weather is genuinely useful when there's frost or ice about.
Performance & Handling: ★★★★★★☆☆☆☆ (6/10)
The Giulietta is fun to drive, but it's not very sophisticated. That big, awkward steering wheel seems to smother a lot of what steering feel there is, and the ride quality is just a bit too busy and a bit too noisy for spinal or aural comfort. It's a lot less sophisticated in feel than an Audi A3 and nowhere near as much fun as a Volkswagen Golf GTI.
That said, there is some compensation. For all the lack of steering feedback, it is still an agile car that rewards, up to a point, a bit of keen driving. You'll enjoy it, even if you realise that it's not actually all that good. The Q2 electronic differential (standard on all models) does help a little with traction on greasy surfaces. The DNA system, which allows you to choose between Dynamic, Normal, and All-Weather modes, is a touch gimmicky, but the All-Weather function can be useful on slippery surfaces.
On the engine front, it's rather a mixed bag. The 1.4 TB engine comes in 118bhp, 148bhp, and 168bhp forms and all three are very sweet units, smooth and eager, with the 168bhp engine, when fitted with the TCT dual-clutch automatic gearbox, returning an impressively low 114g/km of CO2. The top-spec Veloce model, with its 237bhp 1750 turbo engine, should be a real rival to the Golf GTI, but sadly it's more fast than furious. It's a great engine, but the chassis and steering can't keep up.
The diesels are the weakest engine entries. The 2.0-litre JTDm unit isn't bad, with a choice of 148bhp or 173bhp versions, but the 1.6-litre 118bhp, although rapid, is just too noisy to be competitive.
Recommended engine: 1.4 TB 170 MultiAir TCT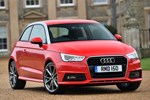 Introduction
Practicality
Interior
Running costs
Engines
Verdict
Photos (169)
Written by Parkers on 06 June 2019

The Alfa Romeo Mito is an Italian MINI Hatch rival – a three-door supermini with premium pretentions, sharp Italian styling and plenty of flair for the fashion-conscious car buyer.
As well as taking on the ubiquitous MINI, it also goes up against the Audi A1, DS 3 and other stylish superminis such the Fiat 500 and Vauxhall Adam.
Interior doesn't match the exterior
Despite the promising exterior, things become a bit more disappointing when you jump inside the Mito. A harsh ride, poor noise insulation, lack of cabin storage space and interior quality that falls short of the standards of its rivals all conspire to spoil the experience.
The various different plastics used throughout the interior feel cheap and low-quality, as do the minor controls and switchgear.
DNA driving modes
A key ingredient in the way the Mito drives is its DNA system. It comprises of three driving modes selected via a switch ahead of the gear lever: Dynamic, Normal and All-weather.
They change the power steering, engine and traction control settings, among other factors, and the car feels markedly different depending on which mode is selected. Engine response, for instance, is much more immediate in Dynamic mode, which also makes the steering far heavier.
Depending on your point of view, it's either a fun gadget or a frustrating system that makes you wish Alfa had picked one optimum setting and stuck with it rather than offering several compromised choices. Or, failing that, a fourth option that lets you select your own individual settings from the options available.

On the whole, though, the Mito is a sharp little car to drive, with quick responses through the steering and well-contained body roll. It doesn't feel quite like an Alfa should, however: it suffers with a firmer ride than almost all of its most direct rivals, which sullies the experience somewhat.
Model updates
Throughout its life, the Mito has been subject to several tweaks to keep it fresh and up-to-date, most notably with what's under the bonnet.
A year after its launch Alfa raised the bar with its MultiAir petrol models. Incorporating new technology that makes it run more efficiently, the Mito was given more power, lower emissions and improved fuel economy.
There was also the introduction of the sporty 170hp Cloverleaf model – a return of an iconic performance badge, that has since been discontinued. To say the Mito range with all its comings and goings is confusing would be an understatement.

Fiat's clever two-cylinder TwinAir petrol engine debuted in 2012, as featured in the smaller 500, producing more power than its naturally-aspirated alternatives and boasting much-improved fuel economy claims and lower emissions.
In autumn 2013, Alfa announced a range of updates including a touchscreen multimedia system and a new version of the TwinAir engine with 105hp.
The Mito also got a bit of makeup with some extra chrome detailing outside on some models, and black mesh on others, tinted rear windows and a different finish for the headlights together with new seat fabrics and dashboard colour schemes.
Een goed functionerende airco is een must! Zeker als je in de zomervakantie met de auto op vakantie gaat. Een airco verhoogt niet alleen het comfort, maar zorgt er ook voor dat u fris.
24 januari 2019
door Peter Nooijen · Published 24 januari 2019 · Last modified 31 juli 2019