Acura RLX 2018 года; плановая смена предшественника
Acura RLX 2018 года — плановая смена предшественника
Акура RLX является новым созданием компании Хонда. Новая модель сменила своего предшественника Acura RL. Седан отлично сочетает в себе, пожалуй, все качества, необходимые для водителя и пассажиров. Массовая презентация намечена на конец лета этого года в рамках специального мероприятия Monterey Automotive Week в Калифорнии. Купить седан автолюбители смогут только в ноябре 2017 года.
Обновленный Acura RLX 2017-2018 модельного года
В данной работе будут представлены технические характеристики, комплектующие материалы, описание дизайна и салона, а также стоимость.
Экстерьер автомобиля приобрел облегченный облик, что увеличило его аэродинамические возможности, тем самым это положительно сказалось на параметрах скоростного режима. Акура – это седан представительского класса. Все важные элементы, такие, как капот, двери и бампер изготовлены из алюминия. Остальные детали произведены из высокопрочной стали.
Передняя часть Акура РЛХ 2017-2018 года поражает гармоничным сочетанием фар головного освещения. Освещение укомплектовано приборами марки Jewel Eye, которое отлично освещает дорожную поверхность, что благотворно сказывается на обеспечении безопасного вождения. Колесные арки оснащены легкосплавными дисками с размером 18 и 19 дюймов.
новая Акура РЛХ 2018, спереди
Капот имеет жилистую структуру, а в пространстве между фальшрадиаторной решеткой и крышкой располагается перемычка. Решетка приобрела некоторые модификации и теперь она выполнена вв форме пятиугольника с мелкой сеткой.
С задней стороны располагается бампер с диффузором. В целом освещение приобрело элегантную конфигурацию.
Внутренний интерьер седана Acura RLX 2018 впечатлит даже самого капризного покупателя. Все элементы радуют презентабельным видом, для изготовления приборов и материалов использовались только качественные и высокопрочные материалы.
В центре располагается дисплей размером 8 дюймов, который имеет обширный функционал. Панель отделана кожей и декорирована вставками из натурального дерева.
На этот раз особых модификаций в салоне дизайнеры не предусмотрели, но стоит отметить наличие отделки из качественных материалов, а также удобные сидения в салоне.
В каталогах седан будет представлен только в роскошной комплектации премиум – класса. Передний ряд сидений позволяет с комфортом разместиться людям с различной комплекцией. Второй ряд также предполагает удобство пассажиров при езде даже на продолжительные поездки. Все сидения в салоне оснащены персональной функцией электроподогрева.
Кресла оборудованы системами регулирования спины (8 режимов) и поясничной зоны (4 режима). Для водителя в удобном расположении находится компьютер с цветным дисплеем размером 7 дюймов и сенсорным управлением. Кнопки – помощники размещаются на экране в логическом порядке, что не заставляет водителя тратить время на раздумья, в авто все понятно и доступно.
Экстерьер Acura RLX 2018
Основные изменения во внешности Acura RLX пришлись на фронтальную и заднюю часть кузова машины. Так, «морда» седана получила пятиугольную фальшрадиаторную решётку, более рельефный капот, современную и полностью светодиодную оптику головного света, а также стильный передний бампер с эффектными светодиодными противотуманками и хромированными бумерангами, акцентирующие внимание на вертикальных воздухозаборниках и аккуратном сплиттере.
Стремительный и сбитый профиль флагманского седана подкупает наличием дутых колёсных арок, длинным капотом, покатой линией крыши и элегантными разводами на боковинах. Кроме этого, производитель обновил дизайн легкосплавных дисков (R18-19), аккуратно подчёркивающих динамичность и статус автомобиля.
Сзади Acura RLX получила более элегантные и эффектные LED-габаритные огни, имеющие обновлённый трёхмерный рисунок, полностью новый бампер с имитирующими спортивный диффузор вставками и парой трапециевидных насадок системы выхлопа.
Внешние габариты новинки составляют:
| | |
| --- | --- |
| Длина, мм | 5023 |
| Ширина, мм | 1890 |
| Высота, мм | 1465 |
| Колесная база, мм | 2850 |
| Клиренс, мм | 115 |
Над дорогой седан возвышается на 115 мм, что предполагает использование автомобиля на идеально ровном дорожном покрытии.
Помимо изменения дизайна экстерьера, производитель предлагает расширенную палитру расцветок кузова, где добавилось три новый цвета, из которых две премиальные расцветки: Brilliant Red Metallic и Majestic Black Pearl.
Интерьер
Изменения в салоне обновленного седана Acura RLX 2018 модельного года минимальные. Дизайнеры и компоновщики отвечающие за интерьер модели подготовили для рестайлинг версий премиального спортивного седана более качественные материалы отделки и новые более комфортные кресла для водителя и переднего пассажира.
При этом новинка доступна к заказу только в одной весьма богатой комплектации, включающей в себя все атрибуты авто премиум-класса, обеспечивающие не только комфорт и развлечение всех членов экипажа, но и их безопасность. Так что по умолчанию присутствуют продвинутый комплекс безопасности AcuraWatch (Collision Mitigation Braking System с функцией автоматического торможения и обнаружения пешеходов, Lane Departure Warning, Forward Collision Warning, Lane Keeping Assist, Adaptive Cruise Control и Road Departure Mitigation), камеры обеспечивающие круговой обзор, отделка салона кожей и панелями из натурального дерева, аудиосистема премиум-класса Krell Audio, подогрев передних и задних сидений, а также рулевого колеса, кресла водителя и переднего пассажира с электроприводом регулировок и вентиляцией, полностью светодиодные фары головного света, противотуманки и задние габаритные фонари, мультимедийный комплекс с двумя цветными экранами и масса других фишек.
2018 Acura RLX Sport Hybrid SH-AWD Tested: Acura's Best Sedan
Quick, comfortable, and well under the radar.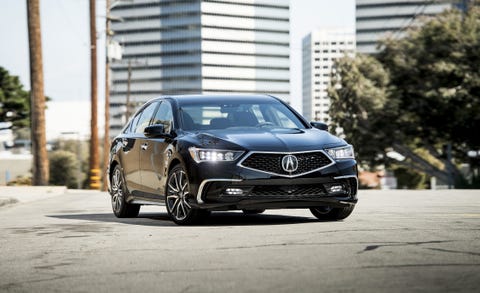 One thousand two hundred and thirty-seven. That's how many Acura RLX sedans were sold in the United States last year—barely more than 100 cars a month. In the same 12-month period, Americans bought about twice as many Ferraris, nearly 9000 Porsche 911s, and just shy of 16,000 Mercedes S-class models. In other words, the Acura RLX is not only one of America's least popular sedans, it's one of America's lowest-volume cars, period. The truth is, most Americans don't even know that the Acura RLX exists.
In this situation, the majority of automakers would put the thing out of its misery. But the Acura gang is a stubborn bunch who have instead thrown some time and money at the problem. The 2018 Acura RLX Sport Hybrid is restyled, retuned, and significantly less expensive than the 2017 model. And the result is—drum roll, please—Acura's best sedan.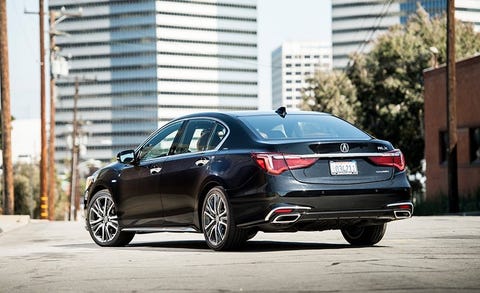 Power to the Four
With 377 total horsepower, the Sport Hybrid is also Acura's most powerful four-door ever and the second most powerful Acura ever behind the current NSX. Like that supercar, the RLX Sport Hybrid has Acura's Super Handling All-Wheel Drive (SH-AWD) and is powered by a 3.5-liter V-6 and three small electric motors. In the sedan, the all-aluminum six is naturally aspirated with variable valve timing and an 11.5:1 compression ratio. It's rated at 310 horsepower and, along with a 47-hp electric motor inside the seven-speed dual-clutch automatic transaxle, powers the front wheels. The other two motors are mounted at the rear axle, each adding 36 horses to the equation and capable of torque vectoring, applying positive or negative torque to each wheel to influence handling. It's essentially the same hybrid system that powers the NSX, only the electric motors power the front wheels of the supercar—and its V-6 is twin-turbocharged. (The popular MDX SUV also uses the same hybrid system as the RLX, but with a 3.0-liter V-6.)
The elegant system is extremely smooth in operation, and for 2018 Acura's engineers have retuned the powertrain for greater response in the Sport driving mode, which adds some weight to the sedan's steering. They've also shaved more than eight pounds from the lithium-ion battery pack mounted behind the rear seat; it steals three cubic feet of trunk space, leaving a total of 12. In Normal mode, the V-6 participates when necessary, shutting off during deceleration and highway cruising under 50 mph. In Sport mode, it's always firing.
That much horsepower makes the RLX Sport Hybrid satisfyingly quick despite its mass of 4373 pounds. In most situations, the transmission starts in second gear in an effort to maximize efficiency and refinement, but the torque of the electric motors combined with the V-6's 273 lb-ft keep this from being a problem. There's plenty of thrust in all situations, and the V-6 is never slow to kick in and add punch when you need it.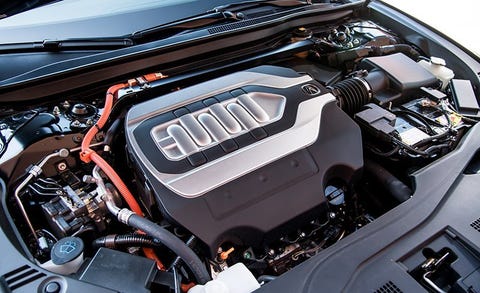 Launch the Sport Hybrid hard, and the transmission is smart enough to give you first gear, with the first upshift occurring at about 30 mph and the second near 50 mph, both at 6500 rpm, 250 revs short of redline. The RLX hits 60 mph in third gear in 4.9 seconds. That's 1.2 seconds quicker than the BMW 530e xDrive plug-in hybrid. And it covers the quarter mile in 13.6 seconds at 102 mph. Bye-bye, BMW. We averaged 22 mpg in spirited mixed driving with liberal use of Sport mode; the RLX's EPA combined estimate is 28 mpg, the same as the BMW's.
Acura has also made small changes to the sedan's suspension tuning to increase compliance. The ride is pleasant and comfortable, and there's still plenty of road feel through its 19-inch Michelin all-seasons. The RLX is responsive and grippy around town, its SH-AWD system pushing power from side to side during hard cornering, which promises entertainment value for the enthusiast driver. Also, its 13.9:1 steering ratio is properly quick, which makes the RLX feel smaller and lighter than it really is, and the computers match revs perfectly when you shift the transmission with the steering-wheel paddle shifters.
Not Exactly Nimble
But this is a luxury sedan, not a sports sedan, and the Acura's 0.83 g of maximum grip is not enough for serious pace in the mountains. Its suspension can get wallowy and feels underdamped when you're pushing hard over midcorner road imperfections, which neutralizes the driver's inclination to explore what the torque vectoring can contribute at higher speeds. At its limits the RLX understeers, which is no surprise. Pop the hood and you'll see that the Acura's V-6 is hung way out ahead of its front axle, and its 12-volt lead-acid battery is mounted far forward, just behind the left headlight. Not ideal for weight distribution. Despite the counterbalance of its lithium-ion battery pack, as well as an aluminum hood and front fenders, the Sport Hybrid carries 57.2 percent of its mass over its front tires.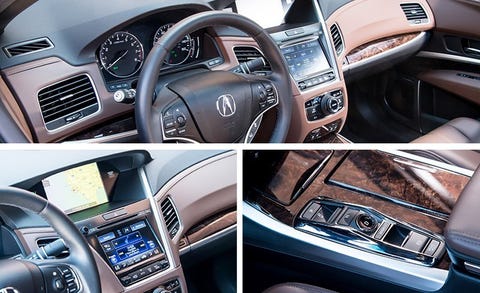 Its four-wheel disc brakes stop the heavy sedan from 70 mph in 187 feet, which is six feet shorter than the heavier BMW needs for that task. The Acura's brakes are impressively fade resistant after six hard stops, and while our track driver noted "odd" brake feel and slow response in hard stops, in around-town use the pedal action feels very natural—not always the case with a hybrid's regenerative braking systems.
Better Looks and Stronger Value
Perhaps the greatest improvement to the 2018 RLX is its new front sheetmetal. Acura has given the car a new front clip, which replaces last year's beak grille with a more traditional and attractive mouth. There are also new Jewel Eye LED headlamps—its most interesting design feature—a new rear decklid, redesigned LED taillights, and a fresh rear bumper cover with a black diffuser that Acura says is aerodynamically functional. Overall, the car is 2.0 inches longer than before.
Although certainly more attractive than it was, the Acura RLX has failed to shed its generic-sedan aura and remains invisible to the general public. Nobody notices this car, which now looks like a cross between a new Acura TLX and a Honda Accord from a few years ago. Body-panel fitment is exceptional, but the quality of the black paint on our test car was disappointing, with unsightly orange peel on the sedan's four aluminum door skins.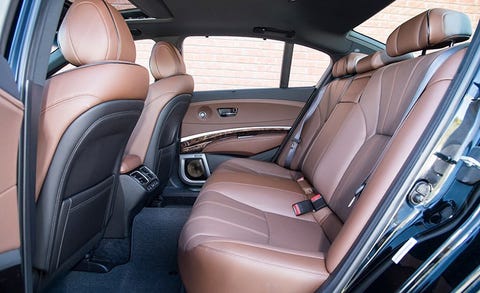 Interior material and fit-and-finish quality are in line with the class, however, and the RLX's firm sport seats are well shaped, heated, and cooled. They feel good even after hours behind the wheel. Unfortunately, the Acura's navigation system is slow and dated, and its two-screen infotainment setup is a failed experiment in electronic ergonomics.
Hoping to entice a few more luxury-car shoppers, Acura has also sliced about $4000 from the RLX Sport Hybrid's price compared to last year's fully loaded Advance trim. It now comes in just one trim level, which starts at $62,865 and comes standard with Acura's full arsenal of luxuries and driver aids including a heated steering wheel, a surround-view camera system, heated rear seats, a 14-speaker premium audio system, forward-collision warning and automated emergency braking, lane-keeping assist, rear cross-traffic alert, and adaptive cruise control.
And that makes the Acura RLX Sport Hybrid a strong value. Yes, the BMW 530e has a lower base price and modest full-electric ability from its bigger battery pack and plug-in hybrid system. The Acura nearly matches its hybrid-mode EPA estimates, though, and comes with many standard features that are optional on the German plug-in (the BMW we tested was equipped quite similarly and stickered out at $69,760). And the Acura blows the Bimmer's freakin' doors off in a straight line. We'll see if that's enough to get the 2018 RLX back on America's radar. If not, Acura would be smart to take it behind the woodshed and end its suffering.
Specifications
VEHICLE TYPE: front-engine, all-wheel-drive, 5-passenger, 4-door sedan
PRICE AS TESTED: $62,865 (base price: $62,865)
ENGINE TYPE: SOHC 24-valve 3.5-liter V-6, 310 hp, 273 lb-ft; 1 permanent-magnet synchronous AC motor, 47 hp, 109 lb-ft (front); 2 permanent-magnet synchronous AC motors, 72 hp, 108 lb-ft (rear); combined output, 377 hp, 341 lb-ft; 1.1-kWh lithium-ion battery pack
TRANSMISSION: 7-speed dual-clutch automatic with manual shifting mode
DIMENSIONS:
Wheelbase: 112.2 in
Length: 198.1 in
Width: 74.4 in Height: 57.7 in
Passenger volume: 102 cu ft
Trunk volume: 12 cu ft
Curb weight: 4373 lb
C/D TEST RESULTS:
Zero to 60 mph: 4.9 sec
Zero to 100 mph: 13.1 sec
Zero to 130 mph: 25.7 sec
Rolling start, 5-60 mph: 5.7 sec
Top gear, 30-50 mph: 2.8 sec
Top gear, 50-70 mph: 3.7 sec
Standing ¼-mile: 13.6 sec @ 102 mph
Top speed (governor limited): 131 mph
Braking, 70-0 mph: 187 ft
Roadholding, 300-ft-dia skidpad*: 0.83 g
*stability-control-inhibited
C/D FUEL ECONOMY:
Observed: 22 mpg
EPA FUEL ECONOMY:
Combined/city/highway: 28/28/29 mpg
Новый облик Acura RLX
Обновленный флагман Акура по примеру своего «собрата» TLX изменил внешность в соответствии с новой дизайнерской концепцией Precision Crafted Performance. Ее главная «фишка» – эффектная пятиугольная решетка радиатора с хромированной рамкой и сеткой в виде россыпи «бриллиантов». Также новую Acura RLX можно будет узнать по иной конфигурации головных фар (разумеется, светодиодных), полностью переработанному бамперу с двумя яркими бумерангами по бокам и подкорректированному рельефу капота.

Фото Акура РЛХ в кузове 2018-2019 года
В кормовой части автомобиля ревизии подверглись фонари, изменившие форму и получившие иной, более интересный, графический рисунок. Не обделили вниманием дизайнеры и задний бампер – здесь появились новые трапециевидные патрубки выхлопной системы и черная вставка, имитирующая диффузор.

Дизайн кормы новинки
По традиции рестайлинг не обошелся без расширения гаммы кузовных цветов и ассортимента колесных дисков. В палитре эмалей прибавилось три оттенка, в том числе, Brilliant Red Metallic и Majestic Black Pearl.
The 2018 Acura RLX
Tackle Florida's highways and byways behind the wheel of the performance-driven 2018 Acura RLX. This premium luxury sedan comes equipped with an adventurous spirit and a refined interior to help you on all your journeys. When you buy or lease the Acura RLX or RLX Sport Hybrid, you'll not only get to revel in its potent powertrain, you'll also get to experience head-turning appeal thanks to its signature Diamond Pentagon grille. Plus, with a plethora of world-class safety technologies working to keep you and your passengers safe, the Acura RLX is the complete package. Test-drive the 2018 Acura RLX at our Acura dealership in Fort Myers, FL, today.
Performance
Whether you're commuting to and from work or cruising to the beach, you'll find plenty of reasons to drive the 2018 Acura RLX. Enjoy the standard 310-horsepower V6 powertrain or upgrade to the Acura Sport Hybrid trim to enjoy an outstanding 377 combined horsepower. Regardless of which Acura RLX you prefer, you'll be rewarded with up to 29 highway mpg, so your excursions can go longer and farther. Searching for excellent control and traction? Acura engineers have equipped the Acura Sport Hybrid with the innovative 3-Motor Sport Hybrid Super Handling All-Wheel Drive™ (SH-AWD®) System. Your engine specs and additional performance perks can include:
3.5-liter V6 i-VTEC® Engine, which generates 310 hp and 272 lb-ft of torque
Sport Hybrid Motor 3-Motor System with 377 combined hp and 341 combined lb-ft of torque
7-speed dual-clutch transmission
10-speed sequential SportShift with paddle shifters
Variable Cylinder Management™
Agile Handling Assist®
Interior
Buy or lease a 2018 Acura RLX and relax in a comfortable yet connected cabin. Acura engineers have equipped the Acura RLX with standard perks like perforated Milano premium leather-trimmed sport seats and a leather-wrapped steering wheel. When Florida weather gets muggy and humid, you can stay cool and refreshed with available ventilated front seats. Slide into the driver's seat and stretch out your legs with 42.3 inches of front legroom, plus with two premium audio systems to choose from — the standard ELS Studio® Premium Audio System or the optional Krell® Audio System — everyone can rejoice when that perfect song comes on. Additional standard and available cabin amenities include:
On Demand Multi-Use Display™ with 7-inch color touchscreen
Heads-Up Display
GPS-linked tri-zone climate control
Acura Navigation System
Keyless Access System with Smart Entry
Voice recognition system
Safety
Striking and elegant all at once, the 2018 Acura RLX sedan is ready to captivate any crowd of onlookers. An all-new rear fascia is complemented by stunning taillights redesigned with LED "pipe" lighting that creates a bold look when you hit the brakes, while standard 19-inch noise-reducing wheels offer a bright finish. And although the Acura RLX is stunning in every sense, Acura engineers have made safety a priority with this new luxury sedan. AcuraWatch™, a comprehensive suite of driver-assistive technologies, comes standard in every Acura RLX. As a part of this all-encompassing package, you'll benefit from a Collision Mitigation Braking System™, Lane Keeping Assist System, Adaptive Cruise Control with low-speed follow and more. Your safety systems can include:
Road Departure Mitigation
Traffic Jam Assist
Jewel Eye® LED headlights
Multi-view rear camera with dynamic guidelines
Blind spot information system
Get behind the wheel of the 2018 Acura RLX or Acura Sport Hybrid when you visit Scanlon Acura. Test-drive this luxurious new Acura sedan and learn more about your Acura financing options while you're here.
*Based on 2018 EPA mileage ratings. Use for comparison purposes only. Your actual mileage will vary, depending on how you drive and maintain your vehicle, driving conditions, battery pack age/condition (hybrid only) and other factors.
Any MPG listed is based on model year EPA mileage ratings. Use for comparison purposes only. Your actual mileage will vary, depending on how you drive and maintain your vehicle, driving conditions, battery pack age/condition (hybrid only) and other factors.
The new hood has more character lines, and the new grille has a handsome diamond pattern. The grille and LED lighting resembles that on the MDX sport utility vehicle. In the rear, LED taillamps trace a ribbon of light around the corners. It's the most dramatic thing about the styling. There's also a rear diffuser in glossy black plastic. Liberal use of brightwork adds flash.
The styling is improved, but it's banal, resembling the last-generation Honda Accord. You have to park a 2018 RLX beside a 2017 RLX to recognize a difference. Competitors like the Audi A7 hatchback and Mercedes-Benz E-Class sedan flaunt extravagant curves to make the RLX forgettable.
Saftey
The Acura TLX is built with a myriad of safety features that reduce the risk of an accident while allowing you to maintain control of the car. Blind spot monitoring, lane keep assist, automatic emergency braking, and forward collision warning are useful to use while sitting in traffic or when driving in harsh weather conditions. It also received excellent ratings for side impact, roof strength, rear crash protection, and the moderate overlap front test.
The Acura RLX offers a Traffic Jam Assist feature, which pairs lane-keeping assist with adaptive cruise control, works best on straight routes with slow-moving traffic. A surround-view camera and front and rear sensors will allow you to have an extra set of eyes while parking or driving in traffic. Additional safety features include a forward-collision warning, adaptive cruise control, and a blind-spot monitor.
Driving
There's no doubt the RLX can move, but it's a smooth, civilized sprinter. A direct-injected 3.5L V-6 teams with three electric motors, enabling the RLX to leave surrounding vehicles in your rear-view mirror. 377 peak total system horsepower and 341 lb.-ft. peak total system torque will do that for you. (Acura claims this is its most powerful offering next to the NSX.)
Drivers looking to explore the RLX's Mr. Hyde side are in luck: Acura ships each model with Sport mode and a 7-speed transmission you can control using steering-wheel-mounted paddle shifters.
But the car never feels as though it's out of control. I know it's a marketing designation, but using the term "super-handling all-wheel drive" is also an honest way to describe the RLX's performance.
Note: This is a hybrid. That said, there are economy hybrids and performance hybrids. The RLX falls squarely in the latter category. The primary responsibility of the hybrid system in this car is to:
provide instant torque when you hit the accelerator
give the internal combustion engine time to catch up and keep the acceleration going.
It's a system that works in Acuras as well as Ferraris. In the RLX, this means instant torque and the smooth, unquestionable application of power at any time.
That said, the RLX is civilized. It provides a quiet ride thanks in part to all the noise-dampening features built into it. Any engine roar you hear you bring on to yourself by shifting late or using Sport driving mode.
Adaptive cruise control and low speed follow combine with lane-keeping technology to create Traffic Jam Assist. In other words, you may want to trust the car to handle the stress of stop-and-go traffic. (I didn't get to test this during the one week I actually wanted to get stuck in an automotive conga line.)
That's not to say you should let your hands drop from the wheel. The RLX flashed an orange message at me to keep steering when I did this. In my defence, why hands were millimetres away as I tested the car's lane-keeping abilities at speed.
The technologies behind Traffic Jam Assist are bundled into the AcuraWatch suite of safety and driver assistance technologies. Other parts of it include: Collision Mitigation Braking System™; Forward Collision Warning; and Road Departure Mitigation (RDM) with Lane Departure Warning (LDW).
Fuel economy
Acura claims city/highway/combined numbers of 8.4/8.2/8.4 L/100km. When I first got the vehicle, the onboard fuel economy monitor read 9.9. Sure, the engine turns off when stopped and when decelerating. I did what I could to coast to stops, even letting off the accelerator along main roads where I could to encourage the engine to shut down and have the wheels juice up the battery. I even used Normal drive mode most of the time instead of the higher-revving Sport mode.
My initial conclusion: 3.5L internal combustion engines will not be denied their thirst.
Finally, I reset the trip odometer (which resets the fuel economy average) just before a highway trip. I managed 7.1 L/100 km on that trip, allowing adaptive cruise to handle the pedals for most of the trip.
The RLX takes premium unleaded in its 57L fuel tank.