Acura RLX 2014
Acura RLX 2014
Компания Acura является дочерним предприятием японского концерна Honda. Расположено отделение в штате Калифорния, который находится в северной части Америки. Основная специализация компании — производство автомобилей спортивного типа, а также престижных представительских моделей.
На сегодняшний день компания Acura создаёт автомобили класса люкс, которые известны на мировом рынке роскошным дизайном и технологическими новшествами. Модернизация выпускаемых моделей направлена как на улучшение качества езды, так и на удобство и комфорт водителя.
И вот новый шедевр — Acura RLX 2014. Модель обладает 310 лошадиными силами под капотом и двигателем V-6 с прямым впрыском горючего. Производители с уверенностью заявляют, что автомобиль будет самым мощным, просторным и технологически инновационным среди седанов, которые сходят с конвейера компании. Американцы уже могут купить в 2013 году, а нам придётся подождать до следующего.
Видео – презентация 2012 в LA Auto Show
The 2014 RLX is Acura's new flagship sedan (replacing the departed RL). Befitting its flagship status, the mid-size RLX is endowed with high-end interior appointments along with the latest technology, including an optional and shockingly capable lane departure prevention feature. Wrapped in restrained but distinct bodywork, the RLX is roughly the same length as the old RL but thanks to a longer wheelbase Acura's ultimate sedan boasts segment-topping rear-seat legroom. Refined ride and handling, and a roomy, classy interior propel the RLX to heights of excellence never seen in its RL forebear. Whether that excellence will help the Acura RLX take meaningful market share from the dominant BMW 5 Series and Mercedes-Benz E-Class sedans remains to be seen.
In the ways luxury car buyers actually use their cars, the Acura RLX performs brilliantly. For long commutes or short jaunts, the suspension deftly smooths the road's imperfections. At the same time, the new electric steering system enables direct control of the vehicle while also filtering vibration and harshness that might otherwise reach the driver's hands. Further enhancing the dynamic experience is a standard all-wheel steering system and firm but communicative brakes. Acceleration from the 3.5-liter V6 is strong and smooth, aided by the well-spaced gears and silky shifts from the 6-speed automatic transmission. Amid the free-flowing praise we should also point out that the RLX is really quiet, thanks to a vibration-reducing active engine mount, an active noise reducing sound system, and on the Tech models and above, noise-reducing 19-inch wheels along with acoustic glass that further minimizes wind and engine noise.
P-AWS (PRECISION ALL-WHEEL STEERING)
All-wheel steering is the Pauly Shore of automotive technology, persistent yet rarely popular. Unlike Pauly, we're big fans of the RLX's P-AWS system, which independently adjusts rear-wheel toe angles up to two degrees either direction, noticeably improving vehicle agility and stability.
BRAKE HOLD
Do you ever wish your braking foot could take a brake? Then say hello to Brake Hold, a new feature that automatically holds the RLX in place when stopped. When the light turns green just press the gas pedal with your well-rested right foot and you're on your way!
Somebody once said "space is the ultimate luxury." Obviously that person never owned a yacht or enjoyed a private concert from Beyonce, but those who truly relish space will appreciate the ample rear-seat legroom and usable middle seat of the RLX. That roominess extends rearward to the spacious 15.3-cubic-foot trunk. The sedan's ample quarters are adorned in uplevel materials arranged in a contemporary but not excessively stylized layout while the dash is cleanly arranged featuring intuited climate controls, a 7-inch haptic-feedback touchscreen featuring large icons, and switchgear that moves with a premium feel.
Design is always subjective but to our eyes the 2014 Acura RLX looks a little plain. That's not to say effort wasn't spent injecting style into the sedan. Along the sides, you'll find tasteful body sculpting while the RLX's face is dominated by intricate headlights, each containing a whopping 10 LED lighting elements that we're told (and believe) improve visibility for the driver. Though roughly the same length as the RL it replaced, the 2014 RLX is nearly two inches wider helping facilitate a slightly roomier interior.
Among the Acura RLX's abundant standard features are a moonroof, capless fuel filler, tri-zone climate control, power tilt and telescoping steering wheel, heated front seats, and a 10-speaker audio system. Tech features include a 7-inch touchscreen, an 8-inch information screen, Bluetooth connectivity and keyless entry with push-button start. Adding to the safety of the RLX sedan are seven airbags, including a driver's knee airbag supplemented by advanced driver aids like forward collision warning and lane departure warning.
Options for the 2014 RLX are divided into packages, each including the features of the package beneath it. First up is a voice-activated navigation system that includes AcuraLink, which bundles smartphone-like functionality, real-time news and information, a concierge service, and accident notification. Next is the Technology Package that adds leather seats, power-retractable side mirrors, acoustic glass and 19-inch noise-reducing wheels. The Krell package piles on with a Krell "ultra-premium" 14-speaker audio system and rear sunshades, while the top-tier Advance Package overflows with adaptive cruise control, heated rear seats, ventilated front seats, lane-keeping assist, parking sensors, and other niceties.
An all-wheel-drive hybrid Acura RLX will be introduced in due time, but for now the only powertrain choice is a 3.5-liter V6 spinning the front wheels. The sole transmission choice is a 6-speed automatic featuring steering wheel-mounted paddle shifters for manual control. Pushing the RLX's «sport mode» button inspires the sedan to sportier shift behavior, throttle sensitivity, steering response, and operation of the P-AWS system for an enhanced sense of driver control. To help maximizing engine efficiency the V6 features direct injection along with the ability to run in fuel-saving 3-cylinder mode at low engine loads, supported by an active engine mount that reduces vibration when it does.
3.5-liter V6
310 horsepower @ 6,500 rpm
272 lb-ft of torque @ 4,500 rpm
EPA city/highway fuel economy: 20/31 mpg
The base 2014 Acura RLX has a starting price of $49,345 including destination, rising to $61,345 for the very well-equipped RLX Advanced Package. With the exception of the similarly priced Lexus GS, the 2014 RLX sedan handily undercuts competitors including the BMW 5 Series, Audi A6 and Mercedes-Benz E-Class when comparing models that match the RLX's horsepower. However, one of the RLX's biggest competitors comes from within Acura's gates. For about $44,000, you could also buy a fully loaded Acura TL with nearly identical interior space, a slight 5-horsepower deficit, and Acura's super-handling all-wheel drive. Something to think about. And while you're thinking be sure to check the Kelley Blue Book Fair Purchase Price for the most up-to-date pricing of the Acura RLX in your area. As for resale values, Acuras tend to hold their value well over the long haul, a trend we expect to carry on with the RLX.
Sunroof/Moonroof, Heated Seats, Cooled Seats, Backup Camera, Navigation/GPS/Nav, Bluetooth, Leather Seats, Adaptive Cruise Control, Alloy Wheels, Brake Assist/Emergency Braking, Heated Steering Wheel, HomeLink/Garage Opener, Keyless Start/Push Button Start, LED Headlights, Lan.
$3,539 Below Market
Warranty Booklets
Audio, navigation and/or hands-free phone system software updates are available for the following vehicles:
2015 MDX 1

Vehicles with the Acura Navigation System;
Purchased or leased before November 1, 2014; and
Two Wheel Drive (2WD) models with the VIN ending in 000001 through 007999; or
All Wheel Drive (AWD) models with VIN ending in 00001 through 019273

2015 TLX 2

Vehicles with the Acura Navigation System;
Purchased or leased before November 1, 2014; and
4 cylinder (L4) models with the VIN ending in 000001 through 006684; or
V6 2WD models with VIN ending in 00001 through 008994; or
V6 AWD models with VIN ending in 000001 through 001413
Please contact any authorized Acura dealer to determine if your vehicle is eligible for an update and to schedule a software update appointment. The update process may take approximately two hours and will be performed free of charge through November 1, 2015.
If you have questions about software updates or need assistance with locating an Acura dealer, you may contact Acura Client Relations at (800) 382-2238 or use the dealer locator to find your dealer.
1 MDX 2WD and AWD VINs begin with 5FRYD3 and 5FRYD4, respectively.
2 TLX L4, V6 2WD, and V6 AWD VINs begin with 19UUB1, 19UUB2, and 19UUB3, respectively.
Discuss: 2014 Acura RLX review: High-tech sedan suffers from confusing interface
Be respectful, keep it civil and stay on topic. We delete comments that violate our policy, which we encourage you to read. Discussion threads can be closed at any time at our discretion.
Roadshow
Acura
2014 Acura RLX
One of the bigger challenges facing automakers in recent years has been making usable and safe interfaces for navigation, stereo, and hands-free phone systems. With the 2014 RLX, Acura shows off its latest attempt at tackling the interface challenge, but ends up with a kludgey design that will leave drivers frustrated.
The RLX replaces the company's RL model as its flagship sedan, and incorporates enough changes to warrant a different model name. It successfully ups Acura's luxury quotient through the use of more quality interior materials and new technologies, yet still does not quite feel up to the big luxury of a Mercedes-Benz S-class or a Lexus LS 460 .
However, it is not as pricey as those models, either, putting it in a near-luxury class with new contenders such as the Kia Cadenza .
Подводим итоги
Acura RLX sedan смотрится действительно эффектно на дороге. Конечно, это не такой популярный бренд, как BMW, Mercedes-Benz, Audi и так далее, тем не менее он составляет им неплохую конкуренцию, прежде всего благодаря хорошему техническому оснащению, прекрасному внешнему виду, какой можно назвать оригинальным и роскошным и в то же время сдержанным стилем интерьера. Довольно резвый мотор позволит чувствовать себя комфортно при крутых подъемах и обгонах на дороге.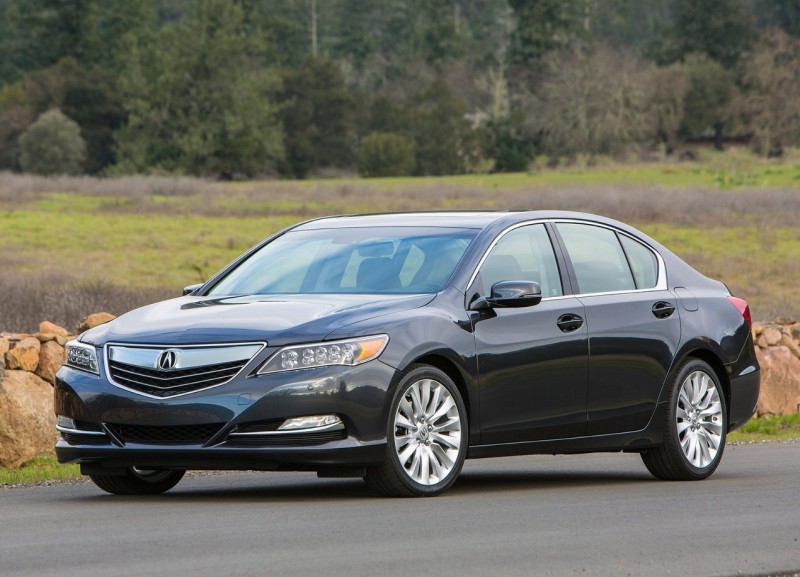 Советуем Вам прочитать статью: История компании Acura
2014 Acura RLX 4dr Sdn FWD Tech Pkg
This vehicle has no accidents, no repaints, is certified and reconditioned, oil changed and detailed, extended warranty is available, and you are welcome to take any our vehicles for a mechanical inspection. Carfax report is available on all vehicles. Our sales manager Michae.
2 109 $ Inférieur au prix du marchê
Acura RLX is bigger than the old RL. It's longer than the Mercedes-Benz E-Class, BMW 5 Series and Audi A6, and it's wider than all but the E-Class. The Acura rides on a slightly shorter wheelbase, however.
The Acura engineering team cites gains in body shell rigidity, thanks to extensive use of hot stamped high strength steel in selected areas, and in the finished product conveys a sense of praiseworthy solidity.
An aluminum hood, doors and decklid save about 76 pounds in the body-in-white. However, with curb weights that range from 3933 to almost 4000 pounds, the RLX is generally heavier than the three German sedans.
The 2014 RLX sports a new double wishbone suspension system up front, and a new multilink arrangement at the rear designed, of course, to accommodate P-AWS.
There's also a new capless fueling system, a la the technique pioneered by Ford. When it functions properly (i.e., no leakage), as was the case on our test car, this feature eliminates the ugly sight of a forgotten fuel cap flapping in the breeze, eventually to detach itself entirely. It's easy to use: Open fuel door, insert fuel filler, close fuel door. If you forget the latter step, the system won't mind and won't dribble.
With its longer wheelbase and fractional reduction in overall length, the proportions of the RLX have an athletic look, and the jewel-eye LEDs lend a bit of distinction to the front end as well as a lot of lumens to navigating dark country byways. But in the main, the RLX follows the Honda/Acura design philosophy of timeless styling, a conservative look, low on flash, but long on staying power.
2014 Acura RLX Sport Hybrid SH-AWD: The Most Powerful and Technologically Advanced Vehicle in Acura History to be Showcased at LA Auto Show
November 18, 2013, U.S.A.
TORRANCE, Calif., U.S.A., November 18, 2013 — The 377-horsepower Acura RLX Sport Hybrid SH-AWD luxury-performance sedan will be on public display for the first time this week at the Los Angeles International Auto Show, showcasing Acura's dynamic new three-motor hybrid system.
2014 Acura RLX Sport Hybrid
2014 Acura RLX Sport Hybrid
The 2014 Acura RLX Sport Hybrid SH-AWD, which launches next spring, is the first vehicle to deploy Acura's new three-motor hybrid powertrain technology. The system combines a highly efficient, direct-injected V-6 engine with an all-new, Acura-designed, 7-speed dual clutch transmission with built-in electric motor and an electrically powered variant of Acura's highly regarded torque-vectoring Super Handling All-Wheel Drive (SH-AWD).
This advanced new hybrid powertrain delivers exhilarating driving performance with incredibly responsive power delivery and precise, sure-footed handling performance like no other vehicle in its class. Supported by the instantaneous torque delivered by its high-output electric motors, the RLX Sport Hybrid runs a 0-60 mph time comparable with competitor's V8-powered machines. This performance, however, is coupled with a 28/32/30mpg (city/highway/combined) EPA fuel economy rating1, which is in the range of 4-cylinder-powered luxury sedans.
Powertrain and Drivetrain
The RLX Sport Hybrid's 3.5-liter, 310-horsepower, i-VTECВ® V-6 engine with Variable Cylinder Managementв"ў (VCMв"ў) includes an idle-stop feature to help maximize fuel efficiency. The engine is mated to an all-new, 7-speed dual clutch transmission with built-in electric motor. In automatic mode, the transmission provides highly responsive and intuitive gear selection, including matching engine revs during downshifts, in manual mode, the Sequential SportShift paddle shifters give the driver gear selection control to make virtually seamless ratio changes.
The electric SH-AWD system on the RLX Sport Hybrid eliminates the conventional drive shaft and rear differential, replacing them with two high-output 27-kilowatt electric motors. The rear motors dynamically distribute both positive (drive) and negative (regenerative braking) electric-motor torque, depending on driving conditions, and which torque vectoring assists in cornering. The system is further aided by a 35-kilowatt front electric motor that supplements engine torque to the front wheels and provides regenerative brake torque to charge the vehicle's 260-volt lithium-ion battery pack.
Body and Chassis
With a longer wheelbase and wider greenhouse than competing mid-luxury sedans, the RLX Sport Hybrid SH-AWD delivers full-size interior space in a nimbler, mid-size luxury sedan package. The RLX boasts the longest rear-seat legroom (38.8 inches), and best front (59.6 inches) and rear (57.0 inches) shoulder room in the mid-luxury class. The RLX advanced body design makes extensive use of high-strength steel and aluminum, further aiding its outstanding fuel efficiency, straight-line performance and superior handling agility.
In front, the RLX's double-wishbone, lower double-joint front suspension with Amplitude Reactive Dampers significantly improves handling agility, driver confidence and security, and ride sophistication. In back, the RLX's multi-link rear suspension is optimized for a flat ride during cornering, confident turning capability, and a smooth ride in a variety of urban, highway and open road scenarios.
Technology
Acura technology firsts on the 2014 Sport Hybrid also include the Acura electronic gear selector and Acura Head-Up Display System. The Acura electronic gear selector replaces the conventional, center console-mounted shift lever with an efficiently packaged push-button array that allows the driver to easily select the desired drive mode—Park, Drive and Reverse, as well as Sport and Normal driving modes. The Acura Head-Up Display System provides the driver with at-a-glance access to key driving information projected on the windshield. Display modes include Sport Hybrid system operation, turn-by-turn navigation, speedometer and compass, as well as alerts from various driver-assistive systems.
The RLX Sport Hybrid SH-AWD features Acura's signature Jewel Eyeв"ў LED headlights, which offer outstanding light distribution and excellent down-the-road illumination performance and light characteristics. The RLX taillights utilize periphery LED illumination that is both effective and highly distinctive.
With the expanded range of standard and available technology features built into the RLX, substantial engineering effort was put into making each feature intuitive and easy-to-use. The focal point of the new instrument panel is a large, 8-inch color screen that combines audio/information and navigation functions and provides access to an array of customizable features. An additional 7-inch color On Demand Multi-Use Displayв"ў (ODMD) touchscreen is positioned within easy reach and controls the audio system and many other features.
Audio and Connectivity
Exceptional audio performance has long been an Acura hallmark, and in the RLX Sport Hybrid SH-AWD, two audio systems are offered. The Technology package includes the Acura/ELS StudioВ® Premium Audio System with an advanced 14-speaker array. In the Advance package, the 14-speaker Krell system — with speakers and amplifiers engineered by Krell, one of the most respected audio companies in world — sets a new benchmark in automotive audio performance.
The RLX is equipped with the next-generation AcuraLinkВ® cloud-based connected car system, delivering a comprehensive array of media, convenience, and security services via embedded two-way communications and web-enabled devices. AcuraLinkВ® leverages PandoraВ® interface for streaming audio and the Ahaв"ў by Harman cloud-based interface to provide users with thousands of customizable cloud-based news, information and media feeds. The next-generation AcuraLinkВ® also delivers an array of available, subscription-based, security and convenience features, such as AcuraLink Real-Time Trafficв"ў featuring freeway traffic and, for the first time, surface street traffic information.
Safety and Driver-Assistive Technologies
The new RLX Sport Hybrid SH-AWD offers an extensive array of advanced safety, visibility and driver-assistive technologies that put the RLX on the leading edge of collision avoidance and assisted driving capability. Standard and features include a Multi-Angle Rearview Camera, Collision Mitigation Braking System (CMBS), Forward Collision Warning (FCW) and Lane Departure Warning (LDW), along with Lane Keeping Assist System (LKAS), Adaptive Cruise Control with Low-Speed Follow and Blind Spot Information (BSI) system.
Utilizing Acura's next-generation Advanced Compatibility Engineeringв"ў (ACEв"ў) body structure, along with seven airbags (including a driver's knee airbag), the RLX Sport Hybrid SH-AWD is anticipated to earn top-level safety ratings, including a 5-star NCAP Overall Vehicle Score and an IIHS «TOP SAFETY PICK+» rating, plus a GOOD rating in the IIHS small overlap front collision test.