Acura RDX 2016-2017; на пути к совершенству
Acura RDX 2016-2017 — на пути к совершенству
Acura является отделением довольно известного концерна Honda. Немного вдаваясь в историю, напоминаем, что Acura RDX 2013 была представлена на мотор-шоу 2013 в Детройте. Это при всём том, что в то время она уже полным ходом продавалась в Штатах с весны 2012 года. Рестайлинговый Acura RDX 2016 года был предемонстрирован на Чикагском автосалоне 12 февраля в 2015 году.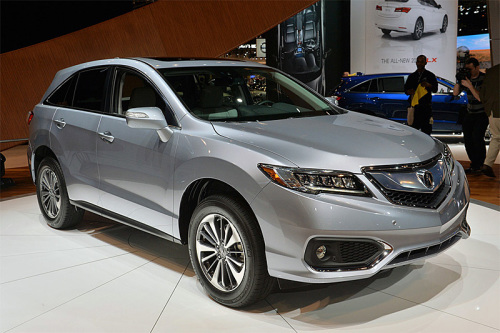 Новый кроссовер Акура РДХ 2016-2017
Второе поколение добавило в свой стиль динамики и современности главным образом за счет доработки кузова.После рестайлинга модель стала еще на порядок роскошнее и комфортнее и получила некоторые совсем новые опции и функции.
Экстерьер обновлённого Acura RDX
В сравнении с предшественником, обновлённый RDX получил незначительные внешние изменения, большее количество которых пришлась на фронтальную часть автомобиля. Так, кроссовер получил совершенно новую и полностью светодиодную головную оптику (Jewel Eye), которая доступна уже в базовом варианте исполнения.
Помимо этого, передок машины получил слегка видоизменённую фальшрадиаторную решётку, а также новый массивный передний бампер со стильными лампами противотуманок и оригинальными вставками, имитирующими воздуховоды. Профиль кроссовера, как и ранее, имеет много общего с моделью Honda CRV и выделяется крупными колёсными арками, высокой подоконной линией, а также оригинальными выштамповками вдоль боковых дверей.
Массивная корма обзавелась новыми светодиодными габаритными огнями с 3D-эффектом, а также строгим бампером со стильным диффузором и светоотражателями. Как и ранее, на месте большая дверь багажного отсека, обеспечивающая удобную погрузку и выгрузку поклажи.
В целом, внешний облик автомобиля стал более динамичным и агрессивным, что полностью соответствует внешнему облику последних поколений моделей MDX, ILX и TLX.
Габаритные характеристики новинки:
Длина – 4,66 м;
Высота – 1,678 м;
Ширина – 1,872 м;
Колёсная база равна 2,685 м.
Несколько увеличился клиренс кроссовера, который отныне составляет 205 мм и позволяет автомобилю с лёгкостью штурмовать бордюры, а также уверенно чувствовать себя при езде по пересечённой местности и лёгкому бездорожью.
Как и предшествующее поколение, новый RDX предлагает семь вариантов расцветки кузова, а также опциональную возможность установки легкосплавных дисков R19 (базово на машине установлены диски R18).
Интерьер новой Acura RDX 2017 модельного года
Acura RDX имеет удобный и приятный салон, центральные элементы управления расположены чуть ближе к водителю, но в целом конструкция симметрична и все элементы легко найти на интуитивном уровне. Внутреннее пространство лучше всего подходит для двух взрослых пассажиров и двух меньших на задних сиденьях. Свою базовую структуру RDX разделяет с Honda CR-V, что выражается в компактности. Передние сиденья удобны, имеют восемь регулируемых позиций. В прошлом году RDX был обновлен серебристым и черным покрытием, подогревом передних сидений и отверстиями для кондиционирования второго ряда сидений. Низко расположенная погрузочная площадка позволяет легко помещать багаж в RDX. Аудиосистема Acura ELS настолько удачно инженерно сконструирована и тонко настроена, что даже не нуждается в большом количестве динамиков для обеспечения невероятного звучания, и цена ее вдвое меньше.
Видео тест-драйв Акура РДХ 2017
Неизменные габариты и разнообразие цветовых решений
Несмотря на то, что внешний вид кроссовера преобразился, на его габаритах это не сказалось, так что размеры дорестайлинговой модели актуальны им для автомобиля 2017 модельного года. Стоит отметить и то, что японский бренд сохранил весьма разнообразный ассортимент окрасов кроссовера. Автомобиль представлен в семи цветовых решениях, среди которых не только традиционные белый и черный, но и более оригинальные оттенки:
темное и светлое серебро;
темный красный;
темный коричневый;
благородный серый.
Цены и конкуренты
Базовая цена Acura RDX 2017 с передним приводом составляет 35 270 долларов. Пакет AcuraWatch ™ Plus добавляет к цене еще 1 300 долл. Вариант с технологическим пакетом оценивается в 38 970, а если вы захотите объединить оба пакета, то придется заплатить 40 270 долларов. Пакет Advance доступен за 41 920 $. Мы рассмотрели все ценовые категории на версии с переднеприводной системой.
Стандартная модель с полным приводом стоит 36 770 долларов, с AcuraWatch ™ Plus 38 070 $, с пакетом Technology 40 470 $. За полный привод и оба пакета необходимо заплатить 41 770 долларов, а за пакет Advance нужно выложить самую большую сумму в 43 420$.
Среди конкурентов модели выделим Ауди Кью 5, который действительно теряет немного с точки зрения ценообразования, поскольку стартует с 39 300$, но он лучше с точки зрения вариантов, имеет стандартный привод на все колеса, и общее признание бренда. К слову, подробный обзор о модели Audi Q5 ищите на сайте 2017god.org.
Lincoln MKC это немного темная лошадка в этой гонке, так как он сидел в середине класса с точки зрения продаж в 2014 году, но это была совершенно новая модель в линейке, которая все еще пытается найти почву под ногами. С точки зрения ценообразования, MKC является выгодным по цене 33 100 $, но он был омрачен посредственностью в последние годы.
Acura действительно необходимо действовать осторожно с новым Acura RDX 2017, поскольку делает его слишком сумасшедшим, что может прогнать покупателей прочь, и позволить Q5 расправить крылья. Думается, что Acura на правильном пути, пресс-релиз уже сформулированный, но на самом деле трудно сказать, что японский автопроизводитель имеет туз в своем рукаве.
(2 votes, average: 5,00 out of 5)
Small overlap front: driver-side
Rating applies to 2016-18 models
Tested vehicle: 2016 Acura RDX 4-door 4wd
The Acura RDX was redesigned for the 2013 model year. Beginning with 2016 models, the RDX was re-engineered with front-end and occupant compartment structural modifications to improve occupant protection in both small overlap and moderate overlap frontal crashes.
Action shot taken during the small overlap frontal crash test.
The dummy's position in relation to the door frame, steering wheel, and instrument panel after the crash test indicates that the driver's survival space was maintained well.
The frontal and side curtain airbags worked well together to keep the head from coming close to any stiff structure or outside objects that could cause injury.
The driver's space was maintained well, and risk of injuries to the dummy's legs and feet was low.
Measures of occupant compartment intrusion on driver side
Test ID
CEN1529
Lower occupant compartment
Lower hinge pillar max (cm)
5
Footrest (cm)
4
Left toepan (cm)
6
Brake pedal (cm)
8
Parking brake (cm)
13
Rocker panel lateral average (cm)
2
Upper occupant compartment
Steering column
1
Upper hinge pillar max (cm)
4
Upper dash (cm)
1
Lower instrument panel (cm)
4
Driver injury measures
Test ID
CEN1529
Head
HIC-15
202
Peak gs at hard contact
no contact
Neck
Tension (kN)
2.0
Extension bending moment (Nm)
16
Maximum Nij
0.32
Chest maximum compression (mm)
19
Femur (kN)
Left
1.6
Right
0.0
Knee displacement (mm)
Left
1
Right
Knee-thigh-hip injury risk (%)
Left
Right
Maximum tibia index
Left
0.56
Right
0.66
Tibia axial force (kN)
Left
1.4
Right
1.7
Foot acceleration (g)
Left
52
Right
59
Drivers in the market for a crossover SUV that will give them more confident handling and sure footing on the road, all while still enjoying strong fuel economy, will want to opt for the Acura RDX's available All-Wheel Drive with Intelligent Control System™.
This smartly designed system maintains operation in front-wheel drive mode during normal cruising conditions with all torque being sent to the front wheels. When you accelerate moderately, up to 40 percent of torque can be sent to the rear wheels, and when you're experiencing road conditions with poor traction, up to 50 percent of torque can be sent to the rear wheels. All of this helps the Acura RDX achieve a noteworthy EPA-estimated 27 mpg highway and 19 mpg city with all-wheel drive, just one mile per gallon shy of the front-wheel drive version, which gets 28 mpg highway and 20 mpg city*.
What's New for 2017?
Acura did not make any changes to the new RDX. Last year, the crossover received quite a few updates.
Top 10 Reasons to Buy a 2017 Acura RDX – The Pros
1) Potent Performance
Instead of downsizing to a turbocharged four-cylinder engine, the 2017 Acura RDX continues to offer a beefy V-6 engine. It pumps out a solid 279 horsepower and 252 pound-feet of torque. You will love the smoothness of the crossover's six-speed automatic transmission. A 0-60 time of 6.4 seconds puts the RDX among the quickest SUVs in its class.
2) Good Gas Mileage
The 2017 Acura RDX returns outstanding gas mileage for such a powerful vehicle. Drivers can expect to get 20 mpg in the city and 28 mpg on the highway. Whether you are commuting to work or taking a long-distance road trip, you can look forward to saving money at the fuel pump. Cylinder deactivation technology comes standard.
3) Responsive Driving Dynamics
While behind the wheel of the new RDX, drivers will appreciate its overall responsiveness. You will always have plenty of muscle under the hood. The crossover also offers predictable handling. It drives more like a hatchback, which gives you a greater sense of control on the road. A precise steering system gives the RDX an additional fun factor.
4) Good Performer in the Snow
While front-wheel drive comes standard, the optional AWD system will benefit the drivers who must face wintry weather. When tested in the snow, the RDX performed quite well. The crossover's extra ground clearance gives it an advantage over an AWD sedan. Acura engineered the AWD system to automatically respond to slippery road conditions.
5) Smooth & Quiet Ride
Your family will grow to appreciate the RDX's smooth ride. The suspension system quietly absorbs bumps in the road. They will also like the crossover's quiet interior. When traveling at highway speeds, you will barely hear any wind noise. Because of the cabin's serene atmosphere, the RDX is the ideal vehicle for taking your family on a vacation.
6) Sporty Yet Refined Styling
There are plenty of drivers who will adore the RDX's handsome styling. Like most of today's other Acura vehicles, the RDX flaunts a striking pair of Jewel Eye headlights. The small crossover demands attention without being overly flashy. A sporty set of 18-inch wheels and a rear spoiler come standard. Fog lights are available as an option.
7) Room for Five
Despite the RDX's compact design, it manages to provide enough room for up to five passengers. Everyone in your family will be rewarded with plenty of legroom. Owners give the RDX high marks for its supportive seats. With about 26 cubic feet of cargo space in the back, you will be able to pack some extra gear when necessary.
8) Value-Packed Trim Packages
Expect to pay around $35,670 for a base 2017 Acura RDX. Some of the standard equipment includes a power tailgate, a media player interface, and satellite radio. When equipped with upgrades such as a premium ELS sound system and leather upholstery, the RDX rivals the luxuriousness of a German crossover while demanding less money.
9) Great Impact Protection
The 2017 Acura RDX was able to obtain a superb, five-star safety rating. No other crossover in the class provides a higher level of impact protection. Your family will be able to travel with an extra peace of mind. All versions of the RDX benefit from a rear-view camera and a responsive braking system. Meanwhile, the optional blind-spot monitor is a worthy upgrade.
10) Impressive Reliability Scores
Acura produces some of the most reliable vehicles on the market. You can expect the 2017 Acura RDX to deliver a trouble-free performance for many years to come. Even after surpassing 100,000 miles, the RDX should remain a dependable vehicle. The crossover's build quality is exceptional.
To avoid overpaying on a new car, shop prices online first. Get up front pricing before you walk into a dealership. We recommend the following free services; Car Clearance Deals, CarsDirect & MotorTrend.
These free services will offer you the lowest prices and supply you with multiple competing price quotes. You will know the best price before you visit the dealer.
Reasons Not to Buy a 2017 Acura RDX – The Cons
1) Some Advanced Safety Technologies Don't Perform Well
Unfortunately, some of the RDX's optional safety features deliver a subpar performance in the real world. According to test drivers, the adaptive cruise control system is too erratic. On the other hand, the forward collision warning system is overly sensitive. These safety features could become quite annoying over time.
2) Forgettable Dual-Screen Infotainment System
The standard infotainment system is actually more user-friendly than the optional dual-screen system. A lot of drivers will find the upgraded infotainment system to be a bit confusing. Furthermore, the system is often slow to respond.
3) Not a Good Choice for Towing
In the event that you need to pull a heavy item such as a boat or camper, the 2017 Acura RDX will not get the job done. It has a low towing capacity of only 1,500 pounds. Consider shopping for a larger crossover if you must tow a hefty load.
How it stacks up to the competition:
The 2017 BMW X3 and the 2017 Jaguar F-Pace compete against the Acura RDX. When it comes to reliability, the RDX easily outclasses these European rivals. Both the BMW X3 and the Jaguar F-Pace will be more costly to maintain. Furthermore, the Acura RDX has the most affordable price tag.
Automotive journalists have chosen the 2017 Acura RDX as one of their favorite small crossovers. Its solid construction and pleasing performance make it a top pick. Good fuel economy is yet another one of the RDX's selling points. If you don't desire any additional luxuries, the base RDX should keep you happy.
Technology Features
As premium-level Acura vehicles, both the RDX and the MDX are loaded with luxury features designed to make your life simpler and more comfortable. Let's start with the things they both have—a dual-screen infotainment center, Bluetooth streaming audio, power outlet, USB device connector, Siri Eyes Free compatibility, and available navigation. They also include a host of safety capabilities like a collision mitigation braking system, lane-departure warning system, and forward collision warning, to name just a few. The MDX has a few offerings that might make it more attractive as a family SUV, including an available rear-seat DVD entertainment system, rear-window sunshades, and heated rear seats.
2017 Acura RDX AWD With Advance Package Review
The Bottom Line
The 2017 Acura RDX AWD With Advance Package remains a powerful, comfortable small luxury crossover, but its tech offerings are getting long in the tooth.
Tried-and-true V6 power.
Composed handling and quiet ride.
Class-leading premium audio.
Lots of standard driver assists.
In-dash tech lags behind rivals.
Dated, non-connected navigation.
The Acura RDX may not be the sexiest or sportiest small luxury crossover on the market, yet for many car shoppers, it has long hit a sweet spot between practicality and luxury. Since the 2016 model received a significant refresh that added much needed driver assists to bring it up to speed with rivals, the 2017 Acura RDX gets only a few minor updates, including some new interior and exterior colors. The fuel-efficient but powerful V6 engine in the Acura RDX AWD With Advance Package we tested remains a big draw, along with a comfortable, well-appointed interior and extensive standard features. Unfortunately, the RDX still lags behind most competitors in the segment in terms of connectivity.
How Much?
The 2017 Acura RDX starts at $35,370 for the base model and climbs to $43,520 for the top-of-the-line AWD With Advance Package that we tested. As with other Acura vehicles (and its Honda cousins), the RDX trim levels include features that most other automakers bundle into option packages. The fully loaded RDX we tested, for example, doesn't cost much more than the base version of rivals like the BMW X3 and the Mercedes-Benz GLC-Class. With a $940 destination charge, the final sticker came to $44,460.
What Does It Come With?
The 2017 Acura RDX AWD With Advance Package ($44,460.00 at Truecar) comes with a 3.5-liter, 279-horsepower V6 engine and a six-speed automatic transmission. Standard features include 18-inch wheels, 5-LED «jewel» automatic headlights, LED taillights, fog lights, heated and auto-dimming side mirrors with integrated turn signals, a power sunroof and liftgate, keyless ignition and entry, dual-zone automatic climate control, heated and ventilated eight-way power front sport seats, leather upholstery, a leather-wrapped tilt-and-telescoping steering wheel, automatic wipers, and remote starting.
Standard driver assists (that are part of the AcuraWatch Plus and other option packages on lower trim levels) adds adaptive cruise control, forward collision mitigation with automatic braking, lane departure warning and intervention, blind spot monitoring, and front and rear parking sensors.
Similar Products
2016 Honda HR-V EX-L Navi
2016 Hyundai Tucson Limited AWD
2016 Volkswagen Beetle Dune
2016 Honda Accord Sport
2016 Subaru Outback 2.5 Limited
2017 Ford Escape SE 4WD
2016 Chevrolet Malibu Premier
2016 GMC Sierra 1500 Crew Cab SLT
2016 Hyundai Sonata Hybrid Limited
2016 BMW X5 xDrive40e
The infotainment system consists of an 8-inch screen at the top of the dash, a 7-inch touch-screen mid-dash, AM/FM HD Radio, Pandora and Aha Internet Radio integration, a USB port, Bluetooth for phone and audio, navigation, voice commands, Siri Eyes Free, and a 10-speaker ELS surround sound system.
2017 Acura RDX AWD
How's the Tech?
When we reviewed the 2015 Acura RDX ($40,890.00 at Truecar) , we noted that its in-dash technology was behind the times, with only Pandora available for in-dash apps. The 2017 RDX adds Aha Radio, which isn't a big improvement, and it only worked intermittently in testing.
And while the AcuraLink telematics system now includes a remote smartphone app to lock and unlock the doors, get maintenance info, and more, so does almost every other competitor. The navigation system graphics are also very dated and there's no connected search, although destinations found online from a computer or smartphone can be sent to the system.
One nice update is that the bunch of buttons and knobs and single-line monochrome LCD in the center of the dash in the older RDX has been replaced with a 7-inch touch-screen that features icons that can be easily rearranged. And one of our favorite features from the old RDX has been carried over here: the sweet-sounding ELS audio system, which offers best-in-class audio performance.
2017 Acura RDX AWD
How Does It Perform?
While many competitors have moved to a turbocharged 4-cylinder engine, Acura has stuck with a V6 for the Acura RDX for years now, slightly boosting its horsepower. Like the audio system, this is another instance in which staying with a tried-and-true solution is a smart move.
The 279-horsepower V6 engine propels the vehicle quickly and quietly, and has an aggressive exhaust note at high rpm that can't be coaxed from most 4-cylinder engines. The six-speed automatic transmission is also a bit of a throwback in a segment with 8- and even 9-speed automatics, but it shifts smoothly and effortlessly. And while not as sporty as European rivals, the combination of composed handling and a quiet and comfortable ride make the RDX just right for all but the most performance-minded drivers.
Should I Buy It?
Despite its lag in connected tech, there's a reason that the Acura RDX has remained one of the best-selling small luxury crossovers since its debut a decade ago. Its powerful yet fuel-efficient engine appeals to a wide swath of shoppers, while its cozy and roomy interior is among the best in the segment. And that you can get plenty of decent bells and whistles—if not the latest and greatest ones—at a competitive, all-inclusive price makes the 2017 RDX With Advance Package a strong choice in its class. If you want more up-to-date tech in a slightly less expensive package, the 2016 Toyota RAV4 SE ($37,022.00 at Truecar) uses one of our favorite infotainment systems, Toyota Entune.