Audi RS4 Avant 2018: 450-сильный универсал
Audi RS4 Avant 2018: 450-сильный универсал
Универсал Audi RS4 Avant с 450-сильным бензиновым битурбомотором V6 2.9 добрался до российского рынка спустя более чем пол года после мировой премьеры в рамках Frankfurt Motor Show 2017 года.
В России цена на новый Audi RS4 Avant 2018-2019 модельного года с 450-сильным мотором от Porsche Panamera, 8 АКПП и системой постоянного полного привода quattro стартует с отметки в 5437,442 тыс. рублей, без учета стоимости опции способных поднять цену до 6,5 млн. рублей. К слову, в Германии стоимость универсала Audi RS4 Avant составляет от 80700 евро.
Универсал Ауди РС4 Авант является уникальным предложением на российском рынке в классе D+, больше ни один из производителей не предлагает «заряженных» автомобилей с данным типом кузова. Мощные, агрессивные и быстрые седаны и купе — пожалуйста – 431-сильное купе BMW M4, седан Mercedes-Benz AMG C 63 и Mercedes-Benz C 63 AMG Coupe с моторами мощностью 476 лошадок и 510 сил для S-модификаций, 477-сильное купе Lexus RC F. А вот 5-дверных универсалов нет, и новый Audi RS4 Avant, таким образом, своей уникальной персоной заполнил нишу.
За что же немецкая компания Audi AG просит столь фантастическую сумму почти в 5438 тыс. рублей? Новый Audi RS4 Avant — это не только фантастически стильный внешне автомобиль с шикарным салоном, наполненным массой супер современного оборудования, но и отменная техническая начинка, с которой и начнем наш обзор.
Технические характеристики Audi RS4 Avant 2018-2019
Под капотом «заряженного» немецкого универсала установлен бензиновый турбо мотор, созданный мотористами компании Porsche. Это V6 biturbo EA839, прописавшийся также в моторных отсеках Porsche Panamera и Audi RS5 Coupe. Шести цилиндровый 2.9 TFSI (450 лс 600 Нм) трудится в компании с 8 АКПП, передающей тягу всем колесам, в наличии система постоянного полного привода quattro с межосевым дифференциалом Torsen. Мощный двигатель, быстрая автоматическая коробка передач и полный привод обеспечивают универсал со снаряженной массой кузова в 1795 кг отменными динамическими и скоростными характеристиками. От 0 до 100 кмч авто разгоняется за 4,1 сек, максимальная скорость 250 кмч (при наличии RS dynamic стрелка спидометра достигает 280 км/ч). Заявленный производителя средний расход топлива 8,8 литра на 100 км пути.
В отличии от стандартного универсала Audi A4 Avant «заряженный» 5-дверный универсал Audi RS4 Avant получил заниженное на 30 мм шасси со спортивными амортизаторами и укороченными пружинами (в качестве опции доступны адаптивные амортизаторы Dynamic Ride Contro), более острое рулевое управление. За доплату предлагаются также углеродокерамические тормоза и электронно управляемый активный задний дифференциал.
Размеры
Внешние габаритные размеры кузова Audi RS4 Avant 2018-2019 года составляют 4781 мм в длину, 1866 мм (с учетом наружных зеркал заднего вида 2022 мм) в ширину, 1404 мм в высоту, с 2826 мм колесной базы.
Колес передних колес — 1580 мм, колея задних колес — 1575 мм.
Длина переднего свеса кузова – 918 мм, длина заднего свеса кузова – 1037 мм, погрузочная высота пола багажного отделения – 600 мм.
Универсал Ауди РС4 Авант стандартно комплектуется 19-дюймовыми кованными из алюминия колесными дисками с шинами 255/35 R19, за доплату предлагаются 20-дюймовые кованные алюминиевые диски с резиной 275/30 ZR20.
Экстерьер
Сумасшедший «заряженный» 450-сильный универсал Audi RS4 Avant демонстрирует феноменально красивый и стильный дизайн экстерьера кузова. В наличии огромная фальшрадиаторная решетка и мощный передний бампер с величественными воздухозаборниками, светодиодные фары головного света (светодиодные фары Audi Matrix LED с динамическими указателями поворотов доступны в качестве опции), динамичный профиль автомобиля со строгими линиями и гармоничными пропорциями, ну и шикарная задняя часть кузова – корма просто-таки шедевр. В арсенале кормы остроконечные плафоны габаритных фонарей с 3-мерной светодиодной графикой, дверь багажного отделения с аккуратным спойлером, спортивный бампер с интегрированными в его тело крупно размерными соплами системы выпуска отработанных газов и диффузором.
Дополняют стильный образ мощного универсала корпуса зеркал заднего вида, вставки на переднем и заднем бампере из карбона.
Интерьер
Салон Audi RS4 Avant позволяет в полной мере насладиться премиальными материалами отделки (кожа, искусственная замша Alcantara, мягкий пластик, карбон), выверенной до мелочей эргономикой и богатым набором оборудования.
Стандартно присутствуют спортивные кресла RS для водителя и переднего пассажира с электроприводами регулировок и подогревом, многофункциональное рулевое колесо с подрезанным снизу ободом, светодиодная контурная подсветка салона, климат-контроль, медиасистема MMI radio Plus с 7-дюймовым цветным экраном, Audi sound system с 10 динамиками, круиз-контроль, передние и задние датчики парковки, система Audi drive select, система start-stop с системой рекуперации, электропривод двери багажного отделения.
Список опций для Audi RS4 Avant традиционно длинный, как для модели Ауди: цифровая панель приборов (Audi virtual cockpit), мультимедийный комплекс MMI Navigation plus с MMI touch с 8,3-дюймовый экраном, аудиосистема Bang & Olufsen Sound System с 19 динамиками, система Audi pre sense city с функцией обнаружения пешеходов, системы Audi side assist и Audi pre sense rear, камера заднего вида, система кругового обзора и ассистент автоматической парковки, проекционный дисплей.
Audi RS4 Avant (B9) 2018 года (UK) (фото 1 из 40) ? Великобритания и Ирландия
Галерея автомобиля Audi RS4 Avant 2018 года включает в себя 40 оригинальных изображений высокого качества.
По этим изображениям вы можете ознакомиться с внешним видом автомобиля, узнать его особенности и отличительные черты, которые выделяют этот автомобиль Audi от других автомобилей.
А также вы можете скачать фотографии абсолютно бесплатно и использовать их как обои для рабочего стола с изображением автомобиля Audi RS4 Avant 2018 года, нажав на иконку в правой нижней части изображения.
Изображенный на фотографиях автомобиль выпускался с 2018 года по 2020 год, в кузове B9. Автомобиль предназначен для рынка Великобритании и Ирландии.
Другие галереи Audi RS4
Другие галереи Audi 2018 года
2019 Mercedes-AMG E63 by Permaisuri on Vossen Wheels (HF-3)
2019 Mercedes-Benz GLS400 d 4Matic AMG Line
1978 Rolls-Royce Camargue Drophead Conversion
2017 Ford Ranger Sportrac
1933 BMW 303 Kabriolett 4-Sitzig
2003 Pontiac Vibe GT
Страна: Германия
Годы работы: 1932 — н.в.
Современная история компании «Audi» началась задолго до формирования ее как отдельного производителя.
Модели Audi
100
200
4000
50
5000
60
75
80
90
920
A1
A2
A3
A4
A4 Allroad
A5
A6
A6 Allroad
A7
A8
Cabriolet
Coupe
e-tron
Formula E
Fox
Front
Q2
Q3
Q4
Q5
Q7
Q8
quattro
R10 Race Car
R15 Race Car
R18 Race Car
R8
R8 Race Car
RS Q3
RS Q8
RS2
RS3
RS4
RS5
RS6
RS7
S1
S2
S3
S4
S5
S6
S7
S8
Sport Quattro
SQ2
SQ5
SQ7
SQ8
Super 90
TT
TT RS
TTS
Typ A
Typ B
Typ C
Typ CT
Typ E
Typ K
Typ M
Typ P
Typ R
Typ SS
V8
Популурные галереи
Audi R8 V10 on Vossen Wheels (CG-204) 2016 года
Nissan NV300 Combi 2016 года
Ferrari 458 Speciale by MWDesign on Brixton Forged 2016 года
Nissan Cima 1991 года
Mercedes-Benz C350 Sport Edition Estate 2005 года
Duesenberg A Roadster 1926 года
FPV GT-E 2011 года
Porsche 911 Carrera GTS by RACE! 2019 года
Mercedes-AMG C63 S CR700 by Manhart Racing 2017 года
Komatsu 930E-3 2003 года
BMW M6 Gran Coupe Black Bison by Wald 2016 года
О проекте
Условия оказания услуг
Политика конфиденциальности
Вакансии
Реклама
Партнеры
Контакты
При использовании информации в электронном виде (интернет-сайт, электронный файл и т. п.) в каждом случае необходимо размещение активной гиперссылки на главную страницу Сайта или на страницу размещения соответствующего материала.
Все замечания и вопросы по сотрудничеству направляйте по электронной почте: auto@vercity.ru.
Обращаем ваше внимание на то, что изображения являются чьей-либо собственностью и добавлены посетителями сайта.
Администрация сайта не располагает информацией о правомерности публикования этих материалов.
Все изображения размещены в ознакомительных целях.
You may also like
If that all sounds strikingly familiar, it's because it is. Dig under the skin of the new Audi RS5 coupe and you will find the same powertrain with the same outputs and a slightly quicker 0–100km/h time of 3.9 seconds. Although, if we're being honest, judged by the seat of the pants, the RS4's claim of 4.1 seconds feels conservative.
It's similarly priced too, the RS4 Avant asking for $152,900 plus on-road costs to make a new home in your garage. That's favourable against the outgoing model that rolled out of showrooms for $151,010.
As expected, local deliveries of the RS4 Avant feature plenty of standard inclusions, both decorative and functional, sometimes both.
Out front, the RS4 Avant sports adaptive LED headlights, while at the rear, dynamic indicators have become something of an Audi signature. Staying at the rear, the RS sport exhaust looks as mean as it sounds. Red RS-branded brake calipers are encased inside 20-inch Audi sport alloys.
Under the skin, the RS4 scores a sport differential and dynamic ride control with adaptive dampers. Inside, there's a panoramic sunroof (which can be deleted at no cost), privacy glass, RS sport heated front seats finished in Nappa leather with the now obligatory honeycomb stitching, featuring pneumatic side bolster adjustment and lumbar support with massage function.
There's a 19-speaker Bang & Olufsen sound system, while the Virtual Cockpit adds a host of RS-specific features such as g-force meter, torque and power readings, and if driving in manual mode, the centrally displayed tachometer will keep you entertained with shift lights.
Audi claims there are 30 safety and driver-assistance systems shoehorned into the RS4 Avant, including adaptive cruise control with stop and go function, Audi side assist with blind-spot warning, tyre pressure monitoring, autonomous emergency braking with pedestrian detection, driver-attention assist, high-beam assist, active lane assist and 360-degree cameras, while eight airbags provide plenty of coverage for occupants.
Inside, the RS4 is typical Audi: clean, functional, comfortable. We often talk about a typically Audi cabin, and this is. But there is a quality to the materials and the fit and finish that is, as you would expect, a class above other Audis down the food chain.
The RS-branded leather seats offer plenty of support, hugging you snugly, with the aforementioned lumbar support and, for those so inclined, massage function. The Alcantara-wrapped steering wheel is adjustable for tilt and reach, although here a bit of cost-cutting sees it manually, not electrically, adjustable. Still, it feels lovely in hand.
RS logos everywhere remind you this is no ordinary Audi. And it isn't.
Push the start/stop button and that lovely twin-turbo V6 barks into life – yes, barks. It's raucous and loud, if not as menacing as the outgoing and ageing V8, but it speaks of an undeniable purpose. Dry your tears, allay your fears, because this is the real deal.
With a sedate start to our drive loop, the RS4 behaves in a manner befitting a German luxury hauler. The ride is pliant and comfortable, despite Audi's hot wagon sitting on 20-inch alloys. Sure, it's on the firm side, but not to the point where a trip to your local physio' is needed to realign your spine.
Out on the freeway, the RS4 is happy to hum along quietly at 110km/h, displaying behavioural qualities more in keeping with its tamer A4 sibling. But, flick the drive selector from Comfort to Dynamic, and this is easier than ever thanks to a small 'star' button on the steering wheel, and the RS4's reason for being becomes immediately apparent.
With a howl and growl, the twin-turbo V6 spools up and unleashes a seemingly endless supply of power and torque.
Let's talk about torque. There's 600Nm of it, and it's available from 1900–5500rpm in the rev range. And it just doesn't disappoint. Cruising along at 110km/h in seventh, mash the right pedal for a burst of acceleration and the wagon leaps forward with a ferocity that takes you by surprise. Every single time. It just makes you laugh. And squeal.
It sounds good too, although of course not as sonorous as the V8 it replaces. There are satisfying growls, though, and the bangs on up-changes are intoxicating. Using the paddle-shifters to shift between cogs is satisfying and visceral. However, it's almost redundant – that's how good that tiptronic auto is.
And she knows when you're up it for the rent, happily running out to redline without auto-shifting cogs. One section of particularly twisty and aggressive driving saw the old 'box not shift out of third. It just knew that it was the best gear for right here, right now. Remarkable.
Conversely, in normal traffic she shuffled effortlessly and seamlessly through the ratios, humming along nicely all while sipping minimal fuel. Audi claims eights, and we reckon you could probably go close to that with a mix of highway and city traffic. Our spirited drive recorded high 12s, and that was with the auto 'box screaming along at 6500rpm for long stints.
Lag? Forget it. There is none, those twin turbos spooling easily and freely in tandem to provide instant throttle response.
Dynamically, too, that quattro all-wheel-drive system comes into play, delivering the right amount of torque to the right wheel at any given time. Anchored by a mechanical centre diff lock, the RS4 in sedate mode, or what Audi refers to as 'regular' driving, distributes torque between the front and rears 40/60. But dial up the attitude, and that transfer can range up to 70 per cent to the front and 85 per cent rearwards, as required.
Further, the sport differential, with specific RS tuning in this application, distributes torque between the rear wheels, sending power to the wheel that needs it most. Get on the gas mid-corner and (such is the stability of the RS4) the sport diff happily shuffles most of the V6's torque to the outside wheel, effectively eliminating understeer. Find yourself with a little bit of oversteer on your hands, and the diff will send torque to the inside wheel to give you a helping nudge.
All that mechanical trickery adds up to one thing, and one thing only, and that is you, the driver, being in possession of a self-belief – a confidence that allows you to extract the most out of the Avant. It simply holds the road, its snout hunkering down and going exactly where you tell it. Mid-corner bumps are absorbed and dispatched with barely a ripple, and if you can get this thing to break traction you'll be doing well. The steering is direct and precise, too, although it does lack a little feedback. Not a deal-breaker, though.
And the standard-fit brakes just keep on giving. There is no hint of fade, no long pedal, just a reassuring retardation of speed every time you stomp on the middle pedal.
The Avant feels agile, too, despite its family-hauler shape and dimensions, not to mention its 1790kg kerb weight that, if it sounds portly, is actually 80kg down on the model it replaces.
In short, the RS4 Avant is epic. The power. The torque. The grip. The appetite for speed. The relentless pursuit of corners. There is no weak spot in its power delivery. It is simply prodigious.
Factor in the wagon's practicality and we have the makings of the ultimate, yet sensible, mid-life crisis. There's 505 litres of boot space with the back row in play, expanding to a handy 1510 litres with the second row 40/20/40 split-fold seats stowed flat. There's a neat little feature, too, the carpeted boot floor, which when lifted out and flipped reveals a durable plastic side – ideal for those muddy sports shoes or filthy camping gear. Practical and clever.
That back row, too, is plenty comfortable for all but the tallest of adults, helped no doubt by this generation gaining 13mm in cabin length and 11mm in shoulder room. Pick those gains with the naked eye? Not on your life, but like so much in life, the smallest things can make a big difference.
You'd think losing a couple of cylinders would stifle the life out of what was a heroic family wagon turned muscle car. And while it's true some of the sound of that musculature has been neutered, this new iteration of the Audi RS4 Avant is a worthy addition to the lineage that dates back to 1994. Forget about the growl of the V8, it's gone forever, and spare me your tears at losing just one small element of what made this car so special, but do not underestimate this car.
It may lack the aural theatre of its predecessor (only just, mind you), but makes up for it with a superbly dynamic driving experience, at once blindingly fast and supremely capable. Throw in decent dollops of practicality, and this iteration of the RS4 Avant is a triumph.
Технические характеристики Audi RS4 Avant 2018
Подкапотное пространство Ауди RS4 Avant 2018-го модельного ряда занято новым 2,9-литровым турбированным бензиновиком V6, позаимствованным у 2-генерации Porsche Panamera. Главной особенностью силовой установки является то, что она развивает аналогичные предшествующему 4,2-литровому мотору TFSI 450 л.с., а вот вращательный момент возрос с 430 до 600 Нм.
Производитель подчёркивает, что большая часть максимальной тяги доступна уже при 1900 об/мин. Благодаря новому двигателю и сниженной на 80 кг массе, на разгон от 0 до 100 автомобилю требуется всего 4,1 сек., что на 0,6 сек. быстрее предшественника.
Расход топлива в смешанном режиме снизился на 17% и отныне составляет 8,8 л на каждый 100 км пройдённого расстояния. Уровень выбросов СО2 не превышает 199 г/км, что соответствует нормам Евро-6.
Также стоит отметить, что вместо предшествующего 7-ступенчатого «робота» S-tronic, производитель оборудовал Audi RS4 Avant 2018 новым 8-уровневым «автоматом» с оптимизированным режимом переключения передач. А вот система фирменного полного привода Quattro никуда не делась и по прежнему трудится на благо лучшей управляемости и поведения автомобиля на дороге, вне зависимости от того, что находится под колесами универсала.
Уже в стандартном исполнении Эр-Эс 4 Авант предлагается с межосевым дифференциалом «Торсэн», по-спортивному настроенным рулевым управлением и модернизированной подвеской, получившей более жёсткие амортизаторы и укороченные пружины.
Спереди и сзади установлена независимая пятирычажная подвеска со стабилизатором поперечной стойкости. В качестве опции предлагаются активный задний электронно-управляемый дифференциал, стойки «Dynamic Ride Control» и высокоэффективные карбоново-керамические тормоза.
Audi RS4 B7 (Typ 8E): описание и параметры
«Морда» авто заметно изменилась — капот стал более рельефным, изменился «взгляд». Первое, что бросается в глаза — усиленная радиаторная решетка с хромированным обрамлением. Форма кузова стала более обтекаемой, что характерно для спортивных машин, немного изменился бампер с так называемой «губой» и воздухозаборниками для охлаждения тормозов. Появилась противотуманная оптика.
Салон стал более удобным и функциональным, особенно это касается кабины. На маленький трехспицевой руль, обитый кожей выведены четыре кнопки аудиосистемы. Панель со стандартной распиновкой снабжена аналоговыми датчиками и удобным дисплеем, интерфейс стал более футуристичным. На центральной консоли ряд кнопок, включая аварийки, отключения ESP. Ниже мультимедийный дисплей и блок управления системой раздельного климат-контроля.
Не обошлось без недостатков в виде возросшего аппетита. Модели понадобится 20 литров по городу и вдвое меньше по трассе. Все компенсируется улучшенной независимой пневмоподвеской, сглаживающей любые неровности. Езда плавная, без тряски, машина хорошо вписывается в повороты, заметная скорость ощущается только при разгоне.
| | |
| --- | --- |
| Двигатель | 4,2 л, бензин, 420 л.с |
| Привод | Полный |
| Трансмиссия | 6 МКПП |
| Максимальная скорость, км/ч | 250 |
| Разгон до 100 км/ч, с | 4,8 |
| Крутящий момент | 430 H*m |
| Длина, м | 4,6 |
| Ширина, м | 1,8 |
| Высота, м | 1,4 |
| Клиренс, мм | 110 |
| Колесная база, мм | 2648 |
| Объем багажника, л | 460-720 |
| Полная масса, т | 2 |
Моделей было выпущено немного, сейчас она с конвейера VAG не сходит и вообще встречается крайне редко. Средняя ее цена начинается от 1 млн. рублей.
COMPARE CAR FINANCE
The all-new RS4 Avant – the quintessential all-weather, all-occasion, all-the-pace, posh, small-ish estate car.
No, I mean which fast Audi stereotype is this? One of the surprisingly brilliant ones, or one of the disappointingly aloof ones?
I'll come back to that, promise. But if you're arriving on the page not expecting rapturous praise, that's fair enough. The last RS4 was a frustrating experience: blessed with a razor sharp V8 engine, cursed by a rock-hard ride, and pretty one-dimensional as a result. The new one no longer has a naturally-aspirated, 8,000rpm V8, because it's basically the new bi-turbo V6 RS5 Coupe with a rucksack on. And that's about as divisive as fast Audis have got lately.
Don't the RS5's specs suit what we want from a small super-estate, though?
The RS4's drivetrain is bang on the money here. The 2.9-litre bi-turbo V6 develops not one more horsepower than the old V8, delivering 444bhp. It's all about torque though, the RS4. The quantity (443lb ft, up from 317lb ft) and the availability (er, permanent). In fact, you never even need use the full 1,900rpm-5,000rpm band of punch. Honestly, short-shifting at 4,000rpm keeps the RS4 pummeling along at a phenomenal rate, and keeps the V6 in the woofliest sound sweet spot.
Noise can't be a patch on the V8 though, right?
Right. What else is? The RS4's burble reverberates harder through the estate bodyshell echochamber than it does in the restrained RS5, at least. But it's lacking the crispness of the (saloon-only) Alfa Giulia Quadrifoglio's bi-turbo V6, and nothing else for this size and £60k gives an AMG C63 singing lessons.
Audi Sport says that's because its recent newcomers (RS4, RS5, RS3 facelift) already meet an upcoming EU noise regulation that's clamping down on cheeky valved exhausts. Apparently, AMG, Alfa and BMW will have to calm down their rivals within a few years too, so Audi's simply getting a dull job done ahead of time.
Still, nothing wrong with a subtle super-estate.
Quite. This generation of RS4 wears its poker face smugly. Yes, you get square-topped wheelarches for a stance the flabby RS5 can only dream of, but it's an under-the-radar overall shape, especially if you spec the various grilles and skirts in gloss black (or carbon weave, as part of the fully kitted out Carbon Edition on the gorgeous, 8kg-saving machined wheels). That'll set you back £71,625.
A standard 1,715kg RS4 is £62,025 (or a grand cheaper if you order by the end of 2017), popped competitively between the AMG C63 and C63 S. And that's your lot, so far as rivals go. Two-horse race.
But if you're talking spec, it's what you can't see that'll really change how your RS4 behaves.
Why? Is this a German options list moan?
Not a moan, but the RS4's an option-dependent bit of kit. Procurement of extras is a tightrope that makes or ruins it.
You get the sport differential that'll shuffle torque between the rear wheels and vary the standard 40:60 drive split as standard, but multi-speed Dynamic Steering (boo), Dynamic Ride Control (hmm) and a Sport Exhaust (yay) are all optional.
As usual, the best compliment about Dynamic Steering is to stop noticing it's on board. It's miles improved versus the early versions in, say, the S8 Plus, but does the RS4 have sublime steering? No. It likes being poured into corners with a mild trailbrake, settled steady-state, awaiting a two-footed jump onto the throttle. And bye-bye C63.
Yeah, this is a fast car. Claims of 0-62mph in 4.1sec and top speeds of 155mph or 174mph depending on the boxes you tick and money spent don't do it justice, as ever. Partly because they're blatant lies, obviously. We clocked an RS5 from 0-60mph in 3.2 seconds in the UK. How crackers is that? And the RS4's extra weight over the rear should aid a cleaner getaway…
The old V8-powered RS4 cracked 0-62mph in 4.7 seconds, by the way. It was rapid. The new car is a rocketsled.
Point-to-point, it's a teleportation pod with ambient lighting and diamond-stitching, and though you'll occasionally catch it napping off-boost on part-throttle mid-corner, there's no doubt it's the quickest, most effective wagon for this money. It demolishes the old V8 on pace and a C63 can't deal with the purchase the ruthless RS4 claws from the surface. But the C63 driver will have more inappropriate, antisocial, ineffcient fun…
It's the DRC suspension that's going to be the tricky one to decipher, I reckon.
Why's that? It says 'Dynamic' in the title. That's Audi shorthand for 'buy me'…
Similar to a McLaren Super Series car, DRC adds three-mode dampers to the RS4, which are then diagonally linked with hydraulic fluid. Accelerate hard and it pumps up the rear to stop the car rearing up like a startled racehorse. Jump on the carbon-ceramic brakes and it keeps that V6-laden nose off the deck.
Change direction like you're avoiding missile lock and each side gains instant support to stay level (handy when the massaging seats lack some torso support) and it'll work the tyres as effectively as Newtonian laws allow.
Result? First off, the RS4 is superb at going slowly. It's so agreeable at town speed. It mooches pleasantly in Comfort mode.
Go a little quicker and it softens the edges off nasty roads. The ride is busy in Dynamic mode, so you just opt back into long-travel Comfort. Body control is ace, and you have to attack a gnarly mid-corner compression before the RS4 thinks about dropping its composure. An RS5 with a loft conversion shouldn't be anything like this accurate.
Why do I feel like there's a 'but' hurtling in my immediate direction?
Because this would traditionally be the point where the fast Audi falls apart for having the handling depth of a Scalextric car. But (there it is), after fifteen minutes of pasting an RS4 up some very senior Spanish hillside roads, I was awash with an uneasy feeling that the car was much more preferable to the RS5. Problem is, I couldn't put my finger on why. More driving needed. And lots of mode-swapping.
What you have to do is learn to trust the slightly uncanny abilities of the DRC, erasing the old-school body roll and pitch movements that betray a car's close to its ragged edge. The RS4 is mega composed, but much better balanced than the RS5. Less nose-heavy. More all-wheel drive, really, like it's working all four tyres equally.
Sounds unusual for a fast Audi…
Maybe it's the taller, heavier body shifting the weight bias. Maybe it makes improvements to the stock A4 more oblique than the RS5 does to the A5. Audi says it's improved the DRC system since RS5 too, but it's got the same hardware, so it can only be a software map to thank.
Either way, once you've got the car flowing down a twisty road, it's bloody impressive. It's not nape-prickling or scintillating, but if you live for estate cars that marmalise tyres on the front page of Instagram, you want a C63 anyway. The RS4 thrives on usability, like a big hot hatch. It's a step on from the old V8, as a tool.
The RS4 does all the standard Audi traction-weapon tricks, but with proper agility. Unlike the RS5, you can feel it's 80kg lighter than the predecessor, too. The more I drove it, the more I liked it, and fell under its merciless road-conquering spell. The opposite to the RS5, then. But it's not an addictive thriller. Speccing one ought to be interesting when UK sales kick off on New Year's Day 2018.
You promised me you'd sum up what sort of fast Audi this is, remember…
I do. And it's simple. There's no situation when you couldn't extract almost 100 per cent performance from the comfortable, refined, tightly finished and rather clinical new RS4. It's not just a good fast Audi. Right now, it's the definitive one.
Audi RS 4 Avant 2018 Review
Faster than its R8-powered predecessor, the fourth-generation, twin-turbo V6 Audi RS 4 Avant harnesses all that is right in its RS 5 Coupe sibling, and packages it into a family-friendly five-door wagon body. Priced from $152,900 (plus on-road costs) the wagon-only RS 4 competes with the sedan-only BMW M3 and Mercedes-AMG's multi-variant C 63 line-up, and boasts 331kW/600Nm at the flywheel, a claimed 0-100km/h time of 4.1sec, and top whack of 250km/h. Lighter, faster and cheaper than before, the B9-series 2018 Audi RS 4 Avant hits Aussie showrooms this month.
The power to perform
It's been almost 25 years since Audi's first weapons-grade RS 2 Avant hit the streets. Set to hit Aussie showrooms this month, the fourth-generation Audi RS 4 Avant shares a lot more in common with its forefather than just a badge on the tailgate.
And while swapping out your supercar-sourced 4.2-litre V8 for a twin-turbo V6 may seem like a backward step, the gutsy 2.9-litre engine is a suitable replacement for the R8-shared engine before it. The new twin-turbo V6 bent ups the ante (particularly in torque) to 331kW at 6700rpm and 600Nm from 1900-5000rpm – and is a fitting tribute to the biturbo 2.7-litre V6 of the original Audi RS 4 Avant (1999-2001).
Okay, the new powerplant might lack the astonishing 9000rpm rev ceiling of the outgoing V8 model, but the new Audi RS 4 Avant is a whole lot quicker. It's 0.6sec faster in the dash to 100km/h, hitting triple digits in a claimed 4.1sec, and can reach an electronically-limited top speed of 250km/h.
Matched exclusively to an eight-speed automatic transmission, the B9-series Audi RS 4 Avant replaces the seven-speed dual-clutch 'S tronic' unit of yore, and drives all four wheels via Audi's revamped on-demand quattro all-wheel drive system and electronically-actuated mechanical limited-slip differential. Drive is split 40:60 front-to-rear in normal conditions, and as much as 85 per cent front or 70 per cent rear as driver intensity requires.
Audi says the RS 4 Avant is as grippy as ever, but in conjunction with weight reductions of 80kg across the board (now 1715kg), the new turbo six powered wagon returns an average fuel consumption figure some 17 per cent better. Now claimed at 8.9L/100km (ADR Combined), the RS 4 Avant also scores a significantly lower CO2 figure, down 45g/km to 201.
Ride height is 7mm lower than the S4 wagon on which it's based. Four-mode adaptive dampers and RS-specific electromechanical steering (which locks at a ratio of 14:1 in Dynamic mode) are standard issue, as are 375mm front / 330mm cross-drilled steel discs with six-piston calipers. Audi offers 400mm carbon-ceramic front rotors as a performance (and pricey) upgrade.
Twenty-inch alloy wheels with 275/30 profile Continental SportContact 6 tyres are fitted as standard to Australian models.
Practically perfect
We're not alone in thinking the Audi RS 4 Avant is a practical people hauler. Since it first went on sale more than 27,000 examples of the RS 4 Avant have been sold – including 600 in Australia – all offering much the same level of flexibility as the 2018 model sampled here.
Seating five and offering 505-1510 litres of cargo space (+15 litres more than the outgoing model), the A4 Avant derived 40:20:40 split-fold rear seat and electrically-actuated tailgate are the perfect complement to family life. Audi now also offers the RS 4 Avant with an optional tow hitch, bestowing its sporty wagon with up to 2100kg of towing ability.
The cabin is dressed in high-quality materials and finishes typical of Audi's RS line-up. All-black upholstery and interior trim define the sporty character of the new RS 4 Avant, so too its deeply bolstered heated leather front seats and flat-bottom multifunction steering wheel.
At night, LED lights trace the contours of the door cards and centre console in as many as 30 colours. Tri-zone climate handles cooling duties.
Passengers benefit from additional legroom, courtesy of a 13mm longer wheelbase (compared to the outgoing model), and up to 11mm of additional shoulder-room. Overall, the fourth-gen RS 4 Avant is 62mm longer (4781mm), 16mm wider (1866mm) and 12mm lower (1404mm) than its predecessor. And let's not forget those muscular +30mm pumped guards said to be inspired by the Audi 90 IMSA GTO.
Audi's Virtual Cockpit graces the horizontally-themed dashboard and is bolstered with RS-specific displays that include a lap timer and g-force metre and optional head-up display.
Infotainment comes courtesy of Audi's 8.3-inch MMI infotainment array with sat-nav, digital radio, 10GB internal music storage, and Bluetooth, USB, WiFi and Apple CarPlay / Android Auto connectivity.
On the safety front, there is the usual array of electronic chassis aids and airbags expected from a premium offering like Audi, as well as a range of safety systems bespoke to the brand – most of which debuted on the current-generation Q7 SUV.
Autonomous emergency braking comes standard on the Audi RS 4 Avant, as does Adaptive Cruise Control and advance lane-keeping technology.
A German, an Italian and an Englishman…
It's hard to mention the Audi RS 4 Avant without comparing it to its German rivals.
This time around the $152,900 (plus on-road costs) wagon-only RS 4 competes with the sedan-only BMW M3 and its M4 Convertible and Coupe counterparts (themselves a direct rival to the RS 5), and the Mercedes-AMG C 63 Convertible, Coupe, Estate (wagon) and Sedan line-up.
BMW's M3 Pure (from $129,900 plus ORCs) is the obvious bargain of the trio and makes 331kW/550Nm from its 3.0-litre in-line 'six', or 50Nm fewer than the RS 4 Avant. For the three-pointed star brand it's a starting price of $157,210 (plus ORCs) for the sedan, the Estate asking $159,710 (plus ORCs). Both Benzs are powered by a twin-turbocharged 4.0-litre V8 cranking 375kW/700Nm, or 44kW/100Nm more than the Audi RS 4 Avant.
More Research
2018 Audi RS4 Pricing & Specs
Read what Audi RS4 owners think
Read more Audi RS4 news & reviews
Of course, rivals exist outside of German showrooms, too. The sizzling Alfa Romeo Giulia Quadrifoglio Verde (QV) is a terrific option for four-door-only buyers, and at $143,900 (plus ORCs) is – comparatively speaking – a bit of a bargain.
The Alfa runs a twin-turbocharged V6 displacing 2.9 litres, and makes a zesty 375kW/600Nm, or 44kW more than the RS 4 Avant. While there's no news of a Giulia wagon in the wings, eventually there is a very rapid QV variant of the Italian marque's Stelvio SUV due down under in 2019.
BMW's tuned-up Alpina B3 Biturbo wagon is also worth a look, and at $160,900 (plus ORCs) is competitively priced. Making 301kW/600Nm it's also a great way to squeeze a little more torque from your spend, and offers wagon practicality and its own unique look for around the same coin as the RS 4 Avant.
A balancing act
Balancing the composure of a family wagon with the cornering tenacity of a sportscar is a hard ask, yet the RS 4 Avant seems to take it in its stride. The standard-issue adaptive dampers soak up even the most challenging of surface imperfections in Comfort mode, then turn their hand to providing impressive stability in the firmest Dynamic mode.
The ride can be a little choppy if you forget to switch back to Comfort when the fun stuff is done and dusted, so Auto mode is a happy compromise – trimming the suspension, engine mapping, transmission and steering so well that you might as well leave it engaged all the time, and focus on enjoying your time at the wheel.
It's a similar story with the eight-speed auto's Sport mode. Although the RS 4 Avant is equipped with paddle shifters there's really little need to employ them as the transmission sorts itself with near-intuitive levels of gear selection in even the most demanding road conditions.
The ZF-sourced gearbox happily downshifts into corners when brake and steering parameters command, then clicks rapidly back up the cogs as the loud pedal is sunk to the floor.
And while the new twin-turbo 'six' might lack the aural character of the 4.2-litre V8 before it (geez I loved that engine), it's nonetheless a willing accomplice to piling on the haste. Indeed, it's very easy to find the speedo needle well north of legal – and the effortlessness of the Porsche-developed V6's torque delivery is a big contrast to that of the highly strung bent-eight (which made just 430Nm between 4000-6000rpm).
Downsides to the RS 4 Avant? Well, there aren't many. But the first of the two is crucial.
In hard runs from corner to corner we found brake heat was a serious issue. The car never ran out of brakes, mind you, but the pedal feel changed significantly enough to cause a moment of alarm. If you plan on driving the RS 4 Avant to the fullest of its abilities, then the optional carbon ceramic stoppers may well be worth the investment.
The second issue is more a matter of taste. I found the standard-issue Audi Sport exhaust is 'boomy' on downshift in Dynamic mode. There's a deep, almost percussive, tone through the front floor-well every-single-time the car dropped back a gear that I could do without.
The 'brown note' effect of the exhaust in this scenario might seem funny at first, but after a couple of hundred kays becomes rather tiring.
The verdict
Excusing my gripes with the brakes and exhaust, the Audi RS 4 Avant really is an amazingly talented performer. It takes all the is right with the RS 5 Coupe and packages it into not only a more practical package, but one I think possesses even better front-to-rear balance.
Perhaps it's the extra weight over the rear-end that keeps the RS 4 Avant planted in the bends – or perhaps it's just a hunch. But having spent considerable time in the coupe, I can tell you I prefer the feel-at-the-wheel in the wagon. It really is beautifully balanced.
The engine too is a sparking performer – that accessible torque offers effortless corner-exit and straight-line performance that's far better suited to a road car than the V8 before it.
It's an easy car to drive quickly, yet still so very rewarding.
In fact, it is one of those RS models I reckon we'll still be talking about in 25 years' time – just like the RS 2 Avant that kicked off the genre.
How much does the 2018 Audi RS 4 Avant cost?
Price: $152,900 (plus on-road costs)
Engine: 2.9-litre six-cylinder twin-turbo-petrol
Output: 331kW/600Nm
Transmission: Eight-speed automatic
Fuel: 8.9L/100km (ADR Combined)
CO2: 201g/km (ADR Combined)
Safety Rating: Five-star ANCAP (based on 2014 test of A4)
Eerste test / Audi RS4 Avant (2018)
Overzicht :
Wat is dit?
Is de A4 de stellende en de S4 de vergrotende trap, dan geldt de Audi RS4 als de overtreffende trap. Nog steeds enkel verkrijgbaar als Avant en met Quattro, toch verandert er het een en het ander. Zo maakt de atmosferische V8 van de vorige generatie plaats voor een door twee turbo's opgepookte V6, terwijl de gerobotiseerde S Tronic met dubbele koppeling vervangen wordt door een klassieke automaat met acht verhoudingen.
We vatten de Audi RS4 Avant even samen:
Enkel als Avant, altijd met Quattro
Technisch verwant met de RS5 Coupé
V8 wordt V6-biturbo, S-Tronic wordt Tiptronic
0-100 km/u in 4,1 seconden, top van 280 km/u (optioneel)
80 kg lichter, maar blijft 1.725 kg zwaar
Vanaf 84.700 euro
Desgewenst met DRC-ophanging, keramische remmen en actief achterdifferentieel
Een aderlating, die overstap van V8 naar V6-biturbo?
Ja en neen. Ja, omdat die atmosferische 4,2 liter-krachtbron een juweeltje was. Kort aan het gas en een streling voor de trommelvliezen. Neen, omdat deze door twee turbo's geholpen 2,9 liter veel veelzijdiger voor de dag komt. Bovendien blijkt ook de V6 een eigengereid karaktertje. Het biturboblok beschikt dan wel over meer koppel onderin, maar de honger naar toeren blijft overeind. Toch als je de Audi Drive Select in de juiste rijmodus zet.
De met Porsche gedeelde V6-biturbomotor heeft een piekvermogen van 450 pk, waardoor de nieuwe net zo krachtig is als de oude Audi RS4. Maar het maximale koppel bedraagt nu 600 Nm, dat vrij beschikbaar blijft tussen de 1.900 en de 5.000 toeren per minuut. De V8 van de vorige RS4 stelde het met een maximumkoppel van 430 Nm tussen de 4.000 en de 6.000 opm. Die extra trekkracht zorgt er wel voor dat Audi de gerobotiseerde S Tronic moet inwisselen voor een klassieke Tiptronic, die wat zachter van verzet wisselt.
Ook met V6 blijven de prestaties van de bovenste plank. De Audi RS4 Avant heeft aan 4,1 seconden genoeg om van 0 naar 100 km/u te sprinten, meer dan een halve seconde sneller dan zijn voorganger. Met dank aan de elektronische lanceerhulp en de dieetkuur van het nieuwe model, waardoor de RS4 80 kilogram afslankt. De topsnelheid bedraagt een elektronisch gelimiteerde 250 km/u, met RS Dynamic-pakket grijpt de begrenzer pas in bij 280 km/u.
Nu vaart vooral het benzineverbruik bij die downsizingoperatie. Het normverbruik van de RS4 Avant zakt naar 8,8 liter per 100 kilometer, een daling van liefst 17%. De CO2-uitstoot bedraagt nog 199 gram. Zoals bij elke turbomotor hangt de dorst sterk af van de manier waarop je het rechterpedaal gebruikt. Tijdens onze testweek schommelde het verbruik rond de 12 liter.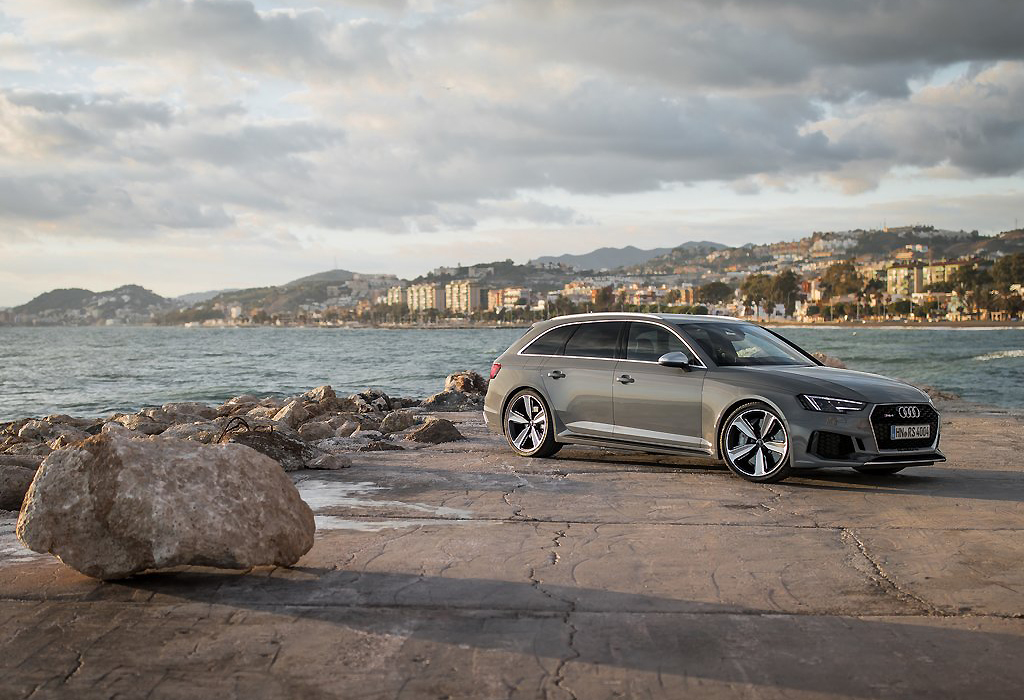 Welke aanpassingen gaan er nog schuil achter het RS-logo?
In vergelijking met de huis-tuin-en-keuken-A4 draagt de enkel als Avant te bestellen Audi RS4 gemener smoelwerk, waarbij het radiatorrooster een honingraatstructuur draagt en de voorbumper grotere koelsleuven krijgt. Achteraan noteren we een subtiele dakspoiler, de ovalen einddempers worden gesplitst door een diffusor. Maar het meest opvallende designelement zijn die opgepompte, door de Audi 90 IMSA GTO geïnspireerde wielkasten, die ervoor zorgen dat de RS4 6 centimer breder op zijn wielen staat. Standaard hebben we het over 19-duimers, onze testwagen deed het met maatje 20.
Binnenin oogt de RS4 zo strak als we dat van een Audi gewend zijn geraakt, waarbij de stijlrijke mix van alcantara en aluminium voor wat extra cachet zorgt. De Audi Virtual Cockpit krijgt RS-specifieke functies die je op de hoogte houden van de turboboost, de motortemperatuur, het maximale koppel en de behaalde g-krachten. Het maximale koffervolume bedraagt 1.510 liter, een zich elektrisch openende en weer sluitende achterklep komt als standaard.
De speciaal voor dit model uitgetekende sportophanging zet de Audi RS4 nog eens 7 millimeter dichter tegen het asfalt dan de reeds verlaagde S4. Wie de dynamische talenten verder wil uitdiepen, kan opteren voor Dynamic Ride Control, waarbij de dempers diagonaal verbonden zijn via een hydraulisch systeem dat naar een betere balans tussen schokdemping en koetswerkrol zoekt. Ook de dynamische stuurinrichtig, de keramische remmenset en het zogeheten sportdifferentieel sieren de optielijsten.
Zoals de talrijke Quattro-badges reeds aangeven, komt ook de Audi RS4 met vierwielaandrijving. Het permanente 4×4-systeem hanteert een variabele 40/60-koppelverdeling over beide assen, waarbij de voorwielen tot 85 en de achterwielen tot 70% van het motorkoppel te verwerken kunnen krijgen. Om de beweeglijkheid te stimuleren, zorgt torque by braking ervoor dat je makkelijker bochten rond. Al moet je eigenlijk het actieve sperdifferentieel hebben, dat de krachten tussen de achterwielen afzonderlijk regelt.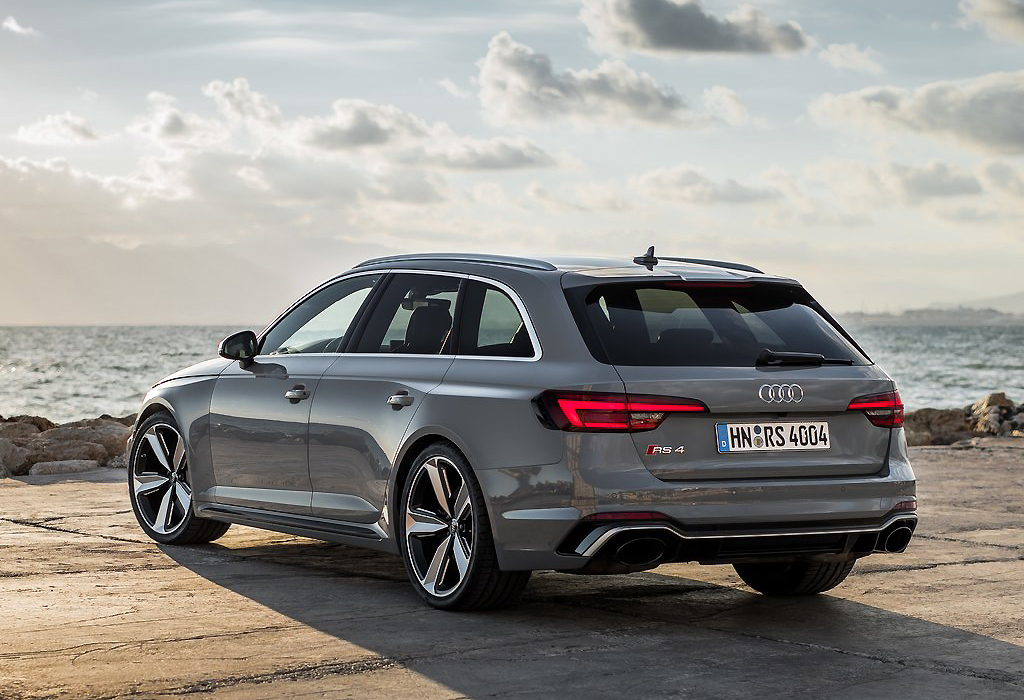 Hoe rijdt de nieuwe Audi RS4 Avant?
De spreidstand tussen een comfortabele kilometervreter en een hardcore bochtenverslinder is groter dan ooit. In Comfort-modus glijdt de Audi RS4 Avant geruisloos door het verkeer, met een teruggeschroefde soundtrack, een zijdezacht van de ene naar de volgende versnelling schakelende automaat en een toegeeflijke ophanging die infrastructurele oprispingen netjes onder de mat veegt. Maar zet de Audi Select in Dynamic, de Tiptronic in Sport en de RS4 gaat plots razen.
Plots sleurt de V6-biturbo als een bezetene. Bij elke schakelmanoeuvre maakt de toerenteller een sprongetje, terwijl de digitale snelheidsmeter zich onweerstaanbaar richting topsnelheid katapulteert. Die vurige aandrijflijn wordt ingetoomd door het standvastige onderstel, dat bijzonder stabiel blijft en belachelijk veel grip biedt. Een Mercedes-AMG C63 blijft wilder en een BMW M3 speelser, toch beschikt deze Audi over een nuance die vorige RS4-generaties vreemd bleef.
Omdat de V6-krachtbron minder gewicht op de voorwielen zet, verandert de RS4 makkelijker van richting. Het is niet langer een supersnelle Audi die de bochten als op rails aan elkaar rijgt. Wie wat met het gas- en rempedaal speelt, vindt grijszones die de rijdynamiek naar een hoger niveau tillen. Het nog steeds wat onnatuurlijk aanvoelende Dynamic Steering zouden we links laten liggen, de standaard gemonteerde stuurinrichting vindt een aangename mix tussen preciesie en feedback. Jawel, er is een vorm van communicatie tussen man en machine.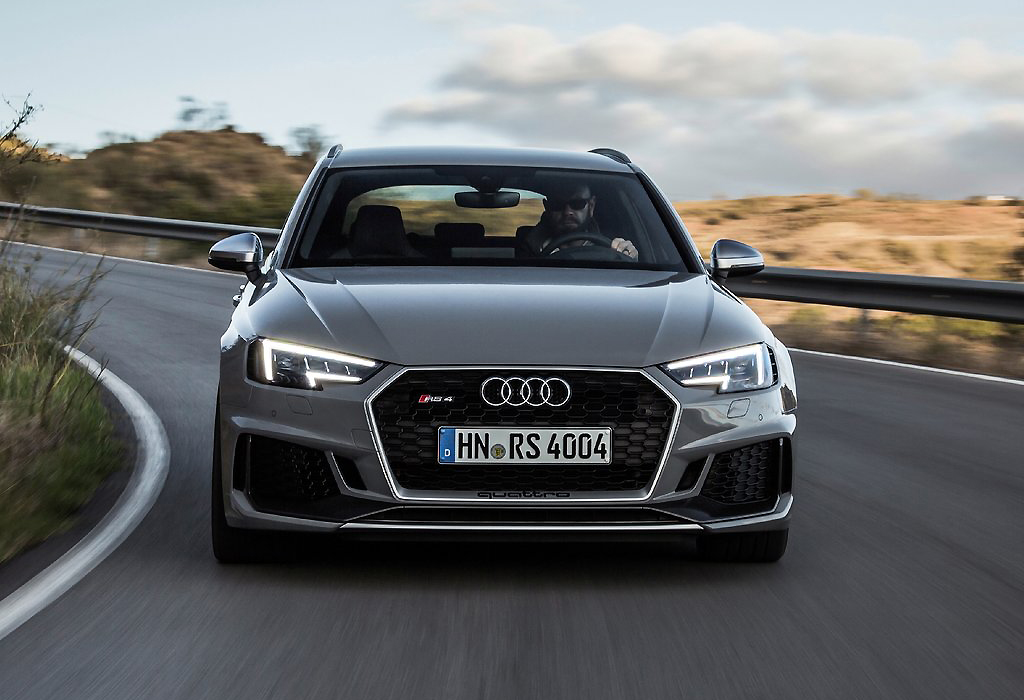 Het AutoWereld-oordeel over de Audi RS4 Avant?
Aanvankelijk voelt de nieuwe RS4 Avant wat braafjes aan. Als een wat snellere S4 met brede heupen. Tot je het waanzinnige potentieel bevrijdt en die brede heupen aan het schudden gaan. We kennen weinig wagens wiens persoonlijkheid zo gespleten is. Maar maak er geen psychopaat van, want zelfs als hooligan draagt deze Audi een strak pak met designerdas.
Natuurlijk is het jammer dat de V8 geofferd werd. De digitaal versterkte, te ostentatief afgeregelde soundtrack heeft geen verhaal tegen het ouderwets grommende hart van de vorige RS4. Maar op alle andere vlakken maakt de nieuwe brandhout van zijn voorganger. En dan hebben we het vooral over de extra gelaagdheid in het rijgedrag dat we tot dusver wat misten bij de snelle jongens uit Ingolstadt.
Audi RS4 Avant 2018 review: supercar fun for the whole family
The new Audi RS4 Avant is a wolf in sheep's clothing. Based on the company's middle-of-the-range A4 Avant, the RS4's practical proportions make it a perfect choice for families — but this vehicle has a wild side too.
Tuned by the company's racing division, Audi Sport, the RS4 is one of the most powerful mid-size estates on the market, with a 2.9-litre twin-turbo V6 engine that can hit a top speed of 174mph.
The Week Portfolio got behind the wheel of the new £62,175 car to see what else it can do.
Step inside
The RS4's interior is largely based on the regular A4, but a few key changes set the sports model apart.
The new car gets a racing-inspired flat-bottomed steering wheel, leather sports seats and RS4 badges scattered around the cockpit. Fit and finish is also top drawer.
And nobody does in-car infotainment systems like Audi. The Virtual Cockpit system, which is standard fit on the RS4, sees the covenantal analogue dials on the dashboard replaced with a digital display that can be controlled using buttons on the steering wheel. There's also a small panel located above the centre console, which can be accessed using a scroll wheel and buttons.
What sets this system apart is the way it allows the user to customise the dials in front of the steering wheel. You can choose from a series of layouts, such as a view where the rev counter or satnav display takes up most of the digital dashboard. You can even split the display to have the speedometer in the centre of the screen, with the satnav tucked to one side.
All the information you need is right behind the wheel, allowing you to focus fully on the road. Going back to a car with an analogue display will feel like stepping back in time.
There's also plenty of room for passengers, with even 6ft-tall types able to comfortably sit in the front and rear seats, while the boot is a generous 505 litres with the rear seats in place.
On the road
Tap the start button on the centre console and the RS4 growls into life.
The burble you'll hear from the exhaust comes from the RS4's new 2.9-litre twin-turbocharged V6 engine, which replaces the much-loved naturally aspirated V8 motor in the old model.
With the new V6, you'll have 444bhp and 443lb-ft of torque at your disposal when you pin the throttle to the floor. Audi claims the RS4 can do 0-62mph in 4.1 seconds, but it feels much faster than that behind the wheel.
The engine note, meanwhile, sounds good when the car revs closer to its 6,500rpm red line, but we suspect Audi may have enhanced the noise of the motor using the cabin's speakers. It's a trick several manufacturers have adopted to make the sound of a turbo engine more exciting, but the RS4 doesn't sound quite as vocal from the outside as it does in the cabin.
That said, most RS4 buyers probably won't mind the subdued engine note, given that this is a five-seat, four-wheel drive estate. And if the engine sound becomes a little too intrusive, you can switch the RS4 into comfort mode. This closes small valves in the exhaust and softens the suspension.
Whichever driving mode you're in, the RS4 is always a comfortable place for passengers. Comfort mode is ideal for cruising on the motorway, but we'd recommend switching the car into Dynamic, more commonly referred to as sport mode, if you're driving on bumpy rural roads.
We also found the RS4 to be surprisingly economical for a high-performance super estate. Pottering around on rural roads and motorway cruises gave us a fuel economy of around 24mpg, but expect that to drop when you put your foot down hard on the accelerator.
The verdict
With supercar levels of performance and enough space to comfortably fit a family of five, the RS4 seems to be one of the few cars that really can do everything.
The only issue we had with the car is that it doesn't have the brutish appeal ofered by the old V8-engined RS4. The new V6 certainly packs a punch, but we'd recommend ticking the optional sports exhaust option for those on the hunt for a more visceral sound.
There aren't many cars that can rival the RS4's blend of supercar performance and practicality, as most manufacturers give their sportiest cars saloon or coupe silhouettes. The one true rival to the RS4 is the Mercedes-AMG C63 estate, which is around £3,000 more expensive and is only available in rear-wheel drive form.
For drivers on the lookout for a family car that will give most supercars a run for their money, the new RS4 is a clear winner.